While Grand Canyon National Park is definitely worth checking out, the truth is that the US has so many other places worth exploring and in my opinion, most of them (at least the ones I've seen) are better than the Grand Canyon. But the problem is, most people have no clue these places even exist.
When you have visited so many places across the US (including Grand Canyon National Park) like I have, you can't help but start to compare which place is better and/or worth visiting over the other and when people who are planning nature travels ask me where to go and the Grand Canyon comes up (because it's so popular), I often find myself suggesting they visit other places instead.
This is why I decided to write this very long comparison post where I do a Grand Canyon vs whatever other place I've visited (that is noteworthy) and give you my thoughts on which place is better for you to spend time in. This won't just compare national parks against one another, it will also compare state parks, amazing regions of the US and more (again, anything noteworthy).
The great news: You can use the table of contents in this article to filter to the park and comparison you're looking for.
One advantage the Grand Canyon holds over most of these spots (Havasupai reservation):
If you didn't know, there is a region west of the Grand Canyon known as the Havasupai Indian Reservation which requires you to register for at least a year ahead of time to explore. It's a private region of the Grand Canyon which has incredible scenery, waterfalls and stuff to see and do.
However, because most people focus on the actual Grand Canyon (south rim and north rim regions as well as the national park area), this article will be comparing those parts of the park to the other spots I've seen.
An important note about these comparisons (it's a 1-100 rating, but with a twist):
It's in alphabetical order and will be updated regularly and if you have any Grand Canyon vs suggestions, you can mention it below.
What I'm going to do is give a "rating system" to each comparison so you get an idea of how good each park is (or not) compared to the Grand Canyon.
This rating system (1-100 points) is also going to change depending on what the Grand Canyon is being compared to, so for example:
If I say that it's a 90 points out of 100 compared to say, Crater Lake, it's only in relation to Crater Lake we're comparing it to.
If I compare it to another spot like Arches and say that the Grand Canyon is 65 out of 100 and Arches is 100 out of 100, it just means against that specific spot is what the rating reflects (not generally). The Grand Canyon's scoring changes depending on which park, region I'm comparing it to.
This rating basically encompasses a few things:
Activities to do in each spot.
How fun it is to explore the area.
What to see.
And more.
So let's get started:
Grand Canyon vs Acadia National Park: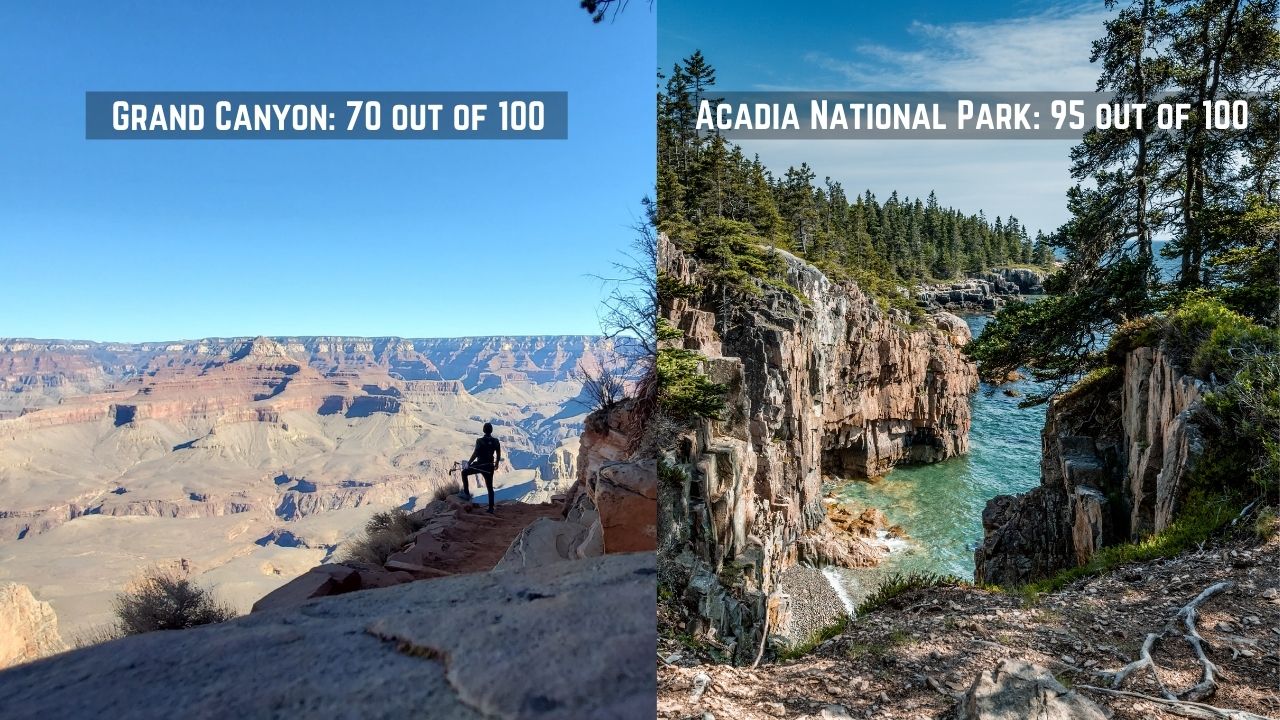 In my opinion, Acadia National Park is better to explore than the Grand Canyon. There are several reasons, but my main arguments are that in Acadia:
You can explore MORE of the park than in the other place. Acadia is well known for having a lot of hikes, being near the Atlantic ocean, and there's just more VARIETY of activities to check out:
More hikes.
More diverse activities too.
There are also more colors to see in Acadia (autumn leaves, and so forth).
Beautiful views of the ocean (the Maine Coast is stunning).
More of the park is accessible for just about everyone whereas with the Grand Canyon, most people can only really see the overlooks and if you're a serious hiker, you can descend down into the bottom of it (where the real exciting parts are at).
Grand Canyon vs the Adirondack Mountains: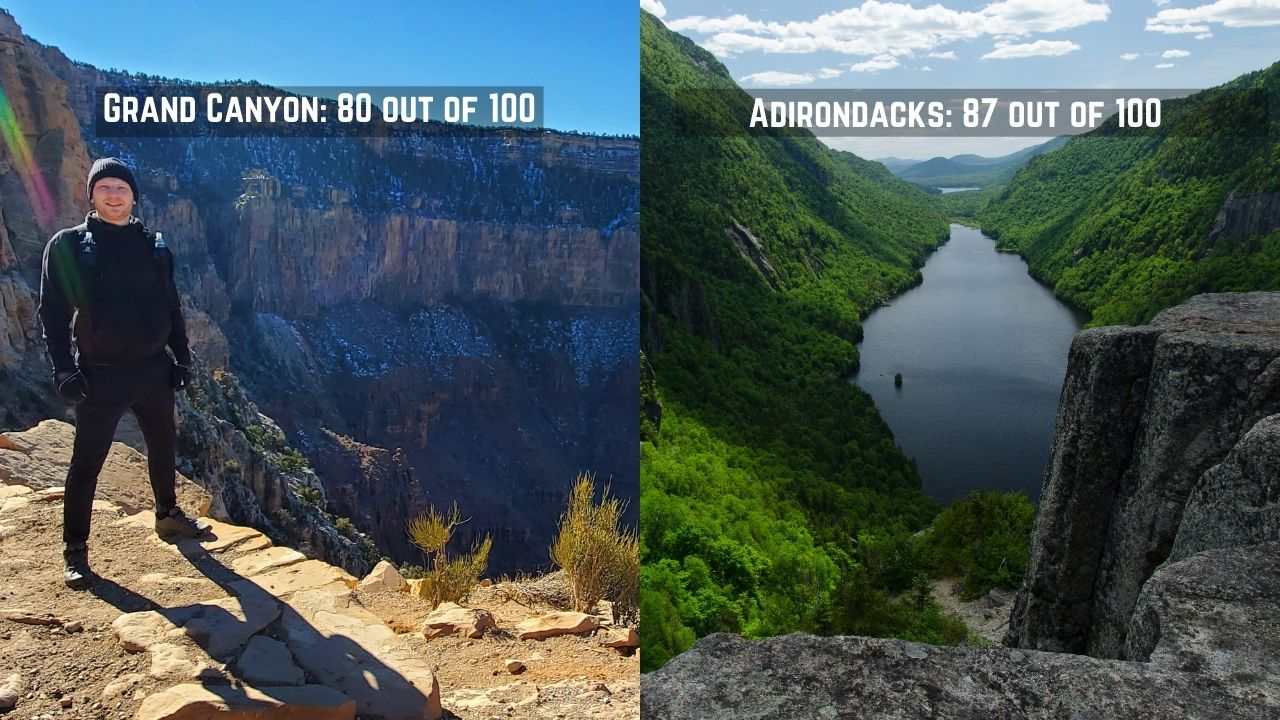 I think the Adirondack Mountains are better than the Grand Canyon. Both regions are gigantic and have a lot to explore, but the reasons I like the Adirondacks more are:
There is a lot more green (that just resonates with me).
Again, fall colors (It's near the Appalachian Mountain region so that's normal).

See my best place to see fall foliage

in New York post.
There's a lot of mountains to explore.
More mountains are accessible via trails, hikes, and cars than in the Grand Canyon.
There are many

Adirondacks waterfall hikes

too (I personally love that). The only major one in the Grand Canyon is called Ribbon Falls (one of the top waterfalls in Arizona to be honest) and maybe some that are by the Colorado river. However, if you visit Havasupai (west Grand Canyon region), you will find amazing waterfalls.
The one major advantage the Grand Canyon holds here in my opinion is that the south rim area is open year round, while the Adirondacks may be closed during winter times, but overall I believe you can get more out of visiting the Adirondacks than the Grand Canyon (more to see and do).
Grand Canyon vs Arches National Park: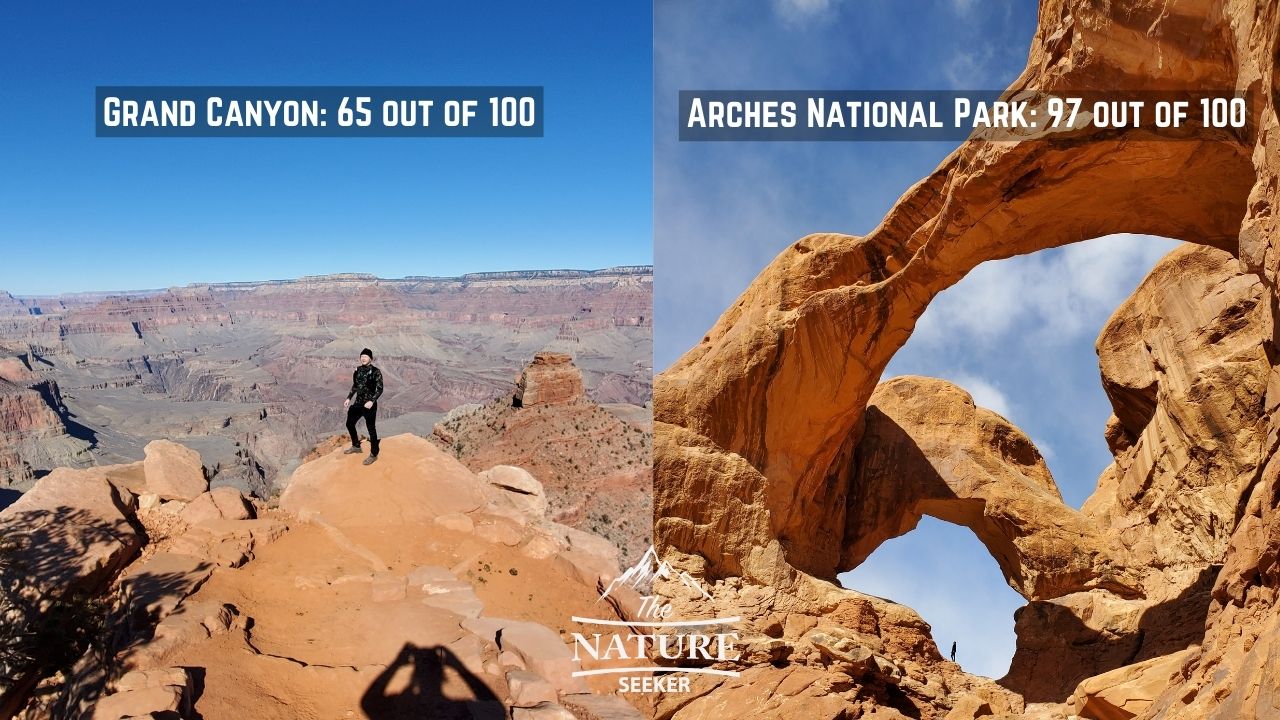 Easily Arches National Park takes it here and I would go as far as to say that the Grand Canyon has got nothing on it. Here's why Arches National Park is better in my opinion:
The scenic drive is more, well scenic.
Lots more interactive adventures (climbing, hiking, arch exploration, ect…).
Just like Acadia, Arches is much more accessible in most parts than the Grand Canyon.
The views, and actual arches are just stunning. Grand Canyon is more of a great overlook of the region (which is also beautiful).
There's a lot more stuff to explore nearby (Moab and the other parks near it). If you go to the Grand Canyon, going to see anything else outside of it will take hours to reach.
If you have a choice between seeing Arches and the Grand Canyon, go with Arches.
Grand Canyon vs Blue Ridge Mountains: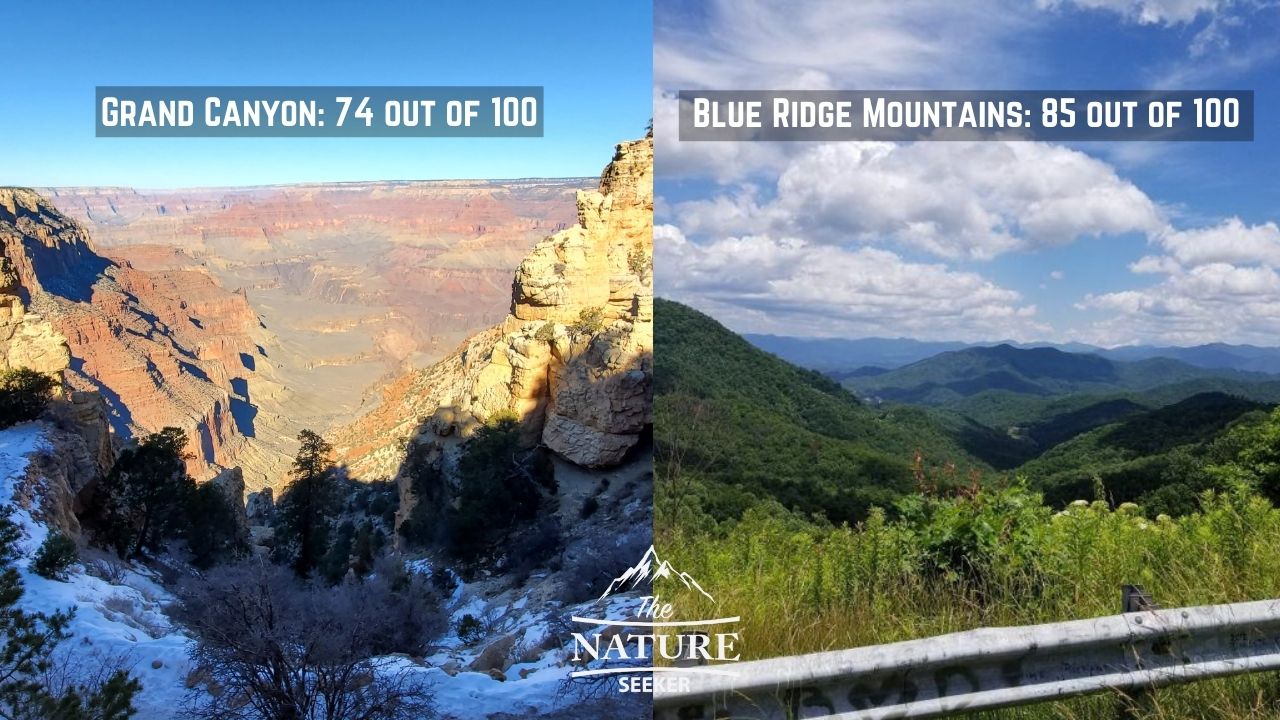 The Blue Ridge Mountains are the southern section of the Appalachian Mountains in the United States (eastern side). They span for over 400 miles and when compared to the Grand Canyon, I gotta give it to the Blue Ridge Mountains. The reasons why I think it's better are:
There is a long 400+ mile road called the Blue Ridge Parkway to check out (scenic drive rocks).
More mountains, hikes, and interactive activities.
Also a ton of waterfalls.
You actually cross several cool national parks throughout the Blue Ridge including: Great Smoky Mountain National Park.
Another interesting "similarity" is that the Blue Ridge Parkway (the main road you are on if you want to check this region out) is similar to the Grand Canyon in that it's also above the mountains, giving you awesome views like in the Grand Canyon, but the difference is that you can more clearly see the mountains, see more colors (especially in the fall) and actually go into some of those spots off the road, vs the Grand Canyon which requires long hikes into it.
Grand Canyon vs Bryce Canyon National Park:
I've only been to Bryce Canyon National Park once in the winter, but it was enough of a cool visit for me to say that it's better than the Grand Canyon. Bryce is much smaller though, but the terrain and rock formation just looks so much better than the vastness of the Grand Canyon. You can also see my Bryce Canyon National Park photos and you'll notice just how different these 2 national parks look.
And just like the other parks and regions I've been comparing it to, you can also hike down into the Bryce Canyon region through one or more trails (which I have done) and get a great experience out of it. Now I've done a little bit of hiking in the Grand Canyon and hiking down into it is also a stunning experience, but if you're looking for a more short term visit kind of spot where you can hike the park in a single day and get a lot out of it, Bryce is the way to go.
Grand Canyon vs California Coast: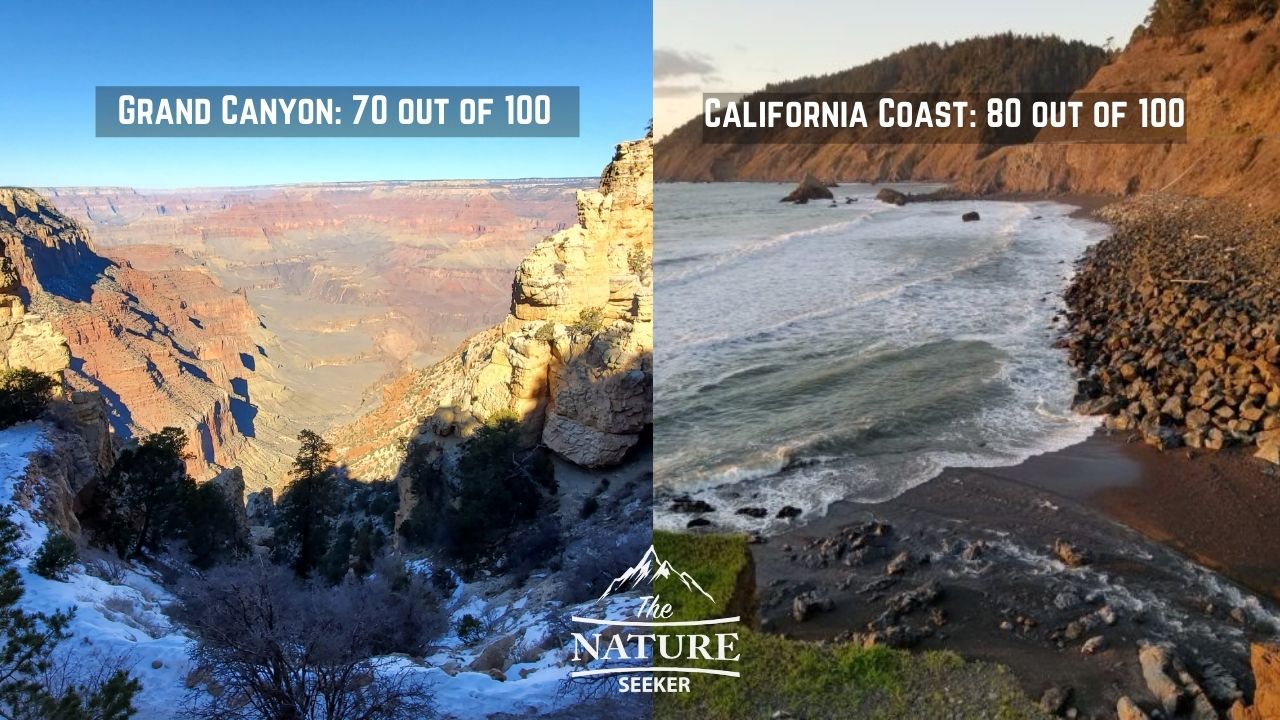 If we're comparing the Maine Coast to the Grand Canyon, we may as well shift to the west coast and no region there is larger than the California Coast. In my opinion, it's better than the Grand Canyon too. Here's why:
More to do (800+ miles of exploration).
A lot of awesome nature spots with more diverse views and beauty (like Russian Gulch State Park).
More adventures and hiking opportunities.
Features the beautiful Redwoods (you will find them on the northern coast of California).
You have more options for hotels, and better reception.
If you're more of a beach person, then this is a region of the states you will not want to miss.
The only thing I'd say the Grand Canyon is superior at in this particular case is that it's safer. Unfortunately much of California's coast has some "questionable" areas where I wouldn't feel comfortable leaving my car overnight.
Grand Canyon (50) vs Canyon de Chelly (50):
Canyon de Chelly is about 2 hours east of the Grand Canyon (north rim) and I think it offers way better views than the Grand Canyon. However, I'm making this a 50/50 score because of the fact that a lot of the best activities in Canyon de Chelly, although more beautiful require you to hire private guides to visit. In the Grand Canyon, you have more options to explore places without having to do that, but in any case, I do recommend exploring both these areas.
Grand Canyon vs Canyonlands National Park: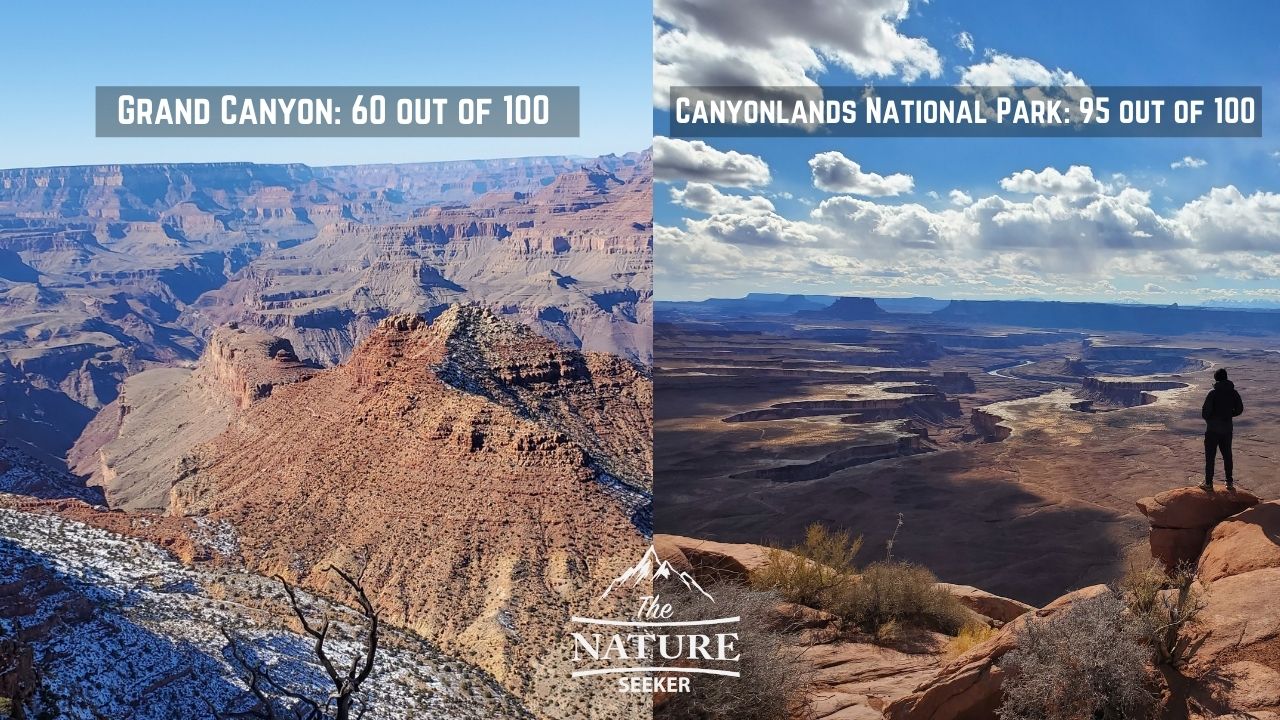 Now here's a comparison I've been wanting to do for awhile! In my opinion, Canyonlands National Park (like Arches) is better, either slightly or in large proportions in every single way than the Grand Canyon! In some ways, they look similar, and here's why:
The Grand Canyon is basically a giant canyon with mountains all around it, and trails to explore (great to see from the top and bottom).
Canyonlands however is a giant open area with layers going deeper and deeper into the ground that looks like a giant meteor hit it and it feels like it's on a different planet.
Update: I've made a post on Canyonlands vs the Grand Canyon that you can see for more thorough comparison photos.
However, Canyonlands in my opinion is better because:
The views from the top of the park are just better. I honestly got bored looking at the views from the Grand Canyon quickly, but never in the case of Canyonlands and there are so many beautiful points to explore that it always surprised me how stunning it looks everywhere.
You can actually go down to the bottom of the park as it has a famous drive called the White Rim trail. You can take a car, bike or just walk down there (not recommended) to explore more of that. With the Grand Canyon, you have to hike down (not for everyone).
The hikes in Canyonlands are just better overall and there's more to see from the top and bottom of the park.
Arches National Park is literally nearby (1 hour away, tops).
Grand Canyon vs Capitol Reef National Park: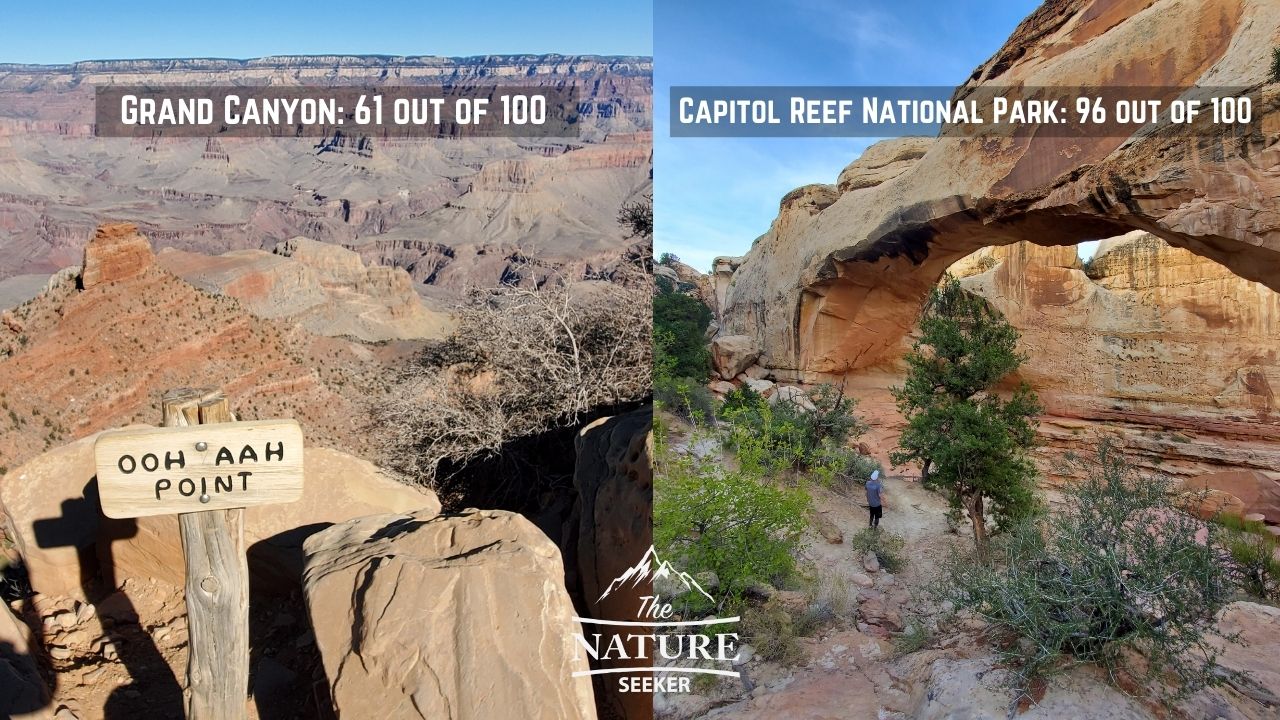 I spent a little bit of time in Capitol Reef National Park, but enough to know that it's better than the Grand Canyon too. There are specifics as to why that is, but here are the main reasons:
Extraordinarily beautiful hiking trails.
Insanely beautiful scenic drive inside and outside the park (very important).
It's a much interactive park to explore in my opinion than the Grand Canyon.
Has awesome natural bridges.
The red rocks of this park as well as the other colors (white, grey, ect…) are just amazing to view.
In my opinion, Capitol Reef National Park has some of the best mix of scenery you can find in all of Utah's Mighty 5 National Parks.
Grand Canyon vs the Catskills:
The Catskill Mountains are in New York State (south of the Adirondacks) and since I've already said that the Adirondacks look better than the Grand Canyon, I will make the same argument for the Catskills too.
There are 2 very difficult trails here that bear SOME similarities (in difficulty) to the famous rim to rim trail in the Grand Canyon which are Devils Path (22 miles) and the Long Path hike (400+ miles).
Grand Canyon vs Crater Lake National Park: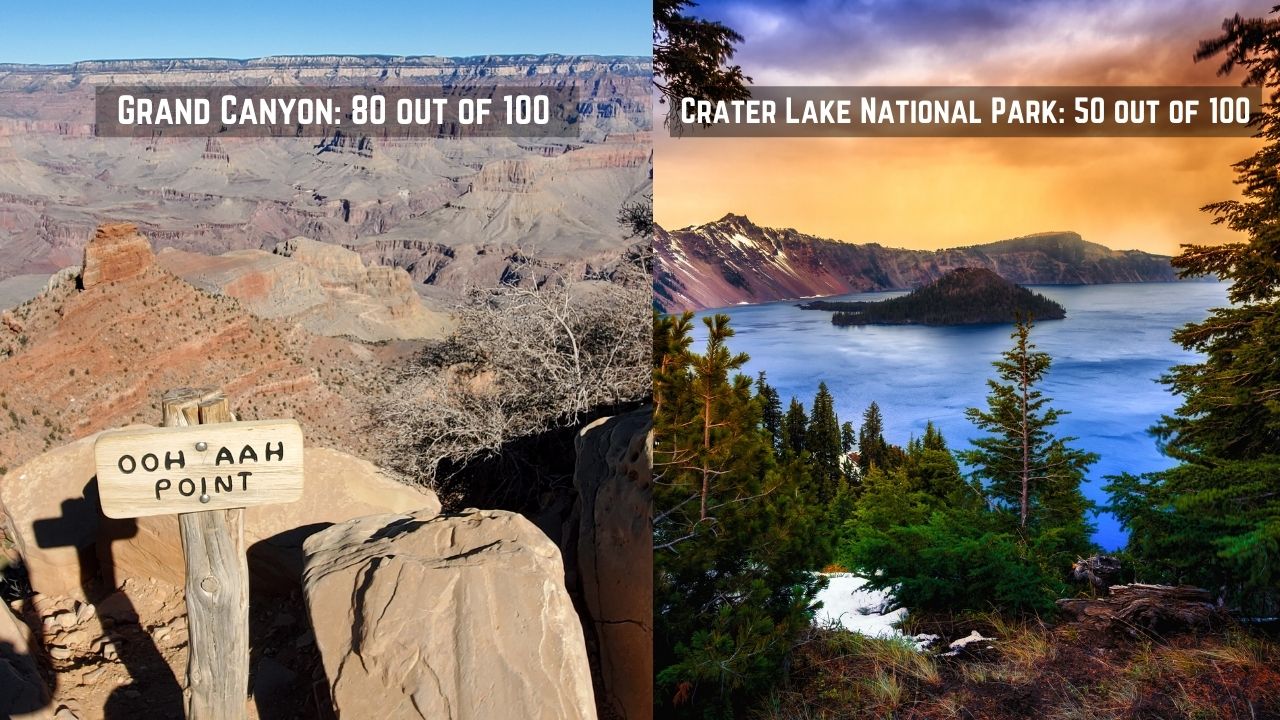 In this rare instance, I will say (without any doubt) that the Grand Canyon is much better to explore than Crater Lake. I've been to Crater Lake once and that was enough for me.
It's nice to see the giant meteor hole and all, but in terms of activities, the Grand Canyon has more stuff to see and do and I also think the views in it are far better than in Crater Lake.
Now granted, Crater Lake has it's own list of activities to do (scenic drive, good overlook, hiking, swimming and so forth) that you will not be able to do in the Grand Canyon, but overall, I think you'd get more out of a visit to the Grand Canyon than Crater Lake.
Grand Canyon vs Cuyahoga Valley National Park: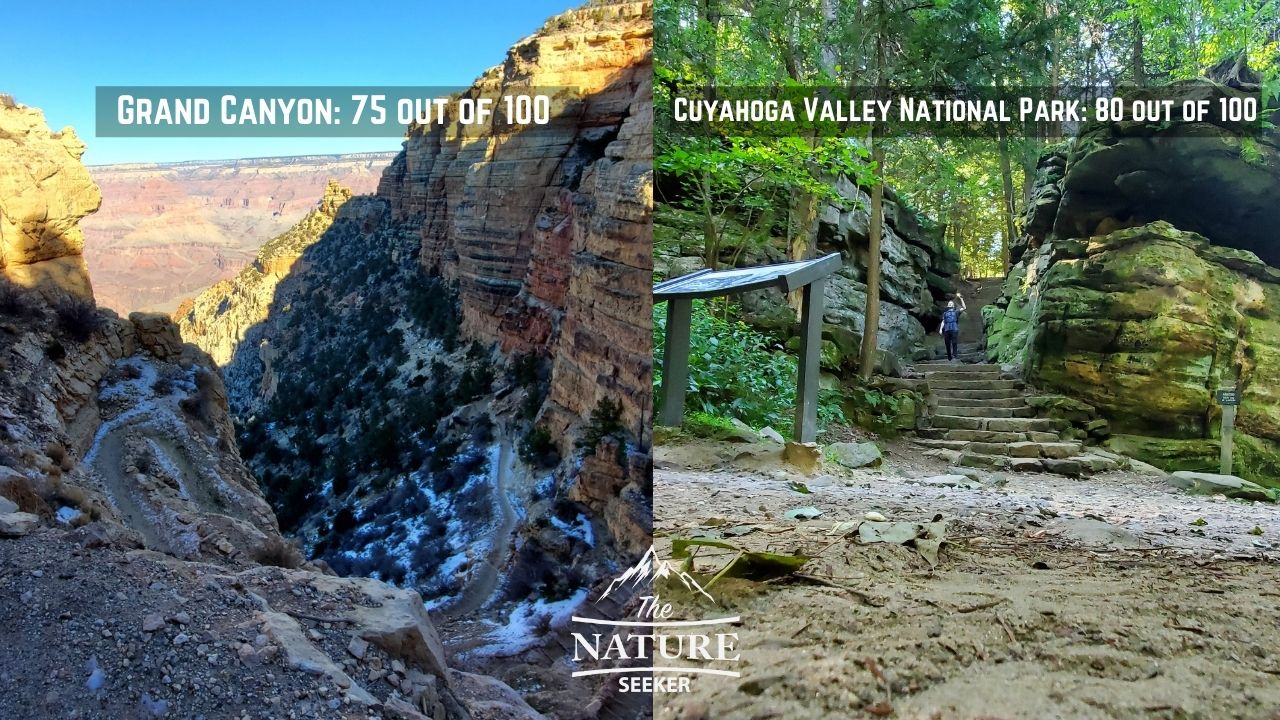 Cuyahoga Valley National Park takes this and to be honest, it's a park I didn't know even existed.
I accidentally saw it on my way while I was on a road trip to the Upper Peninsula of Michigan.
This park has a lot of hiking, and family activities to check out, including waterfalls and just overall offers more than the Grand Canyon in my opinion. My personal favorite would be the Ledges Trail in this park.
Now to be fair, the scenic drive in this park lacks a lot, so in that regard, the Grand Canyon would be better, but that's about it.
Grand Canyon vs Daniel Boone National Forest: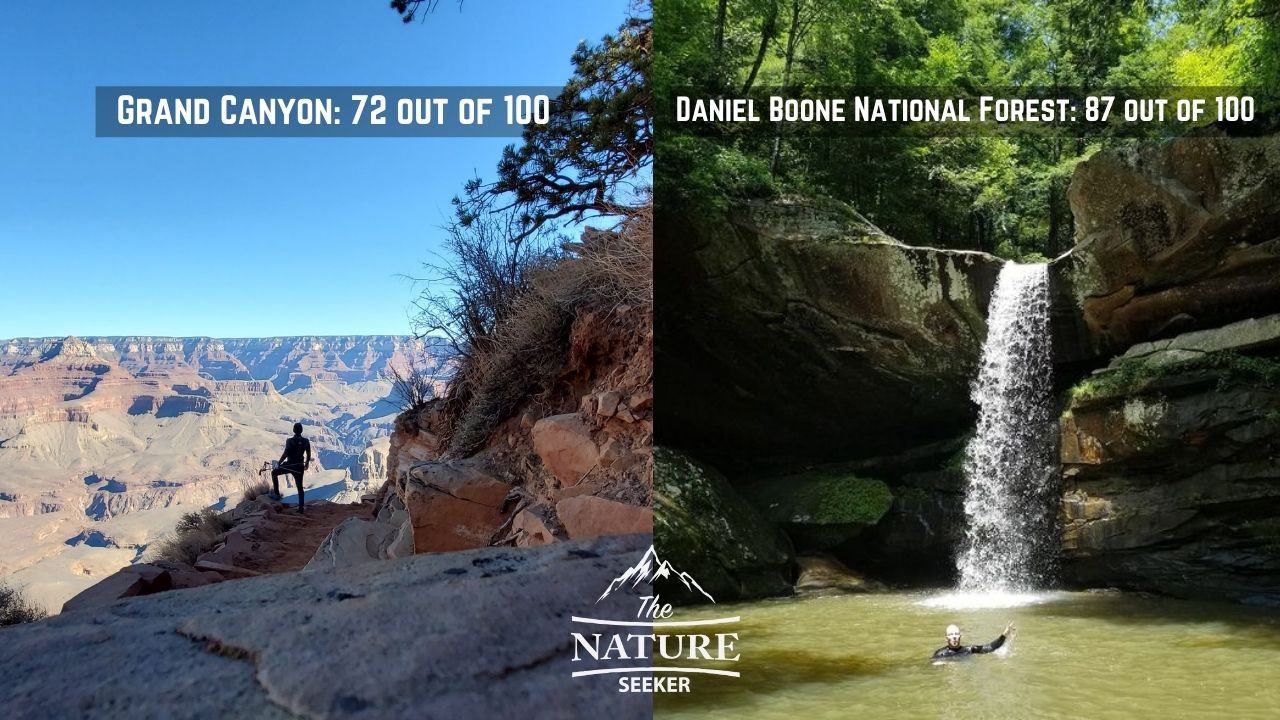 Daniel Boone National Forest is in my opinion one of the best things to explore if you're in Kentucky and it's 10x better than Cuyahoga Valley National Park too (less crowds as well). Obviously when you take that into account, you'll probably understand why I consider it to be better than the Grand Canyon too.
There's many hikes, regions, nature spots, waterfalls, natural bridges and even secret hikes to explore (including caves). My trip to Daniel Boone National Forest came about by accident, but I was so happy I came across this spot I didn't know existed.
The ONLY advantage the Grand Canyon holds here is a better overlook overall and that the bug problem there isn't as bad as it can get in Daniel Boone (it's awful there during the spring and summer).
Grand Canyon vs Delaware Water Gap (National Recreation Area):
This an even one for me. Both the Delaware Water Gap and Grand Canyon hold their respective advantages and disadvantages against one another which evens out when you weigh everything.
The Delaware Water Gap is a region that divides New Jersey and Pennsylvania and is very popular to explore. There's a lot of stuff to see here and that is the main advantage it holds over the Grand Canyon.
The advantage the Grand Canyon has in this regard is that it's just a more beautiful region to look at with bigger mountains and the main hikes there are just better and more adventurous.
Similarity wise, both of these places have a giant river you can kayak on. With the Delaware Water Gap, it's the Delaware River, and with the Grand Canyon, it's the Colorado river.
Grand Canyon vs Finger Lakes: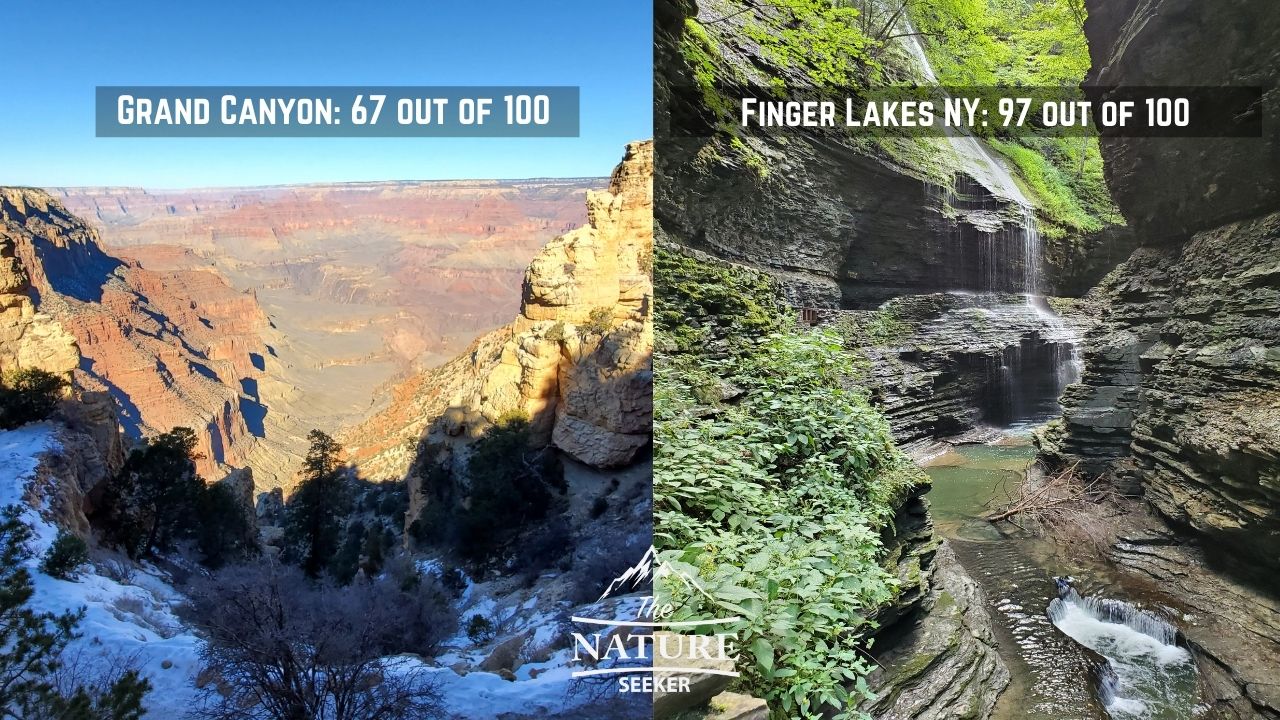 Finger Lakes in my opinion might be the most beautiful region in New York State and that already makes it better to visit than the Grand Canyon. Aside from the obvious stuff like:
And just as well, there are stunning spots like Watkins Glen, as well as Buttermilk Falls State Park.
You also have vineyards there.
There are also giant lakes spanning across the region.
The towns in the region offer a lot of opportunities as well.
Overall, this region feels like you're in Italy at times (I'm not joking).
I just think people will have many more fun activities to do here vs the Grand Canyon and that will help you get more out of your trip.
Grand Canyon vs Grand Staircase Escalante: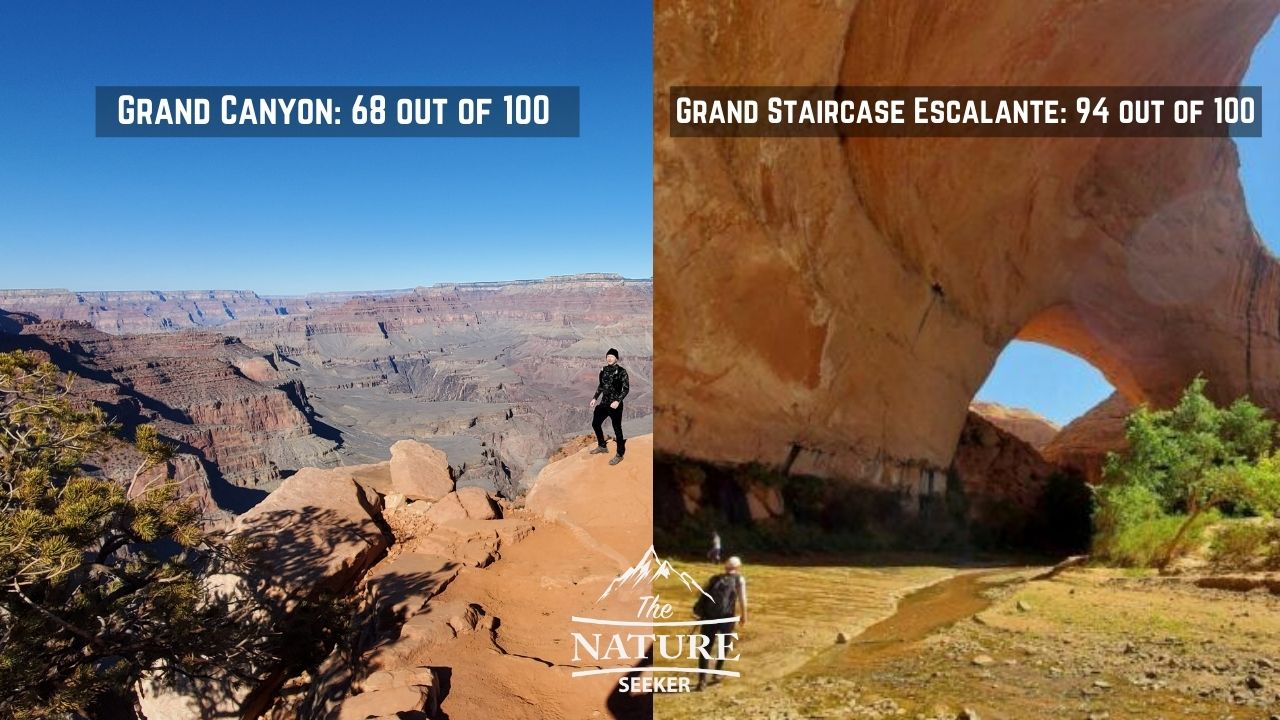 Grand Staircase Escalante is one of Utah's best kept "secrets" in that it may as well be classified as a national park, but it isn't, which means it isn't as crowded or well known about, but it's a large section of Utah which has many hikes, trails, slot canyons and much more to see and do.
I've made it a mission to explore more of this region than any other national park in Utah and that's because it offers so much. Compared to the Grand Canyon it has much more to see and do there.
You will even find waterfalls in Grand Staircase Escalante, and awesome hiking trails and viewpoints. Another cool thing is that this region also has one of the nicest scenic drives in Utah known as road 12 passing through much of it so you will get a nice experience out of that too.
Grand Canyon vs Great Smoky Mountains National Park: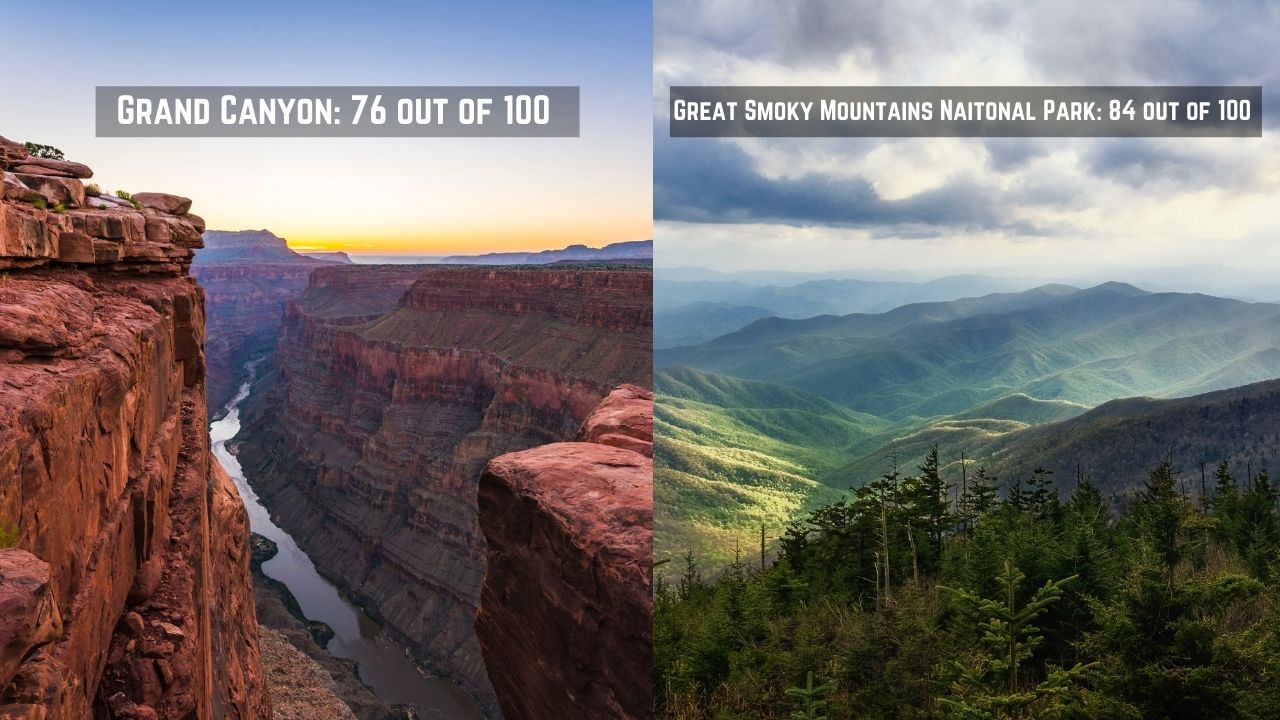 I've driven and explored a bit of Great Smoky Mountain National Park. In fact, I would say it's the first national park I've ever visited while I was exploring the Appalachian Mountains.
I really enjoyed my time here, from the actual Blue Ridge Parkway road which I already said offers better scenery than the Grand Canyon's scenic drive and the hikes there. Also a cool thing about this park is the actual "smokey" part of it. The clouds in this region (especially during the morning hours) pass by making this whole place much better to view.
There's also cool towns like Gatlinburg that are nearby and fun to explore (you can't really see much around the Grand Canyon).
Grand Canyon vs Hocking Hills State Park:
Hocking Hills State Park might be the most beautiful places I've ever seen in Ohio State (and in the US), the same state where Cuyahoga Valley National Park also resides in (here's a comparison between Cuyahoga Valley and Hocking Hills).
That park has a ton of stuff to explore and it's basically a combination of canyons, rivers, giant caves and hikes/campground to explore. The park isn't as gigantic as the Grand Canyon, but in my opinion, there is much more beautiful scenery and stuff to see.
The Grand Canyon's advantage over this park would be the crowds and you may be wondering how that is possible. Well even at peak season, you may find less crowds on the trails in the Grand Canyon, whereas in Hocking Hills, it's just insanely crowded there most of the year (and for good reason).
If you're into green nature, caves, you may also find Hocking Hills State Park to be much more beautiful to explore.
Grand Canyon vs Hudson River Valley:
I have a lot of experience hiking and exploring the Hudson River Valley and I would say it is either tied in this case compared to the Grand Canyon if not slightly better. The Hudson River Valley is outside New York City and has a lot of parks, scenic drives and things to see. Individually, there are a lot of parks along the Hudson River including:
Individually, while these parks are beautiful on their own, the truth is, they can't hold a candle against the Grand Canyon's beauty, but they are so close together along the Hudson River Valley that combined make them a contender against it.
Obviously the mountains here are nowhere near as high as in the Grand Canyon, and overall, the viewpoints of the Grand Canyon, while less in number are better, but the Hudson River Valley just offers more because it's so long with stuff to do around it.
And once again, the fact that we are talking about a region of the US where fall colors come around, exploring this region during the fall is something that I highly recommend!
Grand Canyon vs Joshua Tree National Park:
I visited Joshua Tree for one day in 2022 to explore a "secret" hike called Chasm of Doom and besides doing that, I also got a chance to drive through the entire park to get a good view of what there is to see.
I would say the Grand Canyon and Joshua Tree are tied, but not for the same reasons as they are 2 entirely different parks in views as well as what there is to do around there. Joshua Tree's main advantages are that the scenic drive is nice (not really stunning), but the hiking opportunities there (and secret places) are better than what I have seen and heard about being possible in the Grand Canyon.
The Grand Canyon does have superior overlooks though.
In terms of tied stuff, the sunsets in each place are stunning (although entirely different).
Grand Canyon vs Lake Tahoe: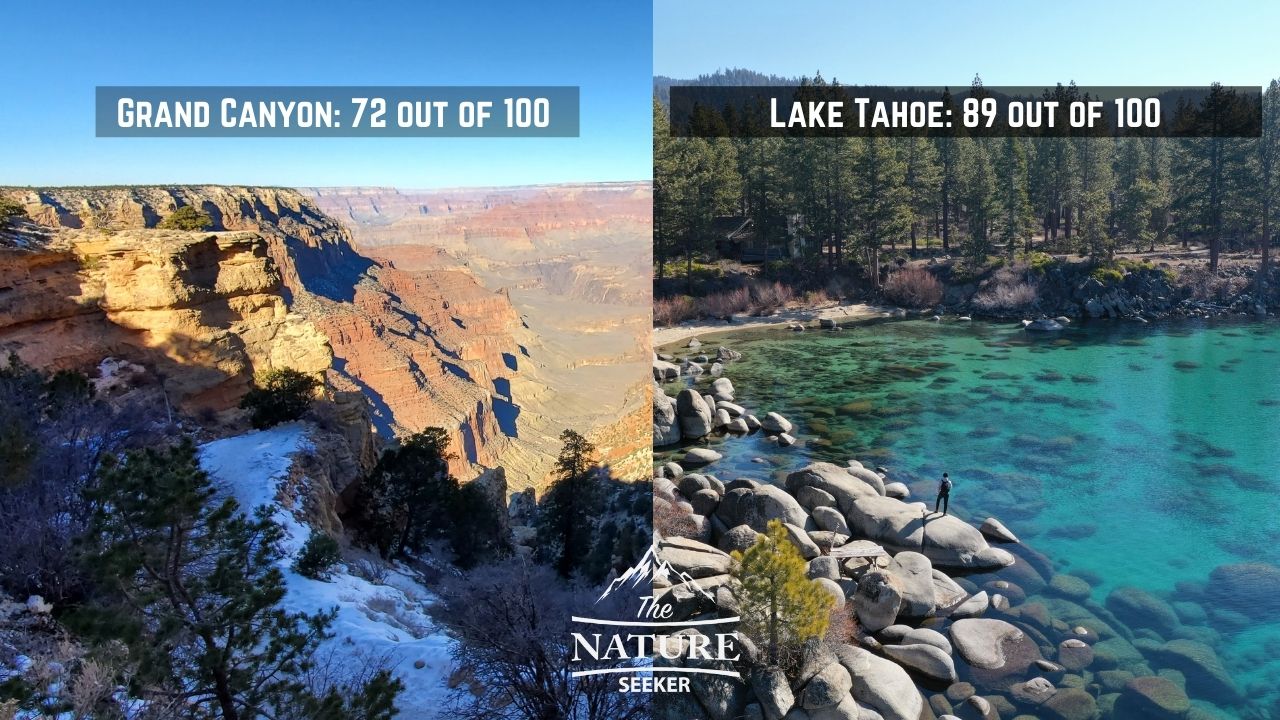 Lake Tahoe is also better than Crater Lake, but while the Grand Canyon holds a higher score vs Crater Lake, it loses to Lake Tahoe for several reasons:
It's easier to explore MORE of Lake Tahoe than the Grand Canyon (more accessibility).
There are more activities or ALL sorts in Lake Tahoe, including kayaking while in the Grand Canyon, it's sight seeing and maybe hiking down to the lower level of the canyon (less accessible).
If you're someone who is into swimming, hiking and so forth, you will get a lot more out of Lake Tahoe.
Grand Canyon vs Minnesota Coastline (North Shore):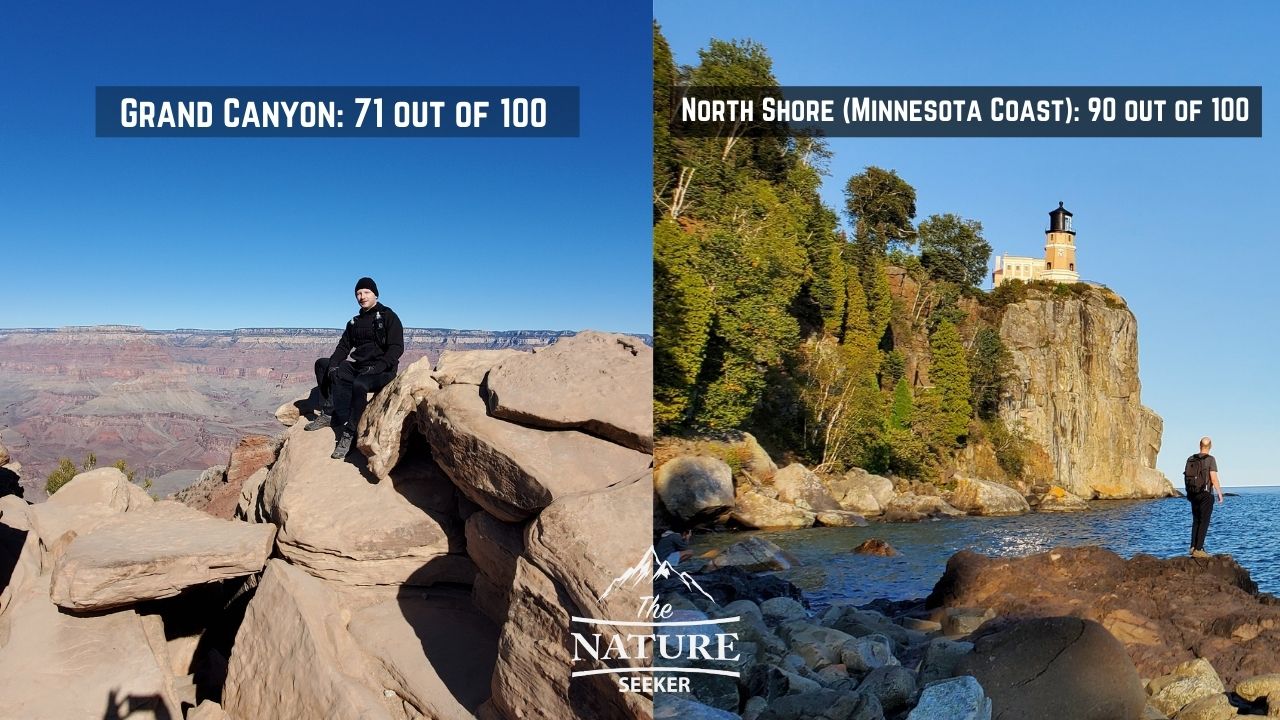 Most people don't know there is a such a thing as the North Shore, but it's in Minnesota and a place that looks as beautiful as the Maine Coast and Oregon Coast too.
It's only 150 miles or so but the shoreline itself is beautiful, and just as well, you also have access to mountains and hikes that are close by. Another major advantage the North Shore has is that (in the right times during the year), you can see the northern lights there as well.
The kinds of activities and views you get in this region beat the Grand Canyon in my opinion and the North Shore just has stuff you can't do in most places: Kayaking in sea caves, secret waterfalls and hikes and once again, the northern lights.
However, because it is in Minnesota, one advantage the Grand Canyon has is that you can visit it during the winter (south rim only) whereas most of the Minnesota Coast is frozen over during that time (not a pleasant place to be in my opinion).
Grand Canyon vs Mojave National Preserve: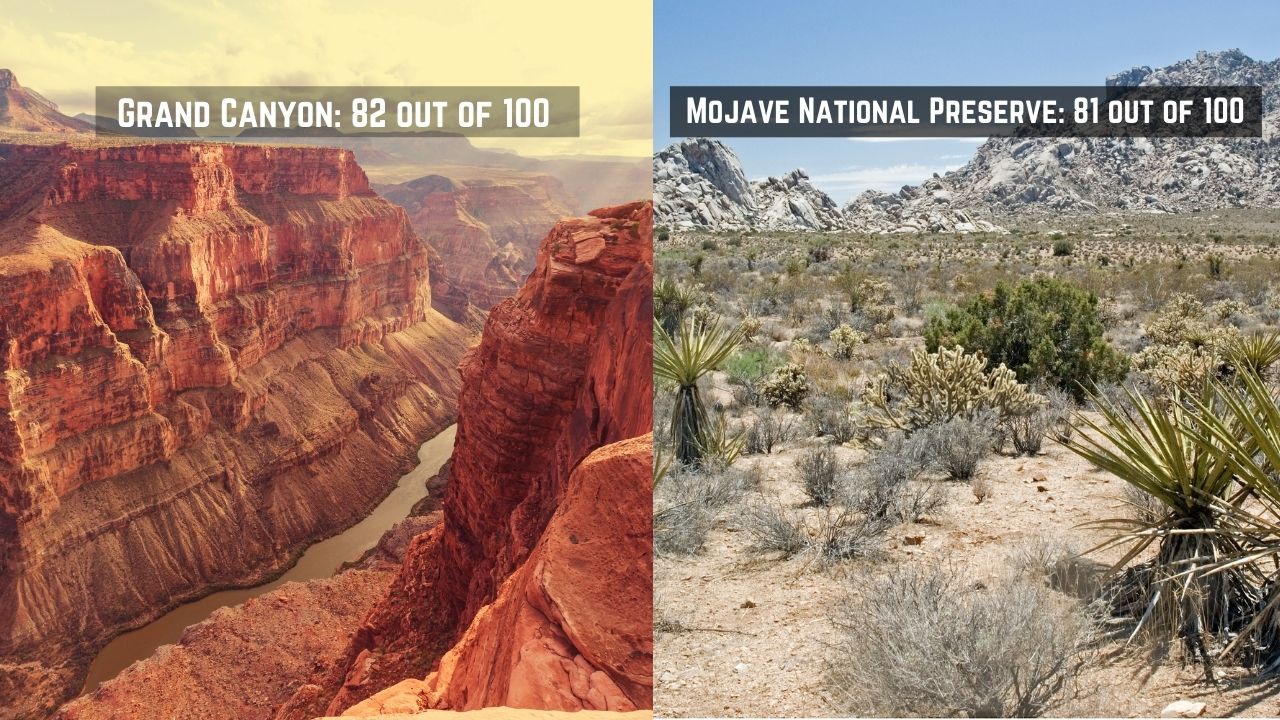 I drove through Mojave National Preserve on my way to Joshua Tree and did make a few quick stops when it was warranted. The park itself is beautiful and there are varieties of things to see and explore including:
Sand dunes.
Some parts of the park look like Joshua Tree.
Most of it is pretty flat though with cactus's everywhere.
So how does it compare to the Grand Canyon?
Well I think it's better in this case because I think you'll get better views in the Grand Canyon, but the variety and drive through of the Mojave desert almost balances things out between these 2 places.
Grand Canyon vs Monument Valley:
I've explored places near Monument Valley (The actual inside of the park was closed when I got there), but the spots near this region are enough for me to recommend it over the Grand Canyon too.
While the terrain is barren across most of it and the Grand Canyon has more green regions to explore (which give it a point over Monument Valley), you have a lot more different things to see inside and out of Monument Valley which means you will have more to see, do and enjoy.
From what I have seen, the inside of Monument Valley is stunning as well and I am confidently going to rate it higher than the Grand Canyon based on that (plus what I already saw nearby).
Grand Canyon vs Oregon Coast:
I've passed through the entire Oregon Coast and in my opinion it is the most beautiful coast of the United States. And just like every other coast I've been comparing it to in this article, it is better to explore that than the Grand Canyon.
The Oregon coast has about 400 or more miles to explore, natural bridges, sea caves and a ton of stuff whose beauty is just amazing. Another superiority this place holds is that the weather is more bearable year round. In the Grand Canyon, most of the time, it'll be extremely hot (especially in the tourist spots which are on top of it). On the Oregon coast, even during winter time, it's much more pleasant.
In terms of similarities, you obviously can't compare these 2 spots because they are totally different, but the sunsets are awesome in each spot. I would say it's better to explore the Grand Canyon in the winter and the Oregon Coast year round, but if you're looking for more green nature, water, caves and looking to do a multi day road trip, you would enjoy the Oregon Coast more with that time than the Grand Canyon.
Grand Canyon vs Pictured Rocks National Lake shore:
Pictured Rocks National Lake shore resides in the Upper Peninsula of Michigan and it is a spot I had a chance to explore, but not as deeply as I had hoped.
Yet the amount of stuff I saw in that park made it as good if not more preferable to the Grand Canyon too.
The only superior element of the Grand Canyon over this place is the scenic drive, which while not amazing by any means is still a ton better than the one in Pictured Rocks by far.
However, Pictured Rocks beats the Grand Canyon in the scenery department, whether on it's coast, waterfalls or things to do.
Grand Canyon vs Pinnacles National Park: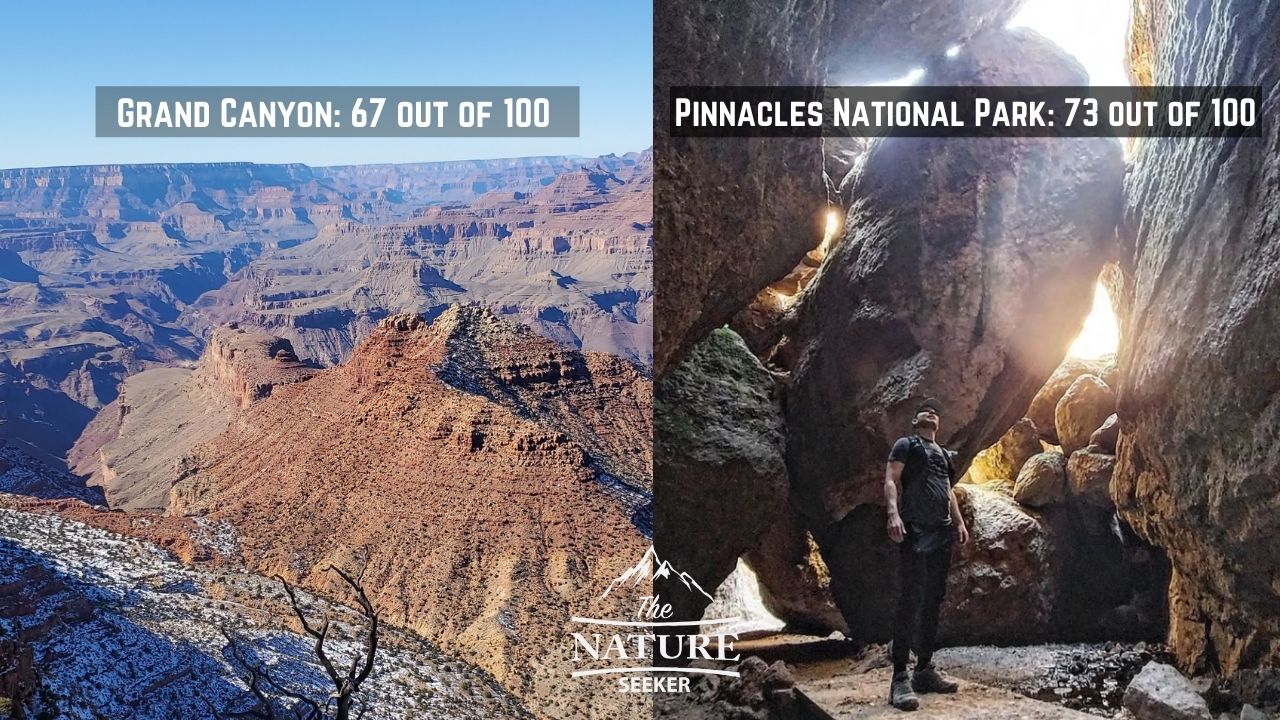 This is also a cool comparison that I actually never thought I'd do, but I may as well.
Pinnacles National Park is in California and has cool hikes to explore, but to me the best parts are the 2 cave areas on the north and south end of the park which you can hike through in one session (which is what I did).
In terms of hiking, I would say Pinnacles is as good if not better than the Grand Canyon (rim to rim might be a better experience).
But the Grand Canyon holds better views in my opinion from the top of it whereas Pinnacles also has nice views, just not that amazing in my experience.
Grand Canyon vs Redwood National Park:
When I was comparing the California Coast to the Grand Canyon, I mentioned how the Redwood trees and regions of them were spread across the northern coast of the state. Everywhere from San Francisco to the southern end of Oregon is where you'll find clumps of the Redwoods in different regions and while I haven't explored them all, I have seen and hiked enough of them to know that it's better to explore this spot than the Grand Canyon.
To me, exploring the Redwood hikes and just looking up at the giant trees is an experience to behold for anyone. And the green mossy areas also add to the beauty of these places.
However, one similarity between these 2 spots is the silence. Both places are very quiet and that is also a huge advantage, but where the Grand Canyon is open silence, the Redwoods are more of you feeling like you're inside tranquil beauty (something difficult to describe unless you're in the area). Plus there are elk there too (more animal life).
Grand Canyon vs Sedona: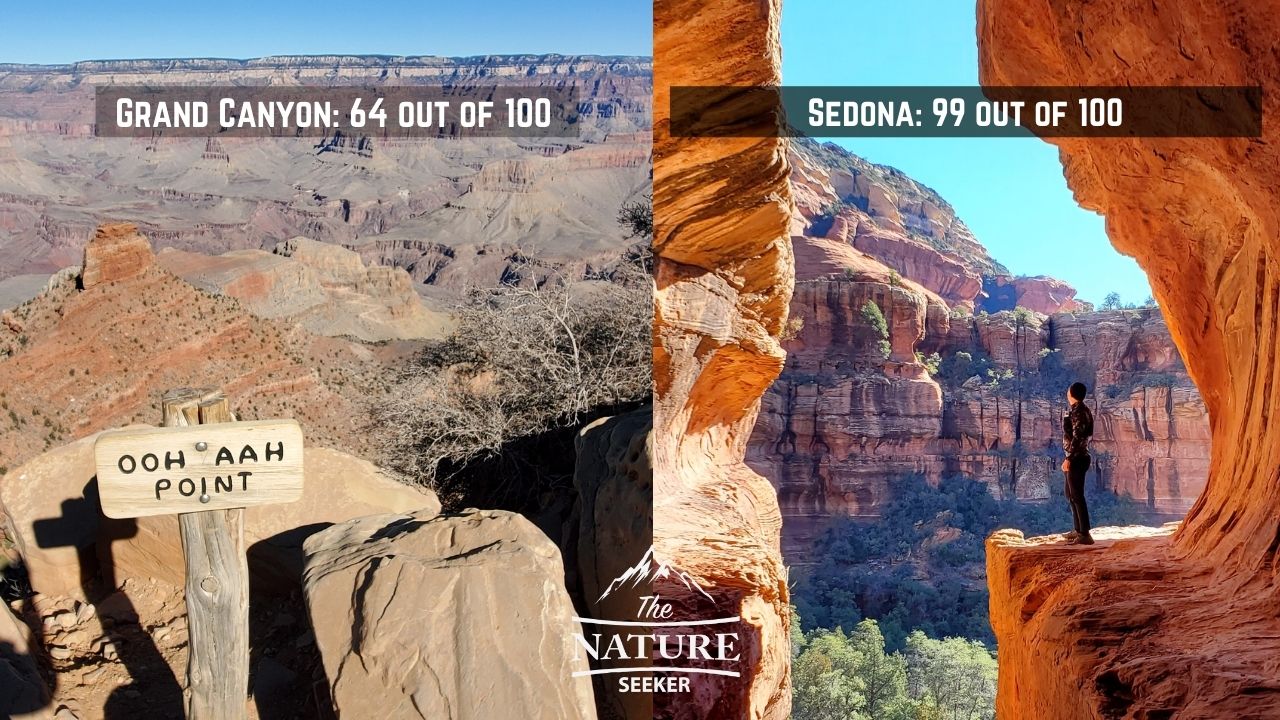 I have an interesting story to share about this comparison: I often visit Las Vegas for a yearly conference and meet people during that same conference who wish to sight see. Most of them want to visit the Grand Canyon simply because it's the only place they know is "nearby".
Recently, I had the chance to explore both of these places (and did) and let me tell you: Sedona is not only better in every regard, but it's also on the same path if you're coming from Las Vegas that is. In fact, the way it works is that if you're starting in Vegas, you'll go east to Flaggstaff and basically have a fork to choose from:
Turning north will take you to the Grand Canyon (2 hours north of Flaggstaff).
Turning south will take you to Sedona (30 minutes south of Flaggstaff).
But aside from the logistics, here's why I think Sedona is way better than the Grand Canyon:
The terrain is just breathtaking.
The hikes are insanely beautiful, whether short or long, I don't think any hike in the Grand Canyon is as beautiful.
There is more civilization nearby and more things to do.
There's also caves and secret hikes to explore.
There is a nice mix of green scenery and red rocks.
Overall, the views and adventures within Sedona in my opinion are way better.
Here are just some of the spots that in my opinion prove how much superior Sedona is: Devils Bridge, then the Subway Cave, as well as Birthing Cave and of course, the caves at Soldiers Pass, and on top of that, the views in Sedona are ridiculously stunning everywhere.
I actually explored the Grand Canyon right after visiting Sedona for almost 2 days and because Sedona set the bar so high for me, I just didn't have the same feeling of amazement when I went to the Grand Canyon. The only real downsides to Sedona are the crowds though, so I would say come here during the winter (see more on Sedona vs the Grand Canyon).
Grand Canyon vs Sequoia National Park: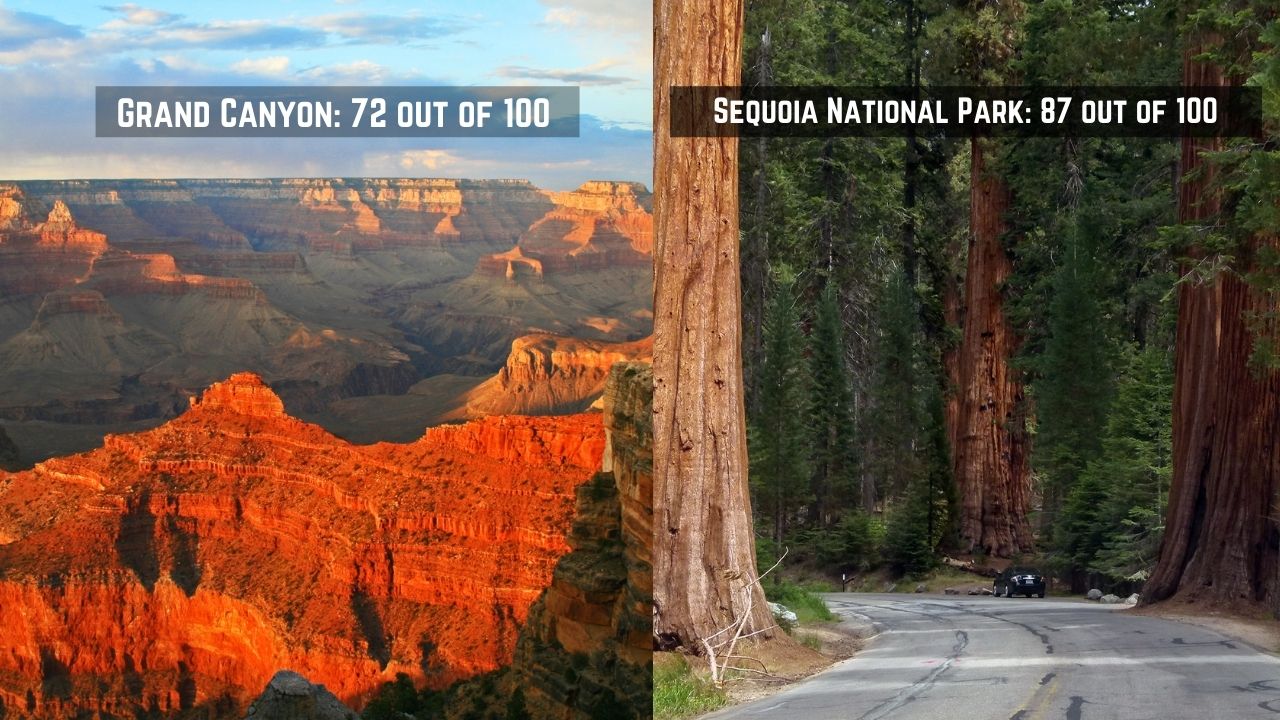 Sequoia National Park is in my opinion also better than the Grand Canyon not just because of the giant trees but because of the much more interactive scenic drive and the many things on that drive you can do there.
The hiking trails in Sequoia are also mixed in views and experiences where the Grand Canyon is amazing, but much more of the same type of stuff.
If you are also a beginner hiker or explorer, both of these national parks can be explored from several angles without having to hike anywhere deep into the park, but even in that regard, you can see and do more in Sequoia National Park and just a great overall experience, and in a single day there too.
Grand Canyon vs Vermilion Cliffs National Monument: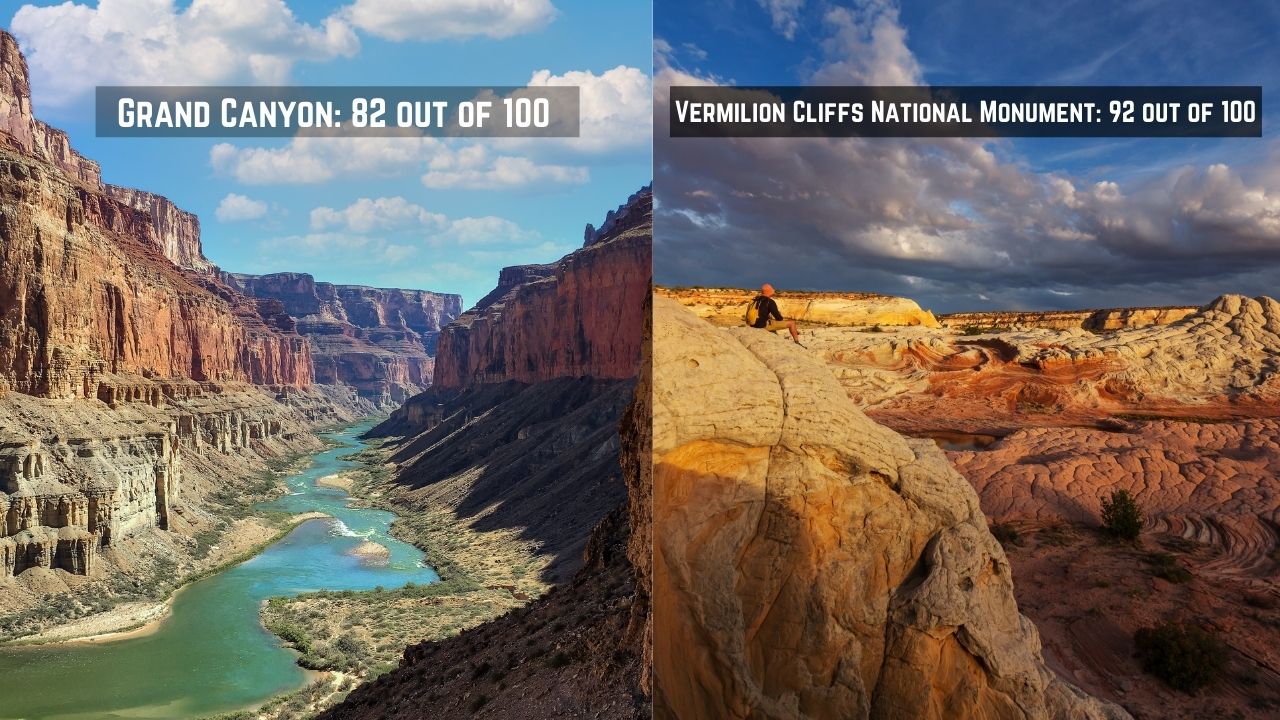 I visited and drove through the Vermilion Cliffs National Monument area (in Arizona) to explore a hike called the Cathedral Wash and while that hike alone was amazing, I was even more stunned by the beauty of the Vermilion Cliffs. It may even be as good if not better than Grand Staircase Escalante which I already said is better than the Grand Canyon.
There are a lot of red and white rock mountains there and as it just so happens, this region is the next door neighbor to the Grand Canyon (near the north rim).
So if you do decide to visit the Grand Canyon, do yourself a favor and visit the Vermilion Cliffs as well (I would start there and then go south to the North Rim so you don't have to circle back so much).
This region is also the same place that houses the famous Wave hike which is actually one of the hardest to reach because you have to win a lottery to get there.
Grand Canyon vs Olympic National Park: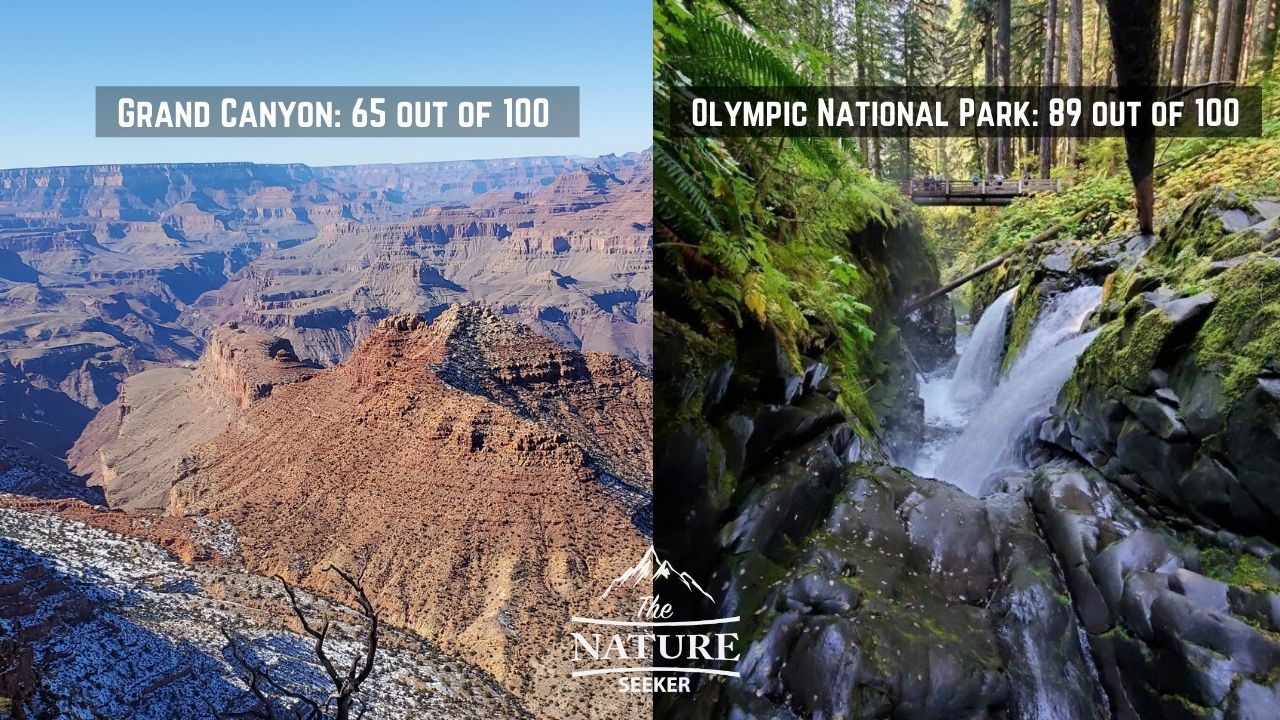 I've been to many parts of Olympic National Park and it's an even larger park than the Grand Canyon, but size is not what makes Olympic National Park better.
It's honestly the whole mix of things. Olympic National Park has so much to offer and much more than the Grand Canyon too in my opinion.
There is the Olympic Peninsula, the inner parts of the park itself, many beautiful waterfalls, the clear water, awesome hikes, just so much and that really makes it better to check out.
Of course, you also have to include the Washington coast as well here since so much of it is in the region of Olympic National Park too.
Grand Canyon vs Yosemite National Park:
I had a short day trip once to Yosemite National Park and I enjoyed it a lot more than the Grand Canyon too.
The only "downside" is that most of the drive through the park is really boring, aside from the AWESOME scenic drive that is the valley drive where the mountains are all above you and where the most popular places reside.
View wise, Yosemite is better in my opinion on all fronts and there is also 1 particular event there called Firefall that only happens somewhere in February each year that would make Yosemite one of the top parks in the world to check out!
Grand Canyon vs Zion National Park:
Zion National Park wins, hands down. In fact, the first time I was in Vegas that I decided to see what there was to explore out of it, this park came out.
At the time, when I was less experienced in what there was to see, I assumed that the Grand Canyon was the only place to check out (since everyone I knew at the conference was doing it too), but upon seeing that Zion was only 3 hours away, where as the Grand Canyon was 5 hours away, I decided to check out Zion.
From the moment I did, I fell in love with that park and have been to it at least 4 times (and will keep coming back). Here's just some areas where Zion National Park is so much better:
There are much more amazing hikes (The Subway, the Narrows, the famous Angels Landing and Observation Point).
If that's not enough, the scenic drive through the 2 main roads in Zion is spectacular.
There are also canyons within Zion where you can go inside off and go down into on rope.
There are more accommodations near Zion than in the Grand Canyon (like good hotels).
The terrain is much more beautiful.
The overlooks in Zion in my opinion beat any views in the Grand Canyon.
I honestly cannot find one advantage the Grand Canyon holds over Zion National Park other than crossing it off your list.
More general questions about the Grand Canyon vs many of the other spots on this list:
Is Canyonlands the Grand Canyon?
No they are 2 entirely different parks and in different states. Canyonlands is a major national park and is in Utah while the Grand Canyon is a major national park in Arizona.
Is it better to visit Yellowstone or Grand Canyon?
In my personal opinion the Grand Canyon is a better place to visit than Yellowstone because there are better sights and more to do in the area overall.
Related:
Here's a recent post on the closest airport to the Grand Canyon that I made which you may want to check out if you're looking to go to this park.
Want to see more Grand Canyon vs comparisons? List yours below!
I'd love to know your thoughts on these comparisons and which ones you think are better or worse than the Grand Canyon, as well as those you recommend I check out and add to this list.