I've explored numerous caves in Sedona, but in my honest opinion, the ones located off the Soldiers Pass trail are the most beautiful and at the top of my list to hike to. In this post, I want to show you exactly where to find them, and while they aren't exactly "secret" and there's a good chance you'll run into people there, it's still possible to get lost and so think of this post as a guide in preventing that.
Here's 5 quick things you need to know about the Soldiers Pass caves:
1) The first thing I want to mention is that Sedona has many caves, and I've attached a picture of the specific one that is located by Soldiers Pass. It's not as well known as some of the others, but it is still popular (and stunning).
2) The second thing you need to know is that there are actually 3 caves in this region and once you find the main cave (the one you see here), that there's actually 2 more right by it and you can also explore them. The other 2 are not as accessible as the main one, but you can and should still check them out if you're in the area.
3) The caves are located OFF the Soldiers Pass trail and I'll tell you exactly how to find them without getting lost (it's not that difficult, but it could be a little unnerving for beginner hikers).
4) This hike also has you cross the famous Seven Sacred Pools and several other Sedona gems along the hike.
5) Beware of the small parking area! Soldiers Pass trailhead is open to only about 15 cars and if you arrive late (8 am to 6 pm), you'll either have to wait a very long time for a spot to open or perhaps will have to park your car in the town and take a rental to the trailhead (and back). I had to wait about 20 minutes for someone to leave (I started the hike here at 3 pm because it was my 4th Sedona hike of the day).
Quick info on the Solider's Pass Caves:

Name: Soldiers Pass Cave (there's 3).
Hiking distance: 4-5 miles in and out.
Difficulty: Moderate hike (some strenuous parts).
Is it easy to get lost? In certain parts yes.
Is it dangerous? There's a few parts, but it's mostly a safe hike.
Recommended? Absolutely! It was my favorite hike when I went to Sedona.
Aside from this basic info, also do note that can and SHOULD bring water and some snacks. For most of the year, Sedona's weather is pretty unbearably hot, although in these caves, it does get pretty chilly.
Here's a step by step guide to finding the caves in Soldiers Pass:
1) Start by driving to the Soldiers Pass trailhead: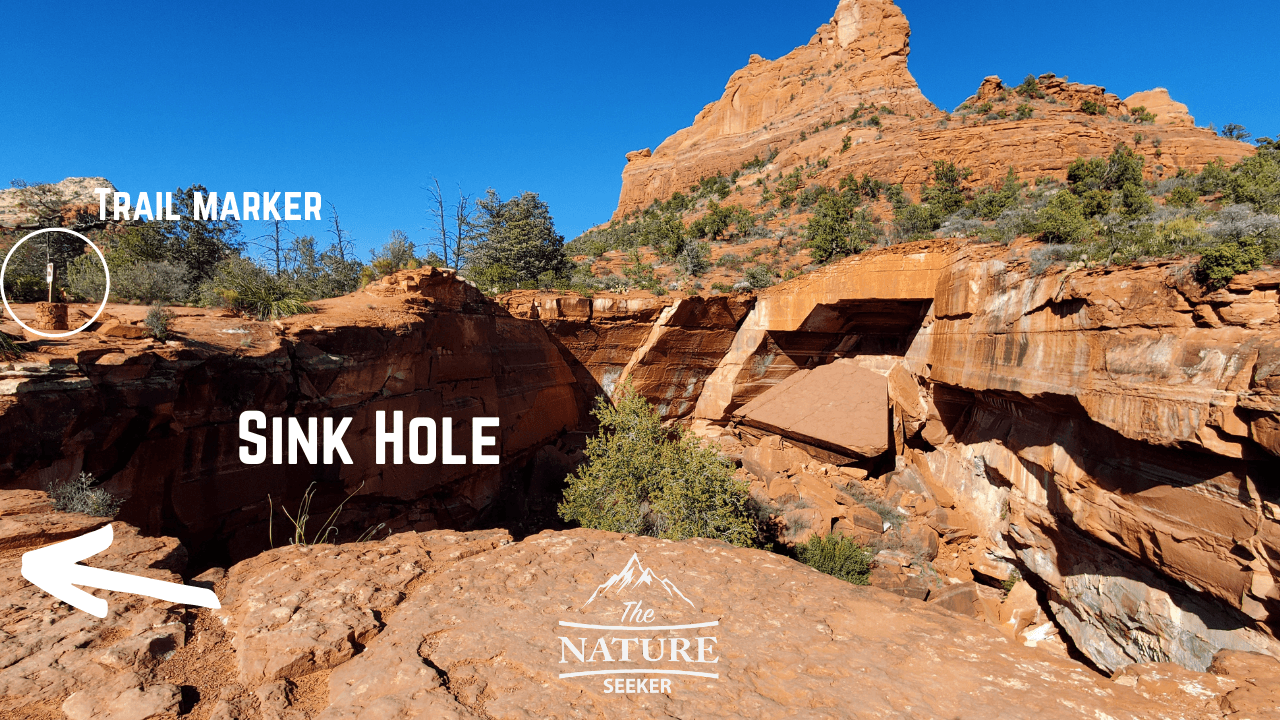 This is where you'll begin the hike. I've included a GPS link to the Soldiers Pass trailhead here just in case. Get here early (8 a.m is when it opens). Once you've parked, you'll begin the trail and it'll head north.
You'll have at least 1 fork in the road within the first 200 feet. Stay to the left and basically continue following the signs for Soldiers Pass. You'll be walking in a zigzag fashion, but maintaining a north direction (which is what you want).
Shortly after the first fork, you'll also cross a very famous sight in Soldiers Pass which is a sinkhole or Devils Punchbowl. Stay to it's left to stay on the trail.
2) Continue on Soldier's Pass trail until you come to the Seven Sacred Pools: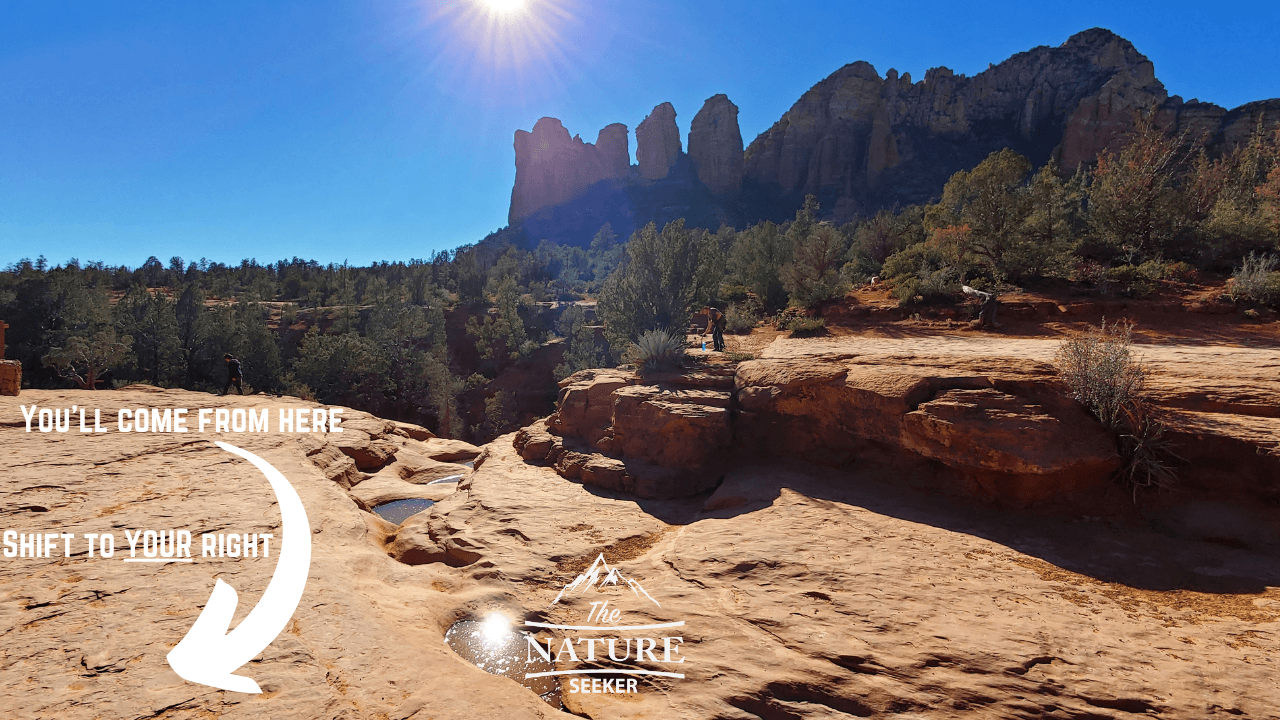 Seven Sacred Pools is one of the Easter eggs you'll run into on this trail and you will see a sign for it indicating you're there.
While I personally didn't find them all that impressive, the views in this specific spot are definitely amazing.
From the moment you reach Seven Sacred Pools, you'll want to turn to your right to continue walking on Soldiers Pass trail.
Do note on the image I shared with you, I indicate YOUR right. Make sure you do that.
You will be on it for about another mile.
3) Once you go another mile, you'll come across a fork that has a tree with a sign on it (this is the important turn part):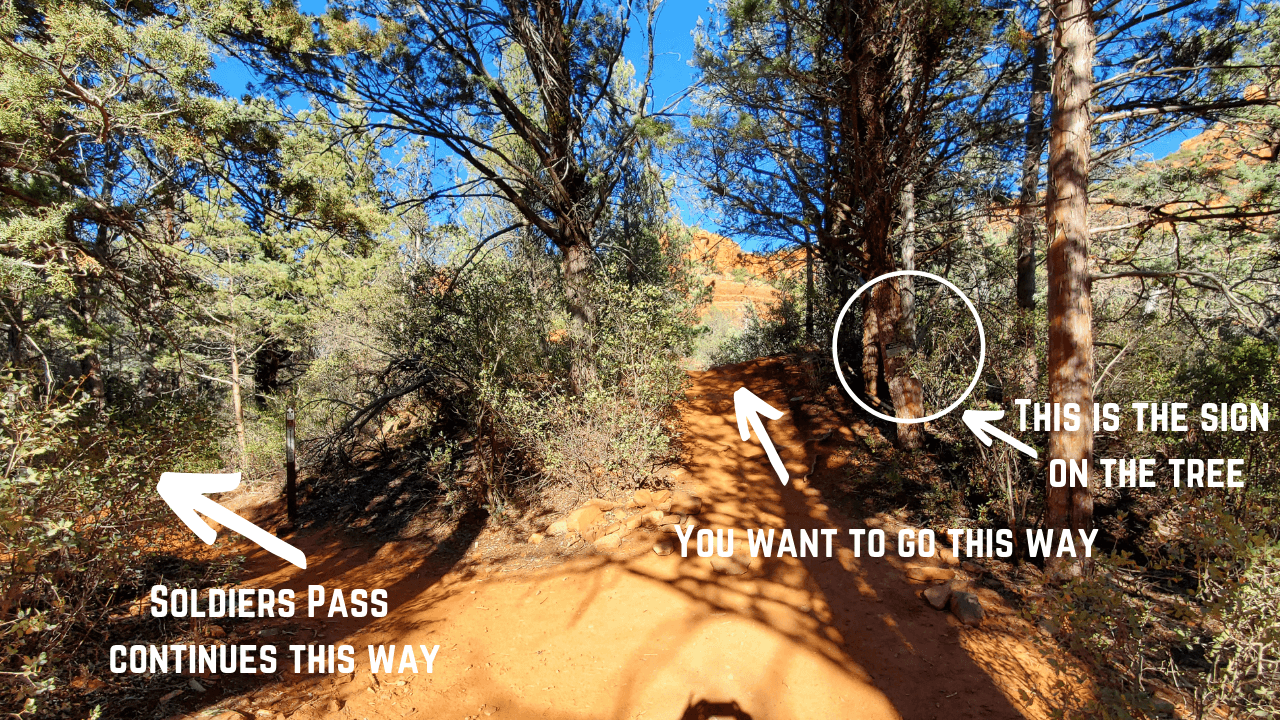 Look for a tree with a sign on it that says "entering wilderness territory" or something of that nature.
It will be on the right of the trail and literally the only tree with a sign on it. Right next to it will be a hill that won't even look like a trail, but you'll want to go on it to reach the caves.
From that moment, you will be OFF the main Soldiers Pass trail and the markers and trail will no longer be there (don't worry, it's not that far to the caves from there).
Once you are on the hill, climb up to the top of it and turn left. You will be walking almost parallel to the Soldiers Pass trail from there.
4) Soon after going off trail, you'll come across a huge plateau.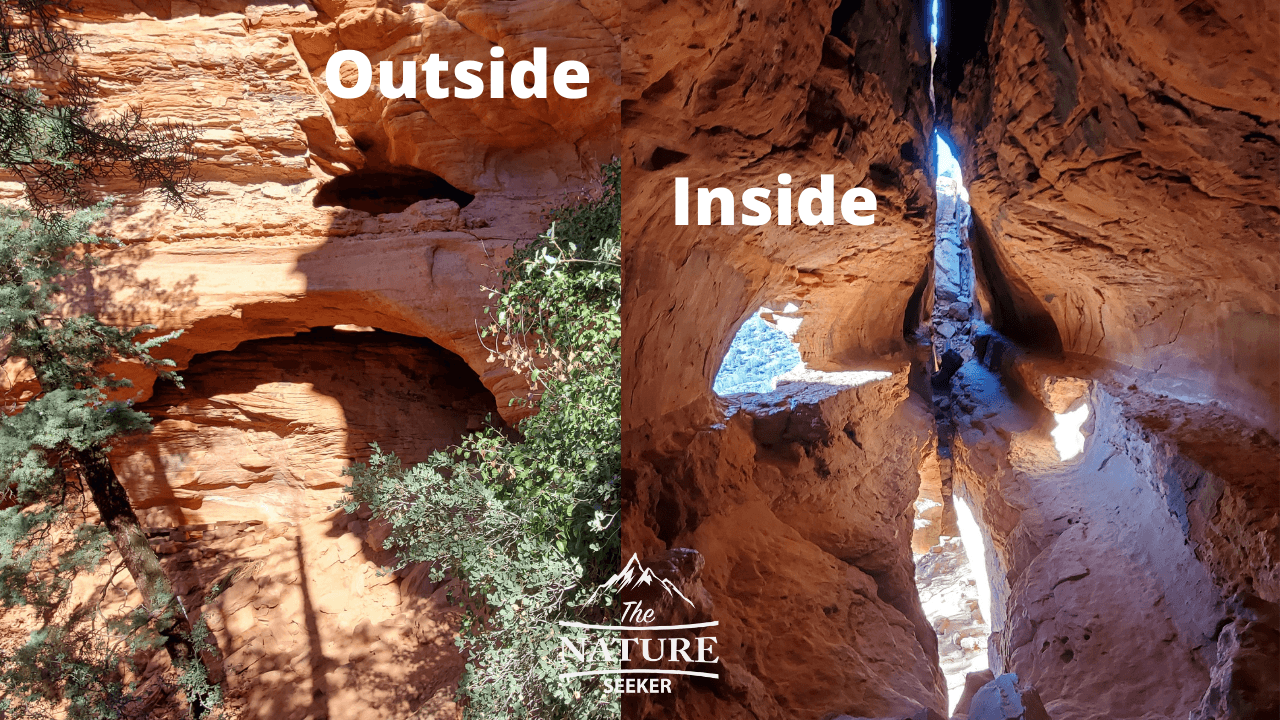 From here, you'll want to walk across it, almost in a straight line (north bound) where you'll see an opening and what looks like a trail. Basically, you'll be walking in a north east direction from the moment you exit the main Soldiers Pass trail.
As you cross the plateau and get back onto the "trail", you'll zigzag uphill until you get closer to the nearest mountain.
5) As you get closer and closer to the mountain, this is where you'll start to see the caves:
There's also a good chance you'll hear and see some people there.
When I got here, I was incredibly fortunate to be the only one there and I stuck around for a good 40 minutes, and at no point did anyone come, something you'll rarely encounter in Sedona (a blessing).
5 other things you should know about these caves:
1) Climbing up into the main cave isn't difficult, but it will require actual climbing (about 10 feet up). Once you enter into the cave, you'll be able to walk around, enjoy the sights and explore the other caves. You can also climb down the main cave if you wish to check out the other 2 caves as well.
2) Be careful inside as the surface is uneven and sometimes you may get a little dizzy walking around. Climbing up and into certain spots can be dangerous so exercise caution and your own common sense.
3) To exit, simply climb back down the same way you came up and backtrack (south west this time) back to the plateau, then hill, then back onto Soldier's Pass.
4) When you do come back to Soldier's Pass, make sure you stay to your left this time to stay on the trail, because there happens to be a parallel one right next to it which is meant for off road vehicles.
If you do somehow come upon it, don't worry, it'll still lead you back to the same parking lot. You can also turn left to get back on the Soldier's Pass foot trail at any point or wait until the trails converge near Seven Sacred Pools.
5) Overall, when you begin this hike, you'll be on Soldiers Pass trail for about 2 miles before exiting into the off trail part and from there, it's about a 1/2 mile to reach the caves.
Should you bring supplies and wear specific stuff to these caves? Yep:
Most of the trail hike is easy to walk on but to get to the caves themselves, you will need to scramble and climb a bit. Additionally, don't forget that you are in the desert and thus you will want to have a lot of water (hydration pack or something that carries a lot of water). Here's what I use:
More questions on exploring the Soldier's Pass caves: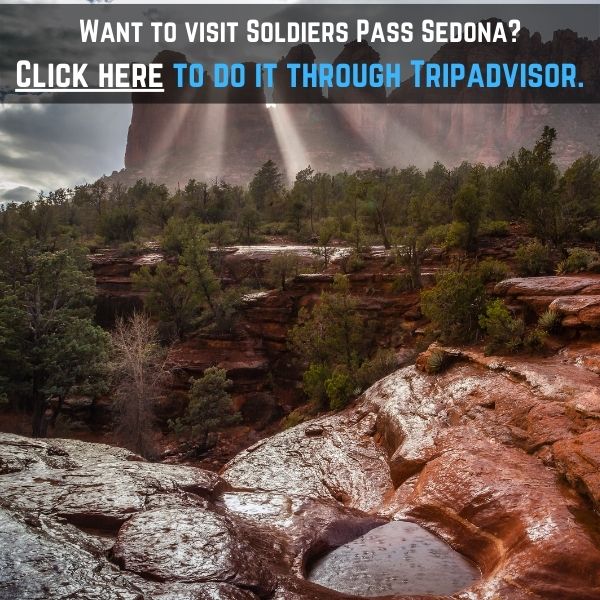 How long is the Soldier Pass trail in Sedona?
The entire Soldiers Pass trail is about 2.5 miles one way.
Can you drive soldiers pass Sedona?
You can rid a dirt bike and ATV on a road parallel to Soldiers Pass, but you can't actually drive the trail on a vehicle.
Is soldiers pass a hard trail?
Soldiers Pass is a very scenic and also beginner friendly trail. It just goes for several miles so it might get difficult, especially when it's hot.
Do you need a pass for soldiers pass Sedona?
No, parking at Soldiers Pass doesn't require a Red Rock Pass or permit, but it does fill up quickly.
How do you get to the 7 Sacred Pools in Sedona?
7 Sacred Pools can be found by parking at Soldiers Pass trail, then following the signs for Soldiers Pass trail. From the parking lot, it is less than 1 mile to reach it.
Other caves worth exploring in Sedona:
There are at least 3 I recommend, both of which also require you to read similar directions to reach:
1) The Subway Cave in Boyton Canyon. Incredible hike just as well.
2) Birthing Cave. A shorter hike which leads to a massive cave opening and stunning views!
3) Keyhole Cave. I haven't been there yet, but will include directions once that happens.
As I explore more caves on future visits to Sedona, I'll be linking them here as well. I hope these directions help you find these amazing caves and one more thing to note is that Alltrails also has a good map for finding them too.