How to Hike to The Subway Cave in Sedona For First Timers
The Subway Cave is considered one of Sedona's most beautiful "secret" spots, and for some reason I've seen a number of people say that it's tough to find, let alone hike to. The truth is, it's not.
In my case, I found it on my first try effortlessly and because of that decided to write this simple guide for you just in case the other sources out there aren't good. It's really not that difficult and if you follow the instructions I'm going to give you, you'll get there easily. Let me give you some basics first:
Quick info on the Subway Cave in Sedona:
Name: Subway Cave
Location: Boynton Canyon Sedona
Hiking distance: 6 miles in and out
Difficulty: Moderate
Hike rating: 5 out of 5
Do I recommend this hike? Absolutely! It's very stunning there (and around it too) but at the same time understand that a lot of this hike is going to take you to protected lands (including the Subway Cave itself) so please be respectful of this place and do not litter/ruin anything.
Note: Before you do this hike, know there will be a section of it where you will have to go off the main trail and from that area, to the Subway Cave are sacred grounds meaning please respect the area and it's rules. This is the quickest overview of the spot, but from this point forward, we're going to get into the details. The following steps detail how to reach the parking lot, then where to start on the trailhead, and where to go off the main trail to find the Subway Cave, followed by what else you can see in the area afterwards.
Getting there:
For starters, you're going to want to input Boynton Canyon Trail into your GPS. The Boynton Canyon trail is what you'll need to hike through to reach the Subway Cave. The trailhead is a large parking lot and you will have to pay a fee to enter ($5 Red Rock pass). I would recommend you come here early, if not on off season.
In my case, I came here right after finishing the Devils Bridge Sedona hike and I was fortunate to literally find 1 spot left open (and this was around 11 a.m). If the parking lot is full which does happen often in Sedona, you can find overflow parking right outside the area too (or just wait for someone to exit out of the main parking area):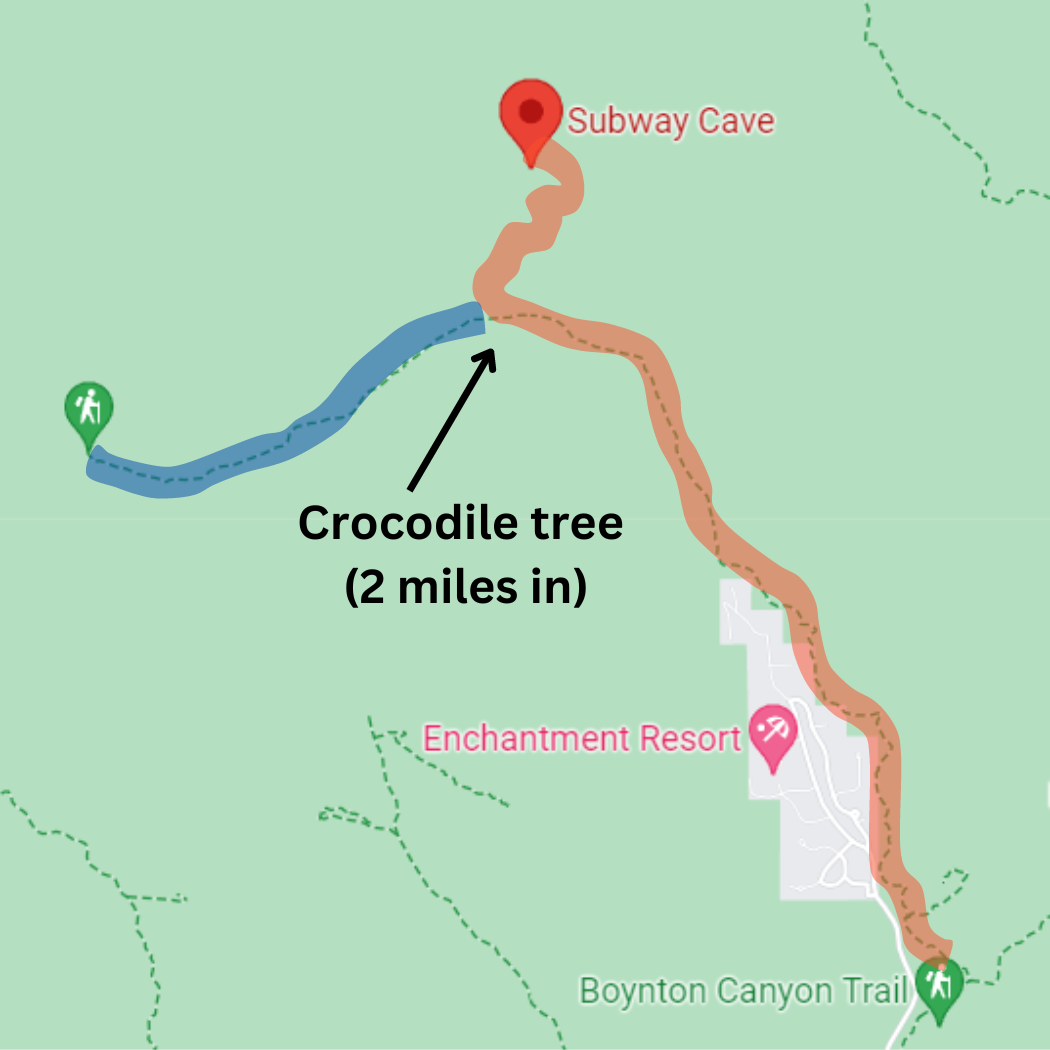 Start on the Boynton Canyon Trail:
The Boynton Canyon trailhead is very close to the entrance of the parking lot (across the kiosk to buy day passes). You'll notice it says Boynton Canyon and Deadman Pass. This is because there's 2 trails in the area and you only want the Boynton Canyon one:
I'd also recommend taking a picture of the trailhead map and/or downloading the map in Alltrails (the Subway Cave one is there too). If you go left (on the side where the Red Rock pass kiosk is), it'll take you to connecting trail called Aerie (you don't want that in this case).
Follow the Boynton Canyon Trail signs:
You're going to see several sign posts for Boynton Canyon during your 3 mile hike to the Subway Cave:
The first one is about 200 feet from the trailhead where you start. It splits with Boynton Canyon going left (where you will want to go) and Deadman's Pass which goes right (totally different trail).
The second one is about another 200 feet from the first and it splits left and right. The left continues into Boynton Canyon Trail (again, this is where you will want to go) and the right goes to Boynton Vortex Trail (it sounds the same but it's not where you want to go unless you want to do a side trip).
You're going to be on the Boynton Canyon Trail for about 2 miles. You'll know you're going in the right direction if:
You continually stick to following the signs for Boynton Canyon Trail (basically stay to the left).
You'll pass by the following neighborhood on your left at about 1/2 miles into the trail:
Look for a "crocodile tree" at the 2 mile mark: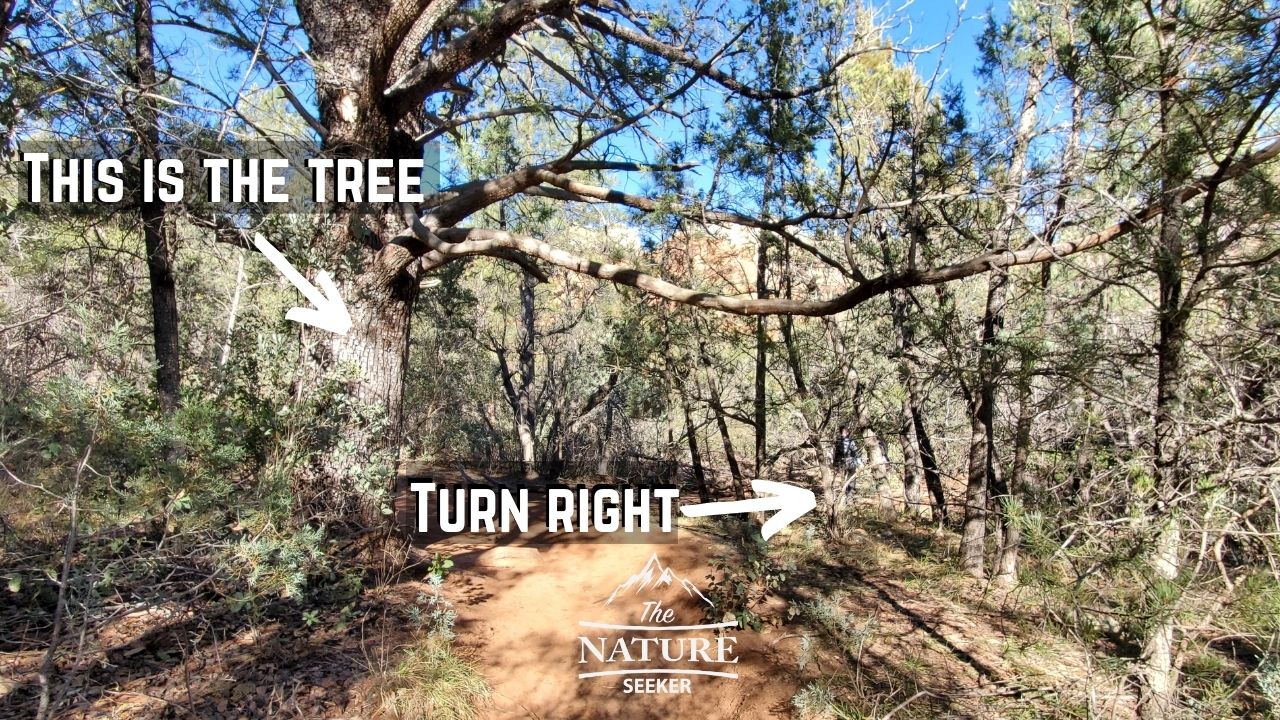 This part is a key turn in the trail to the Subway Cave! As you continue to hike on Boynton Canyon trail, you'll eventually come across a pretty big tree (that I've included an image of for reference) whose bark will look like the scales of a crocodile (hence the name). It will be the only tree of it's kind in the area and it'll also be a fairly open section of the trail. If you stay to the left, you'll continue to go into Boynton Canyon (don't do that, unless you want to see other sights other than the cave).
Note: As you get closer and closer to the crocodile tree, you'll come across others that look like it, but from what I've seen, they are either small or in large numbers. The right one you're looking for is:
The only on the trail.
It's about 2 miles into Boynton Canyon from where you start.
It's way larger than the other look alike trees before it.
Also once you enter the new path, you'll see a sign on a tree indicating you're entering wilderness areas as well as a sacred section (please make sure to not ruin anything in the area).
Follow the remote trail for 3/4 miles to get to the Subway Cave:
This trail after you turn right from the Crocodile tree isn't as clear cut as the one you've been on so far, but it's still clear enough to follow. You'll basically be following it in a zigzag motion and it'll be going north for the most part.
There will be one part of that particular trail where you may get confused and I've included a picture to show you that exact spot and how not to get lost. Basically the trail will take you close to a creek and do an almost 180 degree turn (make a right turn basically). Here is a photo of that: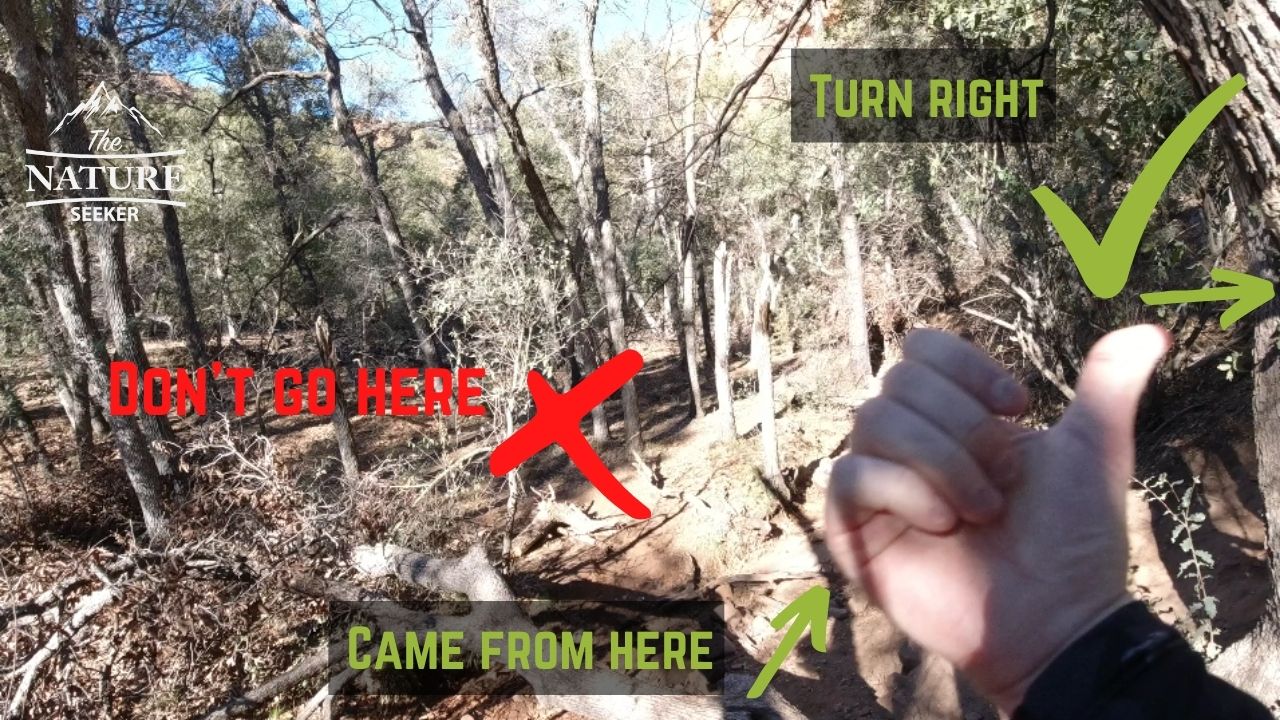 Make sure to make that right turn and continue because there is another trail across the creek that may look like it's the right way to go (It's not).
Reaching the Subway Cave:
Once you reach the cave itself, there's a bit of a scramble to get to the top. The scramble to me was pretty easy but it's recommended you wear good hiking shoes here to reach the top (basically inside of the cave). I wore the Salomon Speedcross 5 here and it was perfect: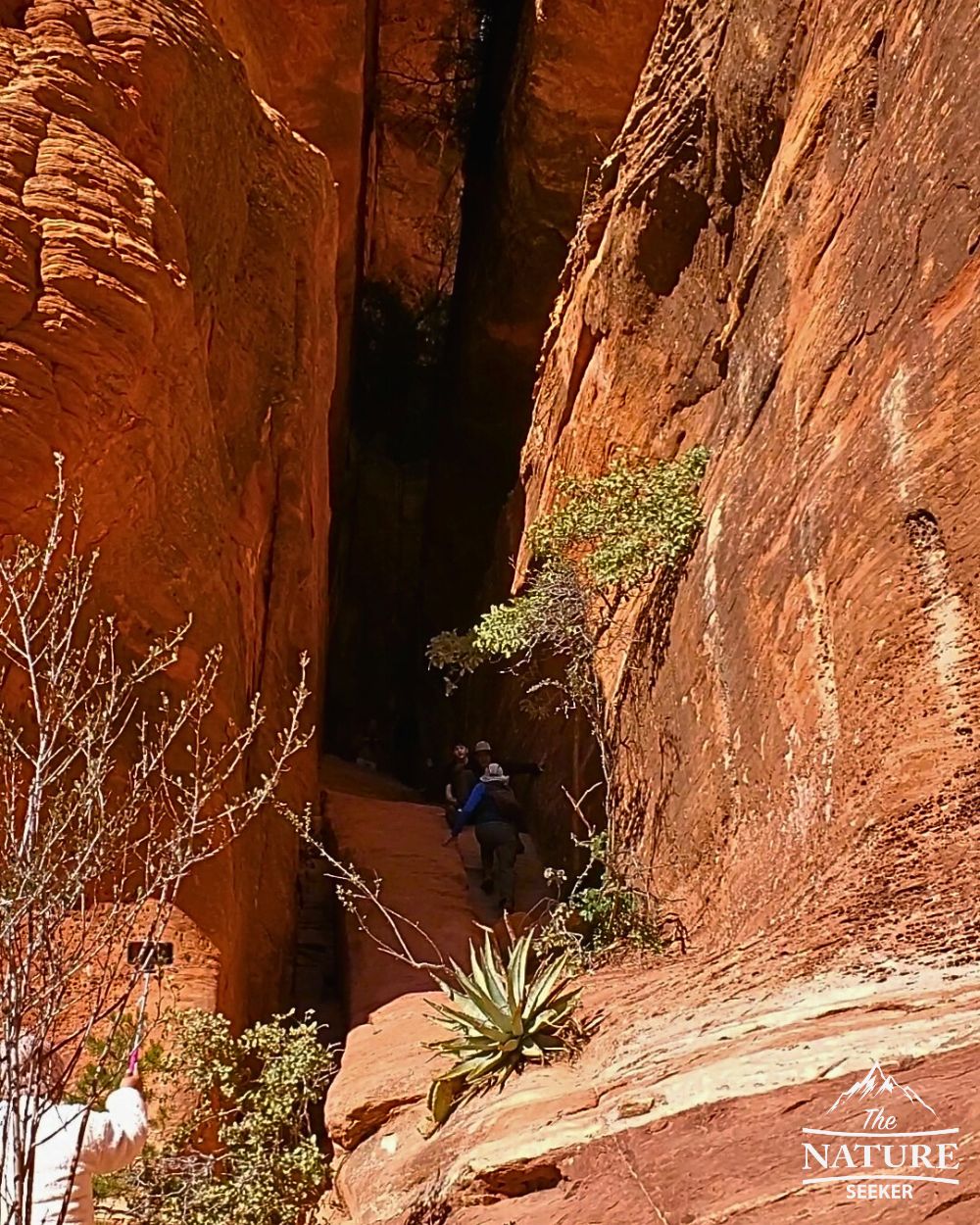 Once you're up at the top, there's a good chance you'll also see other people there and may have to wait your turn to take the same picture I did:
Luckily most if not everyone who goes there is polite, takes turns and if you're alone will take your picture if you ask nicely. Either way it's worth waiting to get amazing photos in this area! There are some other areas right around this spot you can explore too and get some more amazing photos from like this: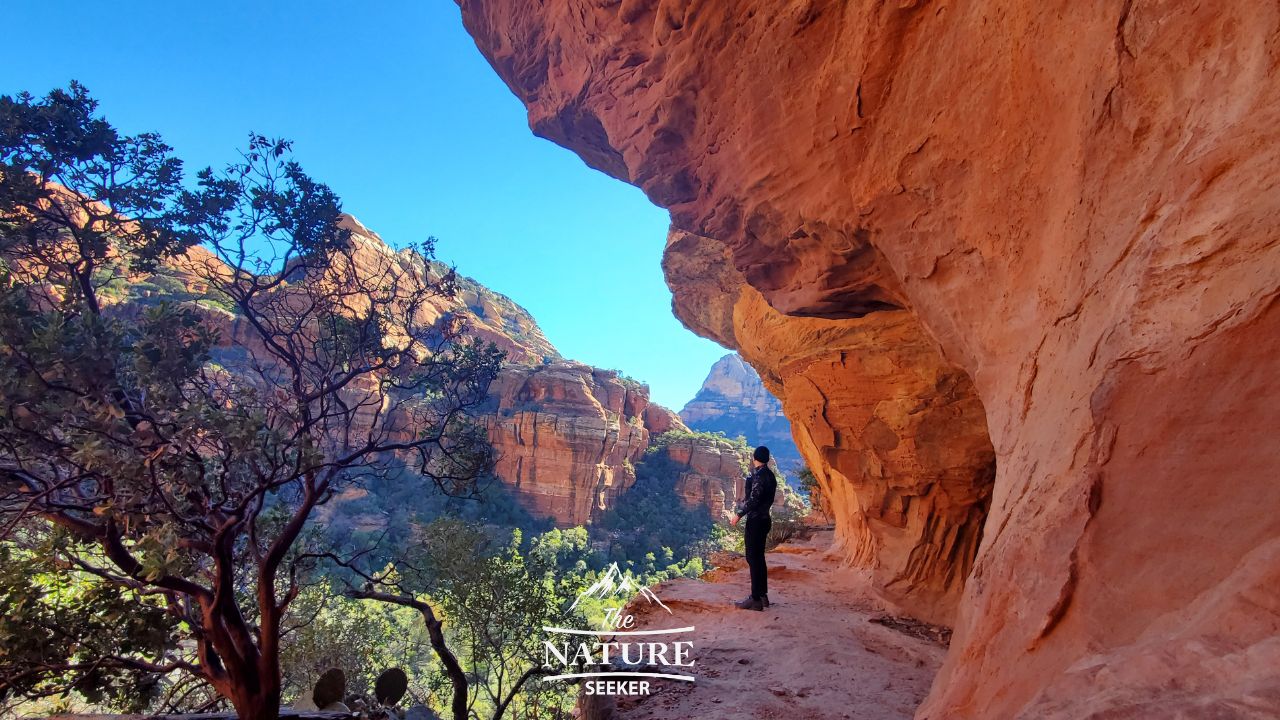 Returning back to Boynton Canyon:
Once you're done sightseeing and taking pictures, just backtrack your way to Boynton Canyon trail. From there, you'll have 2 options:
If you have extra time, you can explore the remainder of Boynton Canyon if you want (another 2 miles in and out).
If you're looking to finish the hike, just backtrack to the parking lot.
And there you go! Enjoy the Sedona Subway hike! I would recommend you take your time with this hike and enjoy the journey there, not just the end point. The views on this trail are amazing and it's something where you'll want to stop many times to take picture and enjoy the scenery! 
Just remember that there are other connecting hikes along the way, but obviously you'll want to prioritize seeing the Sedona Subway first and foremost. Afterwards you're welcome to see my list of the best hikes in Sedona and find out what others you'd like to check out as well.
Other questions about the Sedona Subway hike: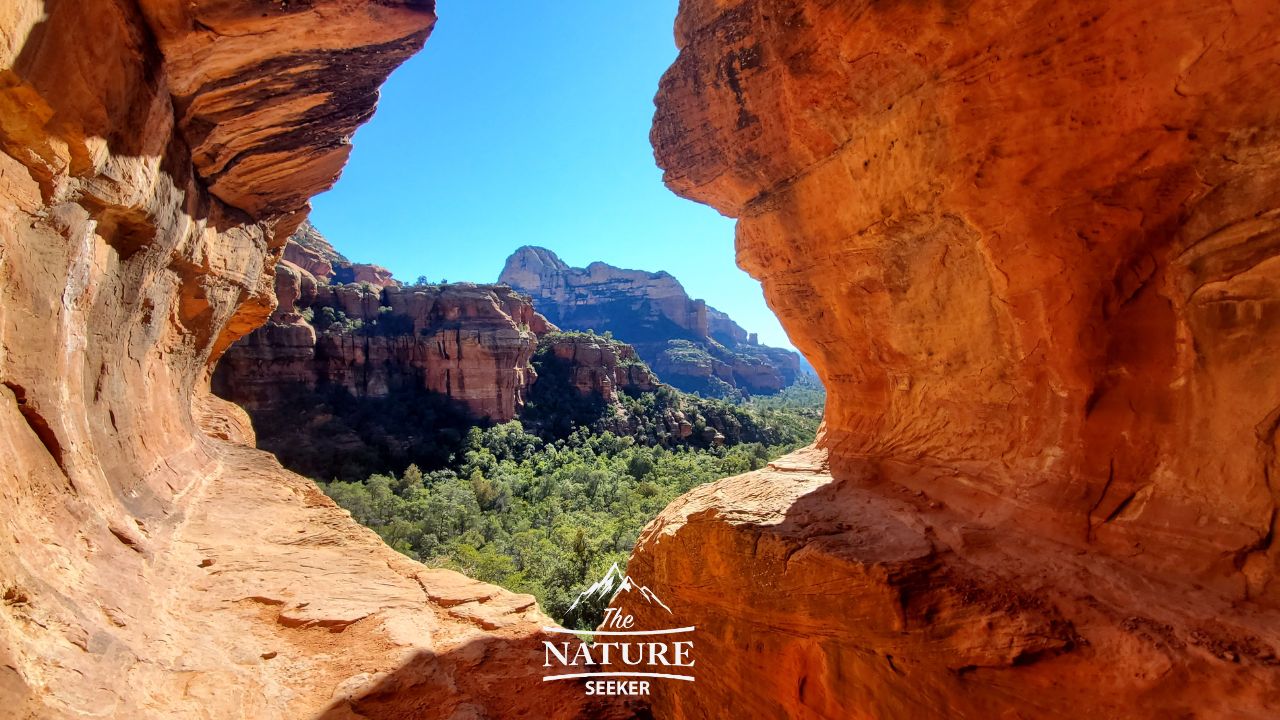 How long is subway hike in Sedona?
It takes about 3 miles to hike to the Subway cave in Sedona.
How hard is the hike to Subway Cave in Sedona?
Most of the hike to the Subway Cave in Sedona is easy. Once you reach it though, you will have to scramble to reach the best area of it.
Where do you park for the subway cave in Sedona?
At Boynton Canyon Trail. This is the official parking lot from which you'll hike to the Subway Cave in Sedona.