It's no secret that the Devils Bridge Sedona hike is extremely beautiful (and crowded) and if you're planning on trying it out, I want you to have the best experience possible and that's why I'm going to share 8 things you need to know to do that.
I personally learned these 8 things after I did the Devils Bridge Sedona trail and I guarantee you that they'll help you when you hike here too.
Quick info on the Devils Bridge Sedona hike: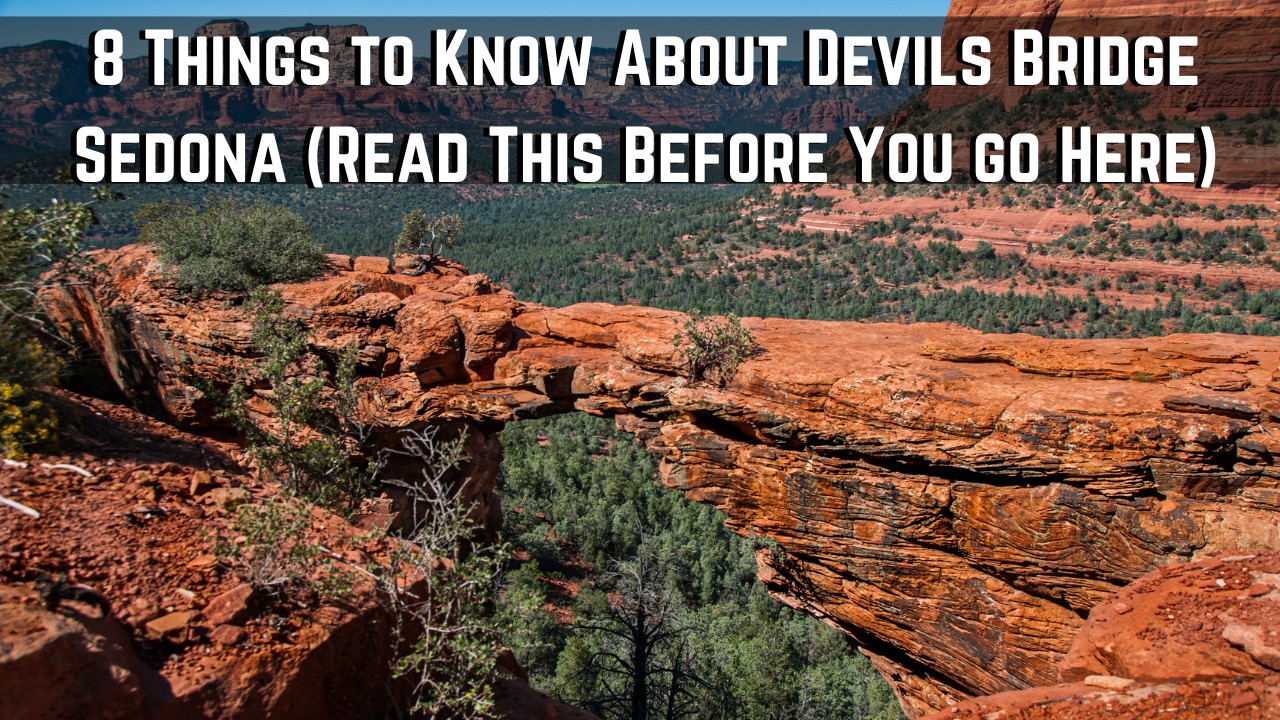 Name: Devils Bridge.
Location: Sedona.
Distance: Up to 2-4 miles (in and out).
Difficulty: Moderate.
Dangerous? Not really.
Easy to get lost? No, very easy to find/navigate.
Rating: 4 out of 5.
Recommended hike? Yes!
If you can get here without the crowds (I'll explain how), then definitely do this hike once.
But if you can't, don't let it worry you since there are much better hikes in Sedona to explore that are also close (I'll show you which ones to look for).
8 things to know before you hike Devils Bridge trail:
These 8 tips are going to cover timing, alternative paths to reach Devils Bridge and basically how to have a massive advantage against the 99% of other people who come here (they just don't know these things).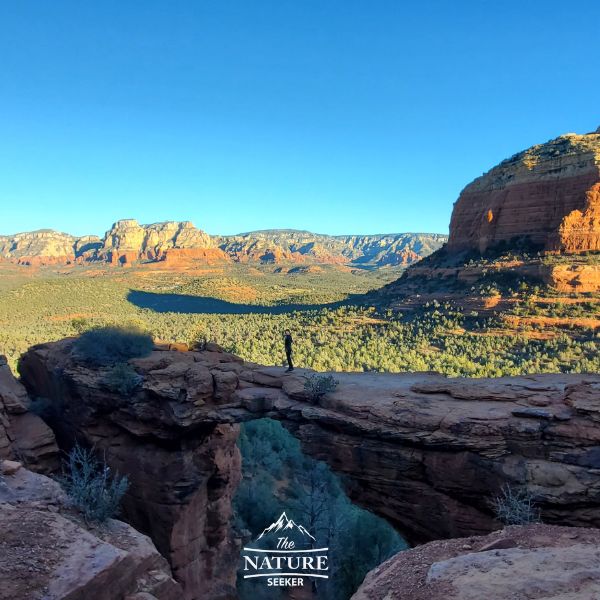 1) Start the Devils Bridge hike as early as possible (daybreak is ideal):
One of the worst things Sedona is known for are the crowds and considering that Devils Bridge is one of the most popular hikes there, you'll likely see a lot of people there, as early as 7 am!
And if you decide to go here anytime after that through sunset, expect the following things:
A filled up parking lot (waiting to find a spot or never getting one).
Even if you do get a spot, then having long wait lines to get that popular picture on Devils Bridge.
As a result, you'll risk wasting precious time when you do finally get on the Devils Bridge hike and other nearby hikes.
I don't know about you but I dislike crowds and so when I went on this on hike, I got to the parking lot around 7:30 am and even then, there were only 1-2 spots available!
Then by the time I actually got to Devils Bridge (which is actually 2-3 miles after the parking area), there were already about 15 people there. Luckily I only had to wait for 1 person before my turn came up to take an awesome picture there.
If you're brave and can hike at night, I would even suggest you get to the parking lot around 5 am so by the time you actually reach Devils Bridge, the sun will just be rising and in those circumstances, you may find yourself fortunate enough to have it all to yourself.
What season you do hike the Devils Bridge trail also matters a lot:
1) I hiked to Devils Bridge in January which is off season in Sedona. You'll find less crowds then and that the sun rises around 6:45 am, so you may want to start the hike around 6 am if you want to get there around sunrise.
2) If you do this hike in the Spring or summer, you might want to start even earlier (maybe even 5 am) as the crowds will be 100x worse.
I can't stress enough how much timing (getting there super early) impacts your enjoyment level on this hike. The bottom line is the earlier you get to Devils Bridge, the less crowd problems you'll run into.
2) You can shave 2 miles off the hike time by driving straight to the Devil's Bridge trailhead:
A lot of people ask the following question which is can you drive to Devils Bridge?
The answer is no, BUT there are 2 "official" trailheads to Devils Bridge and one of them will get you VERY close to it. Here's a breakdown:
Option A (most common):
One is by the parking lot (Dry Creek Trailhead) which is still on the road. From there, the hike to Devils Bridge is about 2-3 miles one way. This is where 99% of people go to when they come to Devils Bridge.
Option B (this is the off road option):
Then there's another parking lot 2 miles past that parking lot/trailhead but it requires you drive across a VERY rocky road called Dry Creek Road for about 1 mile each way and that will lead you to the official Devils Bridge trailhead which is on sandy ground.
Here's how both options look like on a map: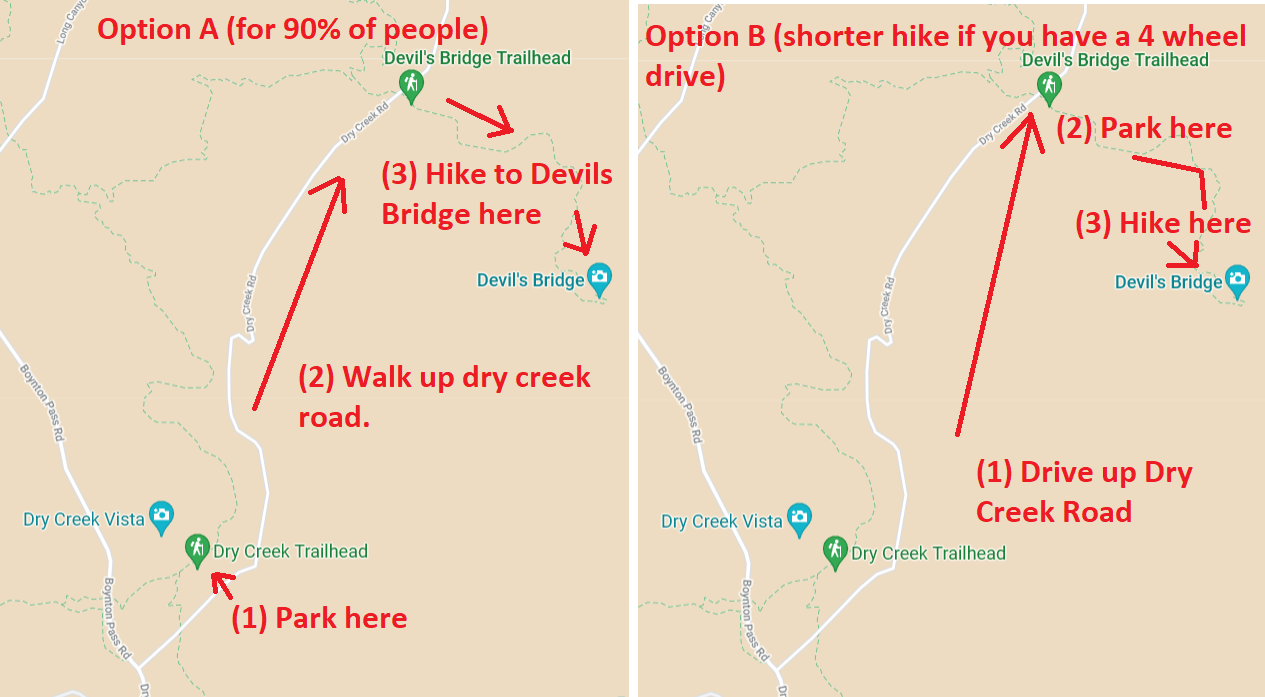 You can only use option 2 if you have a high clearance or 4 wheel drive vehicle because the drive on that rocky road is no joke. I had a Toyota Rav4 and I didn't risk it. But either way, if you do have a high clearance vehicle, you can really shave off 2 or more miles from the entire hike.
But I want to warn you about driving on Dry Creek Road: It's NOT an easy drive and if there's any doubt about passing these rocks, don't do it and just settle for option 1. But if you can drive it, you'll have a massive advantage over the crowds that have to walk on that same road by getting to the official trailhead way faster.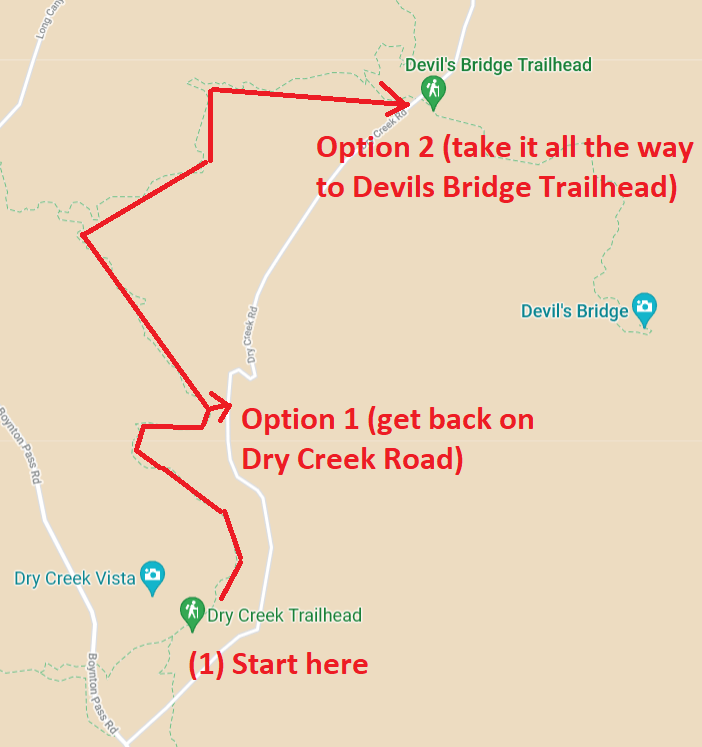 3) If you use option 1 to reach Devils Bridge trailhead, there's a scenic alternate hike (Dry Creek Trail):
If you park by the official parking lot (option 1, the longer version to Devils Bridge), you can actually take a parallel trail to Devils Bridge (called Dry Creek Trail) which will get you back onto the same road if you did option 2.
It's a bit more scenic to use this trail vs just walking on the rugged road (the views are still nice there, but not as good) and will have you walking through the woods, but there are 2 ways to do it:
There is a 1 mile option that will take you to Dry Creek Road (1 mile from the Devils Bridge Trailhead).
The other will be a bit longer (2+ miles) that will take you back to the official trailhead of Devils Bridge.
I personally just jogged the rugged road entirely on the way to Devils Bridge, and did the scenic route on my way back. In my case, I took the first option (1 mile long) and it was a very nice run through the woods with awesome views.
4) There's another (longer) alternative hike you can use to reach Devils Path (Mescal Trailhead):
It's west of the official parking lot to Devils Bridge and it's basically a backdoor trail to reach it.
From the Mescal trailhead (which you can input on your GPS), it's a 4 mile trip one way to reach Devils Bridge and it might be worth checking out if the official parking lot is filled up (or perhaps you've done the traditional trail before and want to try a new one).
You'll get awesome views of Sedona from a different angle and yes you will also see signs for Devils Bridge from the Mescal Trailhead too.
It's also a good alternative parking lot in case Dry Creek Parking lot (option 1 to Devils Bridge) is full.
5) 80% of the hike to Devils Bridge is pretty easy. The last 20% is tough:
Regardless of which trail you take to reach Devils Bridge, most of the hike is pretty flat and straight forward. When you start getting closer to Devils Bridge, with about 1/2 mile left, that's when you'll start to have to do more incline hiking, rock scrambling and more.
There's a steps section of the hike in that last part some people might find a little daunting, but it's pretty simple to do. Then the last part, which is the walk across Devils Bridge to take your photo is pretty easy to do.
6) You can hike underneath Devils Bridge if you want:
I personally didn't do it, but the last 1/2 mile bit, you can stray off the main trail and just stay closer to the mountain with which Devils Bridge is attached to.
The scenery underneath there isn't as nice (I suppose that depends on who you ask), but it might be a different angle to explore this place at, and you will also find less crowds there should you find yourself in that position mainly because most people just follow the main trail to the top of it to get that iconic picture.
7) Consider hiking to Vultee Arch (close to Devils Bridge) as an alternative: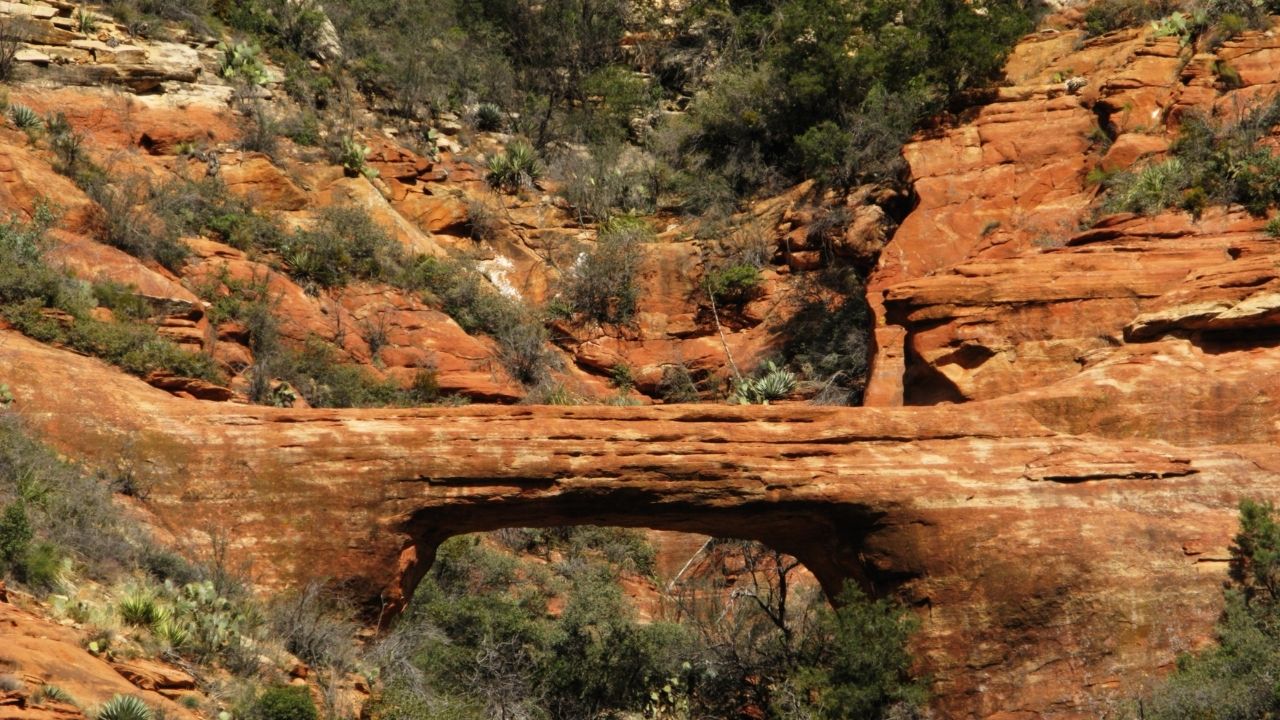 Vultee Arch is actually close to Devils Bridge (maybe about 3-4 miles from it one way) and getting there is pretty easy.
When you walk (or drive) on Dry Creek Road, you'll pass the sign to Devils Bridge (which takes you to the official trailhead and hike). You'll continue on it until you see signs for Vultee, park in the area (not many spots available) and from there, it's about 1-2 miles.
I've done that hike and I think it's just as good in scenery and on that trail, you will never have anything close to the types of crowds you'd encounter on Devils Bridge.
Here is a map showing where to go to reach this arch: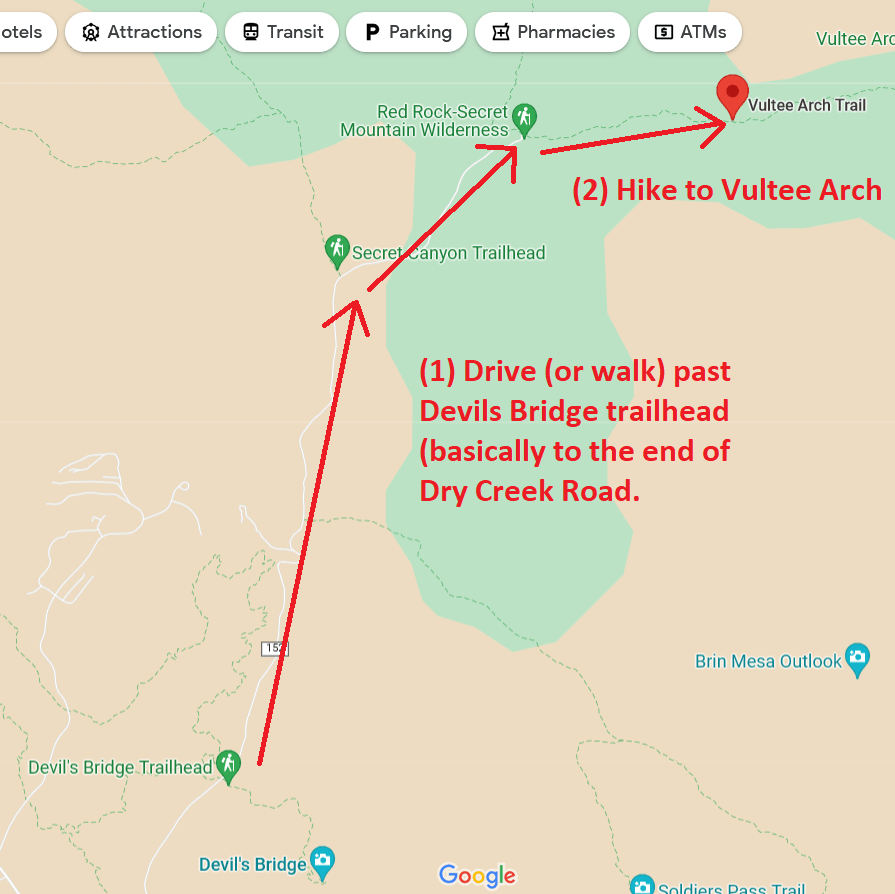 There are also 2 ways to hike there which I have provided a resource to above.
8) You don't really need too much to bring to Devils Bridge:
A lot of hikes in Sedona in my opinion require good hiking gear and supplies, but for Devils Bridge, you can get away with wearing regular clothing and sneakers but I would recommend you still buy and wear some good gear if you decide to go. Here are my recommendations:
Other questions you'll likely have about hiking Devils Bridge in Sedona AZ: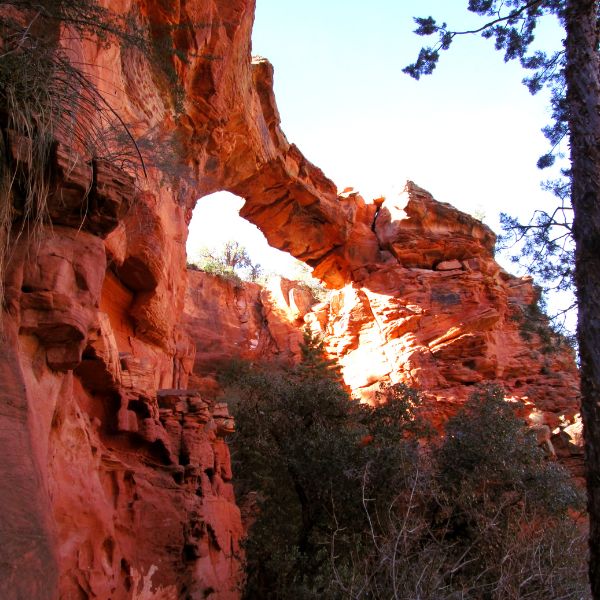 How long does it take to hike Devil's Bridge in Sedona?
The most popular trail to Devil's Bridge is about 3-4 miles and it starts at Dry Creek Trailhead. But there is an official Devil's Bridge Trailhead which requires you use a 4 wheel drive to reach. If you park there, the hike is only 1.5 miles in and out.
Is Devil's Bridge a hard hike?
Not really. At worst, Devil's Bridge is a moderate level hike with the last climb up to the area being the hardest part and most people can do it.
How do you get to the Devil's Bridge in Sedona?
There are 3 popular ways to get to Devil's Bridge. The first is Dry Creek Trailhead which is most popular. The next one is Mescal trailhead which is less crowded, but a longer hike and the last one is Devil's Bridge trailhead which is the shortest hike but hardest to reach by car.
Is Devil's Bridge worth it?
If you can hike to Devil's Bridge very early, then it's worth it. Otherwise, you will likely be waiting in long lines when you reach it, and you can use that time to explore many better hikes across Sedona anyway.
What to do after you finish the Devils Bridge hike:
I'm the sort of person who loves to do as much hiking in a day as possible, and considering that the Devils Bridge hike isn't that long (and you follow these tips), you'll likely have a lot more time to explore more places nearby. For that, here are several recommendations:
1) The closest hike to Devils Bridge is Fay Canyon trail which is a really cool, less packed hike I recommend you explore (it's a 5 minute drive from the Dry Creek Trailhead).
2) The next option is Birthing Cave trail which is close to the Mescal trailhead I mentioned above (another option to reach Devils Bridge). It's also far less crowded.
3) Then there's the Boyton Canyon Subway Cave hike which is absolutely amazing but also crowded. It's not far from Fay Canyon and is a highly recommended place to explore.
4) Aside from all this, I would recommend reading my best day hikes in Arizona article to see what other amazing trails are available.
And that about sums up everything you need to know about hiking to Devils Bridge! If you have anymore tips you'd like to share that weren't already mentioned in this post, feel free to do so below! In related posts, if you're into waterfalls, there's several throughout Arizona (some in Sedona). Here's a post on waterfall hikes in Arizona you may want to explore.