The Fay Canyon trail in Sedona is not only an underrated and stunning hike to explore, but it's not even well known about and thus nowhere near as crowded as some of the other places in this region.
This post isn't just meant to showcase how and why you should hike the Fay Canyon trail, but what to expect when you do so you don't miss the best parts of it because it's not just a singular trail you visit and that's it, there's actually several Easter eggs to it that will make it even better than it already is and I'll share what they are!
Quick info on the Fay Canyon trail:
Name: Fay Canyon.
Location: In Sedona Arizona, off Fay Canyon trail.
Distance: About 3 miles in and out.
Difficulty: Main trail is easy, but with other add on parts, moderate.
Rating: 5 out of 5.
Recommended hike? Absolutely!
I'll be honest, I didn't expect much when I went here because I've already seen many beautiful Sedona hikes, but this one was just as good as the top ones I've been to already. This is a highly recommended hike!
1) Starting out on the Fay Canyon trail:
The Fay Canyon trailhead is located very close to Boyton Canyon Trailhead, which for those of you who don't know is a very popular area for exploring the Sedona Subway Cave hike.
However, while most people go to that particular hike (and fill up the parking lot quickly), the Fay Canyon Trailhead is only a few minutes from it, and in my case was almost empty when I went there (it also makes for a good plan B parking lot in case you do wish to hike the Boyton Subway Cave hike).
Anyway my point here isn't to just say "Oh just start at Fay Canyon trailhead" because that's just obvious, but it's to say that it's close to another popular hike. Not only that, but there are several other cool trails right around that area like Bear Mountain to explore (more options, more scenery, more adventures basically).
Once you park, you'll actually have to go north (cross the road) to start on the trail (basically you'll be heading towards the giant mountains where the canyon lies at).
One other thing I liked is that there was no need to pay for for a permit/parking pass here.
2) Finding Easter Egg 1, the Fay Canyon arch:
Fay Canyon Arch was the reason I originally decided to visit Fay Canyon and it's probably the same reason why a lot of other people learn about this hike in the first place.
There are others who just come here for the main trail who have no clue there's a beautiful arch in the area and it's actually easy to see (and miss) when you're on the main trail.
Anyway, the Fay Canyon Arch is located 0.6 miles from the trailhead (I marked it on my Alltrails).
You will first be on the main trail, but at 0.6 miles see 2 cairn rocks (on the ground) from which you'll turn right, cross a dry river bed and even see the Arch from a distance (to your right) as you walk on the Fay Canyon trail.
The hike up to it isn't very difficult, but there's a few 100 feet of elevation involved to this part of the "side hike".
You'll be able to walk through the arch and get some amazing photos of it and for anyone wondering, yes you can actually walk over the top of it too if you're careful. From there, you will be able to see great views of the Fay Canyon area and outside of it.
3) Continuing along to Fay Canyon Overlook and to the end of the trail: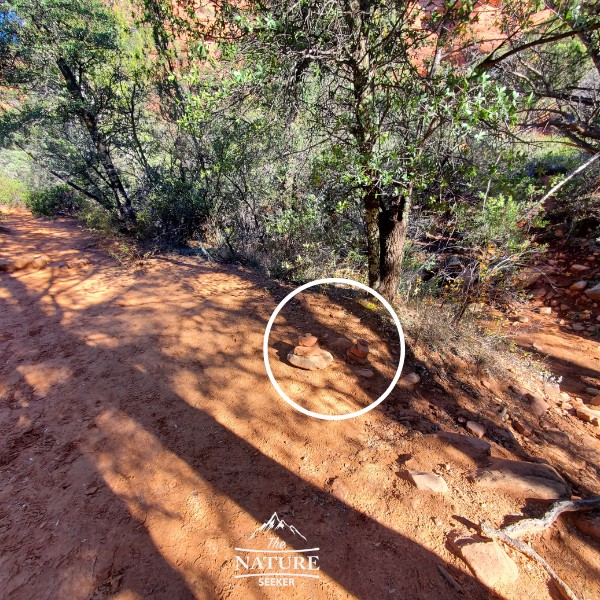 While the Fay Canyon Arch is stunning to see, it's not the end of the beauty you'll find on this trail.
Once you come back down from the arch area and get back on the main trail, you have the option to continue for another half mile to reach the end of Fay Canyon.
However, the end of Fay Canyon is actually the beginning of a short scramble to a beautiful overlook of the same canyon and I strongly recommend you not miss out on this.
That scramble and the "balcony" area where you'll get the best photos of the canyon from is where the trail officially ends.
From there you'll just backtrack on the same (easy to follow) trail to the parking lot.
4) Exploring side hikes after Fay Canyon (specific spots to see):
If you're someone looking to do multiple hikes in one day in Sedona, then I would save Fay Canyon as a second or even third hike you do and check out the more busier ones first (very early in the morning if possible). Anyway, here's a few other trails to see:
The closest to Fay Canyon specifically are:
Bear Mountain trail.
Aerie trail.
Doe Mountain.
Boyton Canyon Subway.
Deadman's Pass trail which goes to

Birthing Cave

and also Mescal trail which leads to Devils Bridge (a side route to access it).
Other awesome hikes to explore (not so close to Fay Canyon, but in Sedona):
For each of these trails, make sure to use Alltrails or Google maps to see where the trailhead starts or where the connecting trails to each hike are so you don't get lost, but I would caution you with Google maps as in Sedona as I have found the locations on the app to be incorrect and Alltrails was a much better way of finding it. See more of the best hikes in Sedona AZ.
Common questions about Fay Canyon:
How long of a hike is Fay Canyon?
The total hiking distance for Fay Canyon is under 2 miles in and out.
Is Fay Canyon Trail easy?
Most of the Fay Canyon trail is very easy to hike.
Where is Fay Canyon Sedona?
Fay Canyon is located about 1 mile from the Fay Canyon Trailhead area and it's very close to Boyton Canyon trail.
Do you need a pass for Fay Canyon trail?
Nope! The parking at Fay Canyon trailhead is free.
Does Fay Canyon have a vortex?
Some sources say that there is a vortex in Fay Canyon, but I personally didn't feel anything when I hiked there. It was still a beautiful trail that I'd recommend either way.
Other than these things explained, if you do decide to visit Fay Canyon (and I highly recommend this trail), know that it's stunning, very easy to hike through (most of it) and there are enough side spots to explore on it in a short time to really mix it up and great a great overall experience.
If you do hike here, I'd love to know your thoughts and I hope this post helps you get the most out of it!