Here are the details on how I create a travel blog that makes me money:
Would you like to learn more about travel blogging? No problem:
Over a year ago, I started this travel blog with the sole intent to have it make me enough money so I could travel anywhere I wished, at anytime without worrying about money or the other logistics that bog people down in life.
And before this travel blog even started, I had actually created several other blogs on other niche subjects that were and are making money to this day. We're talking full time incomes that already afford me that luxury.
Here is a preview of those numbers my blogs are raking in (every month):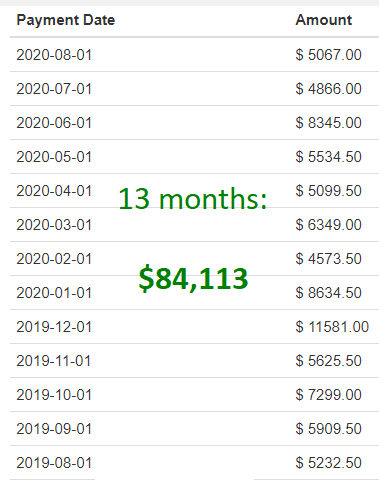 I still run these blogs, and the numbers they've brought in have helped me expand my life experiences into something I've always loved to do which is:
Travel to exotic nature destinations.
In doing so, I started THIS very travel blog and am now adding more income to those numbers you see to the right, all with the intent to:
Live more freely.
Travel more freely.
Make more money from this travel blog too.
To teach people how to do this as well.
Very few people actually get to this point with one blog, let alone a travel blog for that matter.
In fact, I can only name a few people off the top of my head who actually run thriving travel blogs that afford them the freedom to travel anywhere and make good money in the process, all online by the way.
But I happen to be one of those few people.
And today, I will be teaching you how  I do this.
What you're going to learn from this post on creating successful travel blogs:
Exactly how to get started (the 4 steps).
How to attract countless visitors to your travel blog so it earns more.
How to monetize it in 3 different ways.
How much your travel blog could be making with real examples.
How to get step by step help to getting your own travel blog started (with my professional assistance).
The first scoop on how to start a travel blog that makes money:
The wonderful thing is that whether you take myself who runs successful blogs.
Or the few others who also run successful blogs as well (including those with travel blogs).
You will find that just about all of them, including mine follow the same 5 steps I'll be showing you today. This means that the formula to success in reaching this goal is: Universal and it also means you can do it too.
I don't want you to read this blog post and leave thinking "Wouldn't it be nice if I could do this". No, I legitimately want you to take action with what you're going to learn today because you CAN do this.
And I personally offer help with getting started with doing that (I'll explain below how that works). Just make sure you read this blog post fully so you have every ingredient down and ready to start.
Here are the 4 steps to making your own successful travel blog:
Pick a specific type of travel niche first to start with.
Create your travel blog.
Start writing about everywhere you've traveled to on that blog. This will:
Make money from that travel blog through 3 main methods I'll tell you about (affiliate marketing, display ads, and making your own products).
Now these steps may sound simple for some, but I assure you, most get it wrong and there's a lot of bad information out there that leads people down dead ends that never really get them to reach that dream of running their own successful travel blog.
This is why every single step above that you just read about will be explained in detail, so you know the blueprint and know what works, and doesn't.
How much money can a travel blog make?
This is a great question and the truth is, it all varies. The simple answer is the more visitors your travel blog can get, the more it can make.
You saw that my blogs made me over $80,000 in a 13 month period, and with the addition of my travel blog already starting to pick up, I am growing that number every month. Combined, my blogs get about:
15,000 visitors a month on slow months
And over 30,000 a month on higher months.
And some bloggers out there make my numbers look like peanuts. I've seen travel blogs that get 50,000 visitors and even 100,000 or more every month too.
This is my next goal and it's something you can reach as well following the 5 steps. They are incremental and grow your visitor count if you use them. It never starts with large numbers, but it grows into them.
Specific estimates/examples of how much a travel blog can make:
There are 3 primary ways of making money off a blog:
Affiliate marketing: With this method, you promote products on your blog for commissions.
Display ads: You have advertisers place ads on your blog and pay you for it.
Making your own products: You sell eBooks on traveling and saving money or you can go as far as hosting your own travel tours.
Let's take a travel blog that gets 10,000 visitors a month. Remember, the more visitors it gets, the more it makes, but we'll start with the 10,000 mark which is totally reachable for most beginners who create travel blogs!
1) With affiliate marketing, that travel blog can earn $1,000-$5,000 a month, passively.
You can promote all sorts of products as an affiliate, from hiking boots, to camping gear, drones and so on. There's truly countless promotional opportunities for travel bloggers and affiliate companies love people promoting their stuff, especially on blogs.
2) With display ads, that travel blog can earn $500-$1,000 a month, passively.
Display ads are like real estate and your travel blog is the property. They pay to host those ads on your property and pay you for every click or visitor.
3) With your own products, that travel blog can earn $1,000-$10,000 a month, passively.
Some travel bloggers choose to create their own services and products and sell those directly through their travel blog. They do things like sell their own eBooks, run their own travel tours around the world and so on. It's up to your imagination if you want to do this.
4) You can combine these 3 methods and have your travel blog earn $2,500-$25,000 a month, passively.
Some travel bloggers combine one or more of these options together to make more money from their blog. In some cases, it pays to combine these methods and in other cases, it's better to just stick to one.
And again, all of these estimates are based on the 10,000 visitor number, which can easily grow to 20,000, 50,000 or more.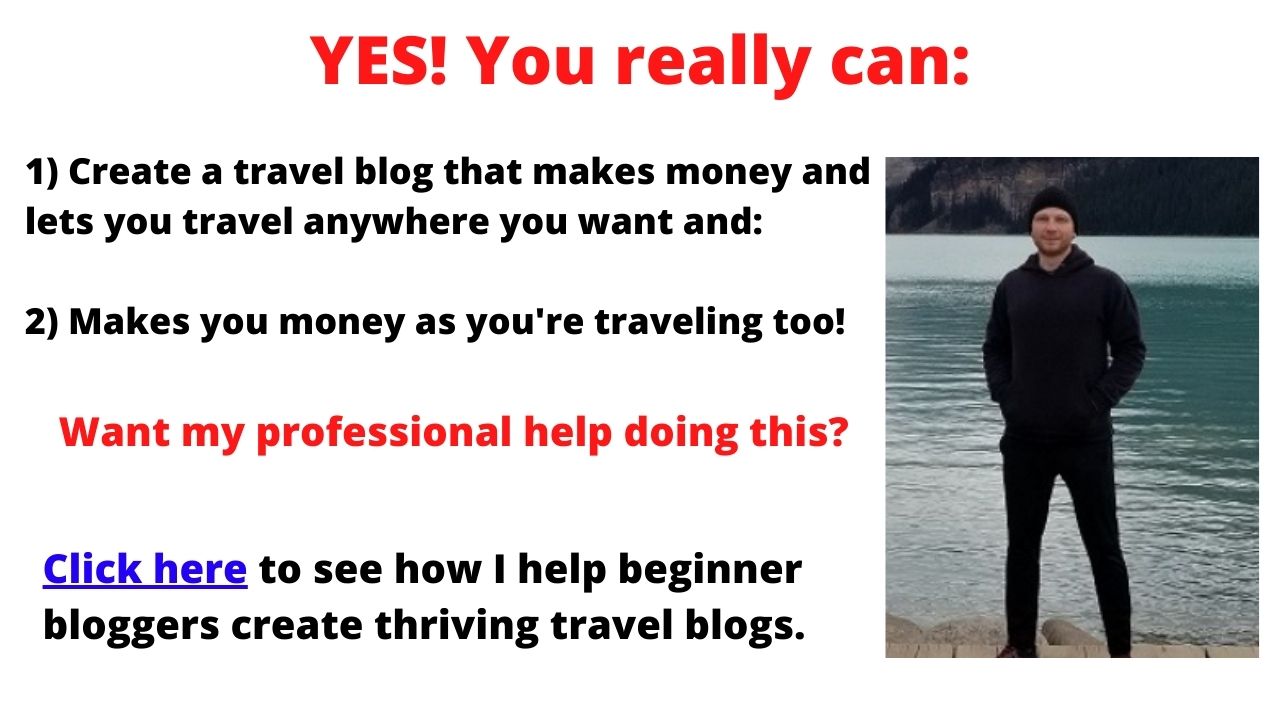 Let's dive into how to build a real travel blog (the 5 steps):
Remember what step 1 was? Well here it is again:
1) Pick a specific type of travel niche first to start with:
What type of travel do you love? Is it:
Nature only travel? That's my personal choice on this blog.
Tourist destinations around the world?
Historic spots around the world?
Is it hiking?
Is it trail running?
Is it camping?
Is it RV travel?
Is it van life travel?
If you have a specific type of way you travel and what types of places you see, make your travel blog focus on that. General travel works too, but you are better off at first sticking to a specific travel niche for starters.
What is the mission/goal of your travel blog?
If it's just to make money, then I promise you, travel blogs aren't for you. You have to think about your audience and what you have to offer them. The most successful travel bloggers share the places they've been to and tell a story of their experiences, so their readers and visitors feel like they are on an adventure with them.
Put that as your main goal and the visitors and money will come in the process.
For example:
I stick to nature only travel on this blog and when I write my content, my goal is to share truly incredible places I've seen that drop people's jaws and make them WANT to go there. I also share how to get to the same spots I've visited so people can get there too and not just live vicariously through my content.
That type of content offers VALUE to my readers and makes them appreciate my travel blog.
2) Create the travel blog.
With any blog, you are at first making a website.
That website will have blog posts on it and when you just start out, there are many choices. Rather than give you all the possibilities and leave you wondering where to start, I recommend you just do this:
Start with a WordPress site and install a good looking template like GeneratePress.
I use it on this very travel blog and if you like the look of it, chances are GeneratePress is the ideal starting template for you too.
Most of the successful bloggers, including those who run travel blogs I know of use WordPress and simple templates like this one to do it.
It allows for easy blogging capabilities and great options to organize the look of your blog to look good and attract visitors.
3) Start writing about everywhere you've traveled to on that blog.
Obviously, once you create a travel blog, your next goal is to actually start blogging. But what do you actually blog about on a travel blog? Well the answer is places you've visited.
Compile a list of the best places you've checked and the photos you've taken from that trip or those trips and share that on your site. Every single place you've visited will be placed in it's own blog post.
Let me give you a few examples:
This year, I did a major road trip through the western US. I documented every major spot I visited on that trip into it's own blog post, including one on the actual road trip. Thus I created at least 5 different blog posts worth of content. Here they are:
And that number is actually a lot higher.
To date, I've made nearly 80 blog posts on places I've traveled to and that number is never slowing down because there's always something I can check out, and blog about. See my nature blog page here to see the places I've visited and what I've shared with the world about it!
Your goal will be the same, to document each place you've visited and write about the experiences and lessons you've learned through that travel experience. And when you start, it can be tough to write, but as you practice, this becomes very easy.
4) Build up your blog's traffic numbers across multiple sources (here's how):
Your travel blog isn't going to make money if it isn't getting visitors, period.
And when you start your blog, it will be at 0 visitors. This is totally normal!
The way to get visitors to your travel blog and grow it is by documenting where you've traveled to and writing blog posts on that. This will make your travel blog appear on places like:
Google's search engine.
Bing's search engine.
Yahoo's search engine.
Miscellaneous other search engines.
You may not know this, but every time you hit that "publish" button, you are going to get search engines rushing over to your blog to see what you've written, and they are going to index that content on their search engine. This is how you get visitors! In addition to that, there are other platforms you can use to get visitors to your travel blog, such as:
YouTube (Making videos of places you've traveled to).
Facebook (Starting a fan page on places you've traveled to).
Pinterest (Creating images and videos of places you've traveled to).
These are awesome additional places to get more visitors from just as much as search engines.
But you have to be intelligent about getting visitors! Here's what I mean:
Your blog titles of places you've visited should talk about the actual places you've been to, not about "Where I went".
For example:
In my blog post about the Oregon Coast vs California Coast, I document the places I've visited in both these states, and whenever people head over to say Google and they type in stuff like:
Oregon coast vs California coast.
Guess what happens?
My blog post on that very topic appears to them!
This is how they find me. The point of this example is that when you document places you've visited, there's a great chance that other people are out there online also looking for information about this very same place (and they haven't been there yet).
When you document those places, your blog will rank for people who search them up and this is how your audience will find you! And the more places you document (the more you blog basically), the more people will find your whole blog overall.
So don't just blog about one location, blog about as many as you can!
Guess how many visitors that 1 blog post got? Over 28 days, 91 visitors: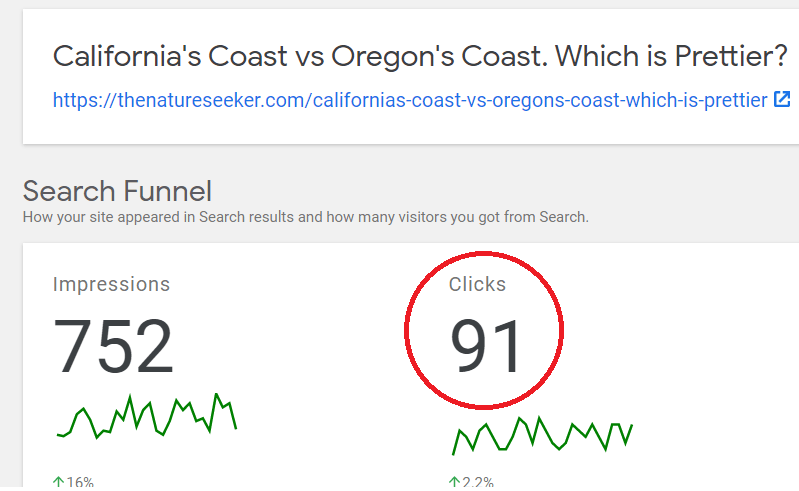 Now 91 is just from Google alone. This blog post is also getting visitors from:
Bing and other search engines.
YouTube (I have videos for my travel blog too).
Pinterest (another awesome platform for travel blogs by the way!).
So in reality, every month, this 1 blog post is getting about 200 or more visitors.
And this is just 1 blog post of the 80 I have.
Every single one of my travel blog posts get their own visitor numbers, and those numbers grow every single month.
1) The travel blog I run is growing more and more every single day because I follow the steps to blogging about where I've been.
2) Some of my blog posts get a few dozen visitors a month.
3) Some get close to a 100 a month.
4) Some gets 100's a month.
5) Here are the stats of my top 10 most visited blog posts (this is only from Google):
And the beauty is that these blog posts continue to get more and more visitors because my rankings (positions on Google and search engines) climb.
This means the higher ranked my travel posts are, the more eyes will see them and click them and this comes from blogging consistently about the places I've traveled to.
This is why the more you blog, the more visitors that blog will get and this is how a travel blog goes from having 0 visitors when it starts to having 1,000's at first, then 10,000's and then even 100,000's.
And considering I also post my content on YouTube and Pinterest, I also get visitors to my travel blog from there too.
Here is my Pinterest Page and how much extra visitors I get from there too to my travel blog:

5) Making money from the travel blog (reviewing the 3 methods):
I wrote in great length (above) about the 3 different ways your travel blog can make money (Affiliate marketing, display ads and making your own travel related products and services).
When you begin your blog, I recommend you stick to just affiliate marketing and display ads as those are much more beginner friendly.
If you choose to later make your own products and services, it should be when your blog is already popular, and getting a lot of attention.
The most important thing you should do in the beginning is actually start the travel blog and start writing about the places you've been to, as much as you can. Trust me, this is how it will grow.
There is another way to monetize your travel blog I didn't tell you about before: Sponsors.
As your travel blog grows, I promise you that it will get attention, not just from regular travelers, but also from companies and people who run businesses that want to do business with you. Don't be surprised if you get offers from:
Airline companies.
Hotels.
Resorts.
Free tickets to places.
And requests to review places you visit in exchange for you getting a great deal.
These types of places thrive off tourism and if they find your blog (they actively look for them), they will try to reach out to you in hopes you'll help get the word out about their business and in the process compensate you for that too!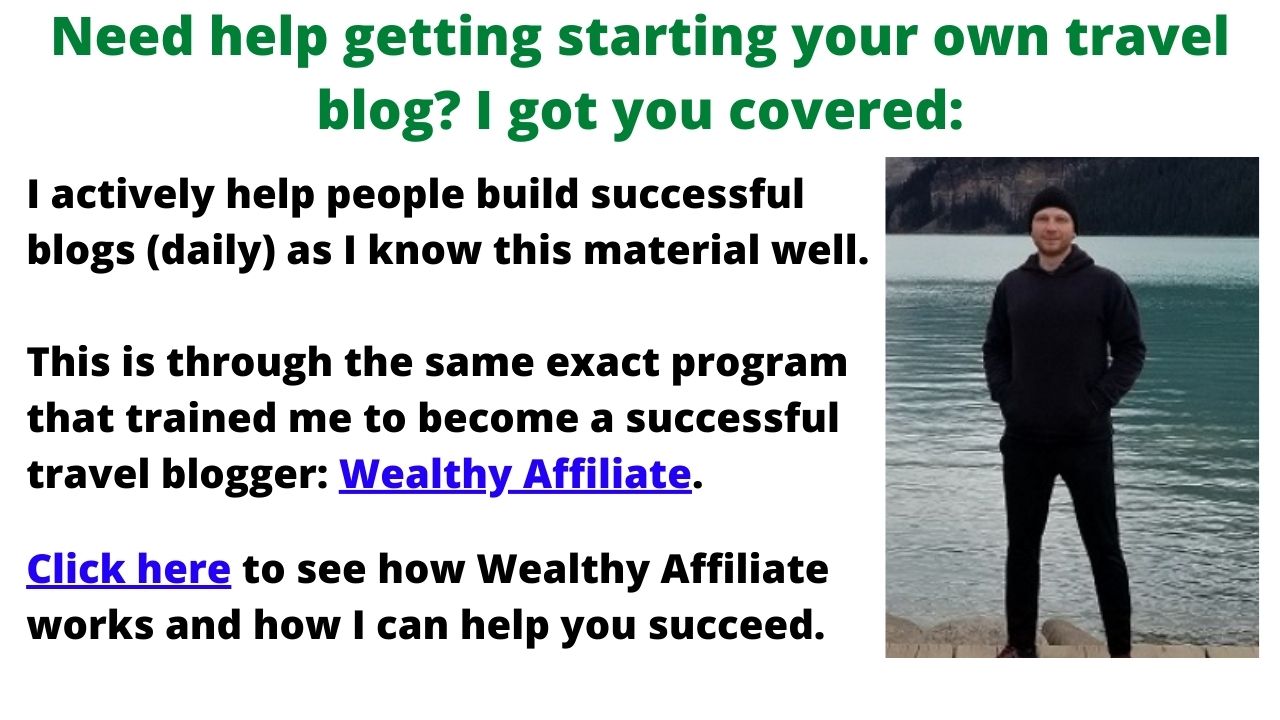 Your travel blog can become a business on wheels:
With no limit to how much you can make.
With a ton of promotional ways to make money with it.
With the flexibility to be able to travel and make money doing it.
There is a lot of potential in this business that is travel blogging, and very few people have been able to accomplish it. At this point, you now have the ingredients and blueprint to get started in making your own travel blog too!
Want me to help you start and grow your own travel blog?
I've "been there" in relation to making this formula work and I can totally understand if you're reading this guide now wanting to start your own travel blog and reach this point too, but hesitancy in doing so because you've never done this before and you're nervous about getting started.
I get it.
This is why I want to help you get started with a very special blueprint that personally helped me do this, that also comes with my personal help. Here is how it works:
Thank you for reading this guide to starting a successful travel blog! If you have any questions about starting your own travel blog, let me know below!