Secret Beach is one of the most panoramic and beautiful spots you'll find on the Oregon Coast (in addition to all the other stuff you can do there). It's what originally attracted me to visit it.
Little did I know, it's also a spot that's easy to miss if you don't know when it's coming up on the 101 road and that's exactly what happened to me the first time I was visiting the Pacific Northwest. It wasn't until I was too far away from it that I realized my mistake and in order to correct it, I'd need to wait for my next road trip through this area to correct that.
On my second road trip through the west coast, I made it a goal to avoid the same mistake and visit Secret Beach. Having done that now (twice hence), I learned 5 very important things about it that I want to share with you before you go there as well! 
While this location is one of the most beautiful spots I've ever seen on the Oregon Coast and the Pacific Coast in general, to get the full benefit out of it, keeping these 5 things in mind will help accomplish that.
Here are 5 things you need to know about Secret Beach in Oregon before you go!
Where to actually find it.
When to go there (low tide).
How to kayak there.
Visit Natural Bridges near it.
Check out the main park around Secret Beach.
I'll cover all of these things right now in great detail and I recommend you carefully look at each tip I have to offer.
A quick look at the 2 times I've been to Secret Beach:
The first time was on my western US road trip.
The second time was also during a similar trip and I've included pictures from both my visits to Secret Beach on this post.
I assure you, I intend to keep returning to Secret Beach and one of the reasons why isn't just cause of it's beauty there but also because I keep making mistakes every time I go that stop me from fully experiencing everything this place has to offer visitors.
And like I said before, these 5 tips will help you avoid those mistakes I have already made to help you truly experience Secret Beach the way it's meant to be experienced! So let's begin this list:
1) Location. Here is exactly where you'll find Secret Beach on the Oregon Coast: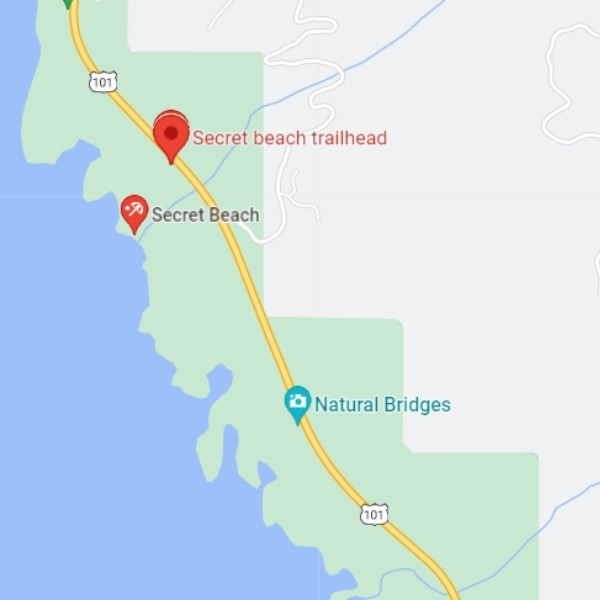 The good news is that Google Maps has a near accurate point for it.
But the bad news is that there's no official sign for Secret Beach.
If you are not using Google maps to find Secret Beach, do this:
First, enter Natural Bridges Oregon into your GPS.

Second, the parking to Secret Beach is about 1,000 feet north of the Natural Bridges Parking lot.
An easy way to know this is that it's literally the next parking lot after Natural Bridges (facing the coast).
Again, you will not see any official sign for Secret Beach, just what looks like an abandoned parking lot (sometimes there will be cars parked there), but once you see it once, then it's easy to come back here anytime.
Update: Secret Beach trailhead is now an official spot on Google maps, but in case it doesn't lead you to the right spot, follow the directions I explained above (just in case). It's in Samuel H. Boardman Park, one of the best state parks in Oregon!
Here is what the parking lot to Secret Beach looks like: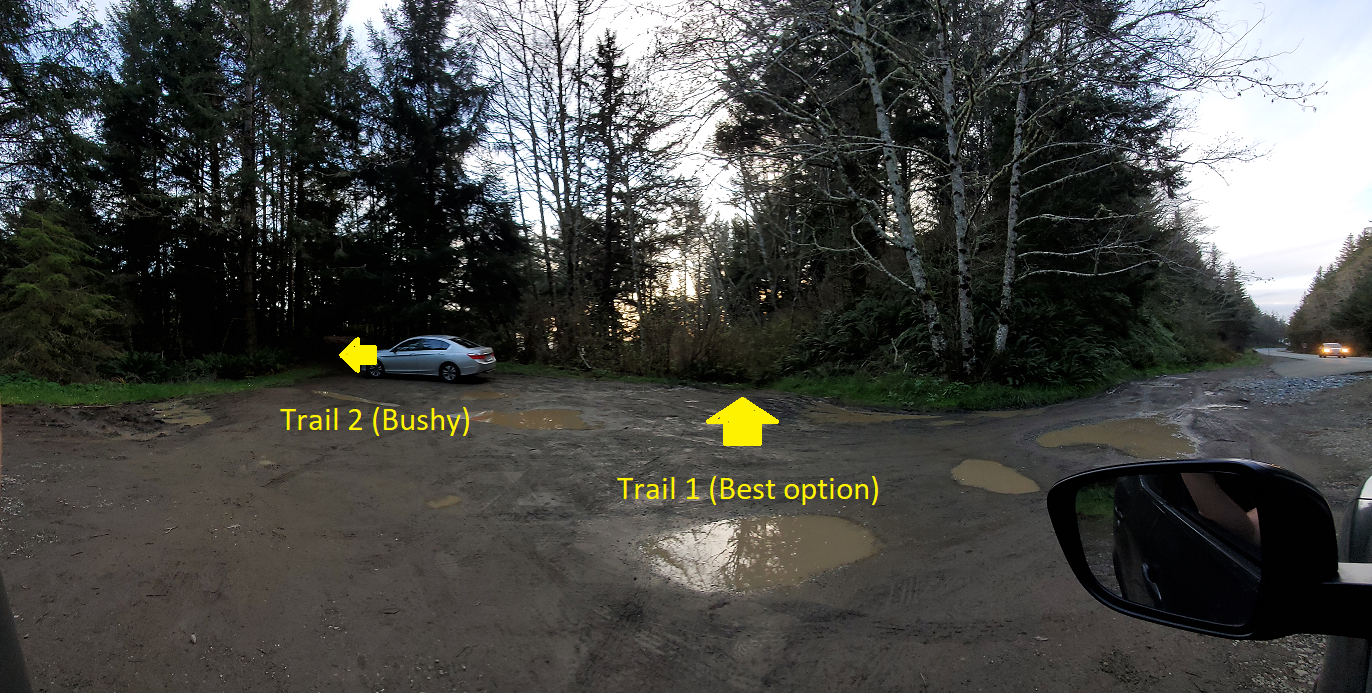 Once you get there, you have 2 trails to reach the beach (both connect together):
There's a more official road that leads down to the beach, and I recommend you take that one (trail 1). 

Then there's also the one which is a bit more heavily wooded and steep and that will take you to a creek that leads to the beach (trail 2).
From the parking area to the actual beach is about 200 yards.
And here is what the hiking from trail 1 (best option) will look like:
2) Go there during low tide. Here's why:
Accessing Secret Beach during low tide will actually provide you access to the 4 beaches that make up this spot.
I went there during high tide (It couldn't be helped) and I could barely get to one of the 4 beaches there.
So if you:
Love nature exploration.

Love sea caves.

Enjoy seeing waterfalls right next to the beach.

And want to get the most out of Secret Beach.
Again, go here during low tide. Click here to find the high and low tide times for Oregon (they do change, so make sure to keep checking the tides according to when you plan on going).
Just as a note, timing is critical here.
The last time I went to Secret Beach, it was close to the time high tide was starting to come in and it prevented me from seeing the other beaches or sea caves there and trust me, they are absolutely stunning if you get there at the right time!
When you go there, just make sure to go during peak low tide to get the most time available for exploring this area. And it will also provide you with the next thing you can do here:
3) Kayaking opportunities: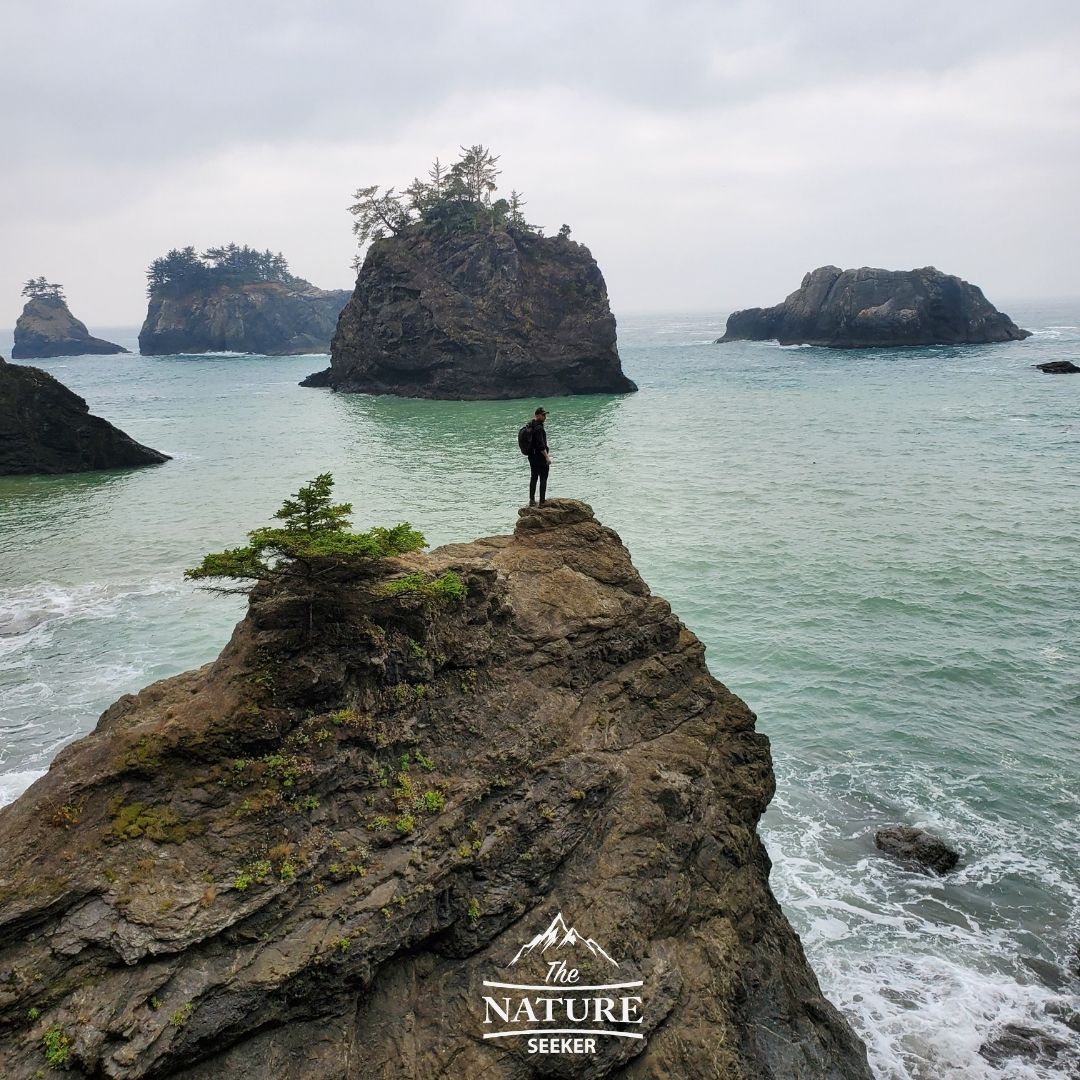 One of the biggest things I had hoped to do when visiting the Oregon Coast was to kayak near Secret Beach and Natural Bridges, and go through the sea caves that were there.
As I entered Brookings, which is the town nearest to these locations, I had found several kayaking rental stores, called them up and asked if it's possible for them to come meet me so I can rent the kayak and head down to the beach.
But if you've ever been to the Oregon Coast, you'll know that most of the spots, especially near Secret Beach are extremely dangerous to hike down because there's often just sheer drops making it impossible to hike down to the beaches, let alone bring a kayak down there.
Out of all the places I've been to in the Oregon Coast, Secret Beach might be the only plausible one that you can kayak from in this particular region because the hike from the parking lot is short, not too steep and then access to the beach is pretty simple. 
So my next trip through the Oregon Coast, I'll be trying to do this and will try documenting that.
Keep this location in mind if you're into kayaking but also keep in mind that doing this anywhere near the coast of Oregon may be dangerous too, so be experienced beforehand and obey the regulations.
4) Visit Natural Bridges, right next to Secret Beach. 2 reasons why:
First, here is the video of what it looks like there:
Need I say more about why you should visit this spot? If so, then well OK! Here is the second reason:
While Secret Beach is one of the most beautiful places on the Oregon Coast that I've visited, my top choice would have to be Natural Bridges and luckily it is right near it so you can either access Natural Bridges by car, and hit up the very next parking lot area (there is a sign for Natural Bridges so you won't miss it).
There is also a nature trail which goes through these and other areas of Samuel H. Boardman park which contains these 2 spots.
The hike to Natural Bridges is strenuous, steep and often dangerous, but if you're not into doing that, you can see this beautiful place from an overlook that is right near the parking lot.
This is ultimately where I want to kayak through if I get the chance next time, as it has several beautiful natural bridges to go through and scenery to enjoy.
But overall, the point is, if you're going to see the Oregon Coast and Secret Beach, you have to see Natural Bridges too and because both of these spots are so close together, you'll easily be able to do that.
5) Check out Samuel H. Boardman Park overall: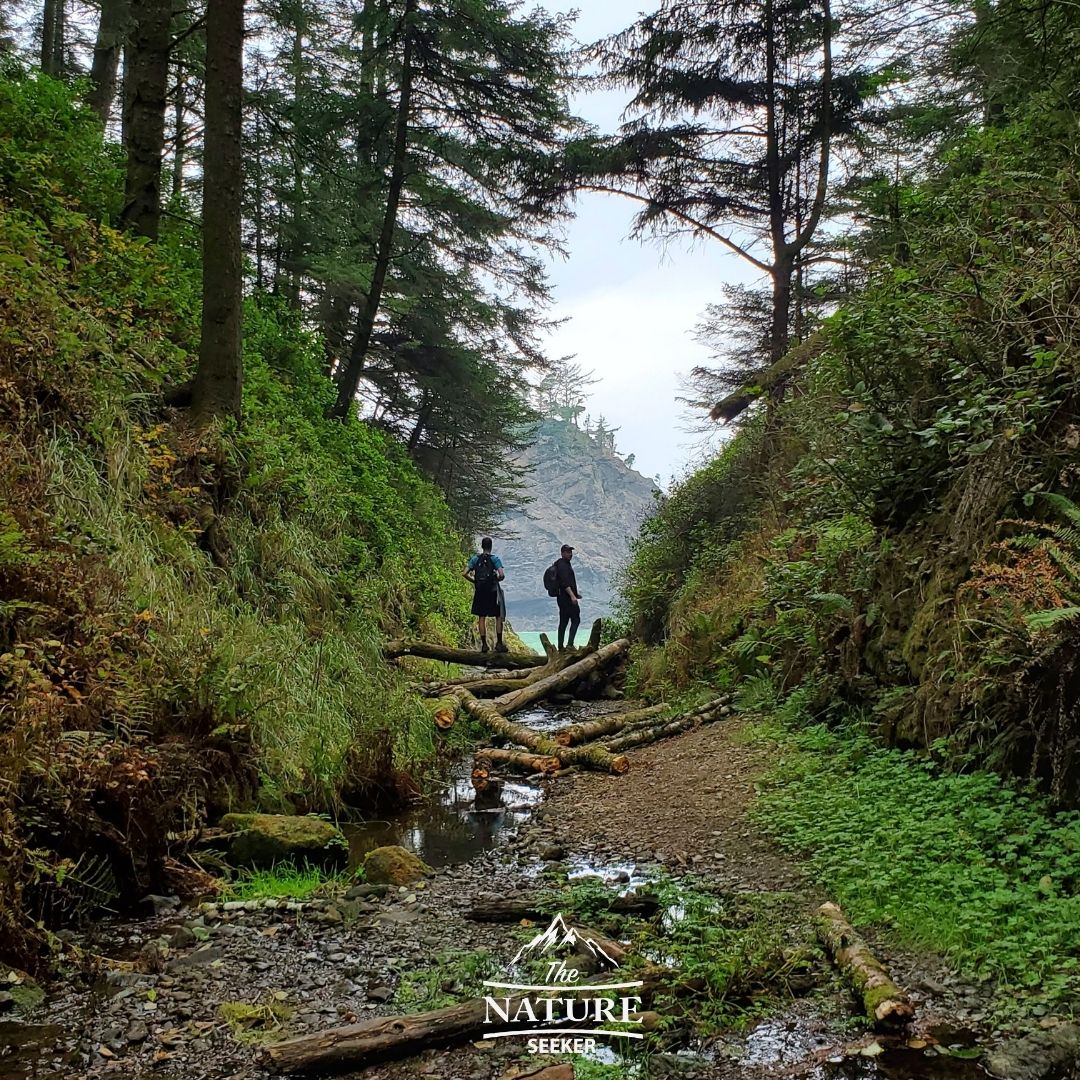 Secret Beach, Natural Bridges and other spots that are on the 101 road in this area are all park of what is known as Samuel H. Boardman Park and while these 2 spots are my favorite in the entire area, if you're driving through the park which is about 20 or more miles, you will see signs for many more places and I highly recommend stopping at all of them.
For me, besides these 2 areas:
Whaleshead is also highly recommended and is my 3rd choice in the places to see at Samuel H. Boardman Park, with Secret Beach being 2nd and Natural Bridges 1st. 
And frankly, I'd dare say that out of all the places I've seen on the Oregon Coast, the area which belongs to Samuel H. Boardman Park is the most beautiful and a must visit if you're traveling through the Pacific Coast Highway.
And it's also a great area for day hikes along the Oregon Coast too!
Now here's another important thing to discuss:
Should you wear anything specific if you go to Secret Beach?
If you plan to do a short visit to this spot to just look around, then no, you really don't need much. But if you do intend to do some hikes (across here and the Oregon Coast) and explore this area further like the sea caves, climb some of the mountains (it's dangerous, keep that in mind), then yes, I do recommend certain gear:
| | | |
| --- | --- | --- |
| | Description: The hike to Secret Beach isn't difficult but there are some areas there for which I'd recommend you wear good hiking shoes for and these (Salomon Speedcross are great). If you intend to do trail running on the Oregon Coast, they're perfect for that. | Check Price |
| | Description: It often rains on the Pacific Northwest, including the Oregon Coast so I do recommend wearing waterproof socks if you intend to do some serious hiking on Secret Beach (or other spots nearby). | Check Price |
| | Description: While the Oregon Coast has sandy beaches, Secret Beach does have spots with wet rocks, so to avoid slips or getting cut and hurt, wearing water shoes like these will help with that (and they have good grip too). | Check Price |
|   |   |   |
|   |   |   |
Commonly asked questions about Secret Beach Oregon:
Where is Oregon Secret Beach?
South Oregon, specifically a park called Samuel H Boardman Scenic Corridor.
How long is the hike to Secret Beach Oregon?
About 15 minutes from the Secret Beach parking lot. Other hikes are available on the beach too.
Can you swim at Secret Beach Oregon?
I didn't see any signs saying you can't swim at Secret Beach, but I would be careful because of the tides, sea caves and sharp rock cliffs.
Reviews of Secret Beach (and what else there is to see):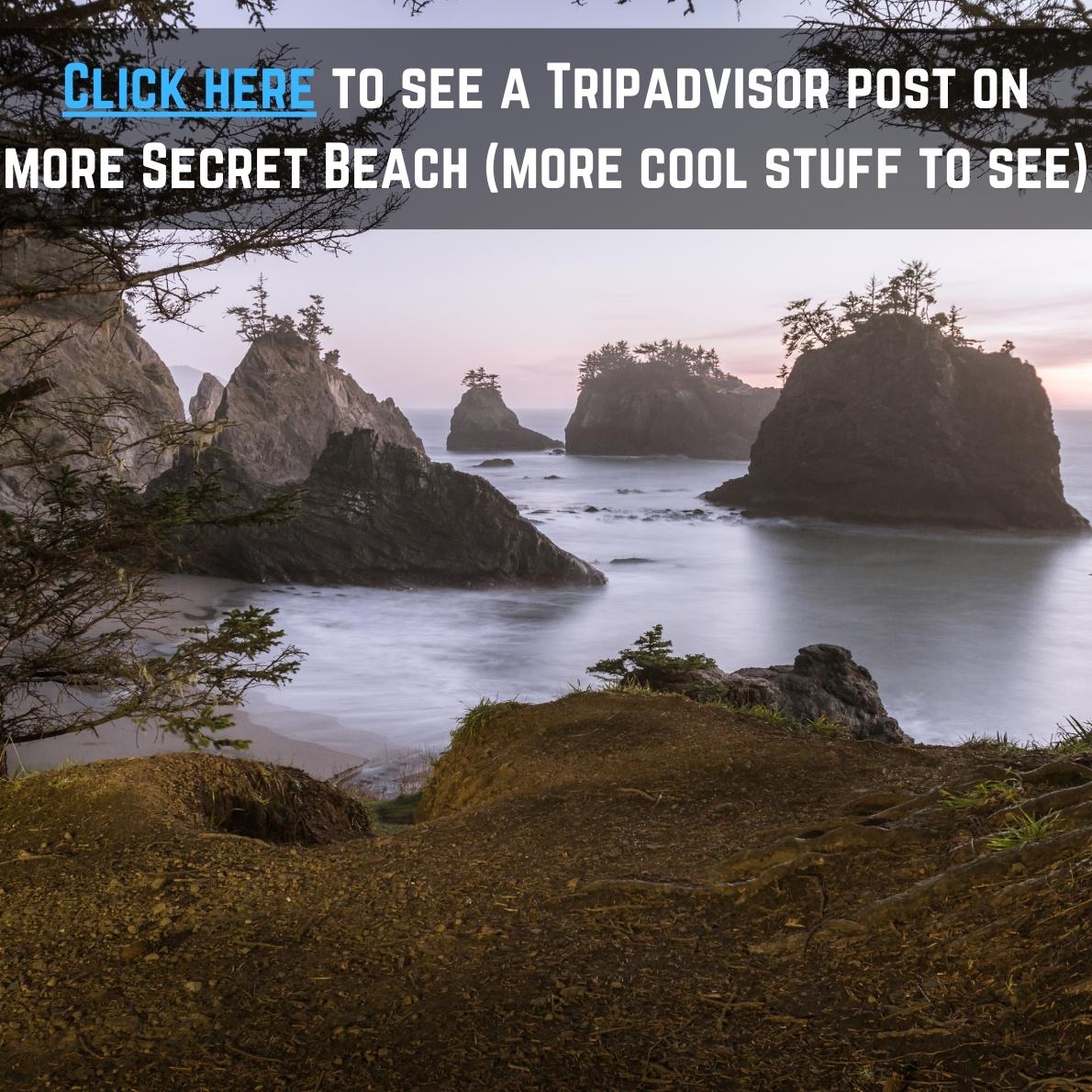 Aside from the nearby spots and the Oregon Coast in general, Secret Beach offers a lot of opportunities for adventures and sight seeing in general.
For details on what else there is to do and see here, here's a Tripadvisor post on Secret Beach Oregon where you can learn about kayaking, more spots to see and other activities to add to your itinerary if you go here.
Basically you'll find what other people who have visited Secret Beach here in Oregon recommend doing (more ideas).
So now that you know about all of this and Secret Beach, I want to hear about your adventures once you go there and if you have your own additional recommendations to share!