One of the most popular spots in all of Oregon's Coast is Natural Bridges. You'll constantly find pictures of this specific spot on social media and I've been to this place twice. 
Getting to it is very easy and you can actually just find it on your GPS, but that will take you to the overlook to see this beautiful spot.
If you want to hike down into it, that's exactly what I'll show you how to do in this article. It's not very safe, but the better prepared you are, the easier it'll be for you get there and safely enjoy the views.
When you hike down into Natural Bridges, this is what you'll find:
I think this picture is more than convincing enough for you to go there too.
But before I show you how to hike down there, I will warn you once again, that hiking to the spot you see in me in (above) is not easy, nor is it always safe, so beware of this.
I've had a few slips in this area, so wear good hiking sneakers if you decide to go.
My recommendations: Ozark trail shoes (I've worn them to this spot 3 times) and some other sneakers like the Salomon Speedcross 4's.
And if you're worried about heights or are unsure, just don't do it. There's a viewing area where you can also enjoy the sight.
And if you do decide to do the hike, know it's very beautiful in this spot and while my picture shows a lot of what you'll see, it's a completely different story and frankly, surreal experience once you make it down there.
You will likely want to stay there for quite awhile, but know that this spot is one of the many beautiful hikes on the Oregon Coast that you'll find with similar beauty (as well as sea caves).
The quick directions to get and hike down to Natural Bridges in Brookings: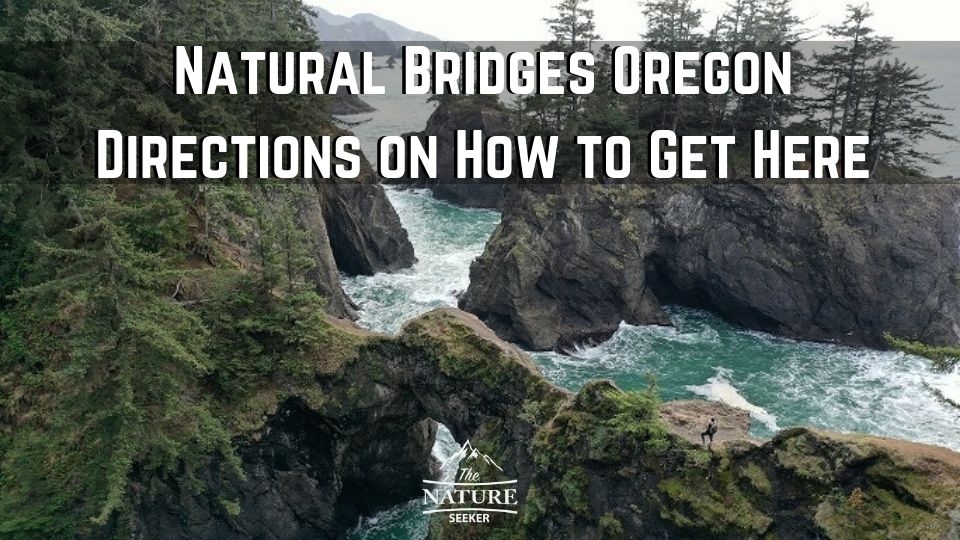 Natural Bridges is in Samuel H. Boardman State Park (Oregon Coast).
It's close to the town of Brookings which is in Southern Oregon.
You'll find this spot in the Samuel H. Boardman Scenic Corridor (look for a sign that says Natural Bridges).
Once you reach it, getting to the overlook from the parking area is easy and short.
To hike down to the actual Natural Bridges area I was in (photo above) requires more effort.
You'll need to do a short, strenuous and even dangerous hike down to the actual rocks if you want to see it up close.
Every single step of this article will show you how to do that.
And I'll also show you some awesome footage I took while I was down there too!
5 quick things to know about Natural Bridges before you go:
I found out about these things my first time crossing it on my first ever Pacific Northwest road trip in 2019 and these 4 things will save you a lot of time:
1) The location isn't very easy to find.
The thing about this spot is that most places that show this specific photo, do NOT usually give you the specifics on where this spot is. They'll generalize it's location and also, I've never seen any site (other than mine) actually show/tell you how to hike to it (I will).
2) Getting to the best parts of this area isn't easy.
Let me say that while I found this spot and hiked to the location above to get that photo, I had to speak to a local to get the instructions on how to do this. That's what I'll be showing you.
3) There are more places like this on the Oregon Coast, but they aren't as beautiful.
A large chunk of the Oregon Coast has natural bridges that you'll see all along the 101 road, BUT this exact spot I'm talking about in this article is officially known as Natural Bridges.
If you're going to travel further in this state, and on the coast, here's 10 beautiful spots on the Oregon Coast you should check out.
4) Again, a warning before you go to Natural Bridges:
If you do decide to go to this place, let me say that hiking to the above spot can be dangerous.
I cannot stress how careful and in shape you need to be to make it down there.
It took me a few tries to find the right path to get down there, but I almost fell down a few times and had a number of other close calls, and I'm actually in shape, so like I said, PLEASE be careful if you decide to go.
The SAFEST thing you can do at this location is enjoy the view from the lookout that shows that spot (right by the parking area) and I'll show you what it looks like below.
Now that I have explained this, let me give you the location details and explain how to hike to that specific area:
5) Note: Apparently, you can fly drones here. 
I couldn't believe it the first time I researched this. You really can fly drones here.
I called up the management of Samuel H. Boardman Park and they said as long as it's nowhere near people, it's fine. So getting photos like these is possible now:
Note: Keep in mind this occurred in 2019 on a Pacific Northwest road trip I did, so if you want to be obedient to drone laws, please call the management (ranger) station first and ask them.
Here is a drone video I took at Natural Bridges:
So now that I've showed off my visit there, let me show you exactly how to get there too!
Here is exactly where Natural Bridges can be found on the Oregon Coast:
First off, you need to set the Natural Bridges location on your GPS. It's easy to find! Once you get here, a pretty small parking lot is right off the road. From there, the viewing area is about 50 feet from it.
First up is the Natural Bridges viewpoint: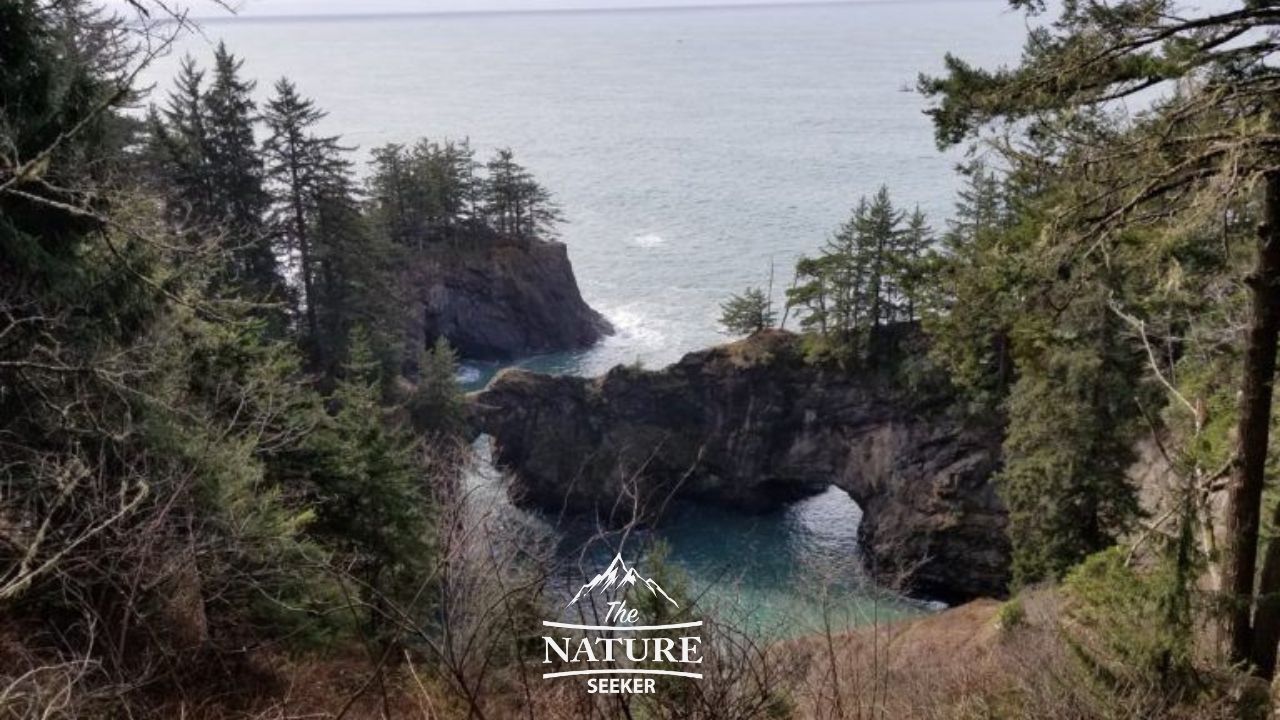 If you're not into hiking (or you are but want to be safe), just stick to the Natural Bridges viewpoint area or explore the beautiful trails that extend from it (they will take you to some beautiful hikes too). 
Anyway, this viewing spot is only 30 seconds away from the parking area and here is what you'll see from it:
Now in my case, I wanted to get down to the area which you saw a picture of above (and this is where it gets a bit dangerous).
And in order to get there, I had to find a specific walk down to that area, but before I found it, I went through 2 other wrong but scenic hikes, which by the way are also amazing:
One of them took me to a different part of the Oregon Coast and other viewing spots, and the other took me down closer to the beach right by Natural Bridges (requires rope to actually reach), but again, none of these spots were what I was specifically looking for.
And in order to get there, this is what I figured out:
This is the map that will lead you to the most scenic spot at Natural Bridges: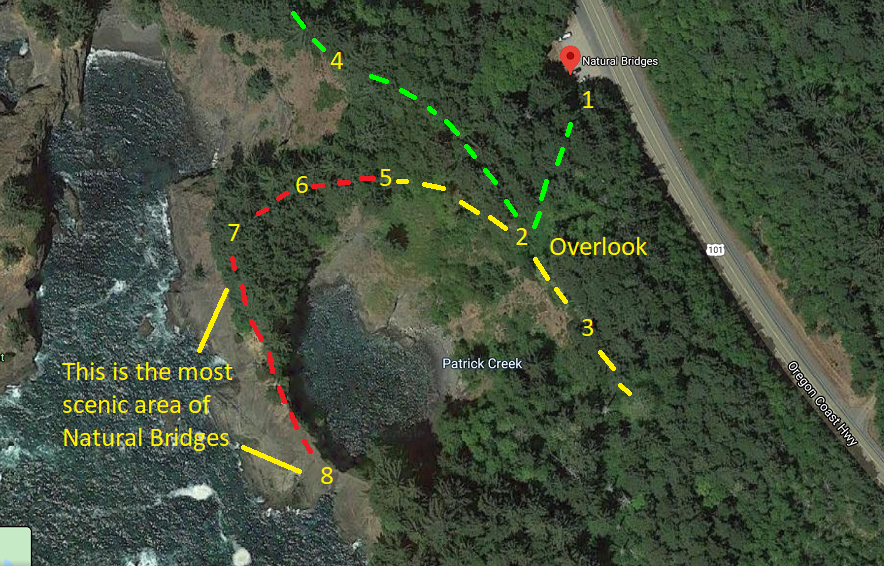 I've labeled the most important parts of Natural Bridges from 1-8 in sequential order:
1) This is where the parking area to Natural Bridges is located.
You will see a small sign for it as you drive along Road 101.
2) Once there, you will park your car, walk to the left and reach the viewing area, which is very close.
And you saw the picture above that shows what it looks like. Again, this is the safest part of the whole area, where you can enjoy the view.
3) From that point, you have the option to go left (3 on the map which is the Natural Bridges viewpoint trail, but not the one to lead the best spot):
That option will take you on an official trail (yellow) across Samuel H. Boardman Park and this is where I accidentally went the first time I was there, thinking it would lead me down to Natural Bridges. It didn't, but it did take me through other scenic areas. But there are tough and somewhat dangerous hikes.
4) That same official trail also heads the other way (north):
If you head right from the parking area, you will continue the trail and it will take you to Secret Beach, a place I regretfully MISSED while here, and something I WILL return to and view, because that spot is also extremely beautiful (see info on Secret Beach here).
5 and 6) This is where the trail to Natural Bridges begins (

and gets dangerous

).
These happen to be the exact directions that local gave me when I was there, but I forgot about them, until I figured it out and remembered that I should have listened to his advice and saved myself 2 strenuous hikes.
But anyway from the parking lot (1), head to the RIGHT (opposite of the viewing area), but don't go on the trail that heads to Secret Beach (4).
Instead, head uphill. There is basically a small hill/mountain that you are aiming to go on and make sure to stay on the main trial path which is in the middle of the hike. This will have you see the following sight: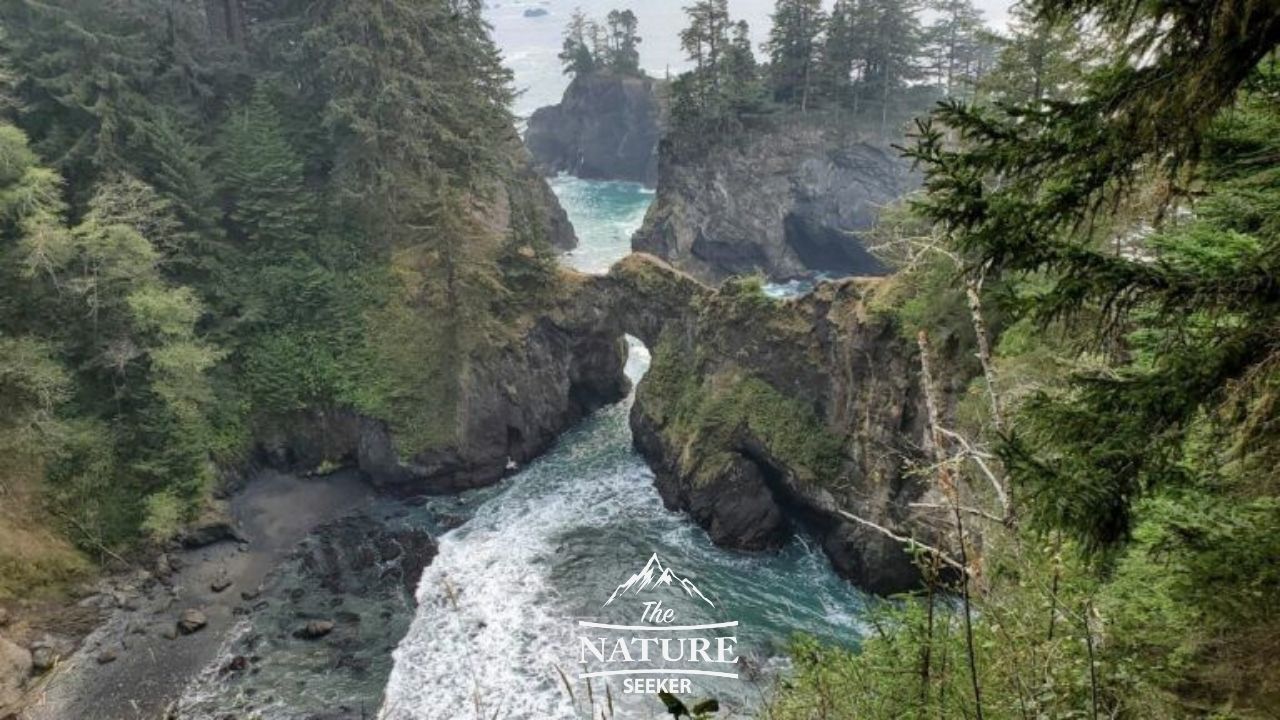 I tried to cut around it, but it ended up taking me to other places, so stick to the highest path because that is the one that will lead you correctly to Natural Bridges. 
But what you'll want to once at the very top and edge of that hill/mountain is to turn left and basically see a narrow pathway (with trees on it) and that will take you to the natural bridges area.
7) Natural Bridges and the dangers

getting there.
This spot and the last one the map I made and they are in my opinion the most dangerous, so if you have any fear of heights or you believe you may get dizzy, I would NOT recommend you go here and just to stay and enjoy the viewing area (2).

But if you choose to go to area 7 on the map, note that this section is very narrow and I advise you hold onto the trees for balance, because it doesn't take a lot to fall there.

Also PLEASE make sure to wear some good hiking shoes that don't slip.
I was wearing the Ozark Trail Shoes when I was in the area and they really helped me. If you have your own that you know are reliable, wear those. But the ones I linked were really good for this particular hike. 
Either way, this is the narrow area of Natural Bridges I was talking about (right):
As you can see, I wasn't kidding when I said it was narrow and dangerous there, which is why I really suggest you either don't go, or if you do, to use the trees for balance (I did).
But this section is the last part before you get to the first image I put above and while there, you will absolutely love the views.
I flew my drone from there and it was very enjoyable, but it's still not safe there. 
Be very careful, enjoy it and if you choose to go back, I would recommend doing it the same way by heading back through the narrow area, because the opposite side may actually be more dangerous (8) and it's where I almost fell.
8) I don't recommend going to this spot, but you do need to know about it: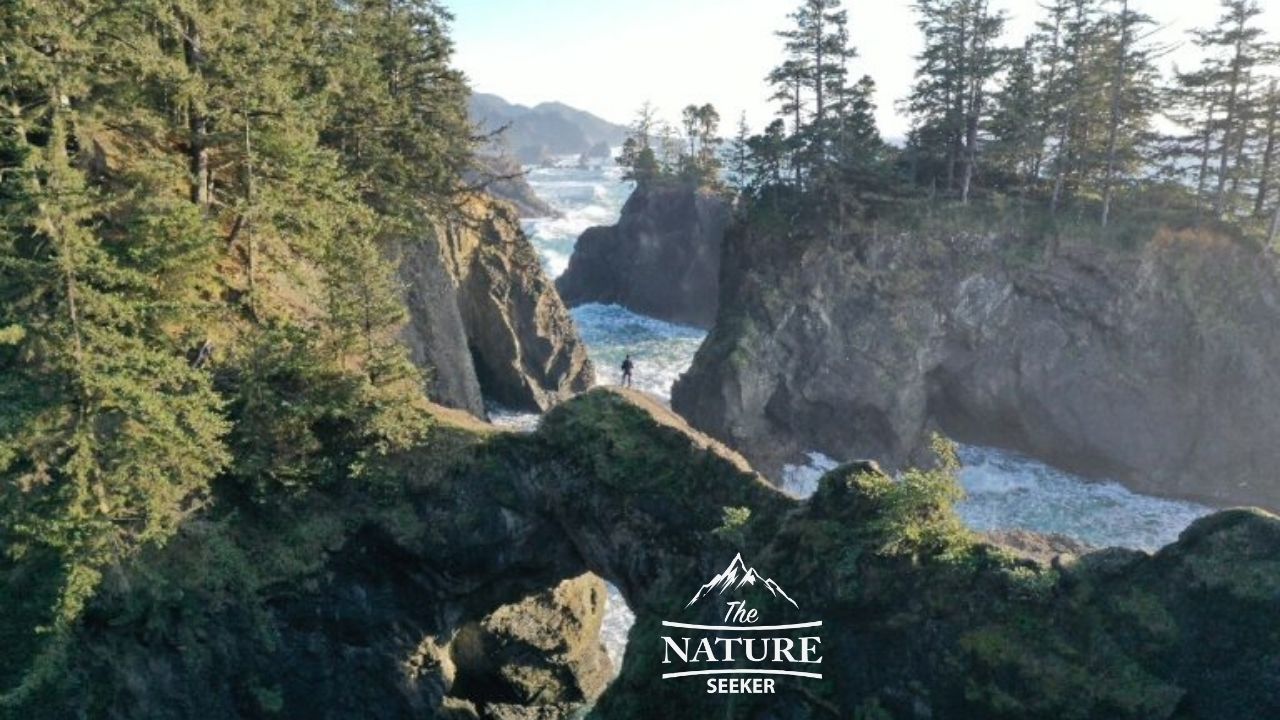 Many of the images I see of Natural Bridges show people standing at the top of this specific area and/or walking to the other side:
It looks so easy when you see it and think it's easy to stand there, but I tried this when I was there the first time and I greatly regretted it, because not only is it SUPER narrow to cross that spot.
But I chose to try and scale/crawl it, and I got stuck, so stuck that the only way to get out of that situation was to go back, and that required a lot of bravery, risk and danger.
The second time I visited this place (on my western US road trip), I stubbornly decided to make it there, and again it was very dangerous, but this time because of all the gravel I had to pass to get there, making the path difficult to walk on. But I made it and it was very dangerous.
So yeah, I would 100% not recommend you cross this specific spot. The first time I did it, I just turned back to spot 7 and went back up. And when I did, I made the mistake of not going through the #6 path which is sticking to the highest points of the cliff and I ended up having to walk through very thick woods around the hill.
I hope that by reading my experiences with Natural Bridges (here is where I explain my whole Pacific northwest road trip what else I saw after visiting this spot), that it'll help you reach the right areas of it safely.
Again, I don't recommend spots 7 and 8, nor the hike to get there, and I have given you the warnings and dangers about it, and again, you can really enjoy great views from location 2 there, but either way, you now have a map of the Natural Bridges area to decide.
Gear I recommend wearing for places like Natural Bridges (better safety):
Questions about Natural Bridges Oregon that are commonly asked:
How long is the hike to the Natural Bridges Oregon?
If you follow the right path down to Natural Bridges, it takes about 20 minutes (it's a strenuous hike).
How do I hike down to Natural Bridges?
From the parking lot, turn right and follow the cliff path up and then down to the famous overlook.
Is Natural Bridges worth visiting?
Yes and in my opinion Natural Bridges is the most beautiful place I have ever seen on the Oregon and US coast.
Can you kayak at Natural Brides? The answer is yes, but read this first:
I had seen a video and pictures of people kayaking underneath the natural bridges at this area on a kayak and paddle boards before so I was very interested in doing this when I went there a third time. What I learned is this:
1) You need to get your kayak down into Secret Beach (I talk about that shortly), and then kayak south to Natural Bridges.
2) You can order a kayak renter to drive the kayaks to you, so I would have them meet you at Natural Bridges.
3) It is imperative that you do this kayaking thing when there is high tide and it's at it's peak. This means the water will be calm and make it safer to get into the Natural Bridges area by kayak.
4) To get this right requires TIMING, care and kayaking/paddle boarding experience.
I would not recommend trying this as it's very dangerous and easy to get into an accident or worse if you're not careful.
5) If I ever do this (I'm aiming to), I will put up a tutorial showing how.
Other beautiful spots and hikes to see near Natural Bridges:
1) One of the best spots near Natural Bridges is Secret Beach and these 2 spots are very close together.
2) Other than that, exploring all of Samuel H. Boardman Park and it's main trail that runs across Natural Bridges is also recommended.
3) And of course, I advise you also check out these other spots on the Oregon Coast too!
4) If you're looking to do day hikes on the Oregon coast, that link will show you a number of awesome options, including Natural Bridges which is also great for day hiking on.
5) You will also find many ideas on what to see near Natural Bridges on this Tripadvisor page.
Spots to see beyond just the Oregon Coast:
1) Further south of this spot is the official state line of California, near which you'll find the Redwood National Park in addition to these 10 awesome spots on the whole California Coast.
2) Further north (about 300 miles) is where Washington State starts and if you wish to see the coast there, here are 10 spots to see on the Washington Coast too. But I strongly believe Natural Bridges and the other spots on the Oregon Coast are the most beautiful in all the of the Pacific west coast.
3) Further northeast of Natural Bridges is more beauty to explore in Oregon and I recommend Columbia River Gorge, and other scenic spots like Toketee falls.