Natural Bridges Oregon is an extremely popular destination in this state's coast that I have been to several times in the past few years and if you want to visit this area too, there's 2 main ways to do it:
Either you see Natural Bridges from an overlook (it's easy and safe to do).
Or you hike down to what I'll call "the spot" that has you hike above the Natural Bridges and it is the famous spot many people post photos on, including myself (that is not easy and it is even a bit dangerous). And that is this place:
In this post I'll be showing you how to get to both areas and in addition, things you need to know (such as the risks), other awesome ways to explore it, as well as what to see near Natural Bridges to get an even better experience here overall.
Quick info on Natural Bridges Oregon:
Name: Natural Bridges.
Location: Near Brookings along the southern Oregon Coast.
What is it? A viewpoint of several natural bridges and a hike to the top of them.
Difficulty: The viewpoint area is easy to walk to, but the hike to the main spot in Natural Bridges is hard

(but short)

.
Rating: 5 out of 5.
5 things to know about Natural Bridges Oregon before you go:
There is a small parking lot right by Natural Bridges (it is easy to find, I'll include the GPS link too).
If you want to get to the above spot, there is no Natural Bridges trailhead. You have to hike off trail (it's tough).
There is a trail near the parking lot to Natural Bridges (but it takes you to other nice areas, not Natural Bridges).
There are amazing places very close to this spot (Secret Beach Oregon and Thunderbird Cove).
On top of that, exploring Samuel H. Boardman Scenic Corridor and more of the Oregon Coast is highly recommended.
Here is a drone video I took at Natural Bridges Oregon:
Now I also need to tell you that today I don't know if it's legal to fly drones here. When I was there, it was many years ago and I called up a ranger station in the area first to see if it was possible. They confirmed that it was OK, at the time. I am mentioning this because drone laws do change/update and you may want to check on a post I created talking about where can I fly my drone that clarifies a lot of this. But in regards to Natural Bridges Oregon, I would just call up the Samuel H Boardman management like I did to be sure.
Here is how to get to Natural Bridges in Brookings Oregon: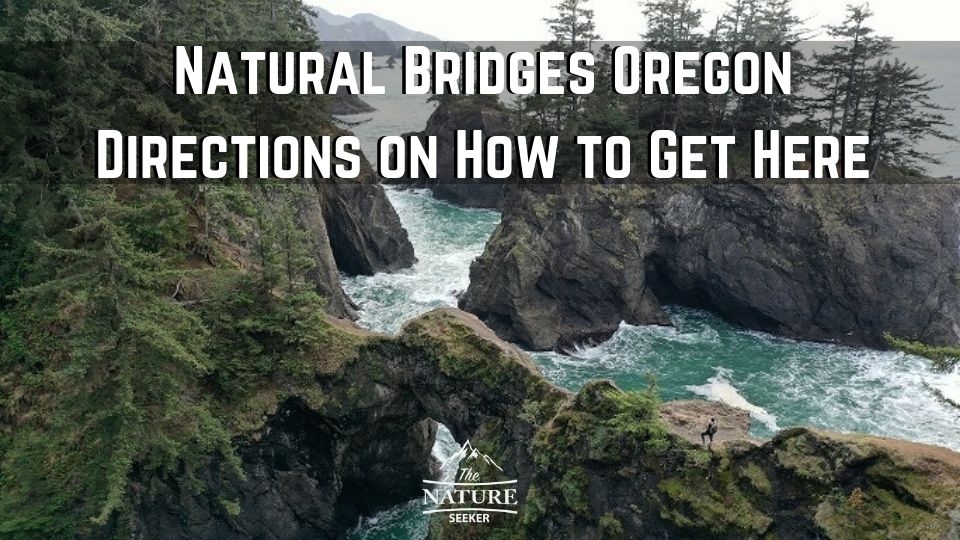 1) First off, I recommend you set the

Natural Bridges location on your GPS:
Here it is. You can also elect to try and find this area yourself, but it's tough because the sign is very small and easy to miss. Once you get there, you'll park your car, then you can either/or:
Visit the viewpoint area (located left from the parking lot, which I recommend checking out).
Going right to the trail which leads to Thunderbird Cove, and also the unofficial entrance to the Natural Bridges hike to "the spot".
Here is the view from the Natural Bridges overlook: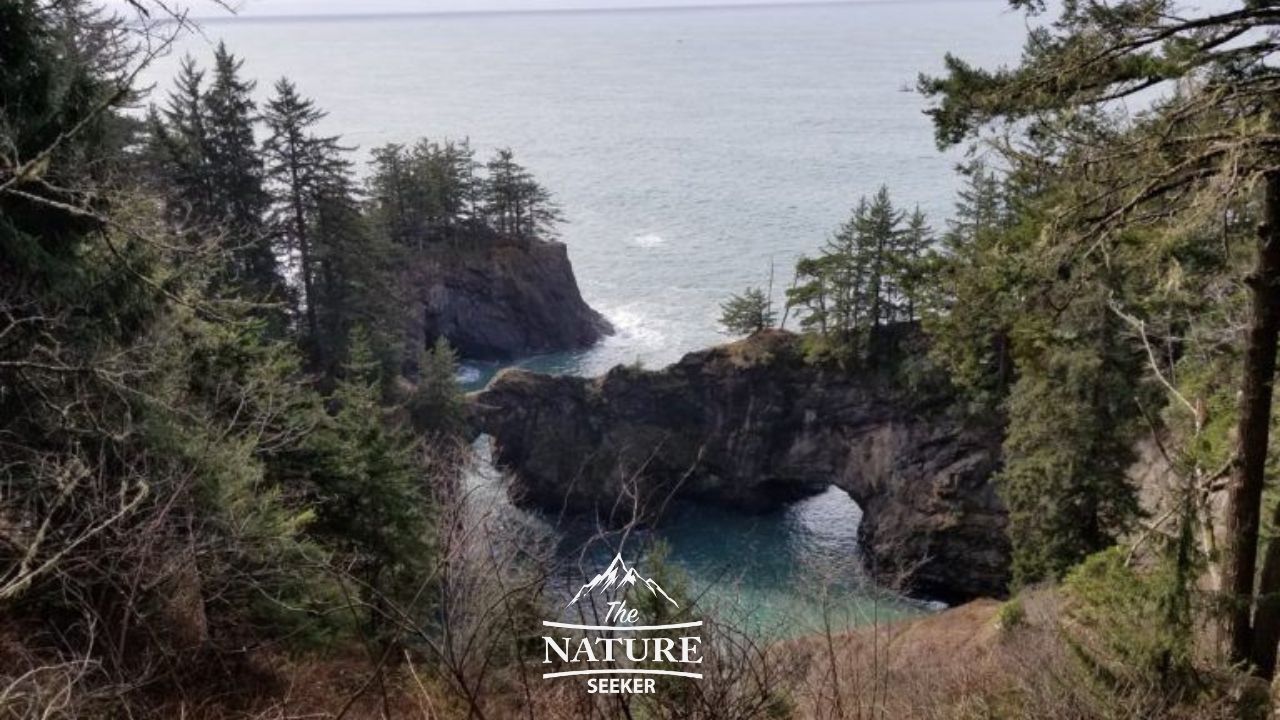 From the viewing area, you will also notice a trail continuing further south (your left). That just continues along a different trail that overlooks the area. If you want to get further into Natural Bridges (aka the spot), you'll have to turn right, go back to the parking lot and start on the Thunderbird Cove trail. When you literally get 25 feet into it, there will be a hill to your left that leads to Natural Bridges, meaning you will have to go off the trail to Thunderbird Cove.
2) How to get to "that spot" in Natural Bridges from that point: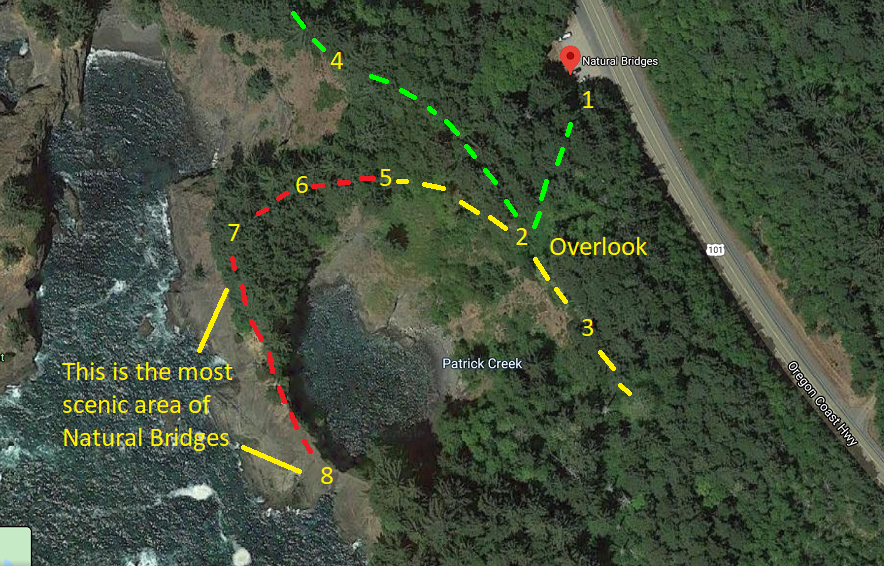 Here is how to use the map above to get there (cross reference 1-8 above with the list below):
This is the parking lot where you park.
This is where the overlook is located.
This is where the trail from the overlook continues south (away from Natural Bridges).
This is where you'd go to reach Thunderbird Cove (official hike).
There is a none official trail on a hill near the parking lot that circles around to Natural Bridges.
You'll first hike up, then steeply down (there is also a rope in this area).
This is where it gets very narrow and dangerous.
This is where a lot of the Natural Bridges Brookings photos are done (it's dangerous to get there too).
Let me give you further references of what to expect if you do this hike. We'll start with what you'll see as you are on the unofficial trail getting closer to Natural Bridges: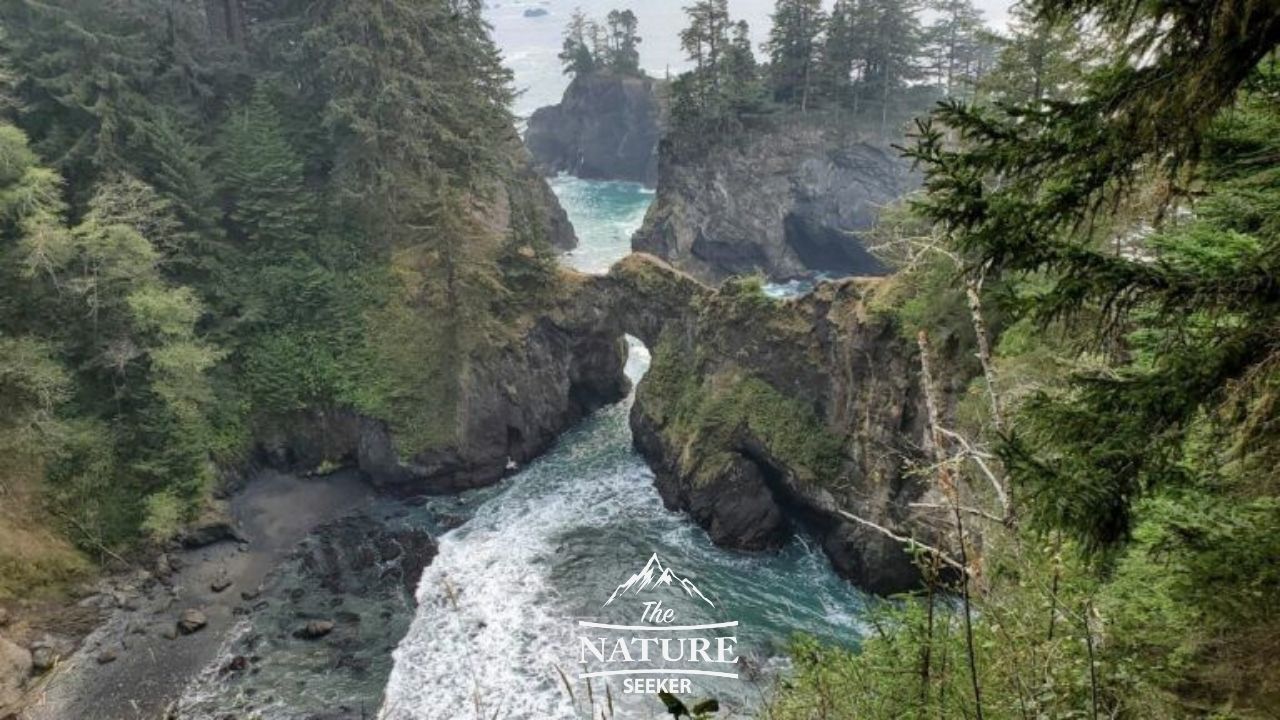 After that as you get closer, and the trail narrows, you'll have to cross these types of areas:

As you can see, I wasn't kidding when I said it was narrow and dangerous there, which is why I really suggest you either don't go, or if you do, to use the trees for balance (I did). Once you pass that area, you will have great views of Natural Bridges, but an additional scramble to get lower to then get to part 8 in the map above. From there you can get this photo: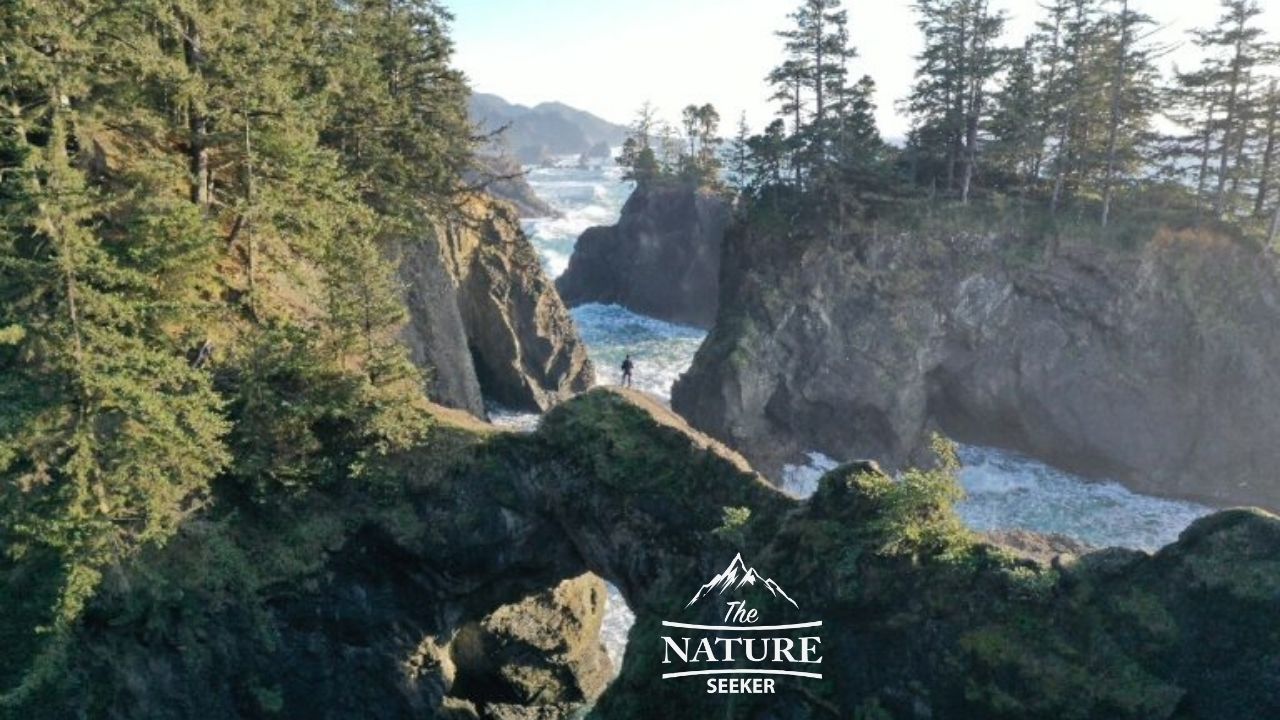 4) Returning back to the parking lot:
To do that you just need to hike back the same way. You may notice another path past point 8 from the map above, but it's even more narrow to navigate and even more dangerous in my opinion.
Recommended stuff to wear for the Natural Bridges hike:
I would absolutely not do this hike with regular shoes. Decent hiking shoes would be ideal here. My personal recommendations are:
The Salomon Speedcross 5.
I also have worn shoes called the Ozark trail shoes.
Both these or any hiking shoes with good grip in my opinion will make this hike easier.