5 Things to Know About Hiking Cape Sebastian Trail in Oregon
The Cape Sebastian trail is in my personal opinion not only a great hike to try, but it's also an area where you'd get some of the best views on the Oregon Coast.
Having gone through this trail entirely, I want to share 5 things you should know before you do it because there are parts of it that aren't for everyone, but even if that is the case for you, there are still many ways to enjoy this hike and experience without having to fully complete it and that's what this post will show you, in addition to what to expect if you decide to check it out.
Quick info:
Name: Cape Sebastian Trail
Location: Cape Sebastian Scenic Corridor Oregon
Hiking distance: 3.3 miles in and out
Difficulty: Moderate
Recommended hike? Absolutely, but there is a lot of elevation gain (about 800 feet) so it might not be for everyone. Overall this is a great trail on the Oregon coast in my opinion that combines great overlooks, is an amazing spot for the classic Oregon sunset and as for hiking, it has a lot to offer too.
5 things to know:
1) There are 5 sections of this hike:
First you will begin at the top lookout area.
Second, you will hike on the upper part of the trail (easy).
Third, you will descend down to the very sea level (moderate hike and many switch backs).
Fourth, you will have to climb down a rope area (not that steep) to reach the cove/beach area.
Fifth, you will have to go back the same exact way to finish.
Below I will cover each section of this hike.
2) If the hike is tough, there is easier version of it:
You can begin at a place called Myers Creek (further south), go down to the Cove/beach area first, then hike up through Cape Sebastian Trail if you want (less descent that way).
3) The best views of the Cape Sebastian Trail are at in these places:
At the top lookout area and upper part of the hike.
When you get down to the beach.
4) There are giant rock areas near the sea level part of the trail to climb on, but I'd avoid it:
The reason why is because they may be slippery and I'd certainly avoid doing that when it's raining!
5) You should explore the hikes south of Cape Sebastian Trail:
There are several amazing places in an area called Samuel H. Boardman Scenic Corridor and it's right by Cape Sebastian (10 minutes south). I'll detail specific spots further below to see.
What to expect as you start hiking the Cape Sebastian Trail in Oregon:
What I'm going to do right now is discuss the moment you begin the hike from the top of Cape Sebastian, all the way to the bottom beach area and what to expect as you go through it.
The hike begins at the Cape Sebastian overlook: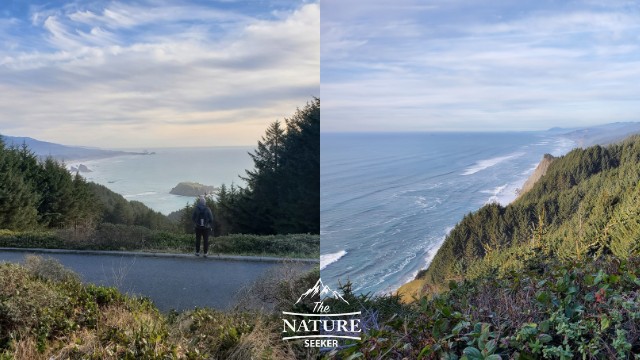 First to reach it, you will be driving on the 101. You can use your GPS to find Cape Sebastian trail (this is also the overlook area) but the drive to get to it is actually short and very scenic.
Once you reach the overlook, I would recommend you consider timing your hike to get back to this area around sunset because it can be stunning in this spot then. But at the same time there will be other awesome places for that on the trail. Anyway as you park your car, the trail will be to your right. You will see a grassy tunnel area and start walking on it (basically west).
Hiking the upper part of Cape Sebastian trail:
For about 1 mile you will at at the upper most part of this trail and when I was first on it, I didn't realize it would actually go down to the beach and this is because when you're hiking this upper area, it is so high up that it's hard to believe the trail actually goes down that far.
But keep that in mind because that's how far down you have to hike (and then back up when you're finished). But in any case, this section of the hike is the easiest and also very pretty. There are a lot of raised grass areas where it's tough to see the shoreline but you will have a few openings to enjoy the Oregon Coast views there.
Starting the descent to the beach: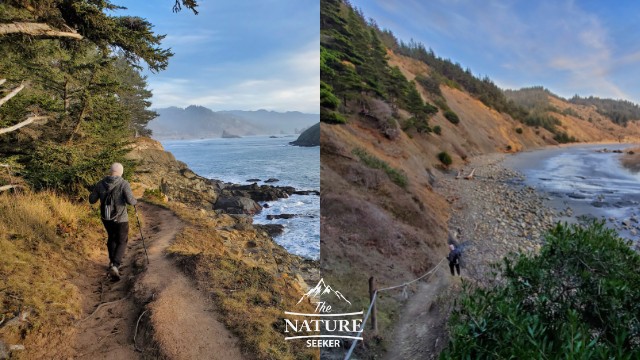 Once you're finished with the upper part of the trail, you will start to descend on a more classic dirt trail that has many switch backs that are on the west end of this trail. Eventually the last switch back will turn to a trail heading south. And that last turn is what will ultimately take you to the beach area.
But as you go down you will reach a few open areas on the hike where you will be able to see amazing shoreline views and rocky cove areas. These spots are great for seeing sunset views but again I would advise you either save that for the beach or overlook area.
Descending to the beach area via rope climb:
This is the part of the hike which might worry some people but it's not a problem. Basically there was a rocky stairway that got eroded and because it's broken up now, there was a rope placed in this region to help people get down to the beach.
The "climb" on the rope is about 50 feet and it's really just there to help you avoid slipping but I would recommend you use it to make that easier. You might want to wear some gloves because that rope does have an annoying grip.
Once you reach the bottom, you will be at the beach and in an area called Hunter's Cove. It is very beautiful there and from that point you will have 2 options to exit:
Go back up the same Cape Sebastian trail (which is what you should do if you parked at the overlook).
Continue south on the beach till you reach Myers Creek, then walk up the 101 road back to the parking area. For this I'd recommend you find the

Alltrails

map to this version of the hike and be more experience.
I have also read that there are places on this beach where you may be able to see whales between Summer and Fall.
Ascending back up (and a Cape Sebastian map to help you):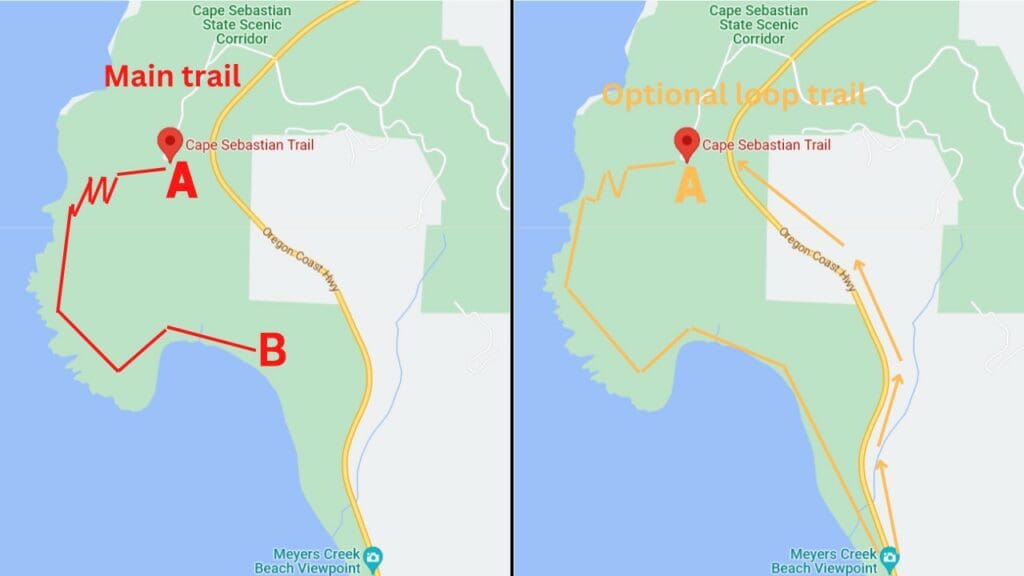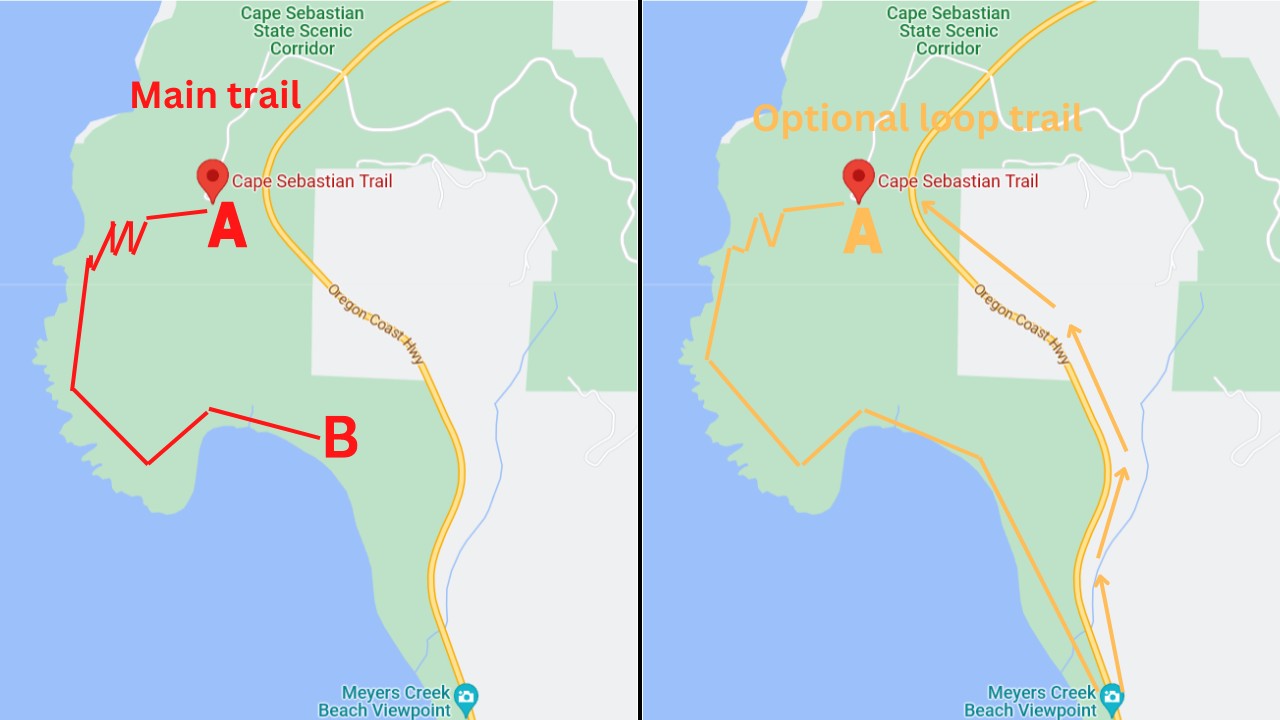 99% of people will probably choose this option to go back. You'll simply go back up the rope area, work your way back around the switchbacks, then the upper part of the trail, then reach the parking lot again.
The great news is that the Cape Sebastian trail is pretty easy to follow and while there might be some trees on the trail, you should have no problem getting back to the viewpoint and not getting lost in the woods.
If you're able to reach the end of the trail by the time sunset starts, you're likely going to see what is a classic Oregon coast sunset and technically if you're unable to do this hike, you can still just park in the overlook area and wait for the sunset there.
Questions about the Cape Sebastian trail:
How long is the Cape Sebastian trail?
The Cape Sebastian trail is about 5 miles in and out.