I'm going to share some personal stories in this AllTrails review of how this app saved me numerous times which made me love it at first, but then as I became a much more experienced hiker and explorer, how slowly my appreciation for this app eroded and why today I still seldom use it, and what I do to ensure I don't get lost when I hike.
The main thesis of this AllTrails review is this:
As a whole, the AllTrails (free) app is great for beginner hikers just looking for popular hiking trails (the free version is perfectly fine for that), but if you get more immersed into hiking and exploring new trails, there may come a point (like it did for me) when this app will not only disappoint you, but it may also end up confusing you which is why you need a plan B (I'll talk about what that is below).
While Alltrails Pro is a MUCH better option for preventing getting lost (among other benefits), it doesn't change the fact that you should absolutely learn to develop your own navigational skills and never solely rely on this app (or other navigation apps) to save you, because it's never 100% guaranteed.
I'll share the situations I've come across where this app has helped me as well as situations where I quickly learned it wasn't 100% reliable and what I learned to do instead so you don't run into these situations yourself.
I'll also be covering the following things in this Alltrails review:
Details on the free Alltrails app (pros, cons, personal stories which are both good and bad).
My experiences with Alltrails Pro as well (also pros, cons and personal stories) and if you need the upgrade or not.
What is the AllTrails app? How to use it to find hiking trails: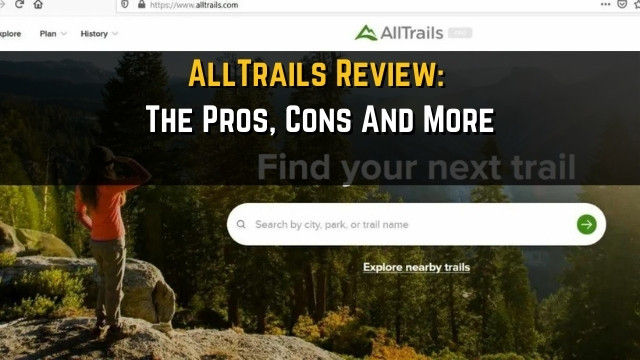 This section of the AllTrails review is for anyone who is a total beginner to the app. I know 99.9% of people know what it is or have heard of it, but just so we're all on the same page, here's a quick description:
AllTrails is an app designed to help people find hiking trails and outdoor adventures. If you allow it (location permission), Alltrails will show you the nearest trails wherever you are too, thus taking the "guess work" out of the mix.
Here's some other features (this is by the way for the

free version

of All Trails):
Again, it will show you a list of nearby hikes and trails depending on your location.
You can also manually search for popular hiking trails.
You can customize your search to seek out trails, waterfalls, hiking distances and more.
You can use the description, map, photos and reviews of the trail to better prepare yourself and/or see if it's even worth trying.
If you are on a trail, you can also open the trail map (and see where you are (if you have a GPS signal available that is).
For each hiking trail you find, you will also get a map, description of it, details on the length, difficulty of it and reviews from those who have done it.
Then there is an Alltrails pro version ($29.99 a year):
I'm going to be honest, my knowledge of AllTrails pro is subpar. I did buy it a long time ago but I barely used it. For the most part, AllTrails Pro will help you get better details on your hiking trails as well as download maps in case you lose connection/signal while on a hike so you can monitor where you are.
Update: Further below I detail my very positive experiences using Alltrails Pro.
The pros of using Alltrails (free version):
It's good to find easy hikes near me (or you in this case).
It's also a good app I use for (sometimes) finding

waterfalls near me

as well.
Good for beginner hikers.
Provides decent listings of trail maps.
Provides listings of tons of hikes.
Provides good GPS location details to help you identify where you are (if you have signal).
You can get a good overview of reviews, tips and suggestions from other users on whatever hike or hikes you plan to do.
The cons of using Alltrails (also free version):
I would not rely on this app for all your hikes (doesn't show everything).
If GPS location is lost, you either need AllTrails Pro or it's useless in my opinion.
Searching for hikes near you is often confusing because too many choices pop up and it's tough to tell them apart based on trail names.
AllTrails trail markers are marked in  1 color (red) and that can confuse people if the actual live trails are of a different color.
There are many parks, hikes that do not show up on AllTrails.
I would absolutely encourage you to develop your own skills for hiking/navigation and not to rely on AllTrails all the time!
My positive experiences with AllTrails (when it helped me, the free option):
I've included an image here showcasing some amazing hikes I found thanks to this app.
Story 1: I was in Harriman State Park hiking a completely customized path that consisted of many different trail colors. While Alltrails didn't have any specifics to this trail (I was trying to find a place called Lemon Squeezer) because it was not well known about, I had a GPS signal and used it to estimate where I was and which direction to go into.
I did end up finding the right spot, in part thanks to using AllTrails, although the bigger part of my success that day was because I relied more so on the official map of the park instead of the app.
And in regards to AllTrails, this was all predicated on the fact that I actually had a signal. Had I not, I'd likely have to backtrack. rely more on the map I had or I'd be screwed.
Story 2: I was exploring Lake Minnewaska State Park and specifically doing a trail called Gertrude's Nose. I was doing a specific path of it where the trail would go be tough to navigate at times, but thanks to having a GPS signal and map listings, I was able to determine which was to go to finish the loop I was doing.
Story 3: AllTrails helped me find a cool hike in Columbia River Gorge by exploring an alternative trail to Oneonta Gorge which I would otherwise not know about.
Story 4: Generally speaking, AllTrails sometimes helps me find trails when I travel and sometimes I'll find good tips and reviews as well as preview maps to help me determine if the trail is worth checking out or not.
Story 5: Alltrails has helped me navigate and find amazing places in Sedona like the Soldiers Pass Caves. There was a part of this trail where I had to steer off it and because it was on the map, I was less worried about being lost.
Story 6: Most recently I did an amazing hike in New York called Avalanche Pass Adirondacks trail and this was one of those cases where the official map of the area was ridiculously confusing, so much so that I opened up Alltrails, found the same trail and used it on much of the hike to get to the right area, and thanks to Alltrails, I was able to do that.
My negative experiences with AllTrails (when it didn't help me, again the free version):
Story 1: There have been numerous cases, especially in places like Harriman State Park where I could not find any decent maps on AllTrails for the path I wanted to take. I would often get lists of loops and beginner trails which were confusing to figure out and pinpoint.
I also had numerous times where I was exploring a trail in this particular park where I just couldn't find it on AllTrails and had to rely on a physical map instead.
Story 2: Even when I do follow a hike I find on Alltrails, it may involve doing different colored trails and if I solely rely on the AllTrails map, it appears red for me and that confuses me when in reality I have to pass through trail markers that are of a different color (I mentioned this above).
For example: The picture I included here is of a popular trail in Harriman State Park that combines several small trails to make a 8+ mile loop. It involves going through what is known as the Reeves Brook Loop trail, and if you know anything about it, you'll know there are actually several colors to this specific trail: Red, blue, white, yellow and possibly more.
I get that when you see specifics on where to go, it's easier to understand, but when you're on trails here, sometimes you may miss which colored trail to turn on because you only saw red on the AllTrails map.
Story 3: Unless you have AllTrails pro and can download a map to pinpoint where you are, this app can be pretty useless if you are hiking somewhere with no GPS signal.
Story 4: I think Alltrails can get very annoying to figure out when you go somewhere you have 10 different versions with the named trail. For example, if I type up Coyote Gulch in the search, I'll get 9 or so different options and I have to manually sort through each one to figure out what to do. Sometimes I'll find loops and trails that are totally irrelevant to the region I'm seeking to explore.
These stories would rack up overtime as I would explore more difficult/complex trails out there and as the disappointments racked up, so did the reality that I could not continue to solely rely on this app.
Note: All of these stories are of me using the free version of Alltrails. In hindsight (which you will read about in a moment), having Alltrails Pro would have positively enhanced all of these stories, especially the negative ones.
Time to finally give you my Alltrails Pro review:
As I said earlier I actually bought Alltrails Pro long ago and it was right before my hike to Coyote Gulch.
To be honest, I didn't use it much (at the time) but very recently, I returned home from a 10 day trip that spanned from California, to Nevada, Utah, and finally ended in Arizona (this happened in November 2022).
In that 10 day period, my appreciation for Alltrails (Pro specifically) skyrocketed because of how useful it ended up being for me, specifically in helping me properly navigate certain trails without getting lost and also if I did wander off the main trail, I could use the offline map and see where I was regardless if I had connection or not to find my way back.
With Alltrails Pro, there are 2 specific and major pros (no pun intended) worth noting: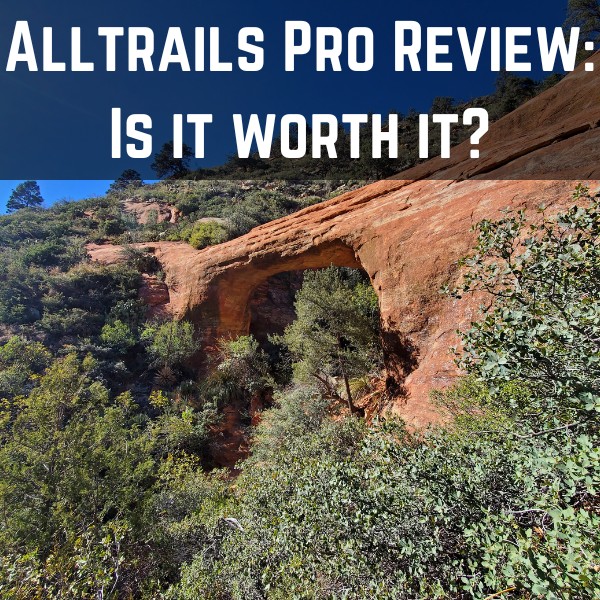 1) You can download any trail map that is on the Alltrails index so you have it whether or not you have a signal, meaning if you are somewhere where there's no cell phone reception, you can still use the offline map and even see where you are on it (this is priceless and potentially a life saving pro). I would highly recommend this as a way to prevent getting lost in the woods (not guaranteed, but your odds of that lessen greatly in my opinion).
2) If there are circumstances in which a specific trail is not listed in Alltrails, there is a "start navigation" option where you basically start hiking and it records (with a red line) which way you are heading on the trail. You can then use that map and trail created to backtrack to where you began. This is exactly what I had to do in Arizona when I was on the Vultee Arch trail and the app greatly helped me here.
Now when it comes to Alltrails Pro cons, there's 2 things:
1) You won't have trails for every place you look (it's just impossible for any trail app to cover all that's out there). Thankfully there is a navigation tool to start your own trail on the map you can download offline to make sure you can backtrack (this is very useful).
2) I still maintain that you should learn to rely on your own skills to get yourself home safely because no matter how good an app is, if you rely on it too much, you may hinder your own learning/evolution of necessary skills and that may be very dangerous if you ever get lost in the woods and there's no official Alltrails map of it for you to rely on.
I had one circumstance on that same 10 day hiking trip where I was hiking at Keyhole Cave in Sedona, and Alltrails went crazy when I got into the cave, which would have confused some people, but I just used simple logic to make my way back (this is proof that situations like this can happen).
Conclusions on AllTrails overall:
While I think the free version of AllTrails has a lot of uses and should be installed on your phone, once again I also think it's a big mistake to only rely on it.
Now regarding Alltrails Pro, it is 1,000x better and well worth it for the priceless pros I stated above and it's only $29.99 a year, a very small investment for a potentially life saving app.
But overall, even if you do get Alltrails Pro, do not ever assume that this or any other similar app is a substitute for learning your own skills to find your way on trails, off trails and where you need to go.
There are so many easy ways to get lost out there and even miss out on incredible trails that aren't in the AllTrails index and if you don't develop your own skills and know which trail you are taking thinking that Alltrails will just guide you through, you're setting yourself up for disappointment eventually (or maybe something worse).
What about alternatives to AllTrails? Are there better apps?
I've seen a few and people have showed me some that they say are better. However, the central problem with all of them in my opinion is that you shouldn't rely solely on them, just like with AllTrails. If you have a personal recommendation for a good alternative app to AllTrails though, I'd be more than happy to hear your thoughts on that below.
Aside from developing your own skills at navigating, here's a few other things I personally do to avoid relying on AllTrails:
Research a trail ahead of time and get a screenshot of the map (or a physical one).
Plot your own directions if it's a trail that isn't listed on AllTrails (and even if it is, I'd still do it).
Find trailheads for hikes if it's an impromptu hike and take a picture of the map just in case.
Bottom line: Know that AllTrails doesn't have everything and don't solely rely on it and get lazy, otherwise you may eventually get yourself into trouble in doing so.
Thanks for reading this AllTrails review! I'd love to hear your thoughts on the app and other alternatives you use as well as stories of when this app helped you or didn't below!