Gertrude's Nose Trail – Read This First Before You Hike Here
Gertrude's Nose trail is arguably the most famous hike in Lake Minnewaska State Park. I completed it the other day, and while it was an awesome experience, if you've never done it before but are planning to, read this prep guide first as it'll explain:
Exactly how to navigate to it (map provided).
Where to turn and which trails to take (step by step).
How to do the short/long look versions of it (multiple options are available).
And basically how to prepare for it so you don't get lost or run into issues.
I did this hike with my buddy and we did run into several groups who had trouble figuring out how to get here, as well as those who got lost on one of the trail options they took to get to Gertrude's Nose. Think of this guide as a prevention for those potential issues so you can enjoy the majesty of this hike.
Quick info on the Gertrude's Nose trail:

Name: Gertrude's Nose.
Location: Lake Minnewaska State Park.
Hiking distance: 6-7 miles (loop as well as in and out options available).
Difficulty:

Moderate.

Hike rating:

4.9 out of 5 stars

.

Easy to get lost? There is a section of the trail where it's possible.
Recommended hike? Yes! It's an excellent hike with great views, great experiences, some challenging parts, and overall a great rounded/scenic hike that most people will thoroughly enjoy doing.
Before I get to the sequential order of how this hike works, let me mention 5 important things you need to know:
First, Gertrude's Nose itself is just a famous overlook/rock formation.
Second, the Gertrude's Nose overlook is several miles away from the main parking lot (at least 3-4).
Third, there's several ways to reach Gertrude's Nose and I'll share those options with you shortly.
Fourth, plan according: Right hiking shoes, backpack, lots of water (I'll give you my top recommendations).
Fifth, in my opinion the trail itself is way better than the overlook (better scenery/experience other than the official overlook).
Now from this point, I'm going to give you the step by step directions of how to get to Gertrude's Nose from the moment you enter Minnewaska State Park.
The trail I am citing is the same one my buddy and I did which is a 6-7 mile loop trail from the parking lot, to Gertrude's Nose, then back around to the same parking lot.
It is very scenic, a bit challenging at times, but the scenery changes and while this is the trail I'm citing, I'll also provide several other trail options you can take to get back to the parking lot too.
1) Getting started, where to find the trailhead to Gertrude's Nose:
1) You'll enter to Minnewaska State Park from road 44.
2) Upon doing so, you will cross a booth and pay for entry.
3) From that point, you will have 2 parking lots where you can leave your car. One (Lower Awosting Lot) is right past the booth (not recommended) and the second one (recommended for this hike) is right by Lake Minnewaska.
4) Because I recommend the latter parking lot, to get there, you'll want to turn left after the booth, then make a right at the next fork and take that road all the way to the end which will bring you to a larger parking lot for the park. This is where you'll want to stop.
5) Next, you'll see an official trailhead to Gertrude's Nose here. This is where it begins.

2) Starting the Gertrude Nose trail (and the map directions I used):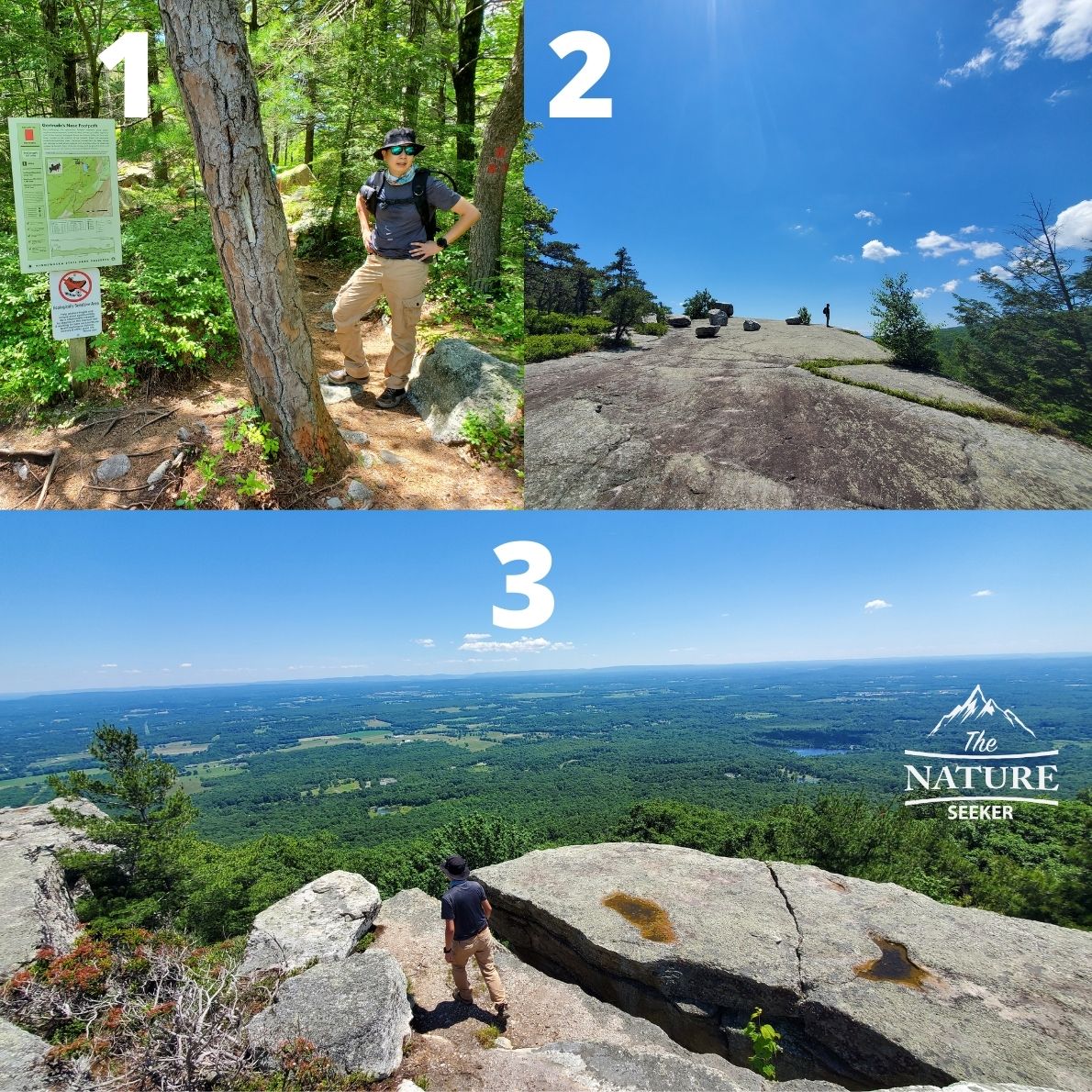 There are several ways to hike to Gertrude's Nose. While I'll give the details of how I did it, know that you have options (they all start at the same trailhead) and here they are:
You can do a clockwise loop hike to Gertrude's Nose (turn left at the trailhead, come back to it from the right).
You can do an in and out trail. Turn left or right at trailhead, follow the markers to Gertrude's Nose, then upon reaching it, turn back around and head back the same way.
You can do a counterclockwise loop hike to Gertrude's Nose (the one I did).
Here, you'll turn right at the trailhead, get to the overlook, then work your way back to the trailhead (coming from the left). The map I attached shows this option.
Note: No matter which option you choose (in and out or loop hike), you'll still end up doing 6+ miles anyway.
3) Which trails to follow to reach Gertrude's Nose:
There are 2 trails you will need to navigate to reach Gertrude's Nose and to return. Because I am showing you the path I took to get there (counterclockwise), here is how it looks:
From the trailhead you will turn right and take the red trail towards Minnewaska Lake Beach.
You will follow the red trail for about 1 mile (mostly incline). It will zig zag on a gravel road and you will get a few decent views of the lake.
After 1 mile, you will get on the yellow trail and continue it for another mile (similar kind of gravel road).
As you are on the yellow trail (around mile 2), you will see a sign for Gertrude's Nose Footpath and it will require you to enter the woods. It's another red trail and it's the one you need to take. In other words, here you will get off the gravel road and follow the red trail into the woods.
This red trail will be what you will continue to another 2 miles to reach Gertrude's Nose and this is also where you will get the best views of the hike in my opinion. There will be crevices, awesome, scenic trails and just overall a fun hiking experience (mostly easy in difficulty).
4) Reaching the overlook and continuing the loop: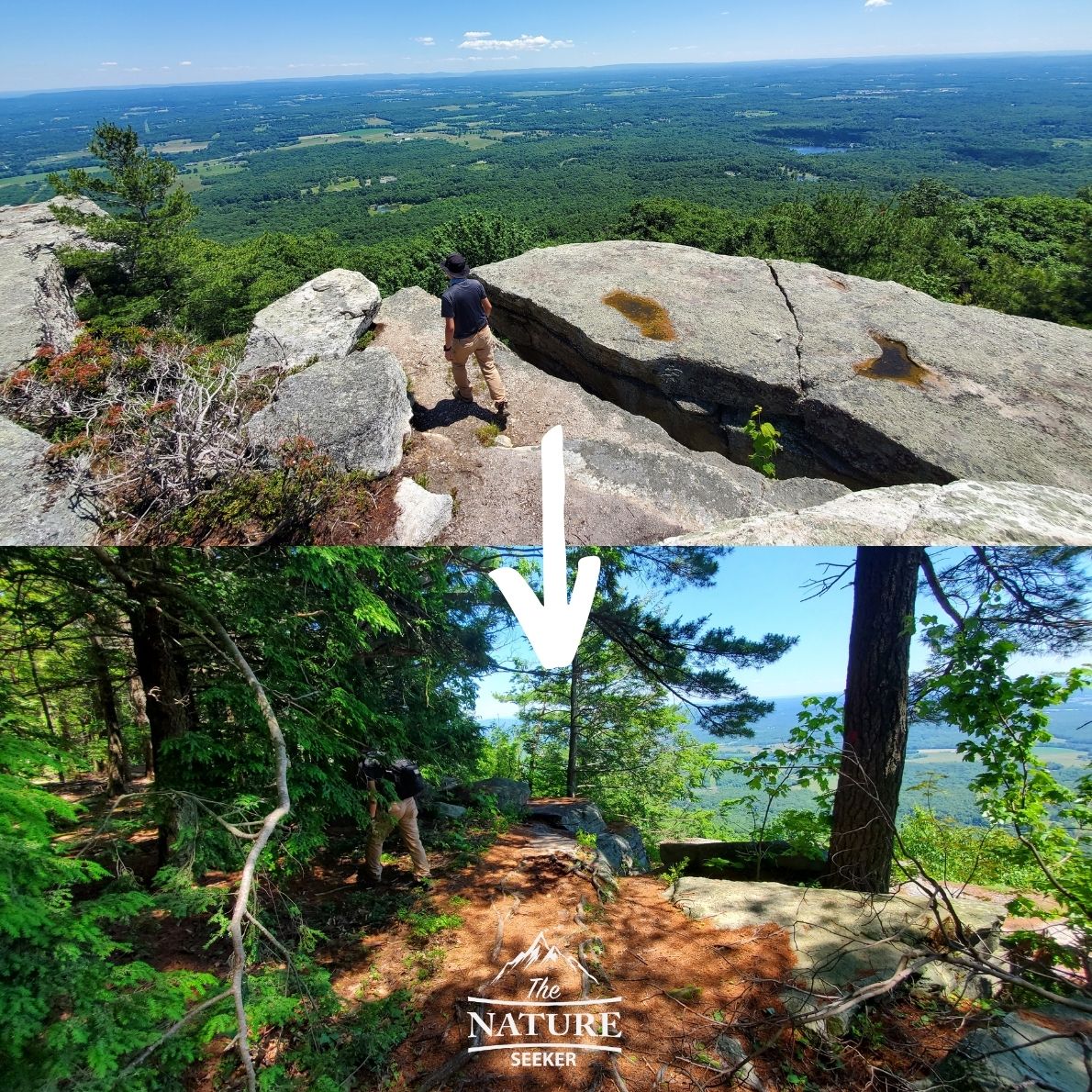 Once you reach Gertrude's Nose, you can either head back the exact same way (in and out option), or you can choose to continue the counterclockwise loop by continuing to follow the red trail. This will take you through a pretty moderate hike uphill to a new summit of the mountain and this is the section of the loop we did where things did get a little confusing at times.
We did get lost in the woods on occasion and ran into another group of people who just got stuck and didn't know where to go, but for the most part, this section of the trail is less developed and easier to get lost on, so make sure you're careful here.
This section of the loop is about 2-3 miles long and there are some nice areas to pass through. There will also one section before you return to the lake where you will see a blue trail marker and no red markers anymore. We learned that this is actually a connected trail where blue/red mix for a short period. Walk PAST the blue trail marker and you will see a fork about 50 feet after, one goes to the red trail and one to the blue. Continue on the red trail to continue on the loop.
5) Returning to Lake Minnewaska and completing the Gertrude's Nose loop trail:
You will exit out of the MM trail, you have 2 choices to complete the loop:
You can turn left and follow the signs to Lake Minnewaska, but that will put you back on the same trail you did before.
Or (recommended), you will turn right and follow the road (gravel path) that will take you on the left side of Lake Minnewaska. That is the one we did to keep things fresh and to see new sights and that is the path that will take you back to the parking lot.
There will be a few beautiful areas you will cross including a huge meadow area, nice overlooks of Lake Minnewaska and a wooden bridge that will show up right before you reach the same parking lot you started at. That completes the loop of Gertrude's Nose!
Other alternative hikes and attractions to try (If the Gertrude's Nose hike is closed):

I've been seeing comments saying that Gertrude's Nose has been closed and whether or not that is the case, there are still plenty of other awesome hikes close to it you can try (some better than this trail in my opinion):
1) Awosting Falls is the biggest waterfall in Lake Minnewaska and highly recommended to check out. The hike to it is short but worth it. It's also one of the best waterfalls in the Catskill Mountains.
2) You can do many other things in Lake Minnewaska other than the main hike you tried.
3) You can visit Mohonk Preserve if there's time (its close to Lake Minnewaska). There's nice hikes like the Labyrinth there and a lot of other stuff to explore.
4) You can check out another awesome hike about 30 minutes away called Lost City Loop at Coxing Hill. It's way less crowded and is extremely scenic.
5) I also have a list of the best hikes near NYC here you can see, and while Gertrude's Nose is one of them, there's over a dozen other trails there that are just as amazing.
6) Additionally since this is nearby to the Hudson River, I also have a list of the best hikes in the Hudson Valley you may want to see too.
7) Another recent hike I did and recommend is the Bonticou Crag trail which is only about 15 minutes from Gertrude's Nose. It's a good one too with scrambling involved.
8) If you're looking for more amazing hikes further north, see my list of the best hikes in the Catskills here.
9) Also, Sam's Point Preserve is 20 minutes away from this place which is a nice hiking area with a lake, waterfall and ice caves.
More quick questions and answers about the Gertrudes Nose hike:
How long of a hike is Gertrude's Nose?
It takes about 3 miles to reach Gertrude's Nose from the trailhead area.
Where do you park to hike Gertrude's Nose?
Park at the Lake Minnewaska visitor center. Then you will see a trailhead sign to start your hike on Gertrude's Nose.
How high is Gertrude's Nose?
The elevation numbers for Gertrude's Nose are a little over 1,000 feet.
How difficult is Gertrude's Nose?
The Gertrude's Nose hike is mostly easy, but has elevation parts which are moderate for most people.
Have more questions about the Gertrude's Nose hike? If so, feel free to ask!