13 Best Hikes in The Catskills For Beginner And Above Levels
I'm going to show you some of the best hikes in the Catskills that I've uncovered over the many years that I've been to this area of upstate NY and it's a list that is currently up to 13 incredible trails.
Every single year I do a lot of hiking in the Catskills and either redo trails that I love (included the ones listed below) and/or try new ones that are in the region and if they're worth recommending, I add them to this list. The beauty of the Catskill Mountains is that this area is so large at well over 500,000 square acres that there's many trails to explore, far more than what I'll be showing you, but these ones are stunning, have great reviews and are highly recommended to check out.
Here is my personal list of the 13 best hikes in the Catskills:
Kaaterskill Falls trail (2 miles)
Minekill Falls trail (1 mile)
Indian Head loop trail (7 miles)
Devil's Path (24 miles)
Labyrinth trail hike loop (2 miles)
Lost City Loop trail (3 miles)
North South Lake loop trail (2 miles)
Boulder Rock trail (5 miles)
Hunter Mountain Fire tower trail (5 miles)
Fawn's Leap to Rat's Hole Park trail (1/2 mile)
Long Path (40 miles)
Sunset Rock (2 miles)
Overlook Mountain Trail (5 miles)
Kaaterskill Falls Trail: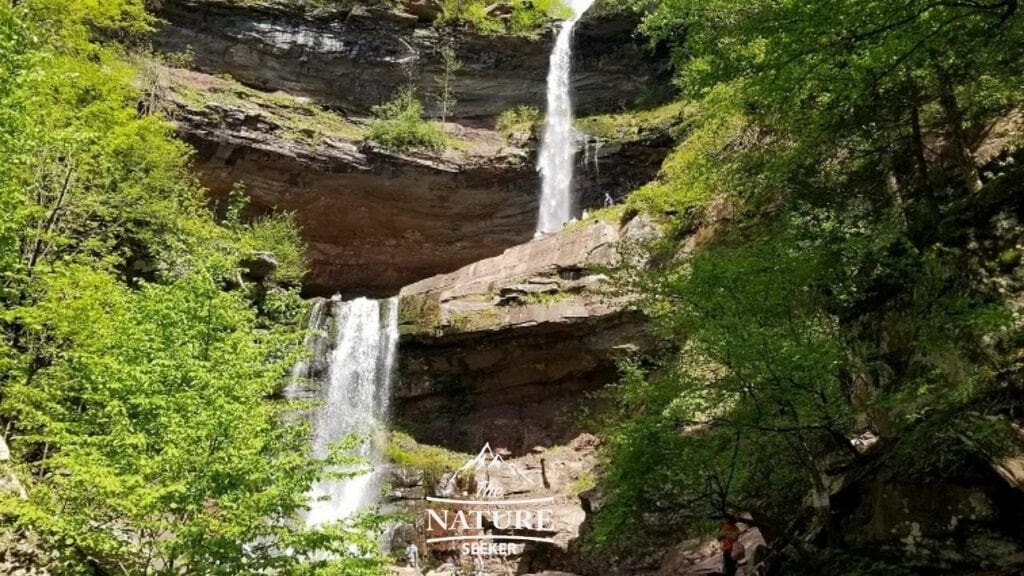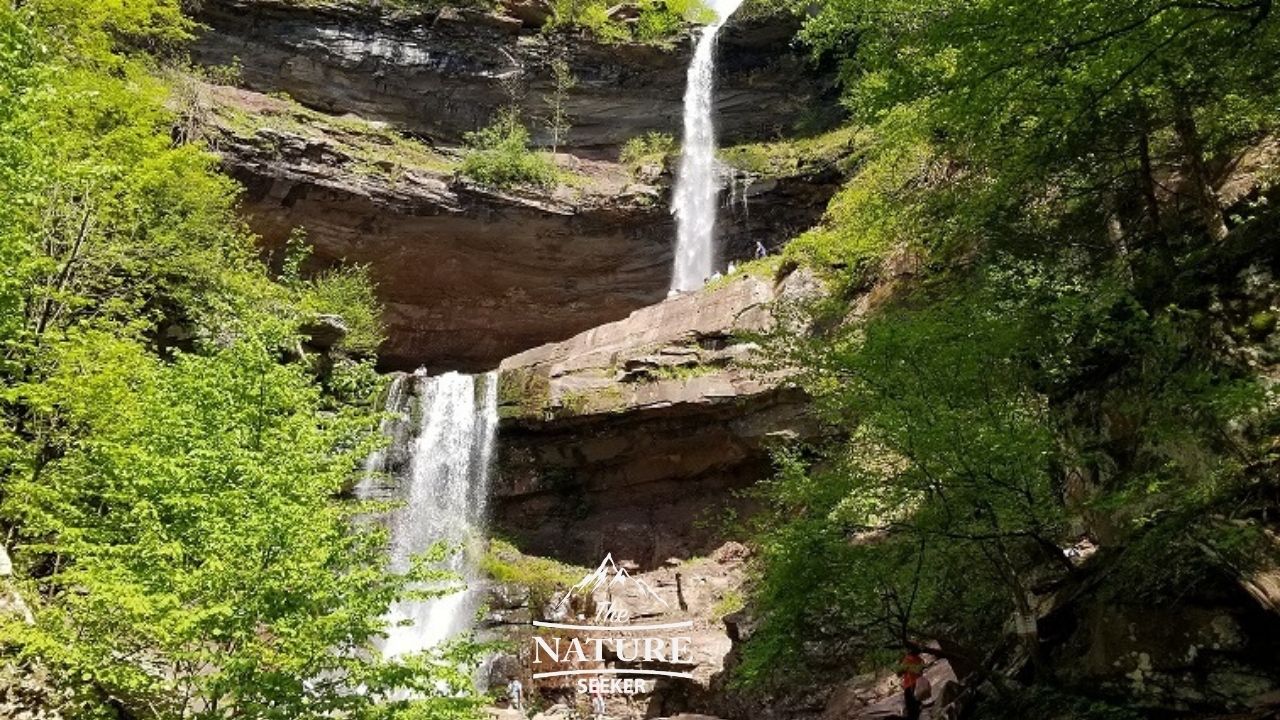 Kaaterskill Falls is in my opinion one of the most best waterfalls in the Catskills and without a doubt the largest. It's a 2 layer waterfall you can explore from the top-bottom. With the current trail I'm sharing with you, it'll begin at the top of the waterfall where you'll see amazing views of it and the greater Catskills. Followed by that you'll have the option to see Kaaterskill Falls from beneath it's 2 layer areas including this amazing photo I took while underneath one of them:
Minekill Falls Trail: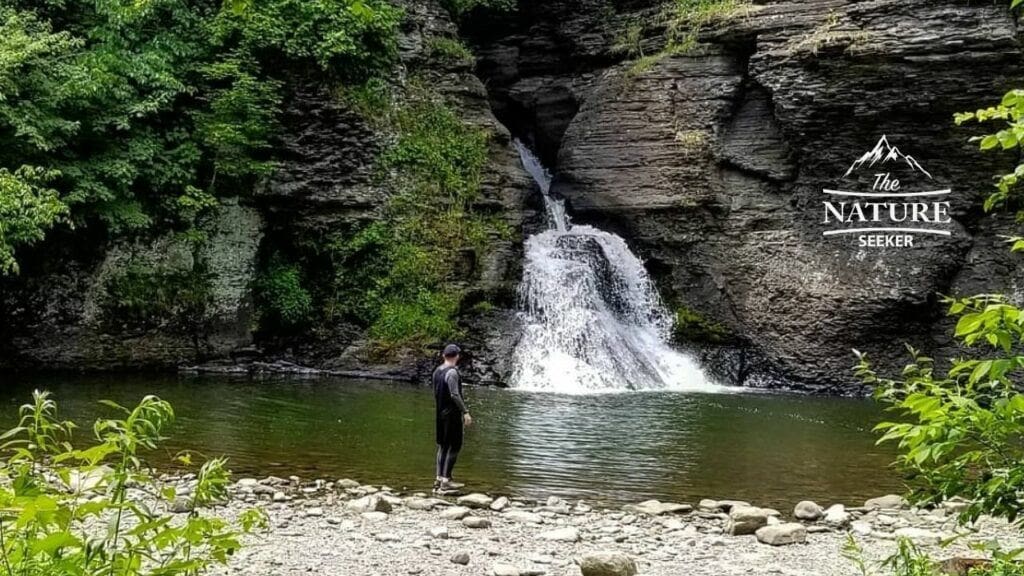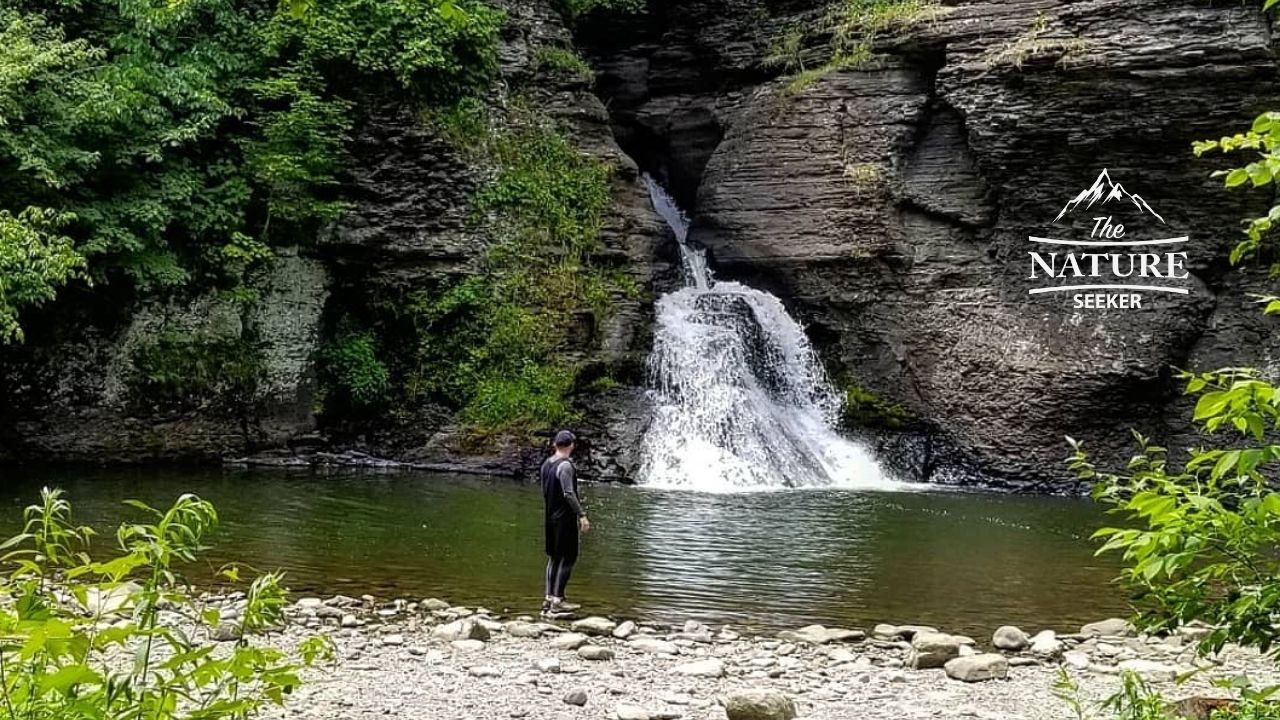 Minekill Falls is another huge waterfall in the Catskills but isn't as crowded. You can visit it on most days without the parking lot nearby being full. This is a 2 part hike which starts at the parking lot I linked above. You'll follow a trail to a fork. I suggest going left first to see the top of the waterfall. After you finish that go back to the fork and then take the next trail which goes down to the bottom of it. The hike has amazing views and the overall waterfall is very scenic too!
Indian Head loop trail: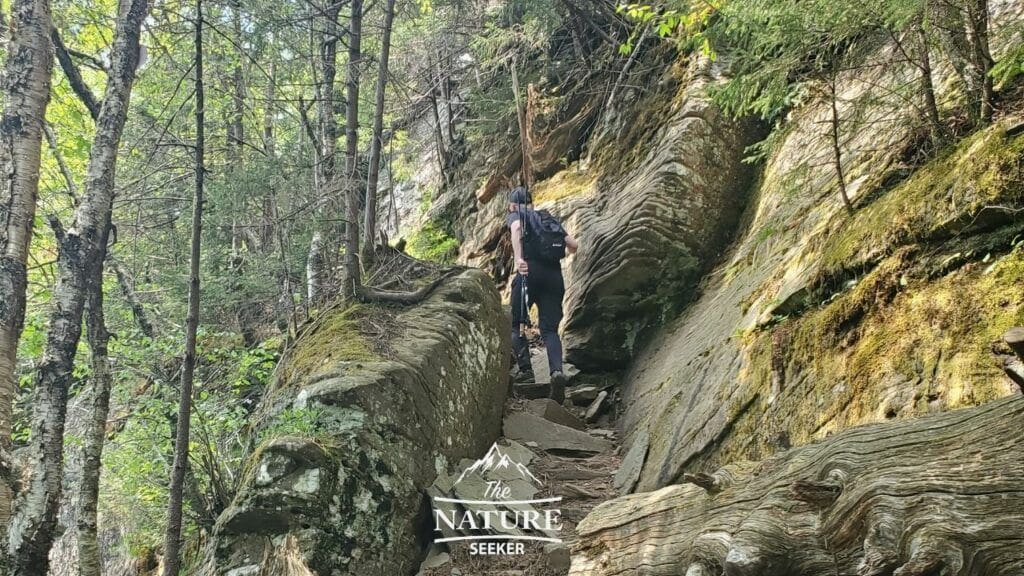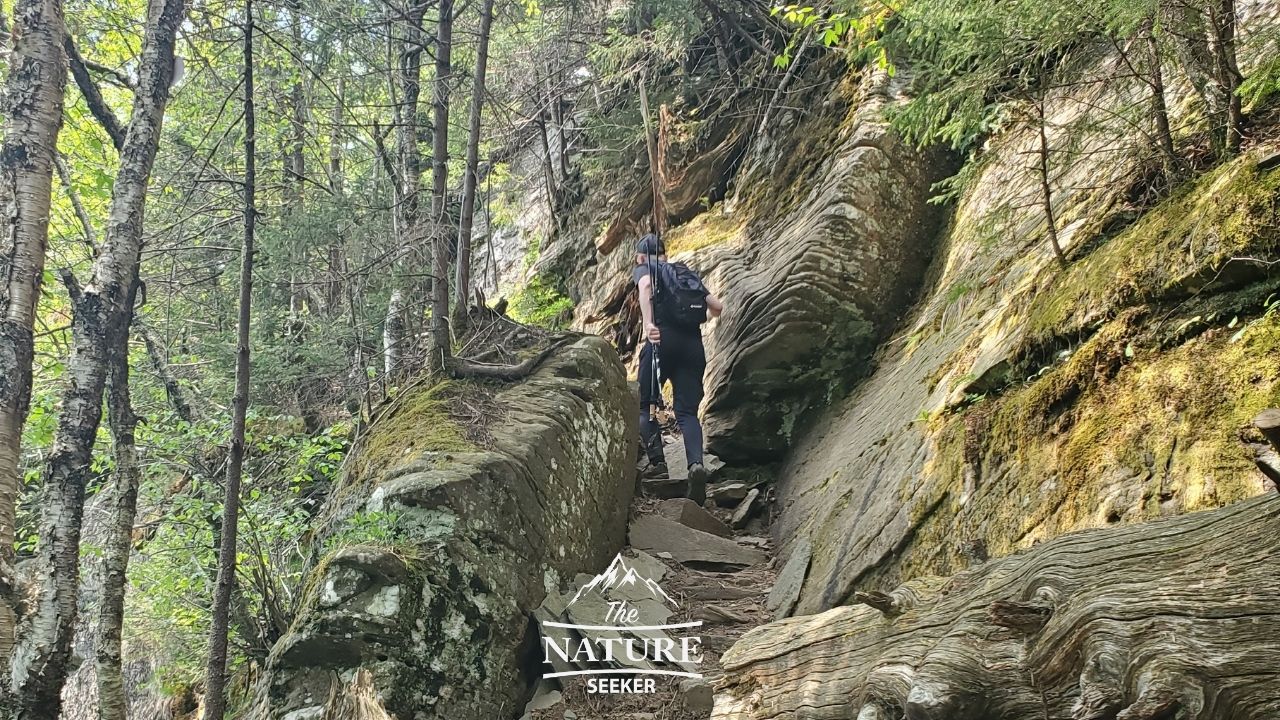 Indian Head Loop is a branch of a longer hike called Devils Path which goes through 6 mountains, Indian Head being one of them but because it's so long, a lot of people who look to do day hikes prefer to check out one of the mountains. In this case you'll be exploring only the Indian Head Mountain section of it which begins at the Devils Path trailhead I linked above.
You'll go up the red trail to reach the summit of it and cross amazing scramble areas in the process. Around mile 4 of the trail you'll come to a fork where you'll turn right to head to the blue trail which will take you back to the Devils Path trailhead start. I've done this hike at least 2 times and like it a lot. One thing I want to let you know is that the blue trail is less polished so it might be tougher to see the blue trail markers, so if you're new to hiking and don't want to get lost in the woods, you may want to avoid this one (for now).
Devils Path full trail:
This is the most difficult trail in all of the Catskill Mountains, but the most popular too. If the Indian Head loop trail isn't enough to challenge you, then perhaps the full Devils Path trail may be your thing. Doing the entire Devils Path in one day is possible, but only for the insanely experienced and tough athletes. Otherwise, do this as an overnight trip which many elect to.
The main thing to know is that this trail is very tough and goes through 6 mountains. It's also not a loop trail so have someone who will pick you up at the end point (Spruceton Road trailhead).
Labyrinth trail hike: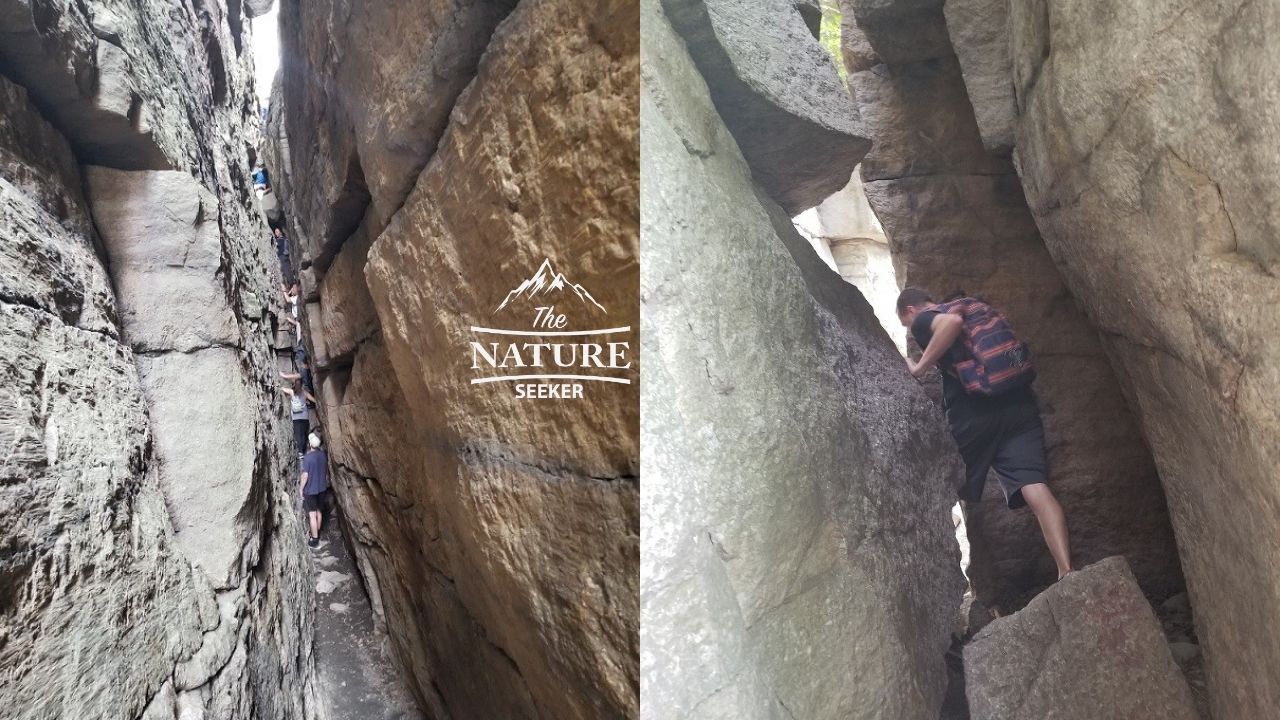 The Labyrinth trail is in the southern area of the Catskills known as Mohonk Preserve. I've done this hike several times and it's extremely fun if you like scrambling, climbing and tight hiking areas. The thing to know about this hike is that you must first hike 1.5 miles to the trailhead before embarking on it. Then you need to go back down on the trail above the Labyrinth hike and another 2 miles back to where you began the trip in the first place. So overall, you're looking at about 6 miles of total hiking, including the Labyrinth.
Lost City Loop trail: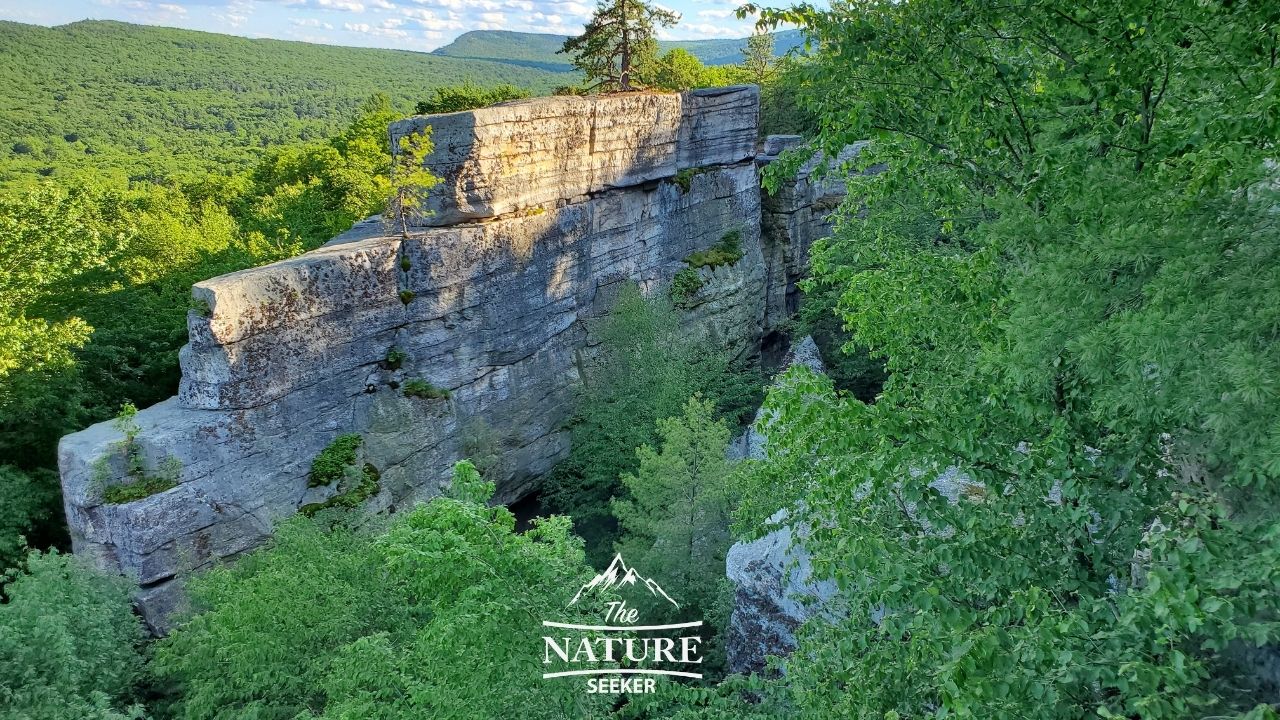 I discovered the Lost City Loop hike by chance from a local and with much acclaim, I decided to do it. It's a very scenic trail that is also within the Mohonk Preserve region. It takes you through the beautiful scenic areas of the Mohonk Preserve and Catskill region, among other areas. I did a very fun trail run there but you can certainly walk it. If you decide to take dogs there, be careful as some parts of it may require you to pick up your pet. 
North South Lake loop trail: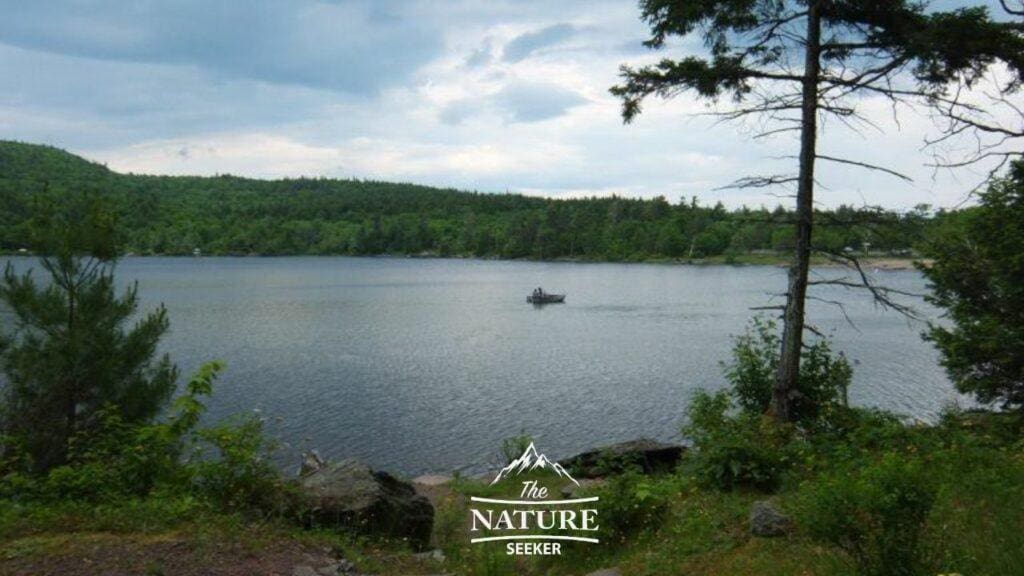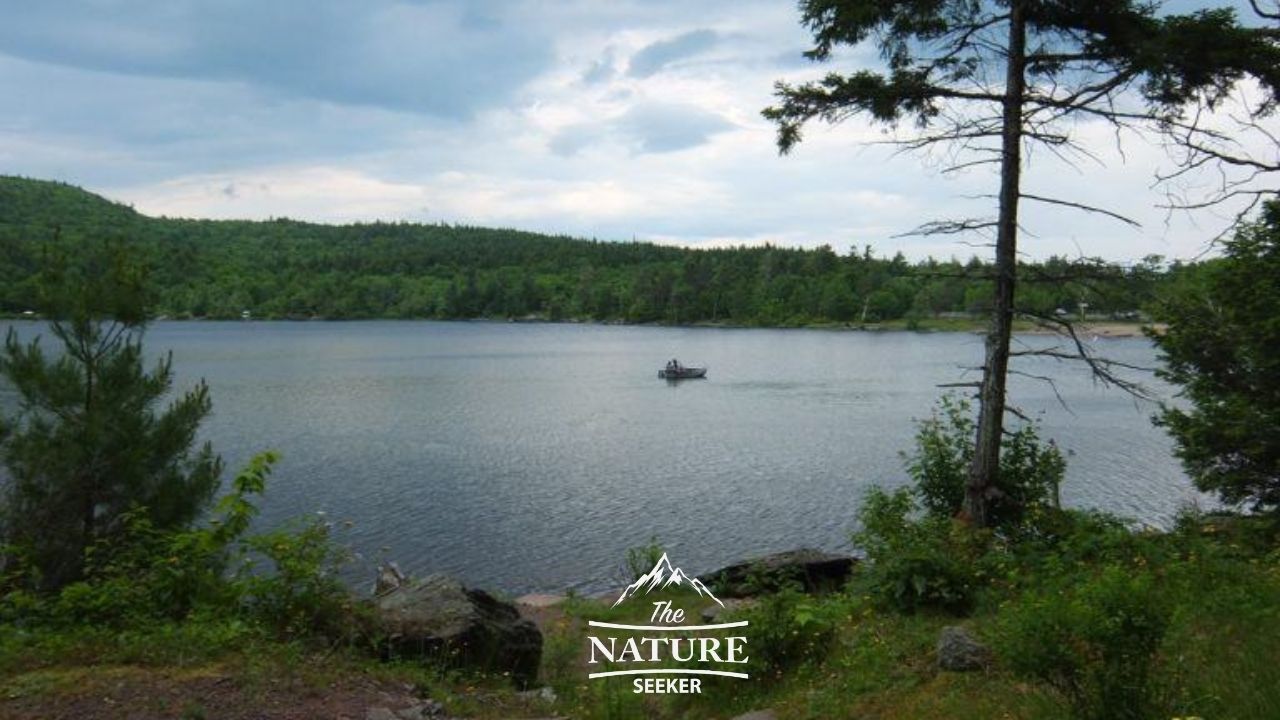 There is an easy but beautiful trail around the North South Lake area of the Catskills which takes you around both lakes. It's short, but very easy to navigate and great for family hikes. If you're looking for mellow, easy trails then this would be one of the top choices in my experience.
Boulder Rock Trail: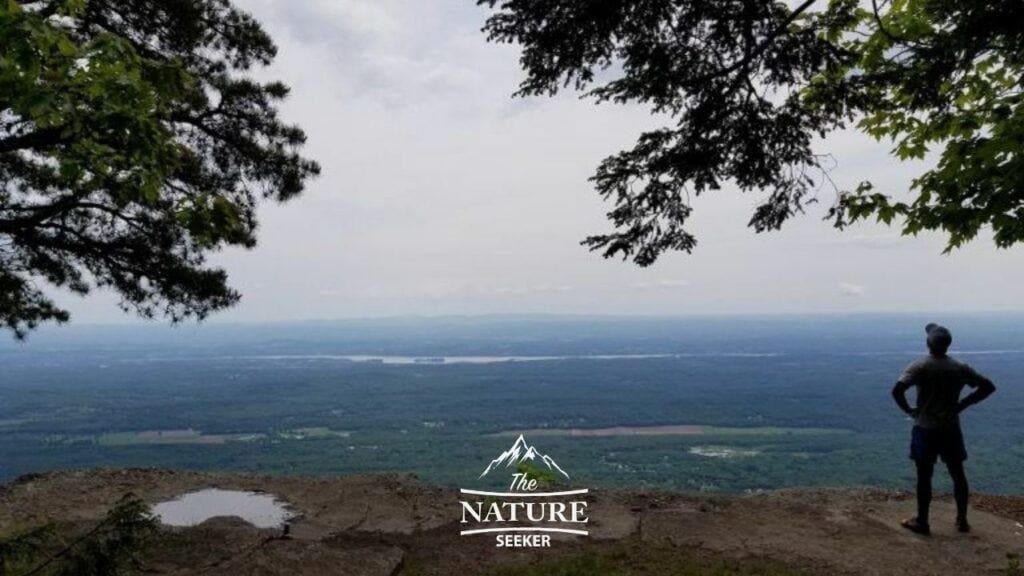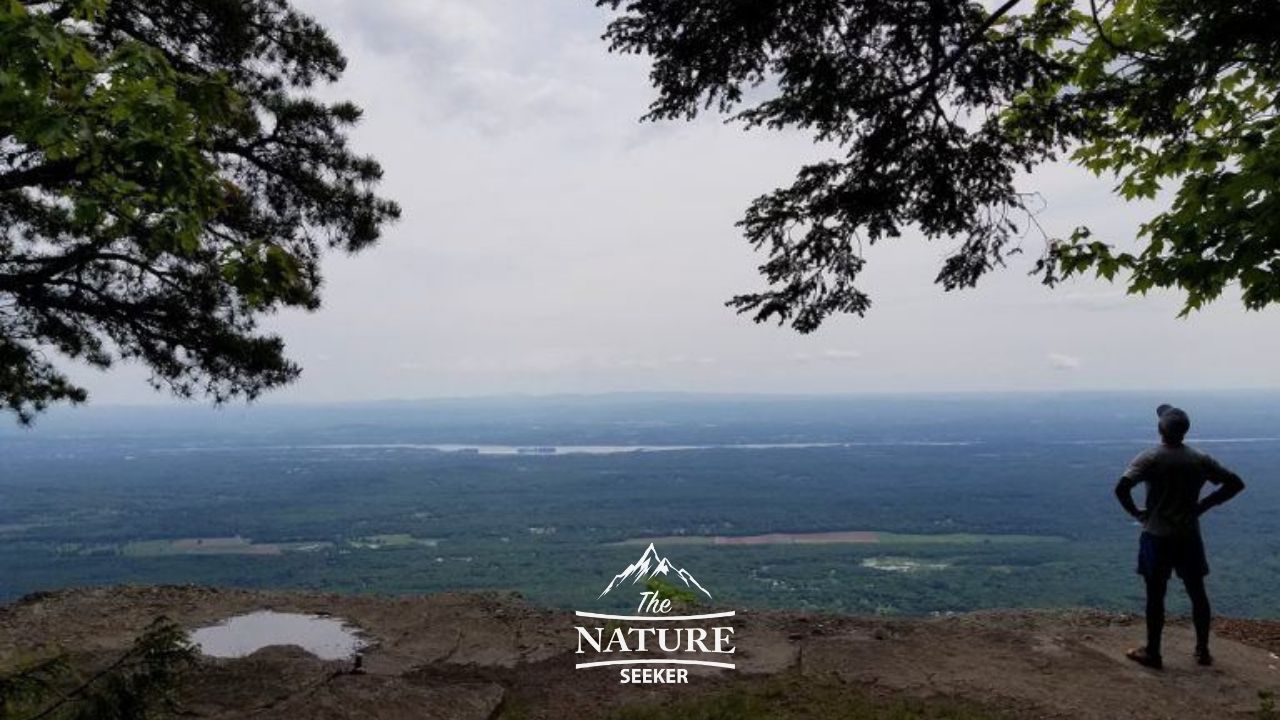 The Boulder Rock trail is a small section of a much larger trail known as the Escarpment Trail (which is over 20 miles). The Boulder Rock section is scenic, short and pretty fun to do which is why I recommend it for 99% of people. There's multiple ways to access it but the shorest is starting at the North Lake Parking lot and following the blue trail southward.
It'll first take you to a beautiful overlook of the Hudson River. Afterwards you'll follow the blue trail further and it'll climb about another 100 feet in elevation where you'll cross more overlook areas. The Boulder Rock area itself is one of them which has a giant boulder on the overlook.
Hunter Mountain Fire tower trail: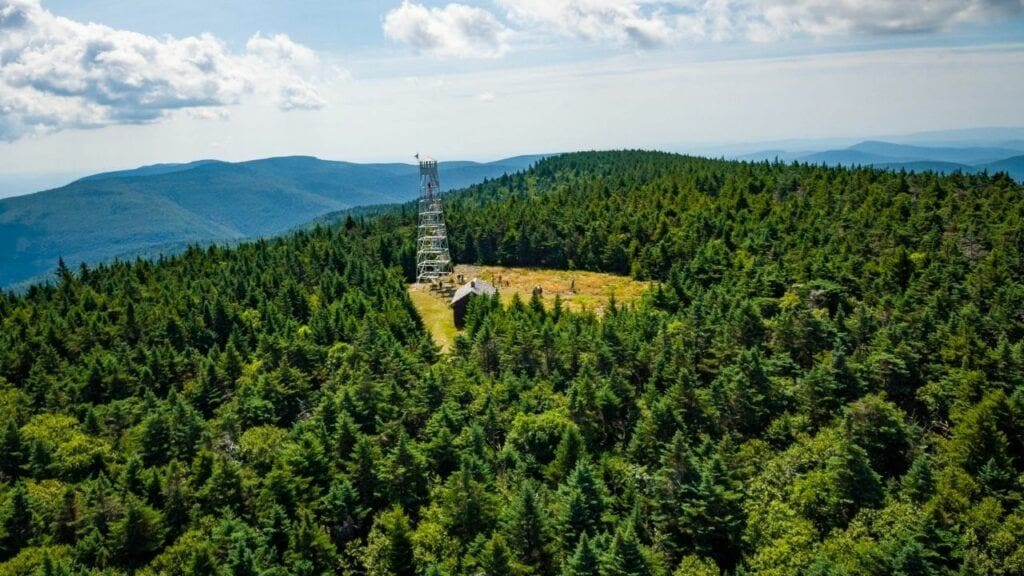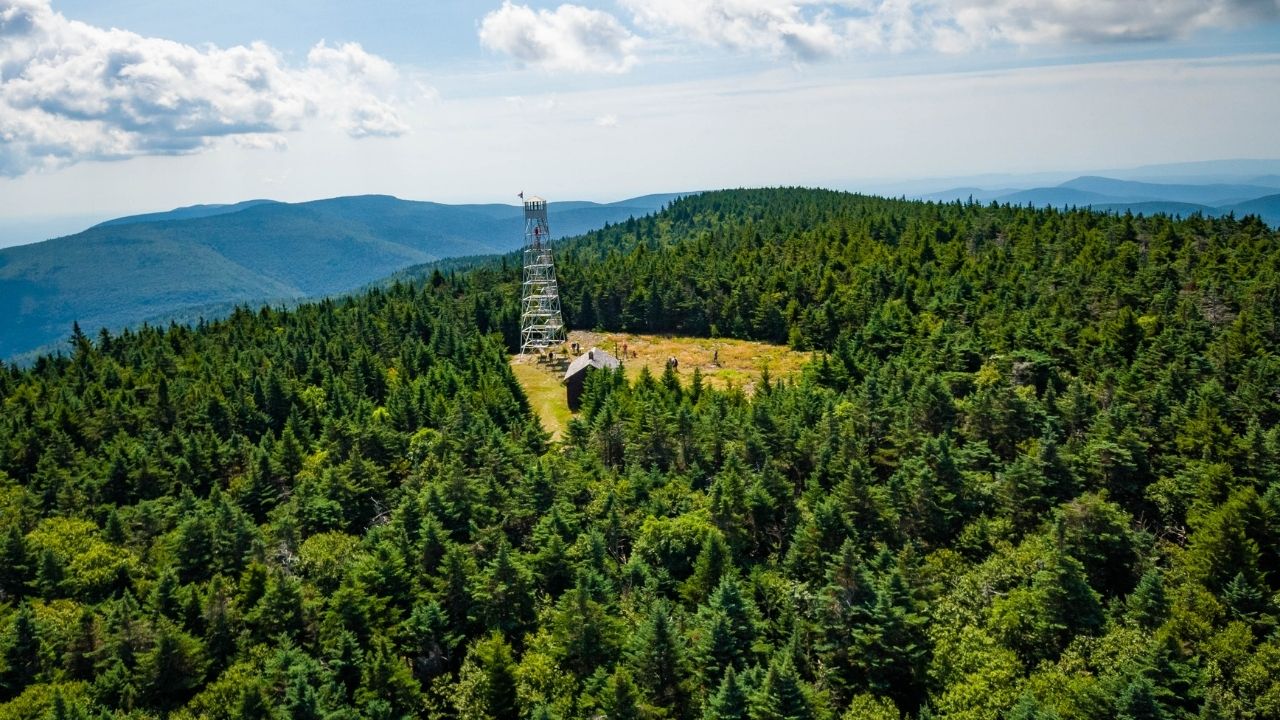 This hike takes you to the the highest mountain the Catskills called Hunter Mountain and at it's peak you will find this amazing fire tower and views of the mountains as well. And by the way, one of the mountains you will hike through if you do the full Devil's Path trail is Hunter Mountain, so you can consider this particular trail to be connected to it (which it is). This is also one of the "top" places to see Catskills fall foliage too.
Fawn's Leap to Rat's Hole Park trail: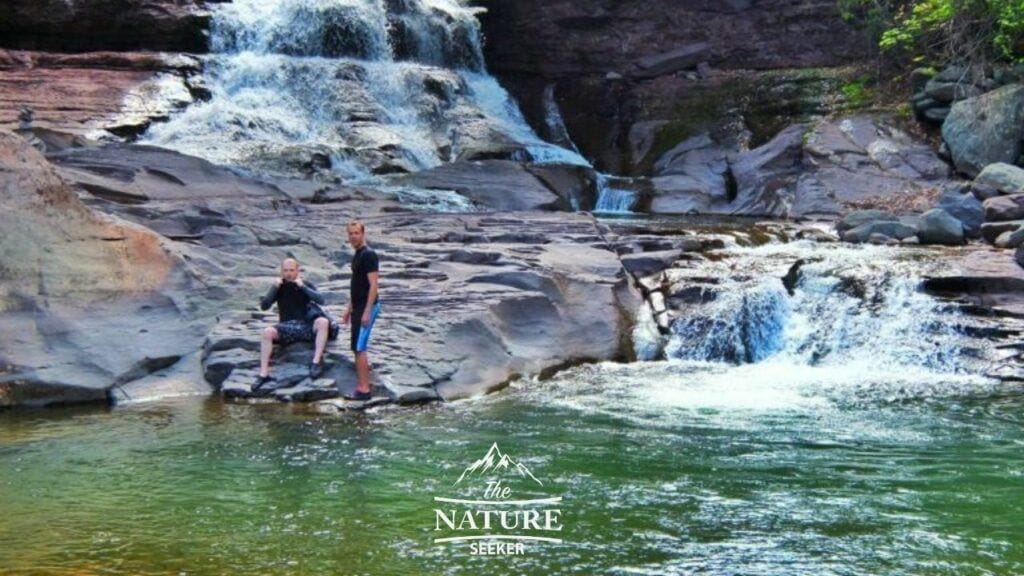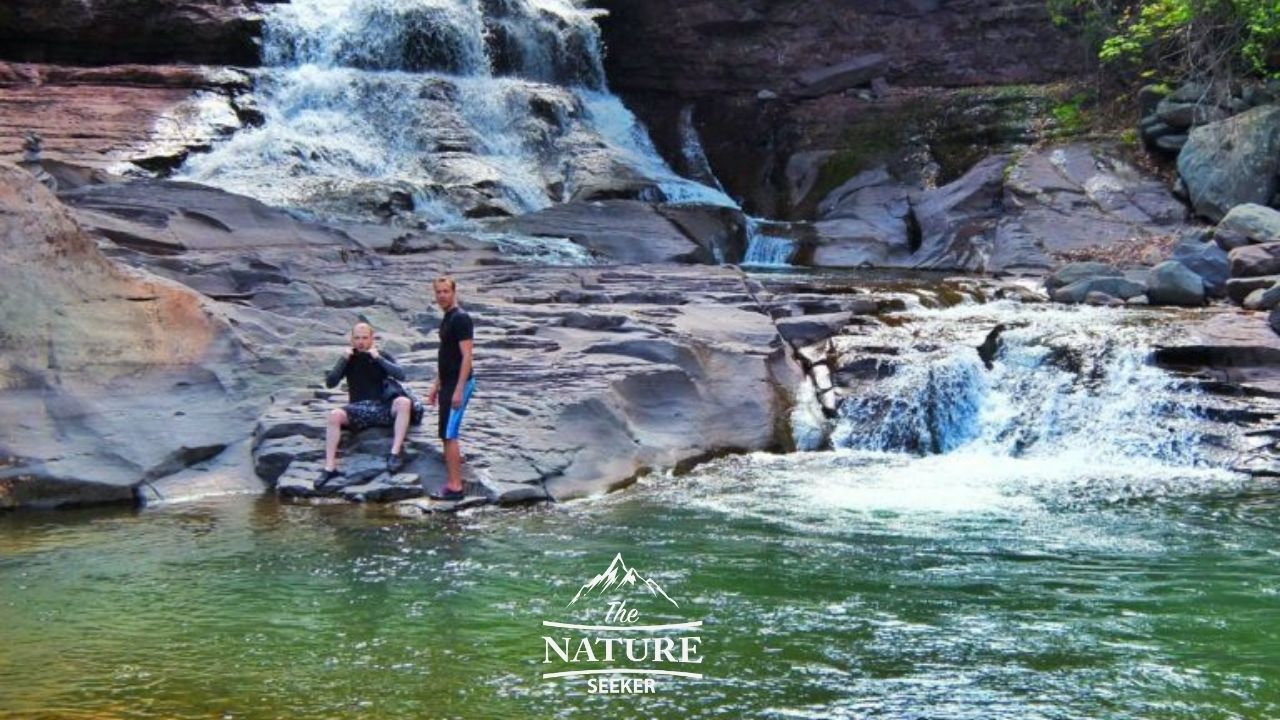 This is not an official hiking trail in the Catskills, but is the one I take most often when I visit this area. It's basically you hiking through some of my favorite swimming holes in the Catskills, as well as hiking in water, land and hopping rocks from Fawn's Leap, down to Rat's Hole Park (which is a nice swimming hole). This short but very fun and scenic hike will take you through at least 3 swimming holes, a beautiful gorge and more.
To do this hike correctly, park at the Cove parking area (you may need to find another parking area further down road 23A if this one is closed/full).
Walk up road 23A until you reach Moore's Bridge (1/2 mile from the parking area).
Then cross into the gorge left of you and continue upriver.
You'll come across a beautiful waterfall about 500 feet from there which is Fawn's Leap.
From there, go back downriver to the same bridge from before, there will be another waterfall there. Continue downriver for 1/2 (parralel to 23A) until you finish at Rat's Hole Park, then hike back up to your car.
Long Path hike:
The Long Path trail begins in NYC and ends in the Adirondacks, but it does cross the Catskills. And while the full length of it is over 400 miles, there is about 40 or so miles of it available to cross in this region.
The image you see above is of Buttermilk Falls, a very popular waterfall in the Catskill Mountains, and it's also part of the Long Path Hike. Additionally, this particular area of the hike features an extremely popular swimming hole known as Peekamoose Blue Hole (it's stunning).
To do the Long Path hike (in the Catskills), see this post of a man who labeled every possible hike in the Catskills that connects with it. In this case you'll start at Codfish Point trailhead and work your way north for 5 miles before turning back.
Artist Rock:
This is in my opinion one of the top hikes for amazing overlooks of the Catskills and scenic hikes in general. You'll see both North and South Lake from a distance and many peaks here. While the trail is short, the real payoff to it is the overlook you reach at the end of it. This is a great trail worth checking out if you are specifically checking out the North South Lake region and it is certainly one of the most scenic hikes in the Catskills.
I've done this hike once and I have to say, the entire hike to this overlook was amazing, as is the Artist Rock itself. Just as well, there are 2 scenic areas past this called Newman's Ledge and North Point (if you keep going further north on the blue trail) that are nice as well, but not as nice as Artist Rock.
Overlook Mountain trail: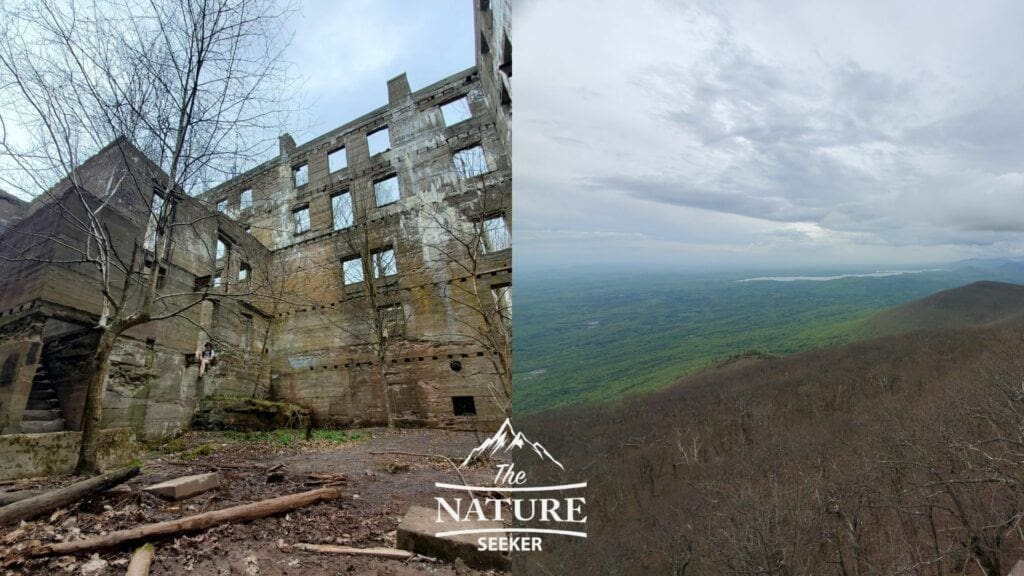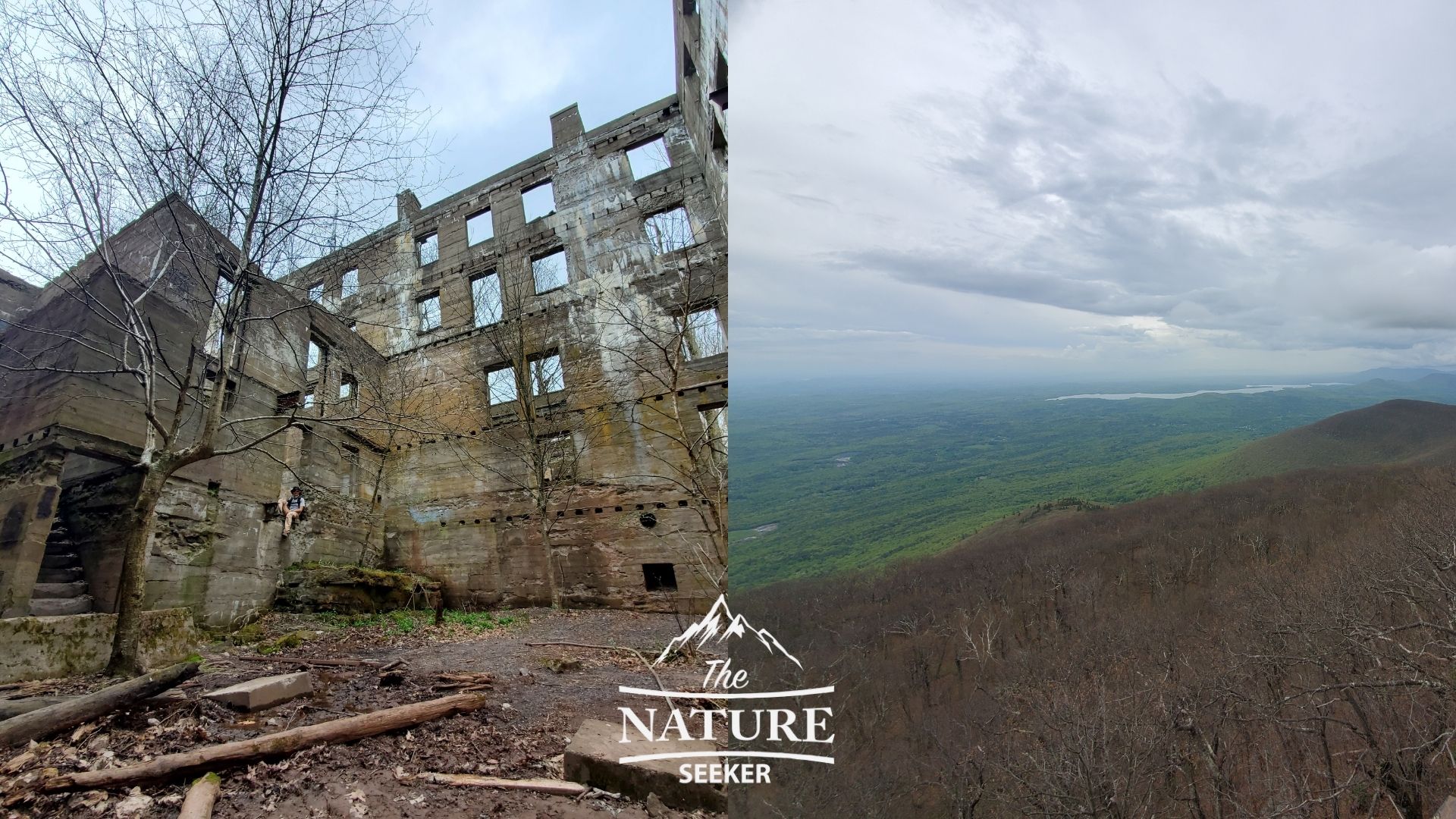 This is a new hike I explored recently and I loved it! Overlook Mountain Trail in NY is located in Woodstock New York (Southern Catskills) and there are several reasons why I highly recommend it:
It is close to Woodstock, so there's a lot of restaurants to check out.
There is a Fire Tower hike at the end of this trail.
There is an awesome scenic view near that Fire Tower too.
There are also 2 old buildings that are called ruins which you can check out as well.
The hike up to these areas of the hike is a bit boring (and tough), but the pay off is worth it!
Plan to hike the Catskill trails? You may be asking these things:
When should I go to the Catskills?
If you enjoy hiking and camping, spring through fall seasons are best for visiting. If you want to ski at Hunter Mountain there, go during the winter.
Was Woodstock in the Catskills?
Yep, it's actually on the southern end of the Catskill Mountains and the famous town of Woodstock is still accessible.
How many days do you need in the Catskills?
A weekend trip or 2-3 days is plenty for most people looking to check out the Catskill Mountains in my experience.
Are the Catskills actually mountains?
Yes and they are some of the biggest in the New York state area.