I've been on the Kaaterskill Falls hiking trail dozens of times and explored it from several angles.
In this post, I want to share all the different ways you can enjoy this beautiful area in the Catskills and what else you can do there too and if you're planning to go here for the first time, you're really going to enjoy it.
Depending on what your level of hiking experience is and/or what you're looking to do (regular overlook walks or incredible hiking adventures), this post will help you do just that.

Here's some basic questions and info about Kaaterskill Falls:

How long of a hike is Kaaterskill Falls?
There are 2 ways to see Kaaterskill Falls. From the upper parking lot, it is only 0.2 miles to hike to it the overlook and from the bottom up, it's 0.7 miles to it.
Is Kaaterskill Falls still closed?
No Kaaterskill Falls is open, but there is a main parking lot from the bottom of the falls, on road 23A which is still closed.
Can you see Kaaterskill Falls without hiking?
Yes, you need to go to the Kaaterskill Falls viewing platform parking lot. It is located close to the top of the waterfall and there is a short walk to see the falls from the top.
Can you swim in Kaaterskill Falls?
Yes, there are 3 levels to Kaaterskill Falls and there is a small swimming hole on the second level which during warmer seasons is very crowded.
Are there bathrooms at Kaaterskill Falls?
Yes there are portable bathrooms but they are only at the top level parking lot of Kaaterskill Falls that leads to a viewing platform.
Now here are details to know about the Kaaterskill Falls hiking trail: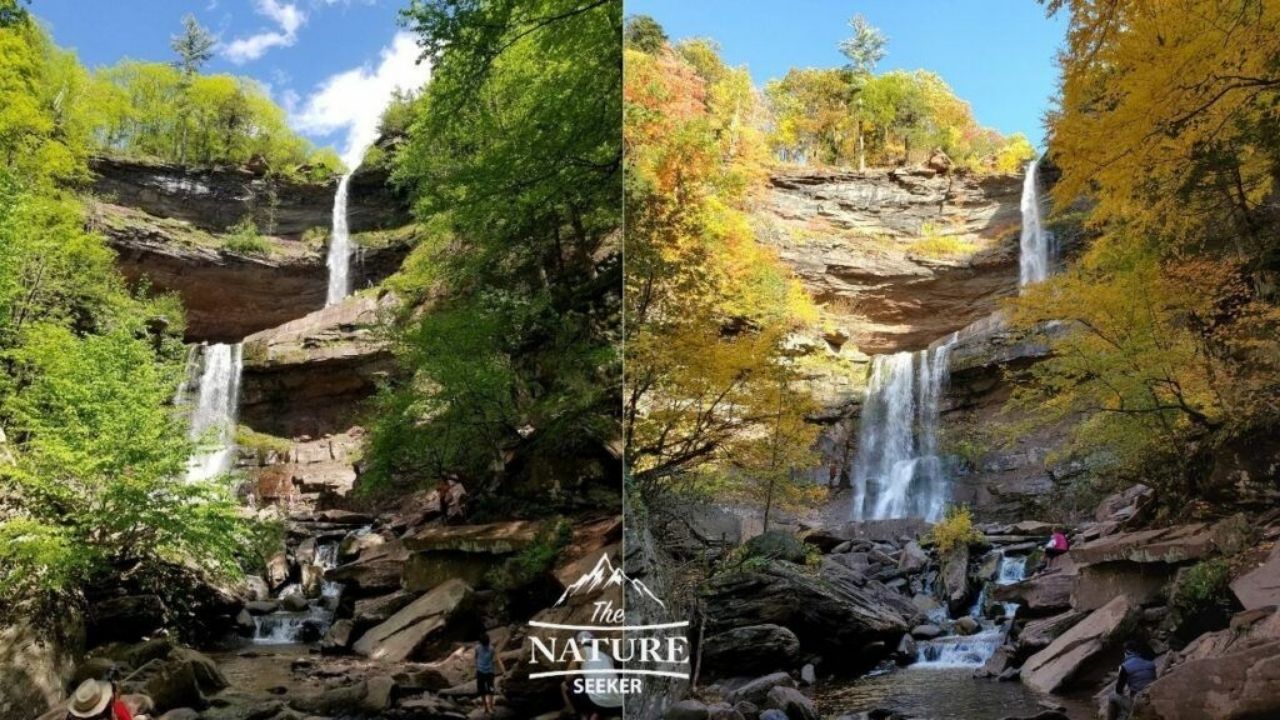 1) Firstly, there's actually several hiking trails to it.
Again, there's 2 main ones and they are arguably the most popular (for the public).
The first one (easiest) begins at the parking lot by Laurel House Road (also known as Kaaterskill Falls viewing platform). This will take you to the top of the waterfall and 2 options:
The Kaaterskill Falls viewing platform.
And there's also a side path nearby that takes you to the very top of the falls (No guardrails, so be careful).
Either way, the path here is easy to follow, but it does zig zag a bit.
The second one (moderate) begins on road 23A (very scenic by the way), and has 2 parking lots near the Kaaterskill Falls trailhead (yellow trail). This will take you to a bridge, and behind it is where the trail begins, up to the base of the falls.
There's also another beautiful waterfall you'll see right by the bridge called Bastion Falls. This is a more rugged trail that takes about 3/4 miles to reach the base of the falls (it's also the one I like most).
The first part of that trail is pretty steep, but then it levels out and gradually inclines from there.
Other than these 2 trails, here's another one:
The yellow trail (option 2) actually takes you to the base of Kaaterskill Falls, then over the top and around it. It will lead you to North South Lake if you continue going on it.
2) There's 3 levels to Kaaterskill Falls:
You have the lower level falls (base).
Then you have the upper falls (middle).
Then you have the top of the falls (top).
Each of these points on the waterfall can be hiked to.
3) I recommend the Spruce Creek hike (parallel to the Kaaterskill Falls hiking trail):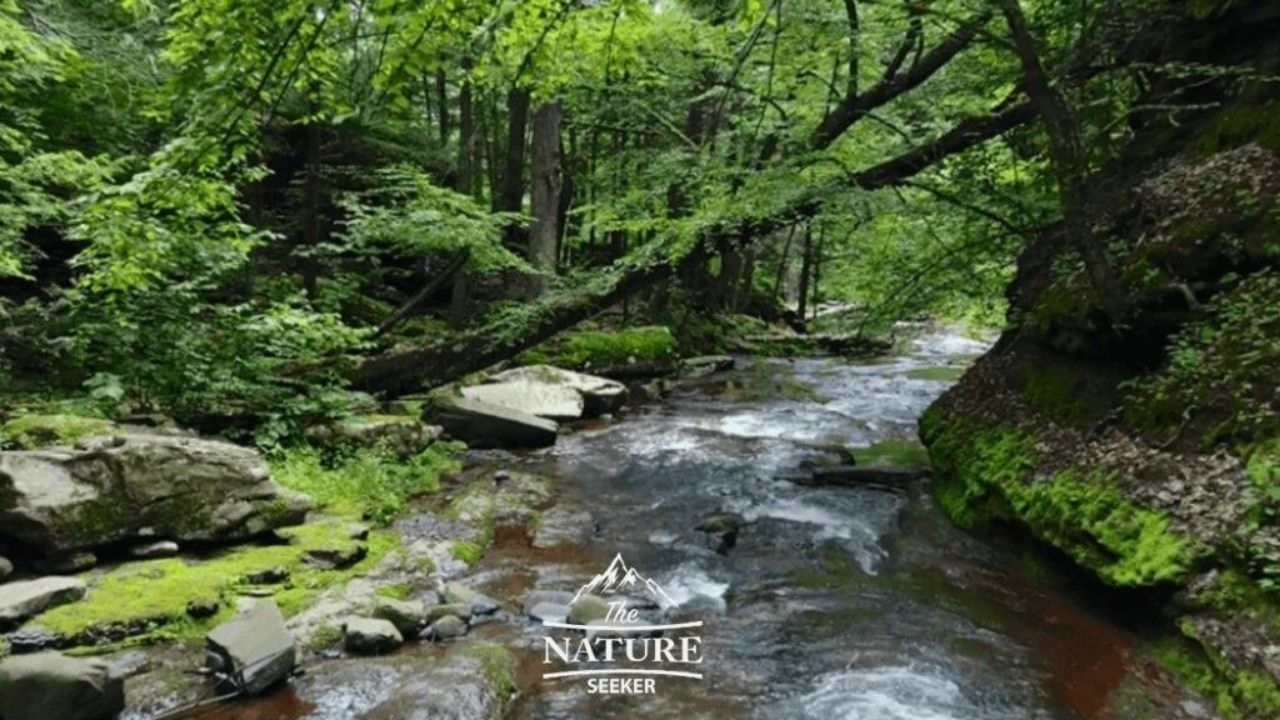 As you take the yellow trail to Kaaterskill Falls (or down from it), there is going to be a river/stream running by it. This is called Spruce Creek. I normally hike up to the waterfall on the trail, but hike back down while hopping over rocks on that stream.
It's very fun for me personally and it gets you close to some pretty beautiful sights. You won't get lost because it's literally parallel to the trail.
I only recommend doing this (it's not a trail) if you enjoy parkour type activities and are experienced at it. It can be dangerous so I wouldn't do it without proper footwear or when it's icy or rainy outside.
4) There's also a "cave" type area under middle falls: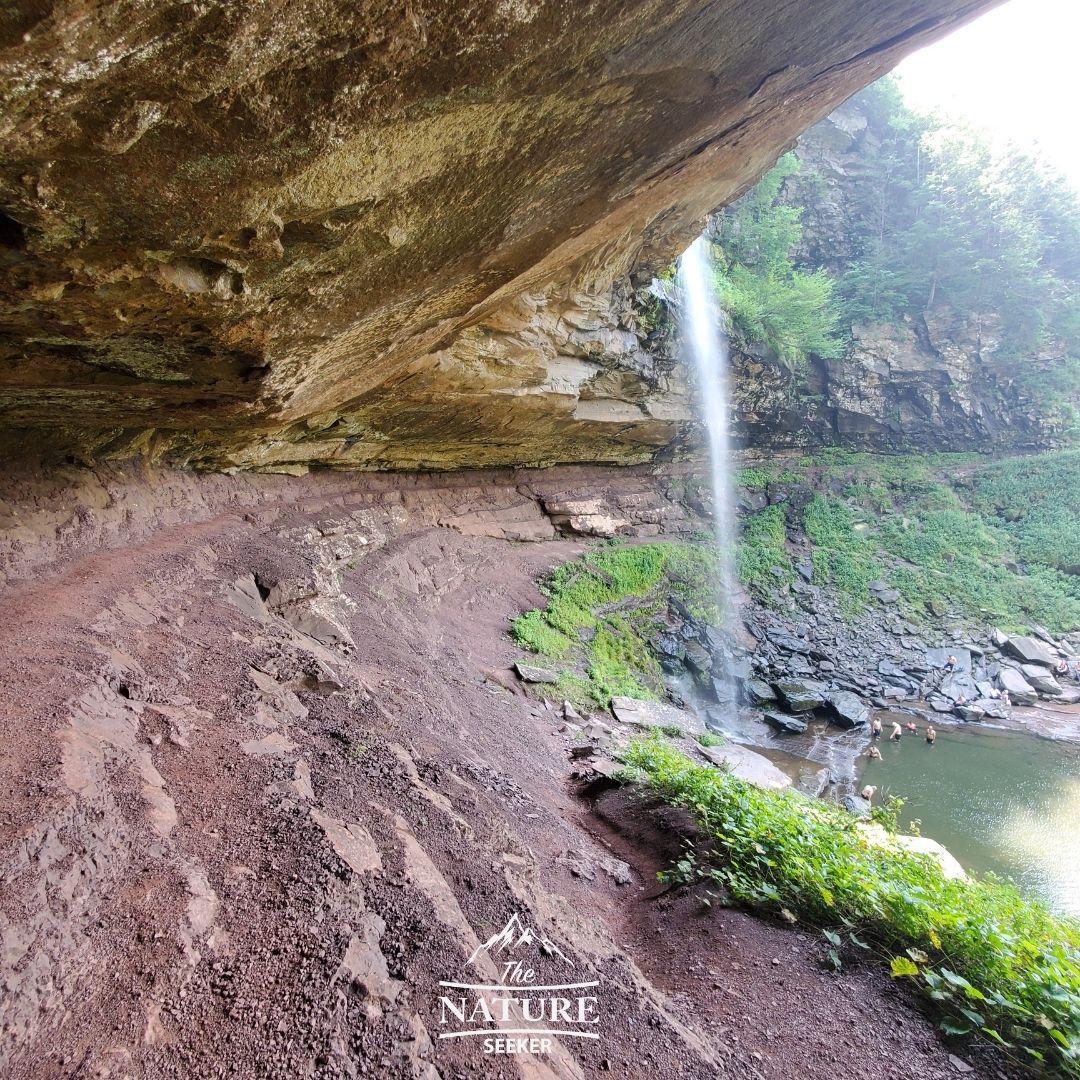 This is a cool location underneath Kaaterskill Falls you can explore.
To reach it, you have to first reach the middle falls, hike up to the top of it, and then you'll see a "trail" underneath it.
The views under there are amazing and while it does get a bit tight there and requires kneeling, it's still a fun activity to add to your trip to this falls.
Other hikes I recommend exploring near Kaaterskill Falls:
1) The closest one is Boulder Rock, and it is by North South Lake. In fact, that whole area has numerous hikes you can explore, all ranging in different levels of skill.
2) There's also a "rail trail" from the upper area of the falls, by the parking lot.
3) Across the mountain of Kaaterskill Falls is another beautiful hiking area which you can find trails on within the AllTrails app.
4) There's also plenty of hikes (and swimming holes) located off road 23A which you take to reach Kaaterskill Falls.
5) Another major hike to consider nearby would be Devils Path (very difficult trail).
6) There's also parts of the Long Path hiking trail near this region too.
7) More Catskill hiking trails (some repeats from the other suggestions above).
Wear this if you go hiking to Kaaterskill Falls (makes it easier):
Waterfalls to explore near Kaaterskill Falls: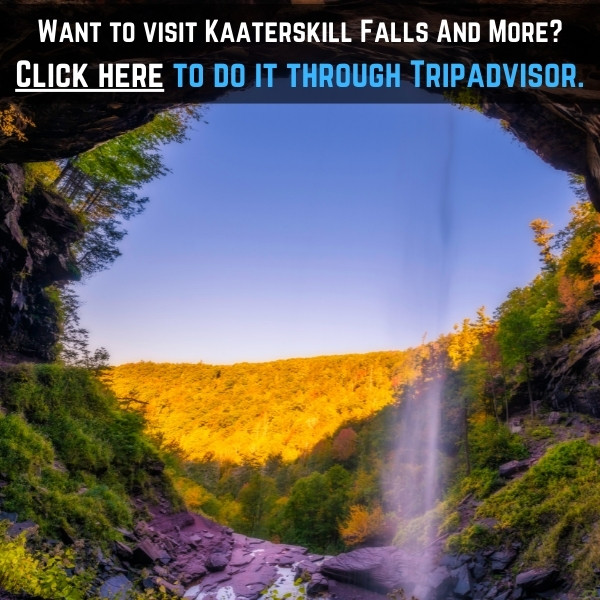 1) The first major one is Bastion Falls (again it's right by road 23A which takes you to the main trail up to Kaaterskill Falls).
2) The second one is about a 20 minute drive from it, which is called Plattekill Falls (absolutely stunning too by the way).
3) There is also Buttermilk Falls which is about a 30 minute drive from there, and it'll take you to the very popular Peekamoose Blue Hole in the Catskills.
4) Here is a list of other waterfalls in the Catskills to check out.
But overall, if you have only one day to explore this area, definitely make Kaaterskill Falls your main visit and if you have some extra time, explore North South Lake nearby and/or the Plattekill Falls area (highly scenic spot and scenic drive).
The hike itself is not difficult to figure out and all you really have to do is just plug in one of the spots into your GPS, and then follow where all the people are going.
Other than that, if you wish to do more and see more, definitely refer to the articles I linked here and the info I shared, because as good as Kaaterskill Falls is, it's just a small sample of the beauty you'll discover in the Catskill region and this area is also one of the best places for fall foliage in New York (trust me).