How to do The Kaaterskill Falls Hike For First Time Visitors
If you're looking to do the Kaaterskill Falls hike for the first time, the main thing you need to know is that there are several trails you can take to it, some of which are currently closed and in this post I'm going to explain what they all are and everything else you need to know about checking out this area.
Over the past 15 years I've explored the Kaaterskill Falls area of the Catskill Mountains countless times and it has changed in many ways, including some popular trailhead options closing down, and others opening up so before you go here, make sure you read this post fully to know where to go to get the best experience here.
Quick info about the Kaaterskill Falls hike:

Name: Kaaterskill Falls.
Location: Catskill Mountains.
Hiking distance: Depends on which trail you take (It can be 1/4 miles or more).
Difficulty: Easy to moderate depending on which trail you use (details below).
Rating: 5 out of 5.
Recommended hike? Yes! Kaaterskill Falls is amazing, especially during the summer and fall months but I would recommend you come here when it's very early or on a weekday because this area gets packed with crowds and very often it's difficult to find parking to get there.
Here's some basic questions and info about Kaaterskill Falls:
How long of a hike is Kaaterskill Falls?
There are 2 ways to see Kaaterskill Falls. From the upper parking lot, it is only 0.2 miles to hike to it the overlook and from the bottom up, it's 0.7 miles to it.
Is Kaaterskill Falls still closed?
No Kaaterskill Falls is open, but there is a main parking lot from the bottom of the falls, on road 23A which is still closed.
Can you see Kaaterskill Falls without hiking?
Yes, you need to go to the Kaaterskill Falls viewing platform parking lot. It is located close to the top of the waterfall and there is a short walk to see the falls from the top.
Can you swim in Kaaterskill Falls?
Yes, there are 3 levels to Kaaterskill Falls and there is a small swimming hole on the second level which during warmer seasons is very crowded.
Are there bathrooms at Kaaterskill Falls?
Yes there are portable bathrooms but they are only at the top level parking lot of Kaaterskill Falls that leads to a viewing platform.
5 things to know about the Kaaterskill Falls hike:
1) There's 3 Kaaterskill Falls trails available:
1) Laurel House Road Parking to the top of the waterfall (

Easiest option:

1/4 miles):
The trail begins at the parking lot by Laurel House Road. It's free and easy to reach and the short trail from that area will take you to the top of the waterfall. There is a viewing platform and another side trail close by that takes you to the edge of Kaaterskill Falls (that one can be dangerous). But overall, this is the easiest and shortest trail to get to Kaaterskill Falls.
2) Ice Climbers parking lot to bottom of Kaaterskill Falls (

Moderate level hike:

3 miles):
The Ice Climbers Parking lot is located on road 23A. You'll park there, walk up the road until you reach a bridge behind which there is another gigant waterfall called Bastion Falls. Right by the bridge is where the trailhead to Kaaterskill Falls begins. It is a yellow marked trail and it goes up for about 1 mile until you reach the base of the waterfall. From there you have the option to hike up to the other levels of Kaaterskill Falls (there's 3 levels in total) or go back down.
Note: Ice Climbers Parking lot may be closed at times so check beforehand.
3) Rail Trail to the top of Kaaterskill Falls (

Moderate level hike:

3 miles):
There is a popular, mostly flat trail from road 23A (further up than the Ice Climbers parking lot) that basically goes straight to the waterfall and actually meets up with the same Laurel House Parking lot (option 1). It is an in and out hike. Here's a link to the Rail Trailhead. From this trail you will have a few moments where you'll see nice views of Kaaterskill Falls.
Here is a map of all these trails:
There are a few other options to see Kaaterskill Falls, but these 3 are free and generally easy to navigate (there is also an official Kaaterskill falls trail map here you can use).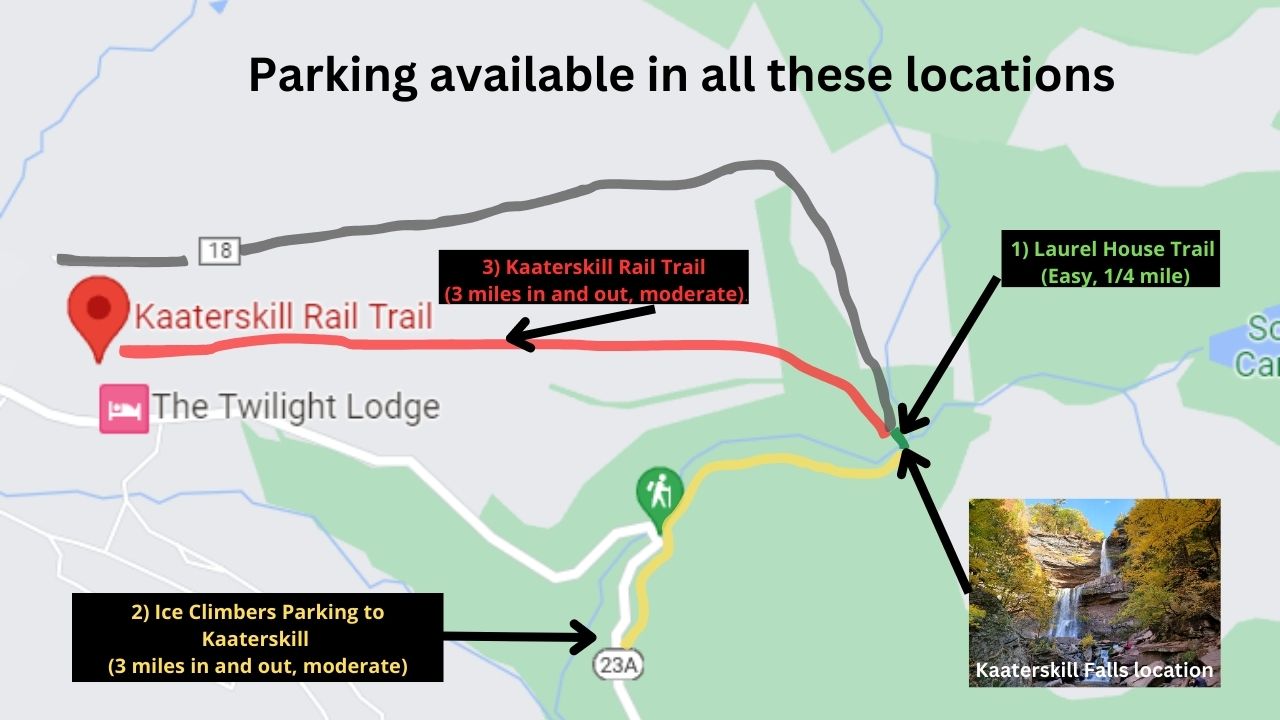 2) There's 3 levels the Kaaterskill Falls hike:
You have the lower level falls (base). 
Then you have the upper falls (middle). 
Then you have the top of the falls (top).
Each of these points on the waterfall can be hiked to using the above trails but each of them will take you to different levels of it. For example:
Laurel House parking takes you to the top of the falls.
The Rail Trail also takes you to the top of the waterfall.
Ice Climbers Parking lot takes you on a trail to the bottom of the waterfall.
Regardless of how you reach Kaaterskill Falls, there are intersecting trails that will allow you to reach all 3 levels. But in my opinion the best views of it are from the bottom.
3) The Kaaterskill Falls also has a cave area: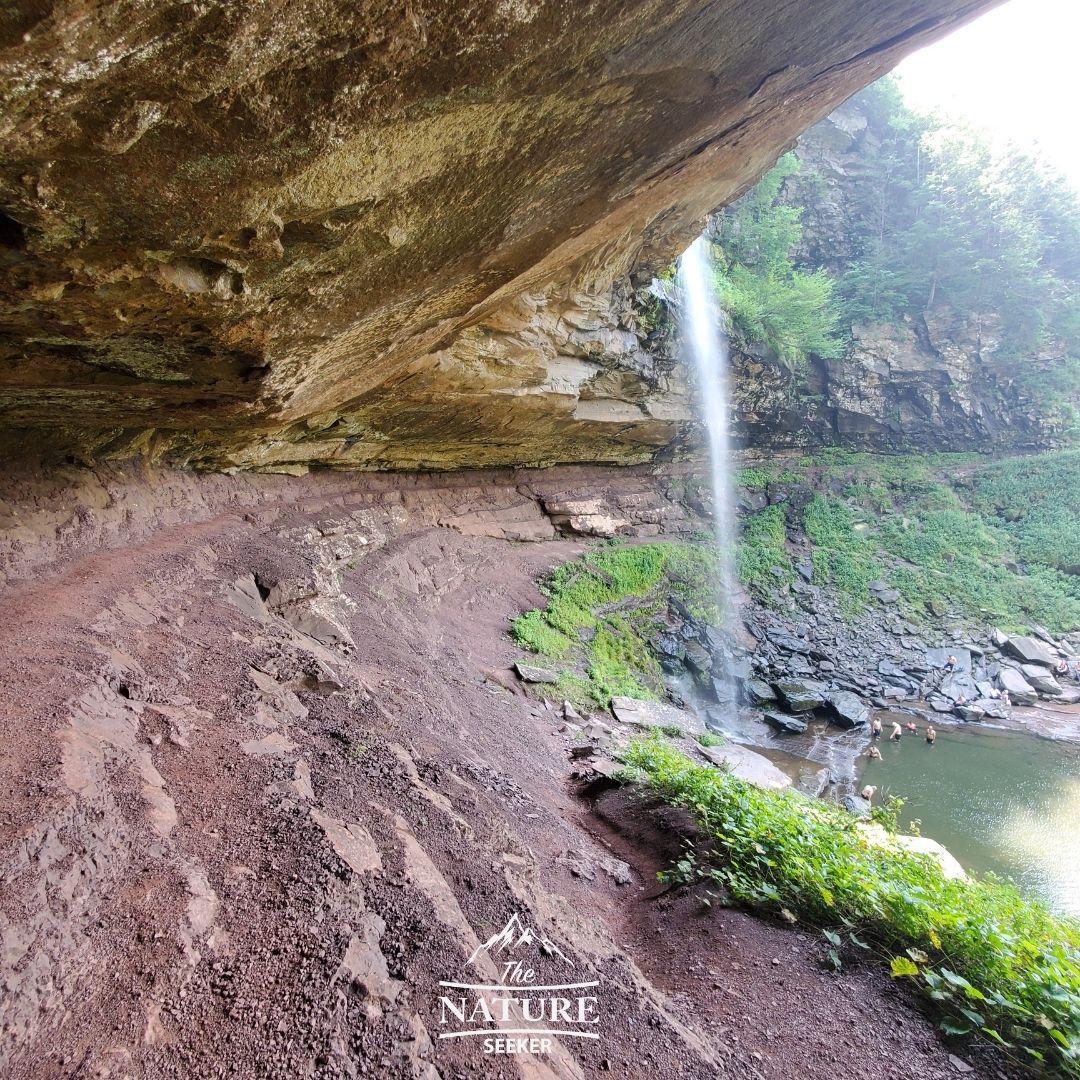 This is a cool bonus you can check out if you really want to get more out of your hike here. The location of this "cave" is underneath the middle section of Kaaterskill Falls. To reach it, you have to hike to the middle falls area (where the swimming hole is). From there, you'll find another short hike that takes you to the upper area of the middle section, and that goes underneath the waterfall (there's a good chance you will see people hiking in that area too).
The views under there are amazing and while it does get a bit tight there and requires kneeling, it's still a fun activity to add to your trip to this falls. Here's how it looks from right underneath it:
If this kind of cave area is something you enjoy exploring, then I have 2 other suggestions of similar looking hikes that have it (although they are in different states):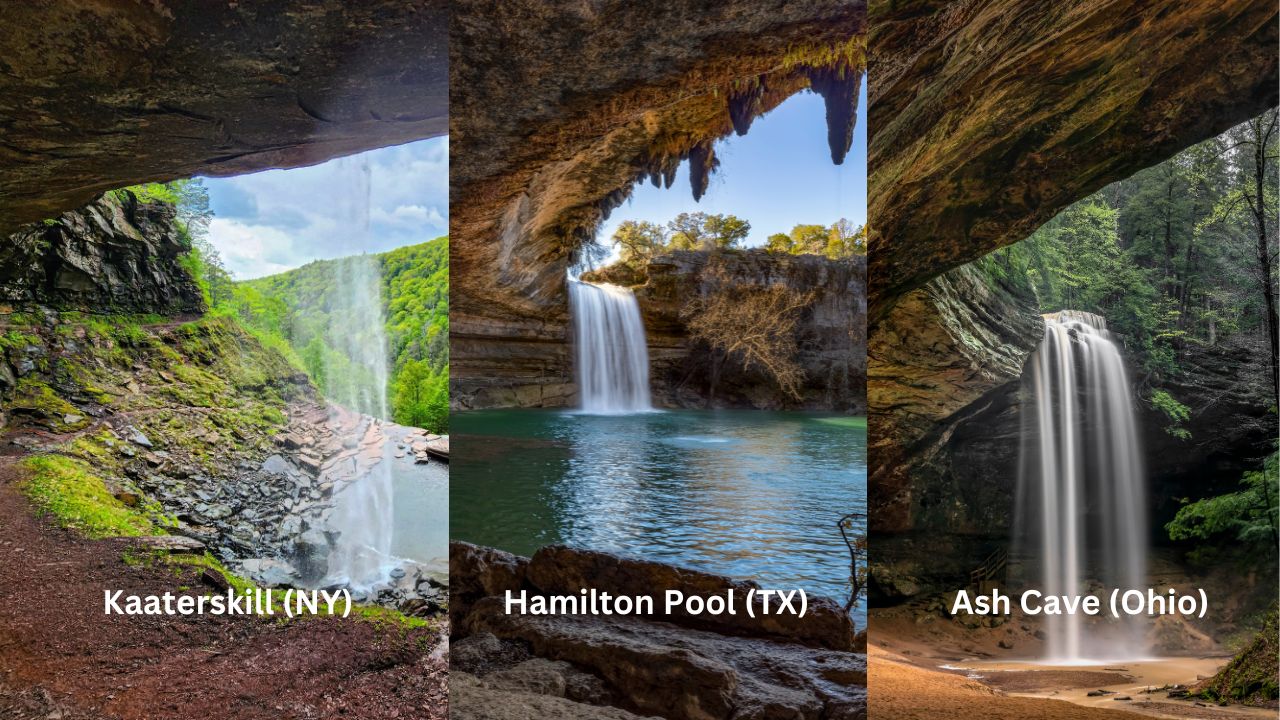 4) There's a swimming area in Kaaterskill Falls: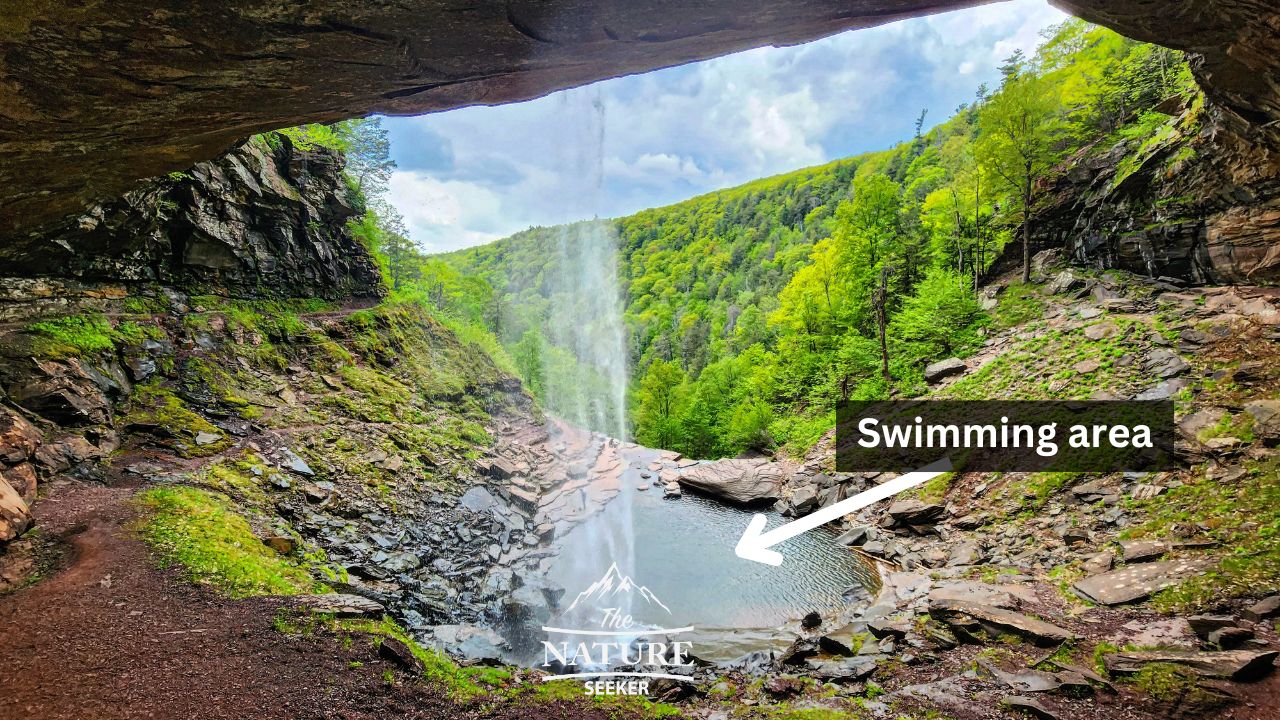 There are actually 2 of them:
There's a small swimming area right by the lower falls. 
There's also a slightly larger swimming hole in the middle section of Kaaterskill Falls (photo above shows it). That one is the more popular option but depending on the type of weather, the water might be freezing there and there are also times where the water is too mirky. I would not recommend cliff jumping there but there are plenty of other Catskill swimming holes where this is possible.
5) The best time to visit Kaaterskill Falls: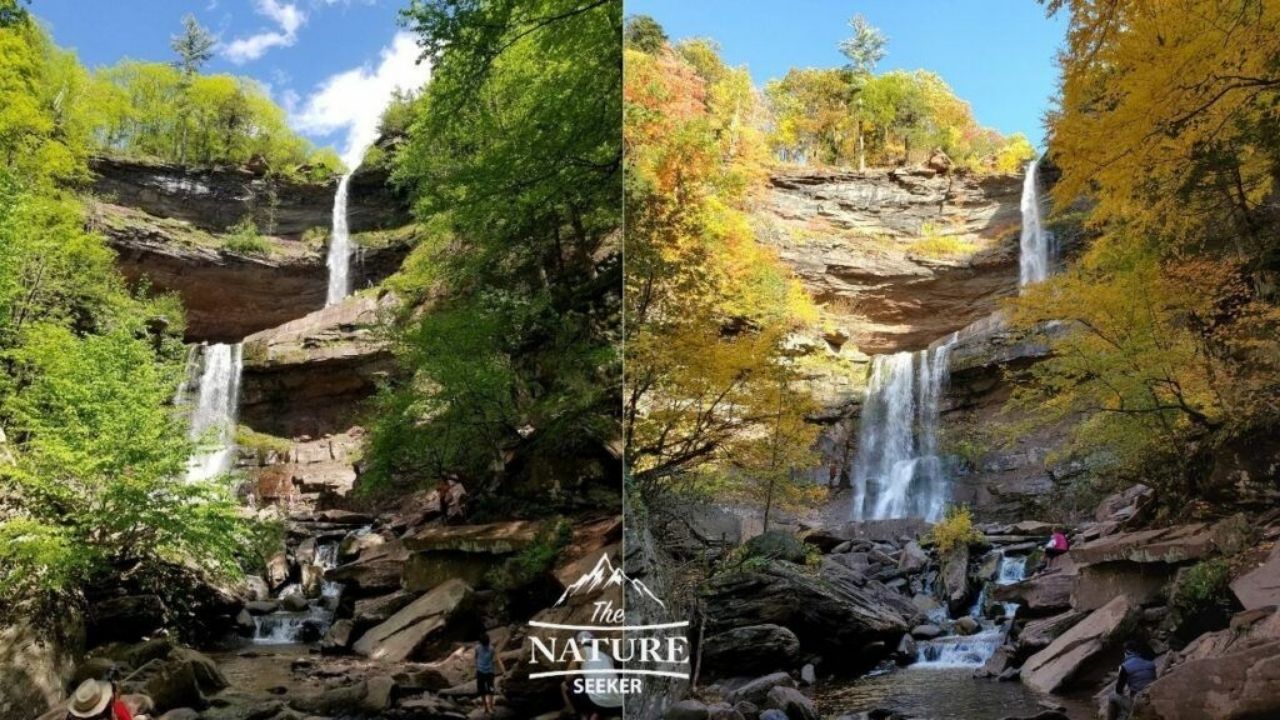 I've done the Kaaterskill Falls hike during every season and the views of this place are very different each time, but there are also pros and cons to visiting this place during them and here's a breakdown of that:
Winter time: It's difficult to hike here and the waterflow is low, but there are very few crowds.
Spring time: It's beautiful, it's easier to swim in the water but there are large crowds.
Summer time: It's very hot and the crowds are the wost during this period (parking lots are usually filled up).
Autumn time: This is my favorite time to visit Kaaterskill Falls because of the amazing views (See more fall foliage places in New York). The crowds here are usually bad only on weekends but you should be able to find parking.
One thing to know regardless of when you come is that visiting Kaaterskill Falls on a weekday or super early on a weekend is the best way to avoid being in a position where you can't find any parking.
Other things to explore near Kaaterskill Falls: