North South Lake is an area I visit several times a year with my friends. It is in the Catskill Mountain region and it has many activities you can enjoy, but specifically:

Here are the 7 things to do at North South Lake:
Hike the trails around the lakes.
Take a kayak across one or both of the lakes.
Hike the Boulder Rock trail.
Visit Kaaterskill Falls nearby.
Camp in the North South Lake region (it's very popular there).
Hike up the Sunset Rock trail.
Check out Ashley Falls.
I've done all of the activities on this list at North South Lake with the exception of the last one (camping), and that's because I dislike that.
Most of the time, whenever I am in this area, it's only to do the following 5 hikes in the Catskills, and it all is done in a day.
Frequently asked questions on North South Lake:
What is North South Lake?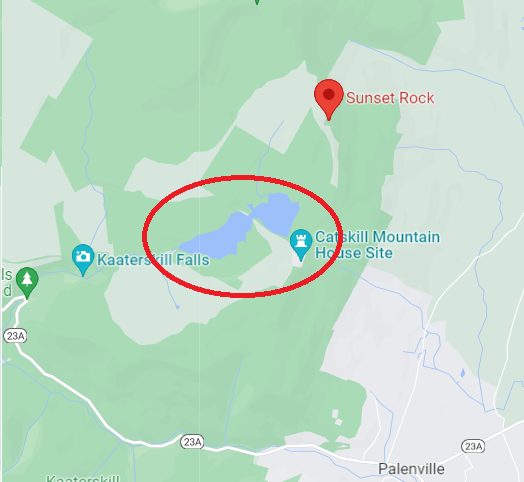 North South Lake is a very popular camping and hiking area in the Catskill Mountains. It's 2 lakes (north and south) connected together which have hikes, camping, boating and more activities available around them that people can enjoy.
Where is North South Lake located?
It is located not too far from Kaaterskill Falls and road 23A which is a very scenic drive (here are some other scenic drives in New York).
On that road (23A), you'll make a turn onto North Lake road and stay on that path until it reaches the top of the mountain and the entrance to North South Lake.

The fee to enter (just for parking) is $10. Camping has different fee structures.
From the entrance, you will have the option to drive to either lake, which is off 2 roads. If you turn right, you'll head to south lake.
If you turn left after the booth, you will go towards north lake.
In my experience, North Lake is less busy, but South Lake is where you have access to more activities (kayaking for instance).
North South Lake is very peaceful there (most of the time) and if you're someone who like me lives in NYC and wants to do day hikes, then this place offers it, but the silence of this place is something to stop and marvel at.
Can you swim in North South Lake?
Yes there are designated areas in both North and South Lake where you can swim (kid friendly).
Does North South Lake allow dogs?
Yes dogs are allowed to stay in this area. I've hiked a lot of trails and seen many people hiking there with their dogs too.
1) Hike the trails around both North and South Lakes: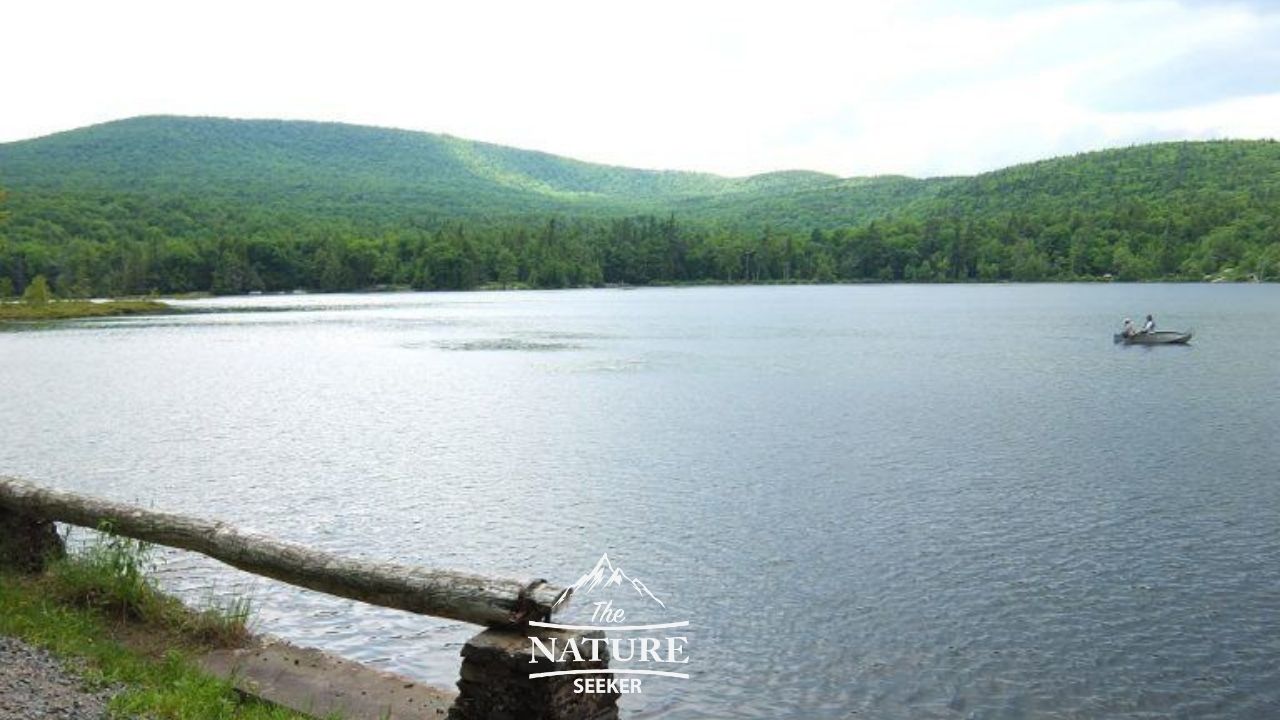 There are at least 3-4 different hiking trails that take you around the lakes and just as well, there's hikes that lead away from them and deeper into the Catskills, one of which I'll talk about later which I think is well worth doing.
But the hikes near the lakes themselves are marked by trail colors and they are:
Yellow: Takes you to Kaaterskill Falls and to the famous overlook near North South Lake.
Green: A very short but scenic trail that goes around South Lake.
Blue: A major hiking trail (several miles) that leads you away from the lakes and into other adventures but I'll cover that one further below.
2) Kayak through

North and South Lake: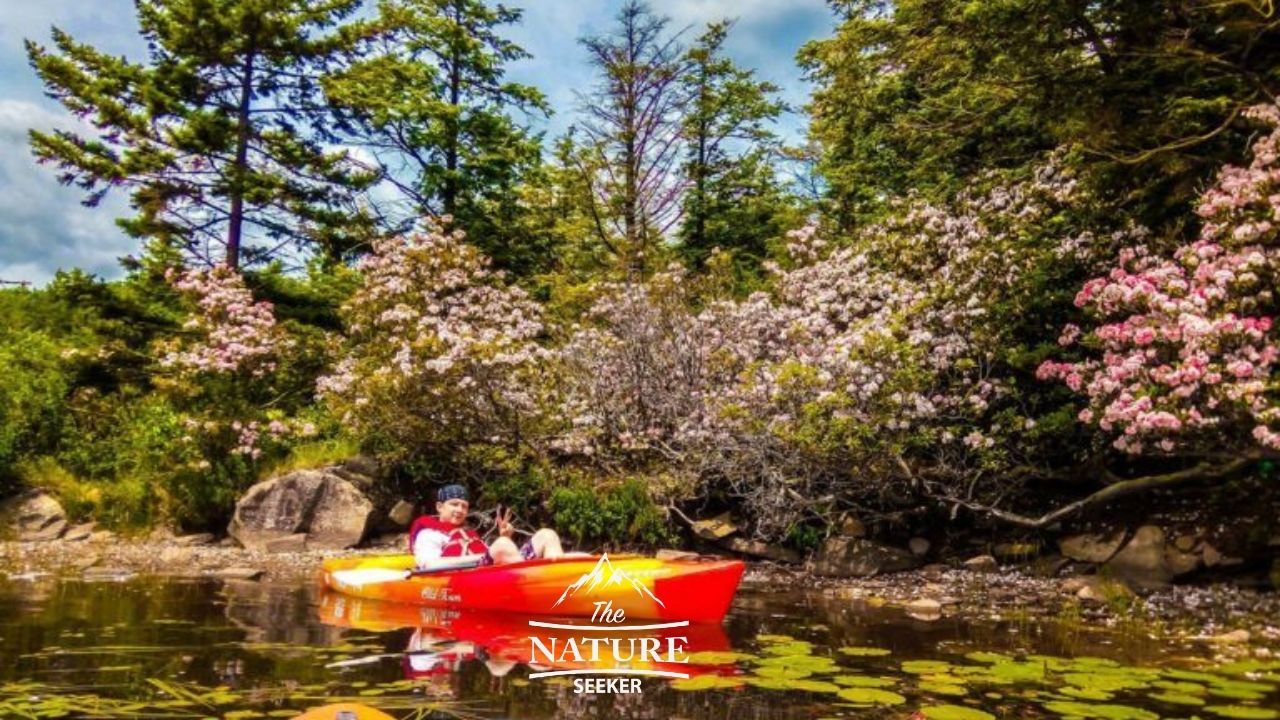 You'll find a rental area on the southern area of this region, so if you enjoy kayaking, make sure to park near that area first.
If you choose to rent kayaks in North South Lake, it'll be about $16 for a 2 hour rental and you can also rent paddle boats as well as canoes:
If you own you own kayaks or boats, you can drop them off on the north lake area.
I have seen people drop off their own boats here and do things like fishing. You will also find small swimming areas and beaches in this area.
For me personally, I don't enjoy the beach at North South Lake due to how restrictive it is for swimming, but it is good for kids so if you plan on going with family there, it might be good for them.
3) Check out an amazing Boulder Rocks trail (blue trail):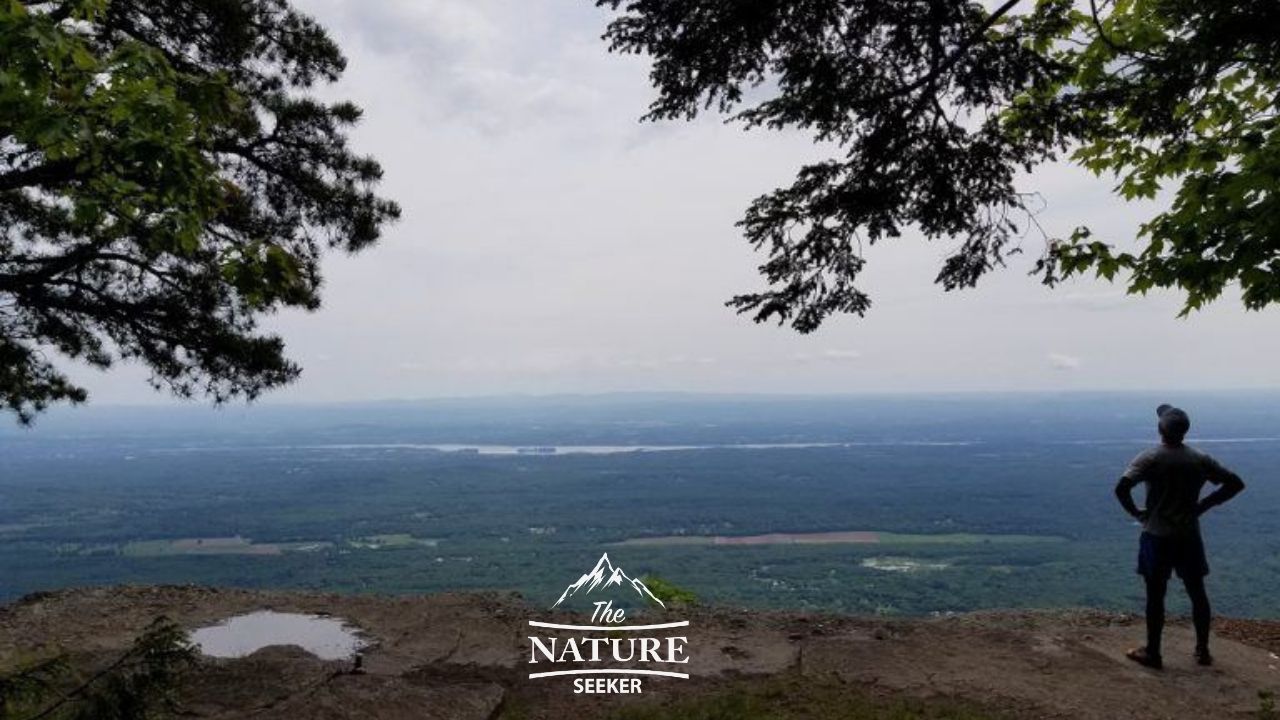 Of the 3 major trails I know about near the lakes, the Blue one is the one I highly recommend checking out. It is known as the Boulder Rock trail.
The reason why is because it takes you up to the top of the mountain that's near North South Lake and to the highest points in this whole region, giving you access to some of the most amazing viewpoints, especially the one you see to the right.

Additionally, this same trail will take you to the Boulder Rock overlook, and subsequently other connecting trails, which I highly recommend you Alltrails for or some similar app to ensure you don't get lost.
I typically head close to Boulder Rock when hiking here, then walk back down to North South Lake before continuing to other trails I explore in this area.
Now this outlook is actually not listed on Google maps, but I've included a screenshot where you can find this spot you see to the right. Here it is: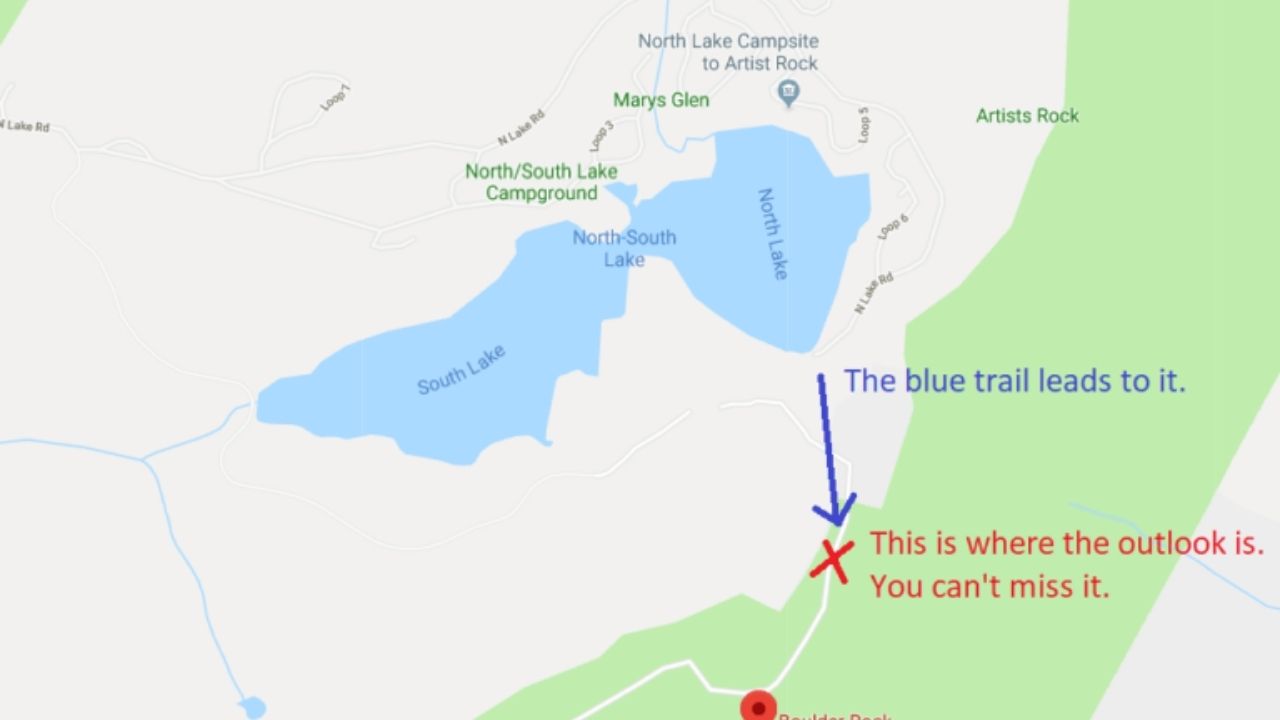 Now this is the preferred hiking trail I take and it leads further south, and you will find some amazing areas there, but the further you go, the less outlooks you'll see, so what my friends and I do is head back once we reach the outlook area. 
This usually has us complete 2 of the 5 main hikes we do when we travel to the Catskills.
When you get to this area, take the time to enjoy it, just like North South Lake when you get there first, because it is also very quiet there.
The height and all the places you can see when you're up there is also pretty spectacular and I've certainly seen my share of amazing overlooks, but this one still takes my breath away every time I visit this spot!
4) Check out Kaaterskill Falls (yellow trail):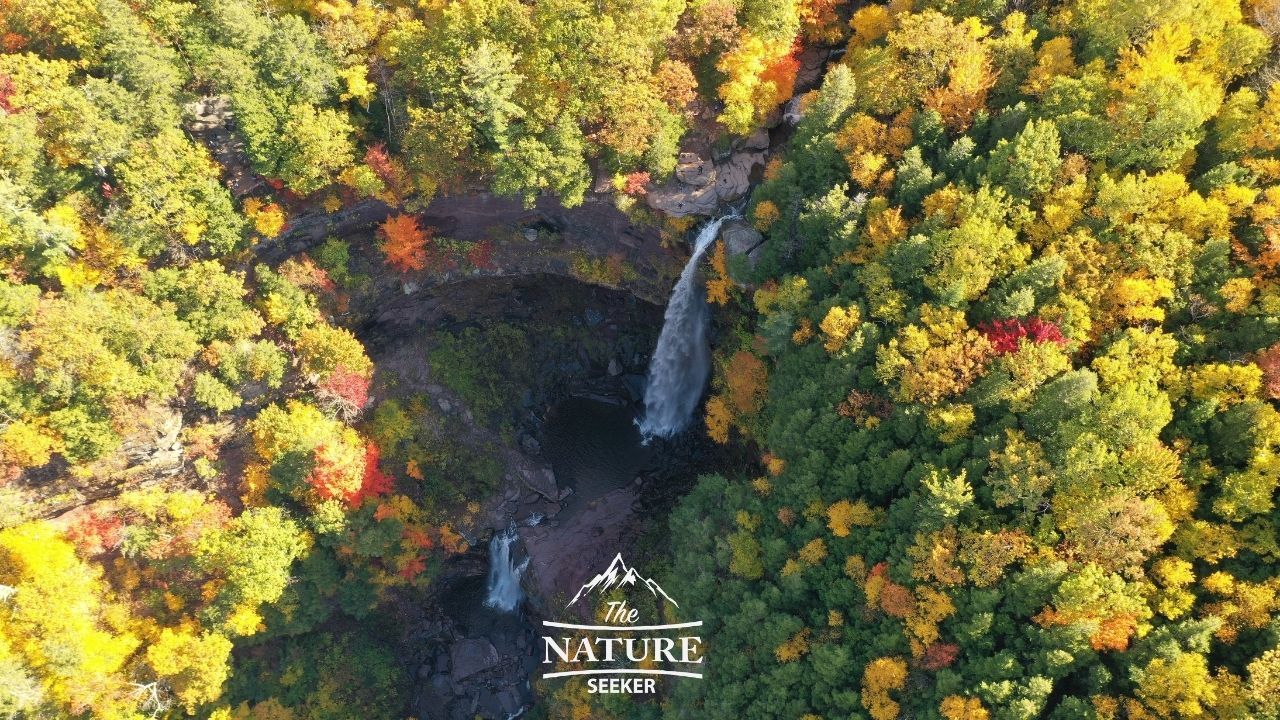 Kaaterskill Falls is stunning and I consider it to be one of the best waterfalls in all of New York State.
There are a few ways you can access this area which is close to the lakes:
A) You can take one of the trails (yellow) that leads to it.
B) You can head out of the park via the only road that goes out of it which is road 18, and head down it, until you see a sign for Kaaterskill falls. This will take you to a parking area and a short hike to Kaaterskill Falls Overlook. 
If you enjoy hiking, try option A. And if you're tight on time or injured and can't really hike much, use option B.
Also see these other waterfalls in the Catskills as this area has many beautiful ones to offer!
5) Camping at North South Lake (good luck

with reservations):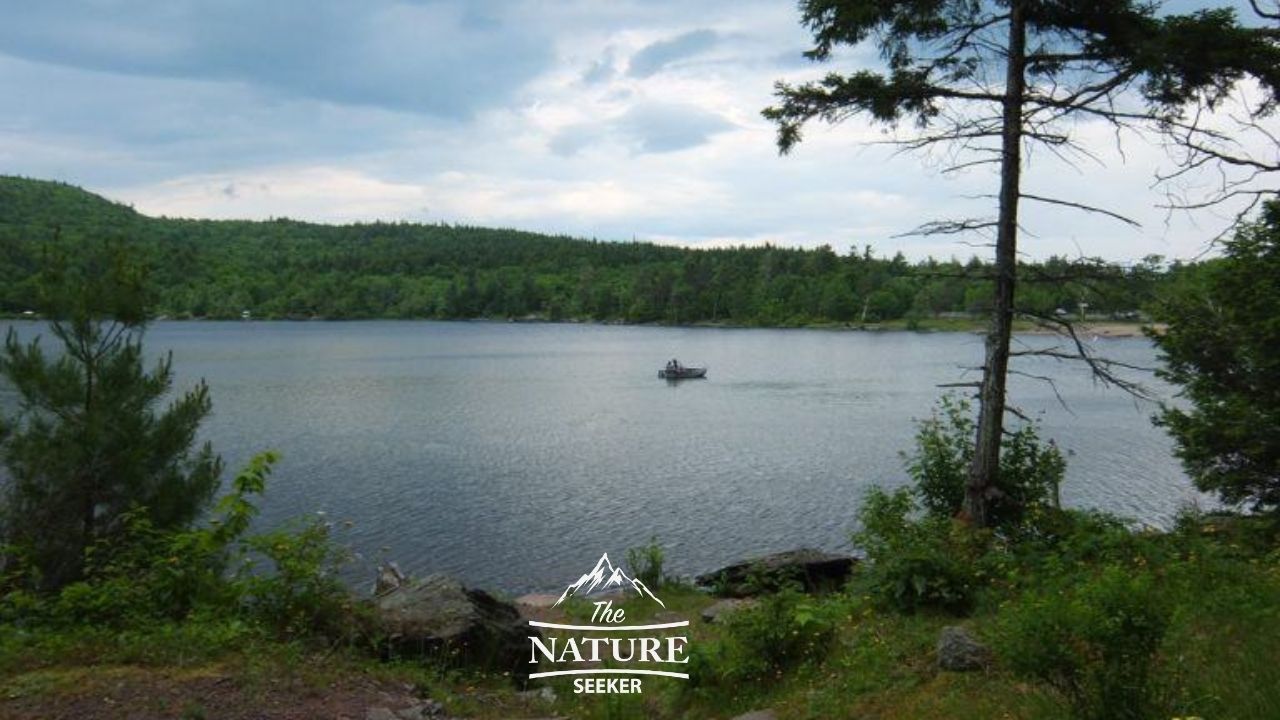 One of the most popular attractions of North South Lake is it's camping which is all over the parking areas and even near the water (this and other camping spots in the Catskill Mountains).
What a lot of people do is they reserve one of the spots in this region, stay for a bit and enjoy the activities I mentioned. I believe the price for camping there is $20-$40 a night and I also believe it's seasonal.
And it is very cheap. Unfortunately, the odds of you reserving a spot, especially on long weekends is highly unlikely. If you are very much looking forward to staying here, you are going to have to reserve a camping area MONTHS in advance. That is how popular this region is.
But for specifics, go here and you can see and even reserve a spot. Even if you can't, there's other camping areas not far from this spot and/or hotels where you can stay at.
Either way, I personally do not like camping and if I ever go to this region, it's on weekdays. If you do enjoy camping, but want to improve the odds of reserving a spot, don't just reserve in advance, do it during none holiday periods and on weekdays (during weekends, these areas are usually very crowded).
On weekdays, there will always be less people here.
6) Check out Sunset Rock (great overlook of North South Lake):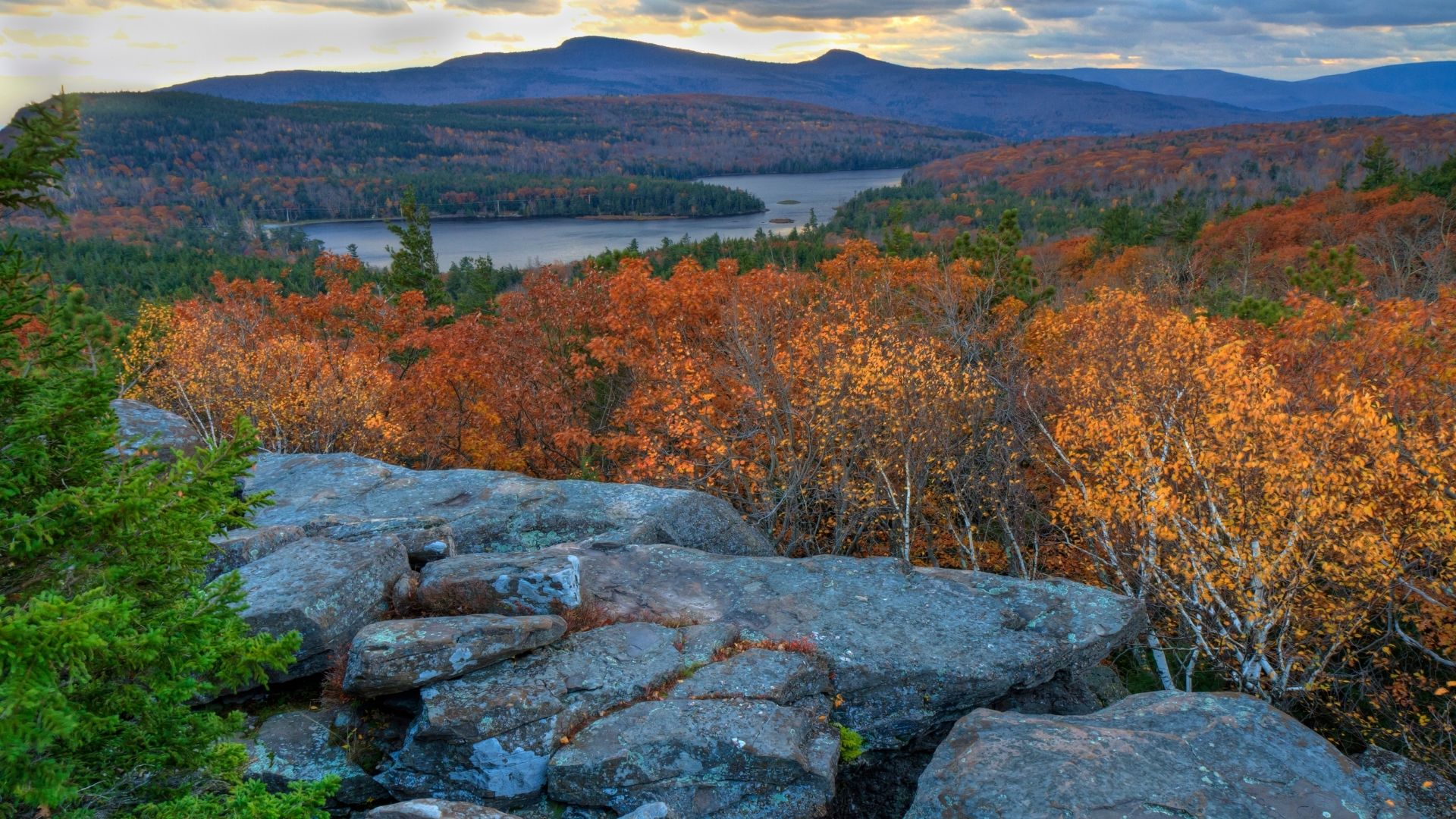 North South Lake is almost a central hub for many hiking trails and the Sunset Rock one is one of them.
It's also one of the most popular ones if you look at the list available for general hikes in the Catskill Region.
It is several miles long and is great to explore if you'd like to get a GREAT view of both the North and South Lakes of the Catskills (as you can see from the picture here).
It is also (as the name suggests) and excellent area to check out before sunset (but be careful and know the trails so you don't get lost in the woods).
7) Hike to Ashley Falls (here's a North South Lake trail map):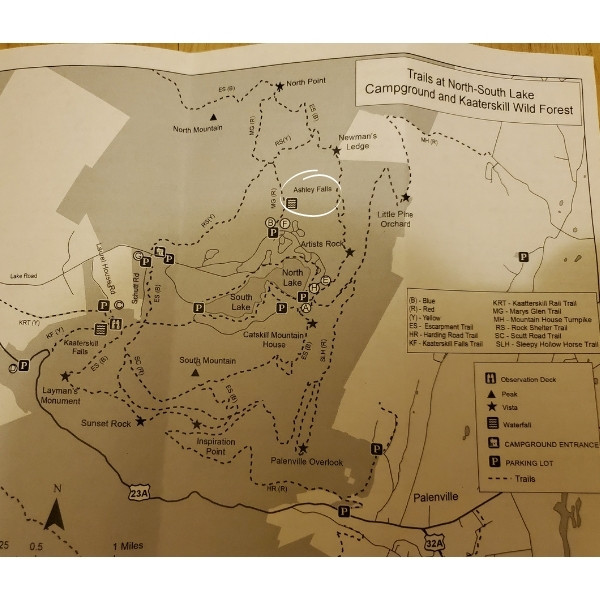 I didn't know this until recently, but within the North South Lake region lies a small but pretty cool waterfall known as Ashley Falls which isn't very far from the North Lake parking lot. It's connected to many other trails in this region, including Boulder Rock and Sunset Rock.
I also included a hiking trail map of the area and circled where Ashley Falls is to explore. You'll also be able to see what other loop and hikes are available.
You will get these same maps when you enter the region, but they are all black and white and sometimes it can be easy to mistake a trail sign or get lost in the woods here. Make sure you read where the first letter is to indicate the color of the trail (B = blue for instance).
Note: I've noticed the map might be outdated and says that Sunset Rock is on the southern end of the lakes, it's not. That's called Inspiration Point (according to Google maps) so I actually updated the map to show this.
I've been exploring North South Lake a lot more recently and was shocked at how many fun hiking trails there are here to check out. This map will help you do that!
A list of North South Lake hiking trails to consider trying:
Some of these are repeats, but by using the map you can find it:
Inspiration Point (about 1-2 miles from South Lake).
Ashley Falls (About 0.5 miles from North Lake).
Sunset Rock (1.5 miles from North Lake).
North Point (4.5 miles from North Lake).
Boulder Rock (1.5 miles from South Lake).
Kaaterskill Falls (0.3 miles from South Lake).
Batman Cave (3 miles from North Lake).
Catskill Mountain House (2 miles from South Lake).
Newman's Ledge (2 miles from North Lake, great overlook).
Escarpment Trail (24 miles, entirely the blue trail).
My gear recommendations for hiking at North South Lake:
Other general recommendations (none hiking stuff):
Camping is probably the hardest thing to find when you're here, but other than that, you'll be able to access the park and enjoy the other 4 activities I listed.
If you are interested in recommendations for things to do in and outside North South Lake, I have a list of the best hiking trails in the Catskills you can explore. One of the top (and most difficult trails) nearby are Devils Path and the Long Path hike.

These activities are much more adventurous and challenging so if you're not into hiking, getting wet, swimming and that sort of stuff, I would not do it, but if you are, you will probably really enjoy these. 
And if you are someone who frequently visits North South Lake like I do and can relate to the places I listed and/or can recommend other spots to check out while here, I would love to know more and hear your personal reviews of the area!