16 Best Waterfalls in New York (Secret Locations Revealed)
What I'm going to show you in this post is a list of my 16 best waterfalls in New York and I can tell you that this list is very different than what most other sites show, in a good way.
And when I say that, here's what I mean: When people think of waterfalls in New York, they usually think of popular spots like Niagara Falls and frankly, I'm not the sort of person who will tell you to see places everyone else will. The following list I'm going to give you are from places not many people know about, including secret waterfalls.
Here is the list of the 16 best waterfalls in NY:
Middle Falls and Lower Falls (Letchworth Park).
Ithaca Falls (Finger Lakes).
Rainbow Falls (Watkins Glen).
Hector Falls (Finger Lakes).
Taughannock Falls (Also Finger Lakes).
Awosting Falls (Lake Minnewaska NY).
Croton Dam Waterfall (west NY).
Minekill Falls (Catskills).
Kaaterskill Falls (Catskills).
Secret Waterfall in the Catskills.
Buttermilk Falls (south Catskills).
Chittenango Falls (north NY).
Salmon River Falls (near Syracuse NY).
Roaring Brook Falls (Adirondacks).
Rainbow Falls (Ausable Chasm).
Rainbow Falls (Indian Head trail).
That's the list that corresponds to the image you see on the right (some not shown). But despite that, it's not the order of what I consider to be the top 16. These 16 waterfalls are about to listed in the order I subjectively find best. So of course in your case, if you wish to mix up the order, by all means!
1) Middle Falls (and Lower Falls):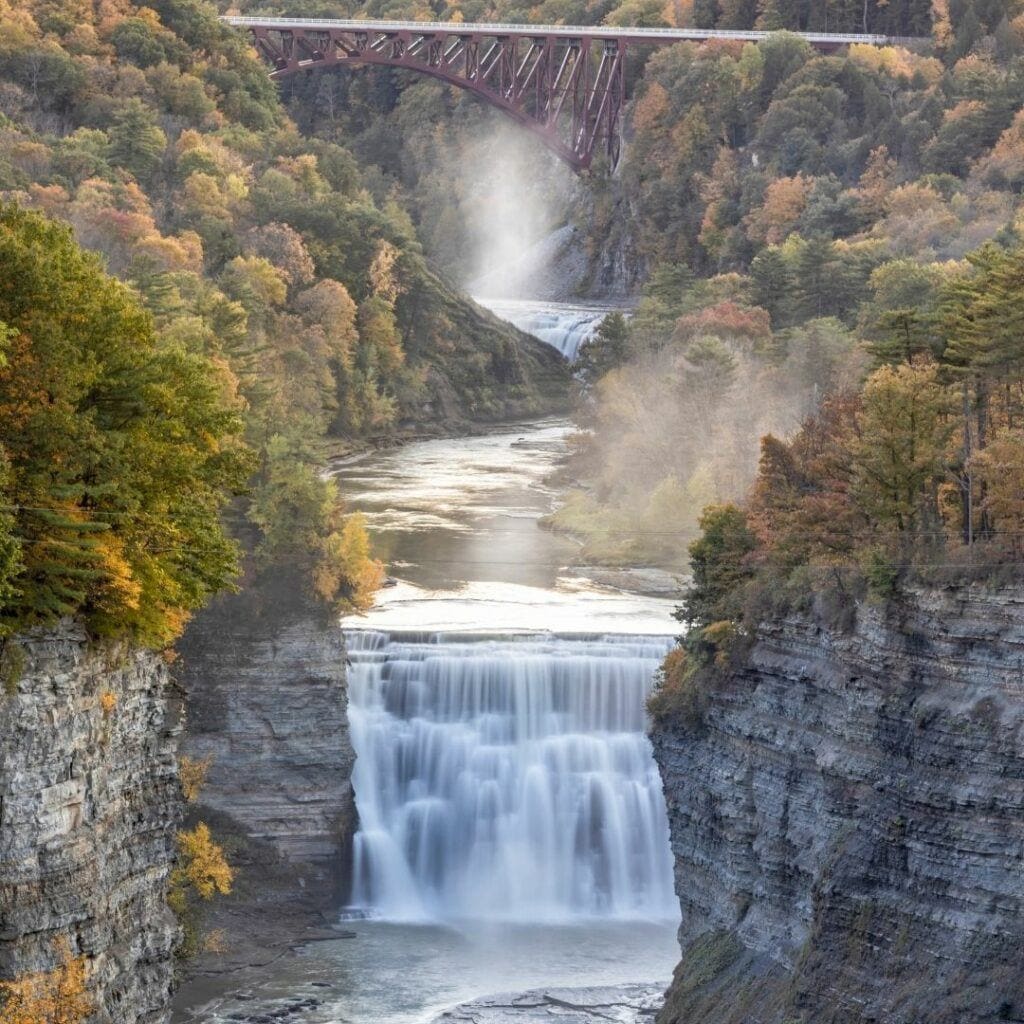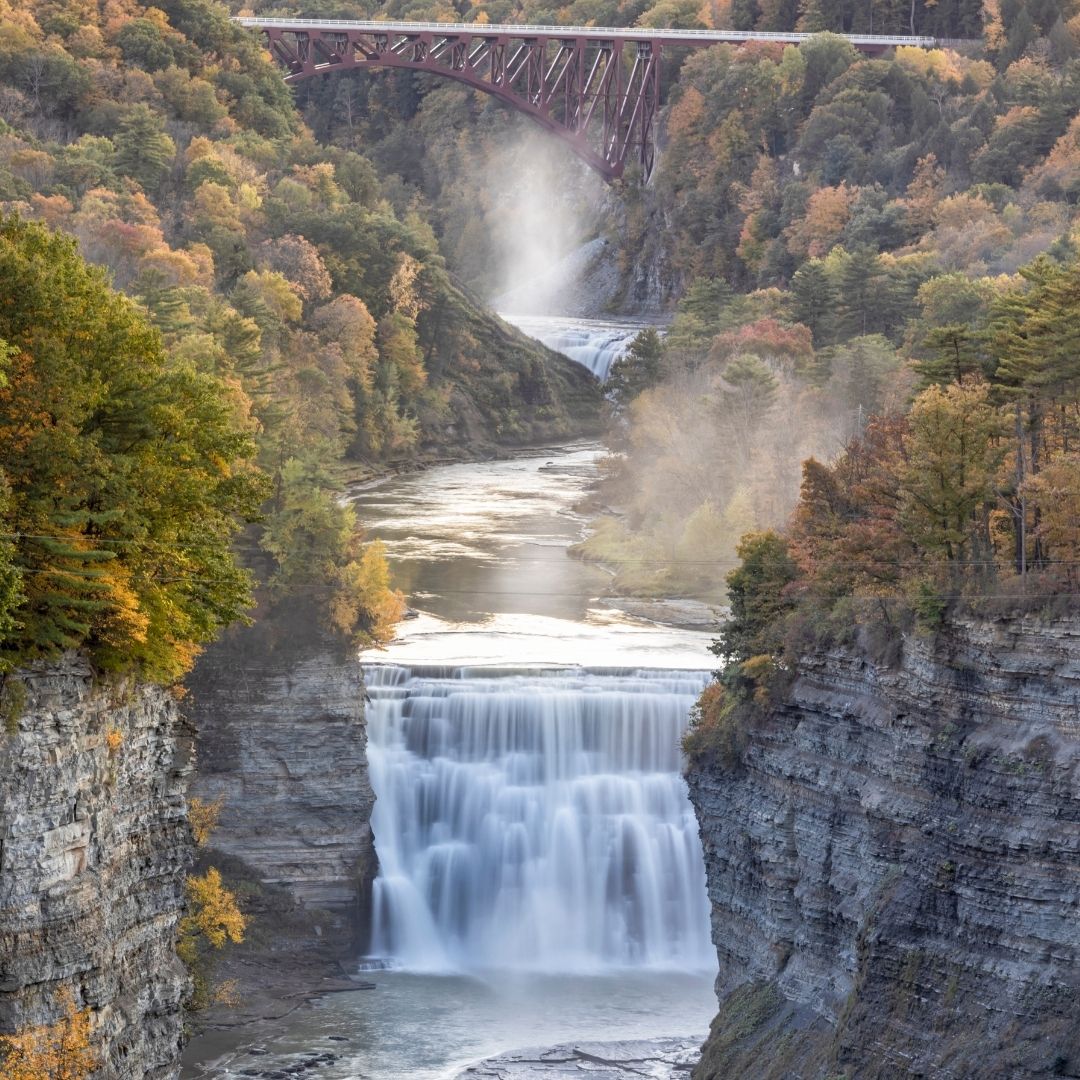 Where is it? It's in Letchworth State Park about 60 miles east of Buffalo, New York. It's also one of the best state parks in New York.
How high/tall is it? It's over 100 feet high (Middle falls that is). Lower Falls is a little over 50 feet. There is also another one further uphill from it that is under 100 feet but is also very beautiful.
Description of the falls: Middle Falls is one of the most beautiful waterfalls in the entire state you'll see that is accessible to the public. And if you head a bit more south, you'll also find Upper Falls, that's connected to it and if you can come here during fall, that's the best time because it's one of the best places to see in New York for fall foliage in general.
Not only is the fall itself worth exploring, but you can also explore many places near it, including bridges and many scenic views (especially behind it, just like in the picture above). Middle Falls is located pretty close to Niagara Falls so if you have time or are doing a road trip and need ideas, checking that waterfall out too is highly recommended! At the same time, if you head west, you'll find the next amazing waterfall on this list and it's:
2) Ithaca Falls (one of the best New York waterfalls):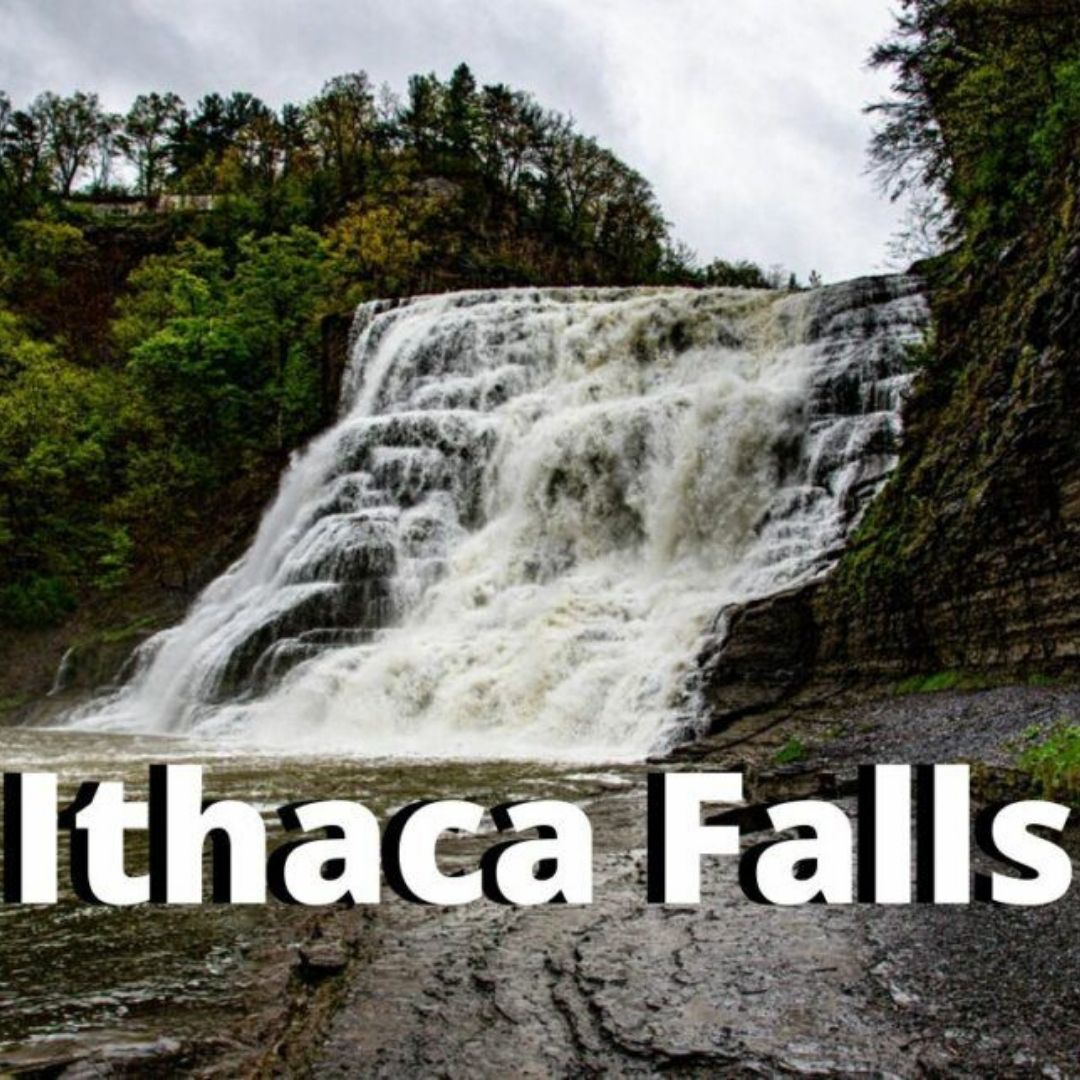 Where is it? Near a city called Itchaca, which is also in New York (About 100 east of Middle Falls, Letchworth State Park).
How high/tall is it? 150 feet high.
Description of the falls: Itchica is close to Finger Lakes which itself has so many nature jewels to offer, it's crazy. But specifically the waterfall here is huge, and there are nature trails leading to the top and bottom of it.
But I assure you, the reviews, views and adventures available in these spots are insane. These 2 waterfalls are some of the biggest you'll find in New York State. In addition, Ithaca also offer beautiful trails and more waterfalls to see on it. Now in regards to waterfalls in Finger Lakes, that link I just shared shows you other truly amazing waterfalls to see there.
3) Rainbow Falls: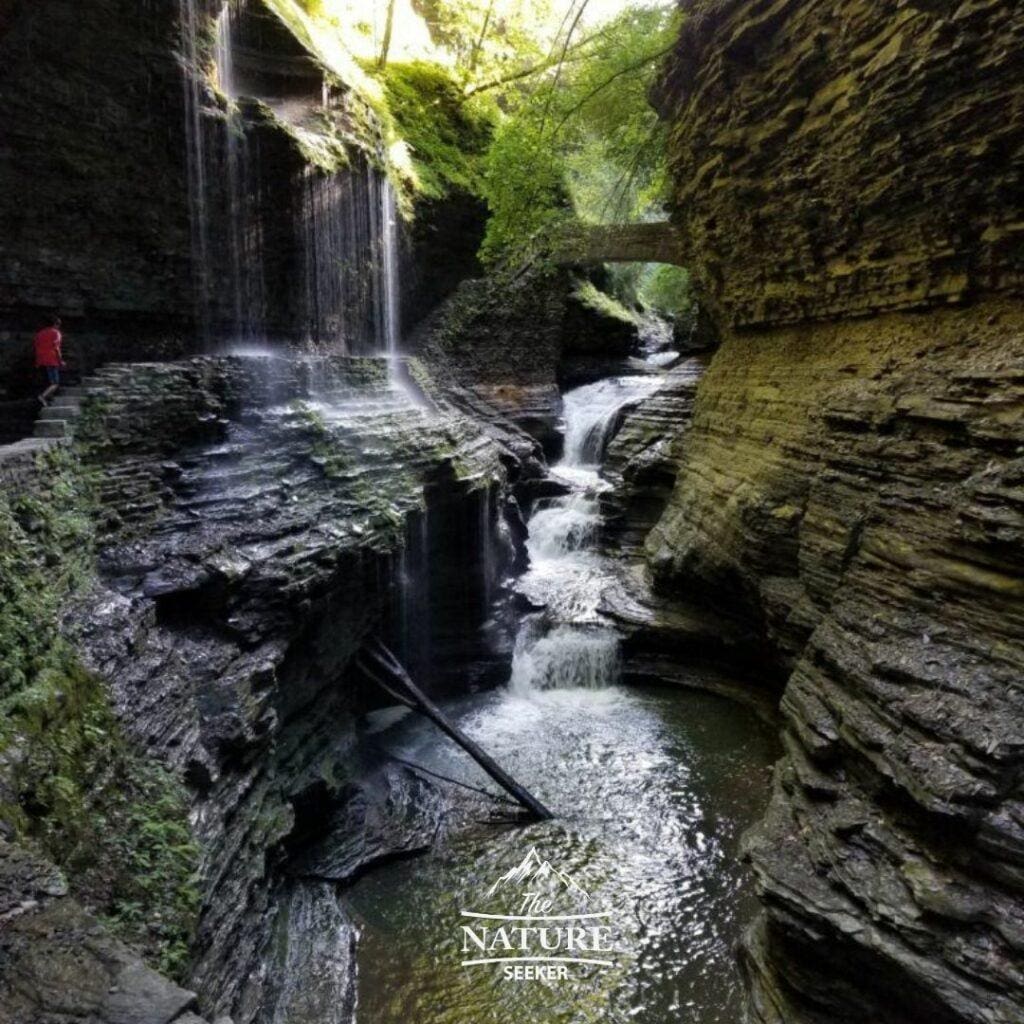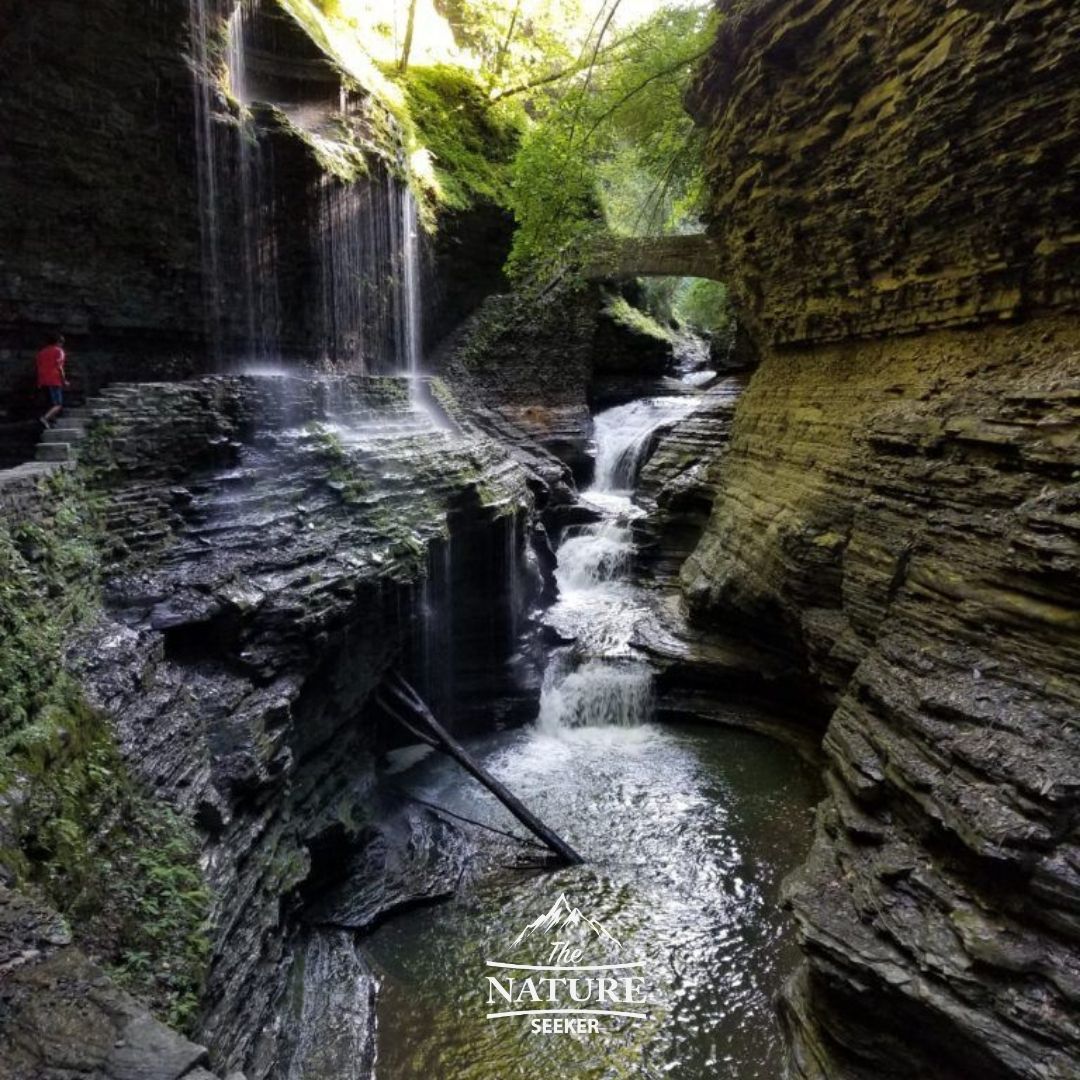 Where is it? At a place called Wakins Glen State Park.
How tall is it? It's actually very small but the scenery in this area is what sells the spot in the first place. I mean do I even have to say it?
Description: Imagine walking through a beautiful nature gorge with caves, waterfalls, and scenery that makes you think you're in a fairy tale. This is the kind of impression you might get when you visit Watkins Glen State Park because it really does feel other worldly.
And being that this place is also near Finger Lakes, like Ithaca Falls, the ability to explore these places near one another is easy and in general, Finger Lakes has tons of activities you can explore. In addition to Rainbow Falls, there's also 18 other stunning waterfalls in Watkins Glen to explore and it's all along the short trail in this park. And if you find this park stunning, then I highly recommend checking out 2 other parks like it which are also in Finger Lakes:
4) Hector Falls: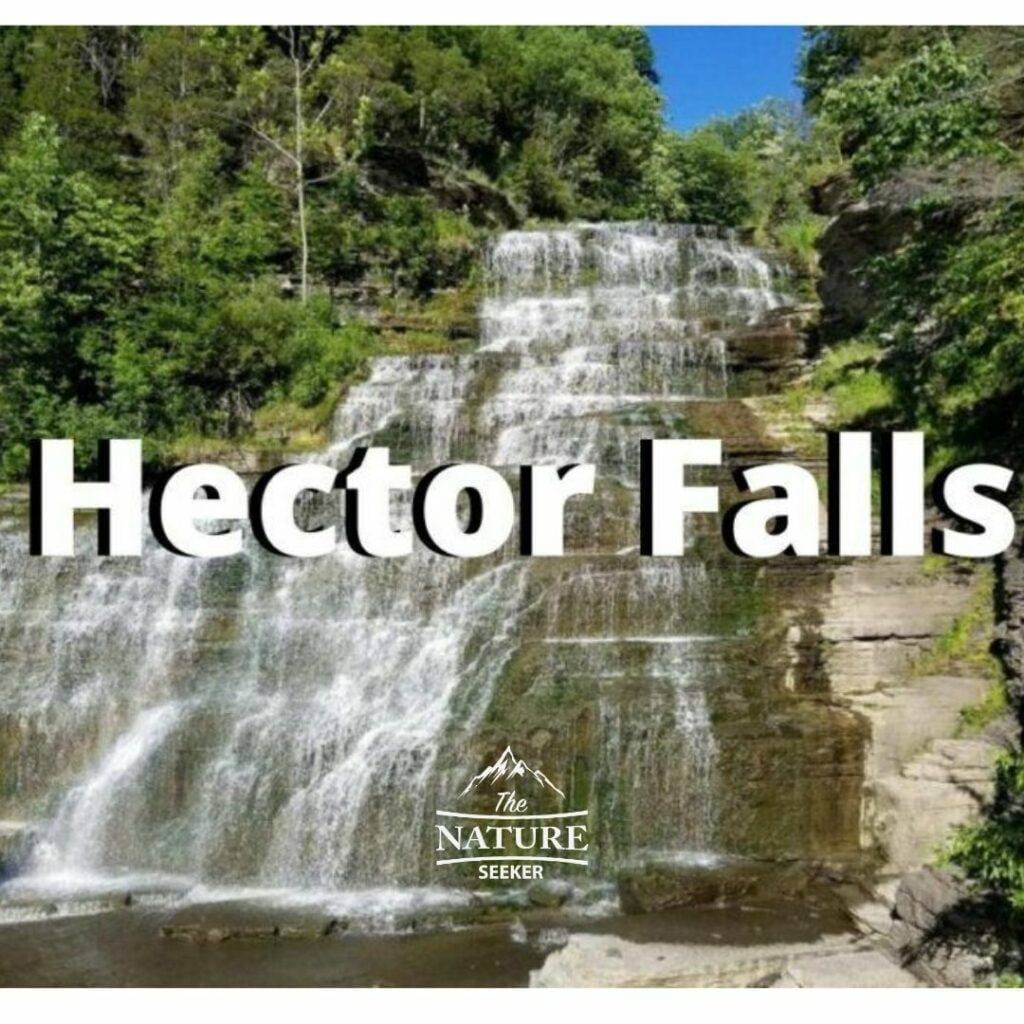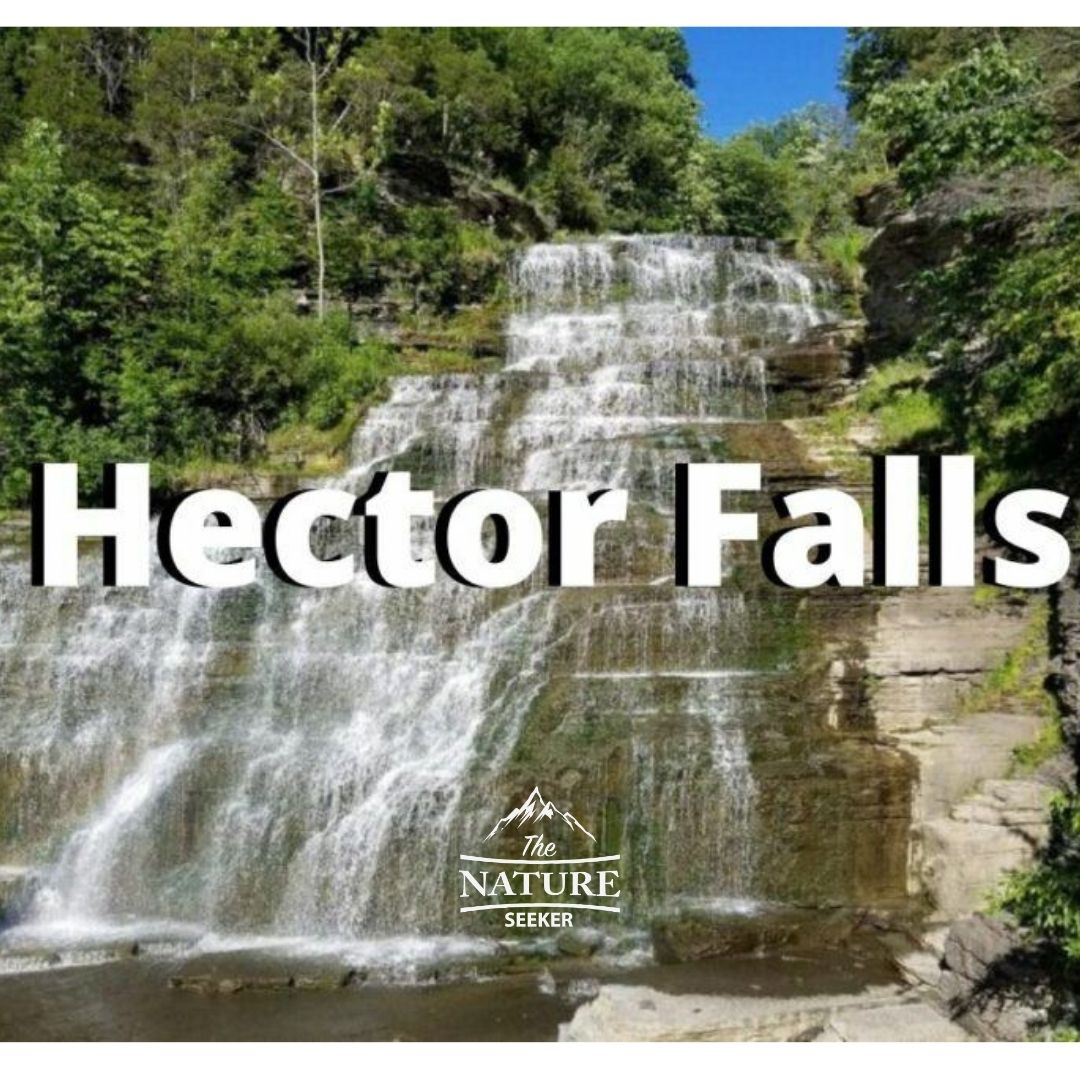 Where is it? Near Seneca Lake (very close to Wakins Glen State Park).
How tall is it? It's over 50 feet high.
Description: Hector falls is very close to Watkins Glen State Park, and it's the fact that this waterfall drops like steps on and on that really makes it worth seeing. To get to Hector Falls, you'll have to park off the road and walk underneath the bridge where that falls passes.
But I promise you this waterfall is so peaceful, and long that you probably won't want to leave this area.  I found myself loving this waterfall so much that my buddy and I stayed there for quite awhile before moving onto the next stage of our trip (called the Appalachian Mountains road trip), and it involved going into Watkins Glen State Park. You'll also be able to see the entire cascading waterfall from a boat if you rent a canoe or kayak (at Seneca Lake).
5) Taughannock Falls (one of the best waterfalls in NY):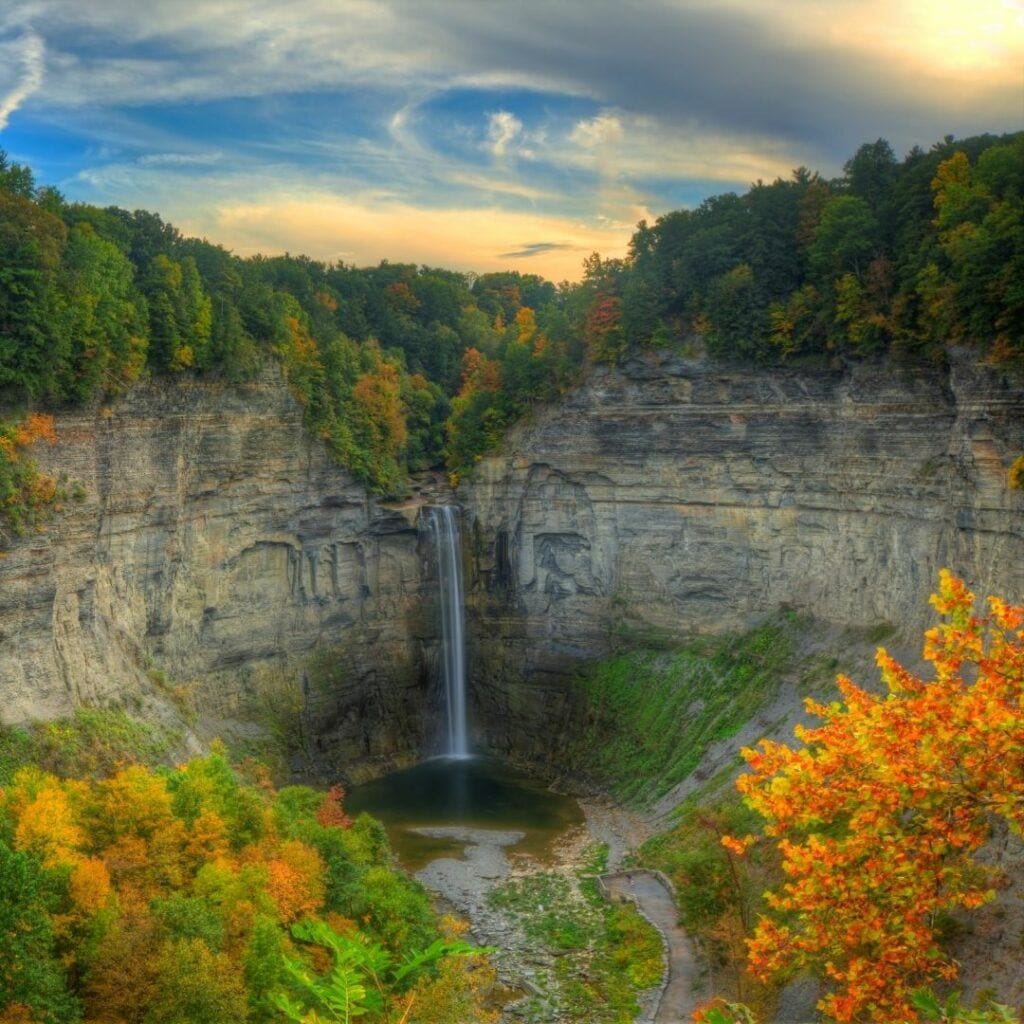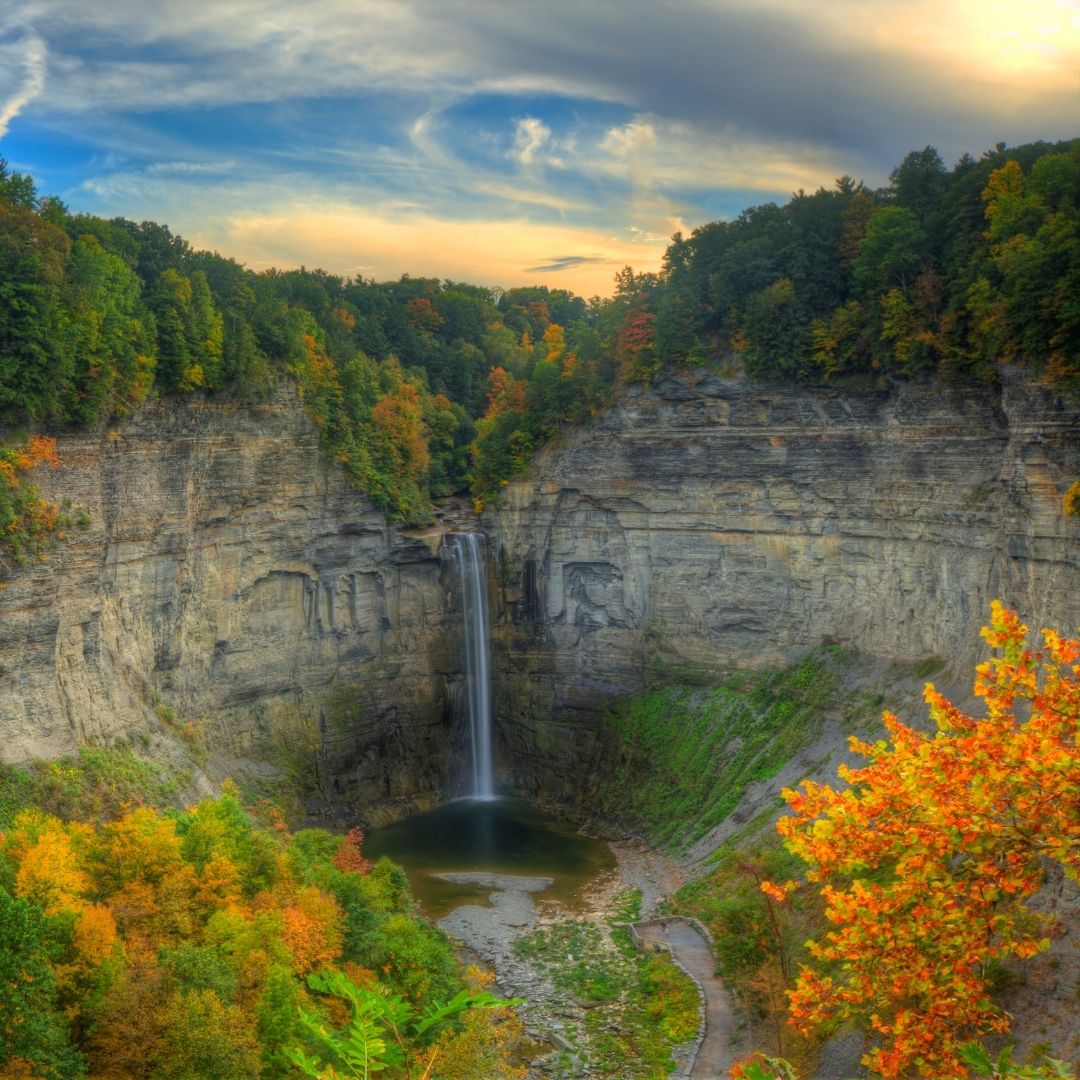 Where is it? Also near Seneca Lake, in Finger Lakes New York.
How tall is it? Over 150 feet high.
Description: Taughannock Falls is a very crowded and popular falls for people who visit Finger Lakes and there are trails and parks near it, as well as over and under that'll give you some amazing views to remember from this place.
I also visited this waterfall during the same road trip I mentioned above and it is all tied together. In fact, we visited this waterfall first in Finger Lakes, followed by Hector Falls, and then all of the beauty in Watkins Glen.
All of this took us a few hours to do so the good news is that these 3 waterfalls are so close by to one another that exploring them is very easy to do by car (and highly recommended too). Now with the next waterfall, we've moving away from Finger Lakes and more towards the eastern side of the state:
6) Awosting Falls: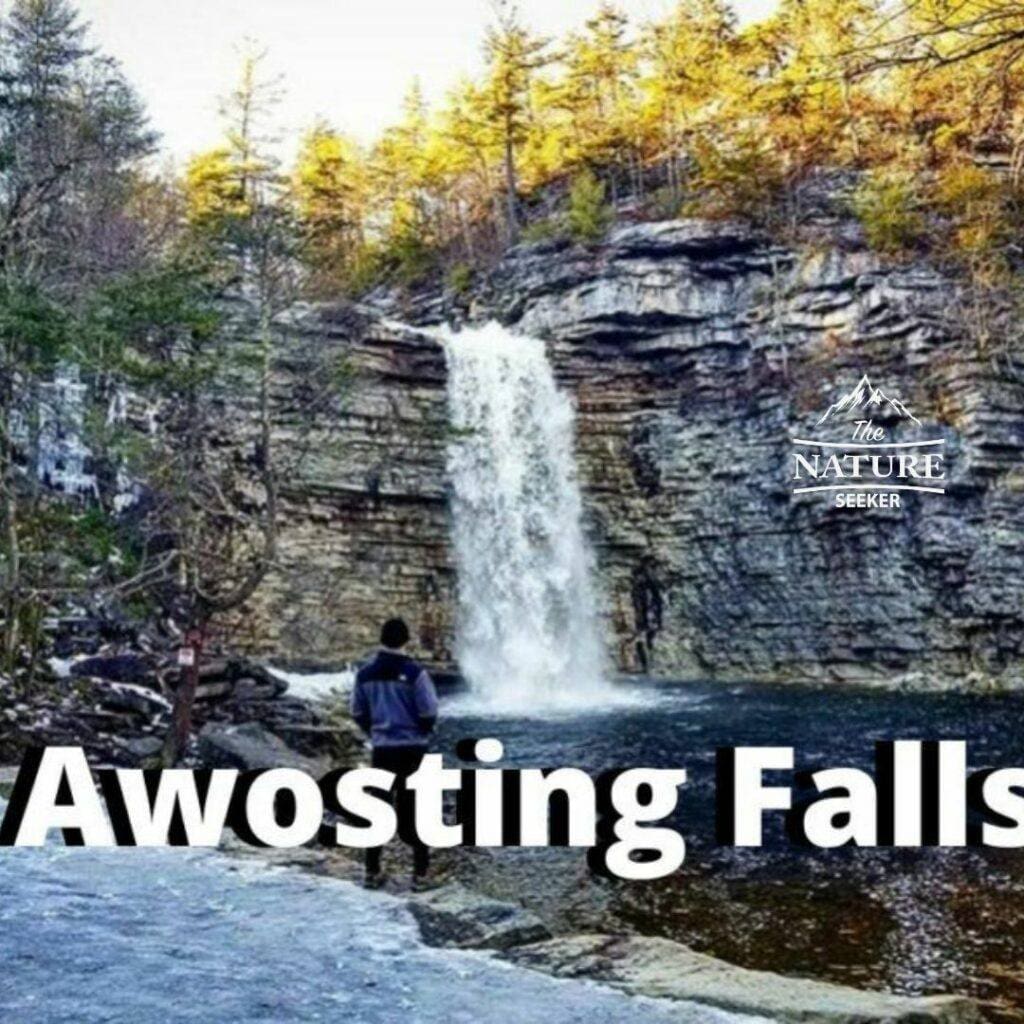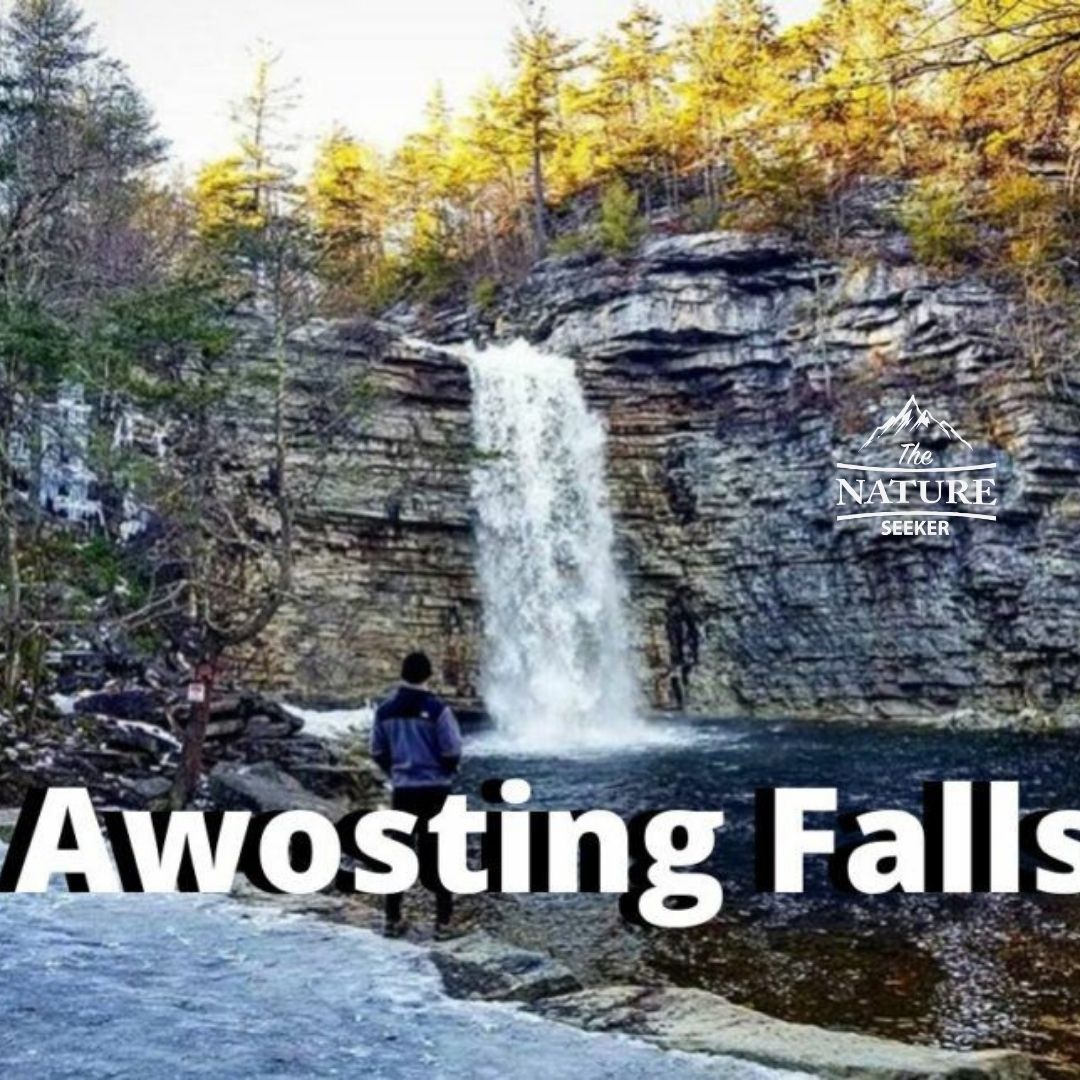 Where is it? In Lake Minnewaska (upstate New York).
How tall is it? About 80 feet high.
Description: Awosting Falls is the tallest waterfall in Lake Minnewaska State park. And I also consider this to be on of the best state parks in New York. At the same time, the park itself is highly recommended to people who wish to have a fun filled day in the upstate New York area. There's activities such as kayaking, hiking, camping and exploring available all around the Lake Minnewaska area and most of the trails are very easy to walk through.
The activities in this park are also very family friendly. Lake Minnewaska is a very docile park to explore in New York State and it's one of the things that makes it attractive for tourists who aren't really into doing too many challenging hikes, but still want to see beautiful views (and waterfalls).
7) Croton Dam Waterfall: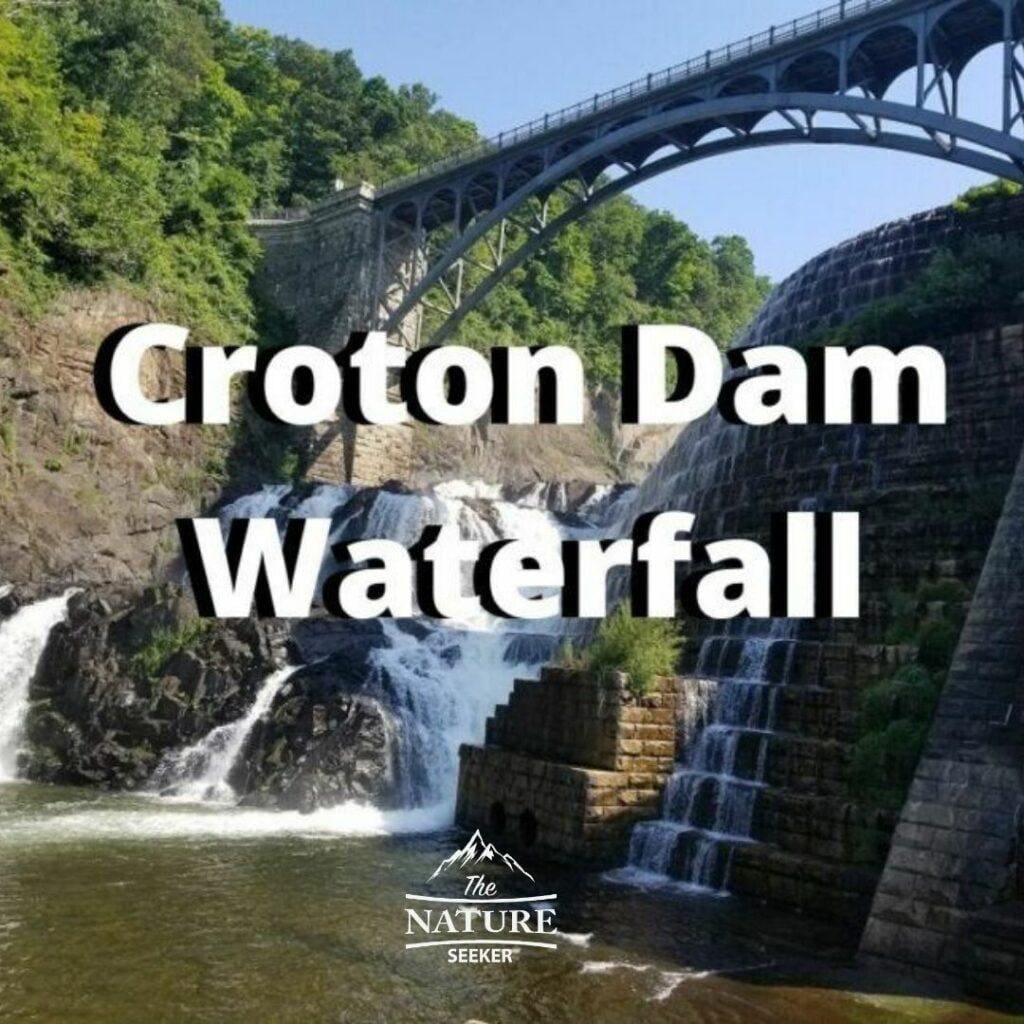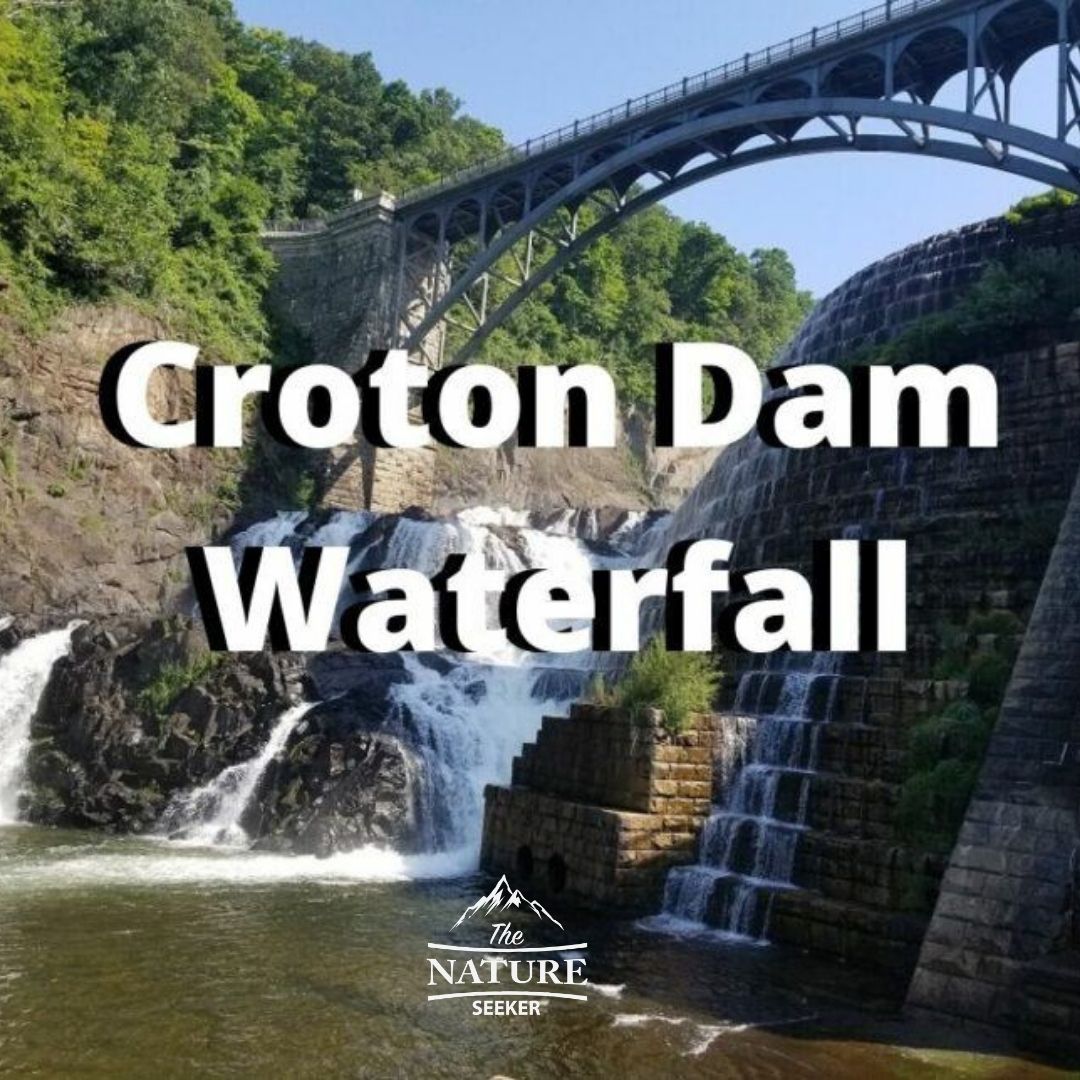 Where is it? About an hour north of NYC.
How fall is it? Over 50 feet high.
Description: This is the only waterfall on the list that's man made (water dam), but the way it's shaped, designed and flows is simply amazing and highly recommended. Picnic areas, bike rides and hiking trails are available near Croton Dam's waterfall and if you're a NYC resident, getting here is very easy.
The only issue is that it may take sometime if you're a NYC resident due to all the traffic, so going here early in the morning on a weekend is likely your best bet. But be aware that Croton Dam is popular, so you will see a lot of people in this area (on weekends especially).
I've been here during the winter and generally, this is when there aren't a lot of people, but at the same time, the waterfall may be frozen, which is by the way an awesome sight. But for me, the spring time view of this waterfall is the best one.
8) Minekill Falls: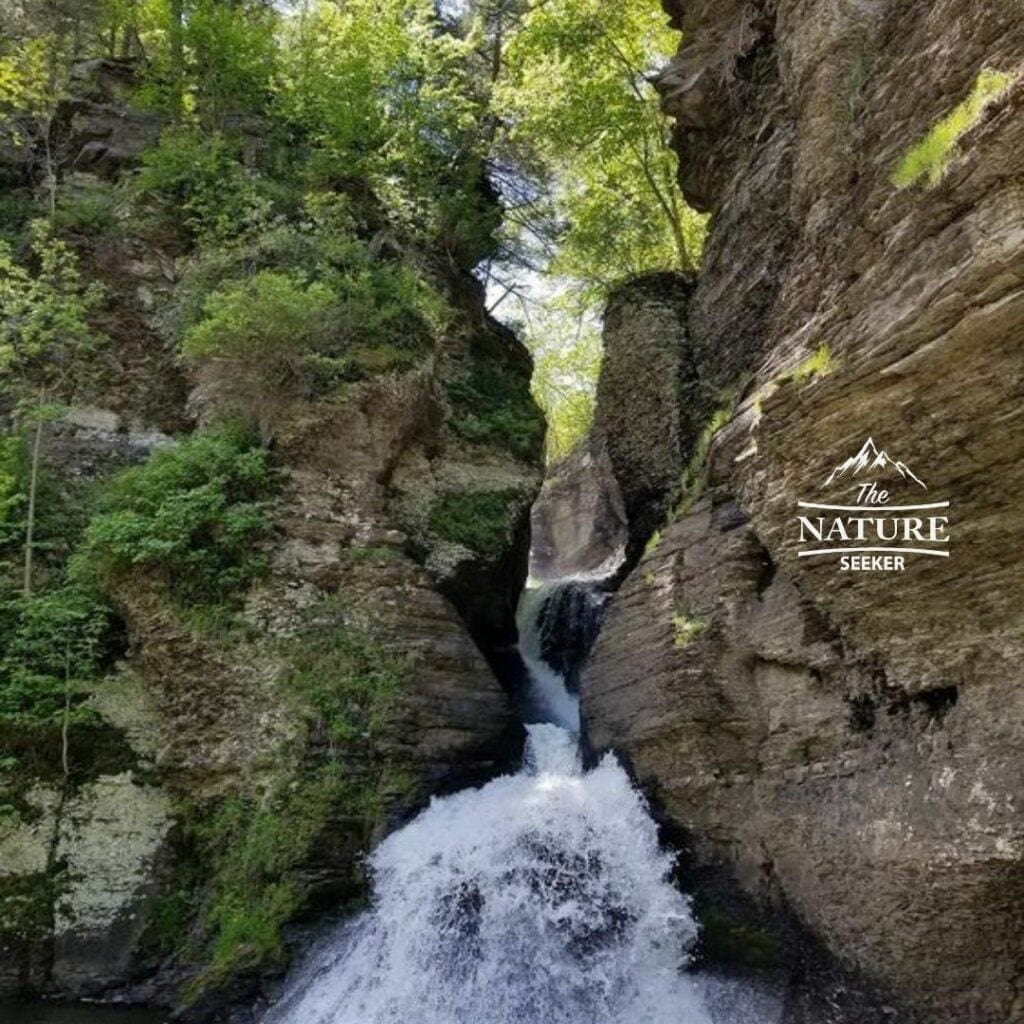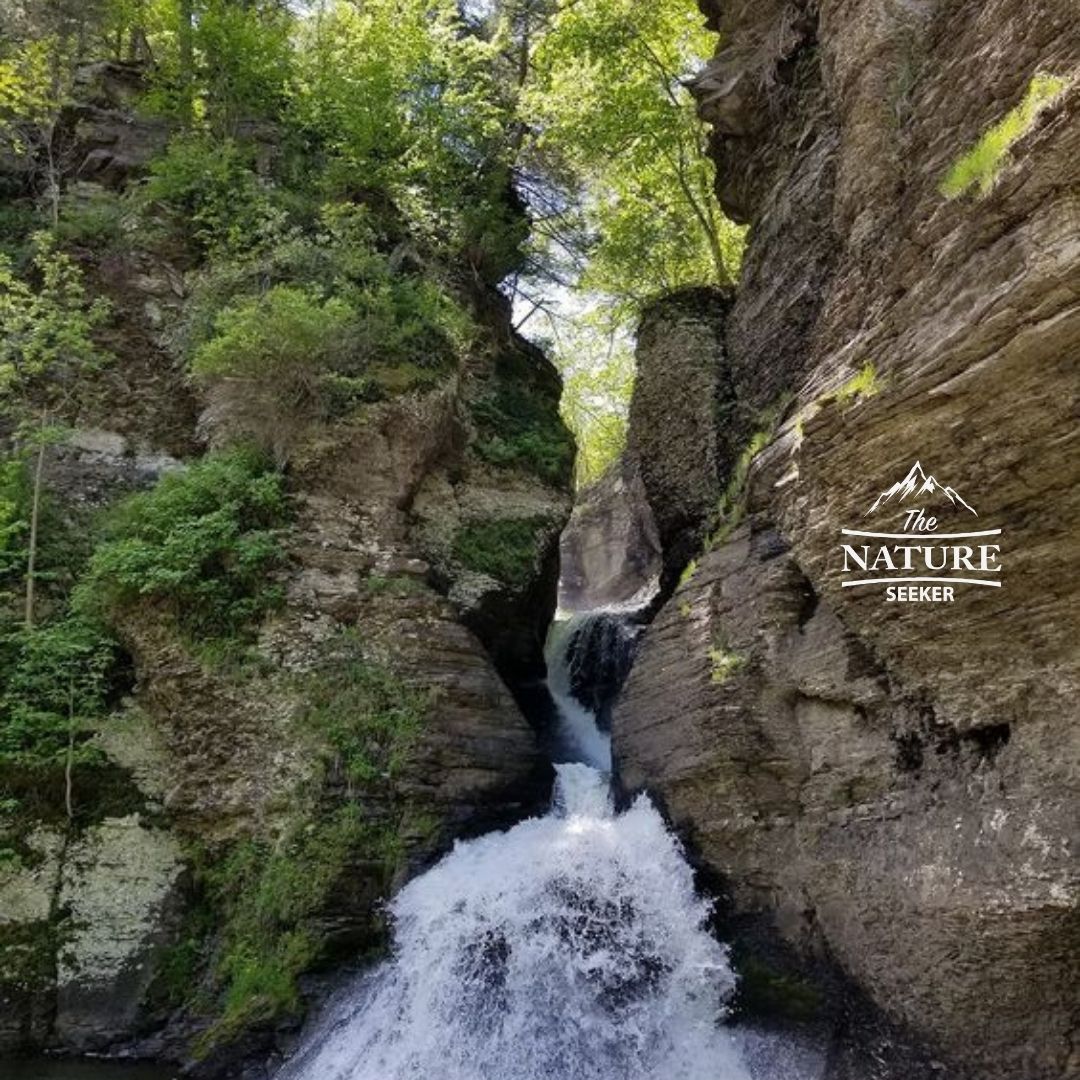 Where is it? In the Catskill Mountains (Upstate New York).
How tall is it? About 50 feet high.
Description: Minekill Falls is one of my favorite waterfalls to visit whenever I visit the Catskills. It has viewing areas over and under it, in addition to easy, but steep hikes if you wish to walk to the bottom of the falls. There's also gorges in the area that are very scenic. Sadly, swimming is not allowed here, but there are hiking trails to and from Minekill falls that you can explore too.
There are 2 you can take to get to the upper view of the falls (very short) and a longer one which takes you to the base that you can see here (about a quarter of a mile hike). Either way, this is an exciting waterfall to check out and highly recommended.
9) Kaaterskill Falls (one of my favorite waterfalls in NY):
Where is it? Also in the Catskill Mountains.
How tall is it? There's 2 levels to it, both making it about 200 feet high.
Description: Kaaterskill falls is one the tallest and most beautiful falls in all of New York State in my opinion and it's also one of my favorites because of how "interactive" it is. What I mean by interactive is that there is a hiking trail is available to reach it from the bottom and from the top but in addition, this whole waterfall is open to people swimming in the pools, walking up to the waterfall itself, and even hiking through cave areas in the area itself.
Out of all the waterfalls I've seen in New York State, this is the one I've visited the most and enjoyed the most so far. I also recommend checking out the link to my Catskills article to see what else you can do in this area. This whole park has some truly beautiful hikes, waterfalls and adventures you can explore.
The most recent one I did was a hike called Devils Path about 20 minutes away from Kaaterskill Falls and in fact, here's a list of the best waterfalls to see in the Catskills.
10) Unnamed Secret waterfall in the Catskills (Moore's Bridge Falls):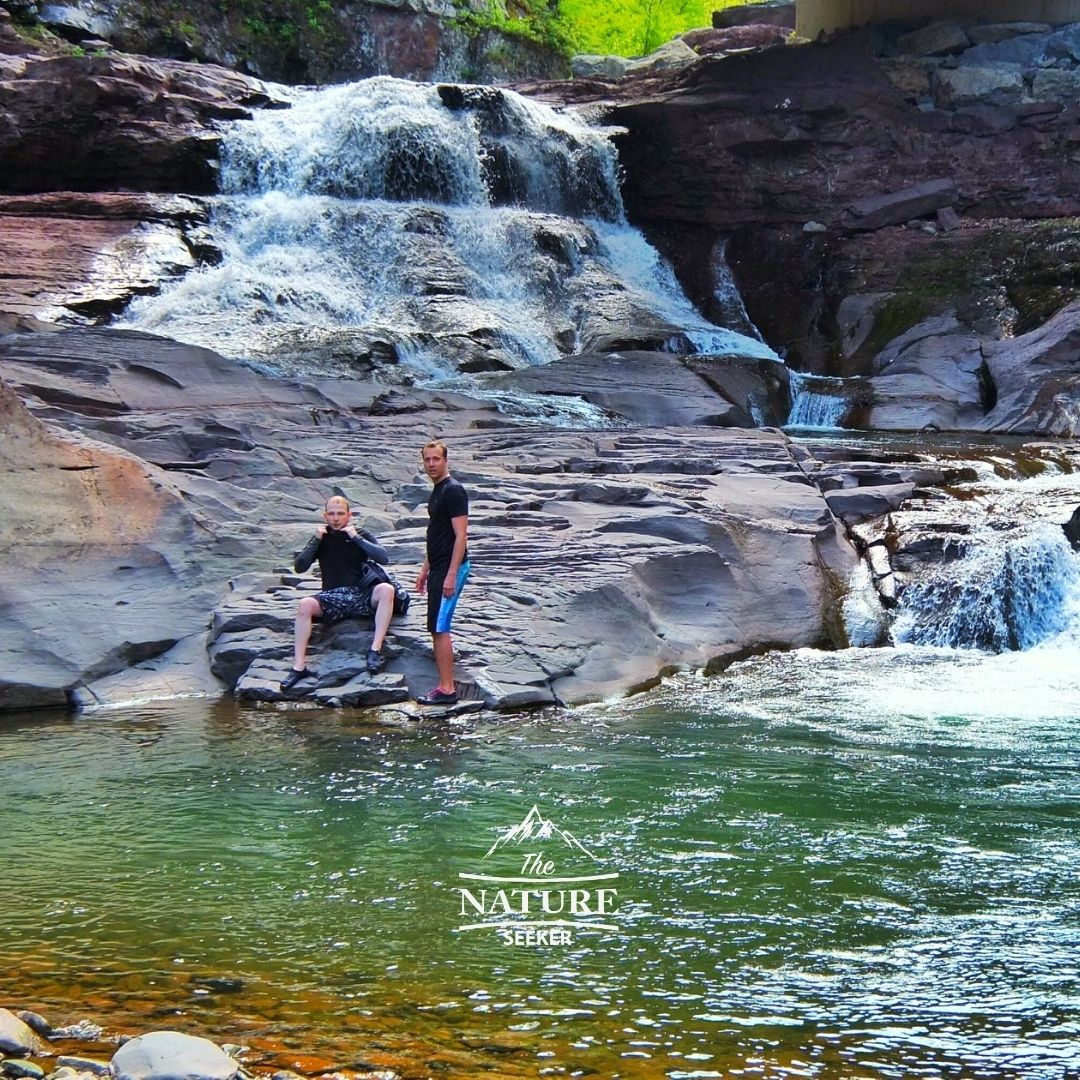 Where is it? Again in the Catskills (I just love this area of New York State!). It's about a 5 minute drive from the parking area that goes to Kaaterskill Falls.
How tall is it? About 20 feet.
Description: This waterfall is one I take when I hike through the Catskills, and it leads through beautiful and secret scenic trails I detail in a post on the best swimming holes in the Catskills.
Sometimes I just enjoy sitting near this waterfall and/or swimming in the pool area it runs into. If you go at the top of the falls, there's also a swimming hole/Jacuzzi area I recommend checking out, as well as another waterfall further upriver called Fawn's Leap (great swimming hole and cliff jump available).
Then later downstream is another beautiful place called Rat's Hole Park (nothing close to as bad as it sounds). Overall, this waterfall is connected to many adventures close by that you can do!
11) Buttermilk Falls: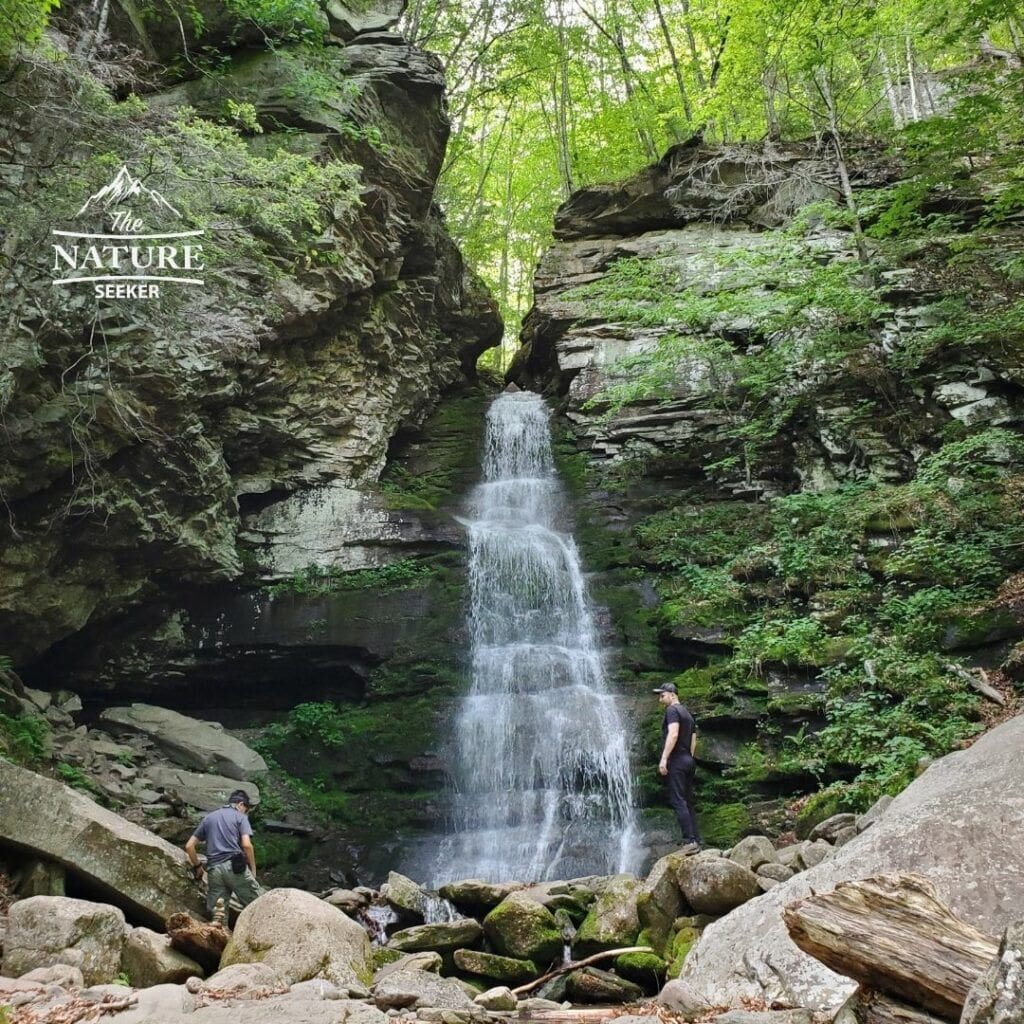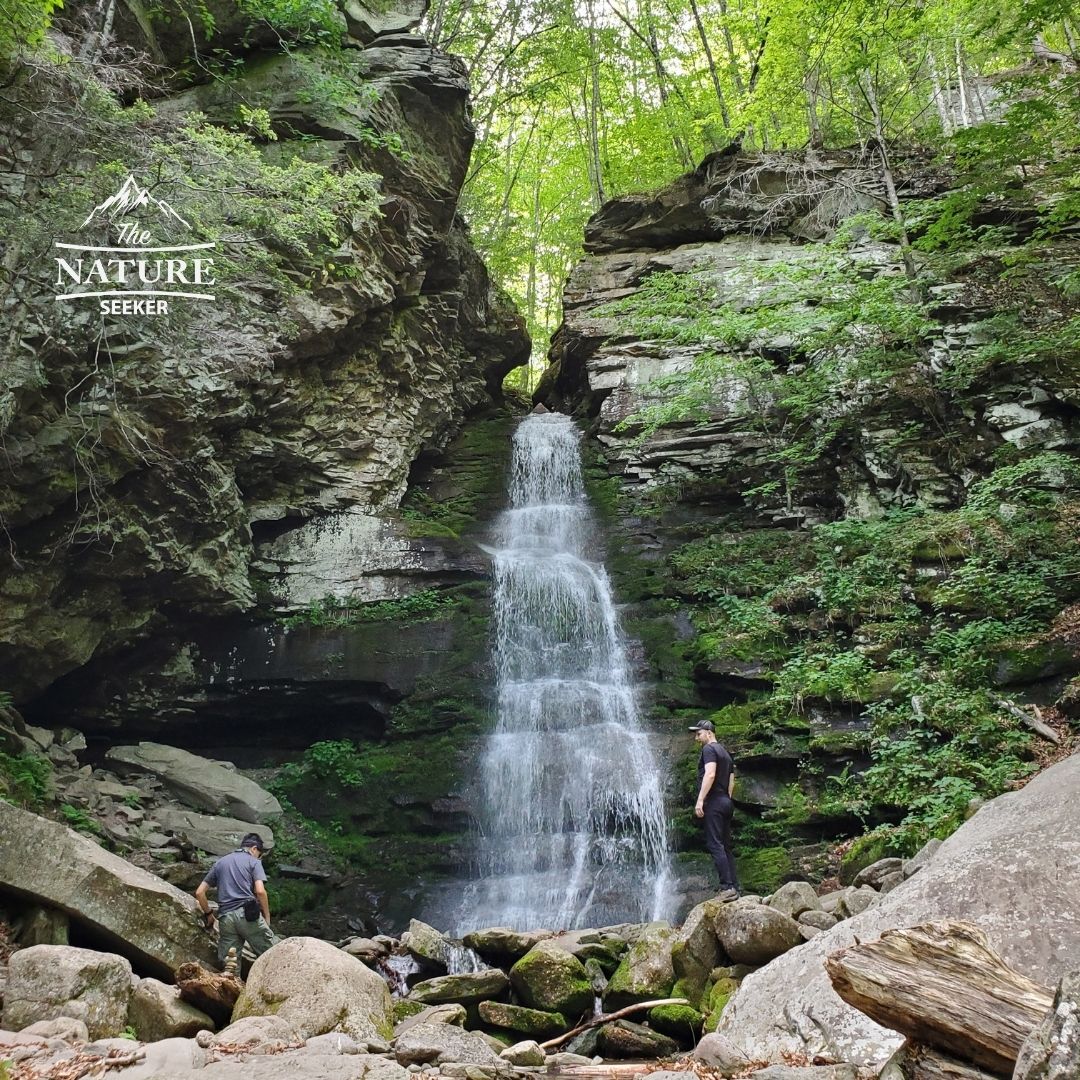 Where is it? It's also located in the Catskill Mountains, specifically in a region very close to Peekamoose Blue Hole.
How tall is it? About 50 feet high.
Description: This is a beautiful waterfall right off the side of the scenic drive that leads you to a popular swimming hole in the Catskills called Peekamoose Blue Hole. A small parking area is available right next to this waterfall and from there, it's only about 100 feet to it's base (you can also easily see it from the road). Besides this falls, there's also beautiful things to see nearby, including the blue hole I talked about above.
Note: There is another waterfall that goes by this name too in New York State, but it's in a place called Buttermilk Falls State Park, which I have not yet seen. In addition, there's also another Buttermilk Falls in Vermont, in Green Mountain National Forest (but these are completely different states and regions).
12) Chittenango falls: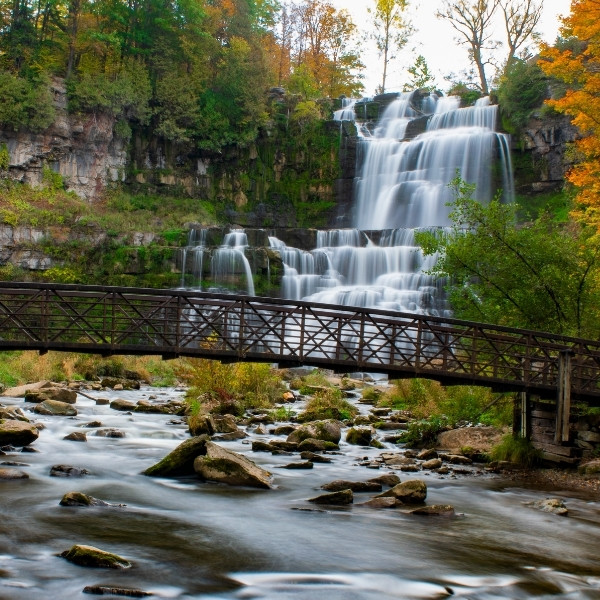 Where is it? Chittenango Falls State Park (central New York State area).
How tall is it? 150+ feet.
Description: Chittenango Falls is a very beautiful waterfall that is located east of Syracuse New York. And while the main attraction in this beautiful park is the waterfall itself, there are also hikes and many other things to explore.
I have yet to visit this specific waterfall personally but it is on my future list and one I commonly see in waterfall forums I go to for research. I do also want to say that Chittenango Falls may be an addition to my existing best state parks in New York post I have, but until I visit it personally to gauge that, it will be a pending item for that article. One thing it will not be pending for is being on this list of the best waterfalls in NY!
13) Salmon River Falls:
Where is it? North of Syracuse NY, in Salmon River Falls Unique Area.
How tall is it? Over 100 feet high and very wide.
Description: I have seen this falls mentioned on Facebook and on this site more than once and finally decided it needed to be added! This waterfall has an awesome hike to check out to reach it's base as well as viewing it from afar.
The surrounding area of Salmon River Falls is also amazing, especially during fall foliage (see top fall foliage places for New York here). The area it's located in is pretty small so the hike to get to this waterfall is very short, but it's a great stop to make in between places like Finger Lakes and the Adirondack Mountains.
Note: I've explored this place as well now and also wrote up on Salmon River Falls. 
14) Roaring Brook Falls: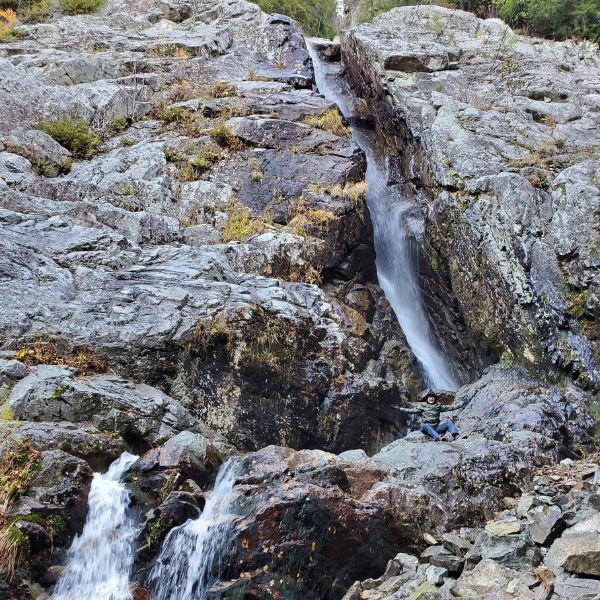 Where it is? The Adirondack Mountains, specifically very close to Chapel Pond.
How tall is it? Several 100 feet.
Description: Most of the pictures I have seen of Roaring Brook Falls were not impressive but literally a few days ago I had traveled to explore the Adirondack Mountains and decided to add a stop to this waterfall to the list and I did NOT regret it!
This waterfall can be seen off the road but the views are not amazing (where most people take pictures of it). The best way to explore this waterfall is to park by the trailhead which goes to it's base. It's very easy to find and the trail is under 1/4 miles to reach. I have also added this place to my best Adirondack waterfall hikes article you can check out for even more fun options.
Note: Hiking up to the base of this waterfall can be slippery and dangerous so I would either not recommend that (take photos from a distance) or just be careful.
15) Rainbow Falls: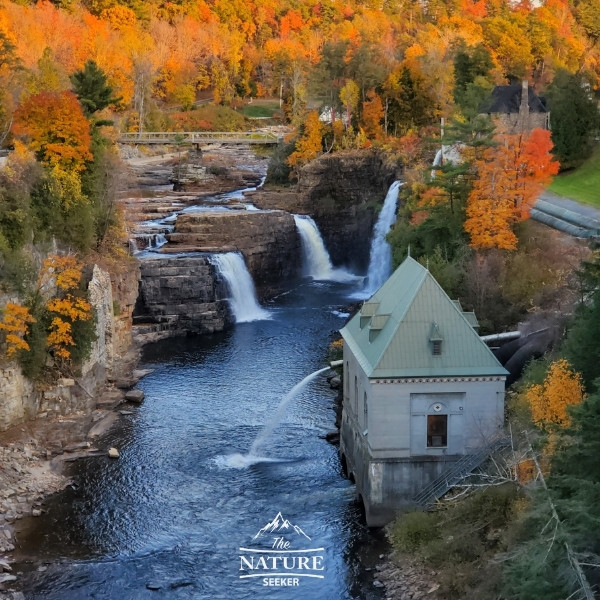 Where is it? In a place called Ausable Chasm (Adirondack NY region).
How tall it is? The tallest waterfall there is over 70 feet high.
Description: I have no idea why it took me so long to add Rainbow Falls to this list but it's an awesome #15. It's located in one of the most beautiful places in all of the state and that is Ausable Chasm, and just as well I have added this to my list of the best Adirondack waterfall hikes even though this specific waterfall isn't a hike at all, you can see it from a gigantic bridge.
Anyway, this photo of Rainbow Falls I took recently on a trip up to the Adirondack Mountains and was fortunate enough to see this place with beautiful fall foliage around it. I absolutely recommend visiting this amazing place, enjoying this waterfall view and also going inside the Ausable Chasm area (you have to pay to enter, but it's worth it).
16) Rainbow Falls (A different one in the Adirondacks):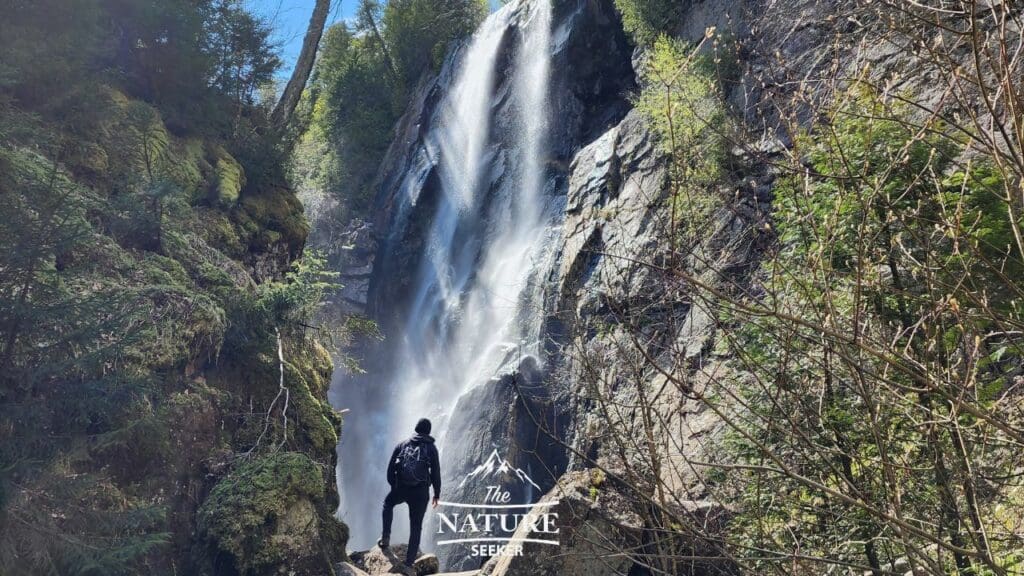 Where is it? In the Adirondack Mountains, you can find it on the Indian Head Adirondacks Trail.
How tall is it? 200+ feet.
Description: Although this is the 3rd Rainbow Falls on the list, it's a completely different waterfall than the other 2, but still one of the most amazing ones I've ever seen in NY. Getting to this waterfall takes a bit of a hike (about a 13 mile loop). But besides this waterfall, the Indian Head Trail I mentioned which takes you here is even more amazing and worth doing because of the overlooks you'll come across, the experience and much more (you will need to get a reservation for this hike).
Here's a map of the best waterfalls in NY (for reference):
If you want to do a scenic road trip through New York State and see all of these waterfalls, here is a Google map preview of how it'll look:
I started mine in Brooklyn, but this map preview shows what to expect in terms of where each location is. You can honestly do this kind of road trip and see all 10 of these waterfalls in about 2-3 days.
Questions about waterfalls across New York State:
How many waterfalls does New York State have?
There are about 2,000 waterfalls across New York State but there are also countless others spread across NY that aren't officially labeled.
What is the largest waterfall in New York state?
Officially the largest waterfall in NY state is Taughannock Falls, but if you include more than one drop then the tallest is Kaaterskill Falls.
What about waterfalls near NYC? 10 options within 1-3 hour drives: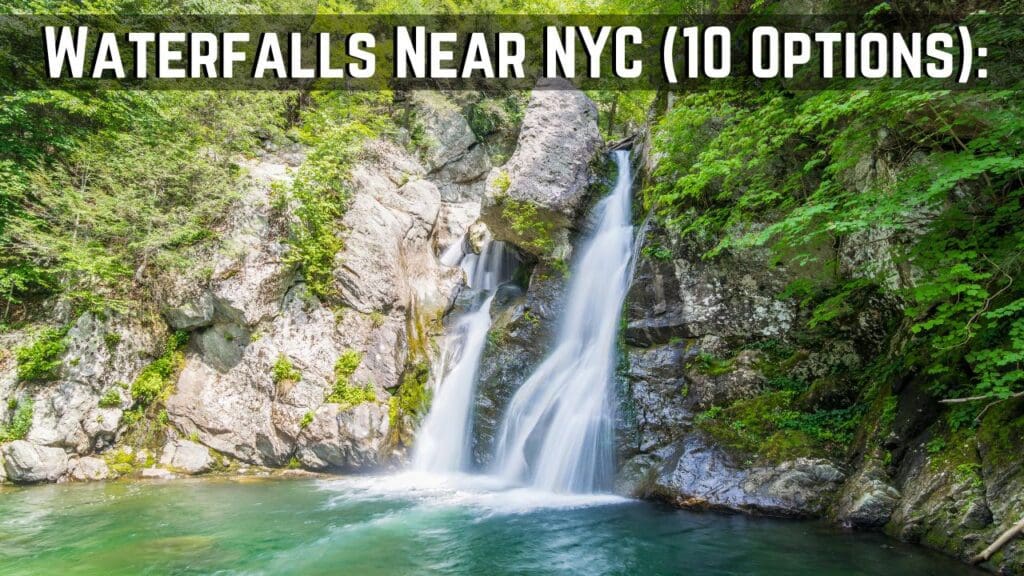 There's a lot of people who read this article who live in NYC and want to know what the best waterfalls near NYC are which are worth visiting. Well there's actually 10 choices and I divided it into 2 categories:
Closest waterfalls to NYC (within the state and mentioned in the above list).
Closest waterfalls to NYC (outside the state that are not on the above list):
Let's start with the ones
within

NY:
Croton Gorge waterfall (it's option 7 from above). It's 1 hour from NYC.
Awosting Falls in Lake Minnewaska State Park (option 6 from above). It's 2 hours from NYC.
Kaaterskill Falls (option 9 from above). It's 3 hours from NYC.
Verkeerder Falls in Sam's Point Preserve (not on the list above) but it's 2 hours from NYC (upstate).
More awesome waterfalls near NYC that

are not

in New York State:
Delaware Water Gap in NJ (has at least 4-5 gigantic waterfalls). It's 2 hours from NYC.
Hemlock Falls in NJ too, specifically South Mountain Reservation. It's 1-2 hours from NYC.
Bish Bash Falls in Massachusetts, specifically Taconic State Park (3 hour drive from NYC). 
Waterfalls obviously aren't the only nature attractions in this beautiful state. If you enjoy scenic drives, then New York State is known for that too and in the very article I linked to, you'll also find my personal list of drives to check out!
And if you are someone who lives in New York City specifically and want to get out of the city to do some day hiking, then see this article on the best hikes near NYC that are totally worth exploring, with some of the options being the same ones on this list!