After doing a new and very tough hike in the Catskills (Devil's Path trail), my buddies and I were very tired, sweaty and figured the best way to end our day trip would be to visit Peekamoose Blue Hole to cool off.
Though it was our first time visiting this place (and it is beautiful), if you're going there for the first time too, there's at least 5 important things you need to know about it because lack of proper preparation can ruin your trip there. So check out the list below and get the most out your visit to Peekamoose Blue Hole!
Here are the 5 things to know about Peekamoose Blue Hole (photos included):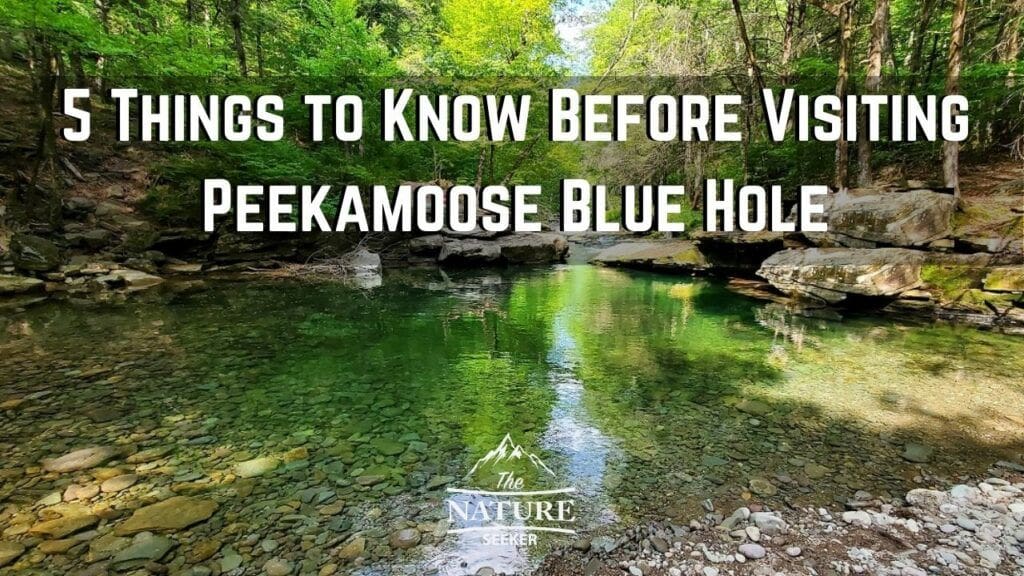 You need to get a pass for weekend trips there.
The water is extremely cold (be prepared).
Wear good water shoes there to help prevent slips.
Visit Buttermilk Falls less than a mile away from Peekamoose.
Avoid going here on weekends (too many people).
Besides that, you'll also see other amazing spots and places to see in this region.
But first, here's some important things to know about this place before I show you the 5 things in detail above.
We'll begin with the most basic stuff about this swimming hole:
What is Peekamoose Blue Hole?

It's a popular swimming hole in the Catskills that gets a lot of visitors. It's very large and quite beautiful during all seasons. The color of the water changes depending on the time of day and season you visit this place and it can range from being emerald green to the popular blue you may see on pictures (more likely to happen during the winter).
Here are some other questions people often ask about this place:
Where is Peekamoose Blue Hole located?
You can find this place in Sundown NY. There is a Google maps location for it too.
How deep is Peekamoose Blue Hole?
At least 20 feet deep in certain places.
Cliff diving is popular here but of course, be sure to be careful and aim to the deep parts of Peekamoose Blue Hole before jumping (you may hit a rock if you're not careful).
Is it dangerous to swim in Peekamoose Blue Hole?
The only problems to consider is that the water is very cold usually and possibly slipping on the rocks when cliff jumping.
What time does Peekamoose Blue Hole open?
Generally sunrise to sunset (or an hour before and after each).
Do you have to hike to Peekamoose Blue Hole?
Not really. It's only about 100 feet to reach it from the parking area.
And now with these questions answered, let's get to the 5 things to know about this place:
1) A permit is required to visit Peekamoose Blue Hole (on weekends):
This is apparently a recent thing that came up and had it not been for my friend investigating the spot earlier, we may have ran into trouble. Currently, if you plan to visit Peekamoose Blue Hole on a weekend, you will need to buy a pass (for each person) which is $10.
You can buy a pass to Peekamoose Blue Hole here. And remember, this is for weekend trips there (I think they're just trying to limit the number of people).
Now for us, we visited this place on a weekday and though we got the passes just in case, we saw no one there to enforce it, and were told it only applies for weekend visits.
2) The water at Peekamoose Blue Hole is very cold: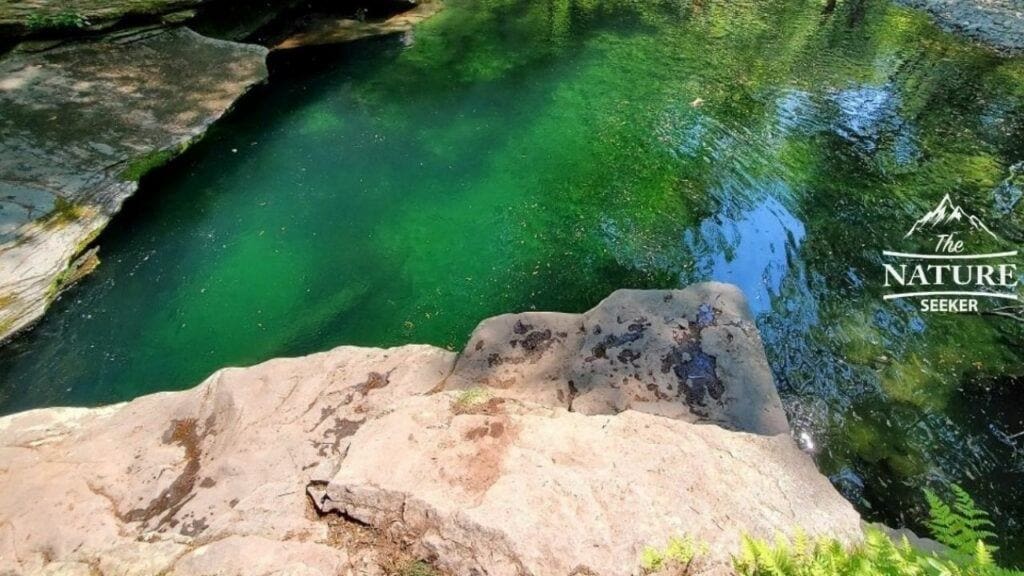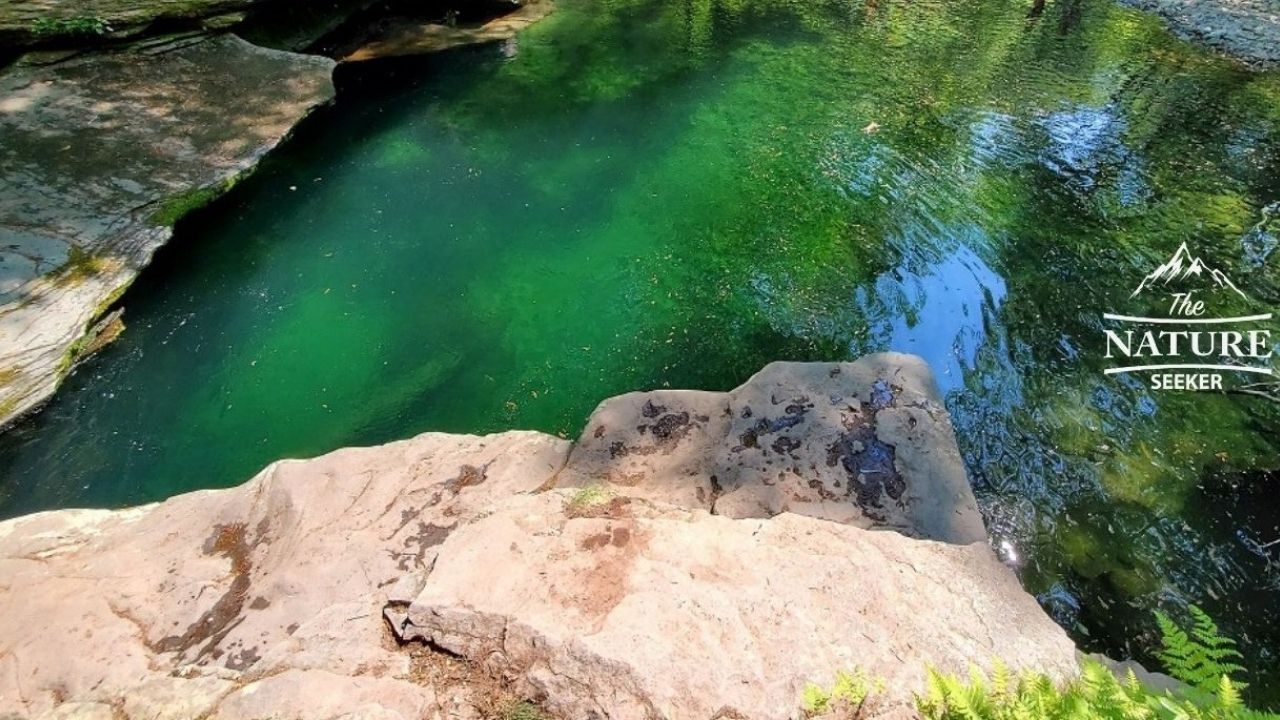 This shouldn't come as a surprise to anyone who knows anything about swimming holes, but you should definitely keep this in mind if you intend to go swimming here.
This photo shows you how clear the water is in Peekamoose Blue Hole, but honestly, it's freezing (usually that's how it is all the time).
When we reached this area, it was around 4 p.m and the shadows from the trees around the swimming hole made it even colder to jump in.
Though it took some prep, we eventually swam in it and did some cliff jumping too. If you are very sensitive to cold water or think you might get sick, obviously use caution and consider skipping the swim if necessary.
One thing that might help with the cold is wearing rash guard shirts and pants which will help your body heat insulate better and warm up after getting out of the water.
3) Wear good water shoes for this area:
While swimming in the blue hole isn't a big deal and you don't need water shoes for that, when you hike up to do some cliff jumping or walk on the shallow areas and touch the rocks or step over slippery spots, if you're not wearing the right gear, you might slip and fall.
Most water shoes will work well for you here and in my case, there's 2 brands I recommend:
Both are very reliable for these places and I rarely slipped, even in the most dangerous spots. Here is a video of me hiking Peekamoose Blue Hole with a pair of them:
Zhuanglin water shoes (great for Peekamoose Blue Hole):
4) Check out Buttermilk Falls nearby: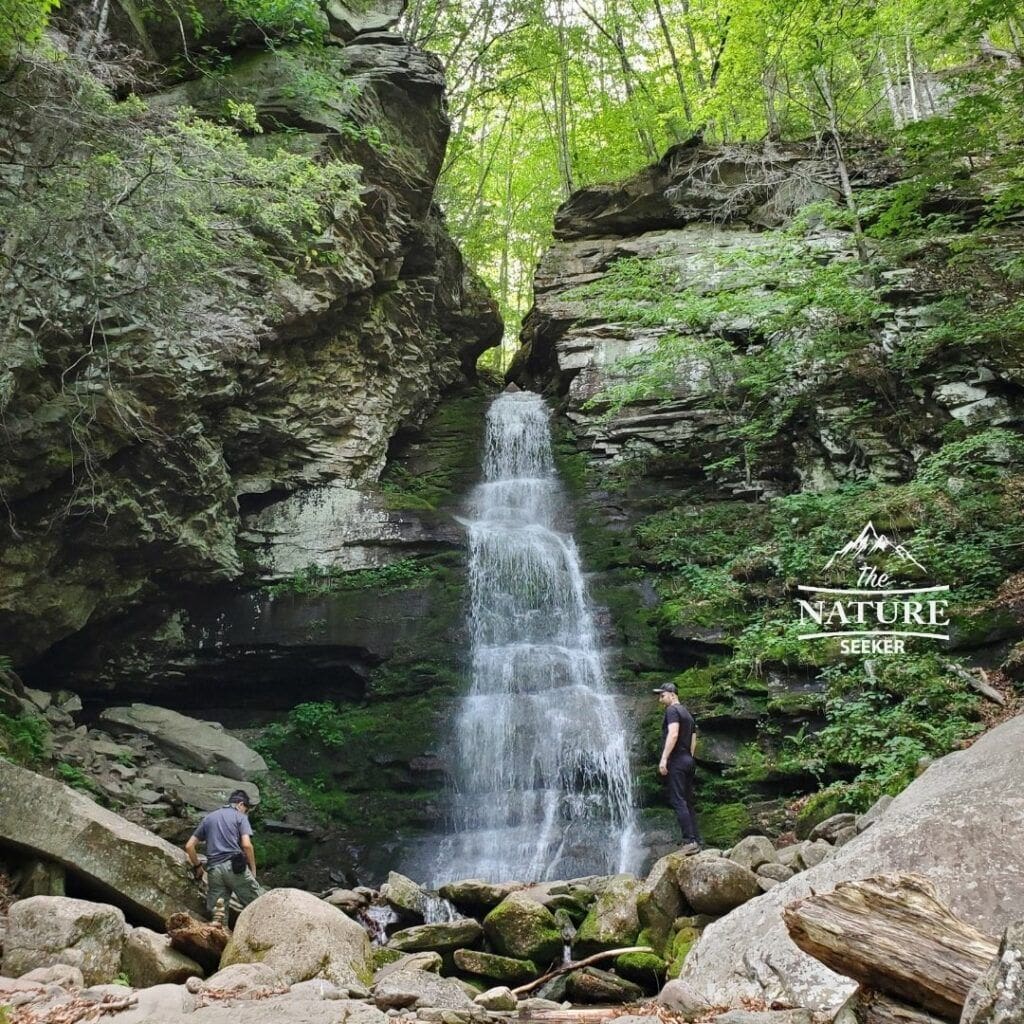 Buttermilk Falls was a very pleasant site to check out after our swim at Peekamoose Blue Hole and we hiked a little bit of it.
The great news is that this waterfall is very close to Peekamoose Blue Hole.
By car, it'll literally take you 30 seconds to reach (there is a parking lot right by this waterfall by the way), and by foot it's only about a 5 minute walk.
It's a pretty big 50 foot waterfall that is very scenic, and we were fortunate to not have anyone else in the area when we went there!
It's also on my top 10 list of waterfalls in the Catskills worth seeing.
Also a fun fact, there are multiple waterfalls in New York State that have the name Buttermilk Falls.
The most famous one is likely the one you'll find in a place literally known as Buttermilk Falls State Park.
And it's in the Finger Lakes area of New York (it's much bigger than this waterfall by the way).
Other hiking trails near Peekamoose Blue Hole:
5) Avoid going to Peekamoose Blue Hole on weekends!
Not only do you have to pay the fee to enter, but this place is extremely packed on weekends (as is any spot in the Catskills during that time). Speaking from experience (unless you love packed parking lots and large crowds), go here on a weekday.
Even though we went here mid day, the parking lot (which is quite small) was almost fully packed, so that shows you how popular this area is. On the weekend, I wouldn't be surprised if it got packed 10x more.
Reviews on Peekamoose Blue Hole (that you can see here on Tripadvisor) are generally good and the only major complaint is the crowds (not surprising). Your best bet is coming here on a weekday (and early) to avoid that problem. But I do also have other suggestions:
5 other adventures to explore nearby Peekamoose Blue Hole:
1) First are the hikes right near the parking lot here. Also since this is in the same region, see this list of Catskill hiking trails to know specific ones worth checking out.
2) Then we have other Catskill hikes I personally do (50 minutes away).
3) Here are other swimming holes in the Catskills besides Peekamoose Blue Hole.
4) Mohonk Preserve (1 hour south) and also Lake Minnewaska.
5) Harriman State Park (2 hours south).
Other than that, Peekamoose Blue Hole is certainly a very beautiful sight and the swim there was an awesome way to end our day hike near NYC especially after being so worn out from hiking Devil's Path earlier in the day!
At the end of the day, yes it is worth visiting this spot, and if you can come here when it isn't packed, you will have an awesome time here!