I have explored many Catskills waterfalls and this list of 10 really encapsulates the most popular ones you will see there, from the most gigantic to even a few unknown ones in the area which require special directions to reach.
Some of these Catskills waterfalls can be found right off the road, while others require hiking to. Either way, if you enjoy waterfalls and are close to the Catskills, then this is a list I recommend keeping on hand the next time you go there.
Here are the 10 best waterfalls in the Catskills you'll find: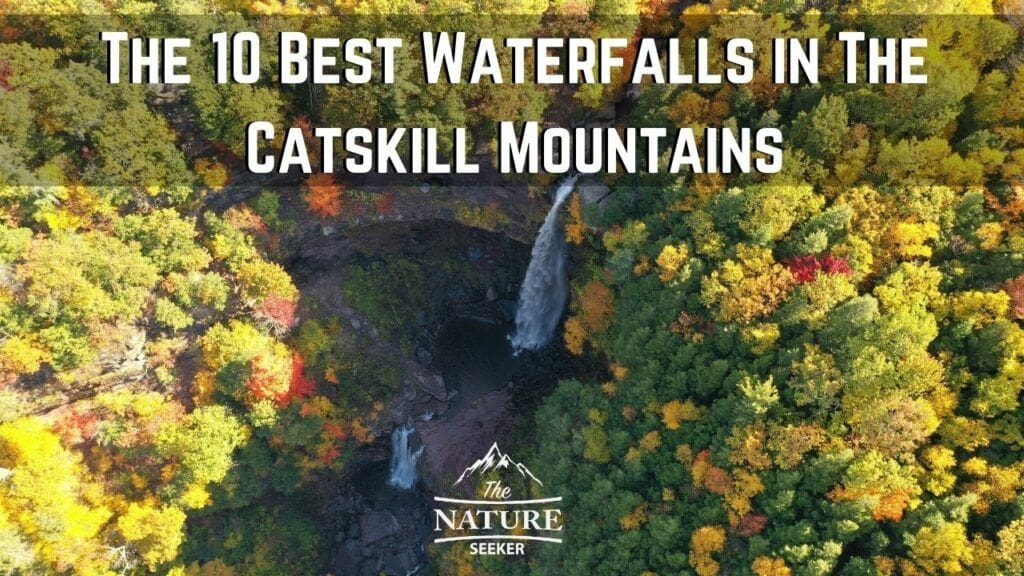 Buttermilk Falls.
Bastion Falls.
Fawn's Leap Falls.
Kaaterskill Falls.
Minekill Falls.
Awosting Falls.
Moore's Bridge Falls.
Vernooy Falls.
Stony Kill Falls.
Diamond Notch Falls.
Bonus: Plattekill Falls.
Let me show you where each waterfall on this list is located in the Catskills and what to expect if you go (if there's hiking involved, how long it is, or if it's easy to reach). Let's begin:
1) Buttermilk Falls: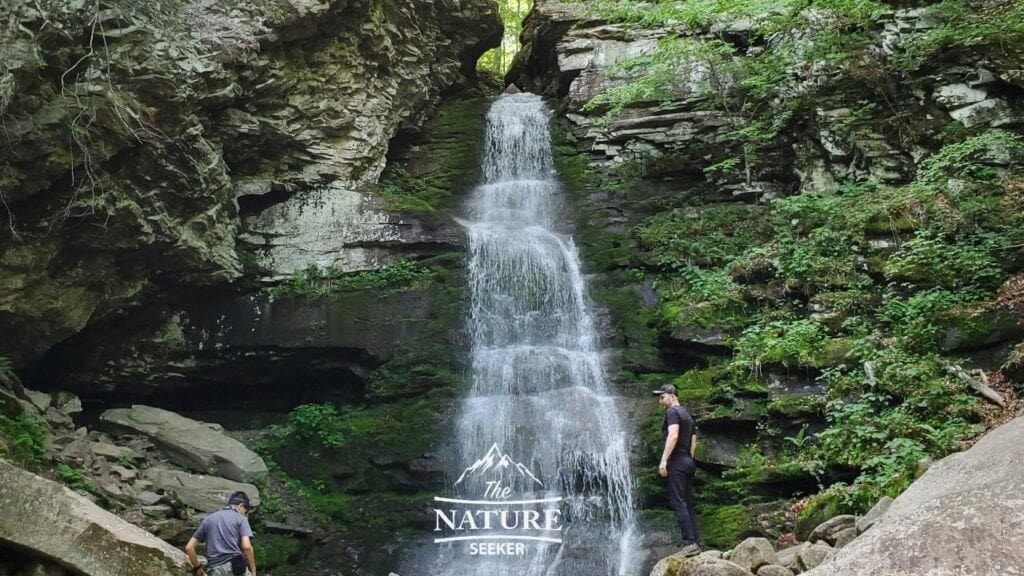 Location:
This is a beautiful waterfall located right by Peekamoose Blue Hole (well about a half mile from it).
Details:
Accessing it is simple (parking lot and short trail is located right by it). You can walk up to the base of the falls like you see in the picture here. Another option (a bit dangerous) is walking up the side of the falls to the top, but there's no way into the gorge itself that's at the top of it. If you go here, be sure to check out Peekamoose Blue Hole too, even if you don't intend to swim there, because it is also one of the most beautiful swimming holes in the swimming holes in the Catskills.
2) Bastion Falls:
Location:
Bastion Falls is another extremely scenic Catskill waterfall you'll find right off road 32A. It's name often goes unnoticed because this waterfall features a trail to a more popular waterfall in the Catskills known as Kaaterskill Falls.
Details:
While Kaaterskill Falls requires you to hike to it, Bastion Falls does not. You can see it right off the road as you drive there (it's also one of the most scenic drives in New York). As for walking up to it, 2 parking lots are available by this waterfall (they are often filled up on weekends) and then a short walk to the falls is required. But if you just want to see it from your car, you will be able to do that too.
3) Fawn's Leap Falls: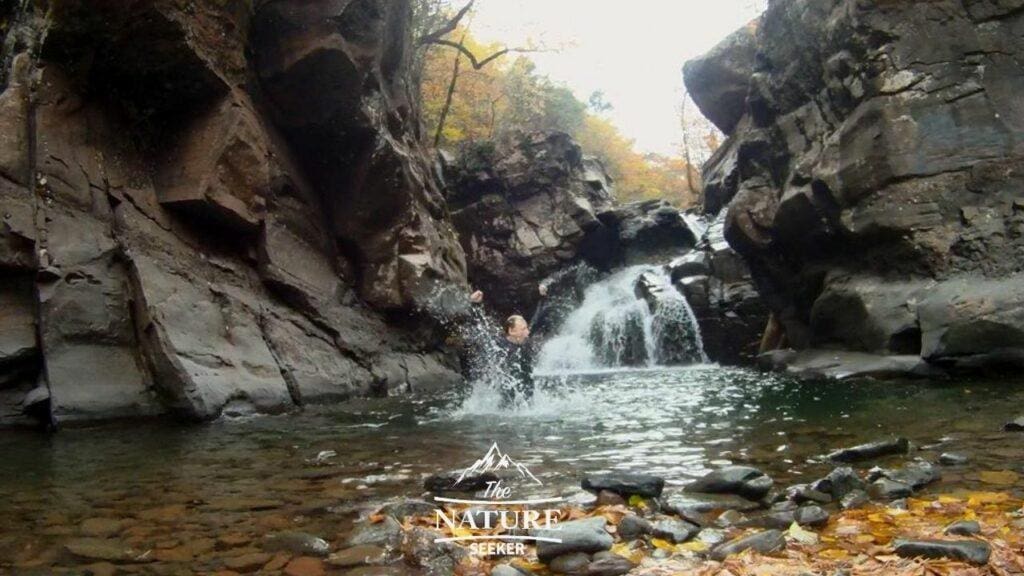 Location:
South of Bastion Falls on the same road 23A.
Details:
Fawn's Leap is actually a very popular cliff dive in Catskill Park but it also features a very beautiful waterfall (about 20 feet high) right next to the cliff dive too and while jumping in is risky, the scenery of this spot is spectacular.
To reach Fawn's Leap Falls, you have to park your car further down (or up) on Road 32A and then hike to the location which can be found on your GPS. A short, but steep scramble is required to get to this waterfall, but if you enjoy cliff diving or beautiful scenery, this is one waterfall I highly suggest putting on your list. It's not that difficult to find it and you should be able to see it on your GPS.
4) Kaaterskill Falls (the top Catskill waterfall in the region):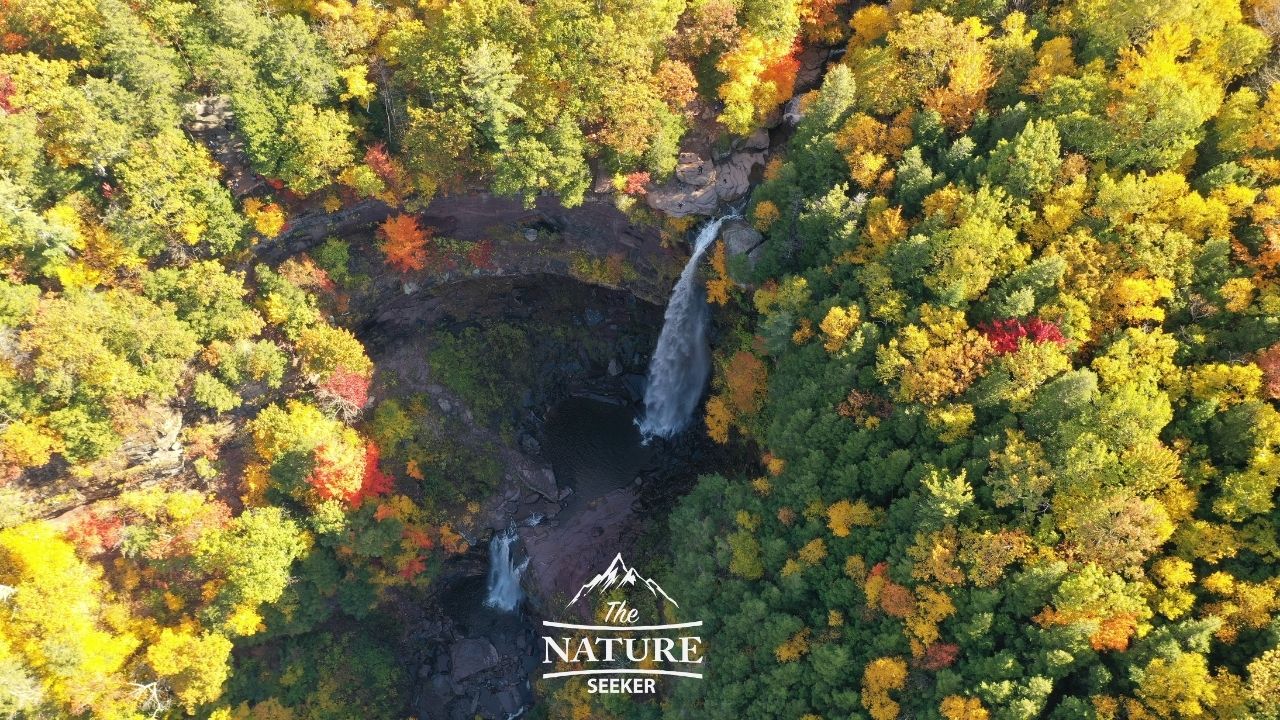 Location:
There are 2 access points, 1 from Laurel Hill Road (top of the falls) and one from a parking lot near Bastion Falls (road 23A).
Details:
There's a reason why most people who visit the Catskills go to Kaaterskill Falls: It's beautiful, it's huge and it's accessible from multiple areas. It also happens to be, at least in my opinion one of the best waterfalls in New York to check out!
Like I mentioned before you can access Kaaterskill Falls from the top area where a parking lot is available, with a short hike/walk to an overlook. There is also an area to walk up to the edge of it (not recommended). But you can also hike from the bottom up to the base of this waterfall.
You would have to park your car by Bastion Falls, then take the 1 mile hike up to Kaaterskill Falls. Steps are also available there to reach the second level of the falls, as is a hike to reach the top, so whether you want to hike from the top down or vice versa, there are a lot of ways to explore this beautiful waterfall in the Catskills.
5) Minekill Falls: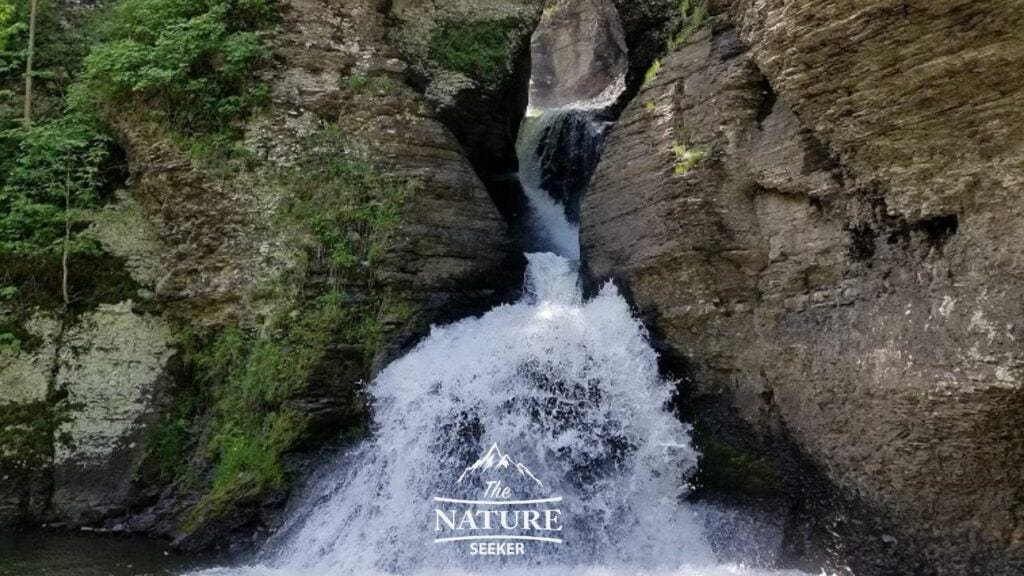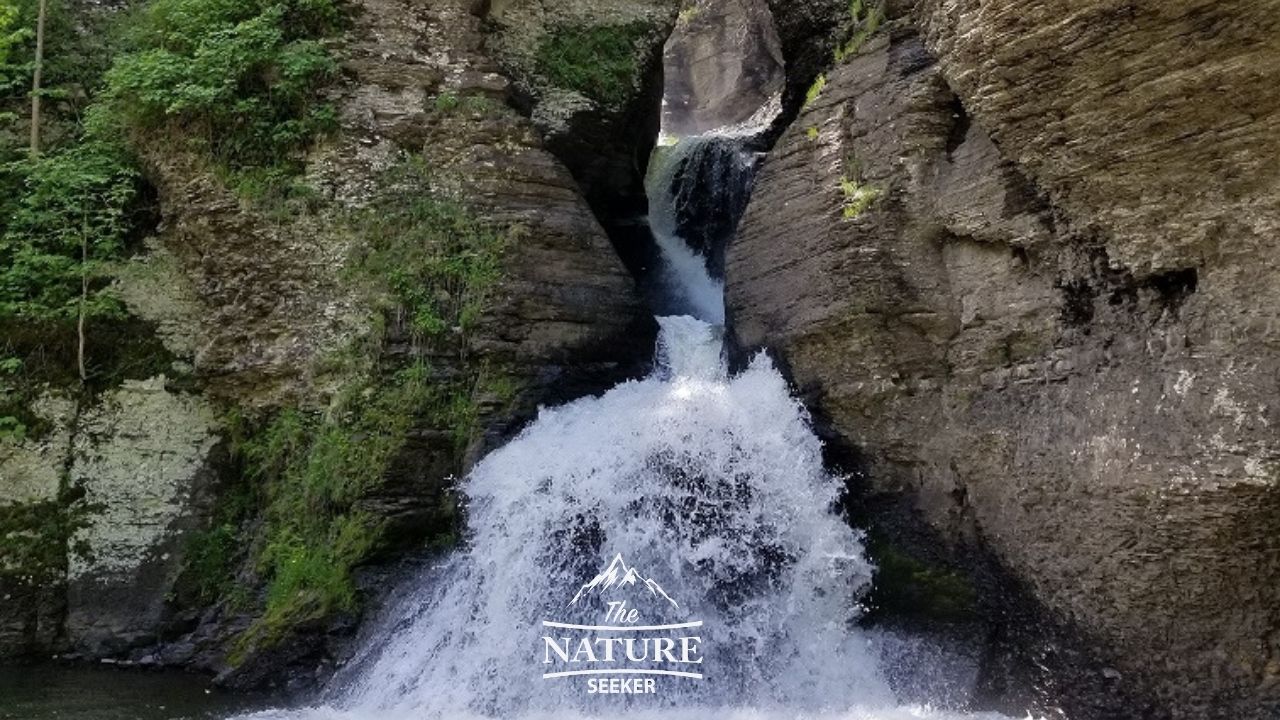 Location:
Here's a trailhead for Minekill Falls. It's located close to Grand Gorge.
Description:
Minekill Falls is a bit out of the way than any other waterfall on this list and doesn't get as many visitors, but it is beautiful and worth exploring if you have the time. I usually explore this spot almost every time I visit the Catskill Mountains and it features 2 options for viewing:
One is a short walk from the parking lot to an overlook above the falls.
And the other is a 1/4 mile walk to the base of it.
Not only is the waterfall beautiful, but the gorge surrounding it is a beautiful sight as well. There also happens to be a smaller waterfall behind Minekill falls which you can see from the overlook area on top and a ripple waterfall from the gorge at the bottom, all things I recommend exploring.
6) Awosting Falls: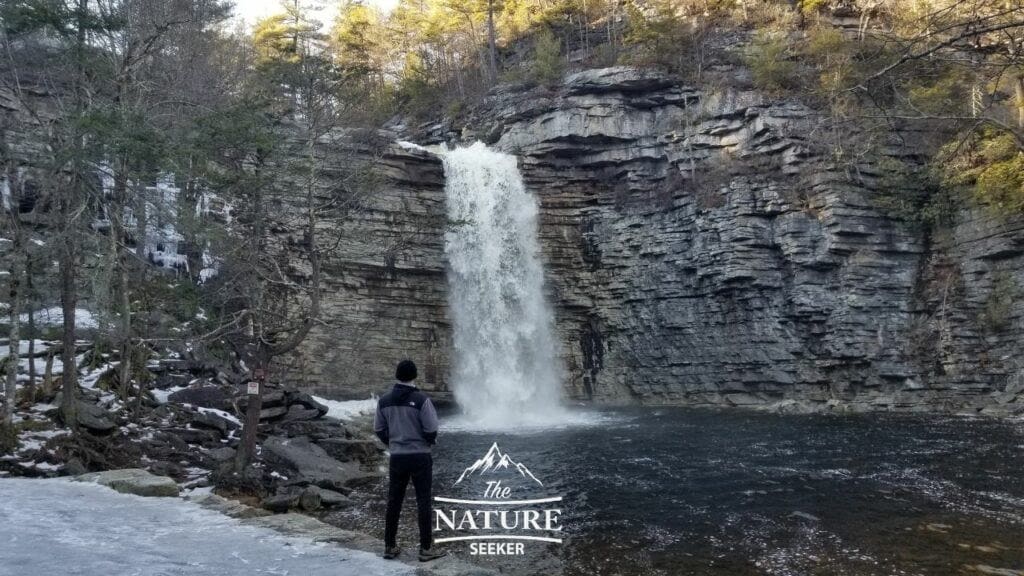 Location:
Awosting Falls is located near the entrance to Lake Minnewaska State Park, which is in the Catskill region (a little south of it) and it is the biggest waterfall in the Minnewaska State Park area.
Description:
Awosting Falls can be explored from the top and bottom, but unlike the other 2 waterfalls above, the top area doesn't have a gated overlook so I would be careful if you. But a short, zigzag walk is available next to it so you can reach the base of the falls and that is where you'll get the best views of it. It's beautiful year round here, but if you come here during winter (which I did), be aware that it's very slippery in this specific area. One recommendation is to come here in autumn (see more fall foliage places in New York).
7) Road 23A waterfall (Called Moore's Bridge Falls):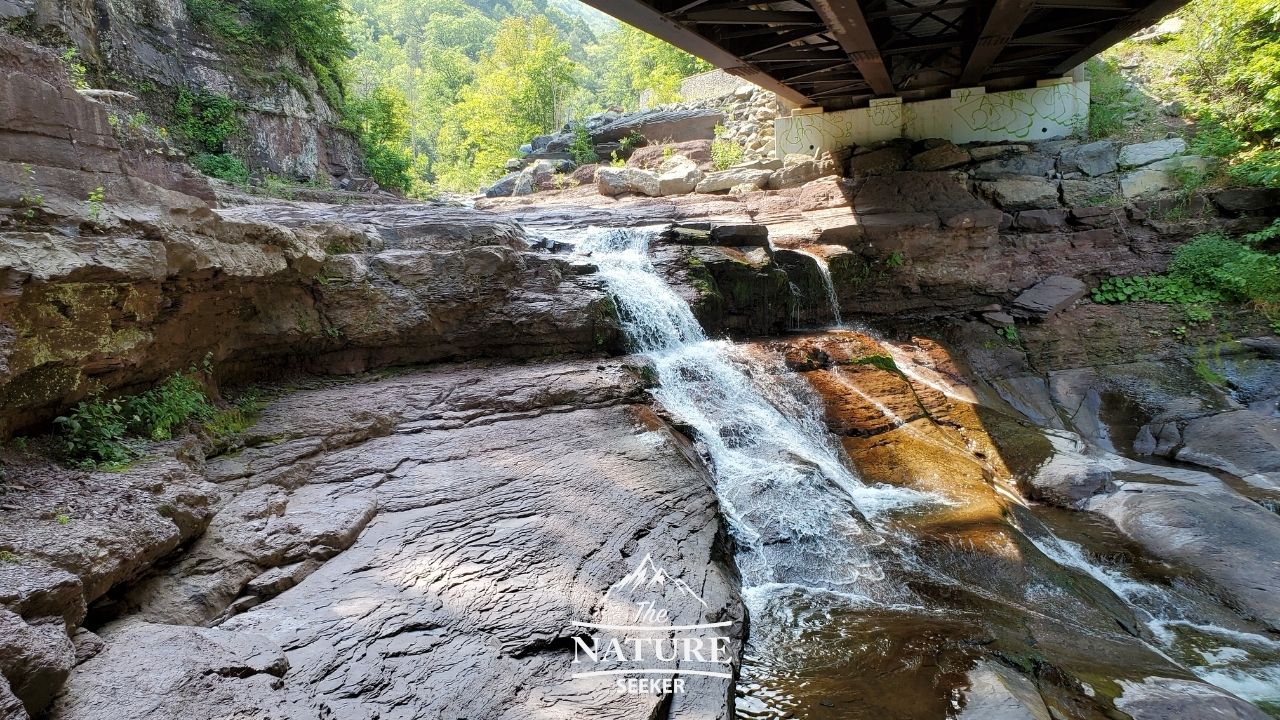 Location:
This waterfall is located between Fawn's Leap and Rat's Hole Park, all locations by road 23A. It's a much less known waterfall in the Catskills but it's also one of my favorite.
Description:
You'll find it and hear it under a bridge you cross on that road between those 2 spots and if you can find parking nearby, I highly recommend exploring it. A swimming hole is available as is a large area to sit and relax for as long as you want there.
Unfortunately this area is also commonly crowded on weekends and sadly there's many people who leave their garbage here. Don't be one of those people please. Special thanks by the way to Mark for sharing the name of this bridge (and waterfall). I used a simple strategy to find this secret waterfall that you can also use. Learn about it on my how to find waterfalls near me post here.
8) Vernooy Falls:
Location:
Vernooy Falls is located here. You will need to hike to it.
Description:
Vernooy Falls is a small, cascading but beautiful waterfall about half a mile away from the road and requires a hike to reach, but it also has a nice swimming hole available. It also isn't that far from Peekamoose Blue Hole (and Buttermilk Falls) and you can see it on your GPS.
To be on the safe side, I'd load up the Alltrails app before hiking here just to be sure you don't get lost in the woods. But this is a popular falls that actually might not be as crowded as some of the other choices on this list.
9) Stony Kill Falls:
Location:
Stony Kill Falls is another popular waterfall you'll find in Minnewaska State Park (also in the Catskills).
Description:
Reaching it is easy as it's only about 500 feet away from the parking lot (a short hike is required). If you do check out this falls, it's also easy to check out Awosting Falls which is in the same park anyway, so you can double up on your waterfall exploration here. I personally have not been to this waterfall yet but it is on my list when I make a future visit to Minnewaska State Park.
10) Diamond Notch Falls: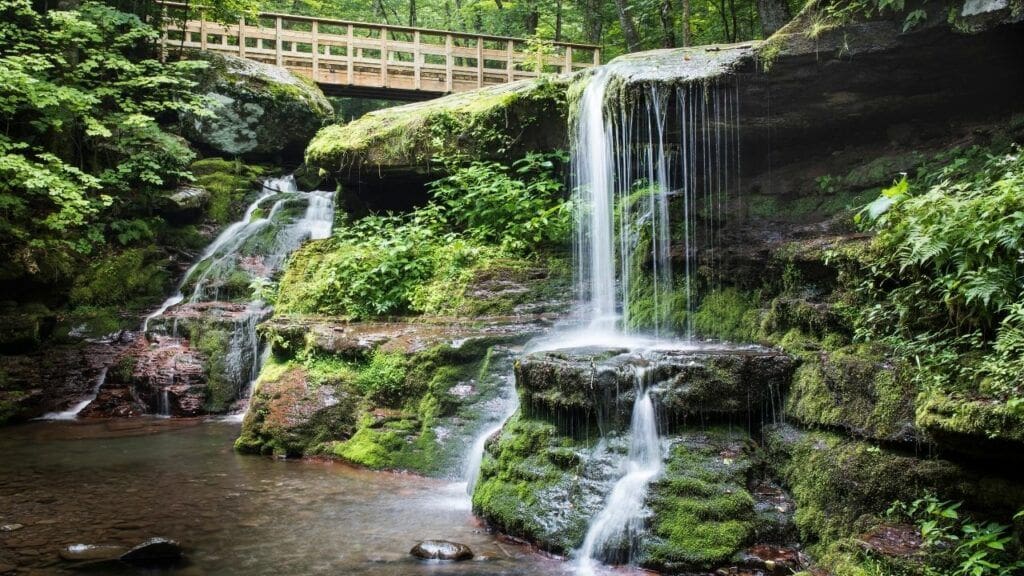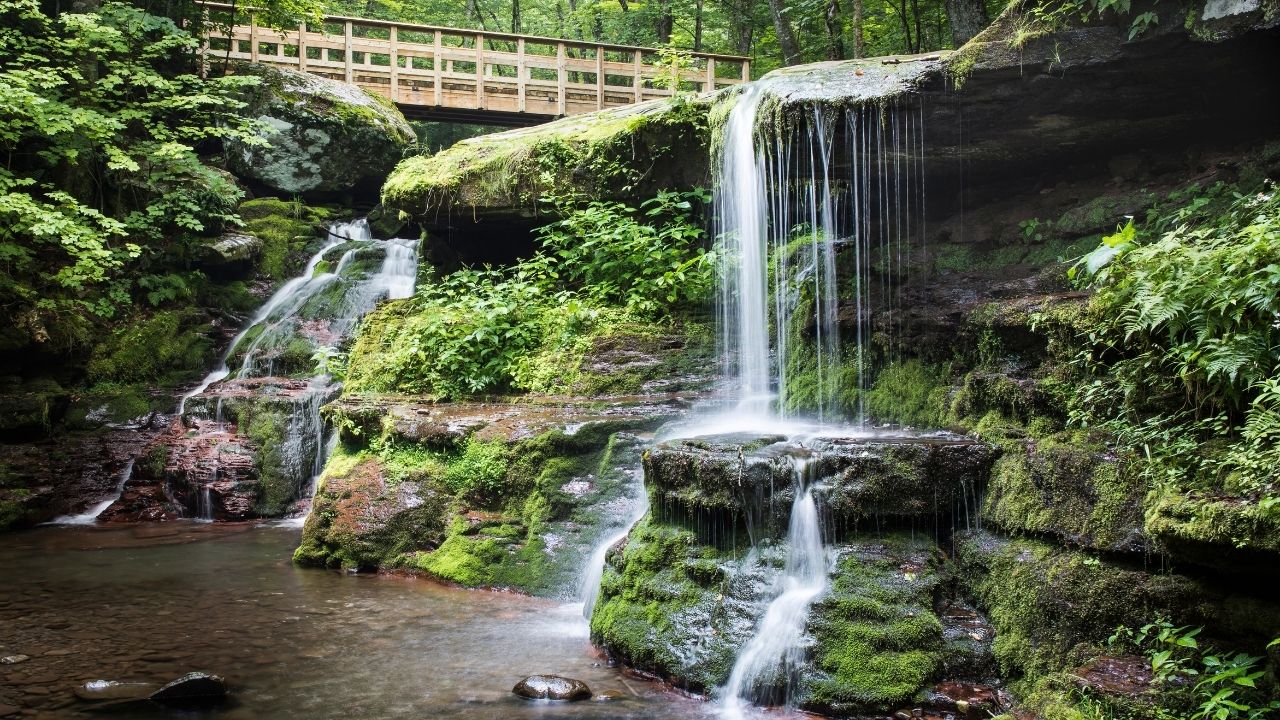 Location:
Diamond Notch Falls is another very popular waterfall in the Catskills and I've personally seen it once so far. It's beautiful, but it's not that large (maybe about a 30 foot height). It is also a checkpoint you cross if you do the popular Devil's Path hike in the Catskills.
Description:
Although there are several Catskill hikes that take you here, just know that you can easily access this waterfall without having to do that as there's a parking lot nearby (I included the GPS link to that parking lot and waterfall above) and from there, it's about a 1/4 mile hike get to the waterfall (there's also 2 other trails nearby you can see).
11) Plattekill Falls (one of the most beautiful Catskill waterfalls in my view):
Location:
Plattekill Falls is right by Platekill Road. There's about 6 spaces for parking your car there (and other parking areas close to it).
Description:
On my last trip to the Catskills, I decided to explore even more waterfalls and came across this one (Plattekill Falls). I was stunned at how I never heard of it before, because this waterfall has it all:
It's massive.
It's absolutely beautiful.
It's easy to reach and the surrounding area by it is itself a treat to explore, hike and drive through.
This waterfall is about 60 feet high and is located right by the Long Path hike, as well as Devils Path. Reaching this falls from the parking area takes about 10 minutes. Overall, I highly recommend you check this waterfall out (and absolutely make sure to explore the area nearby because there is much to see there too).
Are there more Catskill waterfalls to see? Yep, but: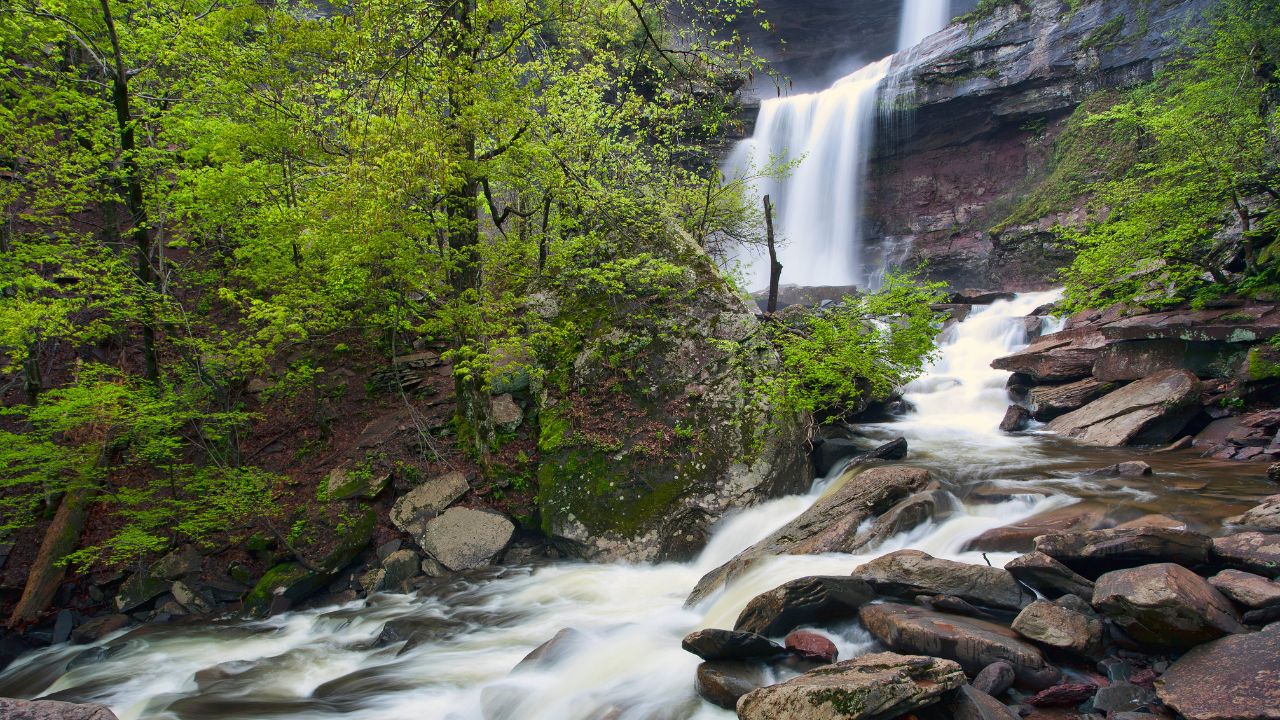 I honestly haven't explored every single part of this mountain region to tell you about that. I can tell you that these 10 are certainly some of the most beautiful and most popular (you'll quickly see why when you visit any one of them).
Want to know of more waterfall hikes in New York? Here's one on the best Adirondack waterfall hikes (further north of the Catskills). I also recently did a comparison between the Catskills vs Adirondacks which is also very interesting.