The Catskill Mountains have a lot of beautiful hiking areas to check out. Today I want to share 5 of them that make for an amazing one day adventure in this area to check out, some of which are secret hikes most people don't know about.
Here's a preview of these 5 hiking trails in the Catskills:
Start atop Kaaterskill Falls.
Visit North South Lake and the amazing overlook there.
Visit Minekill Falls.
Revisit Kaaterskill Falls, but hike it from the bottom up for an incredible hiking experience.
Explore Fawn's Leap, a secret waterfall, amazing gorge and Rat's Hole Park (all close to each other) and do cliff jumping to finish the hike.
All together, you can do these 5 hiking trails in one day in the Catskills and have an incredible time in the process.
In fact, I'm going to make a challenge out of it and show you how I do it whenever I go up here.
Here's one of the secret spots in the Catskills I'll reveal to you (among others):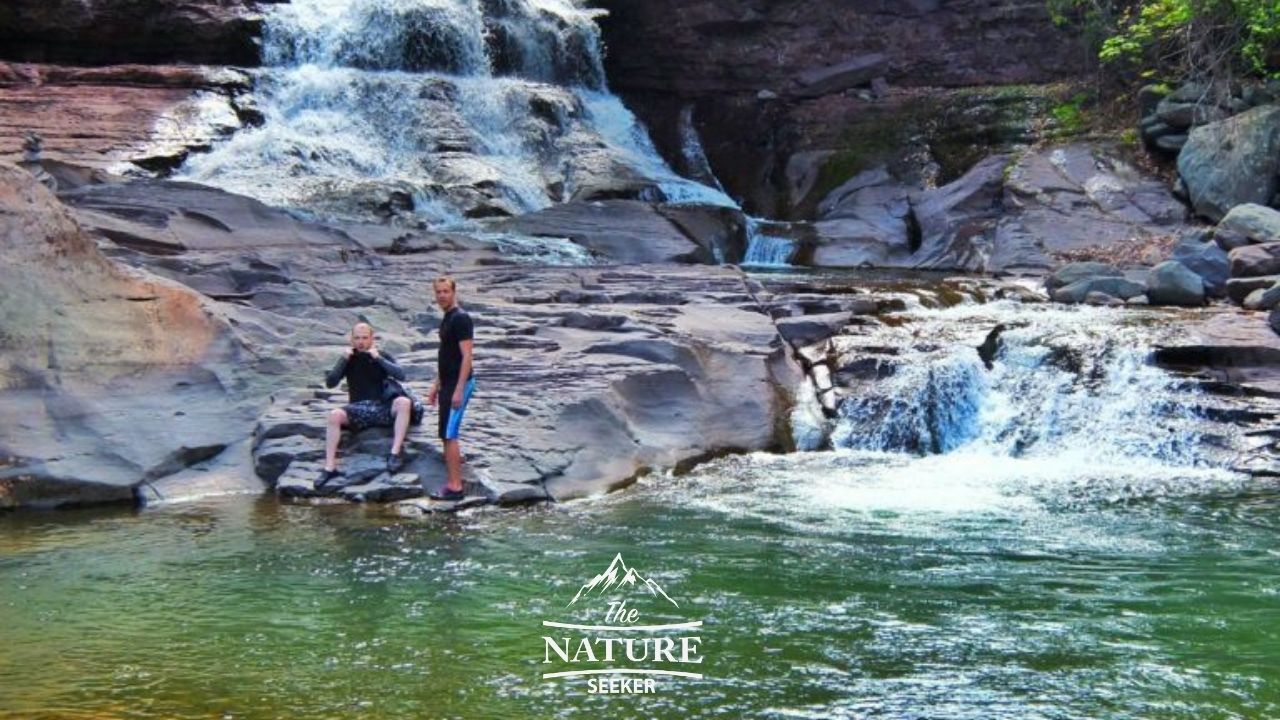 It's one of the secret waterfalls I'll show you.
Quick background information about the Catskill Mountains:
The Catskill Mountains are in New York State, and NY as a whole isn't exactly known for it's nature, and that's because most people think of the actual city, but a simple 2-3 hour drive up north outside of it will have you pass through the Catskills (and here are other scenic drives to do in New York State).
And if you have the chance to visit the Catskills, you will never forget them, especially once you explore the hiking trails I'll be showing you today!
Now I will warn you that some of the areas I am going to tell you about that I personally visit are not easy to navigate through and in some cases can be dangerous.
But they are recommended for athletic and relatively physically fit people who enjoy nature and an adventure and trust me, if you fit one of more of these requirements, you are going to have an unforgettable trip. 
And I stand by that word, because every single person I have ever taken across this path, they were absolutely raving about it, wanting to do it again and the pictures I put up after each trip keep attracting more and more enthusiasts!
Shortly put, the reviews for this trip are easily 5 stars and I might even start tours through it in the future (let me know if you want to join below!).
Now when it comes to the secret locations on this list, I mean places that very few people know about to visit in the Catskills, but I'm going to share them with you today.
They aren't hard to find and in some cases, it's remarkable how easy they are to miss!
But they are amazing spots that will really help you see a side of the Catskill Mountains that is off trail and truly remarkable to behold!
I have found that in my hiking adventures, including in the Catskills, it's always a good idea to explore beautiful areas off the main trails where most people go.
It's usually in these little spots that you find incredible gems like the ones I'll share with you in a moment! So let's get into these adventures!
Here's how this adventure/challenge through the Catskill Mountains works:
1) There are 5 hiking areas that I visit on my trips to the Catskills (the 5 you read about above, in the order it's shown).
2) This hiking trip happens during the spring and summer seasons.
3) These 5 areas make for 1, very intensive, yet extremely fun day hike, about 8 miles in total and most of these locations are places you won't see too many people on, especially on weekdays because many of them aren't known about.
4) If you plan on visiting all the 5 areas, even if it isn't in the same order as I visit them, make sure you arrive to at least one of the destinations around 8-9 am. And that's because given the time it'll take for you to hike, get in the car, and go the next destination and so on, it will really take up most of the day and ideally you will want to finish everything before 6 pm.
This is because after that time, it gets pretty cold up in the mountains and you're probably going to be quite tired, by which time I will recommend a very delicious restaurant to you below.
Here are 5 things you will be doing in one or more of these a

reas in the Catskills: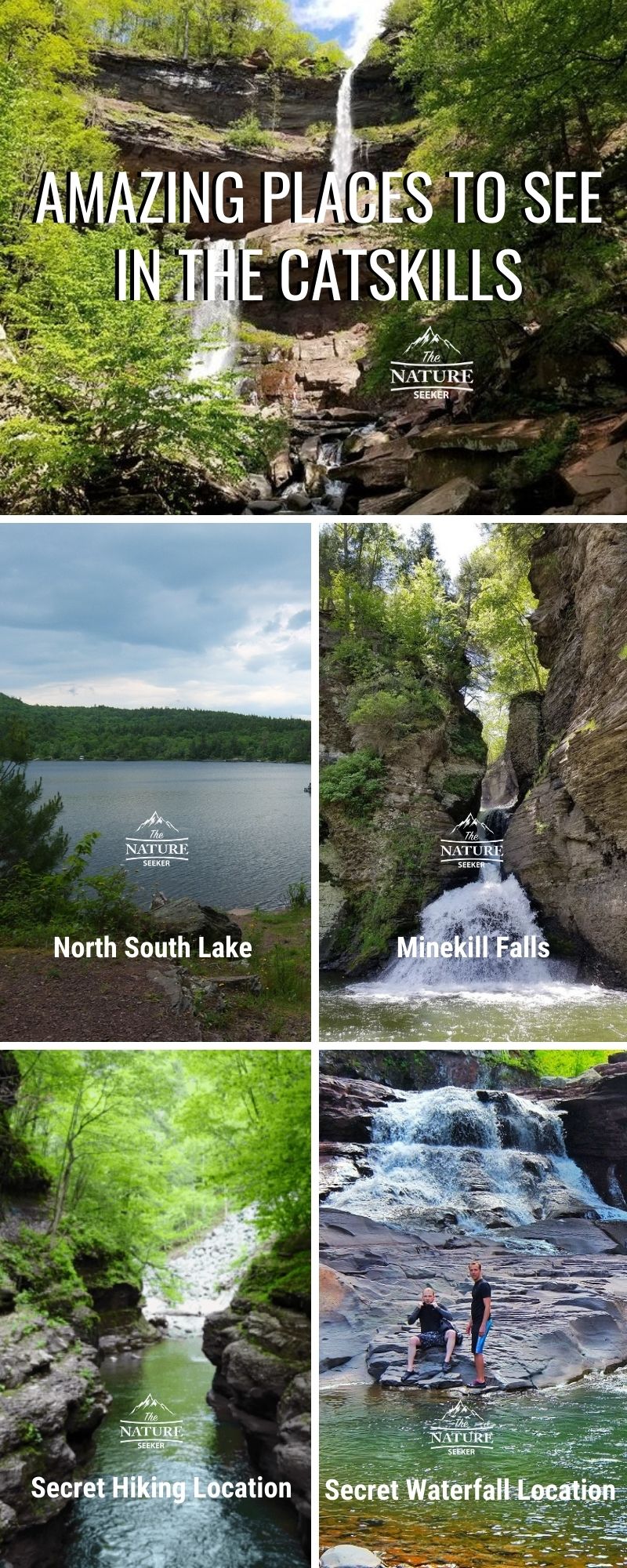 Note: You don't have to do all of these activities, but if you're athletic, adventurous and want a challenge, you can try to complete them all in a single day to really get the most out of this experience:
1) Hiking trails.
Well obviously, but not your typical hikes. There will be some very challenging and exciting places you're going to be checking out.
Like I said, I recommend you be in at least some decent shape, not have knee issues or other major injuries. If you plan to do this with friends, make sure they are also fit.
2) Plenty of things to take pictures and videos of.
Not only will you remember an incredible trip, but you'll have ample opportunities to document it on camera and videos, which I always take with me as I always seem to capture some new, breathtaking moments.
3) Cliff jumping, swimming holes and more.
There are going to be at least 3 areas on this trip where you can jump off rocks into water. One of them is about 30 feet high, another is about 10 and the last one is 15 feet. There is also a rope swing on the last one which makes for some exciting jumps!
Now with cliff jumps, also comes hiking through water and rocks. Some of the hikes will not be dry at all. You're going to be going through water, getting wet, coming back out, drying up, continuing the hike, going back into the water and even swimming through this place: 
Prepare to get wet and enjoy it!
4) Trail running, parkour and more!
Hopping rocks can be risky, but here you'll have plenty of options to do this.
While I don't recommend you go full Parkour crazy here and go for flips, it will make for some crazy fun jumps and adventures. So be careful here, take your time with the hopping around and you should be fine.
Note: Do not do these activities when it's raining or if the rocks are wet!
Should you get into a situation where you're hiking in these areas and it gets wet (or starts raining), keep a pair of good water shoes handy. I recommend something like the Zhuanglin water shoes for that.
5) Swimming!
The water there is quite cold, freezing even, but if you do these activities when it's warm, I assure you, by the time you start and go through some of the areas, you're going to be begging to go for a swim to cool off and it's going to feel like a rebirth when you do!
Alright, so here are the 5 hiking trails to check out in the Catskills (in detail):
Now some of these spots are hidden, secret locations very few people know about and some are more of the popular, mainstream trails.
1) Start with exploring the Kaaterskill Falls overlook:
Whenever I go to the Catskills to do this challenge, it begins here. Kaaterskills falls is one of the most unforgettable and largest waterfalls in the United States happens to be here. And it's one of 10 of the most beautiful waterfalls in the Catskills.

It is over 200 feet high and with the way it's shaped and all the access that's available, you will really be able to experience some great adventures and take some awesome pictures!
Kaaterskill Falls is not one of the secret spots on this list, but it's so beautiful that you should check it out if you are in the Catskills. However, this part of the trip is just a warm up! But it's going to be a breathtaking warm up.
2 ways to see the upper area Kaaterskill Falls:
1) There's the outlook area which I'll show you shortly.
2) And then there's one where you can get to the edge of the waterfall itself. It's not always safe there so please be careful if you go.
Note:
Going to the Kaaterskill overlook is the safe and recommended path for beginners. Here is a photo of the Kaaterskill falls during the fall: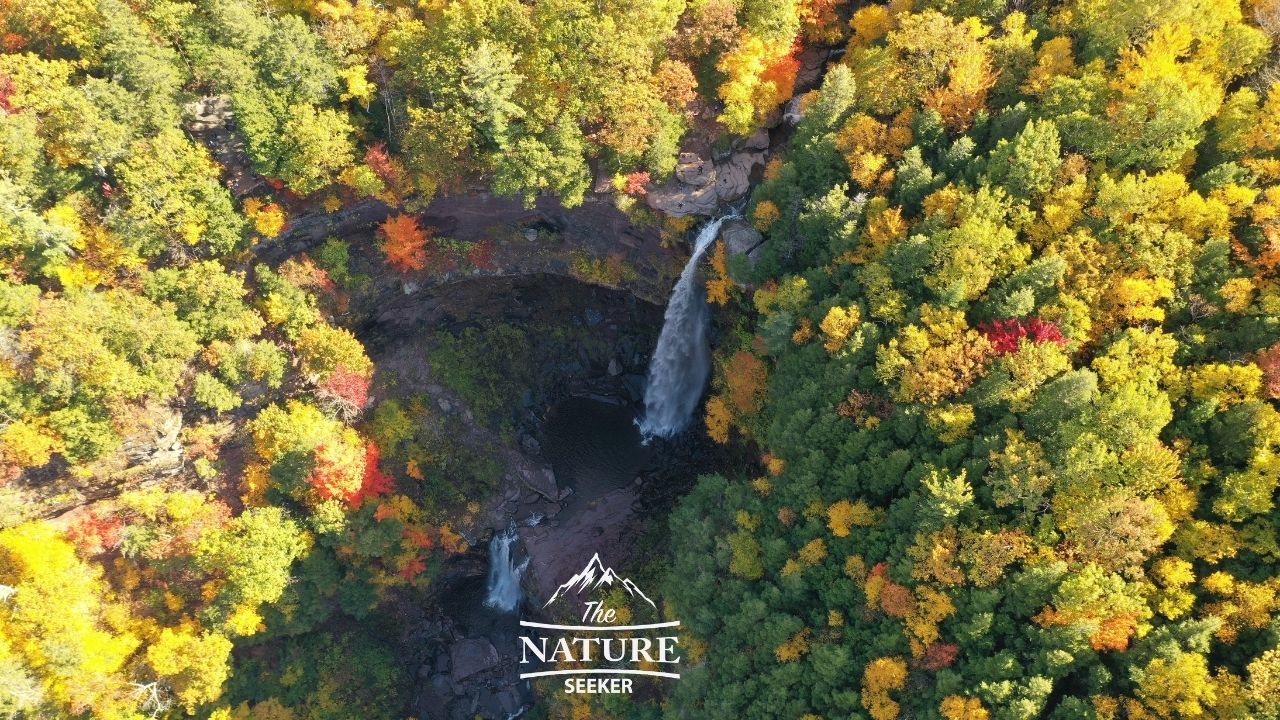 2) Explore North/South Lake and it's amazing, "Secret Overlook":
Once I finish enjoying the view of Kaaterskill Falls, it's onto the next destination, and it's only about 5-10 minutes away.
It's a combination of a beautiful double lake area known as North South Lake, and amazing hikes surrounding it, one of which I do everytime I go up there, and it has an "overlooked" viewing area many people don't actually know about!
Now getting there is easy and the views and activities are also fun. Here is how North South Lake looks: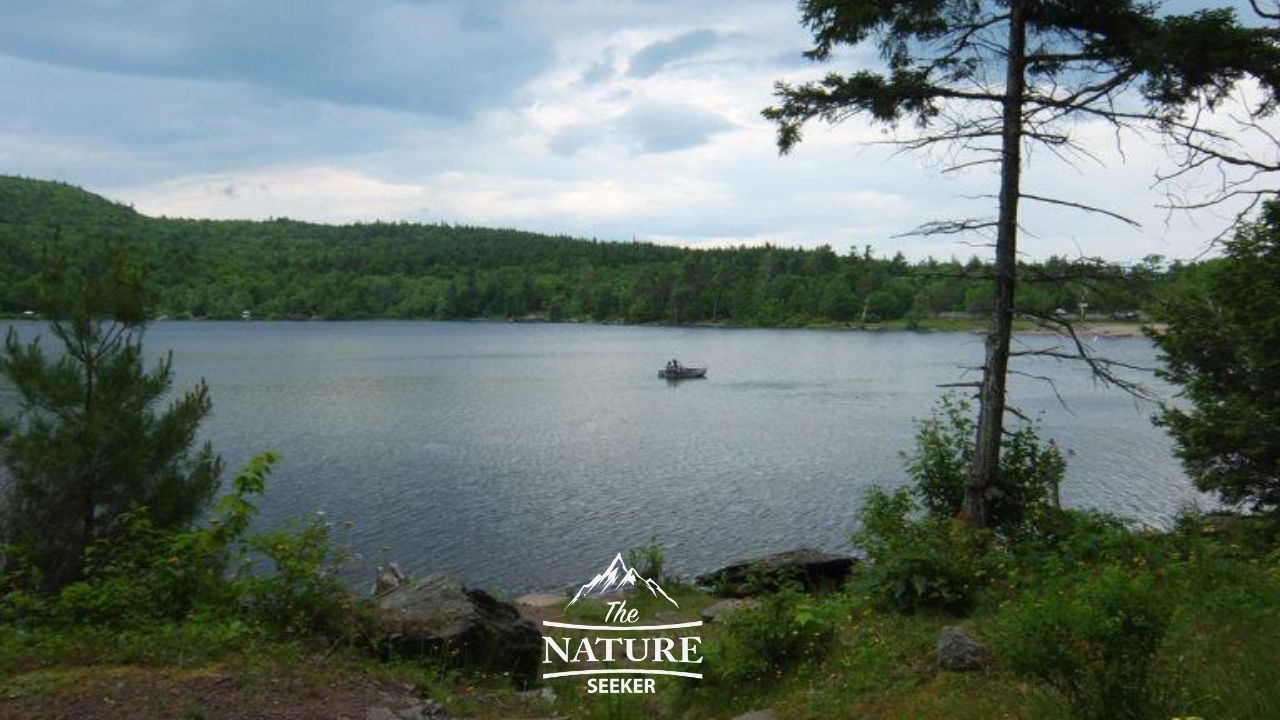 However, what we're trying to accomplish here is visiting the secret overlook that's near North South Lake. To get there, follow these directions:
1) Enter into North South Lake. Normally the price for a single car to visit this area is $10 for the day.
2) Once you enter, stay to the left. We're going to be visiting one of the lakes out of the 2 up there.
You can actually go right and hit the other and still visit the same outlook, but I'd rather you follow one of the road so it's easier for me to give you the directions.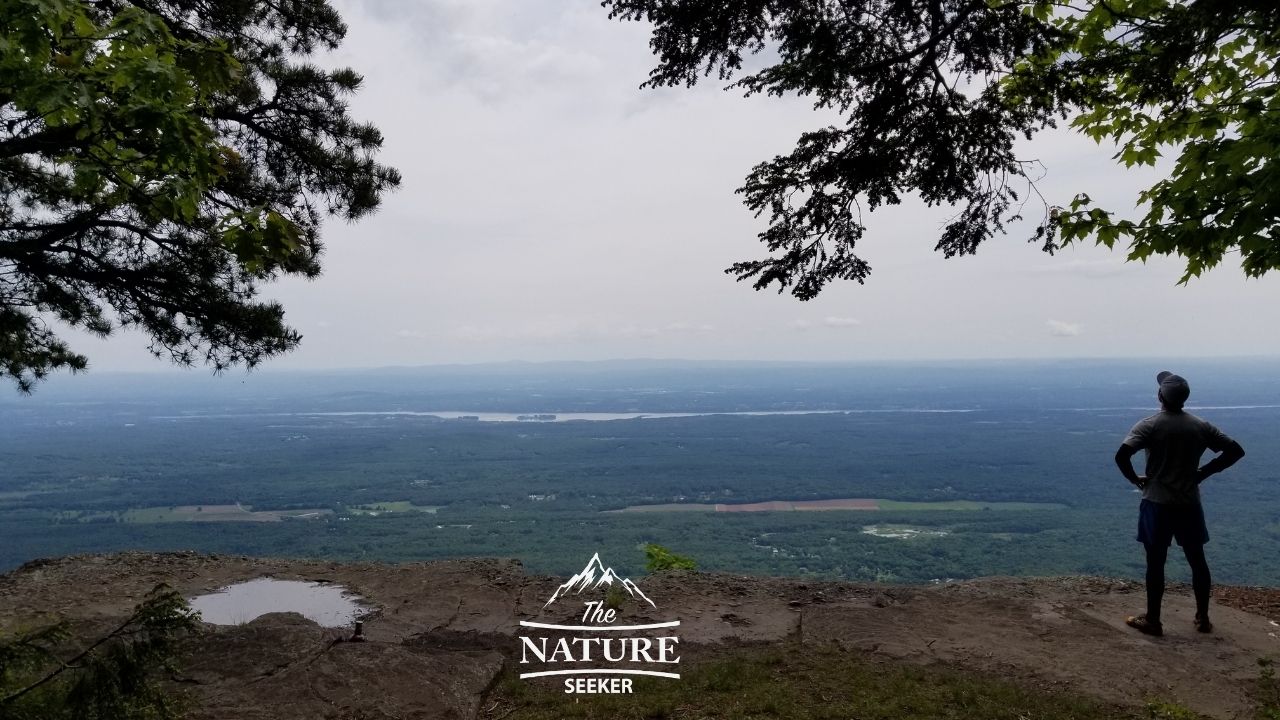 3) So as I said, stay on the left and keep following the main road until you hit a parking lot. It's quite large and located right next to the lake.
Things such as barbecue, kayaking, canoeing, swimming and picnicking are available, but what I recommend doing is parking the car and heading up the trail to the area where you can see 5 states. 
4) Now to get there, from the parking lot, you will see 2 trails, one will follow the lake to the other lake, and one will be seen behind a stop sign about 500 feet away from the parking lot. Just walk towards the area where there is a lot of gravel, then towards the trees to spot it.
5) Follow the trail (it'll loop around and up), and it'll take you to the outlook. This is actually known as the Boulder Rock trail and I have hiked it entirely, but this area of it is where I think you'll find the best views!

6) Now you can technically take a break here and head back, but I would rather you see a much better view of what's up there. Right next to this huge outlook (where again, you can see 5 states), there is a BLUE trail. Follow it up.
7) It'll take you about 20 minutes to reach the top, but once you do, seek out this place:
It's hard to miss, as long as you follow the blue trail, you will see an opening that looks like the picture above. Now in this, the person that you see is my friend who decided to put up a hammock right at the top, but from here, the view is mesmerizing (and dangerous), so watch your step!
Take some time to enjoy this place, because it isn't just beautiful up there, it's very peaceful and quiet! People have picnic's here sometimes as well.
Now you can choose to head back down to the parking lot and head to place 3 or if you choose, continue along the blue trail until you reach what is known as Boulder Rock. It is also an outlook, but it has a lot of trees covering the actual outlook.
The only good thing about this outlook is that there's a huge boulder on it. I typically do not go there and stick to the above outlook since it provides the best views.
3) Explore Minekill Falls:
Once I finish up this hike, the next destination on this challenge is to visit a place called Minekill Falls and it's about 30-40 minutes away. It's one of the many beautiful waterfalls in the Catskill Mountains.
Driving to see this area will take you through a beautiful road that shows you the beauty of the Catskills and will help you recharge for the next hike.
The beauty of Minekill Falls is that it can be explored 2 different ways (and I do both):
1) The first way is the more easier one that just about anyone can do. It'll take you to the base of the falls and you can see a picture of what it looks like to the right.
If you want to experience an easier, less dangerous hike than others on this list, this is a good option to try.
2) The other is a bit secret but is located close to the overlook of Minekill Falls. It's dangerous, narrow and not recommended. But it will take you to the top of Minekill Falls from another end, and have you basically go under the bridge that you'll see as you are on that overlook.
I won't be giving instructions on how to find this secret hike because of it's dangers, and I don't want to encourage people to do it.
Like I said, I will do both options to get the most out of my time at Minekill Falls. If I visit this area with beginner level hikers, I'll go for option 1 most of the time.
What the secret trail to the back of Minekill Falls looks like:
Like I said, it's dangerous and I don't recommend it, but when you stand at the overlook, you can get a pretty good view of what it looks like.
So that should be enough for most people.
To hike down will require a short but extremely steep and narrow hike.
But if you want to see a preview of what this place looks like when you get there, see the photo to the right.
If you're wondering if this is illegal, I honestly don't think so because I never saw any signs for that.
I just recommend taking the beginner level trail to the bottom of Minekill Falls and enjoying that.
Fun fact: The Long Path trail is next to Minekill Falls (very famous hike in New York).
It's a beautiful, short walk down to it and you can take many good photos there. Once you finish this hike and part of the trip, then it's onto the next part:
4) Backtrack back to Kaaterskill Falls, but now you

're hiking up to it: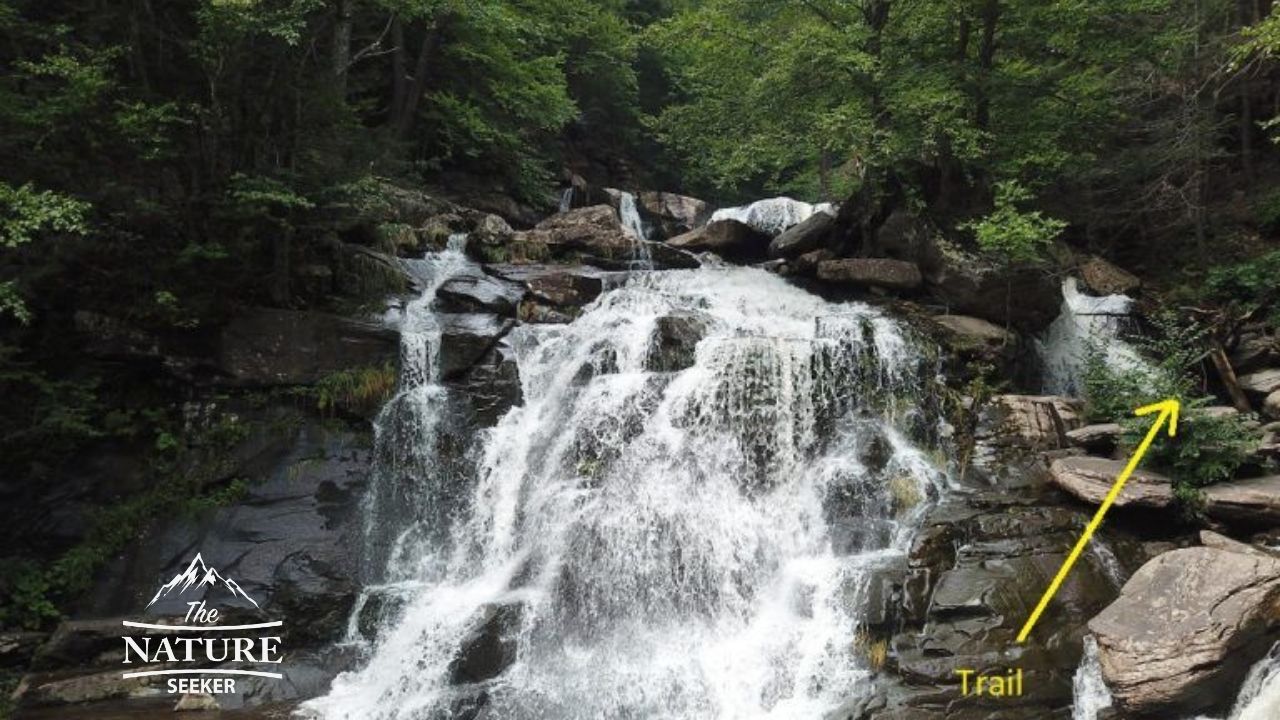 Instead of going back up to the top of the falls, we'll head to the bottom and make our way up.
Retrace your steps from Minekill Falls back to road 23A, make your way back through the little towns and sights until you reach a huge parking area on your right. 
This is where you will find the parking lot to the trail up Kaaterskill Falls. Park there (usually on weekends, this place gets pretty busy, if so, there is another parking lot further down 23A, and not too far away). 
You can't really miss the trail, but just in case, walk down the road until you reach a bridge. It is only a few hundred feet away from the parking lot.
You will see Bastion Falls:
1) This falls represents the beginning of the trail up to Kaaterskill falls.
2) Make your way up the trail to the base of Kaaterskill falls (it's about a 1/2 mile hike).
3) Once there, you should see this iconic view of the falls:
Every season, this waterfall is beautiful and well worth looking at! But I think the one in the spring is more beautiful.
Either way, this waterfall's height is between 200-300 feet. and you can explore most of it from the bottom up (which you will for this challenge).
1) Starting from the bottom (where you see the picture being taken from):
2) You can walk up to the water and take a small dip if you wish, but there is another level to this falls which you can reach by simply walking up the stone steps to the right of the picture above (you can't miss them).
They purposely made these to help people get from the first level of the falls to the second.
Personally I am not a fan of this as it has been bringing a huge crowd to this place, but it's there and I have no say.
3) Anyway, you can take these steps to reach the second level of the falls or even take them all the way up to the top (There is a trail which loops around the falls and takes you to the top).
4) I personally prefer to be at the second level and relax there, especially on warm days.
There's good places to tan and a small pool you can swim in. Although I would caution NOT to stand underneath the actual waterfall as you may never know what could fall from the top!
Here is a picture from the second level of Kaaterskill falls:
This image is actually a small "cave" inside the waterfall if you hike up just a little bit. It is going to require that you squat through this area, but it's amazing to view it!
Once you finish it, head back down to the base of Kaaterskill Falls, enjoy the views once more and get ready for the next challenge! Before you do that, here is a cool comparison photo of Kaaterskill Falls in the spring vs fall: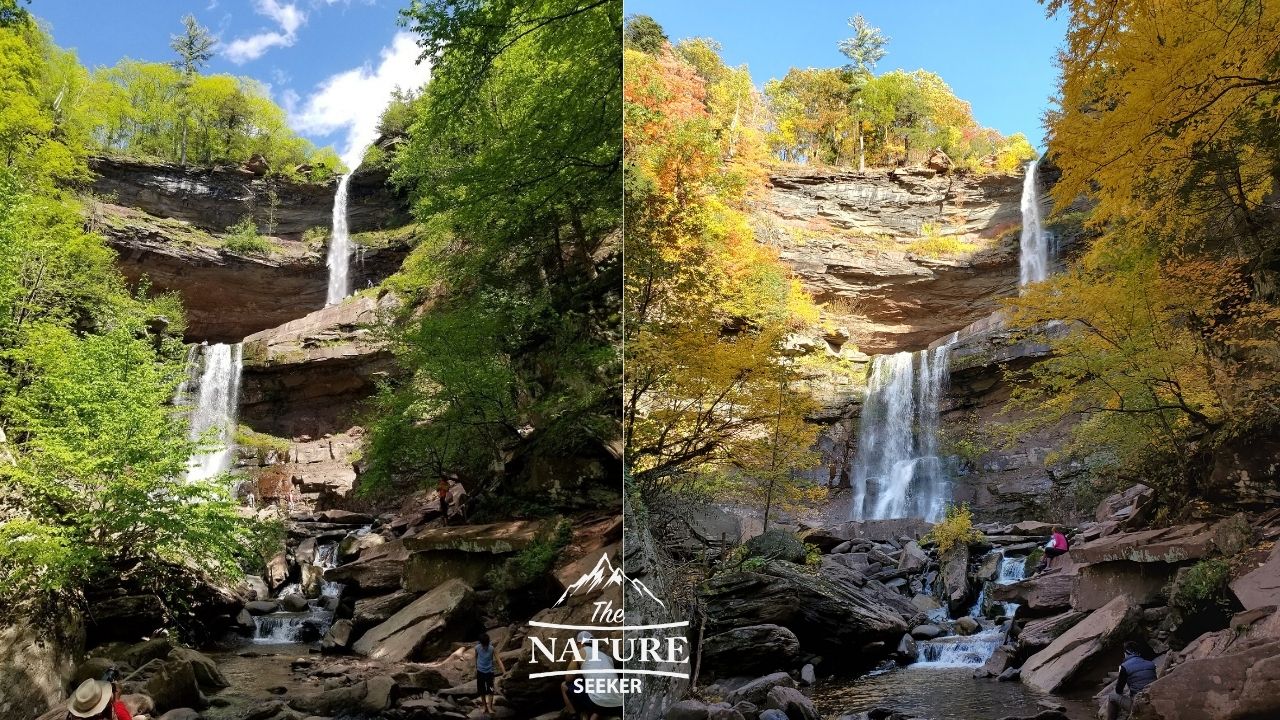 Now when you're satisfied with the views and activities here, you can make your way back down to the parking lot, BUT here's a cool "alternate route" you can take which I often do with my friends.
Here is where the secret trail of location 4 begins: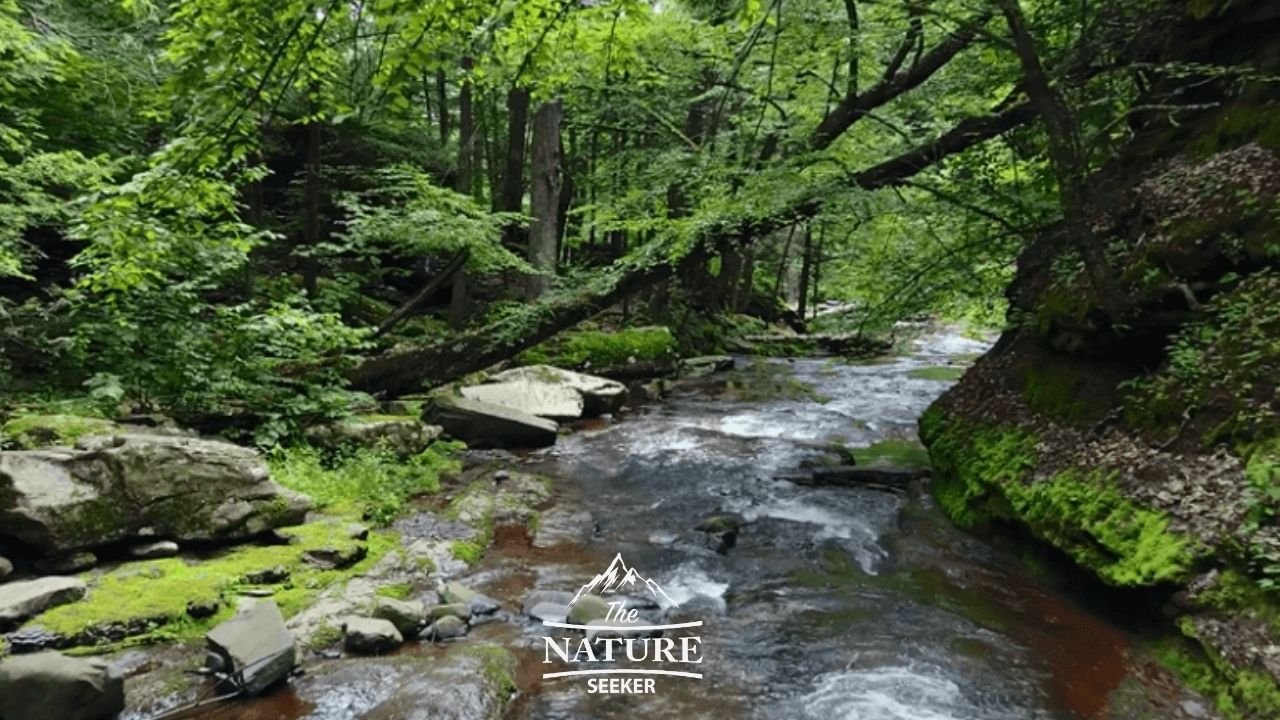 Instead of taking the regular trail back down which you originally took up to Kaaterskill, head downstream via hopping the rocks that run parallel to the trail.
This is an awesome experience if you love parkour and challenging yourself and the scenery is even more beautiful on this parallel trail than the official one next to it (marked in yellow).
You're going to be hopping rocks.
Going into the water.
Walking over and under downed trees.
And much more.
Here's a preview of the views of this secret trail:
It is a bit dangerous so don't do this if you're not flexible or used to hopping rocks (and stay from the wet ones, they are slippery!). And please wear water shoes for this.
5) Fawn's Leap, a secret waterfall, Rat's Hole Park and more adventures to finish the day!
The last stage of my trip in the Catskills ends pretty much where I started my drive into the actual Catskill Park and it happens to be the place that holds the most epic activities in my opinion on this list. We're talking:
More rock hopping.
Cliff diving.
Swimming.
Cool natural jacuzzi's.
Rope swings.
And more.
There are 4 specific places to explore in this area:
Fawn's Leap (cliff diving area, but it's dangerous).
The secret waterfall further east (downriver).
The beautiful gorge area that feels like a tunnel.
Rat's Hole Park where more cliff diving and rope swings are available.
Here is a map of the locations and which activities I do (from 1-4). It begins at spot 2 (Fawn's Leap, and ends at Rat's Hole Park, which is spot 5).

1) It begins in the parking area:
To reach spot 1, you first need to head back the parking lot that took you to Kaaterskill Falls. Once you are there, get in the car and drive back down the road. On it, you will cross another bridge (location 3 above). But your goal is to head to location 1 on 23A.
Location 1 is a small parking lot. You will want to stop there, and prepare for the next hike:
Put on water shoes, take only the essential belongings, and walk UP the road BACK to location 2 on the map.
2) Secret location in the Catskills (Fawn's Leap):
It's a popular diving spot (It's very dangerous, but beautiful):
I've never dived there (but I did swim in the swimming area close to the waterfall).
It's a very nice place to look at and enjoy a hike back down to the parking lot, but the hike will involve going through Kaaterskill Creek, NOT the road you came up!
Being in that spot is actually quite beautiful and in the photo you see to the right, my friend and I dove into the water in the fall season! This is why I'm literally rocketing myself out of that water.
There's actually several jumps from Fawn's Leap available, with the most popular being from the top of the falls you see. The height of the possible areas to dive into the water from range from 20-40 feet high.
Again, I stress how dangerous it can be, so if you're not into cliff diving, don't do this. And if you are, be very careful and check the depth of the water first.
3) That secret waterfall that's underneath the bridge on road 32A:
As you head east (again downriver) from Fawn's Leap, you will encounter beautiful landscapes of the Catskills and even be able to sit in a natural Jacuzzi.
It's usually very cold, but during the summer and after doing all the other hikes, a cool off in this area is very welcomed!
Anyway, as you get to the Jacuzzi area, you'll see a bridge (that you drive over). Under that bridge is where you'll find the secret waterfall (right).
You can hike down to it and enjoy some swimming, and cliff diving there.
But it's from this area that the adventure changes and is almost always going to be in water. So get those water shoes on and get ready!
4) Hop into the water, exit out onto the rocks and head down hill (down stream).
This will take you about 40 minutes to an hour to pass and it will take you to one of my favorite and secret locations in the Catskills, this beautiful gorge:
And you will have to swim through it, but it's extremely exciting!
The depth of that water can change from 3-6 feet, so if you are carrying backpacks, carry them over your head and in your hands because the depth can change very quickly depending on different circumstances.
This gorge feels surreal to be in whenever I pass through it and while it's short, it's an experience you'll love! Once out the other end, continue to make your way downstream. You will then eventually reach the final part of your trip: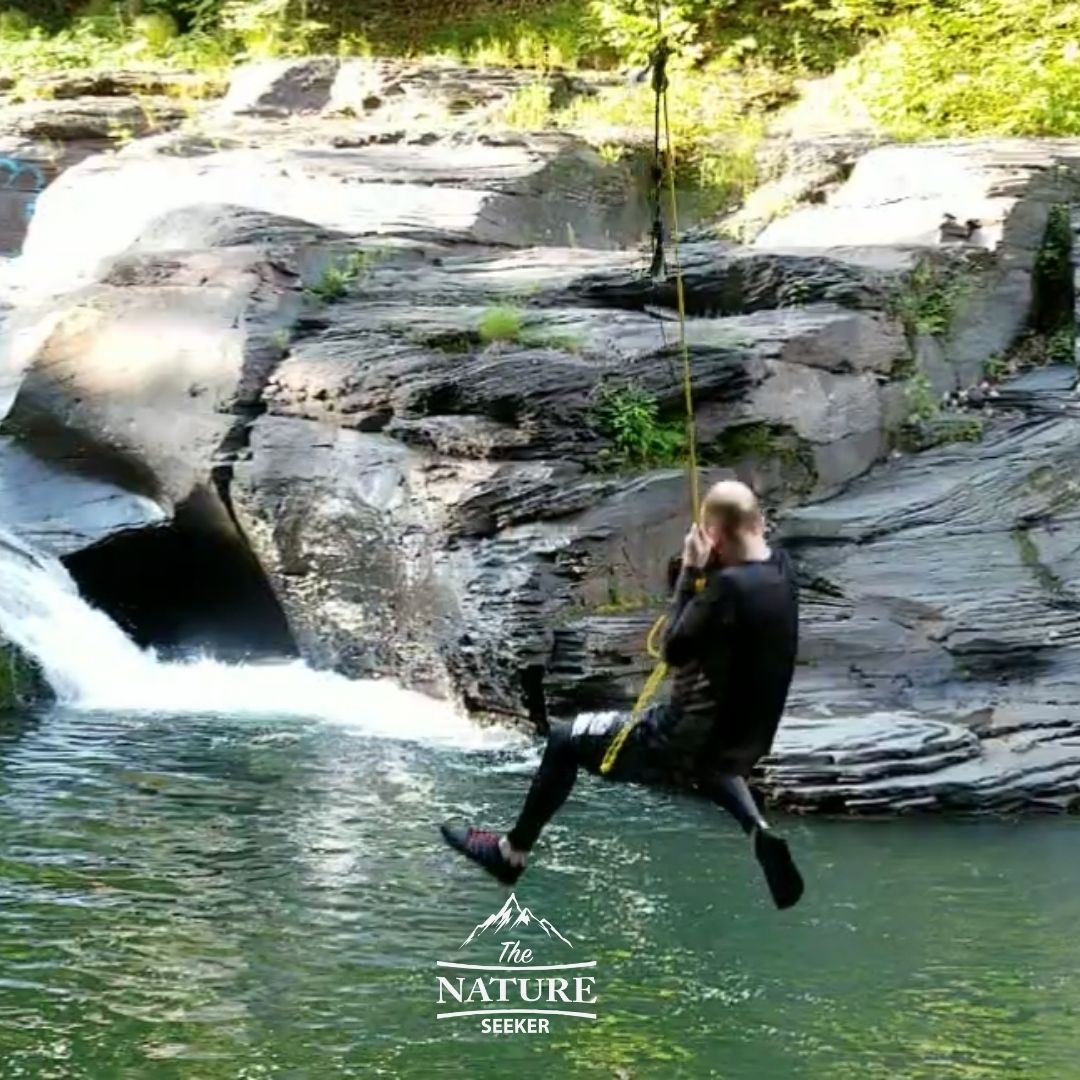 5) Rat's Hole Park (cliff jumping, waterfalls and rope swings!):
This is the last area which has one of the nicest swimming holes in the Catskills as well as a rope swing and plenty of places to jump from the rocks into the water!
Sometimes you'll find the rope to be missing or untangled.
If that is the case, or your grip isn't strong, don't do the road swings, just enjoy this small park and have a swim (be careful as it has many rocks).
This is where my friends and I end our trip and take about an hour relaxing, cliff jumping and rope swinging over and over until we get tired.
It's a lot safer than Fawn's Leap but obviously be very careful when you do these things, but rest assured you will be very happy you did all of this! 
Update: The rope swing is no longer available. Apparently someone (maybe the park service) cut the tree it was tied to off. I guess they did for "safety". Either way, you can still cliff jump and enjoy this area!
Exiting out of Rat's Hole Park, and ending your Catskill adventure:
Rat's Hole Park is right near the parking area where you originally began this trip, so you only need to do one last uphill climb to reach it. From there, you can head out of Catskill Park and head back home, or if you have time.
And if you're hungry, stop here:
After finishing such an exhausting hike, I would imagine you'd probably be VERY tired and seeking to eat something good. If you're into fancy meals, try a French restaurant called the Chateau Bellview back up road 23A. It's a bit back n forth with these trips, but you'll be happy you stopped there because it's extremely delicious:
I personally always order the duck, 2 actually! 
And that is the Hunter Trail I take. 5 destinations, and an overall challenging experience that is highly recommended to any hiker/adventure seeker! 
If you try this path out, let me know how you enjoyed it!
Update: Want to see more beautiful hikes the Catskill Mountains have to offer?
Here is a post on the 13 best hikes in the Catskill Mountains to try out!
What I recommend wearing (gear) to your hiking experience in the Catskill Mountains:
| | | |
| --- | --- | --- |
| | Description: For the majority of hikes you do in the Catskills, including for this particular itinerary, these sneakers (the Salomon Speedcross) are great and I wear them whenever I go hiking here. | Check Price |
| | Description: For the wet parts of this Catskill trip, I strongly recommend getting yourself these water shoes. They will seriously help you through the many wet rocks and uneven (wet) surfaces (and also climbing out of the cliff jump areas). | Check Price |
| | Description: I'd only get a good hydration backpack like this if you intend to do some serious trail runs in the Catskill Mountains. If you do, then this specific backpack is highly recommend. | Check Price |
| | Description: If the weather gets bad or you go hiking in the Catskills post rain, then wear waterproof socks to prevent blisters and other problems. I use these ones every time I go. | Check Price |
|   |   |   |
Questions about the Catskills before you go:
What are the Catskills famous for?
There are many reasons the Catskills are famous and this includes a popular ski resort (Hunter Mountain), great hiking trails on many peaks, and incredible waterfalls and historic areas all packed into the region.
Do New Yorkers still go to the Catskills?
Absolutely, the Catskills are a popular go to spot for many New York residents including me year round.
Are Catskills worth visiting?
If you love giant mountains, waterfalls, skiing, hiking and anything outdoors then the Catskills are definitely worth going to.
Where do people go in the Catskills?
The most popular spots in the Catskills are Hunter Mountain ski resort, Kaaterskill waterfall and camping at North South Lake.
15 more beautiful areas not far from the Catskills to explore:
These following 15 places are out of the Catskill area, but are also equally (if not more) beautiful to explore:
And if you're into things like scenic drives, then New York State itself has many scenic drives you can do, which I added a link to 🙂