Lake Minnewaska State Park is a very popular destination in upstate NY where you can do just about anything you can imagine that's outdoorsy and having explored this place several times, let me share 10 of the best things to do there if and when you go.
The 10 things to do at Lake Minnewaska State Park Preserve NY (used to be 8):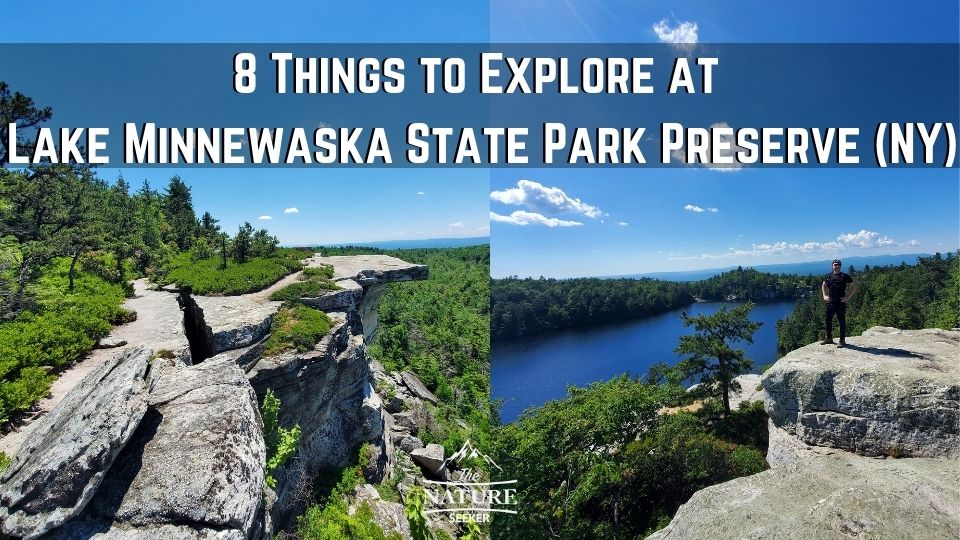 Check out Awosting Falls.
Hike around Lake Minnewaska.
Take a boat ride around Lake Minnewaska.
Swim at the lake.
Enjoy picnicking around the park.
Explore the many hiking trails at the park (Gertrude's Nose).
Mountain biking.
Check out nearby parks to this one.
Do the scenic drive outside Lake Minnewaska.
Hike Shingle Gully trail.
Quick info on Lake Minnewaska State Park Preserve:
Name: Lake Minnewaska.
Location: Upstate New York (near New Paltz, 2 hours from NYC).
Cost to enter: $15 per car (there's 2 parking lots).
Things to do: Swimming, hiking, horseback riding, picnicking, waterfall viewing and more.
Family friendly? Yes!
Rating: 5 out of 5.
Recommended? Yes!

Lake Minnewaska is one of the top nature places to check out near NYC because of all the things you can do there.
1) Check out Awosting Falls:
Awosting Falls is the main waterfall in Lake Minnewaska State Park and reaching it is actually pretty easy. You're going to park right by the northern parking lot and walk about 1/4 mile on the main sidewalk which leads there (it's easy to find).
The path to walk to it is actually pretty beautiful and you'll pass a river that flows into the waterfall too. You'll first reach the top of the falls, followed by which is a zigzag road that leads to it's base. That path is only about 500 feet.
Awosting Falls is very about 60 feet high, is very beautiful and I have mentioned several times in other posts that it's included in the top waterfalls to explore in the Catskills. One of the first things I would highly recommend you do when you first visit this park is to check out this waterfall. Swimming is not allowed there, but at least the views are great!
2) Hike around Lake Minnewaska:
A must do in my opinion if you visit this park is to hike around Lake Minnewaska and this is totally possible to do and there's also a lot of stunning views to check out. What you're going to want to do is park your car in the southern parking lot (the one by Lake Minnewaska) and from there, reaching the lake is easy (it's only a few 100 feet away).
Once you do that, you can turn left or right:
Left will take you to the eastern side of the lake and in my opinion better views of it.
Right turn will take you west which will also provide you with some awesome views.
Winter time, this lake is known to freeze completely so that might be something worth checking out. Just as well, winter time, you'll hardly find anyone visits this park.
3) Take a swim in Lake Minnewaska itself: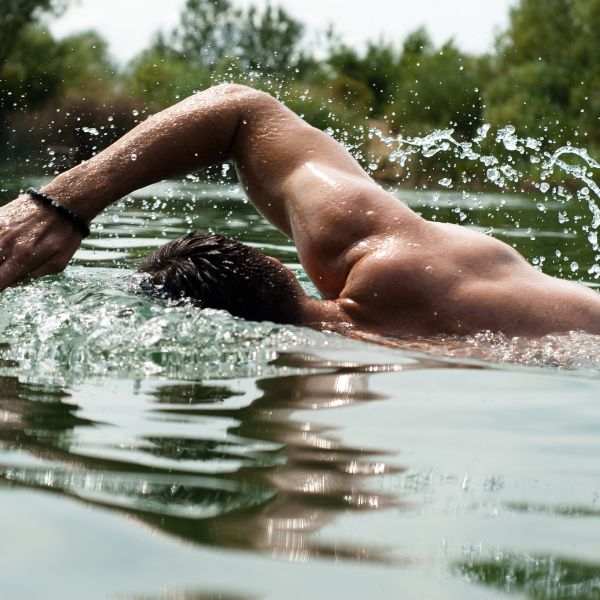 The same area where you'll find the boat launch, you'll also find a swimming area available as well. Do note that the swimming here is limited to a small section (lifeguards are present) so it's not possible to go swimming anywhere you want at Lake Minnewaska.
But if you are into swimming, then this specific spot in the park is great not just for that activity but also great views. The swimming area is well positioned to give you a great view of the lake and the giant cliffs nearby and if you just want to sit by the swimming area and relax, this place is also great for that.
To reach this area, you'll also have to first park your car on the southern lot, then take a right by the lake which take you downwards to the base of it (follow the red trail marker). It's only about 200 feet from the parking lot. This is where you'll find the beach, boating and swimming area of the park.
4) Kayaking and boating:
Lake Minnewaska also has a boat launch (same spot as the swimming area) where you can rent kayaks and canoes to get a different view/experience of Lake Minnewaska.
I personally have not done it yet, but you will find less people do this than those who choose to do the other activities in this park (it's also a great way to do stuff where there's less crowds at the park). If you enjoy boating and nature, this is certainly one activity you'll want to explore at Lake Minnewaska.
To reach it, you'll also want to park your car on the southern parking lot, then work your way down to the base of the lake (where the swimming area is) and that's where you'll find it. I'm not sure as to the pricing of the boats, but it shouldn't be that expensive per person and considering the views/payoff, it's a great activity to enjoy at this park anyway.
5) Picnics: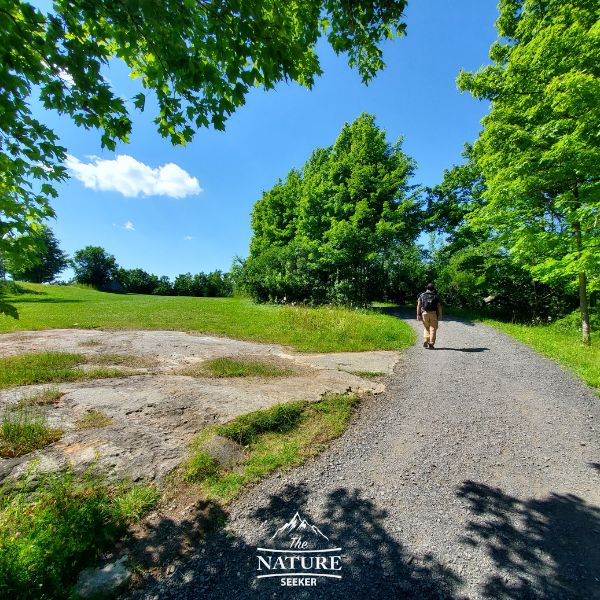 Scenic views and picnics are a great mix at Lake Minnewaska and there is at least 1 major area you should check out in this park that has it. It's located on the eastern side of the lake and there is a large field with picnic tables that overlook the lake.
Basically it's where you see the larger cliffs that surround the lake, but behind that area. You can easily reach that area by turning LEFT at the southern parking lot, and following the road upward.
It's about 1/4 mile from there. This is probably the best place to check out if you're doing a relaxing family trip for the day. Me personally, I'm not into picnics, but if you are, this is where you'll find it. You can also do a lot of other things here like play catch as well.
6) Explore one of the many hiking trails at Lake Minnewaska NY: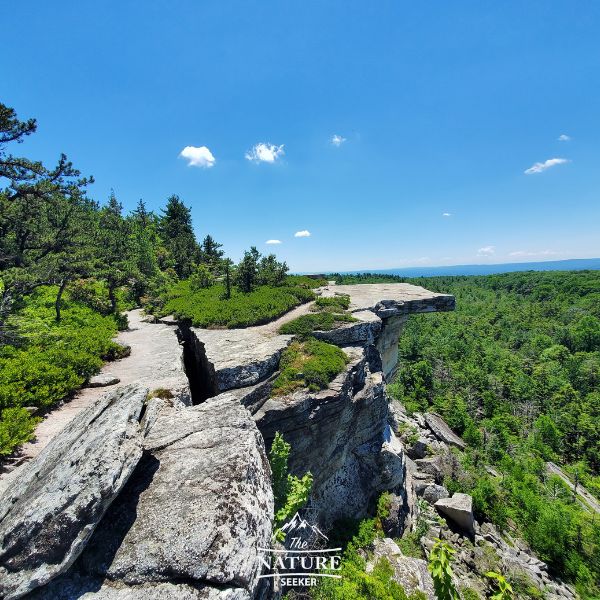 Not only does Lake Minnewaska have a lot of hiking trails, but there are also connecting trails to other parks available, including to places like Mohonk Preserve, it's next door neighbor. But if you are looking for specific hikes and trails in this park, here is what I recommend:
Gertrude's Nose. It's the most popular hike in the park and is about a 6-7 mile trip.
A hike around Lake Minnewaska. It's about 1.5 miles long.
A hike to Lake Awosting (8 miles one way and it's difficult).
Other hiking trails you can find on this map of the park (some are moderate-hard).
If you are looking for easy hikes, stick to the main one around the lake for starters. For more intermediate ones, consider Gertrude's Nose and anything past that would be a long hike that is at least 10 or more miles.
7) Mountain biking: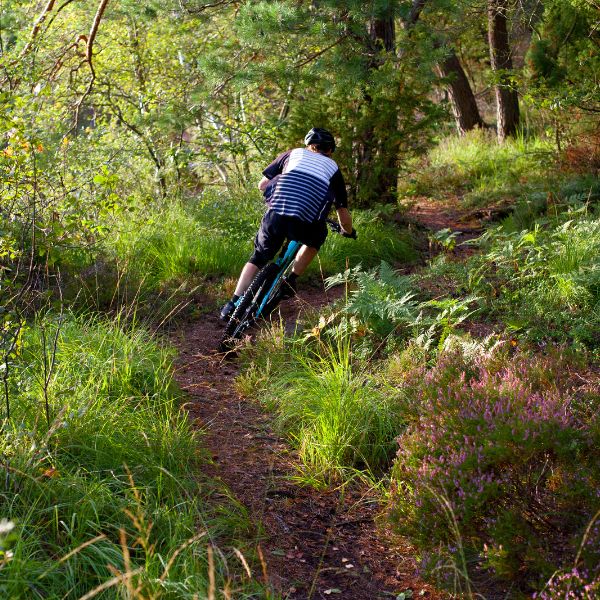 Lake Minnewaska has this too. In fact, there are many mountain bike trails (or should I say many miles worth) of which are both accessible to mountain bikers and hikers. You'll find the most popular ones around the lake area itself, but there are also trails that parallel to Gertrude's Nose where you will find specific paths for mountain bikes specifically.
One thing to know is that while the mountain bike trails in this park are plentiful, the BEST views of this park can be found on the actual hiking (foot) trails. That's where you'll find the best scenic views, overlooks and so forth.
The mountain bike trails mostly go through the woods and while that's fun, if you enjoy scenery, the foot trails might be worth exploring over this. One thing to consider is that you can use one of the mountain bike trails to reach the deeper (western) parts of the park such as Lake Awosting, and then hike from there.
8) Check out nearby parks to Lake Minnewaska (5 awesome options):
This park is well positioned next to many beautiful areas that I also highly recommend exploring and here is a short list of them:
1) Mohonk Preserve. The closest place next to this park. It's basically another Lake Minnewaska, but a bit smaller, but it has a ton of activities, hikes and things to do.
2) Sam's Point Preserve. This park is west of Lake Minnewaska but has nice plateau hikes and caves to explore.
3) Catskill Mountains. A bit north of Lake Minnewaska is where the greater Catskill Mountains are where there's many hikes and adventures.
4) See this list of the best hikes near NYC. There's a lot of options within and outside the Lake Minnewaska area to check out here!
5) Hudson Highlands State Park. Great park with many awesome trails like Bull Hill Loop, the famous Breakneck Ridge hike and Little Stony Point.
9) Make sure to check out the scenic drive outside Lake Minnewaska: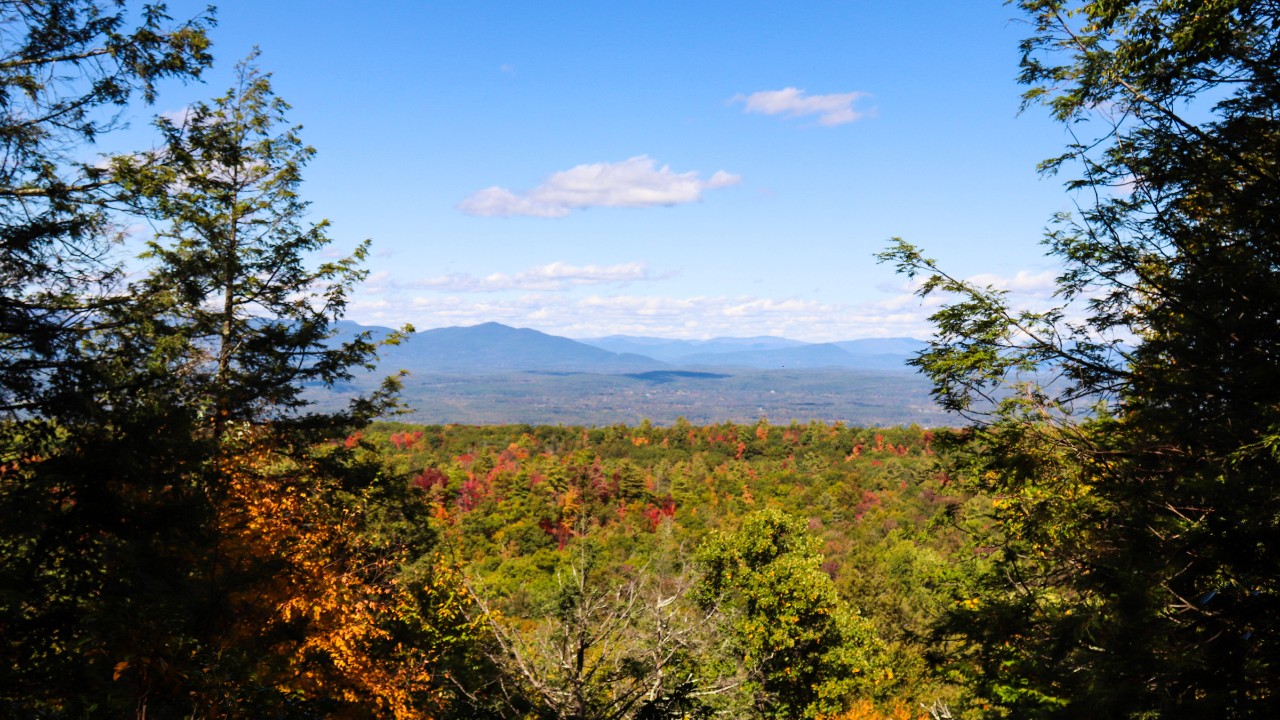 The good news about this last thing to do at Lake Minneswaska State Park is that you can't miss it. You're going to enter this park from what is known as "Main St" and that drive itself is very beautiful.
If you're exiting the park, I would recommend you take the opposite turn of whatever turn you used to come into the park so you can see the rest of the scenic drive. So if you came in from the right of the road to enter the park, take a left when you exit and vice versa. The good news is that either way you go, you won't stray too far from the park and if you need to get back to the highway, just use your GPS.
This will give you some awesome overlook opportunities and even some trailhead parking opportunities to explore more stuff. I consider this drive to be one of the best scenic drives in New York State and I've done it several times.
Another thing I want to mention is how beautiful this region is during fall. Lake Minnewaska is one of the best places for fall foliage in New York state to see in my experience.
10) Shingle Gully trail:
The Shingle Gully trail is actually a hike that you can only do if you enter Sam's Point, an outside area (but technically inside) of Lake Minnewaska. This is a trail that is closed during winter, but is extremely popular to do between spring-fall (Lake Minnewaska is also great to see fall foliage in New York too by the way).
Overall, these activities in my opinion make Lake Minnewaska one of the most amazing areas for day trips from NYC to do and in addition to this spot, I've included many more options in the list I just linked to as well.
Here's a Lake Minnewaska State Park map to help you find all of these places:
This map should help you a bit more than the official Lake Minnewaska map (I recommend you get it too):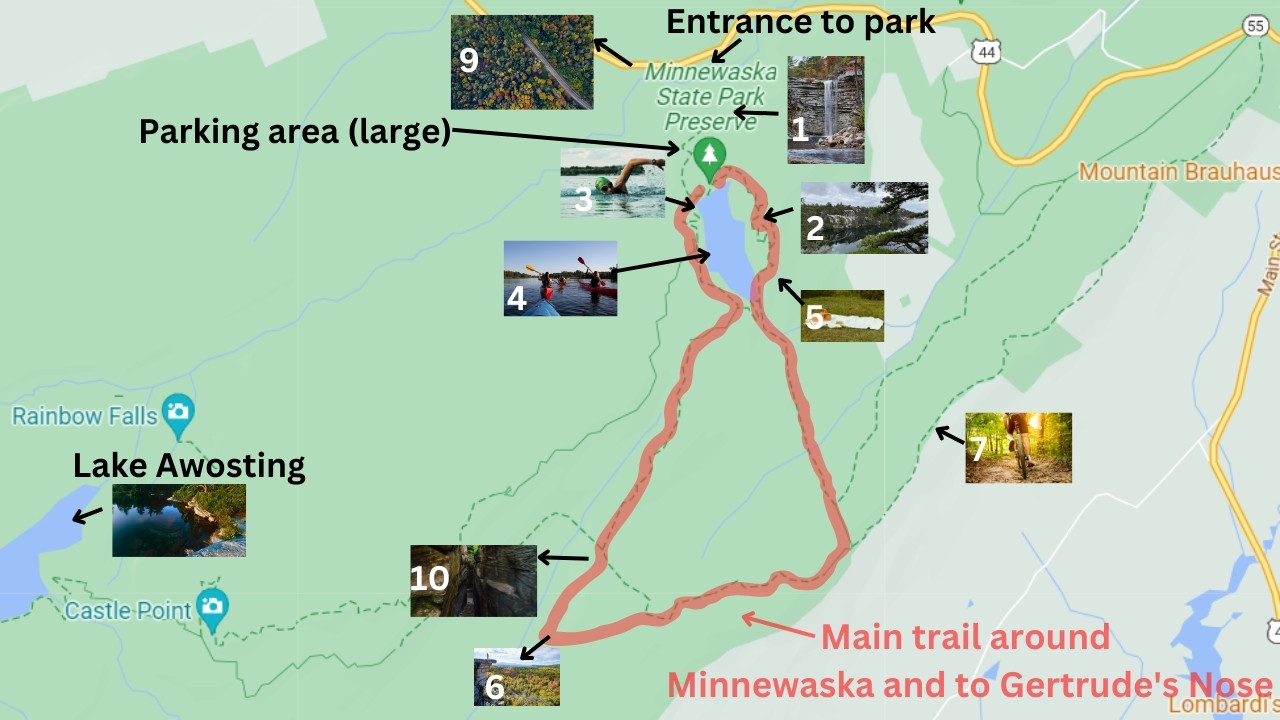 The only thing not on that list is #8 which is other places to see outside the area. The rest are shown on that map so you can cross reference where to find it quickly.
Here are some more Lake Minnewaska State Park Preserve photos: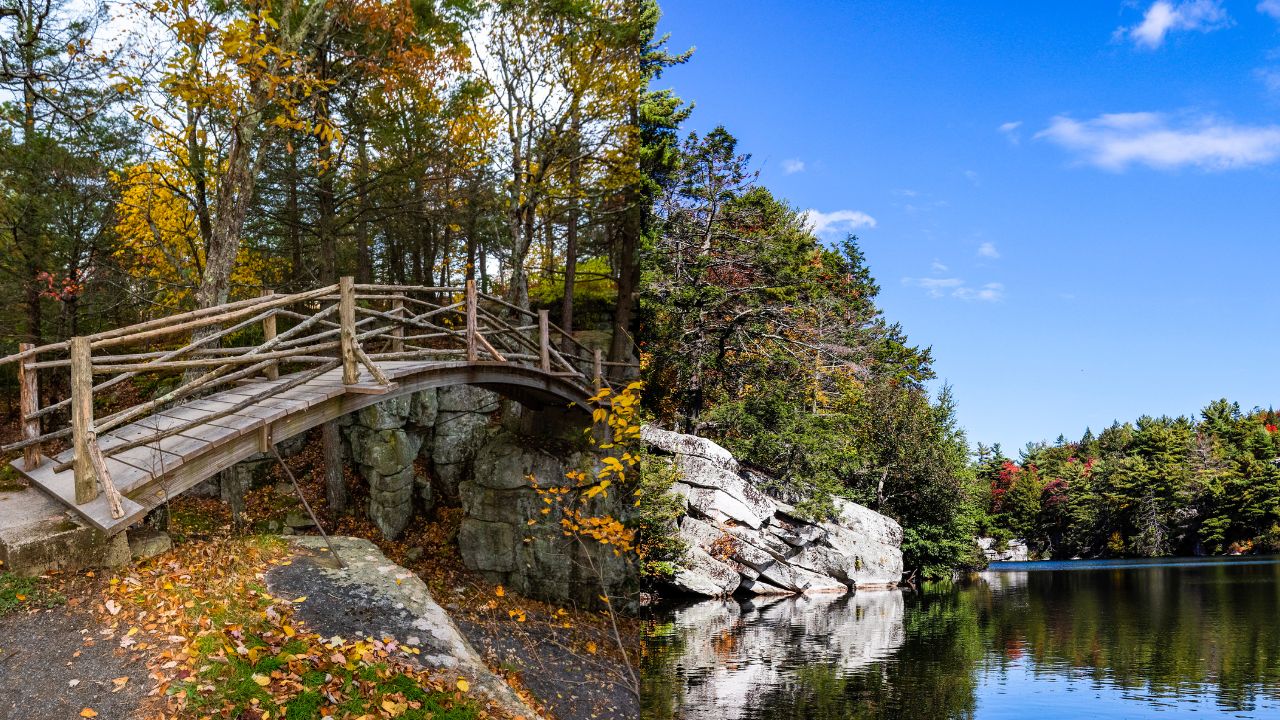 The photo on the left is a bridge about 1/4 mile east from the main parking lot.
The photo on the right is just one of many scenic views of Lake Minnewaska Preserve (you can get amazing photos from any area of this lake in my opinion).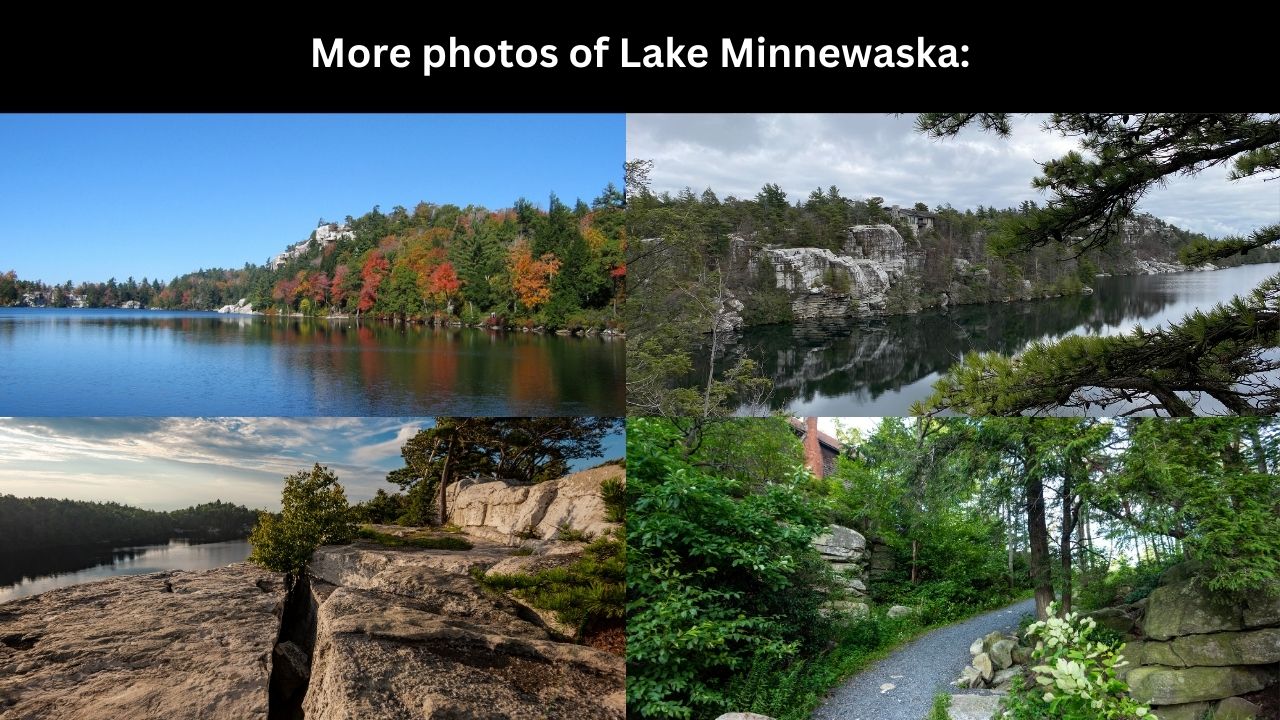 Should you wear hiking gear when exploring Lake Minneswaska?
Most of the "hiking" around Lake Minnewaska is very simple pathways anyone can walk on so you don't need any hiking gear for that. However if you do explore the deeper trails, such as Gertrude's Nose, then I'd wear hiking or trail running shoes.
Questions about Lake Minnewaska State Park:
How much does it cost to get into Lake Minnewaska?
It costs $15 per car to get into Lake Minnewaska.
Can you swim in Lake Minnewaska?
Yes, there is an official area near the southern parking lot of Lake Minnewaska where swimming is permitted.
How long is the walk around Lake Minnewaska?
The hike around Lake Minnewaska is about 2 miles but takes most people about 1-2 hours to complete.
Are there bears in Lake Minnewaska?
Yes there are black bears in Lake Minnewaska but very rare to see.
Have any questions or suggestions about what to see around Lake Minnewaska State Park? If so, feel free to let me know below!