Hudson Highlands State Park is one of the most amazing places I've had the pleasure of exploring near NYC and several times too at that. And in this post, I'd like to share 5 amazing things to do if you go there.
For the past few months, I've been exploring more scenic areas close by to New York City and this particular park has amazing adventures to partake in. Before I get to them, let me cover some basics about it:
What is Hudson Highlands State Park?
It's a beautiful park not far from New York City that spans for 1,000's of acres and has many fun hikes and other activities to try. It's right by the Hudson River.
How far is Hudson Highlands State Park from New York City?
It's about 1 hour away.
What's the highest elevation at Hudson Highlands State Park?
The biggest peak is said to be over 1,200 feet high.
What other parks are near Hudson Highlands State Park?
The 5 closest ones are:
Storm King Mountain State Park (right across Hudson River).
Schunnemunk Mountain State Park.
So now with the basics explained, let's get to the main point of this article:
Here are the 5 things to do at Hudson Highlands State Park:
Do the scenic drive on road 9D.
Hike up Breakneck Ridge.
Do the Bull Hill Loop trail.
Explore Little Stony Point.
Explore the Ruins (Cornish Estate Trail).
Even though Hudson Highlands State Park is pretty large, you can actually do all 5 of these activities in a single day there.
It would certainly take a lot of physical endurance to do, especially with the Breakneck Ridge and Bull Hill Loop hikes, but there's ways to tie these hikes in together and get the full experience of this park in one day.
But for most people, doing these activities little by little with more than one trip to this park is more common. Anyway, here are the details of each activity:
1) Do the scenic drive on road 9D by and in Hudson Highlands State Park: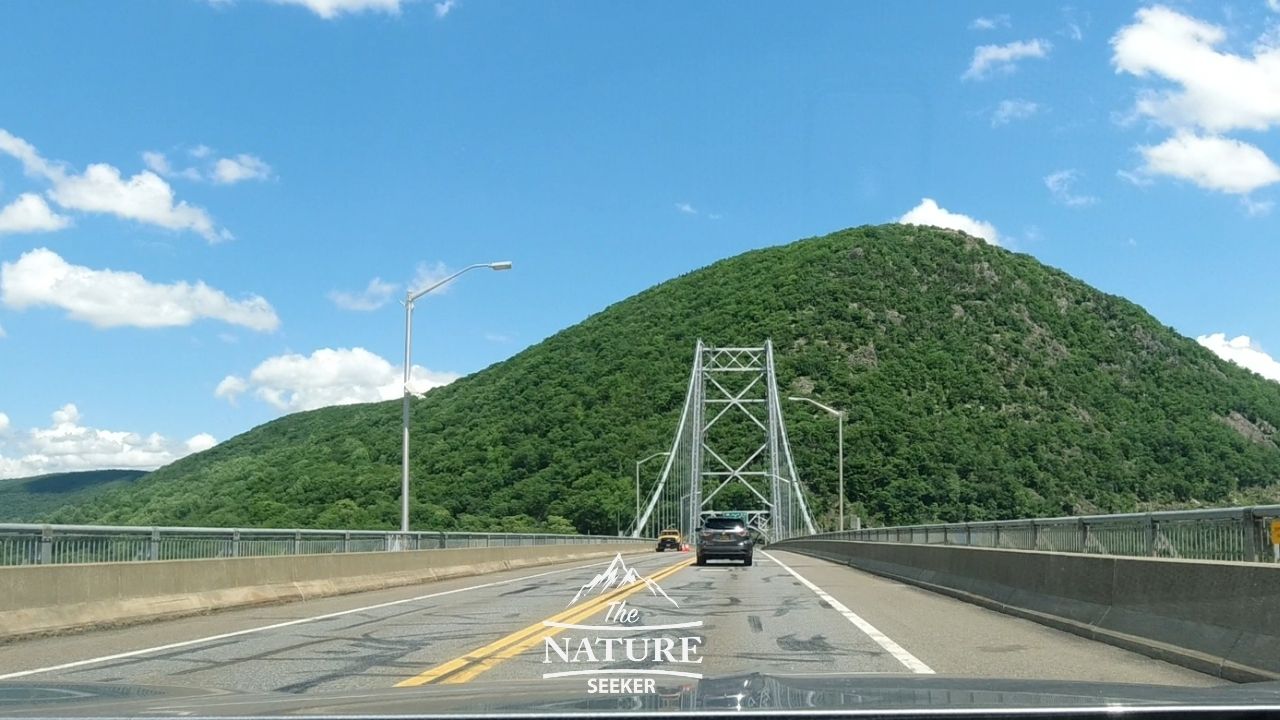 Folks, I have to tell you, if you want to get beautiful views of  the Hudson Valley, the islands, the mountains and so forth, scenic drive 9D is where you want to go.
I'm going to include it in my list of the most scenic drives in New York State.
It takes you through Hudson Highlands State Park, but at the same time, it also has you cross a few towns in the region, the beautiful Purple Heart Memorial Bridge, golf courses, island scenery and views that frankly compete against some of the most beautiful places I've had the pleasure of seeing in completely different areas of North America, most notably Vancouver Island.
In fact, while you drive through this scenic road, you may find it hard to believe that you're still in New York State, but in reality you are and there's a lot of beautiful little parks to stop at on this drive. At the very least, if you're tight on time, do the drive in this region, you'll love it.
Also worth noting, the mountain you see in this picture is also part of a popular hiking trail known as Anthony's Nose. It's OK for a hike, but the ones you'll find in Hudson Highlands State Park are much more scenic and fun in my opinion.
2) Do the Breakneck Ridge hike: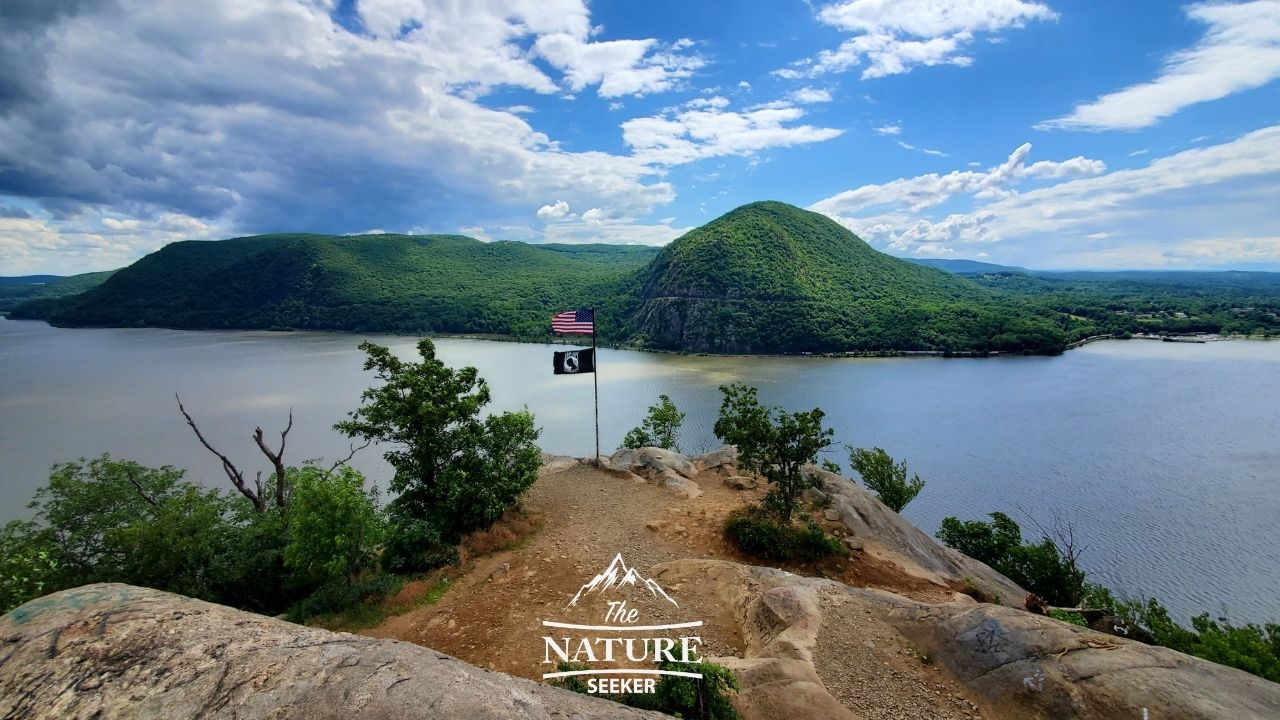 Breakneck Ridge is probably the most popular trail in the entire Hudson Highlands State Park (and valley) and most people who visit this area do so to hike in this particular spot.
It's one of the most popular day hikes outside of New York City.
While the hike is strenuous and challenging, there's a lot of reward in hiking it, including seeing beautiful views, testing yourself and having a great workout.
I've done this hike 3 times now and I love it.
Additionally, this hike also features nice trail runs when you descend, old ruins and even waterfalls, some of which cross the next hike on this list:
3) Explore the Bull Hill Short Loop Trail: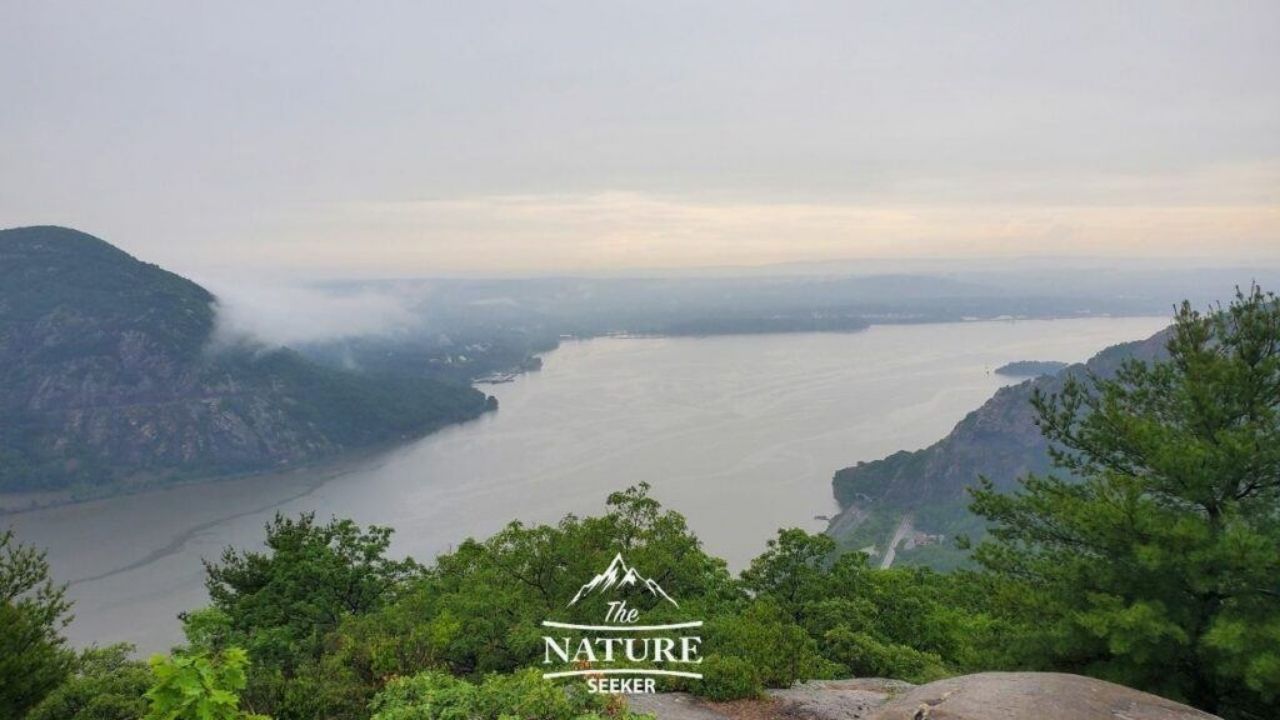 I have an interesting tale to share regarding this trail.
I was seeking to hike up Breakneck Ridge and right before my hike began, a massive thunderstorm hit with torrential rain.
I sat in my car waiting for it to end, but looking at the radar, it showed no signs of stopping, and so I had 2 choices:
Either go back home, which would lead to a lost day.
Or explore other hikes near Breakneck Ridge.
I chose the latter and it turned out to be a wonderful choice as the Bull Hill Short Loop Trail is only 1 mile away and some parts of it intersect with Breakneck Ridge.
This hike isn't as popular, but I would actually say it's more scenic, longer and for some people might be more fun to explore than Breakneck Ridge. I decided to do this trail in the midst of the storm and despite being rained on almost the entire trip, I had a blast.
This trail spans for over 5 miles (the short one) and involves starting at the white trail, turning left to the yellow trail (summit), then taking the red trail down to the parking area and then the blue trail to complete the loop. I've left a link to the full explanation of this trail so you can enjoy it. I've even done it and Breakneck Ridge (short version) in one day (that's a bit nuts, but it might be for you).
Along the way, you will see amazing sights such as:
A great view of Breakneck Ridge.
Beautiful overlooks at the top of the mountain (islands and the Hudson Valley).
An awesome "Ruins" section which I'll talk about later.
Hiking this trail was an absolute treat and considering I was one of only 4 people there, I am happy the rain led me there. I would not be able to hike Breakneck Ridge in that environment (it would be too dangerous).
4) Check out Little Stony Point: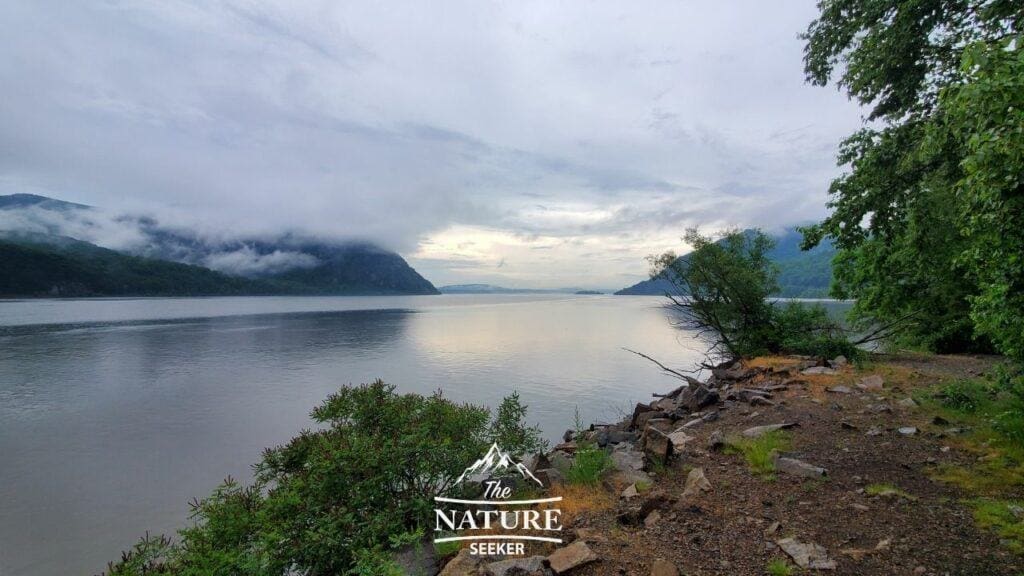 Right after checking out the Bull Hill Loop Trail, right across the road, I saw signs for Little Stony Point and with a little bit of time to spare, I decided to explore it.
Little Stony Point is a small island that is easy to explore for anyone and has a nice small mountain that's easy to walk up, as well as a beach around it giving you a nice sea level view of the Hudson Valley.
While swimming isn't allowed (there is a designated beach for that), just exploring this spot was enough for me as the scenery there is stunning and it was also post thunderstorm, so the clouds were still hovering over the mountains of the Hudson River, giving it this amazing look you see.
5) Explore the Ruins (Cornish Estate Trail):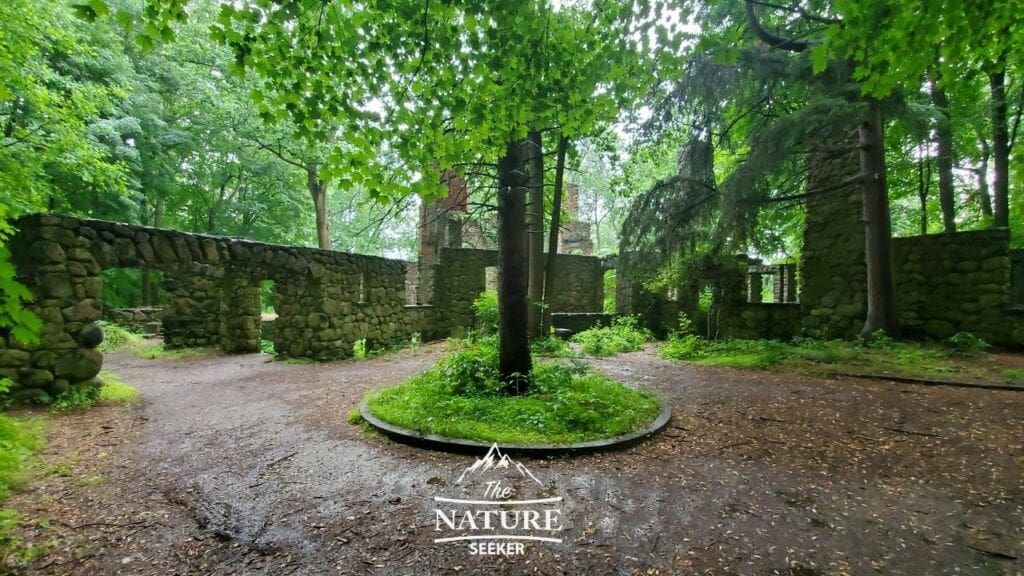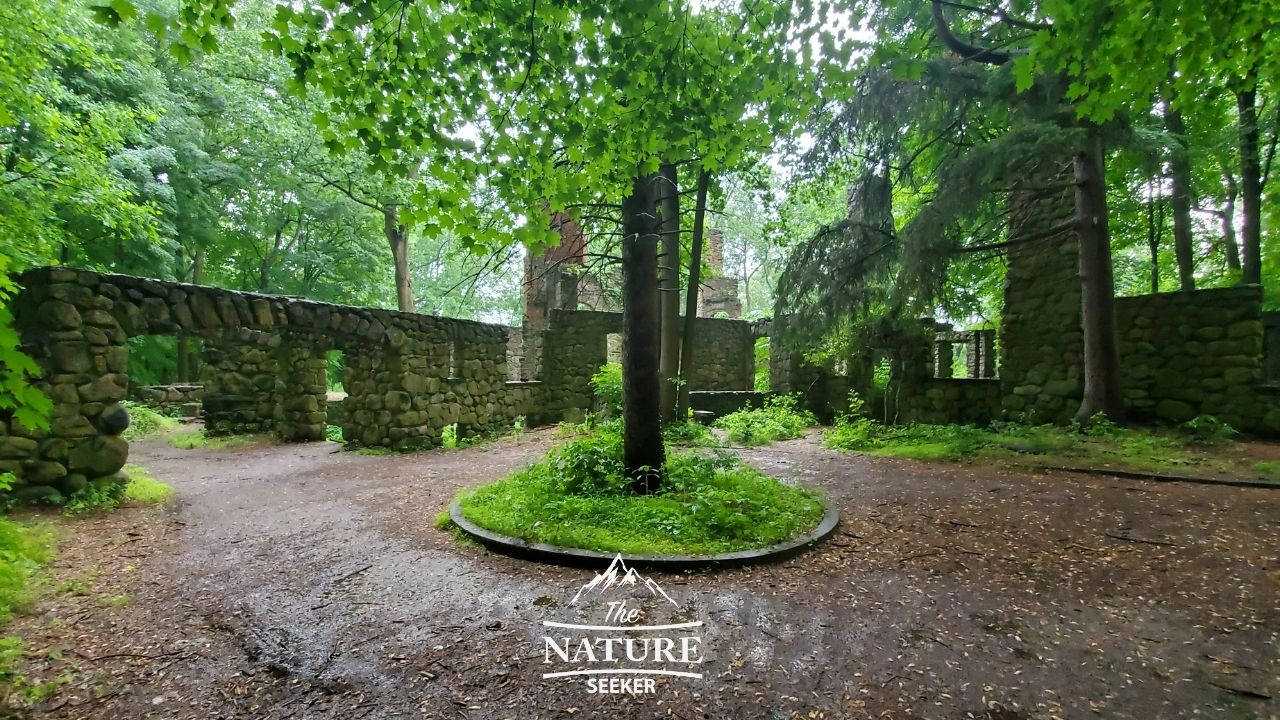 The Ruins is a large estate you pass through which was burned down but the scenery there is very nice to explore. You see an old mansion, pool, greenhouse and much more.
The blue trail on the Bull Hill Short Loop trail will take you there.
You can actually elect to do the loop trail that I did backwards, which will take you past the Ruins in less than a mile, but most people elect to do the loop trail the same way I did and finish with the Ruins instead.
For me, being the only person there and having the whole place to myself was an awesome treat and the blue trail as well as the ruins is very close to road 9D.
How worth is it to explore Hudson Highlands State Park by the Hudson River?
I'd say it's very worth it. I've done many hikes and explorations in New York State and I have to say, I've been underestimating this spot by a lot.
I certainly plan to come back at least a few more times to this area and explore even more areas there and if you have any suggestions of what else there is to see there, let me know! Just as well, check out these 10 awesome hikes on the Hudson River Valley.
This region has a lot of hiking adventures to check out!