Today I'll be giving you my list of the 15 best scenic drives in New York that include both the NYC area and other parts near and all over the state.

The truth is, the further you go outside of NYC, the more beautiful the scenic drives you'll find in New York overall and that's why a majority of this list covers the state in general instead of the city.
Here is a list of the 15 best scenic drives in NY: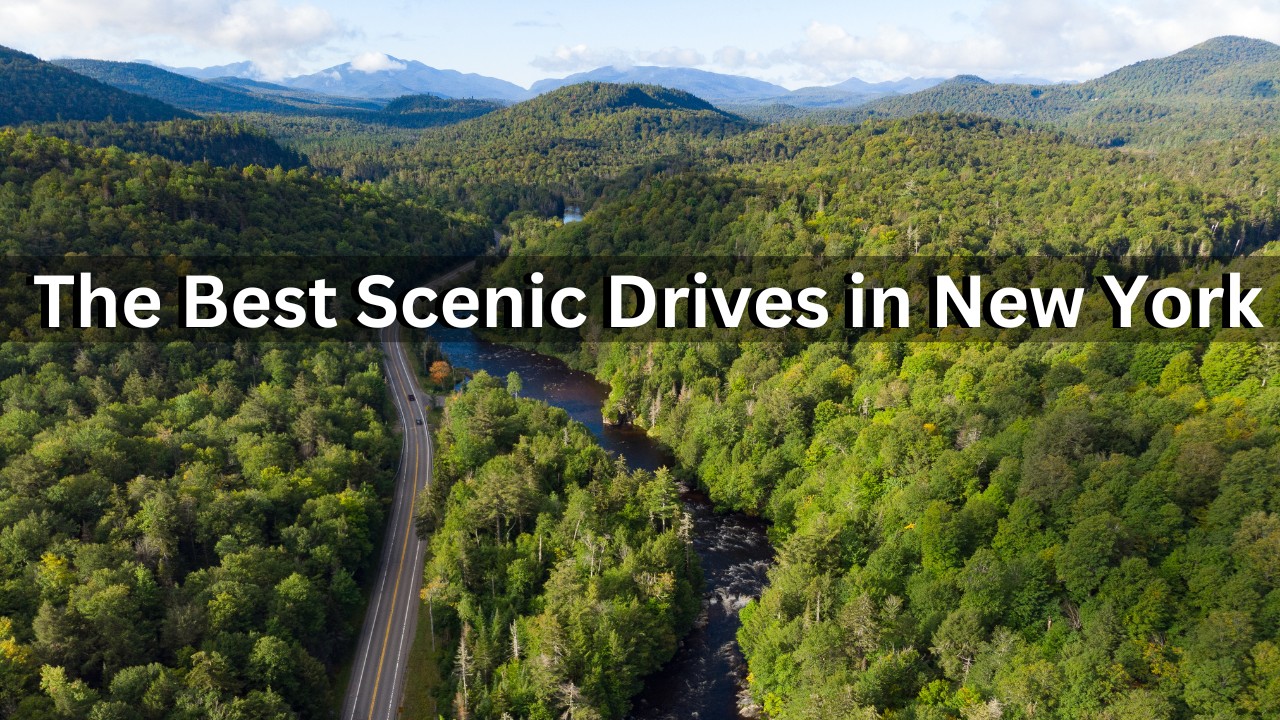 Palisades Parkway (NY section).

Hudson Valley Drive itself (From NYC to Albany).

Interstate 87 from New York to the Canadian border.

Road 9N through Lake George.

Road 23 through the Catskills.

Road 9 from Deerhead to Canadian border.

Road 14 and 96A in Seneca Lake, Finger Lakes.

High Peaks Scenic Byway.

Road 73 in the Adirondacks.

Henry Hudson Drive (within Fort Lee Historic Park).

7 lakes drive at Harriman State Park.
Hawks Nest scenic drive.
Route 44 near Lake Minnewaska.
West Side Highway (NYC scenic drive, west end of Manhattan).
FDR Drive (NYC too, east side of Upper Manhattan).
1) Palisades Parkway (it's a great scenic drive near NYC):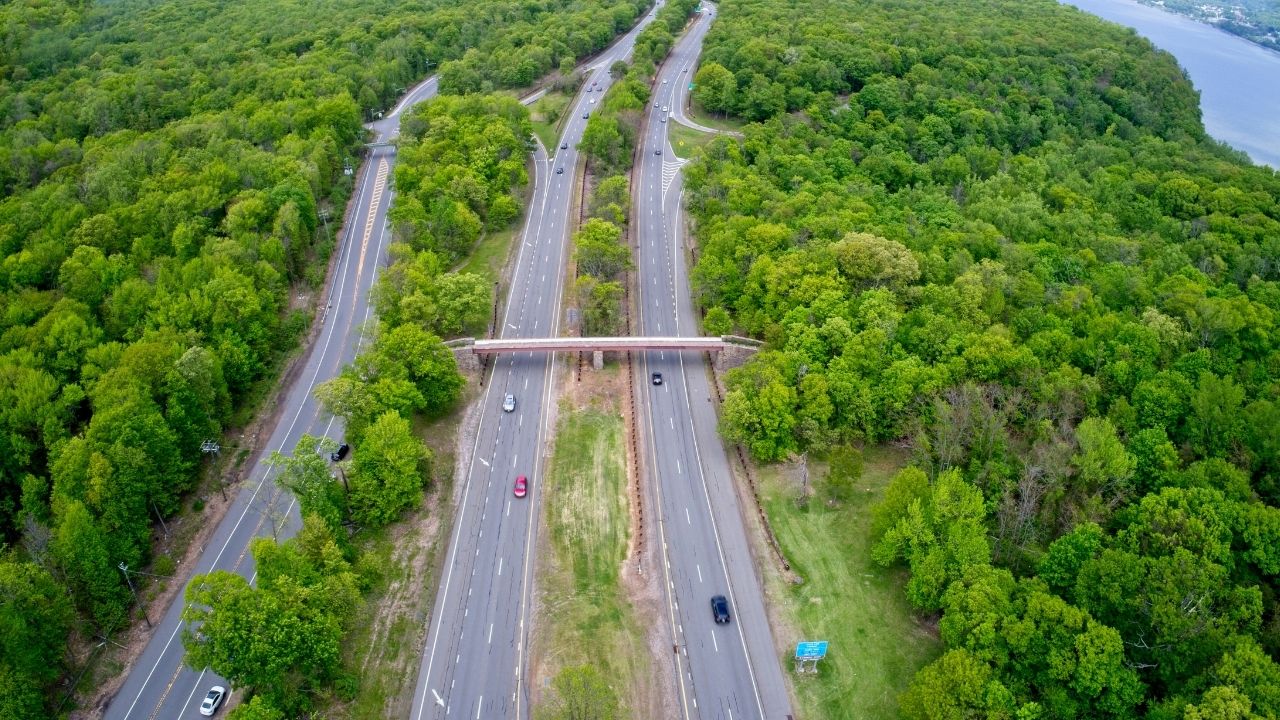 I generally access this parkway from the George Washington Bridge after exiting Manhattan. If you live in the city and enter this road, right away, you'll feel like you're in another world.
Do note, that when you first enter it, you will be in New Jersey, but after about 30 minutes of driving north, you'll be back in New York State and this road is scenic from the NJ end, but as you enter the NY area, it gets better because you will start to see more mountains.

This parkway is located a top a pretty high elevation and runs right next to the Hudson river for many, many miles. It is very scenic and cross these incredible parks:
Palisades Interstate Park (It's literally along the Hudson and you'll find a lot of exits to trails there).

Tallman Mountain State park.

Fort Lee Historic Park.

Harriman State Park.

Bear Mountain State Park.
You can choose not to stop at any of these spots, but you can be rest assured that the drive through this area via the Palisades Parkway will be very memorable, especially if you start from NYC and head north.
2) Hudson Valley Drive from NYC to Albany: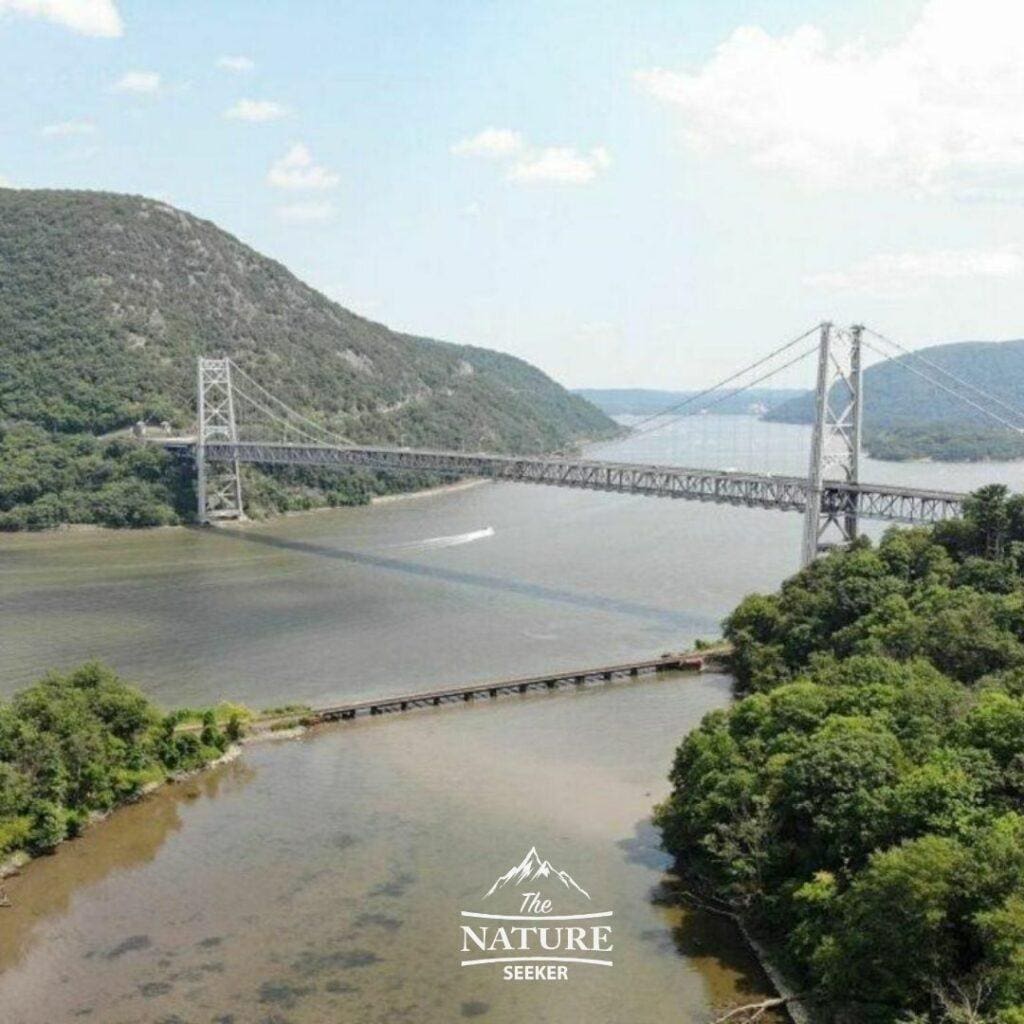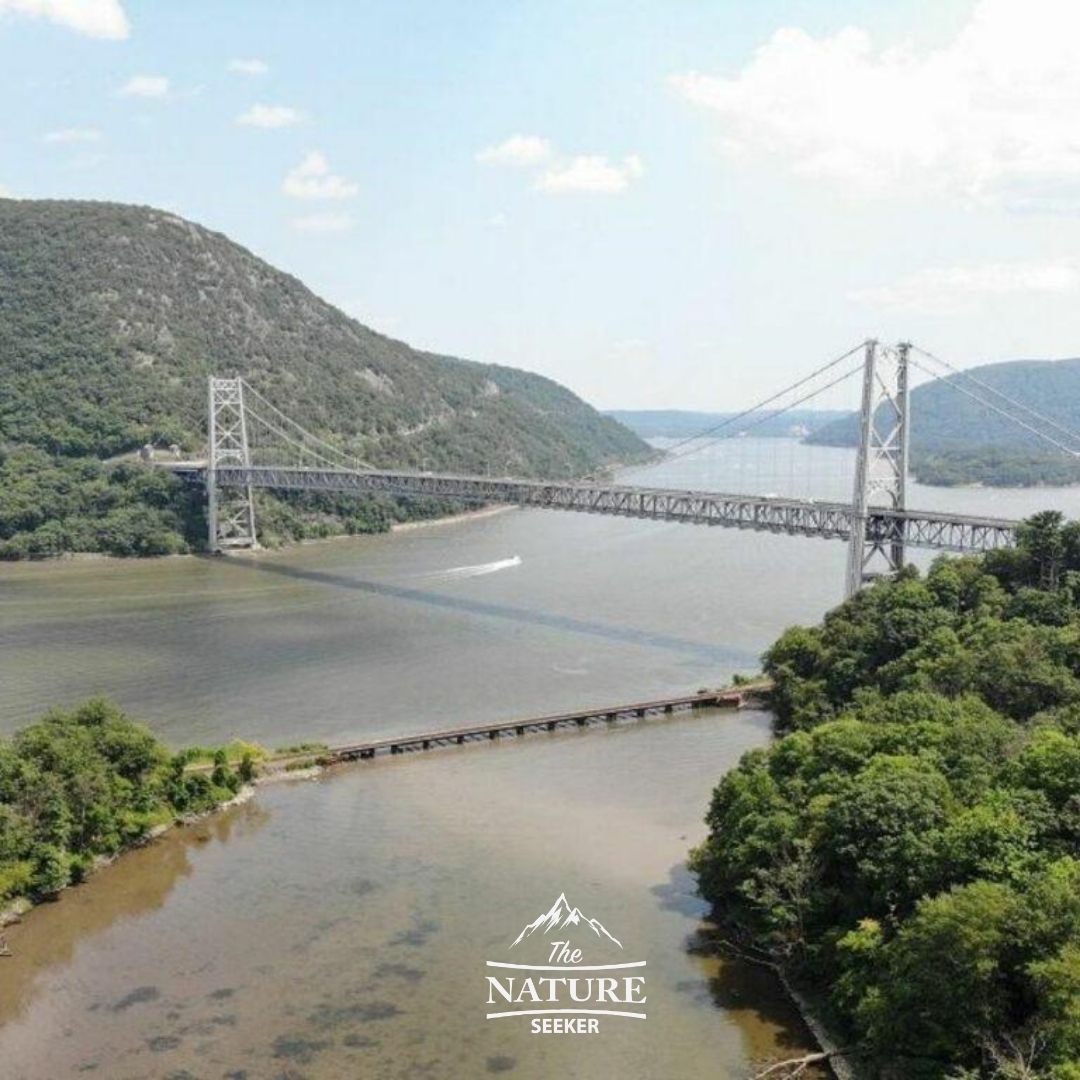 Hudson Valley Drive technically starts once Palisades Parkway finishes (north of NYC) and it will take you through beautiful scenic roads, and passing by awesome parks like this:
Harriman State Park.
Purple Heat Memorial Bridge (right).
Croton Gorge State Park.
Once you cross these 2 places (Palisades Parkway and Hudson Valley Drive), you will come to an intersection, and if you turn left, you will pass the beautiful Purple Heart Memorial Bridge, and the scenic drives on the other side of the bridge are amazing.
If you stay on the same road and continue heading north, you will also continue alongside the Hudson River and cross more beautiful places and if you're into hikes, you may want to check out Breakneck Ridge which is close to Purple Heart Memorial Bridge.
It is one of the best day hikes in NYC residents take and having personally done it too, I like it because it's short and challenging.
It also gives you a great view of the Hudson River.
3) Interstate 87 fro

m upstate NY to Canada: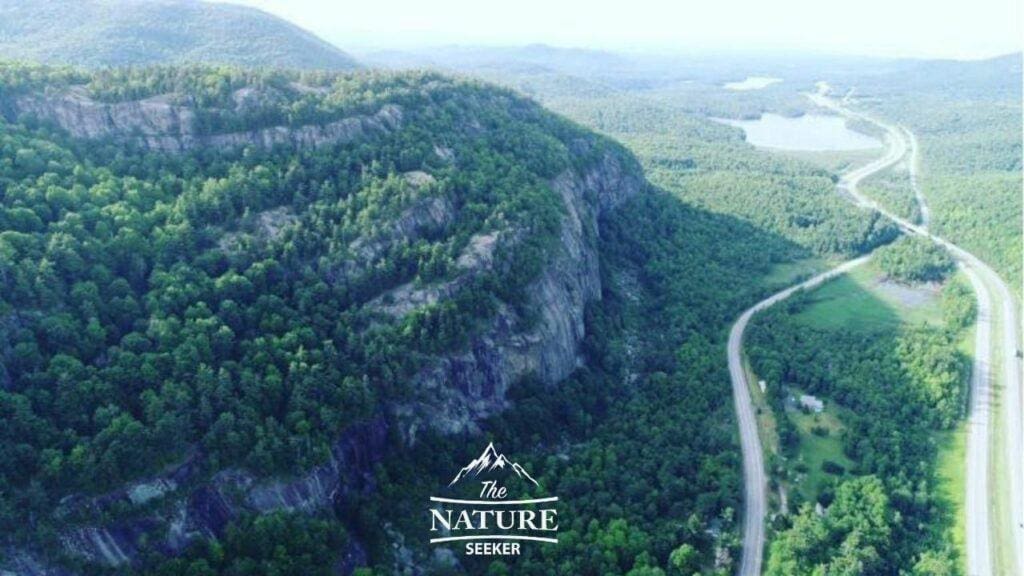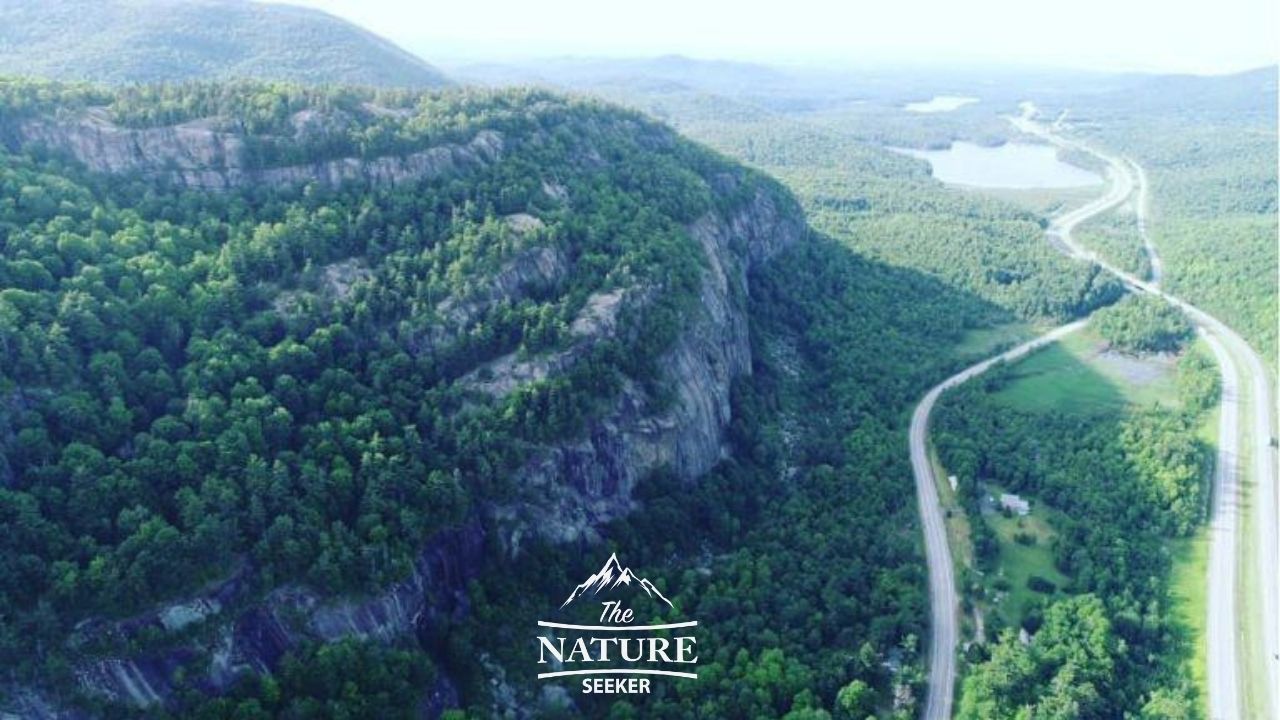 This is a common road I take whenever I travel north on road trips or hikes. And some of the most beautiful spots I've found in New York State were in great part thanks to this scenic road.
Here are some of those places I'm talking about on Interstate 87:
The Adirondacks.

Sam's Point.
And that mountain above is called Poke o Moonshine. It's located in the Adirondacks. Interstate 87 stretches 100's of miles from NYC to Canada, so you're looking at 8 hours or more of beautiful, scenic drives, all through the western end of New York State.
While you travel on it, the most beautiful areas you will see are in the Catskill regions, followed by the Adirondacks a few hours later. And I always find easy hikes near me on this scenic drive.

4) Road 9N in the Lake George area: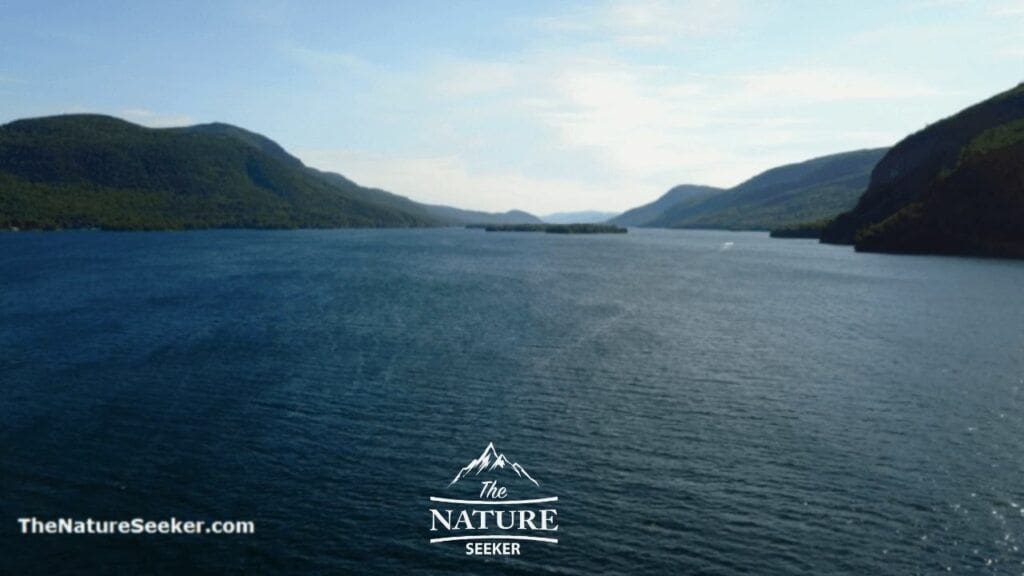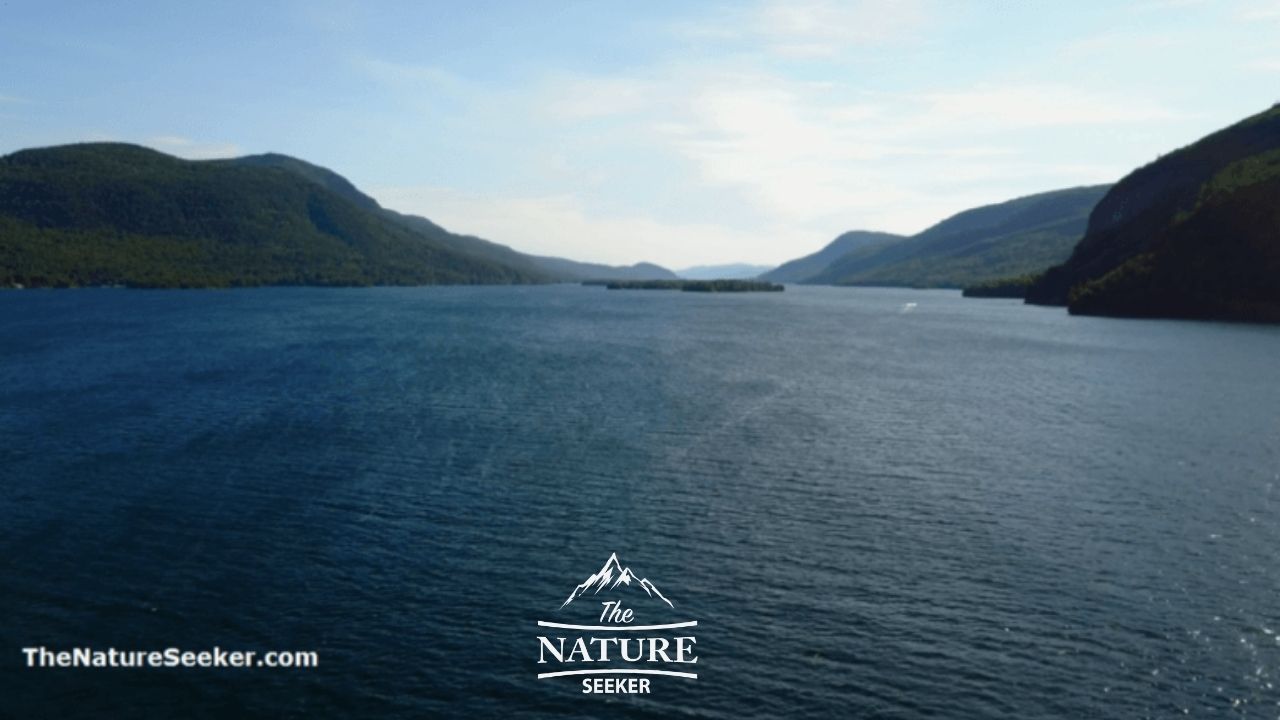 While Interstate 87 will take you close to Lake George, if you really want to see it and enjoy the scenic drive on it, you'll want to take road 9N, which stretches all the way along the lake itself for about 30 miles.
On this road, you'll find beautiful towns, beautiful views of the lake, entertainment areas, very nice hiking trails, overlooks and more, starting from the first town you enter.
Then there's the tons of towns, camping spots and scenery that stretch for as long as Lake George stretches for.
Afterwards, I'd turn towards interstate 87 to continue the scenic drives (it runs parallel to 9N).
5) Road 23 into th

e Catskills (one of the best scenic drives in upstate NY):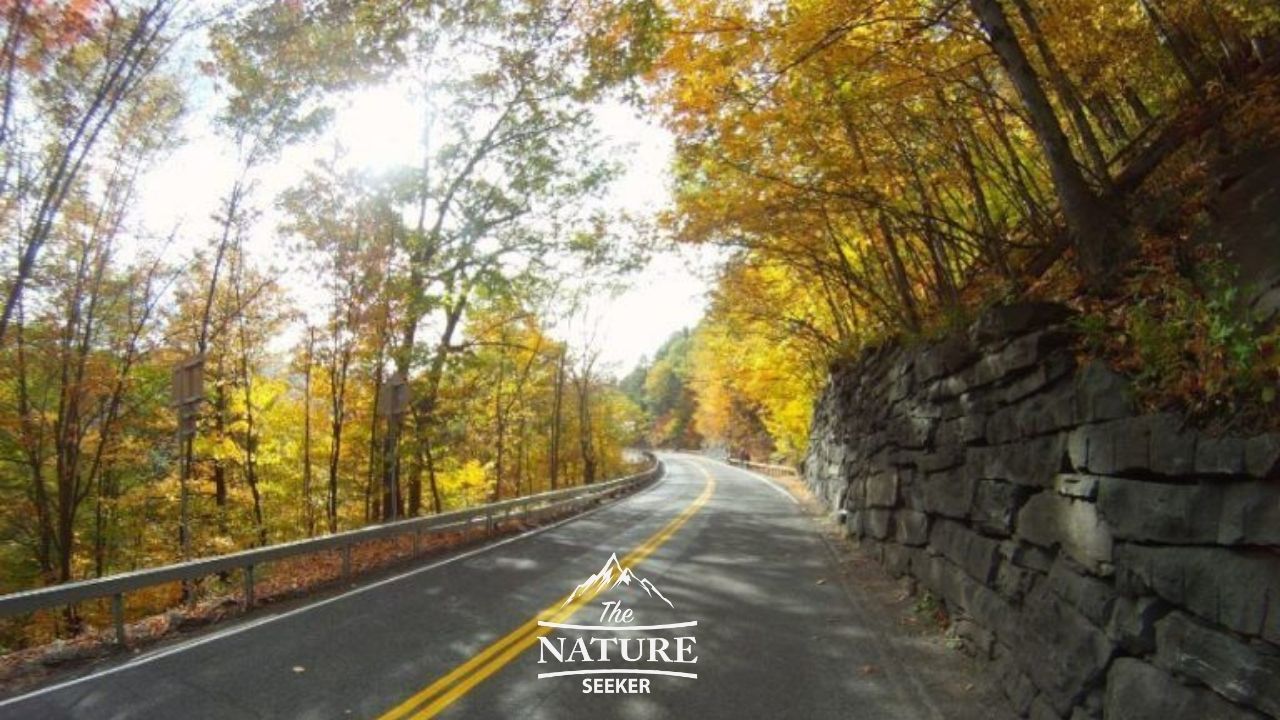 There is an official road that stretches for over an hour that will take you into the heart of the Catskill Mountains and driving through towns like:
And other nice spots, along which are trails to beautiful waterfalls the Catskills and popular hiking trails like Devil's Path, Hunter Mountain, North South Lake and more.
This road will have many access areas where you can park your car and go into a river for a swim, especially areas like these that I personally visit every time I'm there.
To access this road, you have to exit from Interstate 87 on exit 20 and head into the mountains (just put Hunter into your GPS and it'll take you there).
You will see a sign for the scenic byway as you enter what is known as Catskill Park and the road for the next 20 minutes is truly memorable. You'll pass by very beautiful waterfalls, drop offs and plenty of other places that I list in my Catskill adventure article above.
6) Road 9 (Lake Champlain scenic drive on the New York end):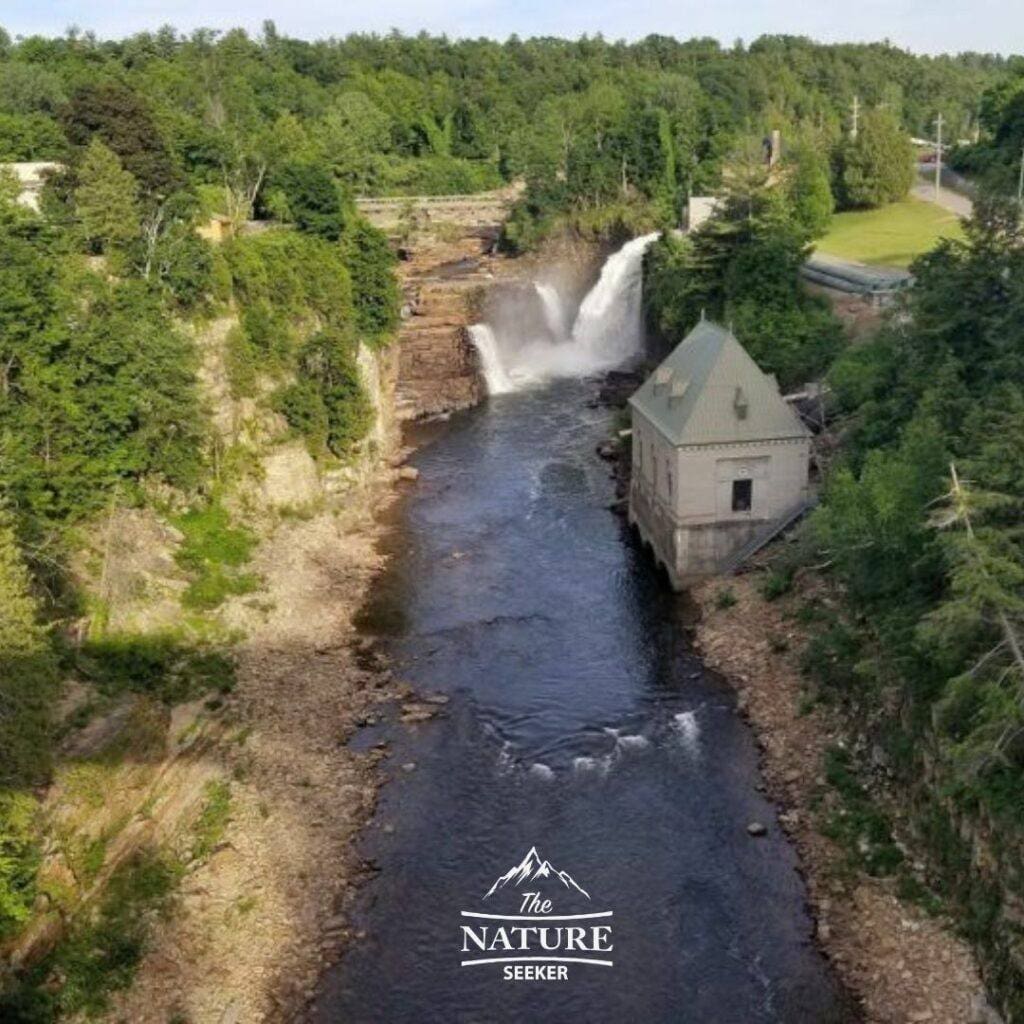 Road 9 is actually quite long and you'll find it even near Lake George (as well as Poke-o-Moonshine Mountain that's on Interstate 87.
The only problem is, road 9 often doesn't have many scenic spots if you start it from Lake George.
You'll actually want to start it from the moment it hits Lake Champlain and that's when you'll find a lot of amazing scenery on that drive.

I've included a list of the best ones to see on the NY end, but one of the best highlights of that drive is a section of Road 9 that takes you through areas like Ausable Chasm.
The picture you see to the right is of Ausable Chasm and it's taken on a bridge that is on road 9. 
Just as well, there is a park entrance into Ausable Chasm itself right by that bridge which you can check out if you're interested (and I highly recommend you do). 
There are many scenic hiking areas inside Ausable Chasm to explore.
7) Road 14 and 96A in Seneca Lake, Fing

er Lakes (west of NYC):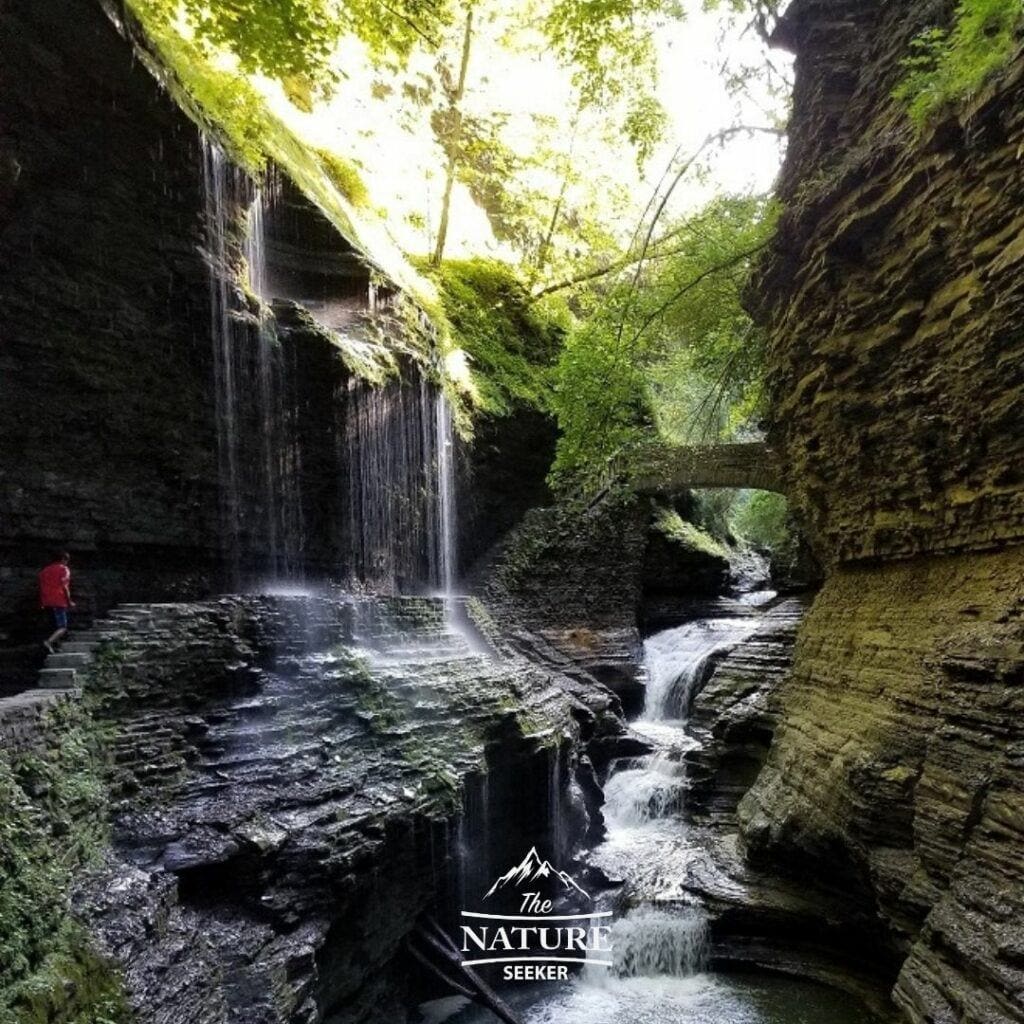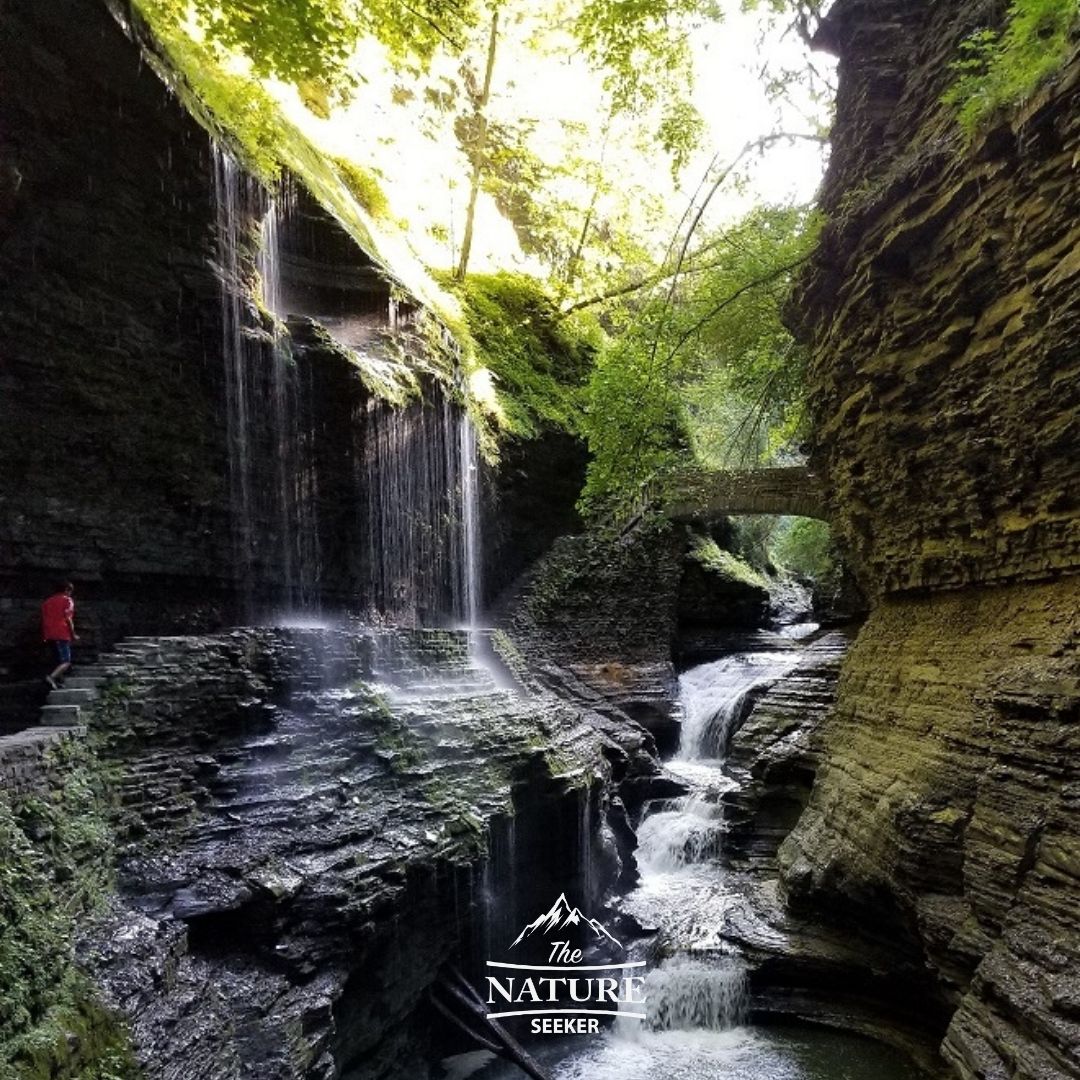 In the western areas of New York State lies an extremely beautiful area known as Finger Lakes, where you will find many scenic drives, hikes and places to see such as Watkins Glen State Park.
I personally traveled through Seneca lake (Road 14) during my Appalachian Mountain road trip and one can argue it's as long as Lake George if not longer (with better views too).
The other side of the lake has road 96A you can travel through as well and you'll see nice places like Hector Falls there, one of the best waterfalls in New York State in my opinion.

Overall Finger Lakes itself is one of the most beautiful areas I've ever seen, and not just in New York State, but everywhere I've been for that matter.
That says something and let me tell you, you need to see Watkins Glen State Park if you go there. The right picture to the right shows off some of it (there's much more).
It's truly one of the most beautiful, and easily accessible places I've seen. Parking is easy, access to the park itself is free. And the nature there is just next level.

8) High Peaks Scenic Byway (Adirondack Mountains New York):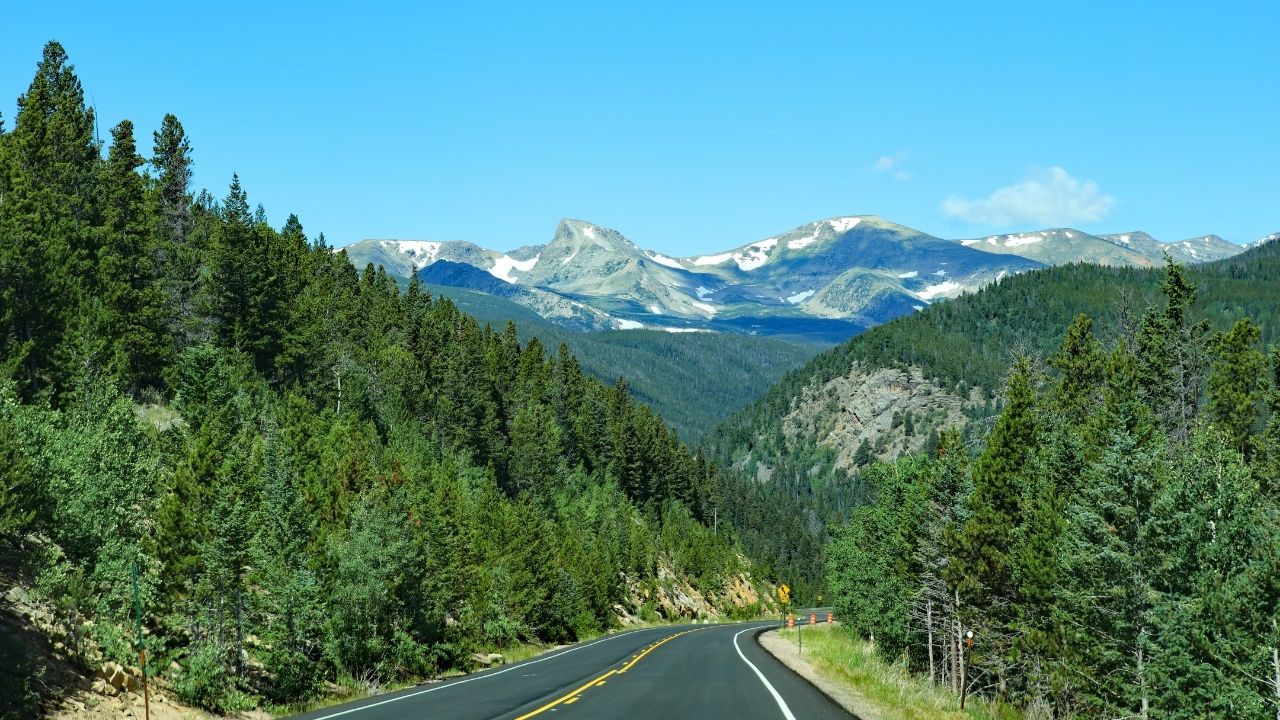 If you already traveled past Interstate 87 through the Adirondacks, then you'll want to make your next trip through this region through the High Peaks Scenic Byway.
It takes you deeper into these mountains (north west).

Along the way are a plethora of viewing areas, hiking stops, swimming holes and many more adventures to explore, but of course, the scenic drive is itself the main attraction to explore here.
My personal recommendation is to drive on the High Peaks scenic byway during autumn and it takes about 40 minutes to drive through.
9) Road 7

3 (Another scenic drive in the Adirondacks):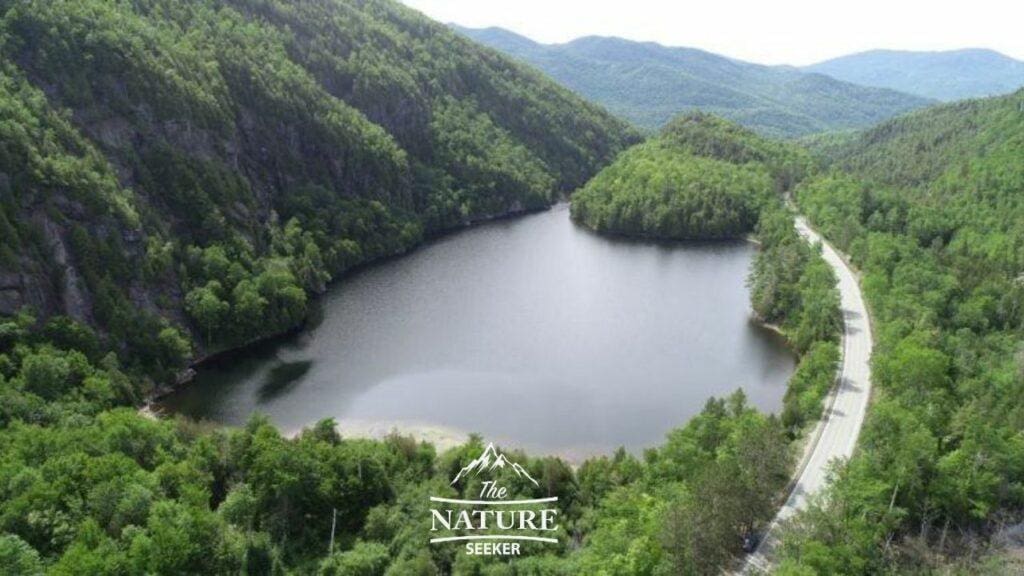 Since the Adirondacks are so huge and apparently part of the Appalachian Mountains, there are MANY roads you can take there.
While I can't comment yet on High Peaks Scenic Byway, I can comment on Road 73 which a friend of mine and I took during our 2 road trips through it.
We had originally planned to visit a place called Mount Marcy but a few turns here and there had us driving through Road 73 and while on it, we spotted some awesome sights, including a very beautiful lake we later learned was called Chapel Pond (above):
It is right off the road and you can actually swim there, which we did a few years later when we revisited it on a 2 day trip outside of NYC.
There are also beautiful Adirondack waterfall hikes to see on this road, as well as lakes and access to many hikes in this region such as Indian Head Mountain and Avalanche Pass trail.
Update: I have gone through this area fully now. It's amazing and is actually the same Highpeaks scenic byway above, so 8 and 9 on this list are the same thing. Sorry for the mistake.
10) Henry Hudson Drive (Fort Lee Historic Park)

: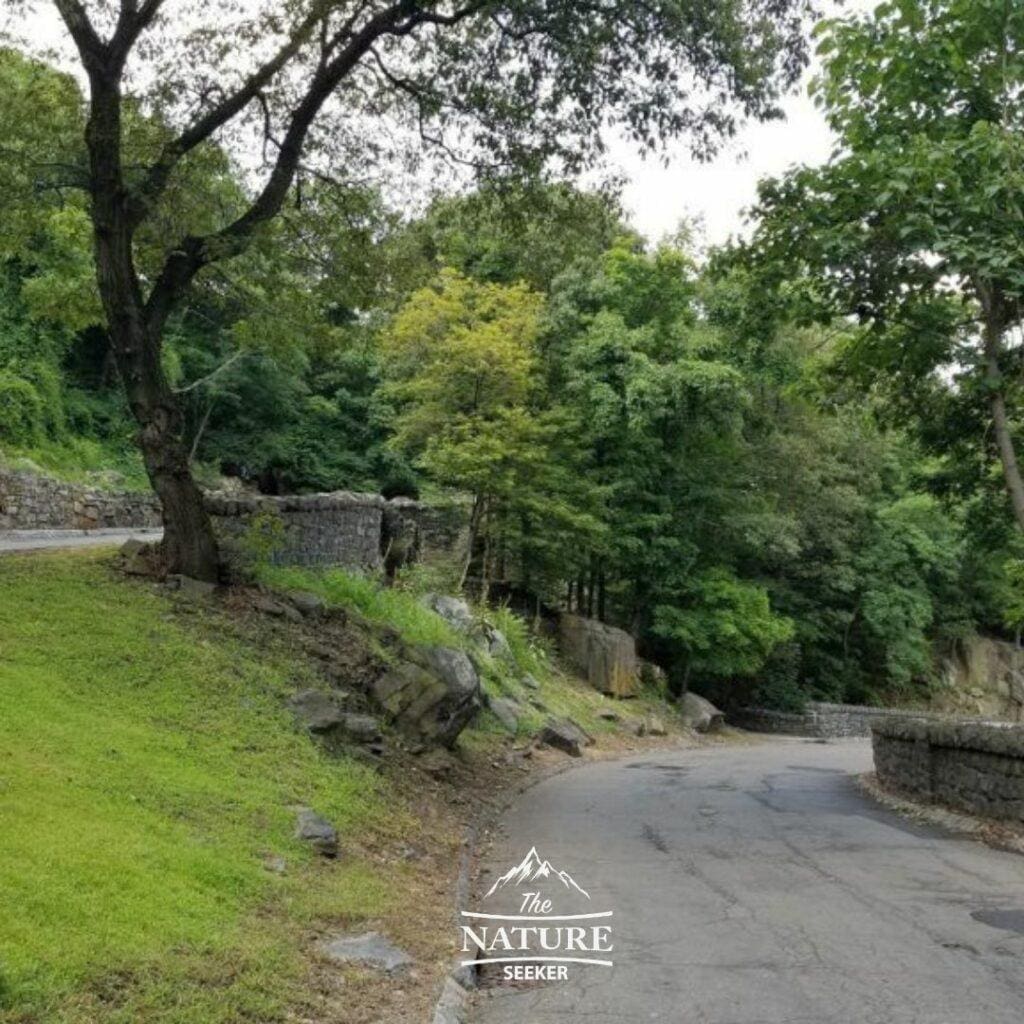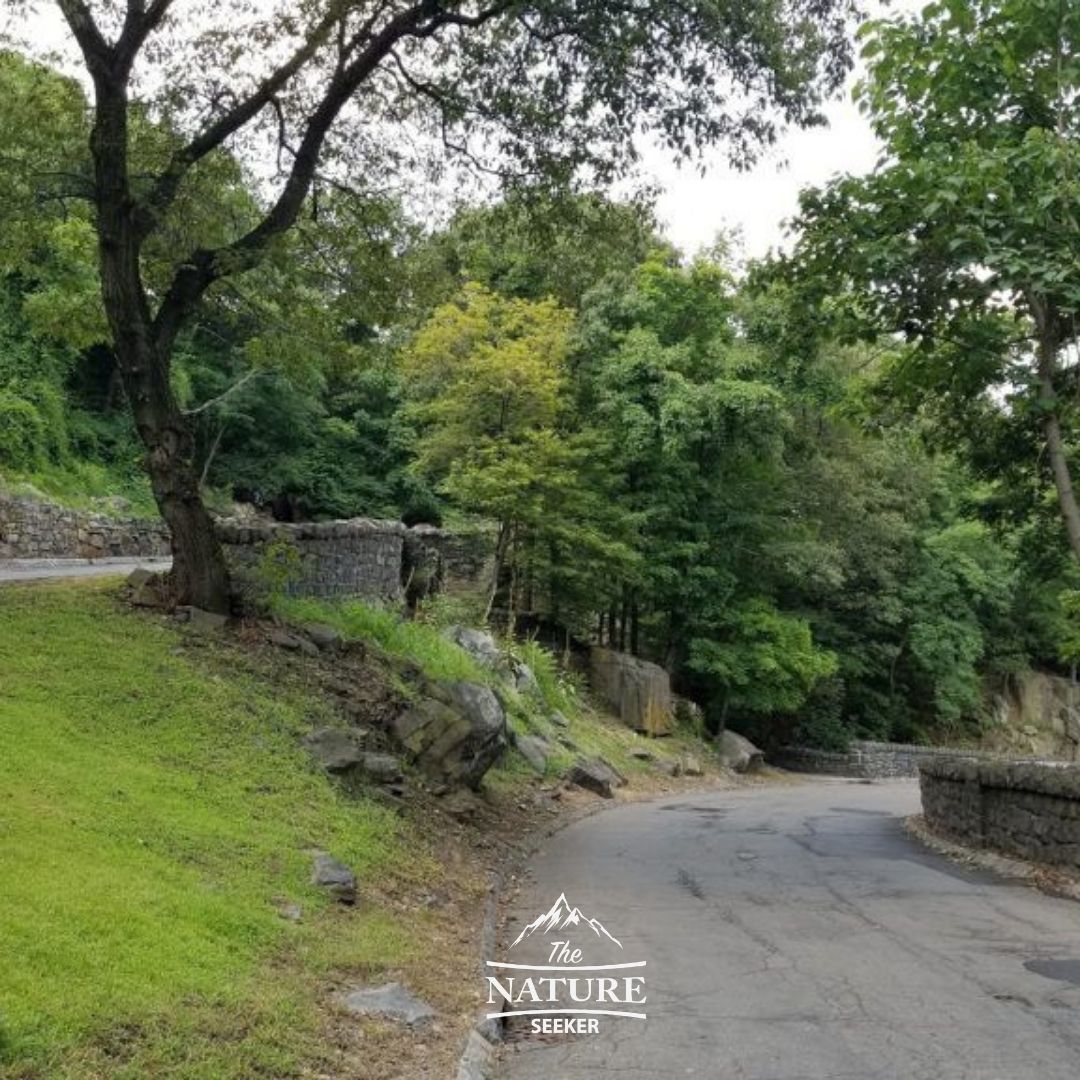 I just did this drive yesterday and let me tell you, it is A must and it's the nearest one near NYC you can do. Officially it's in NJ though.
As you get off the G.W Bridge from Manhattan, you will have the option to travel on the Palisades Parkway or enter the park right near it which is called Fort Lee Historic Park and in this park is where you'll find the Henry Hudson road.

While this path puts you into New Jersey officially, I could honestly not make this list and not include it because it's just so close and so awesome.
Here is one of the photos we took on it:
That park stretches parallel to the Palisades parkway and the main road that goes through this area is the Henry Hudson Drive.
It stretches for about 6 miles, and will take you through incredibly beautiful scenic roads, including many stops right alongside the west area of the Hudson River, where you can do picnics, water sports, biking, jogging, and many hikes.
When the drive ends on the northern end of this path, it'll connect you to the Palisades Parkway again and where you choose to go after is up to you, but by reading this list, you'll have plenty of choices! 
11) 7 Lakes Scenic Drive at Harriman State Park: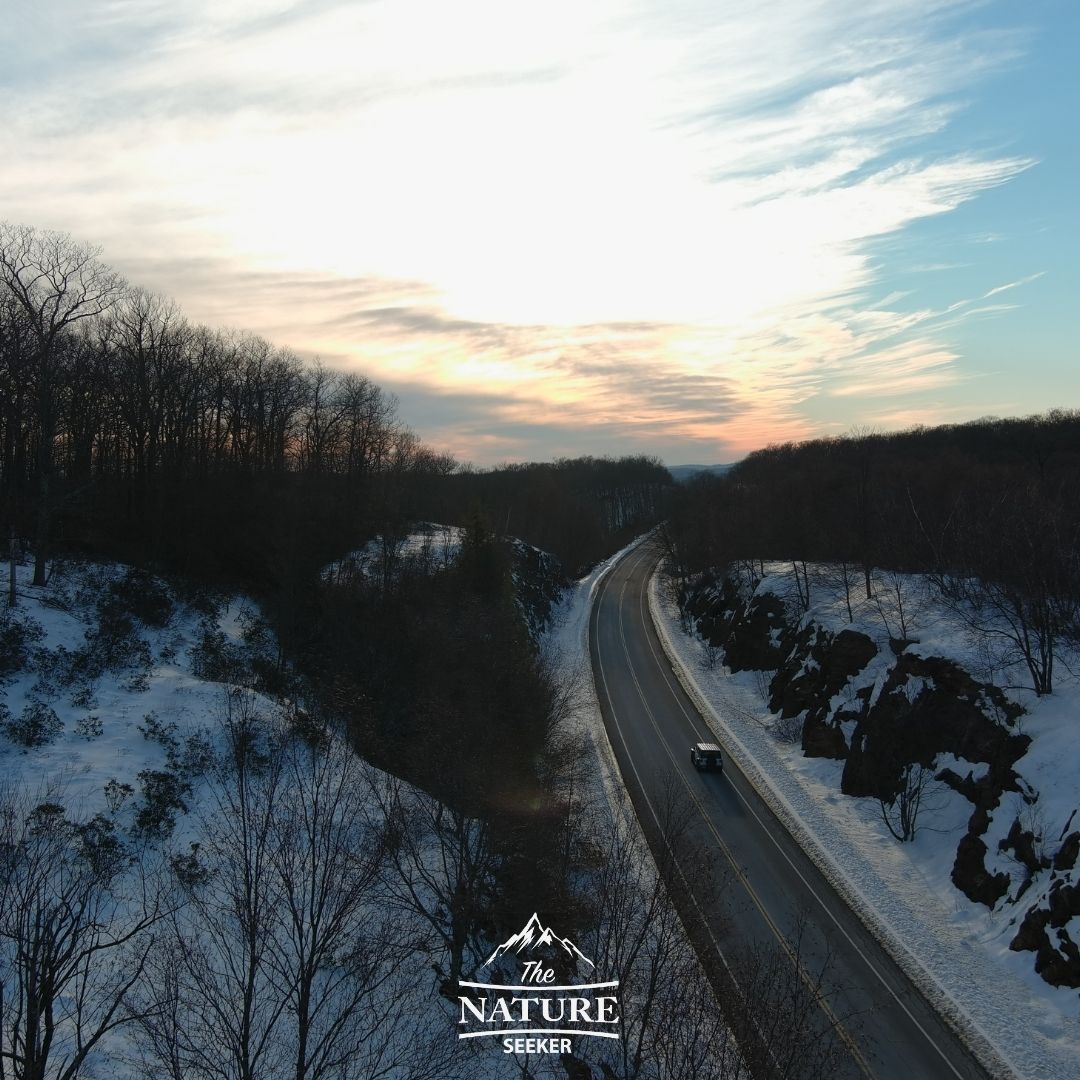 I can't believe how long it took me to explore Harriman State Park, considering how it's only a 1 hour drive from where I live.
But I did and the main road I used to drive through this park is called 7 Lakes Scenic Drive.
I highly recommend this drive if you live near NYC or are just driving north through the state. It takes about 20 minutes to drive through this path, but it'll basically take you through the entire park.
Additionally, the 7 Lakes scenic drive is the main road that goes through this park and helps you see the best things this park has to offer.
Just like the name suggests, this road will take you through the park and have you cross 7 of the main lakes in it, each of which has their own trails, stops and beautiful, simple hikes people can do.
Whether it be a scenic drive or a nice day trip, this is a short, but very scenic and beautiful drive to take!
12) Hawks Nest scenic drive: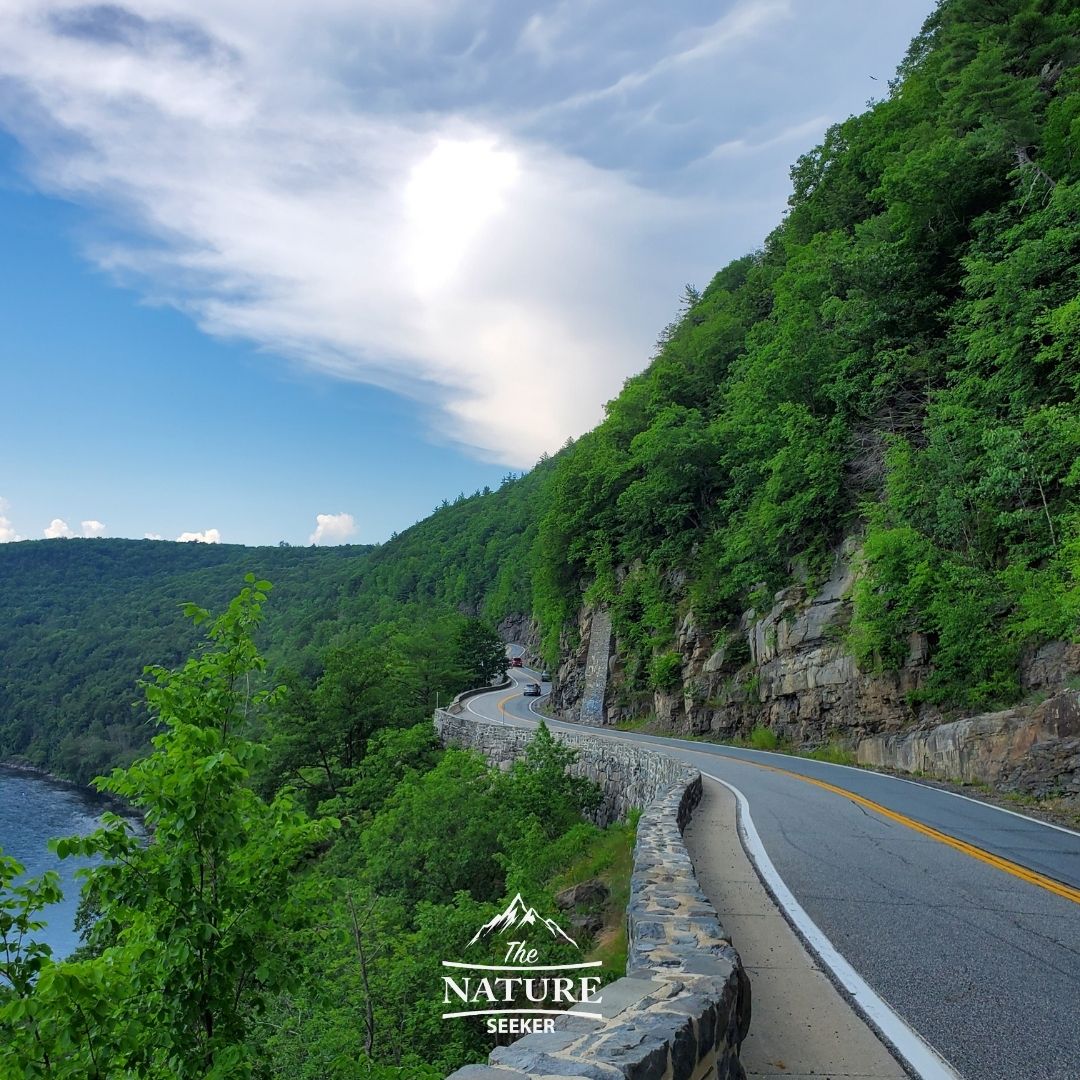 Hawks Nest scenic drive is a short route running parallel to the Delaware River (not far from Delaware Water Gap), but it's located in New York State officially.
When I first saw pictures of this drive, I thought they were actually associated with the High Peaks scenic byway in the Adirondacks, but a some quick research proved I was wrong.
And after seeing how beautiful this drive was, I knew I had to see it for myself and I did a few days ago.
The good news is that Hawks Nest is a beautiful drive, but the bad news is that it's very short and unless you're planning to do other activities nearby, like kayak on the Delaware River, camp or drive through there, there's not much else to see.
I would only recommend going through this path if you're passing through or looking to see other beautiful parks nearby like High Point State Park.
Otherwise, this scenic drive's beauty quickly fades and the photo you see to your right is really the only part of that drive that's worth looking at.
Everything else is pretty boring after that (although the town east of Hawks Nest is pretty nice).
13) Route 44 towards Lake Minnewaska:
Lake Minnewaska State Park is one of my favorite and best state parks in New York, but since we are talking about scenic drives in the state, one to keep in mind is the main road which leads you towards this park and it is stunning.
It's route 44 and it stretches for about 15 miles, takes you to the entrance of this park and also has you cross some amazing views of the southern Catskill regions of New York.
There are zigzag turns, scenic overlook stops, trailhead stops and much more to see before you even enter the main entrance to the park.
One suggestion I'd like to make is coming here during the spring-fall seasons for the best views of the leaves and nature.
Regarding how to find this drive, it isn't difficult at all. Simply set your GPS to Lake Minnewaska State Park and it'll have to take you past this road to see it. The only thing is, there are 2 parts to this drive:
One is on the east before entering the park and the other is west of the entrance of the park. The best views are on the western side.
14) West side highway (one of the best scenic drives in New York City):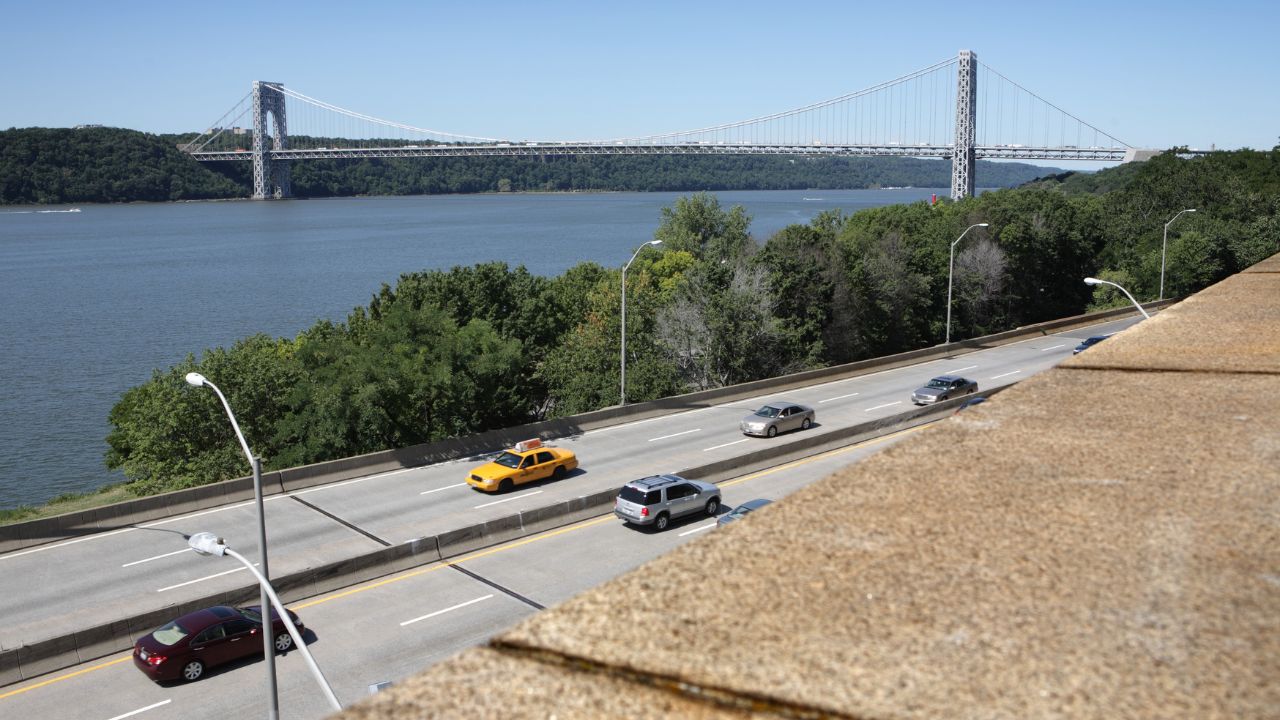 If you visit NYC and want to find a great scenic drive there, the West Side highway is probably one of the best.
It starts from Battery Tunnel (south Manhattan) and continues until you reach George Washington Bridge.
The first part (if you begin in the south) will have you go through the the city areas and you will find a lot of parks to your left.
After that you'll see a lot more of a mix of green areas, good views of the Hudson River and the city together. As you get closer to the George Washington Bridge, it'll be even more green but now you will have more elevation on the road.
15) FDR drive (upper Manhattan):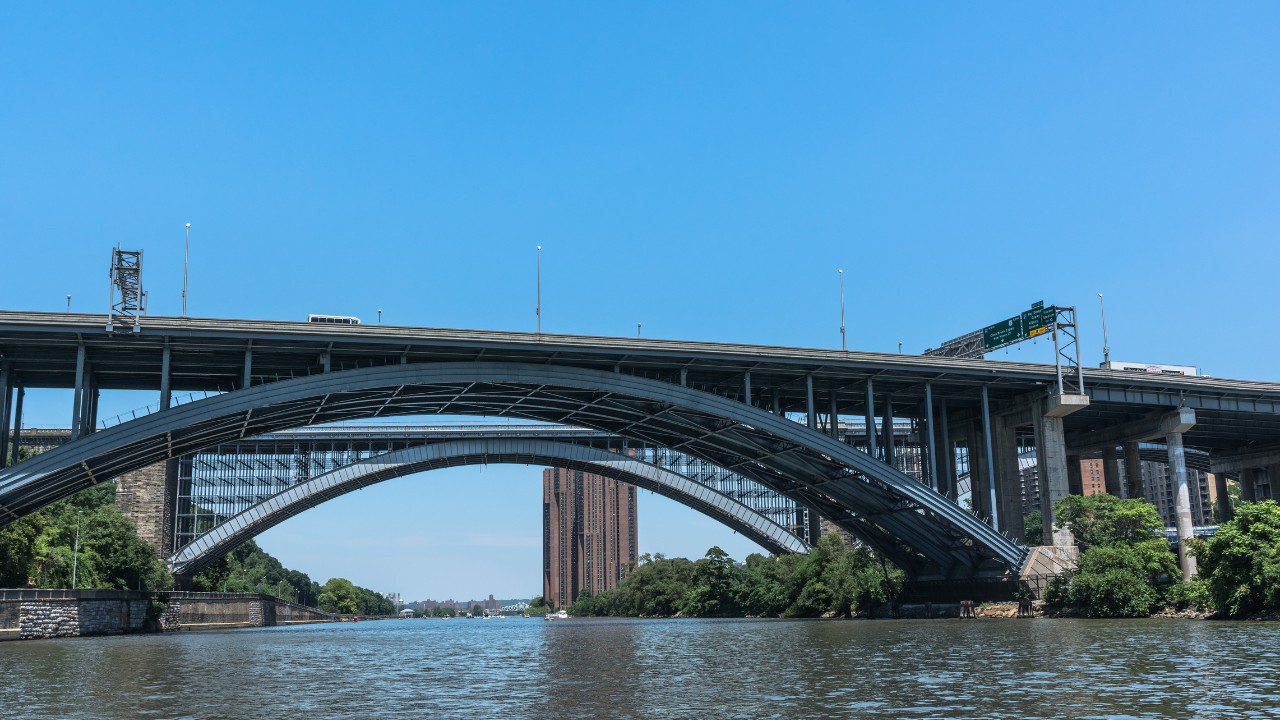 Just as the West Side Highway is the best way to see the western end of NYC (specifically Manhattan), the FDR drive is where you'll get the best views of eastern Manhattan and NYC overall.
That one also starts near Battery Tunnel, but you will head to the east highway (FDR drive) and that will have you pass many bridges and in my opinion it gets really good around the upper Manhattan area where you will cross more beautiful, higher bridges and just get better views.
The only problem with this drive (and the West Side Highway drive) is traffic and unfortunately being that it's NYC, this is common.
And so these are the 15 best scenic drives in New York!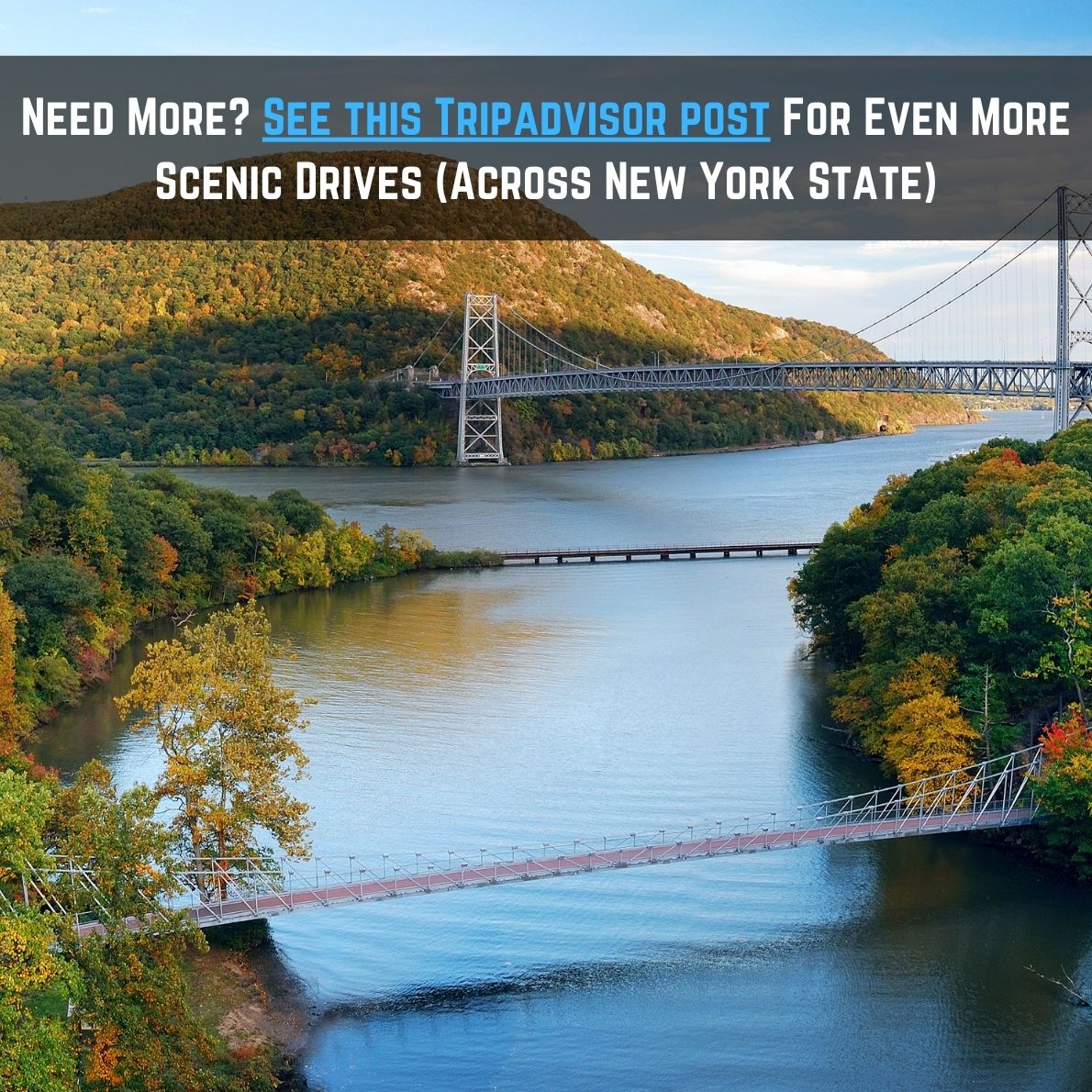 Depending on the time you have, I'd say the best one to do out of all these (if you don't have much time) would be Henry Hudson Drive and if you have a few days, obviously go crazy and go as far north as possible on 87 and enjoy the sights, or if you go west, the drives in Finger Lakes are a must too.
I can also tell you that this is just the start of the potential drives in this state and I would recommend (for more ideas) to check out other sites like this Tripadvisor one to see what else is there.
More related things to do in New York State:
1) Here is a list of the best day hikes near NYC to explore.
2) Here's a list of 10 amazing waterfalls across New York State that you'll find, some of which are close to the scenic roads you saw on this list.
3) Here is a list of 11 amazing nature places to explore near NYC. It's a list that will grow too.
Want to explore more scenic drives across the US?
If so, then I have a list of the best scenic drives in North America that I've done, some of which include roads I've passed through in Canada.