You're reading this because you've likely heard about Ausable Chasm or have seen the beautiful pictures of it and now you want to visit it, but since it's your first time, you may have questions:
What is Ausable Chasm?
Where is it?
What can you do at Ausable Chasm?
This is what I'll be answering all in this article, all to help you plan a visit to Ausable Chasm that you'll never forget, because after going there 3 times, I can tell you that this place is unlike any other, and totally worth visiting.
When I first saw pictures of this place online, I couldn't believe that it was actually in New York State, but it is and despite my pictures of this spot, it's way more beautiful when you see it.
And considering all the beautiful places I've visited in New York State such as:
Ausable Chasm stands as the top 3 spots I've ever seen in the entire New York State and you'll likely be blown away by this place when you visit it too.
The following adventures you can do there will definitely prove that.
Here are the 5 things you need to do when first visiting Ausable Chasm: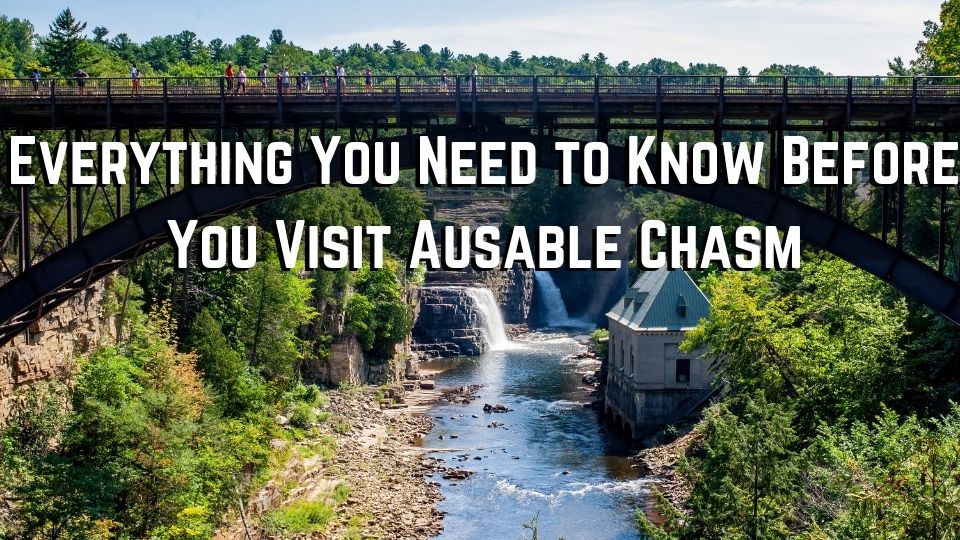 Hike the main Asuable Chasm trail.
Take the tube/rafting adventure.
Hike the trail from the tube/rafting adventure back to the main area.
Experience the fun obstacle courses inside the chasm.
Kayak (for advanced people) in the Ausable river.
I'll be detailing each option and attraction available at Ausable Chasm shortly and believe me, all of these activities can be done in one day at Ausable Chasm or over a few days.
And even if you spend more than a few days here, there's actually a lot of other fun activities outside Ausable Chasm to explore which I will also detail below.
What is Ausable Chasm?

Ausable Chasm is a long and narrow gorge with amazing views located in the northern most part of New York State, about 30-40 minutes South of the Canadian border.
Here is the official Ausable Chasm site if you wish to learn more as well as getting directions to visit it (You can just GPS it as it's easy to find).
Ausuable Chasm has beautiful gorges, hiking trails (beginner and moderate), waterfalls, and more available such as the ones you see here:
Ausable Chasm is 1-2 miles long.
The gorge itself is anywhere from 40-100 feet in certain places and the drop to the water can be anywhere from 50-200 feet high depending on where you're standing above the gorge.
The great news is that you can explore this area from many different angles and in order to get the best experience out of it, this is where I'll show you the 5 things you can do there.
5 things you need to do at Ausable Chasm for your first visit:
You can actually do all 5 of these things in a single day!
1) Do the main (

yellow

) trail first.
The yellow trail (1-2 miles long) is the most popular option available at Ausable Chasm and it allows you to descend into the gorge, very close to the water, and take the raft ride when you finish the trail. It is a very scenic walk and the beauty in the gorge is unforgettable:
The way this trail is designed, is that as you travel deeper and deeper into the chasm, you eventually come across an area where hiking further is impossible, and that's where you're provided with access to a raft/tube to continue down the Ausable River. 
If you're afraid of the water/river, you can just backtrack up the same trail instead.
2) Try the rafting experience at Ausable Chasm (It's very fun).
If you Google any images of the Ausable Chasm, odds are you'll see what I'm about to show you. You're going to be taking a 15-20 minute raft ride that stretches for about 1/2 a mile. While it is short, it is going to take you straight through the chasm itself.
If you've never done rafting before, I wouldn't worry. It's not dangerous and when I did it, it was also my first time rafting.
The ride itself will be calm most of the time and there is a short area where you will go through a pretty bumpy river ride. I would not recommend you take any expensive equipment here unless you have gear to store it. The photos I took below were with a GoPro camera.
I want to make a quick note about the picture with the bridge 100 feet high. We were told by our tour guide on the raft (you have to go with one if you're going rafting) that when Hurricane Irene hit a few years ago (New Yorkers will remember), that the water and flooding was so catastrophic in this area that the level of the water was raised so high in this area that it was only 10 feet under the bridge!
That means the flood from the hurricane filled the canyon up 90 feet! 
3) Hike the

orange trail

back from the raft ride.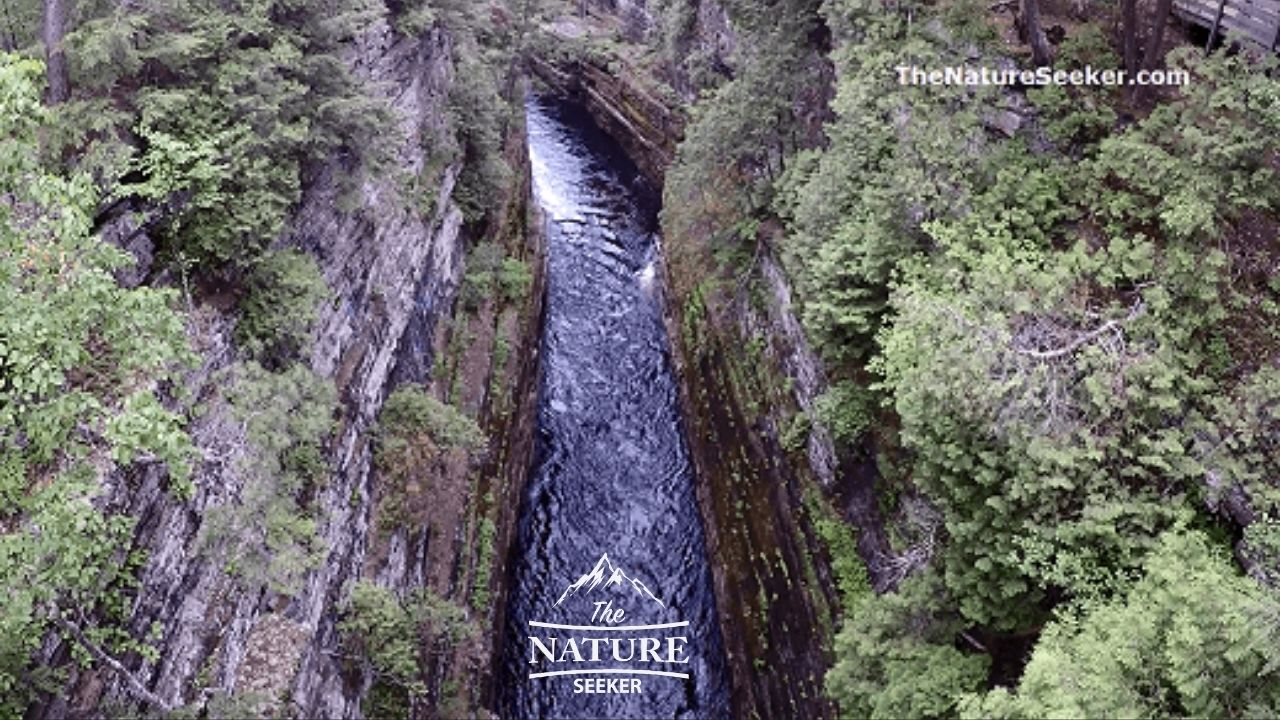 After you finish the raft ride, an orange trail is available to have you go back to the starting point of Ausable Chasm, but on the other side of it. Let me just say that the silence I heard when we got off the raft were truly something and I encourage you to stay at this spot for a little bit just to enjoy it.
You can also elect to take a tour bus back to the starting point if you don't wish to hike back. Would I recommend you walk back instead of taking the bus? Depends if you're tired or not. The views, while not as great as the path headed into the chasm are still worth checking out.
You can also cross the 100 foot high bridge that I was talking about and have a nice look at the river from above:
4) Do the obstacle course challenge in Ausable Chasm.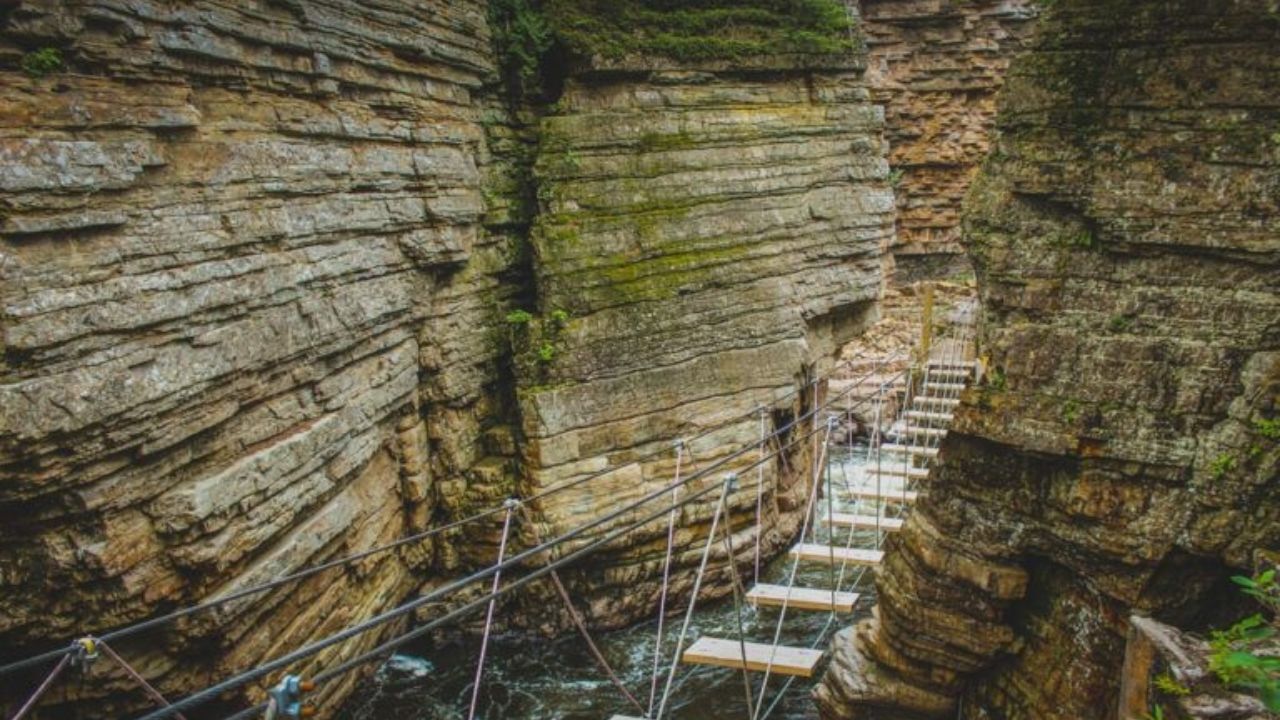 If you enjoy safe, but challenging climbs that feel like you're in an Indiana Jones movie, then you'll love doing the obstacle course in Ausable Chasm.
It is only done with tour guides, and under strict safety guidelines, and you have to plan it by appointment, but it's very beautiful, scenic and you really will be doing challenging hikes inside the gorge, on it, and basically scaling the sides of the gorge on ladders like these:
5) Kayak the Ausable River! 
In order to do this, you'll need special permission and your own kayak from my understanding. But this is an activity you can do in Ausable Chasm, where you'll start from the main 3 waterfall area and work your ways down through the gorge, past the raft ride area, across the river and however far down after that as you like.
This is something I will try to do in the future because as much as I loved hiking and rafting through Ausable Chasm, kayaking there might be a whole new adventure that's even more fun!
Common questions with answers on Ausable Chasm (ask yours below too):
How long does it take to do Ausable Chasm?
The main hike is under 2 miles and takes about 2 hours to complete.
How do you get to Ausable Chasm for free?
Just park near the bridge crossing Ausable river and look at Ausable Chasm from there (no charge).
Can you swim at Ausable Chasm?
No, but there are areas outside Ausable Chasm where swimming is permitted.
How hard are the trails at Ausable Chasm?
The trails at Ausable Chasm are pretty easy and mostly family friendly.
What should you bring and wear if you go to Ausable Chasm?
Swimming trunks would be idea if you plan to do the raft ride, but other than this hiking in this area is not something that requires major preparation. If you want to see my list of recommended gear that I personally love to bring anywhere I go with nature, here is it:
5 other attractions to explore near Ausable Chasm:
I highly recommend hiking Poke o Moonshine mountain (20 minutes away).
You can also head east into Vermont via ferry to explore Sand Bar State Park.
If you're in Vermont, visit Smugglers Notch which is about 40 minutes away.
If you're headed south, you have all of the Adirondack Mountains to explore (Indian Head trail).
If you also turn south east, you can visit the beautiful Green Mountain National Forest region.
When my buddy and I first drove through Ausable Chasm, once we finished exploring it, we then decided to improvise and turn the visit to Ausable Chasm into a fun 1,500 mile road trip across the eastern United States, which took us through the above places, and had us go even further north east into places like:
The White Mountains, including Cannon Mountain, and another spot we thought looked like Ausable Chasm which is called Gulf Hagas, all the way in the state of Maine (Spoiler: Ausable Chasm is better)!