In this post, I'm going to show you the 7 of the best things to do in Ausable Chasm which happen to be the perfect activities to check out for first time visitors there.
Quick info about Ausable Chasm New York: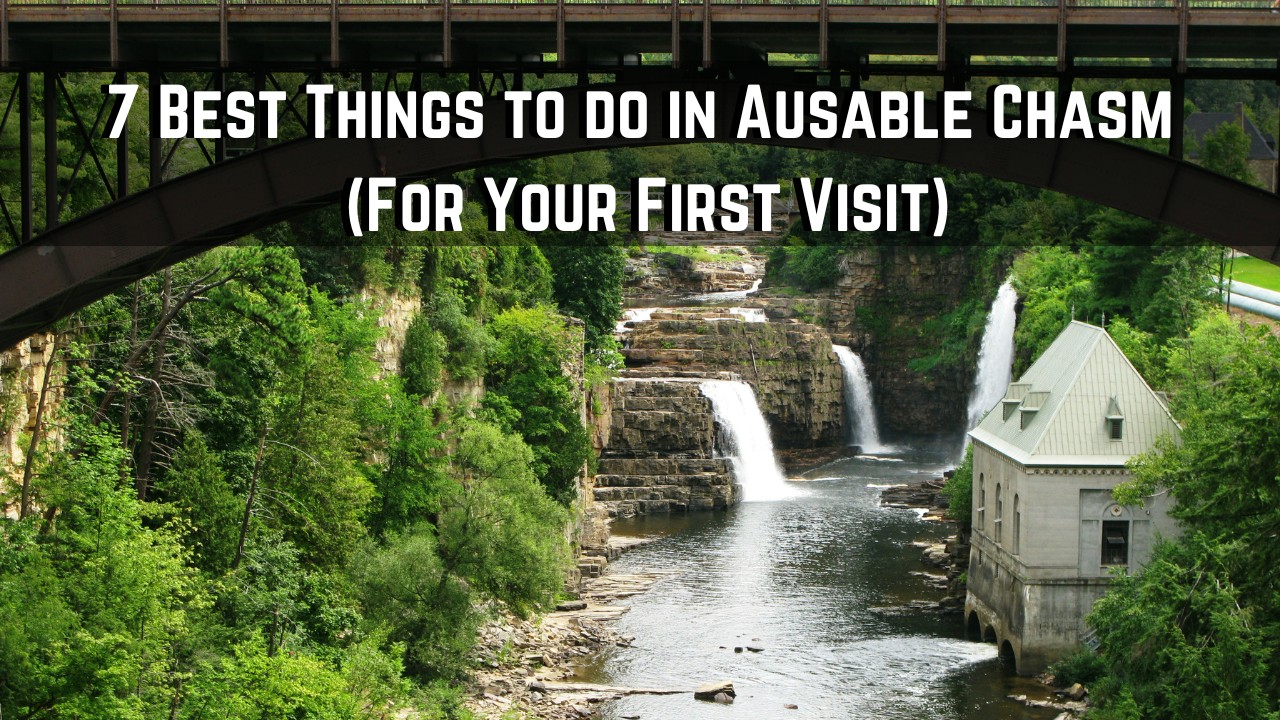 Name: Ausable Chasm.
Location: New York State, near Keeseville.
What is it? A very scenic gorge with hikes, tubing and other outdoor activities.
Good for families? Yes.
Free to enter? You can see Ausable Chasm for free from a bridge, but it costs to get into the gorge.
Rating:

5 out of 5

.
Recommended? Yes!
After visiting Ausable Chasm several times over the years, I have concluded that it is one of the most beautiful nature spots I've ever seen not just in all of New York, but in the entire US and you're reading this because you've heard about it, are likely planning a trip there are want to know the best things to do once you arrive. This is what I'll be answering all in this article, all to help you plan a visit to Ausable Chasm that you'll never forget.
Here are the 7 things to do in Ausable Chasm NY:
Start by viewing Ausable Chasm from the bridge.
Check out the main overlook once you enter the gorge.
Hike the main Ausable Chasm trail.
Take the tube/rafting adventure.
Hike the trail from the tube/rafting area back to the main entrance.
Do the obstacle course inside the gorge.
Kayak (for advanced people) in the Ausable river.
Ausable Chasm isn't very large and the good news about this is that you'll be able to do most of the things on this list in one day pretty easily. But beyond your visit here, I'll also document the best things to see near Ausable Chasm after your visit too.
7 things you need to do at Ausable Chasm for your first visit:
Note: You can actually do all 7 of these things in a single day!
1) Start by viewing the gorge from Ausable Chasm bridge: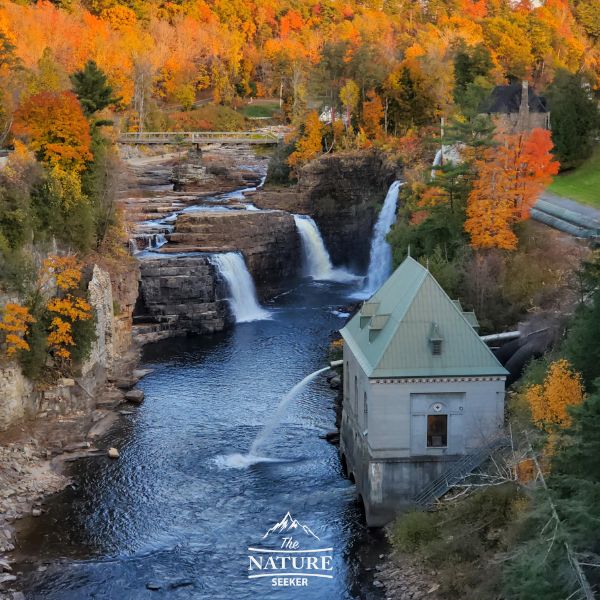 This is actually the only free things you can do at Ausable Chasm and it's actually one of the best too. Regardless of which direction you are coming into this area from, you will have to cross the Ausable Chasm bridge to either get into the ticket area (for the later activities), or cross it after to get into the hiking areas (into the gorge).
There is actually a large parking area to the south of Ausable Chasm bridge where you can park for free, go over to the bridge and get some amazing photos of the gorge and waterfalls there. In fact, if you are only passing through this area for a short period and you can only do one activity, this would be it.
2) Stop by the main overlook area once you've entered the gorge trail:
Once you're purchased a ticket to enter Ausable Chasm, you'll either drive or walk back across the same bridge and enter the official hiking area. It starts with a short walk down to the gorge, but before you enter it, you'll have a chance to see Ausable Chasm from a different angle which is a little bit under the bridge area.
I recommend stopping by that overlook because you will get another great angle of the gorge and waterfalls with the bridge coming over it. It's a great spot to take amazing Ausable Chasm photos and to be fair, that's not difficult to find here.
3) Do the main hike in Ausable Chasm (known as Inner Sanctum trail):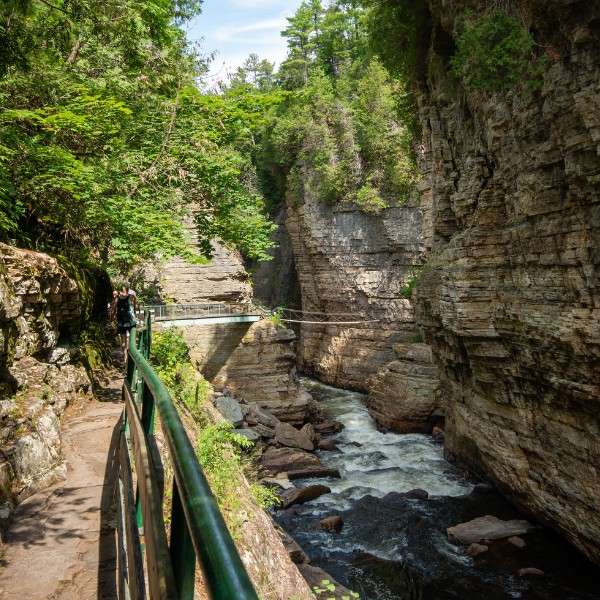 There are a few Ausable Chasm trails available to check out but if you want to know what the best one is, the gorge trail would be it. Here's why:
It's the yellow trail (1-2 miles long) which is the most popular trail in Ausable Chasm will take you down into the gorge and literally by the river. It is a very scenic walk and the beauty in the gorge is unforgettable. You'll see amazing gorge walls and rock formations like elephant rock in there.

The way this trail is designed, is that as you travel deeper and deeper into the chasm, you eventually come across an area where hiking further is impossible, and that's where you're provided with access to a raft/tube to continue down the Ausable River.
If you're afraid of the water/river, there's an exit available right before you go to the boat area. That exit will take you back to the trail to lead you to the entrance of Ausable Chasm.
4) Try the rafting and tubing tour ride in Ausable Chasm:
Again, if you take the main yellow trail into the gorge, eventually it'll end and you'll have the option to take the raft/tubing ride and I recommend you do because that experience is amazing.
If you Google any photos of the Ausable Chasm, odds are you'll see the rafting ride. I've personally done it. It is about 15-20 minutes and stretches for about 1/2 a mile. While it is short, it is going to take you straight through the chasm itself and there are parts of it where the gorge gets pretty narrow.

If you've never done rafting before, I wouldn't worry. You will be accompanied by one of Ausable Chasm's staff while on it (they will be giving you the tour of it) and it's not dangerous and in fact when I did it, it was also my first time rafting.
Here's a much better photo of the rafting tour: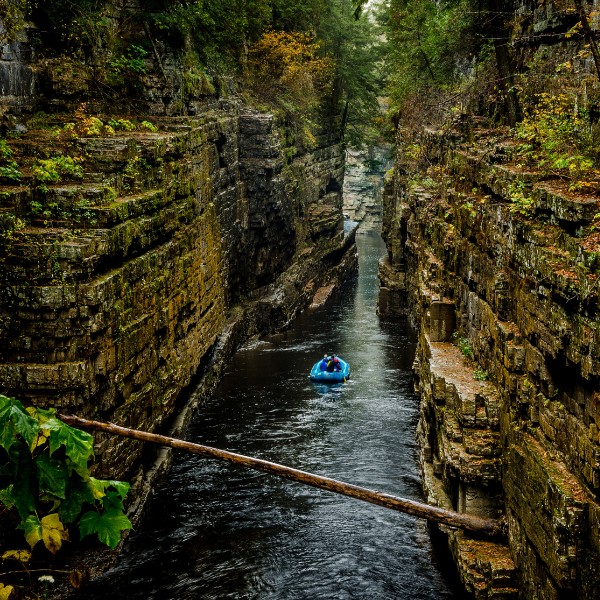 The ride itself will be calm most of the time and there is a short area where you will go through a pretty bumpy river ride. I would not recommend you take any expensive equipment here unless you have gear to store it. The photos I took above were with a GoPro camera while the photo from above is taken from a bridge you cross later.

I want to make a quick note about the picture with the bridge 100 feet high. We were told by our tour guide on the raft (you have to go with one if you're going rafting) that when Hurricane Irene hit a few years ago (New Yorkers will remember), that the water and flooding was so catastrophic in this area that the level of the water was raised so high in this area that it was only 10 feet under the bridge!
That means the flood from the hurricane filled the canyon up 90 feet!
5) Return from the tubing and raft area via hiking the

orange trail

:
After you finish the raft ride further down the Ausable River, an orange trail (known as the Dry Chasm Trail) is available at the end to have you go back to the starting point of Ausable Chasm, making it into a loop. Let me just say that the silence I heard when we got off the raft were truly something and I encourage you to stay at this spot for a little bit just to enjoy it.
You can also elect to take a tour bus back to the starting point if you don't wish to hike back. Would I recommend you walk back instead of taking the bus? Depends if you're tired or not. The views on the orange trail are not as interesting as the yellow trail in my opinion but it does add to the hiking experience here and the way back is about 1 mile long.
6) Do the Ausable Chasm adventure trail: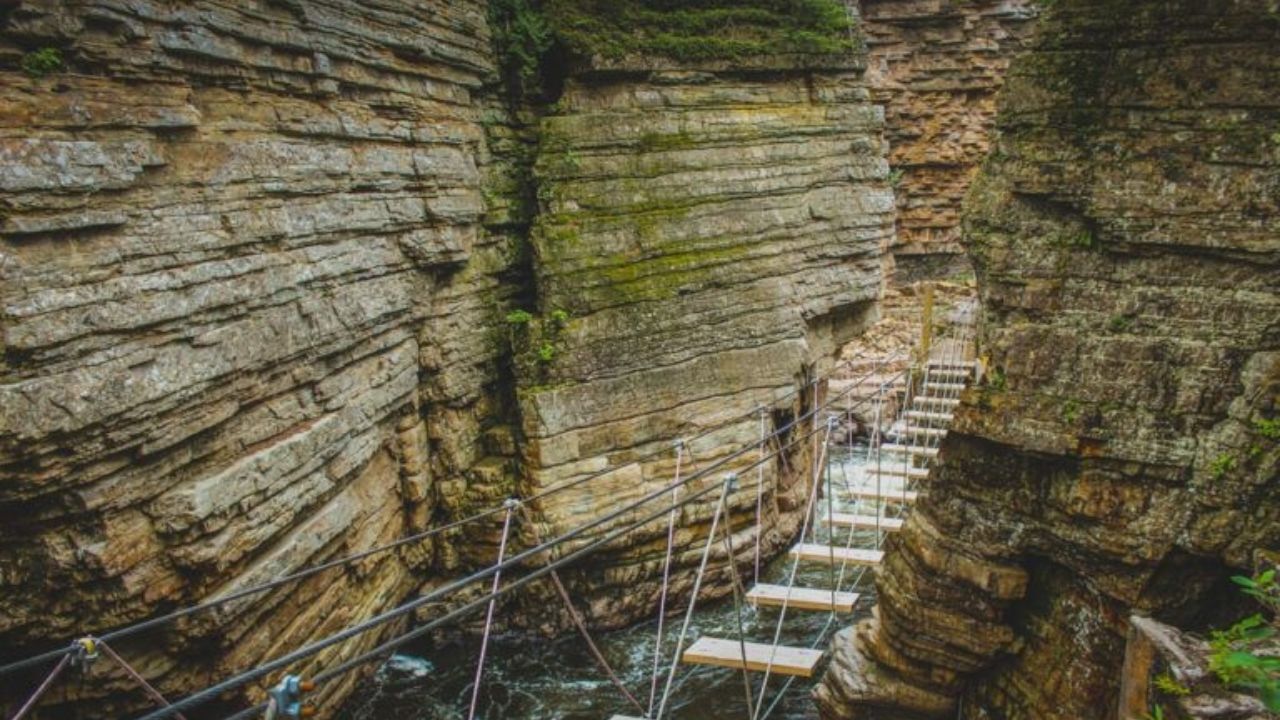 If you enjoy safe, but challenging climbs that feel like you're in an Indiana Jones movie, then you'll love doing the Ausable Chasm adventures trail which is basically an obstacle course and for this, you will have to pay a separate fee to get in from a different end of the gorge.
It is only done with tour guides, and under strict safety guidelines, and you have to plan it by appointment but it's very beautiful, scenic and you really will be doing challenging hikes inside the gorge, on it, and basically scaling the sides of the gorge on ladders.
You will also get pretty close to the waterfalls you see from the bridge at the start of Ausable Chasm.
7) Kayaking the Ausable River:
Yes it is possible to do some Ausable Chasm kayaking, but in order to do this, you'll need special permission and your own kayak from my understanding. But this is an advanced activity you can do in Ausable Chasm, where you'll start from the main 3 waterfall area and work your ways down through the gorge, past the raft ride area, across the river and however far down after that as you like.
This is something I will try to do in the future because as much as I loved hiking and rafting through Ausable Chasm, kayaking there might be a whole new adventure that's even more fun!
Update: I recently visited Ausable Chasm and learned that kayaking is no longer possible in this area unfortunately. The raft tour is still available though.
Here is a map of Ausable Chasm with all the trails and attractions: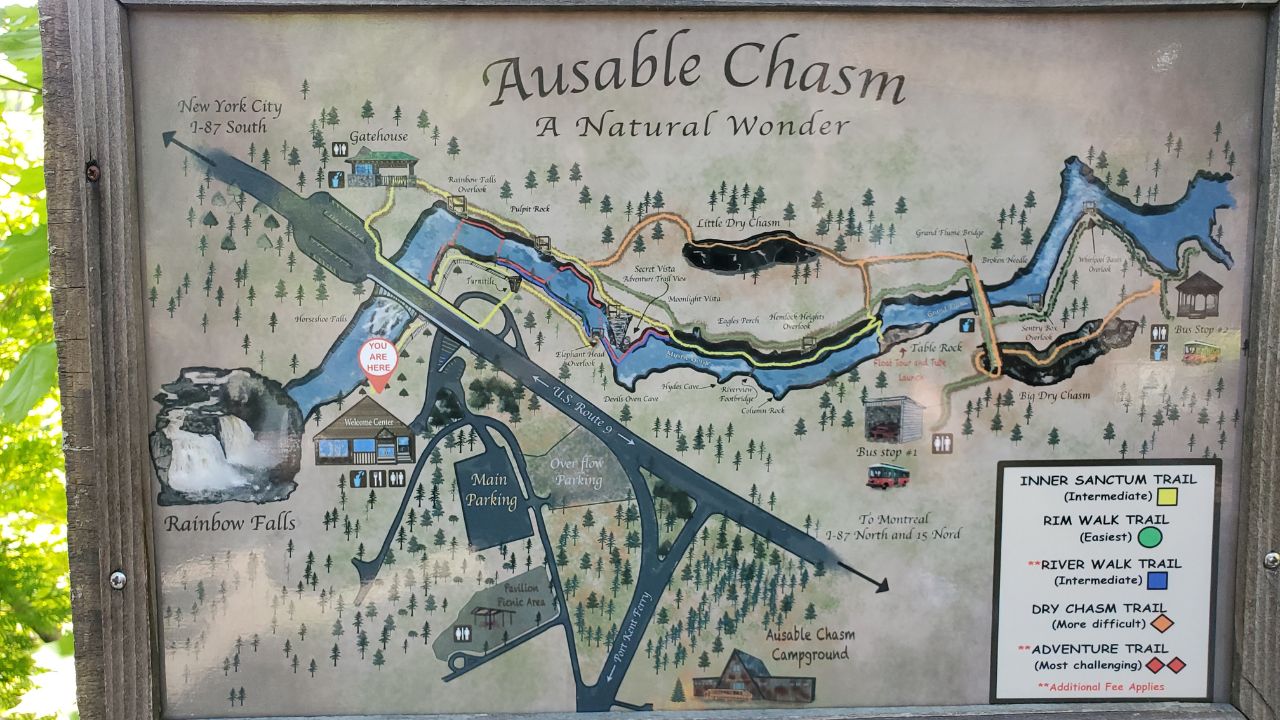 Common questions with answers on Ausable Chasm (ask yours below too):
How long does it take to do Ausable Chasm?
The main hike is under 2 miles and takes about 2 hours to complete.
How do you get to Ausable Chasm for free?
Just park near the bridge crossing Ausable river and look at Ausable Chasm from there (no charge).
Can you swim at Ausable Chasm?
No, but there are areas outside Ausable Chasm where swimming is permitted.
How hard are the trails at Ausable Chasm?
The trails at Ausable Chasm are pretty easy and mostly family friendly.
Here are some other major questions I've seen come up on Ausable Chasm:
Is Ausable Chasm worth it?
I say it is! I've seen so many amazing places across New York State that took my breath away and Ausable Chasm is still in my top 5 regardless. Can you do a day trip here? Yes, but I would recommend you consider staying in this region for more than a day because there is so much more to see around Ausable Chasm to further enhance your trip experience.
What about Ausable Chasm reviews? Are they good?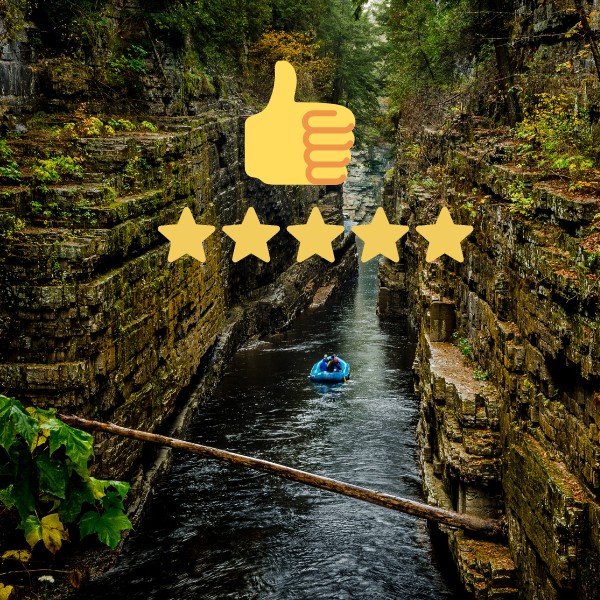 I honestly have never met anyone who didn't like Ausable Chasm or gave it a negative/poor review. In fact, the last time I checked the reviews of Ausable Chasm on Google, it was 3,300+ reviews with a 4.5 rating. I personally give it an easy 5 out of 5 and so do all my friends and family who have come here.
When is the best time to visit Ausable Chasm?
I've been there 5 times so far across different seasons and in my opinion there are 2 best times to go there:
End of May (summer). Around this time, the rafting attraction and obstacle course open up in Ausable Chasm.
Mid October because you will see some of the

best fall foliage in New York

then, but the boat and obstacle course area might be closed then.
How far is Ausable Chasm from Lake George and other popular destinations?
From Lake George, it's about a 2 hour drive to Ausable Chasm (just take I 87 then road 9).
From Albany NY, it's about a 3 hour drive (north).
From NYC, it's about a 6 hour drive (basically north).
From Burlington (Vermont), it's about a 1-2 hour drive west.
From Montral (Canada), it's about a 1-2 hour drive south.
5 other things to do near Ausable Chasm New York: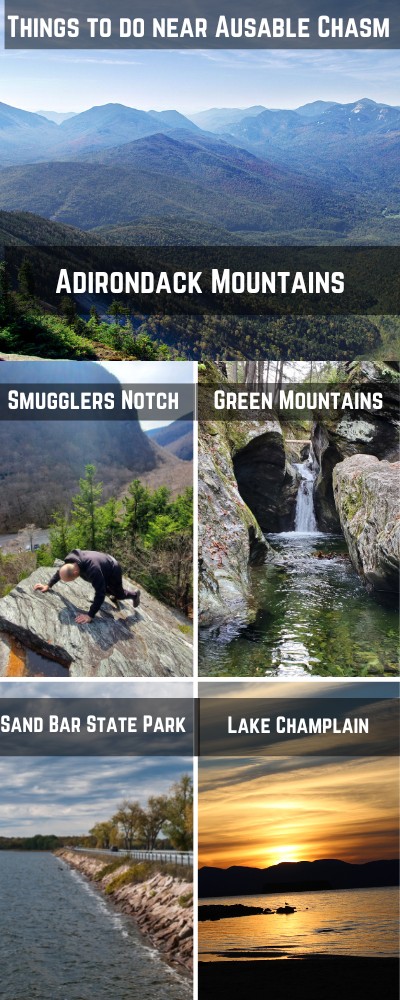 As amazing as Ausable Chasm is, there's actually a lot more to see around it if you know where to go and I have at least 5 suggestions:
1) You can head east into Vermont via ferry to explore Sand Bar State Park or Vermont in general.
2) Another awesome Vermont gem I highly recommend seeing is Smugglers Notch which is about 1 hour away. There's incredible hikes, waterfalls and scenic drives that you have to see there!
3) The Adirondack mountains. In fact, Ausable Chasm is somewhat connected to them but if you're looking for the most things to do near Ausable Chasm, this is the region you're going to want to stay at. Here's a few suggestions:
4) If you're headed south, I would strongly recommend visiting Green Mountain National Forest as it has tons of amazing places to see too!
5) If you can time it, go to Ausable Chasm in the fall. I did that recently and I was absolutely amazed by it! Other than this, see more of the best places for fall foliage in New York here.