I have to apologize to Green Mountain National Forest. Why? Because all the chances (until recently) that I had to explore it, I didn't because:
I was too busy spending time in other beautiful spots in Vermont like Smugglers Notch and Sand Bar State Park.
I was too tired from driving in other areas and doing other road trips and time was scarce.
I just wasn't interested in exploring this region because I thought it had nothing to offer that I hadn't seen in Vermont already.
Well on a recent 2 day road trip outside of NYC (where I live), my usual travel buddy convinced me to finally check out Green Mountain National Forest and we did, all in one day, and the 5 places I there blew me away and inspired me to write this post, so you can also explore this region and see the beauty I saw.
Most of them are off a single scenic road in this region, which is road 100 and the spots on this list are either right off the road, or close by enough to get to the beautiful spots within a matter of 5-10 minutes, so you can easily fit these 5 places into a day trip.
Here are the 5 places to explore in Green Mountain National Forest (in one day):
Thundering Brook Falls.
Warren Falls (swimming holes).
Moss Glen Falls.
Texas Falls (great hiking and views).
Buttermilk Falls (Great hiking and swimming holes).
As of right now, I explored 4 out of the 5 places on this list.
The only one I missed was Thundering Brook Falls and there were also others we wanted to check out but didn't have time to, so this list of places to explore in Green Mountain National Forest will grow.
But for now, I'll show you why these spots are so awesome to explore.
1) Thundering Brook Falls: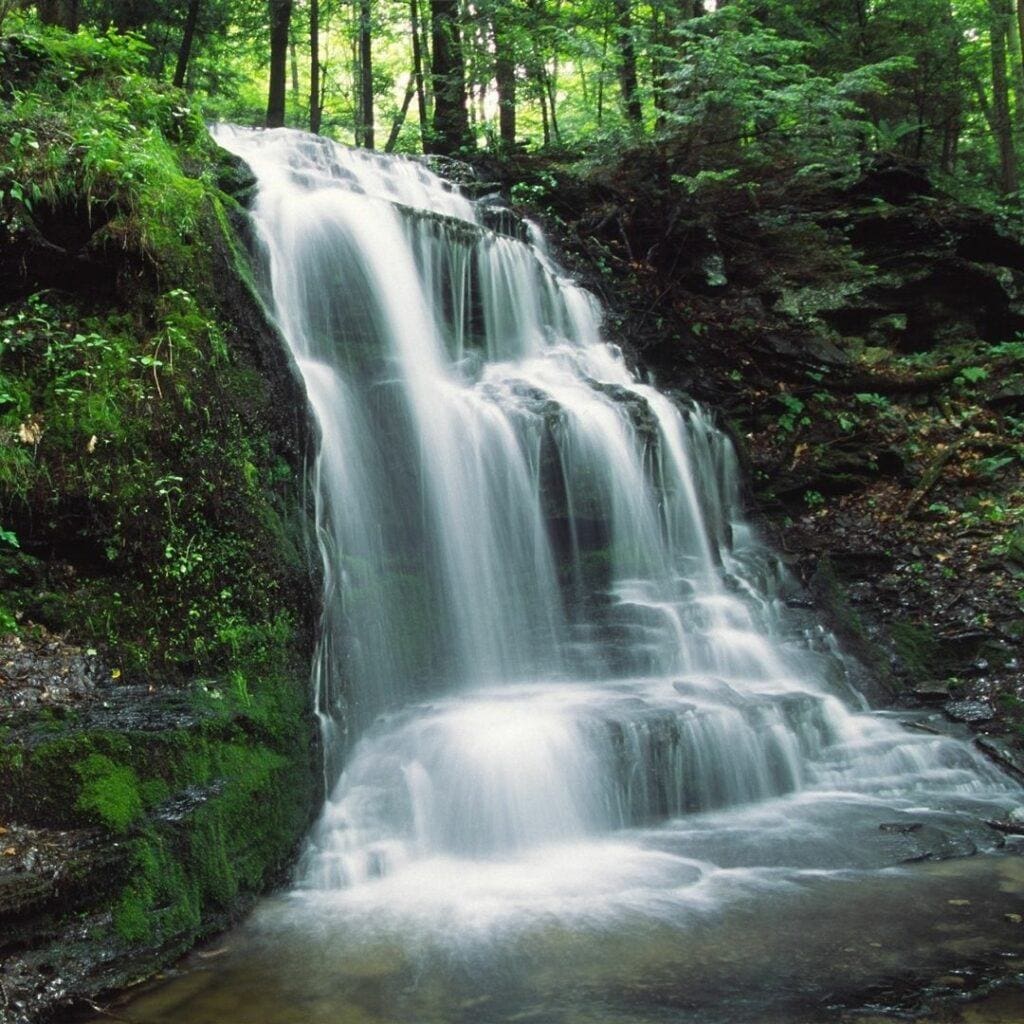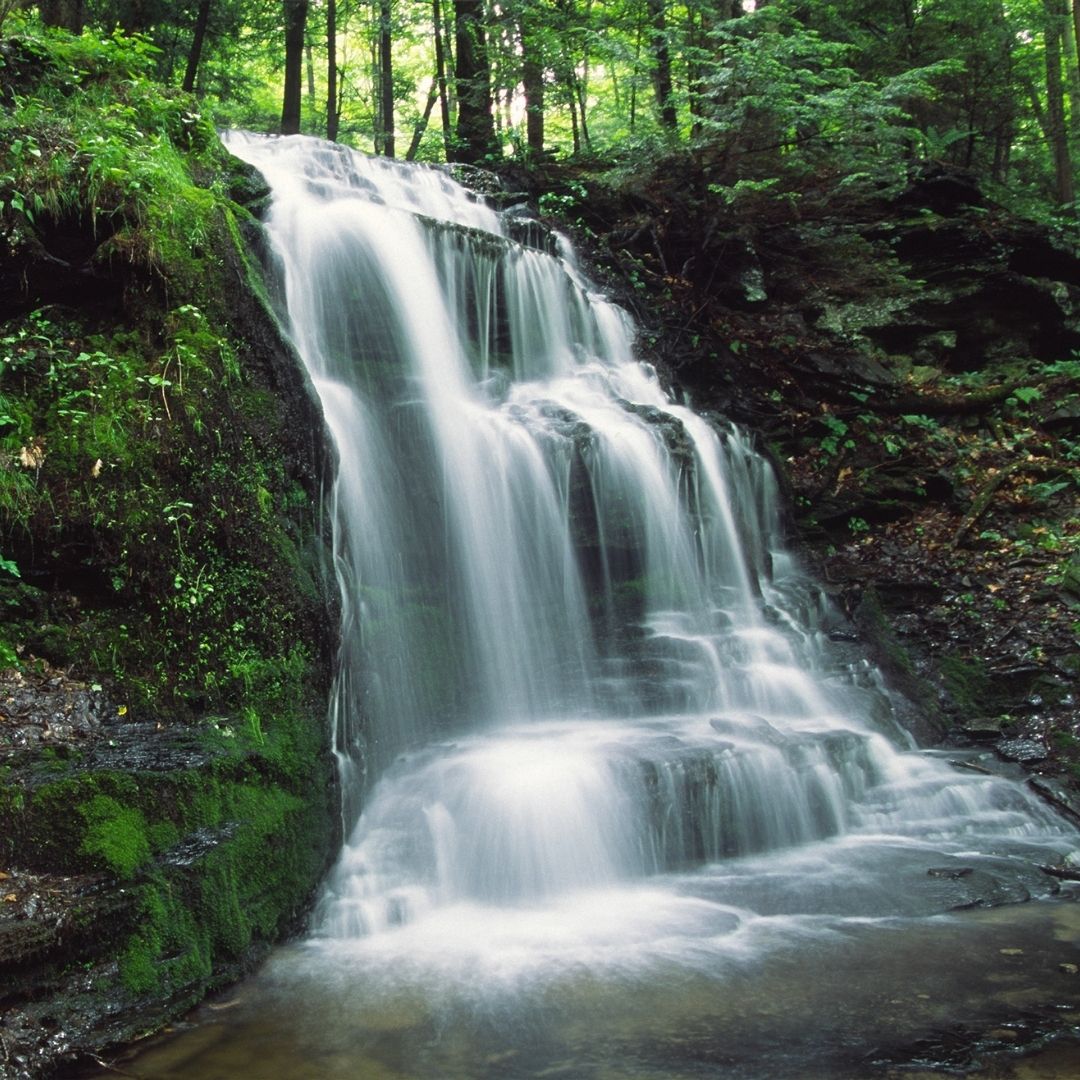 Thundering Brook Falls is a beautiful waterfall with a short hike to it off River Road right near Road 100, that goes through the Green Mountain National Forest.
There is a short trail and viewing area to get you to it and if you're just driving through this region, you only need to spend a few minutes to find this spot and it's highly recommended.
Again, as of now, I haven't explored it, but it was on my list and will be checked off in the near future.
If you enjoy waterfalls and simple walks where you can see them, then Thundering Brooks is a great place to check out in Green Mountain National Forest.
Just as well, it's a nice appetizer for the other hikes and fun activities you can do here.
Now let's continue the list, with something that's a bit more immersive on this list and it is:
2) Warren Falls (amazing swimming holes):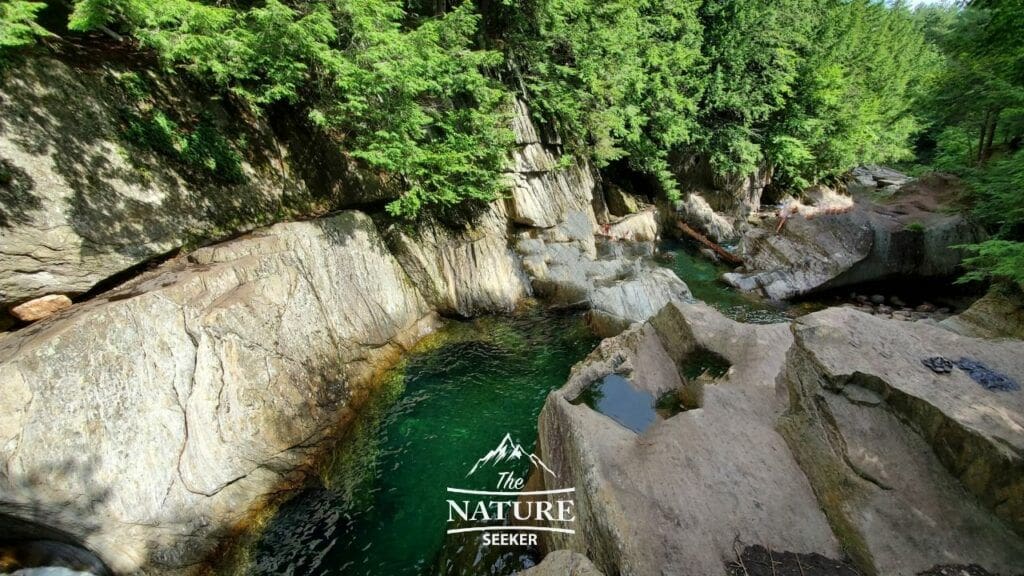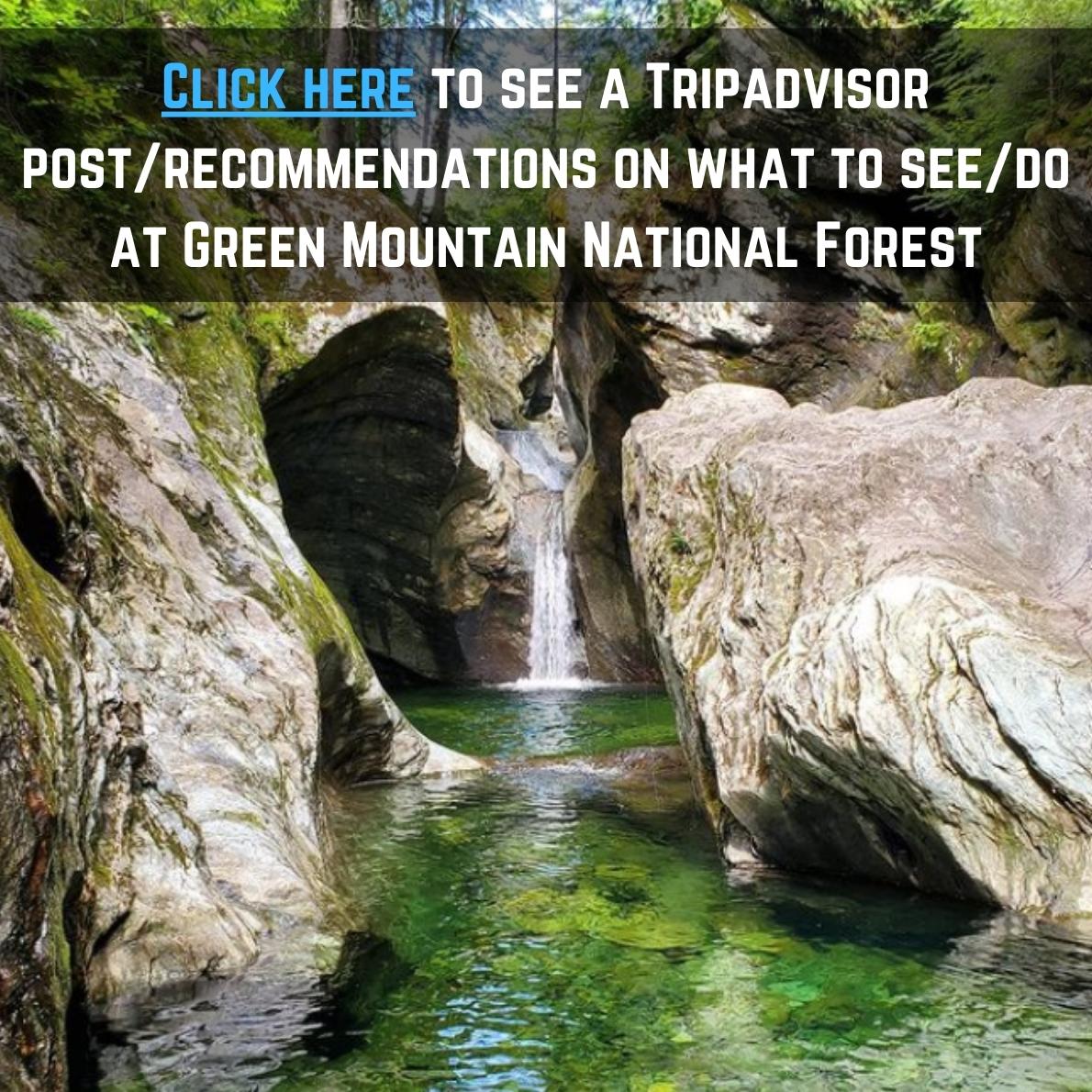 When I first saw photos of Warren Falls, I didn't take it seriously. To me, it looked like a typical swimming hole you'd find in the mountains and for that, I figured I could just go to the Catskills and do that there (Rat's Hole Park and Peekamoose Blue Hole are 2 example).
But when I got to Warren Falls, that changed and I seriously don't get why people don't post better pictures of this place (or others).
Are they just bad photographers or are they just trying to keep the beauty of this place a secret? Either way, the photo you see above is a small sample of the beauty of Warren Falls.
There are multiple swimming holes and hikes and to get to this area involves parking off the 100 road in Vermont, from which the swimming area and hikes are about 500 feet away.
Beware though, if you visit this place on a weekend or holiday, it will be packed. This is one of the reasons why the picture you see above doesn't show everything.
The water is gorgeous, clear and of an emerald color. It was very inviting, but we had to move on and the mass crowds and lines to jump in the water didn't help. There were too many people ruining the scenery of this place for me, but not enough for me to not want to come back here. I definitely will!
As for pictures, I have plenty, but sadly, there's just TOO many people in it. The next chance I get to post a good picture with little or no people of Warren Falls, I will.
3) Moss Glenn Falls:

Moss Glenn Falls is right off the 100 road and the walk to the viewing area of it is about 50 feet from the parking area.
You can also just drive by it too if you want and if you enjoy waterfalls, this is a beautiful one to view.
It's about 50 feet high with a shallow pool at the bottom of it.
When we saw this area (right), there wasn't much water on the waterfall, probably due to the summer season playing a role, but it still was a nice waterfall to glance at and take 5-10 minutes out of our drive to enjoy.
There was nobody in this viewing area, so if you have no choice but to travel to these areas on a weekend and hate crowds, I'd consider visiting this particular spot.
It's probably not that popular but it's still scenic and nice to look at.
However, the next spot is a different story:
4) Texas Falls (upper and lower):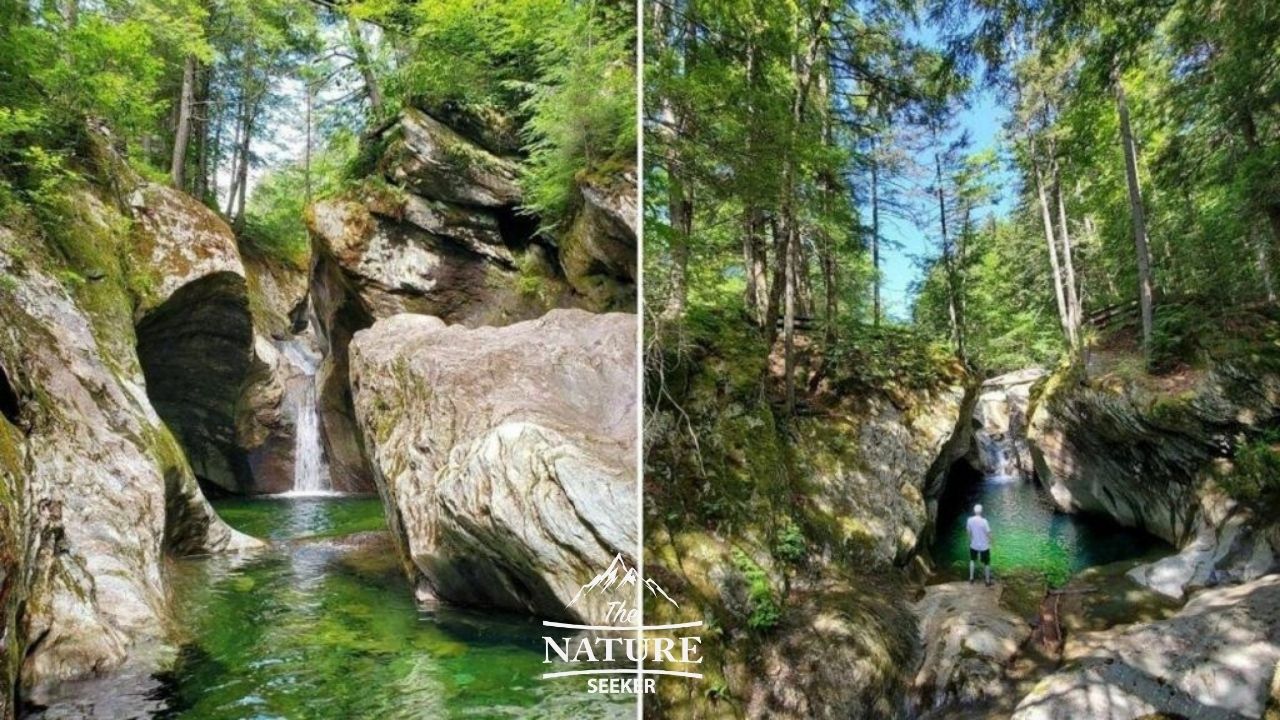 It's been a long time since I've seen any place in the eastern United States that just totally floored me, and out of all the spots on this list, this particular area did it. It's called Texas falls and while it isn't a giant waterfall, the scenery, gorge and area around it is what truly makes it what it is, which is one of the most beautiful places I can remember exploring to date.
Out of all the places we saw the one day we traveled through Green Mountain National Forest, this is where we spent most it. Texas Falls has a number of swimming holes, but swimming isn't allowed there and I was surprised to see how few people were there, but we didn't complain and took our time enjoying the views of this place.
One of the waterfalls above Texas Falls has a beautiful glowing green color to it (right) and it was because we timed our visit there perfectly when the sun was shining right on it (and this timing was by accident):
There is no editing whatsoever in these pictures. The water really is that clear, green and the scenery really is that beautiful. Texas Falls was truly something to explore in Green Mountain National Forest.
5) Buttermilk Falls: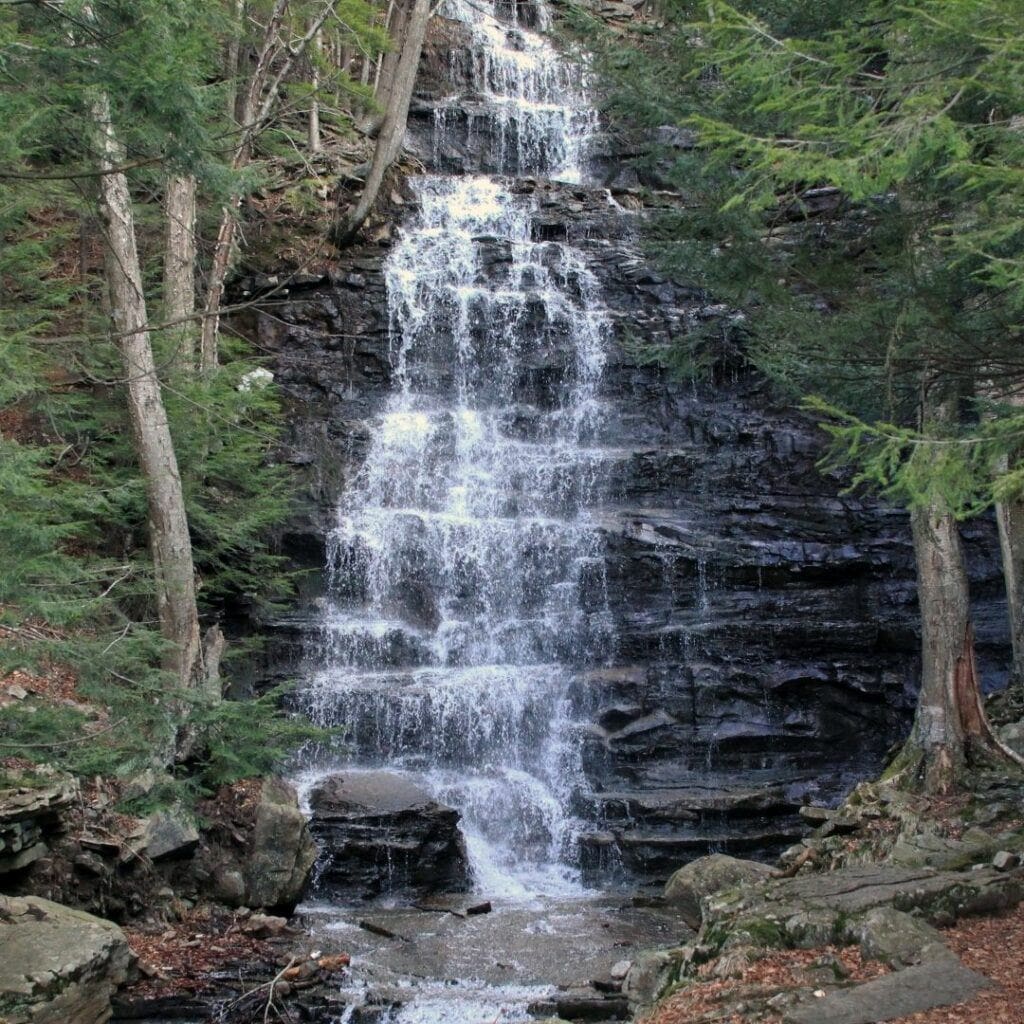 The last place we visited before finally deciding we were too tired was Buttermilk Falls.
It also has many swimming holes, at least 3 different waterfalls, one each getting progressively bigger as you work your way upriver and plenty of diving areas.
The biggest waterfall is the actual Buttermilk falls you can see to your right:
This place, like Warren Falls was also filled with a lot of people.
Fortunately, the parking area near this place is unregulated and there was plenty of space to find parking, despite there being at least 100 cars there.
The water in this area isn't as beautiful as the places we visited prior, but the scenery there is very beautiful none the less and it is worth exploring too (just on a weekday hike in my personal opinion).
This area is also the spaciest you'll find on the list. From the parking availability, to the amount of different spots you can hike through and swim at, there's a lot of options available.
More explorations in Green Mountains National Forest to come!
So besides showing you more pictures of the places I couldn't really get a good shot at, because I was so floored by this area, I will be coming back to it and exploring even more spots to add to this list, so if you have any suggestions as someone who knows about what to see at Green Mountain National Forest, let me know!
For now, one more recommendation I have is to see parts of the Long Trail which is a major thru hike that goes through the entire Green Mountain National Forest (hence why seeing parts of it is recommended).
Gear I recommend wearing to hikes in Green Mountain National Forest:
Questions people usually have about Green Mountain National Forest:
Can you drive through the Green Mountain National Forest?
Yes there are several roads that go deep into the Green Mountain National Forest area including roads 341, 71 and Stratton Arlington Rd.
Is Green Mountain National Forest free?
Most of the Green Mountain National Forest area is free to access, including hiking trails, swimming holes and more. Certain campgrounds for example may have a fee to stay at.
Are there bears in Green Mountain National Forest?
Yes there are bears all across Vermont, including Green Mountain National Forest.
4 more beautiful areas worth exploring outside of Green Mountain National Forest:
These areas are several hours in each direction from Green Mountain National Forest:
1) Directly north of this area is Smugglers Notch which has amazing spots to explore.
2) West of this area are Lake George (1 hour drive), and the Adirondacks (2 hours) and the Catskills (3 hours south west), all of which are in New York State.
3) East (2 hours) you'll find the White Mountains which are awesome to explore.
4) And if you head south, you'll cross Massachusetts and then Connecticut state before you hit New York, and if you decide to do that, here are some day hikes close to NYC you can explore!