White Mountains Vs Green Mountains: Which Should You Visit?
I love comparing the White Mountains vs Green Mountains because I've spent a lot of time in each area and have amassed a lot of experiences on this topic. So if you're someone thinking of visiting one area or the other for a day, weekend or longer trip, this post is really going to help you.
A quick breakdown of my White Mountains vs Green Mountains experiences:
I've been to the Green Mountains at least 10 times over the past 7 years.
I've also been to the White Mountains at least 3 times over the past 7 years too.
Most of the road trips I've taken to see the Green and White Mountains were actually combination trips meaning I explored both areas during these trips and one of the best recommendations I can give you is to do the same thing if you have a few days and are looking to do a road trip.
In most cases, these 2 areas are only 2-3 hours apart and there's just so much to see and do in every area that you're really missing out if you only decide to see one area and not the other, but of course depending on your logistics and how much time you have, you may only be able to see one area instead of both, so if that is the case, then this comparison breakdown is what you're going to want to use to decide where to go.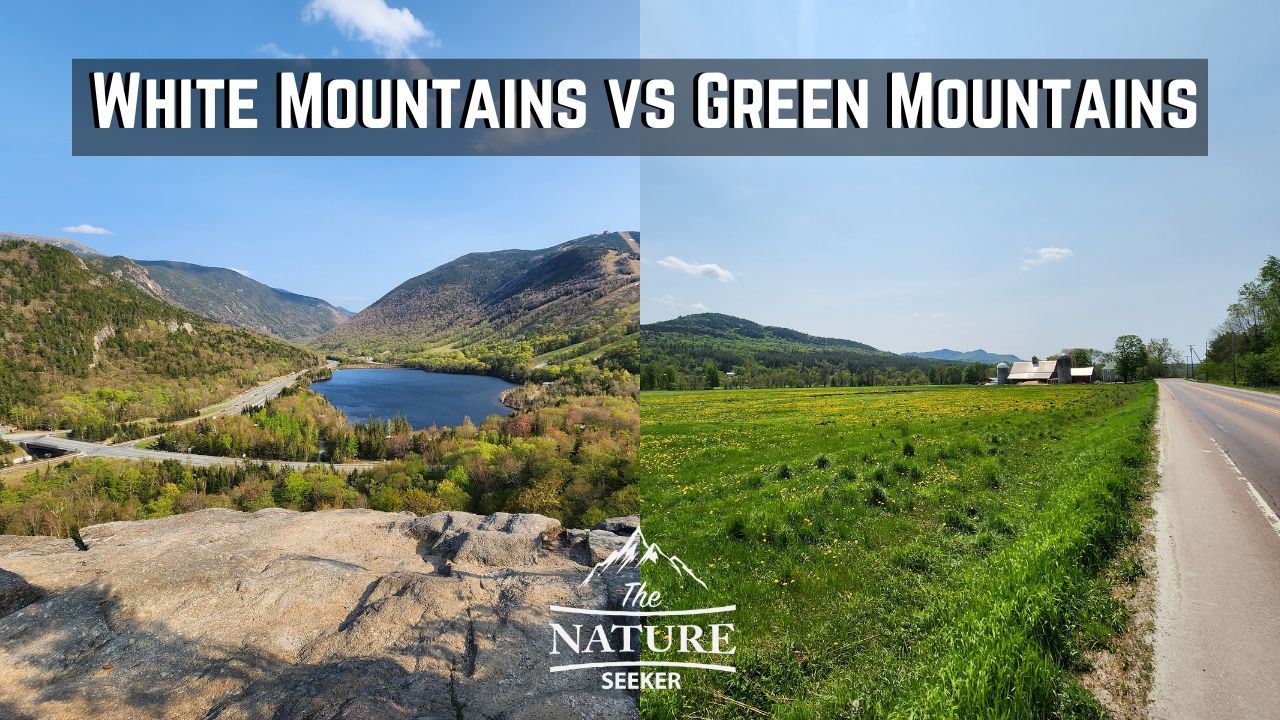 First, here's a map of where the Green and White Mountains are:
Similarities between the White Mountains vs Green Mountains:
Both are part of the New England area (North Eastern US).
Both areas have many peaks to explore.
Both have incredible hiking trails.
There are also many beautiful waterfalls in each spot.
I happen to think that skiing is great in either area.
The Appalachian trail goes through both these mountain ranges. 
Both the Green and White Mountains are incredible spots to see fall foliage in New England. 
Adding to the last point, I wrote up on Vermont Fall foliage spots as well as New Hampshire fall foliage spots to show this.
Both areas have multiple scenic train rides worth trying.
Sunsets are equally incredible in both these areas.
In truth because these 2 areas are so close to each other, the nature often looks the same.
You can even see the northern lights in both these areas (it's not common, but when it does happen, either area is great for it).
Differences between the Green Mountains vs White Mountains:
The Green Mountains region is longer while the White Mountains are a wider region.
Green Mountains are in Vermont. The White Mountains are in New Hampshire.
Many peaks in the White Mountains are higher (5,000+ feet) than the Green Mountains (4,000+ feet).
It is far windier in the White Mountains than Green Mountains.
Peaks in the White Mountains are usually more exposed than in the Green Mountains. 
In my experience, there are less crowds in the Green Mountains than White Mountains.
The scenic drives in Green Mountains are much more remote whereas in the White Mountains they are far more open and "grand".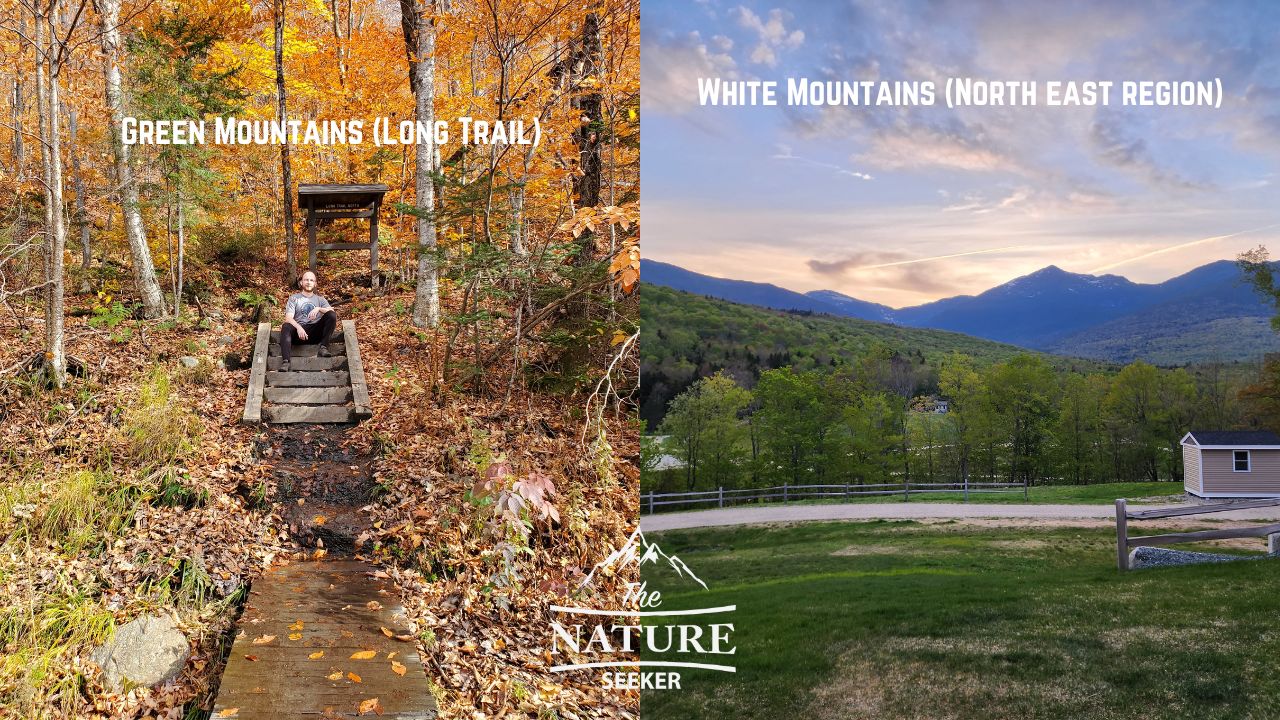 Where the White Mountains have an advantage over the Green Mountains:
1) It's closer to Boston:
The White Mountains are 2 or so hours from Boston and other cities in the area (like Portland Maine). So if you're visiting (or living) there it's an pretty easy drive.
2) You can see the highest peaks in the northeast:
The biggest is Mount Washington, but there are numerous gigantic peaks in the Franconcia Notch State Park area to see too (with an awesome scenic drive within it).
3) They are easier to explore for tourists and families not interested in long or difficult hikes:
There's numerous peaks in the area you can take a gondola up to (like Cannon Mountain) or drive up to (like Mount Washington) and there's also a lot of easy to reach attractions (like Flume Gorge or Lost River Gorge) by car. In the Green Mountains many of the best spots there require a lot of hiking to get to which is fine if you like that, but you can do more in less time within the White Mountains.
4) The scenic train rides there are better here:
There are at least 5 scenic train rides in the White Mountains and the most popular is the Conway Scenic Railroad which I highly recommend as one of the best ways to explore the area. The Green Mountains have their own train rides too, but in terms of scenery on that specific type of ride, the White Mountains win. Also here is another good article comparing these 2 areas.
Where the Green Mountains have an advantage over the White Mountains:
1) Generally the weather is better there:
I've been to both places enough times to know how windy the White Mountains get (especially the higher the elevation gets), whereas the Green Mountains are usually much more tranquil.
2) I find it's usually less crowded:
While both these areas get extremely crowded during peak times (ski season, fall, long weekends, etc…), the Green Mountains tend to be far less crowded because there are so many beautiful areas there that are far more remote making it less attractive for visitors to go to. Because so many places in the White Mountains are easily accessible by car, that's why it tends to get more crowded there.
Note: If you want to see less crowds in the White Moutains, head further north into the White Mountain National Forest. There are far less people there and equally attractive hikes and experiences there as you would get in the Green Mountains.
3) I like the towns much more in the Green Mountains:
My favorite is Stowe and I highly recommend going there during fall (make sure to visit Smugglers Notch too). The restaurants and towns in the overall area tend to have a more relaxed vibe in my opinion. The White Mountains have amazing towns too, but the crowds tend to make that experience less interesting.
Where I recommend you go in each area:
1) For the Green Mountains:
Explore as much of the Green Mountain National Forest as possible!
Smugglers Notch is again a top area to visit for hiking, skiing and staying at in general.
There is also a long thru hike called the Long Trail you can check out.
If you have time to see parts of Lake Champlain, I highly recommend it! 
2) For the White Mountains:
Anything in Franconcia Notch State Park is amazing.
Mount Washington is also highly recommended.
Doing at least 1 of the scenic train rides (Conway Scenic train ride is my top recommendation).

Check out my White Mountains article

for more details on what to see.
More questions people ask about these 2 areas:
Are the Green Mountains or White Mountains better?
The White Mountains have higher peaks and offer more tourist attractions, whereas the Green Mountains are better for very scenic and tranquil adventures. 
Where are the Green and White Mountains?
You'll find the Green Mountains in Vermont. As for the White Mountains, you'll find them in New Hampshire. Both these areas are 2 hours from each other.
1) This isn't the only time I've compared 2 beautiful areas in New England. I also recently did a comparison between the Catskills vs Adirondacks which are located in New York (both are also incredibly mountain ranges). 
2) I also have an article on the best lighthouses on the Maine Coast to visit which is great if you're already planning to see the White Mountains.
To finish up I'll say that while I love visiting both these areas and recommend you do the same, for me the Green Mountains have appealed to me personally a bit more than the White Mountains which is why I've been here more often (there's just something about Vermont's nature that I absolutely love).
But I do not deny that I also love the White Mountains and want to explore much more of them in the future. In any case if you're someone who has been to both areas or have questions on them, I'd love to know your questions or thoughts on this!