I've had the pleasure of visiting Cannon Mountain in New Hampshire and want to share 5 awesome things you should do if you check this place out too.
Here are 5 things you need to do should you come to Cannon Mountain:
Take the time to do the scenic drive there (I 93).
Try the fudge at the ski lodge at Cannon Mountain.
Take the Ariel Tramway also known as the Gondola.
Take the trail a top Cannon Mountain and enjoy the views.
Climb the watchtower at the top of Cannon Mountain.
Let's get to each of the things you can do at Cannon Mountain, all in one day (or over a few if that's what you're looking to do).
Each of these things on their own is enough to have a very satisfying visit to this place, but together, it'll make for an awesome day trip!
We'll begin with the drive:
1) The scenic drive to Cannon Mountain is awesome. Enjoy it.
I will never forget the first moment I saw this mountain from a distance.
My friend and I were just exploring north eastern states on a short but very fun 3 day road trip across the eastern United States. 
We started in NY State, made our way east to Vermont, then the next day decided to explore New Hampshire and while we were headed further north east, we took interstate 93, a very scenic road (here are 15 other awesome scenic drives in North America for road trips).
And on that interstate, when we made a particular turn, there it was, the marvelous location known as Cannon Mountain.
I did make an Instagram video of this moment so be sure to check that out! But here is the moment:
It is absolutely unforgettable when you see this place for the first time and one of my goals is to see this exact area in autumn. In fact, I would place what I saw in this region of New Hampshire as one of the best places to see fall foliage in New England at.
It is just so massive and it is impossible to look away at it (but be careful since you will be driving). 
While there are lookouts to see this place, I would recommend driving right into the ski area because that's where you'll be able to see this place better, from the top and enjoy the other 4 things I'll talk about.
Here's another:
2) Enjoy the fudge at Cannon Mountain:
While this place is mainly known for being a ski area, and we visited it during spring, they still had many areas open and the one we most enjoyed was the one where they sold food, particularly fudge. It is highly recommended if you love sweets. 
3) Take a ride to the top of Cannon Mountain via the "Aerial Tramway".
You have to buy tickets for this and I call it the gondola, but anyway, if you want to reach the summit as quickly as possible, this is way to do it. 
The ride takes about 10-15 minutes to reach the top, but as you're going up, make sure to take pictures, there's some amazing scenery here. You can certainly elect to hike, but understand that this place is over 4,000 feet high and a hike, even a good pace will take you hours.
Also if you are afraid of heights (I very much understand you!), know that this tramway is extremely safe, fits over 50 people (with skis!) and is checked daily by professional engineers who actually sit on top of it (outside it) while it's going up and down to make sure it's functioning safely. Now this was told to me by the person running the tramway and I don't know if he was being honest, but it did calm me down a little bit.
I will admit, the ride itself was very, very smooth and it's very hard to believe such a massive object and go up and down the wires so smoothly, but it did.
4) Take the trail atop Cannon Mountain's summit and enjoy the view: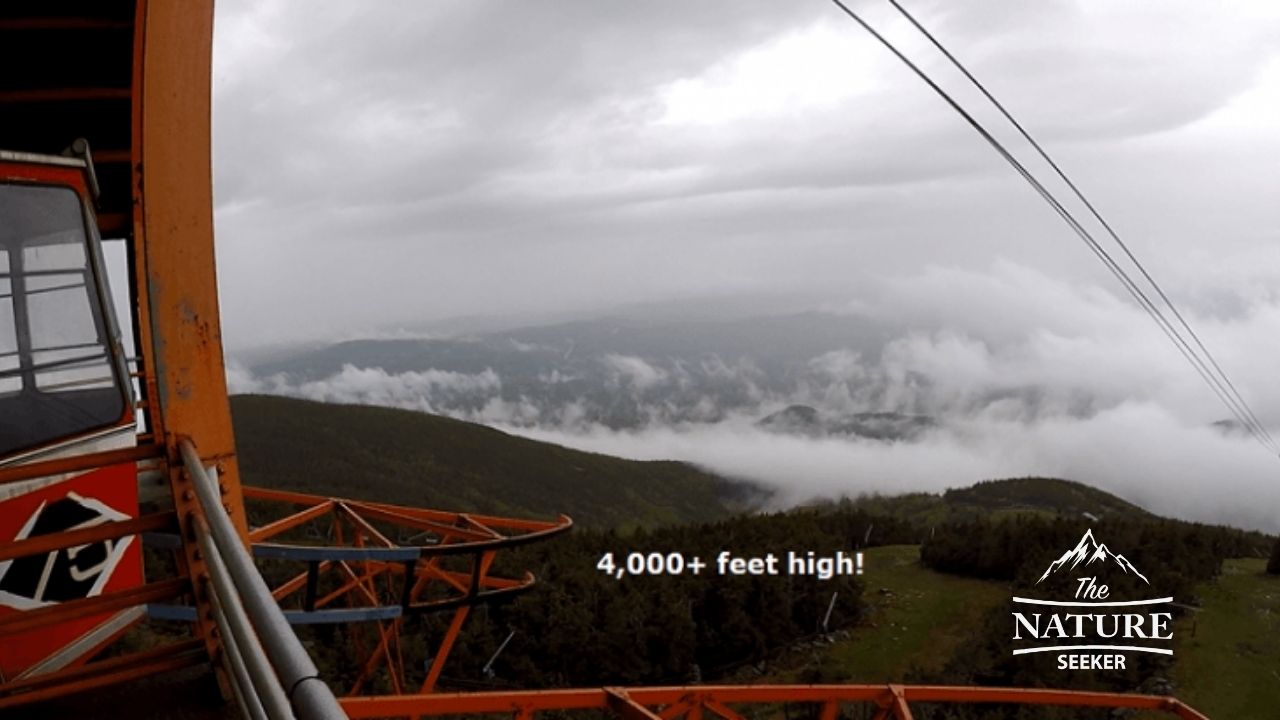 There's definitely some stuff you NEED to see when you reach the summit. Fortunately, there is a 1,500 foot trail that goes around and atop the summit to help you get the best sights. Do note that there are NO railings at the top, so you will NEED to be very careful. 
My friend and I stood at the edge several times, while it was raining and I am telling you, this was a horrible idea and I recommend you are extremely cautious if you are up there: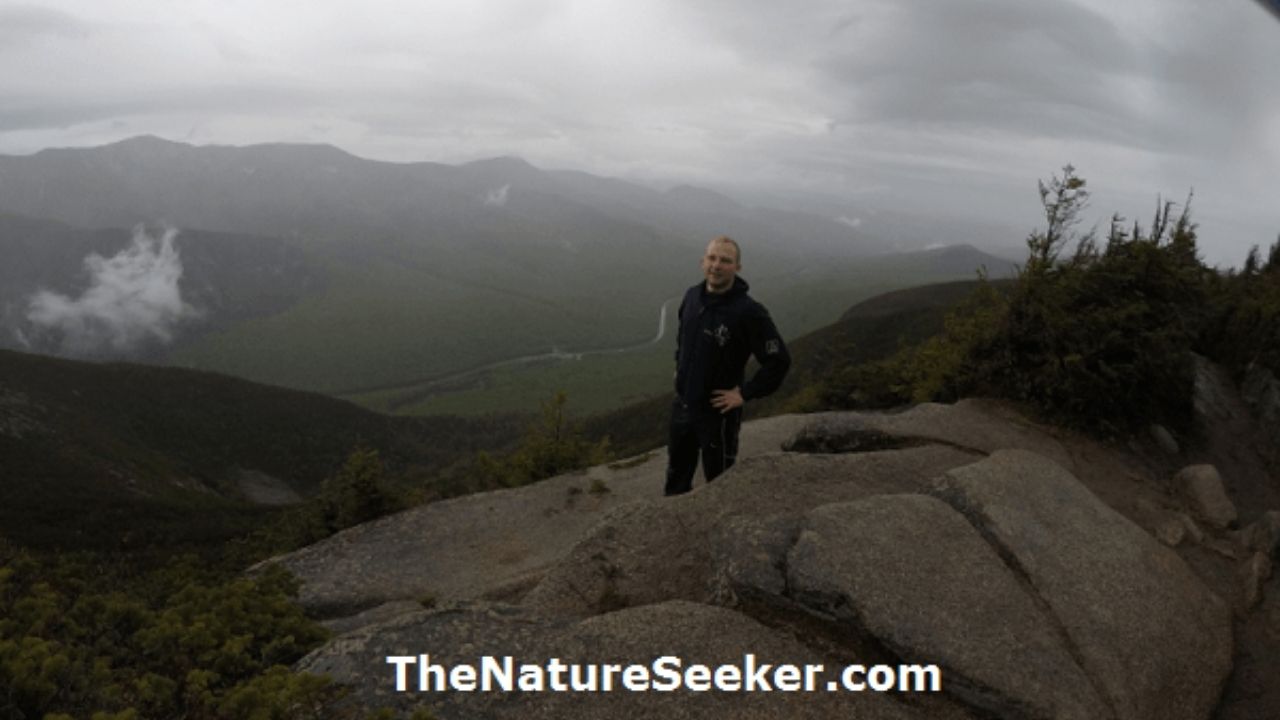 And of course, the edge and I mean, the real edge: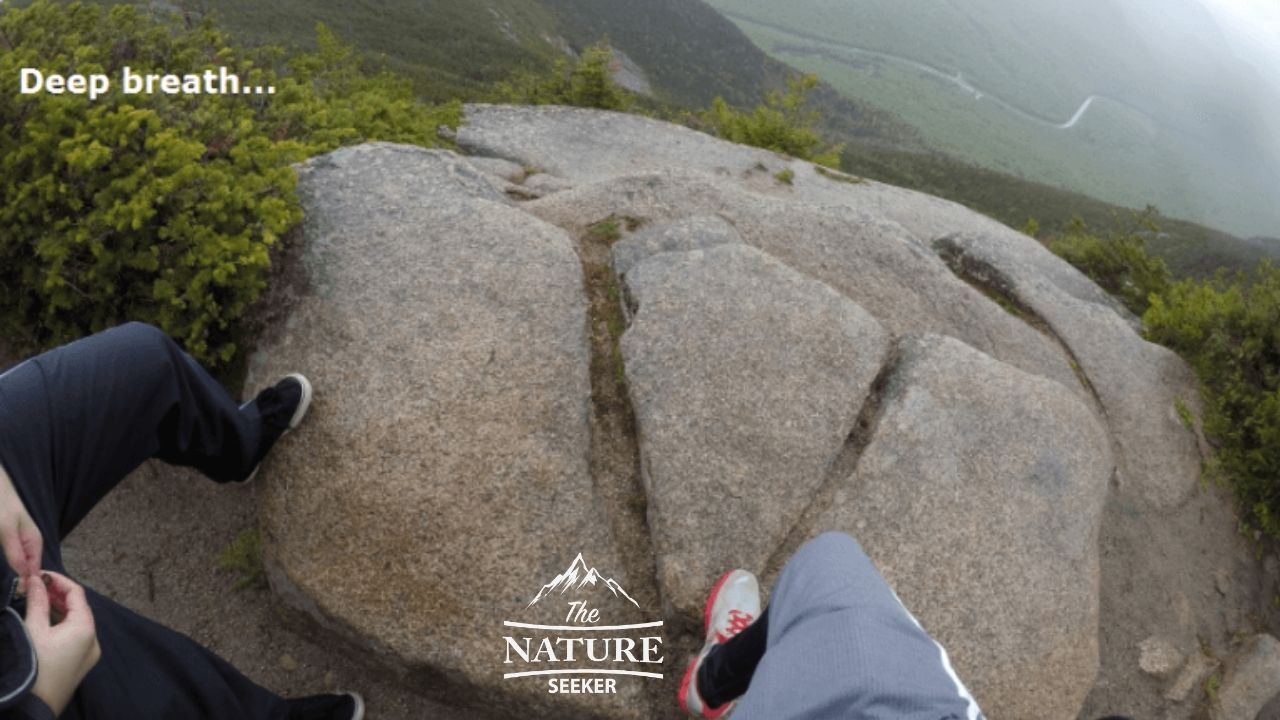 Yes this was a bit frightening, but also very enjoyable and unforgettable. We only later learned that this summit was actually one of the smallest ones in the area and the surrounding mountains went to even 1,000-2,000 feet higher, including the biggest on in the area: Mt.Washington which we unfortunately didn't get to see on our trip and that one is over 6,000 feet high.
Yet this one was enough to make us very happy. I go to awesome places to explore in the Catskills quite often where the elevation reaches a bit under 2,000 feet and even that is extremely high up for me, so 4,000+ feet high on this place was plenty!
5) Check out the watchtower at the top of Cannon Mountain!
If you take the 1,500 foot trail I talked about in #4, you will undoubtedly get to the famous watchtower which is about 3-4 stories high you can go atop off and have a magnificent 360 angle view of the surrounding area:
Now there were certain angles in this place where you felt as though you were in the heavens themselves. On the day we went to this place, there were a lot of clouds, mist and rain off an on, so while we didn't get a chance to fully see all the details of the distant areas, we did feel as though we were right above the clouds and floating over them.
Going hiking at Cannon Mountain? Here's a list of gear stuff I recommend:
Questions about Cannon Mountain you may have before you go:
Is Cannon Mountain good for beginners?
No, most of the trails at Cannon Mountain are pretty difficult and steep. There are nearby mountains with easier trails available.
What is at the top of Cannon Mountain?
A watchtower, some hiking trails, beautiful views of the White Mountains and a Gondola as well as cafeteria available.
Is Cannon Mountain good for kids?
There are a lot of activities for kids and families to do in Cannon Mountain including hikes, eating fudge, taking the gondola up to the top, exploring the summit of the mountain and more.
Other things you can do at or near Cannon Mountain:
1) Ski (seasonal only obviously).
2) Hike. There are quite a few trails you can take there and not just this area, but the surrounding mountain ranges. We saw quite a few people heading up trails as we were driving through.
3) Visit Flume Gorge State Park. It's close by.
4) See these other locations in the White Mountains area.
5) See Lost River Gorge and Beaver Pond (2 locations about 20 minutes away from here).
Given that we were in a hurry to reach our next destination (Gulf Hagas in Maine), we felt the 5 things we did, in the 2 hours we fit this into, was plenty, but obviously, if you are not in a hurry and want to explore this area further, those 2 activities alone should keep you busy for days! 
We loved Cannon Mountain and will surely go back one day, or at least see it from one of the other summits next to it!