Several years ago, I had the chance to visit and explore Lost River Gorge NH and in this in article would like to share what you can expect from it and if it's worth going.
In my personal opinion, if you are someone who enjoys nature sights, this place might be worth visiting once (it's pretty good for families to check out) but in the greater scheme of things, there are much better sights and attractions nearby and across the White Mountains of New Hampshire worth seeing instead (and they don't even cost money to check out).
Quick info on Lost River Gorge and Boulder Caves:
Name: Lost River Gorge and Boulder Caves.
Location: White Mountains, within Woodstock NH.
What is it? A stairway and boardwalk hike through waterfalls and boulder caves with lanterns inside them.
Fee to enter? Yes, $20+ for adults.
Is the hike difficult? It's moderate but there's a lot of steps there.
Rating: 3 out of 5 stars.
Recommended? Yes. Though it's not a bad attraction to check out in the White Mountains, there are others nearby that I think are better, including one called Flume Gorge (more on that later).
The 5 things to know about Lost River Gorge NH before you: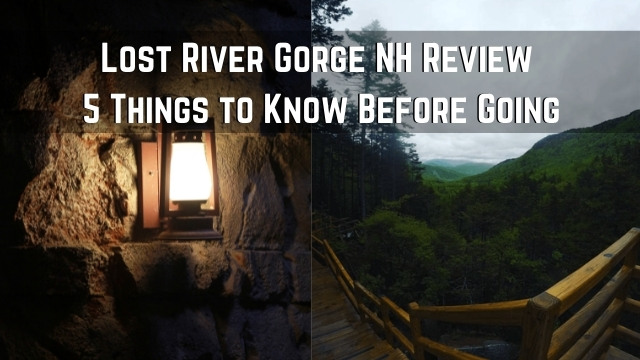 1) There is an entrance fee of $23-$26 per person to enter Lost River Gorge and Boulder Caves:
It's $23 if you get the tickets online and $26 if you buy it at the entrance. It's not a bad price considering you get to see some nice areas. But again, it was a one time visit for me personally.
2) There are a lot of steps to walk up and down and on (1,000+ steps and not beginner friendly):
Keep this in mind before you go. If you have knee problems or don't like steps, this might not be the place for you to go to. From the beginning, the "trail" in Lost River Gorge is a large series of steps going up and down. You will cross mostly wooded bridges, but if it's raining like it was for me when I went, they can be very slippery.
3) The caves and boulders might be overrated for some people.
When I saw "Lost River Gorge", that name sold the visit for me, but after "hiking" through the gorge and pretty quickly, I rarely found any specific areas of the trail that intrigued me. Most of the "caves" were just rocks stacked together to give the impression of a cave and there were a few areas with lamps inside them that were actually pretty cool to explore. Like I said before, this might be a very fun attraction for kids, but for me personally, it was OK at best.
4) The views in the gorge are pretty nice and that itself is a great attraction:
While the caves and boulders of Lost River Gorge are what I consider to be the main attraction, there is a lot more to see, namely the gorge and rivers themselves. I personally love gorges so this is what I enjoyed seeing way more than the caves and boulders.
5) In my opinion the best part of Lost River Gorge was the overlook of the White Mountains:
When you reach the near end of the Lost River Gorge trail, you will have an option to see a nice overlook by walking up more stairs. When you reach the top, considering the weather conditions are good, the views from there are pretty amazing. That was the only real part of the attraction I really enjoyed. The rest were OK.
Lost River Gorge reviews (3 sources):
There are a few sources I have checked out for seeing what the Lost River reviews and here they are: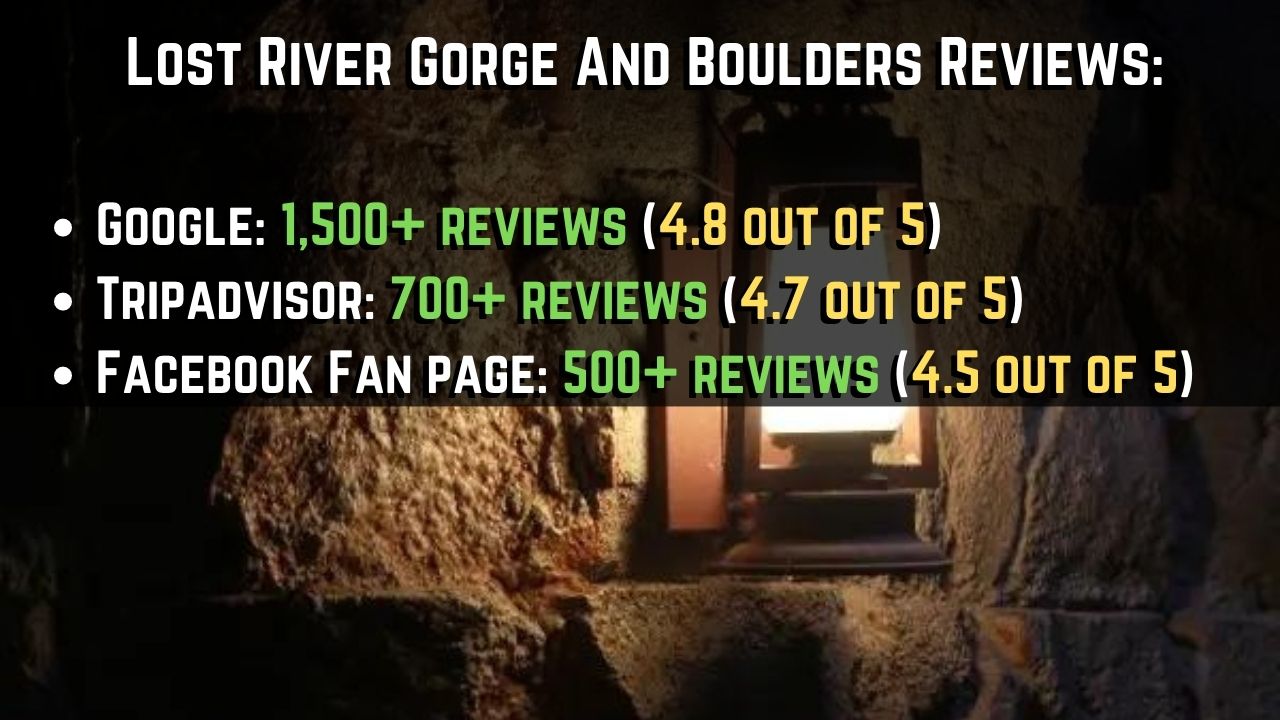 Lost River Gorge vs Flume Gorge (an alternative area to visit nearby):
In case you didn't already know, there is another very popular (paid) attraction near Lost River Gorge and it's called Flume Gorge. It's very different in both views and experiences, but a lot of people want to know which is better. In my opinion both are even, but for different reasons (I have also been to Flume Gorge).
And as you can see from the photo above, it's a pretty nice looking spot, although that is just 1 small part of it (there is a hike required to reach this area).
With Flume Gorge you will get a pretty scenic loop hike to a short gorge waterfall and other things like covered bridges.
Lost River Gorge is almost deep in a mountain with caves and boulders, so depending on your tastes and preferences, one might be worth seeing more than the other but if you're into these paid attractions, both are nice to check out.
But this is my opinion and if you have been to both, I'd love to know what you think about the topic of Lost River Gorge vs Flume Gorge too below. However there is one big takeaway that I have after visiting both places and that is:
There are way better places to explore outside Lost River Gorge NH: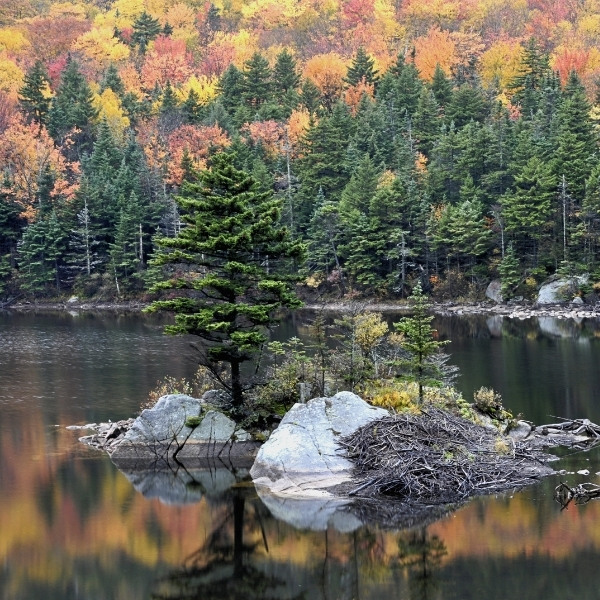 After visiting Lost River Gorge, I honestly thought I saw better places right outside the area that I never had to pay for and regards to specifics, allow me to share some of them with you:
1) Beaver Pond (5 minutes away):
I love Beaver Pond and have been to it twice (Lost River Gorge, only once). Beaver Pond is an awesome spot to explore for multiple reasons:
Picnic tables so it's great for relaxing and families.
Kayaking on the pond and getting great mountain views around you.
The scenery of Beaver Pond is stunning itself.
There are cool hiking trails near it including the

Appalachian Trail

.
If anyone were to ask me to share what's better, this or Lost River Gorge, without a doubt Beaver Pond would win so I highly recommend going here instead (if you had to choose) and it's free too.
2) Cannon Mountain (20 minutes away):
The drive to Cannon Mountain alone is worth it as it is one of the best scenic drives in North America I've done (I93). Cannon Mountain itself is also a major treat with a lot of goodies like hikes, gondola rides, great hiking trails to the top and if you want to skip that, take the gondola up for great views of the White Mountains and even a watchtower too.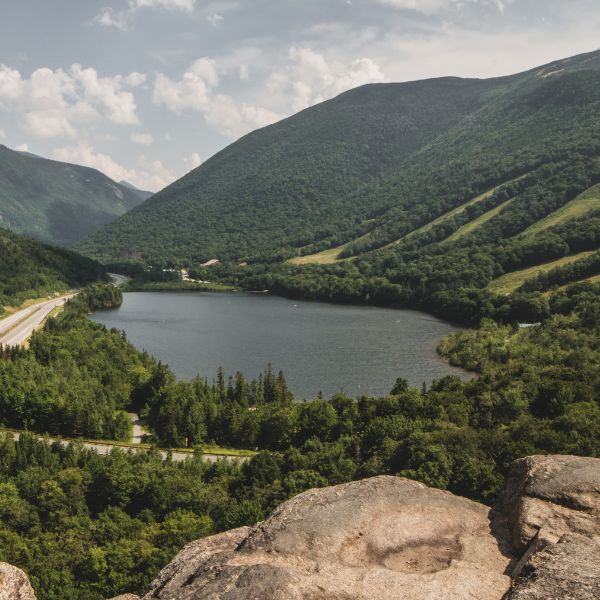 So even if you are not into hiking and like great attractions, Cannon Mountain is where you will want to go.
3) The other amazing mountains and hikes in the White Mountains (all less than 1 hour to reach):
I'll be doing a separate article on which specific hikes and mountains to check out, but right next door to Cannon Mountain are several others with amazing hikes, views and more. And just so you know, some of the best fall foliage in New England is in this region too. In fact, I recently created a post on the best places to see New Hampshire fall foliage that covers those places (including Lost River Gorge).
Altogether you could easily spend days in this region and never have to visit a paid attraction (and enjoy it more too).
4) Waterfalls (tons of them are all around the White Mountains):
Yes Lost River Gorge has waterfalls too, but they are nothing compared to what you can find all around the White Mountains.
Just like with the hikes article that is to come, I'll be doing one on waterfalls to check out in this region and trust me, they are stunning and in my opinion put the ones you would find in Lost River Gorge and Flume Gorge to shame (also no need to pay for it).
Questions about Lost River Gorge that may come up:
How long does it take to go through Lost River Gorge?
Generally 1 hour. I explored the entire Lost River Gorge area in under 20 minutes personally.
How difficult is Lost River Gorge?
The Lost River Gorge area is family friendly to walk on, but it is 1 mile long there are many stairs and if you don't like a lot of up and down walks, this might not be for you.
Is Lost River Gorge free?
No there is a $23 fee to enter Lost River Gorge.
Final thoughts on Lost River Gorge:
I wouldn't call Lost River Gorge a tourist trap or anything. It has it's pros, but overall it's not a sight/region that I would say is amazing, at least not more amazing than the tons of other attractions and sights nearby. I think the name itself is what gets people interested in it, but I would not say the name matches the attraction's quality.
Like I said before, a one time visit to Lost River Gorge might be worth it, but don't neglect the other (and in my opinion) better attractions all nearby. I'd love to hear if you agree or disagree with me on this below!