Hopewell Rocks is one of the most amazing areas you can explore in eastern Canada and there's actually several ways to do it which most people are not aware of when they come here for the first time. In this post I'm going to show you to get the most out of your first visit to this place.
Quick info on Hopewell Rocks: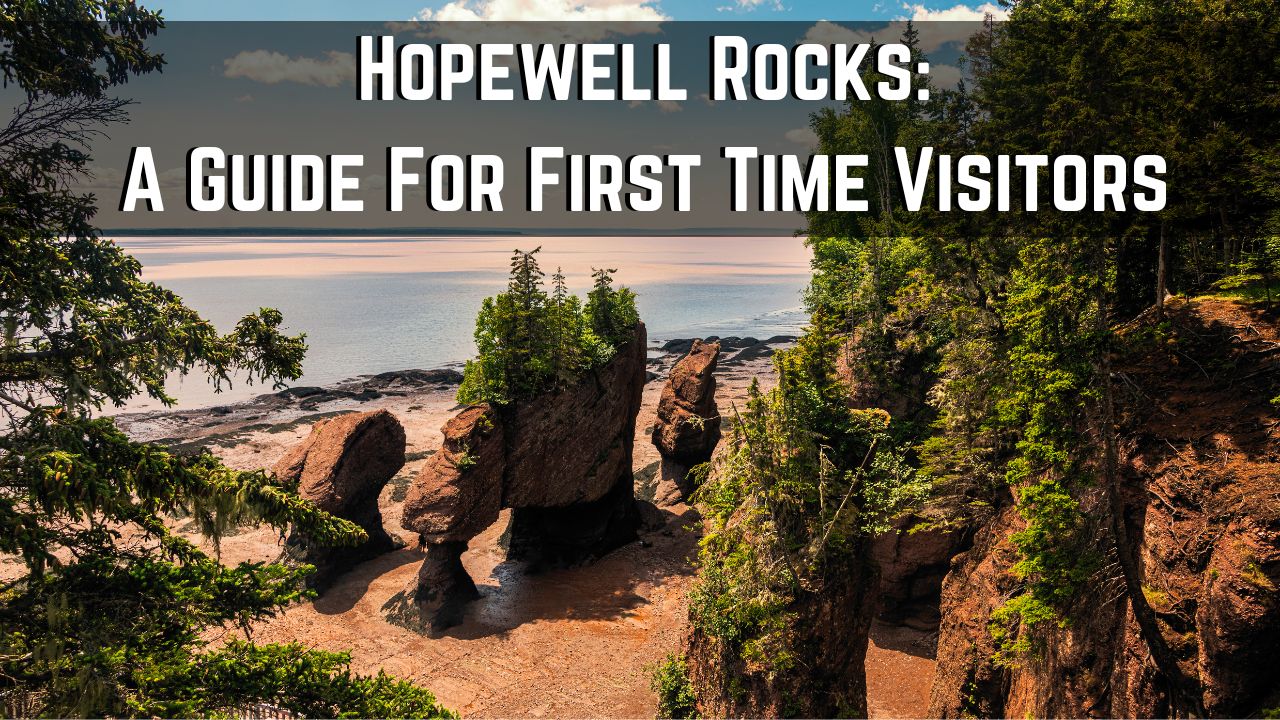 Name: Hopewell Rocks (Also known as Hopewell Cape)
Location: Hopewell Rocks Provincial Park in New Brunswick Canada.
What is it? Amazing sea rock formations you can explore during high and low tides.
Family friendly? Yes.
Is it easy to reach? Somewhat, there are a few hikes that go down to this area.
Rating: 5 out of 5.
Recommended? Yes! This is one of the best places to explore within New Brunswick and Eastern Canada as a whole.
7 things to know about Hopewell Rocks before you go:
There are 4 different ways to explore it (I'll talk about them below).
You need to pay a fee to enter the Provincial Park to see this place.
Depending on the high and low tides, the shoreline hike to the rocks closes and opens accordingly.
There are additional hikes in the area to explore besides this one.
There are more amazing attractions near Hopewell Rocks worth exploring which I'll talk about too.
There are cruises that go here too.
Hopewell Rocks consists of many different rock formations, some of which have names like Bear, Elephant and Diamond Rock. You can see all of them by walking on the beach there.
Here is the Hopewell Rocks location in Canada:
I'll be including a more detailed map of the official Provincial Park area where Hopewell Rocks is located to show you how to explore it once you're there.
How to get to Hopewell Rocks:
Before you get to the rocks area you first need to enter through the Hopewell Rocks Provincial Park entrance. Getting to the park is very easy and I've included a GPS link to that. It is located in the Bay of Fundy area of New Brunswick.
The thing to know though is that you should use a GPS to get there because there are many other attractions near it (throughout Bay of Fundy) that many people confuse for Hopewell Rocks. Just as well there are other areas called Hopewell Cape and similar names that can confuse people who come here. Just know that the official spot for these rocks is in the Provincial Park.
4 different ways to explore Hopewell Rocks:
Once you enter the Provincial Park, there's actually several ways to see this area and I recommend doing at least 3 of them as it'll give you different views of the Hopewell Rocks, and each offers it's own unique beauty for seeing them:
1) The best way to see the Hopewell Rocks high tide: (from atop):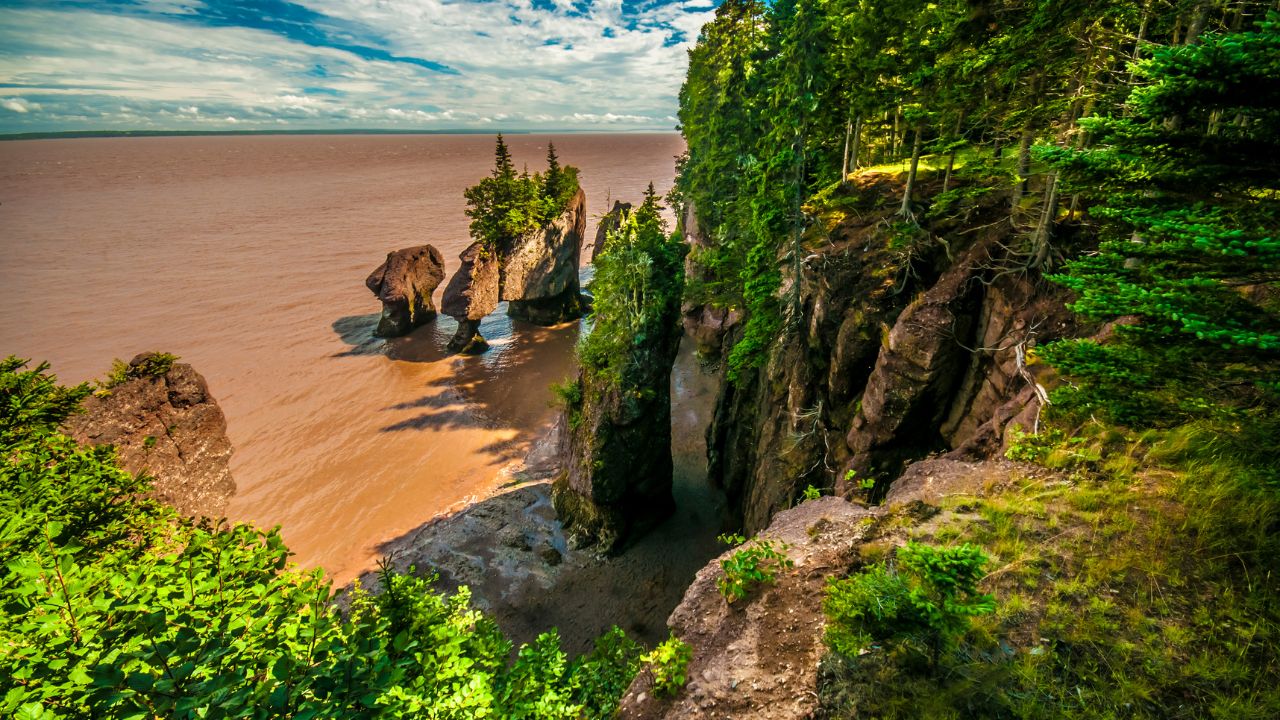 There are 3 main viewing platforms in the park where you can see the best areas of Hopewell Rocks during high tide:
South beach area (Demoiselle Beach with access to the shoreline).
Staircase Cove (located further north in the park. It too provides access to the beach).
A middle viewing area in between Demoiselle Beach and Staircase Cove (no beach access there).
I recommend you go through all main viewing platforms during high tide to get the best experience at Hopewell Rocks from that angle.
Here's one of the best ways to do that:
Past the main entrance to Hopewell Rocks Provincial Park, head to the interpretive center, turn right, get on the walking trail and complete it fully, then take the shuttle back to the entrance.
2) The best ways to see the Hopewell Rocks low tide (from the shoreline):
There are 3 beach access points in Hopewell Rocks and in my opinion the best way to explore this aspect of the area is by doing this:
Go through the main entrance again.
Go past the interpretive center, but turn left to the walking trail this time.
Go about 1/2 miles until you reach the Staircase Cove. There will be a 101 steps attraction there to take you to the shore.
Once on the shore, walk south along the Hopewell Rocks all the way to Demoiselle Beach (south beach), then take the walking trail back to the entrance.
This approach will basically have you do a 2 mile loop at Hopewell Rocks and see it from the shoreline as well as check out the entire walking trail (area from above so you can also see the same viewing platforms as from the high tide experience).
Note: Make sure you arrive at Hopewell Rocks during peak low tide to do this. Remember that as the tide comes in, the shoreline area will close down until the high tide recedes enough to open up again.
3) The best way to explore Hopewell Rocks by kayak (best during high tide):
In my opinion this is probably the most awesome way to explore Hopewell Rocks! There is at least 1 kayak rental area and it's right by the Provincial Park itself.
It's called Baymount Outdoor Adventures and it's actually located shortly after the Staircase Cove area. In fact if you walk past that spot, you will enter the North Beach area of the park and there you will find more parking, food areas and the kayak rental place. This is a tour attraction though so you will need to go with a guide through the area.
Do note that your ability to kayak through Hopewell Rocks is determined by 2 things here:
The times this place is open (after 9 am but they close around sunset).
Doing this during high tide so you can get closer to the rocks.
4) There is also Hopewell Rocks Tidal Discovery option (basically by cruise):
Several cruises offer tours through this area of Canada. One in particular is Norwegian Cruise Line and I've included a link to details on how it does it.
Here is a Hopewell Rocks map to help you: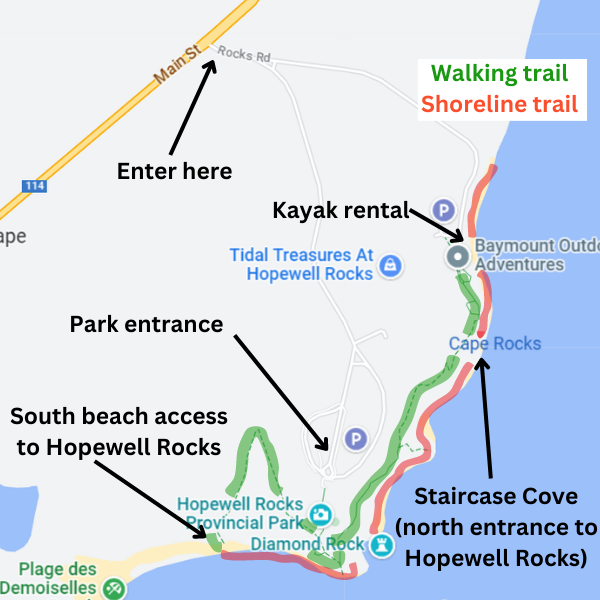 You will also get an official map of the park but this just helps put into persective where the exploration spots are.
Common questions about Hopewell Rocks:
What is special about Hopewell Rocks?
There are a few things which make Hopewell Rocks special. The first is that it's very beautiful to explore it from the shore, the second is seeing the low and high tides occur there, and the third is being able to explore this same area on kayak.
What time is best to see Hopewell Rocks?
There's actually 2 best times to see Hopewell Rocks. The first is during low tide when you can walk on the ocean floor and see it from the top, and the second is during high tide when you can kayak near the rocks.
Is Hopewell Rocks worth seeing?
Yes! Hopewell Rocks is one of the most beautiful sights in all of Eastern Canada.
How much time do you need to spend at Hopewell Rocks?
A whole day at Hopewell Rocks is more than enough to do all the best things there including walking on the beach, seeing it from atop and kayaking through the area.
When can you walk the ocean floor at Hopewell Rocks?
Access to the ocean floor at Hopewell Rocks is only available during low tide in the area.
More places to explore near Hopewell Rocks (after you're done):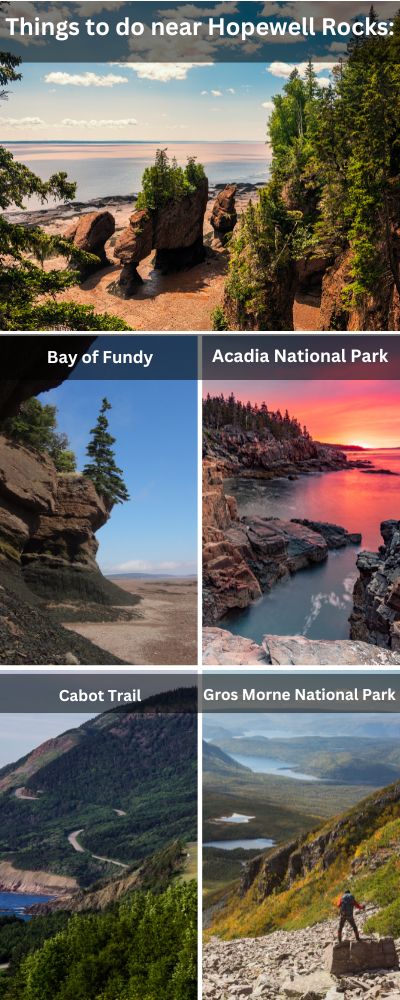 1) Bay of Fundy:
This is the top choice and I have a list of things to do in Bay of Fundy which will show you areas close to the Hopewell Rocks you can explore (there are sea caves, a scenic drive, a national park and much more).
2) Cabot Trail:
This is going to take about 4 hours to reach and it's located north of Hopewell Rocks in Nova Scotia. The Cabot Trail is basically a very long scenic drive with similar scenery to Bay of Fundy.
3) Gros Morne National Park:
The amazing tides in Bay of Fundy and the type of scenery in Hopewell Rocks can also be found further north east of this place in Newfoundland and the main park to explore there is Gros Morne National Park where there are incredible attractions like the Western Brook Pond.
4) Acadia National Park (Maine US):
Acadia is about 3 hours from Hopewell Rocks and is a truly incredible park to explore, hike and kayak through. There are ferries from Bay of Fundy and even airports close to Acadia National Park that you can take.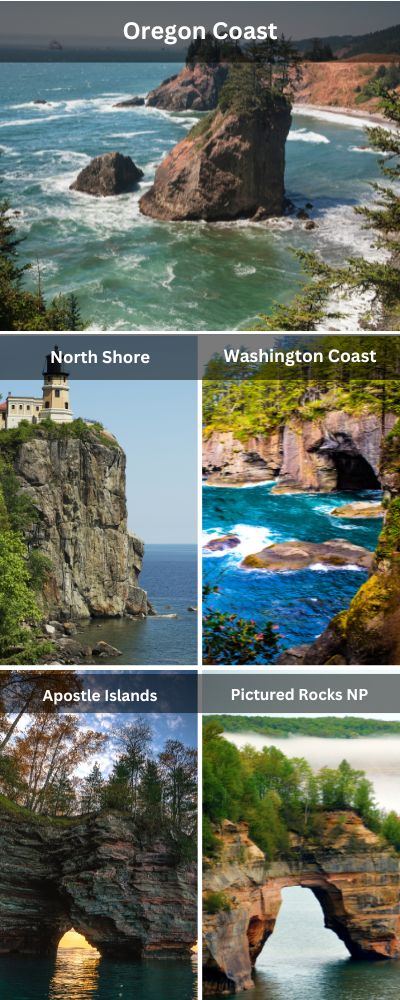 If the type of scenery and attractions that Hopewell Rocks has interest you, then there are many others like this and the specific areas I will recommend are all located in the US, but they are well worth visiting because they are probably even better than Hopewell Rocks themselves (minus the crazy tides):