In this article, I want to share the 12 best places to visit on the Washington Coast. I've had the pleasure of traveling through about 90% of this area over several road trips and through that have seen amazing sights and I'm not just talking about the beaches (as you'll soon see).
While I will also be covering the best beaches to see across Washington State further below, the main list you're going to get here is really a mix of the best nature sights specifically throughout the Washington coast, so you will get a lot of variety of things to see rather than just one beautiful beach after another.
Here is a preview of the 12 places to visit on the Washington Coastline: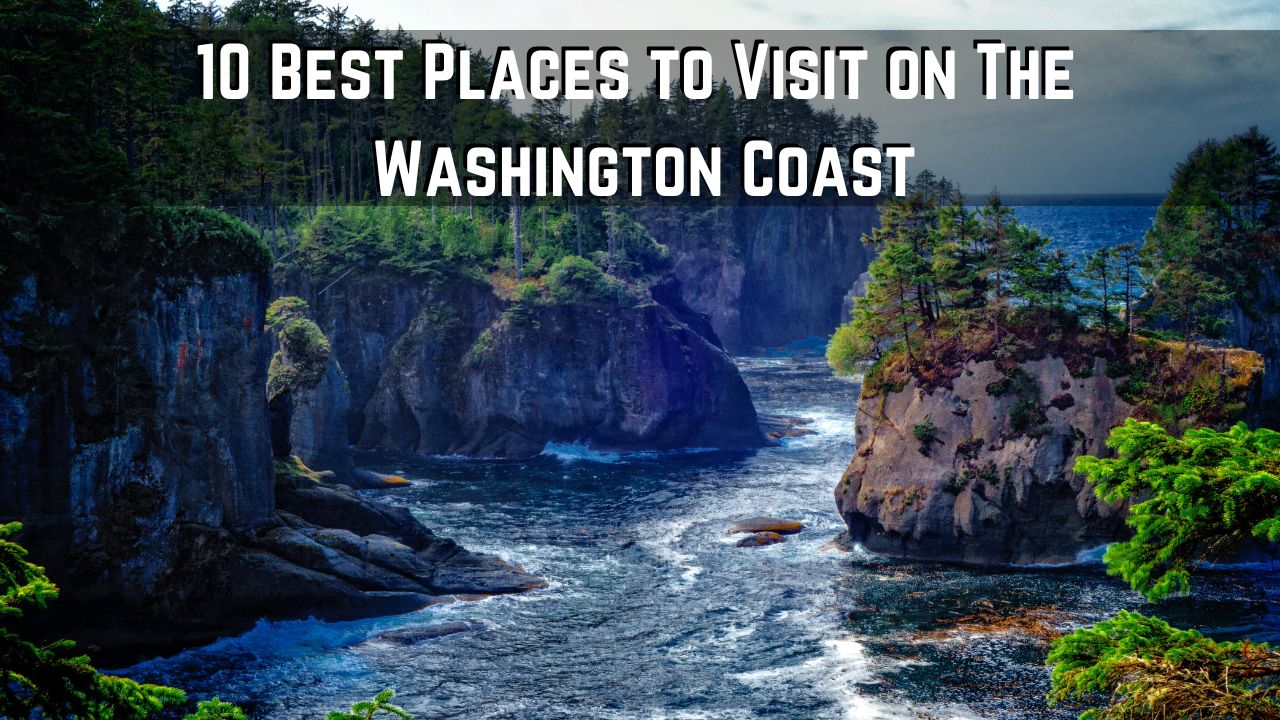 La Push Beach.
Rialto Beach.
Cape Flattery.
Cape Disappointment.
Deception Pass.
Shi Shi Beach.
Lake Cresent.
Port Townsend Glass Beach.
Ruby Beach.
Olympic National Park.
Tree of Life WA.
Salt Creek County Park.
These 10 places are amazing for hikers, road trippers, people who love beaches, adventurers and nature lovers alike.
Here's a Washington Coast map that'll help you find these places: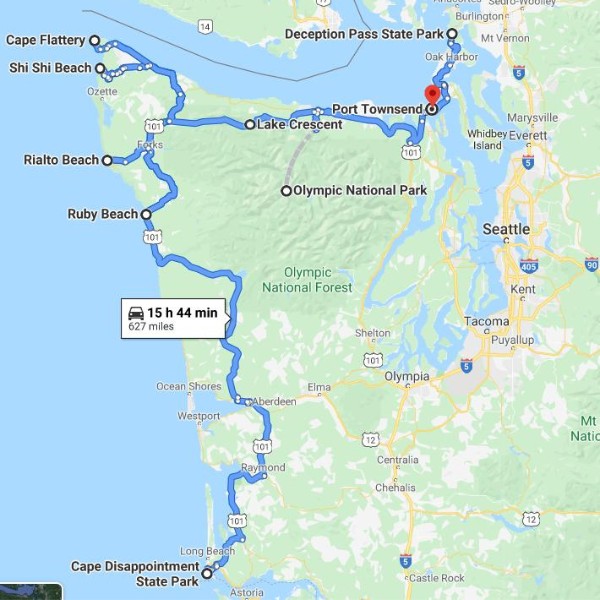 This map should give you a good idea of where each place is located on the Washington Coast and help you plan a trip.
And in regards to planning a Washington coast road trip, here's what I recommend:
Start in Seattle if you plan to work your way west and then south (finish in Portland).
Start in Portland (Oregon) if you wish to work your way up north, then east and finish in Seattle.
A good amount of days to set for a trip like this would be 4-5 if you are maintaining a good pace (seeing one or more of the places on this list every day).
The details of each place to visit on the Washington west Coast:
Let's start with La Push Beach.
1) La Push Beach: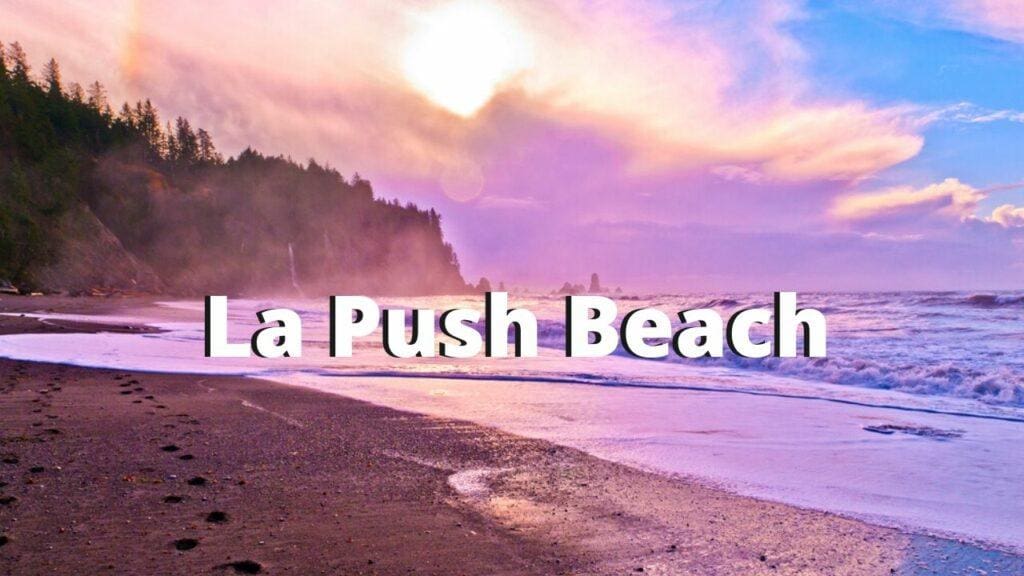 I'm a huge fan of mountains, sea water and when you visit the west coast, specifically the Washington Coast, you're going to see a lot of that. And La Push Beach is an awesome place to explore for many reasons (which frankly many of the beaches on this list also have) and that is:
Beautiful beach in general.
La Push has amazing sunsets.
There are cliff areas for hiking (rope climbing too).
There are connected "secret beaches" to it.
It has one of the best

beaches with waterfalls

on the west coast called Third Beach Falls.
Update: There is a beautiful area 20-30 minutes south of it called Hoh rain forest which I highly recommend. It's not on the coast but there are beautiful hikes there like the Hall of Mosses trail worth seeing.
2) Rialto Beach: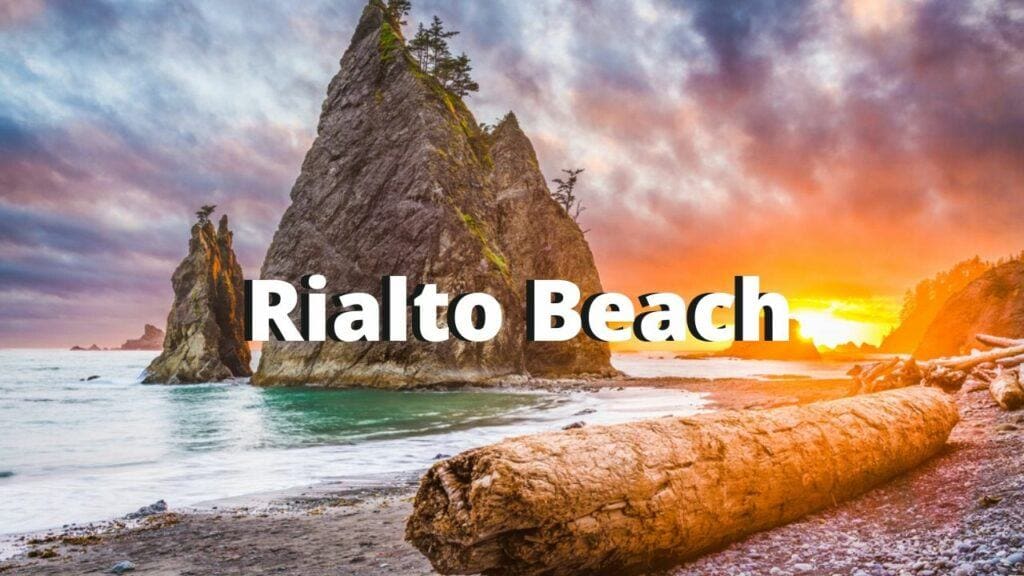 Rialto Beach is very close to La Push Beach and has a lot of awesome scenery (and obviously sunsets too). In fact, one of the most famous rocks on this beach looks like a small version of Cannon Beach which if you don't know is one of the best places to visit on the Oregon Coast.
Technically, there is also more scenery in Rialto beach to check out than with La Push beach and that's partly because being there will start you off on the Olympic Peninsula that runs across the west side of Olympic National Park. The Olympic Peninsula is itself one of the best things to explore on the Washington Coast, but it's very long and many people take days to fully hike it, and just as well, many of the beaches on this list are also part of it, but I'm separating the specific spots instead of the whole Olympic Peninsula because it would take away from each beach's unique highlights.
3) Cape Flattery: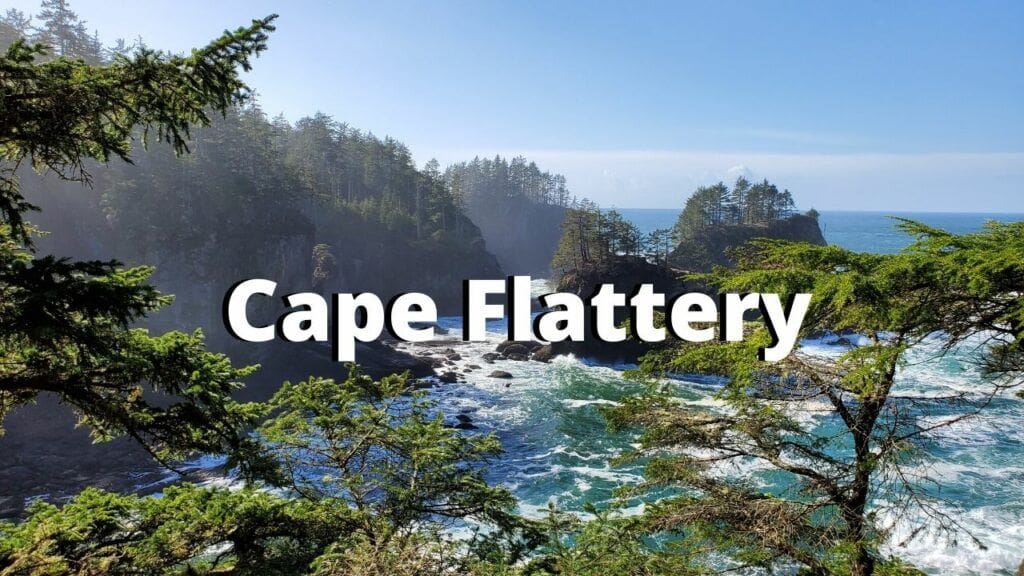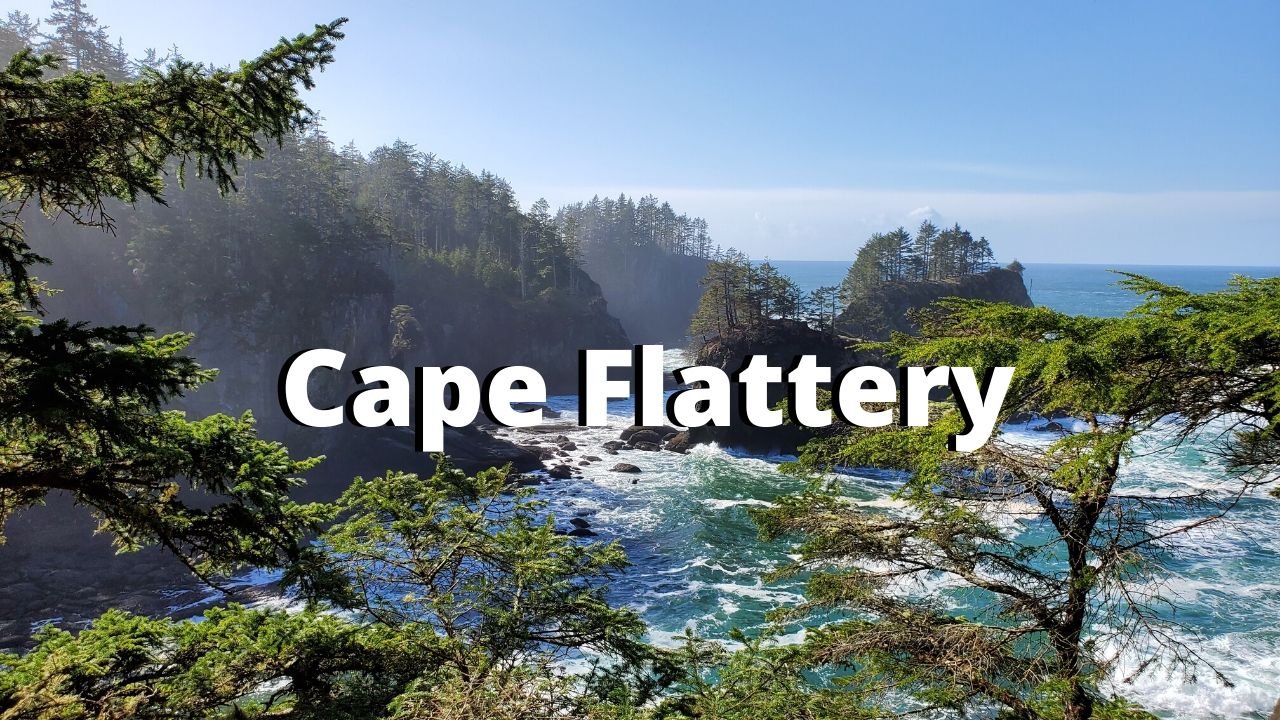 The good news is that this spot is close to the one above and driving from Cape Flattery to Rialto beach (or vice versa) takes about 20 minutes to do, meaning you can fit these 2 destinations easily into a day trip. But anyway Cape Flattery should also be on your list because it's on the tip of the Washington Coast (north west side of the US) and there are many amazing places to see there. Here's just a small list of that:
Sea cave kayaking (dangerous for beginners).
Secret beaches in the area.
There's an old bunker there too.
Scenic hikes in the area too (good tourist area).
Cape Flattery might be the most scenic place on the entire Washington Coast.
4) Cape Disappointment Park WA:
If you start your road trip to the Washington Coast from Portland, then the first spot you'll come across when you hit WA is Cape Disappointment. It is basically located near Astoria, which is close to Oregon's state line. The picture you see here is from a popular section of Cape Disappointment. It's called Deadman's Cove and when I first visited this place, it was because I saw this exact image of it.
Not only that, but Cape Disappointment offers beautiful hikes, a scenic and simple walk to a famous lighthouse in the area and beautiful coastal views including giant waves you can see from these areas. My personal favorite there is Deadman's Cove. Now here's an important thing to know about it:
Deadman's Cove has been closed the last few years. But you can still it from the main Cape Disappointment trail you can to check out the park. What's specifically closed in this area is the hike down to the beach itself where you can get closer to this area.
5) Deception Pass: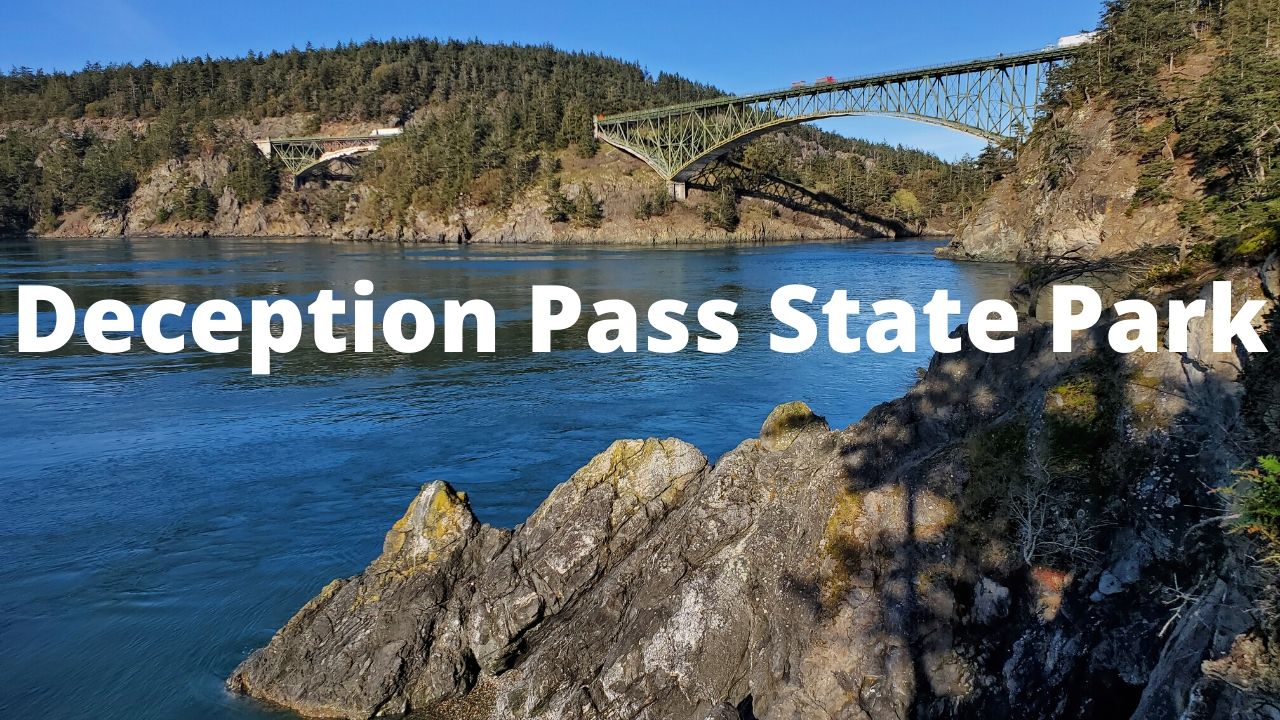 Deception Pass is the only location of it's kind on this list that is actually not on the Olympic Peninsula side of the Washington Coast (west coast), nor is it on the northern end either. Deception Pass is actually close to Seattle and is located on a series of islands (coastal area) close to the Salish sea which divides Washington and Vancouver Island.
It is officially part of the Washington Coast though and I have personally been there. It has a lot to offer from scenic drives, to kayaking across the islands there, camping, hiking and is also a great place for tourism in general. Some spots in Deception Pass do require you pay a fee to park.
6) Shi Shi Beach: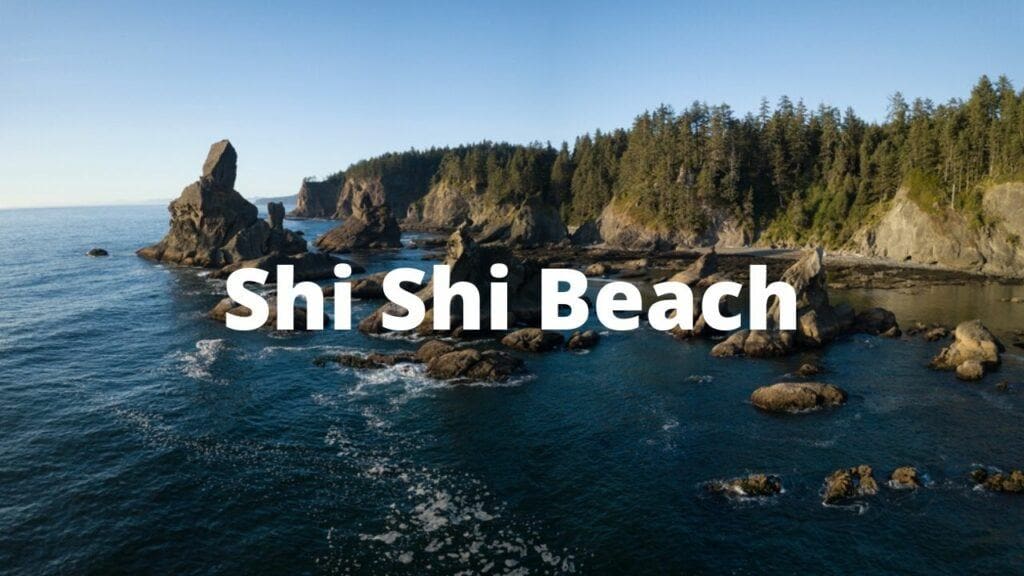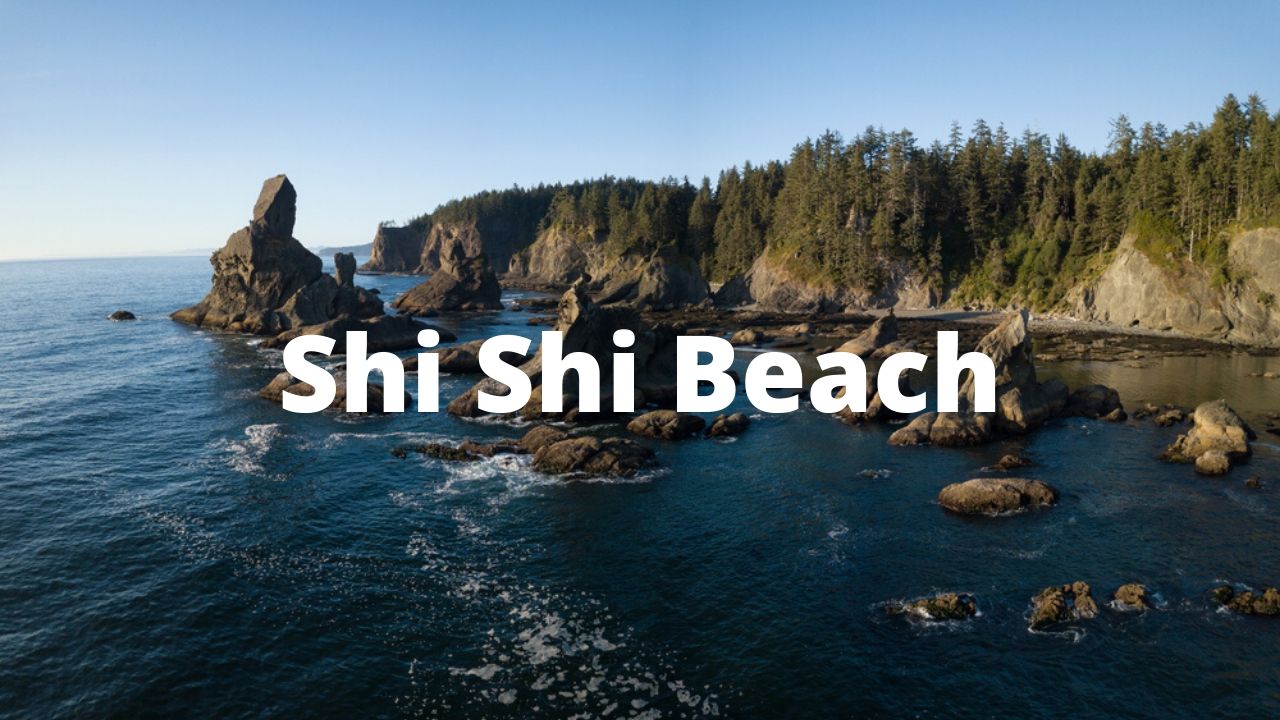 Shi Shi beach is in the Olympic Peninsula region of the Washington Coastline and it is also another one of the very beautiful beaches you'll find on the coast (western side). Like many of the other options above, it isn't far from Cape Flattery, Rialto Beach, Third Beach and so forth so again, you can totally make a day or multi day trip to these beaches as they are so close to each other and you can also choose to hike parts of them via the Olympic Peninsula trail available. The most notable things about this beach are that you can camp on it, there's sea caves right by the beach you can find during low tide and the scenery is awesome too!
7) Lake Crescent (north Washington Coast):
Lake Crescent doesn't sound like a spot you'd find on the Washington Coast, but it is literally right by the bay which divides Washington and Vancouver Island. Not since seeing the beautiful lakes of the Canadian Rockies have I been so floored by the scenery, but Lake Crescent really amazed me. So much so, that I made return visits to see it while I was in this region and I have yet to see all the best sights in this area alone. Here are some places within this region I recommend checking out:
One of the

best Washington waterfall hikes

(Marymere Falls).

Devils Punchbowl in Lake Crescent

(bridge and swimming area).
Bird feeding around the Marymere Falls trail area.
Kayaking, swimming.
Exploring waterfalls across the lake.
The

Sol Duc Falls trail

is also a great hike to try nearby.
The scenic drive across Crescent Lake (one of the

best scenic drives in North America

).
In my opinion, the scenic drive alone is worth taking and there's plenty of hikes and activities near by to do, since this Lake is part of the Olympic National Park area.
8) Port Townsend's Glass Beach (and the town) on the Washington coast:
I originally thought that the Glass Beach in Port Townsend was the only good reason to visit this place and then after doing it personally, I was much more impressed by the town itself and with the many things to see and do there.
Now while this area does have sea glass, there's actually another beach with even more sea glass like it but it's located on the California Coast and it actually has even more of it (it's even more famous). It's called Glass Beach California. That is one I've visited 3 times so far and I do recommend seeing it too, but that's only if you're in that state.
As for Port Townsend itself, I do think it's a great spot to explore while you're on the north side of the Washington Coast because it has a good combination of many restaurants, great hikes, tourist places, historic areas, a nice lighthouse and great camping spots for both RVs and campers in general. I would even say that out of all the places I've seen throughout the north part of the Washington Coast, I would recommend staying in Port Townsend above all of them.
9) Ruby Beach:
Ruby Beach was one of the main spots I explored on a Pacific Coast Highway road trip and despite the weather not exactly being pleasant, I was the only person on this beach when I visited and I really enjoyed seeing this spot. It's not far from Cape Flattery and is also well worth exploring.
One of the main attractions of this place besides the beach and scenery is all the logs and rivers that flow into the Pacific Ocean from it. I even saw some camping spots in between the logs (not that I would recommend doing that, I wouldn't want to get crushed). But for the adventurer, I really think you'd like exploring Ruby Beach on the Washington Coast.
10) Olympic National Park (National Forest and Olympic Peninsula) overall: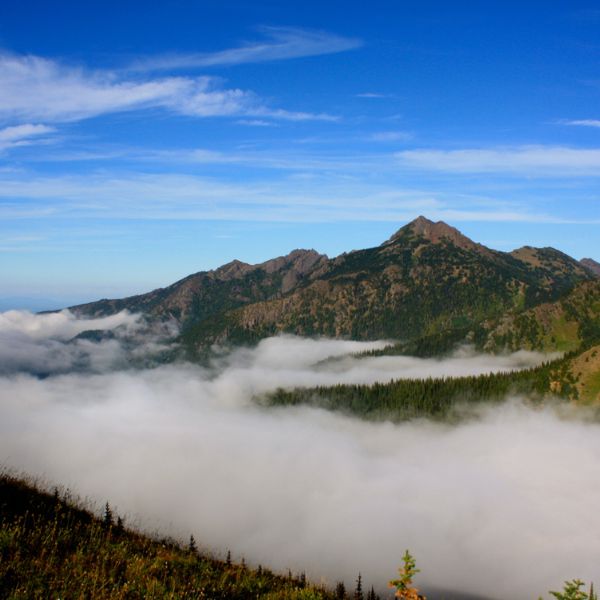 Olympic National Park takes up a ton of area within Washington State and because it is right near the coastal areas of Washington State, it deserves a spot on this list. Many of the beaches on this list are actually part of it, and technically on the Olympic Peninsula like I said earlier, but deeper into the park itself (which in many cases is close to the coast), you will find many day hikes, lakes, waterfalls and tons of things to see and do. In my opinion doing a road trip through this park in addition to the specific coastal spots is a great way to mix things up and get more out of that trip.
I have included a link to an Olympic National Park article that'll show you day hikes to check out there but one other thing to note is that there is also the Olympic National Forest that you can check out that's further southeast of the Washington Coast. It has awesome hikes and places like High Steel Bridge that you can check out, but that technically takes you too far inland from the coast.
11) Tree of Life WA:
Another awesome Washington Coast gem you might want to consider checking out is the famous Tree of Life. It is located on the western Washington coast and is basically a tree whose trunk is exposed fully as there was massive erosion that removed the land underneath it. Now the Tree of Life's roots are lodged in between 2 hills. I have not yet explored Kalaloch Beach yet, but that tree makes it worthwhile to see it in my opinion.
One thing to note about Kalaloch Beach is that there are several parts of and in numbers you can check out which include parts of the beach, campgrounds, a cabin and more. Fortunately if you're just looking for the Tree of Life, there is a Google listing for it within the Kalaloch Beach area that I linked to above for your reference. This area is right off the 101 road so its easy to find and check out what else is around there.
12) Salt Creek County Park: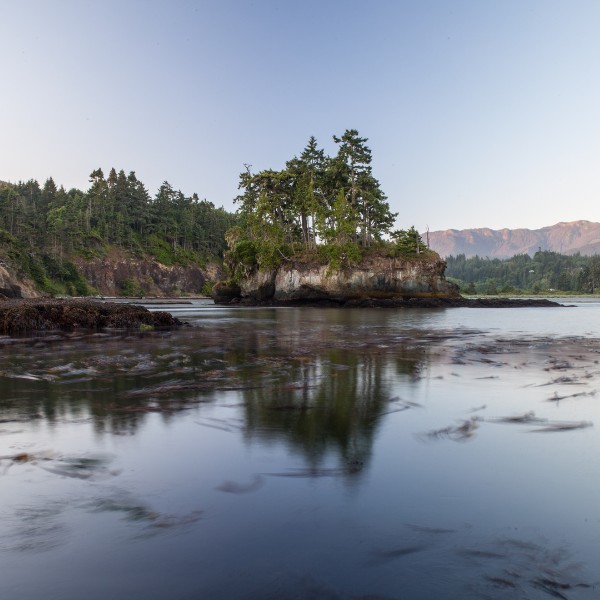 Salt Creek County Park is a Washington Coast gem I recently learned about and even "worse" missed every time I have traveled to the area. It happens to be very close to Port Angeles and also Lake Crescent and that's where I stay whenever I visit the area. Salt Creek County Park is literally a 10 minute drive from it and it's only thanks to Instagram that I discovered it.
And I'm happy to admit that I'll soon fix this as I'm planning to revisit this region and check it off. It's a very small but extremely beautiful park that has many elements of the beauty you'd see on the western end of the Washington Coast.
There are also many hikes, boating and other things to do there. In many ways this small park reminds me a ton about Presque Isle State Park that I discovered in the Upper Peninsula of Michigan a few years ago (small park, lots to see).
For what it's worth I tend to compare a lot of areas I visit when I travel and the Washington Coast in many ways reminds me of the North Shore MN more so than the Oregon Coast.
What about a list of the best beaches in Washington State? My top picks: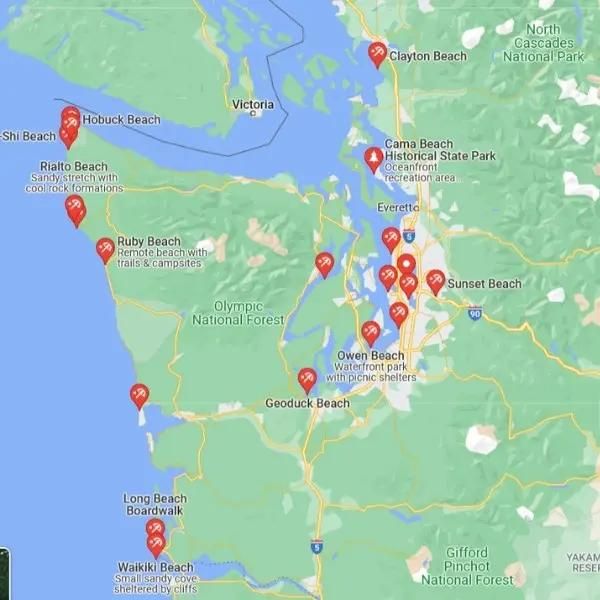 I have obviously not been to every single beach in Washington State but there are 3 parts (western, northern and eastern ones) and I have included a "small list" and map of the areas worth seeing. Some of them are repeats:
Best beaches on the western Washington Coast:
I really like Third Beach because of the waterfall, Rialto Beach because of the sights and Ruby Beach because it was the first real beach I saw when I was in the Washington Coast (and it's beautiful).
Best beaches on the northern Washington coast:
Any beach in Salt Creek County Park is amazing, Devils Punchbowl in Lake Crescent is an amazing spot (lake beach), and so is Port Townsend for the sea glass.
Best beaches on the eastern coast of Washington:
Deception Pass is good as it has many beaches, the beach in Fort Ebey State Park (so far). I have also included other highly reviewed Washington beaches on a map for more options.
Have questions about visiting the Washington Coast? The most popular ones: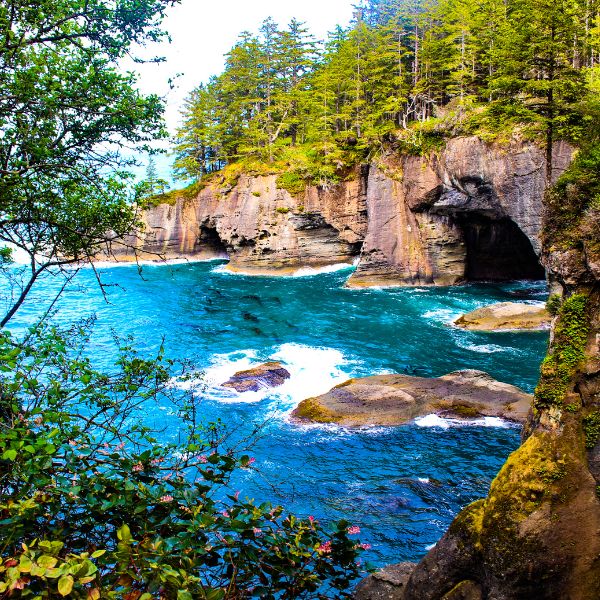 What is considered the Washington Coast?
The western side of WA that faces the Pacific Ocean is considered the Washington Coast. It starts from Cape Disappointment all the way up to Cape Flattery and is over 400 miles.
Does Washington have any beaches?
Yes there are dozens of popular beaches across Washington State, especially the coast.
What are major cities in Washington Coastal region?
There are over 20 on the Washington Coast and the major cities on it include Everett, Friday Harbor and Cape Flattery.
Is Seattle a coastal city?
Yes Seattle is a coastal city because it is close to Elliot Bay.
Now the questions here about the beaches and places to visit don't always align with what I recommend seeing on the Washington Coast so keep this in mind.
Do you need to wear anything specific when hiking along the Washington Coast?
It depends on which areas you visit. Most of the spots along the shore have their own walkways and simple hikes to the beach but there are certainly options for more difficult hikes that I would recommend specific gear for (recommendations coming soon).
As for visiting nearby coastal states, since Oregon is the closest, I would recommend to check out the Oregon Coast too if you have the time!