Hall of Mosses Trail: Everything to Know About This Hike
The Hall of Mosses trail is probably one of the most scenic hikes in Hoh Rain forest and Olympic National Park and while it's a place I highly recommend you visit, this post is going to give you a preview of what to expect and in addition to that what else to see.
Quick info on the Hall of Mosses trail:
Name: Hall of Mosses.
Location: Hoh Rain forest (Olympic National Park).
Hike distance: A little under 1 mile loop.
Difficulty: Very easy.
Family friendly hike? Yes!
Rating: 5 out of 5.
Recommended? Yes! The trail itself is extremely scenic, but short (the only downside in my opinion). There are also many things to see within the area that I'll also talk about shortly.
What to expect when hiking the Hall of Mosses trail:
So the first thing I want to say is that this hike is really just a simple walk in the woods. There is a short, easy to follow trail all throughout the area and there are also 2 other trails:
The first is Spruce Nature Trail which is about a 3 mile loop.
Then there is the Hoh River Trail which is about 20 miles one way.
While I recommend exploring Hall of Mosses first, just know about these other 2 trails and their distances because you will see signs for them as you start on the hike.
1) Reaching the Hall of Mosses trailhead:
Getting to this area is pretty easy but I would recommend you go there via GPS. You can easily find the Hall of Mosses trailhead here, but if for whatever reason you require more directions, let me share what you need to know:
Where is Hall of Mosses located? Here is a map:
Directions:
Hall of Mosses is located inside Hoh Rain Forest. 
To get there, you have to be on road 101 (the closest town is La Push, which is 20 minutes away).
While on the 101, you will see signs for Hoh Rain Forest and turn to Hoh Upper Road.
You will then follow that road for about 20 minutes to it's end and that's where you'll see the Hall of Mosses Trailhead.
Things to know before you reach the trailhead:
The drive from the 101 on Upper Hoh Road is very scenic and takes you parallel to the Hoh River.
Drive slow because you may see elk in the area. I did both times going in and out of the area.
There are bathrooms right by the trailhead and even a welcome station.
The area overall is very clean and there is a large parking lot.
There are camping areas in the entire area so if you love that, you may want to consider camping here.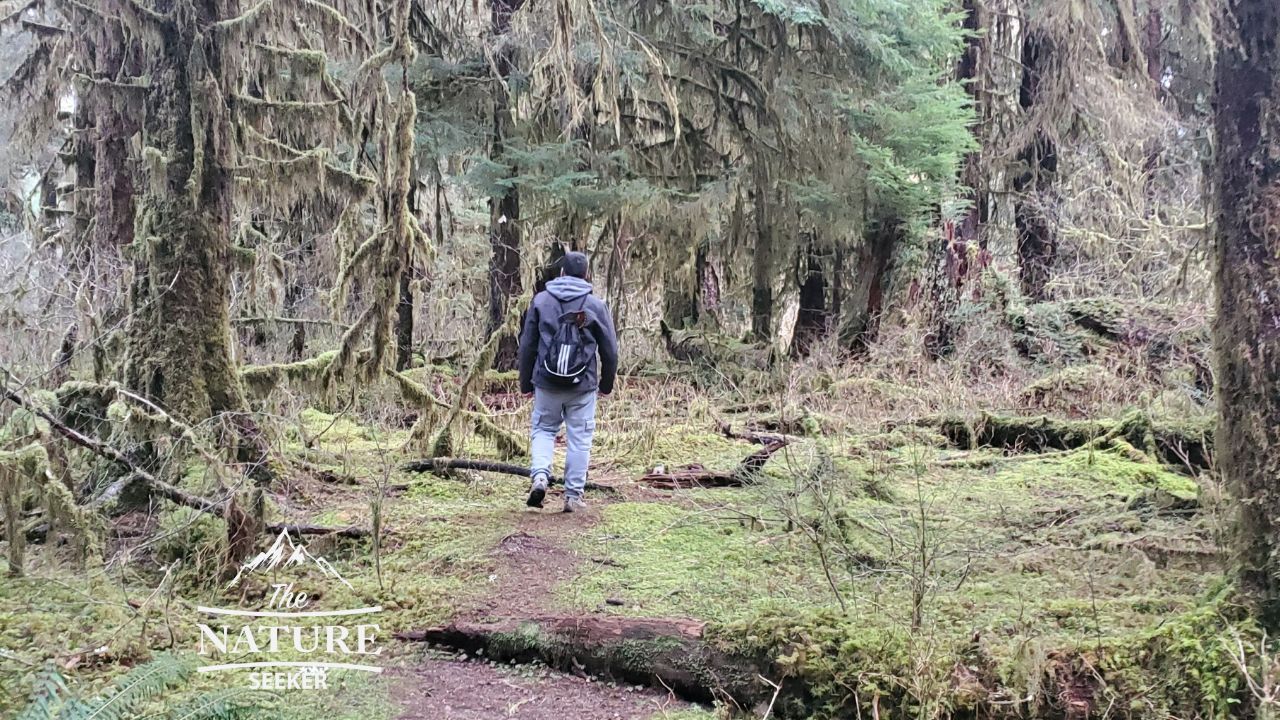 To get to the Hall of Mosses trail, you first have to walk through another mini trail called the Hoh Visitor Center Mini Loop trail that connects with it. It's literally just a 10 minute walk but there is a fork when you start.
If you go left at the start of this mini trail, you will cross the visitor center and then turn left at the next fork which will officially start the Hall of Mosses Trail for you.
If you go right at the start of the mini trail, you reach another fork. Left will take you to the same mini trail, then connect with the Hall of Mosses trail, while the right will take you on Spruce Trail I talked about earlier.
I recommend taking your time with the mini trail because it's very scenic and there is also a small river crossing along the way where you pass by some of the clearest blue water I have ever seen.
Here is a Hall of Mosses trail map to help you with this: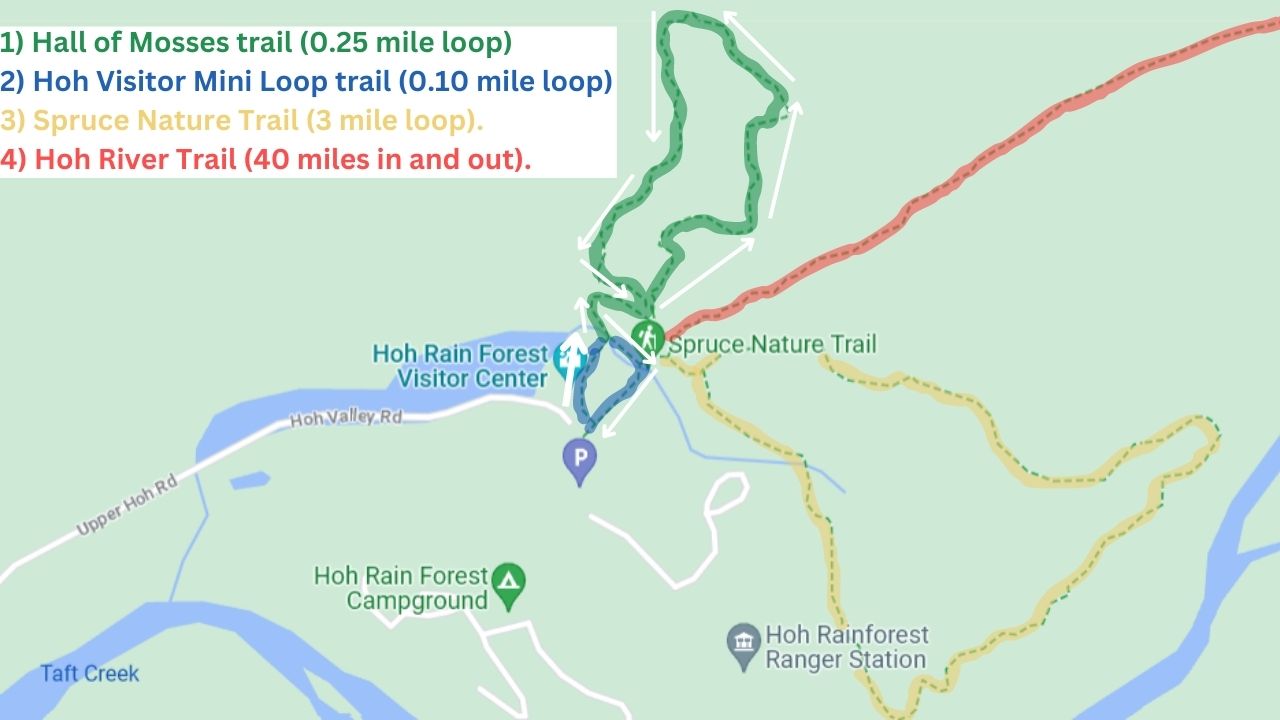 My personal advice is to navigate it all this way:
At the starting fork by the trailhead (parking lot), turn left. You'll be on the

blue trail

.
Walk past the visitor center, then at the next fork, turn left again (now you're on the Hall of Mosses trail).
Do the whole trail, then when you return to the same fork where Hall of Mosses started, turn left this time (back on blue trail).
At the next fork, turn right and that will have you complete the blue loop trail (that way you'll do at least 2 trails).
Optional: At that last fork (#4), stay left and do the Spruce Trail loop (3 miles), then come back to this fork and finish up (that way you'll do 3 trails).
Note: These are not the official trail colors, I just marked them this way to help you understand how to navigate.
3) Completing the Hall of Mosses trail:
As I said before, the hike is a very simple walk that's very easy to follow. There is no risk of getting lost in the woods unless you try to explore outside the main trail (which you shouldn't do there).
But you have the choice of doing this trail clockwise or counter clockwise. I personally did the counter clockwise approach to this hike and after doing the full loop, I have to say that it was the right decision.
There are a lot of sights besides the actual mossy tree areas on this hike, and despite it being very short, you will see a lot of stuff including giant trees, not as big as the Redwoods, but they are still taller than most trees.
Here's another awesome Hall of Mosses photo we took during our hike: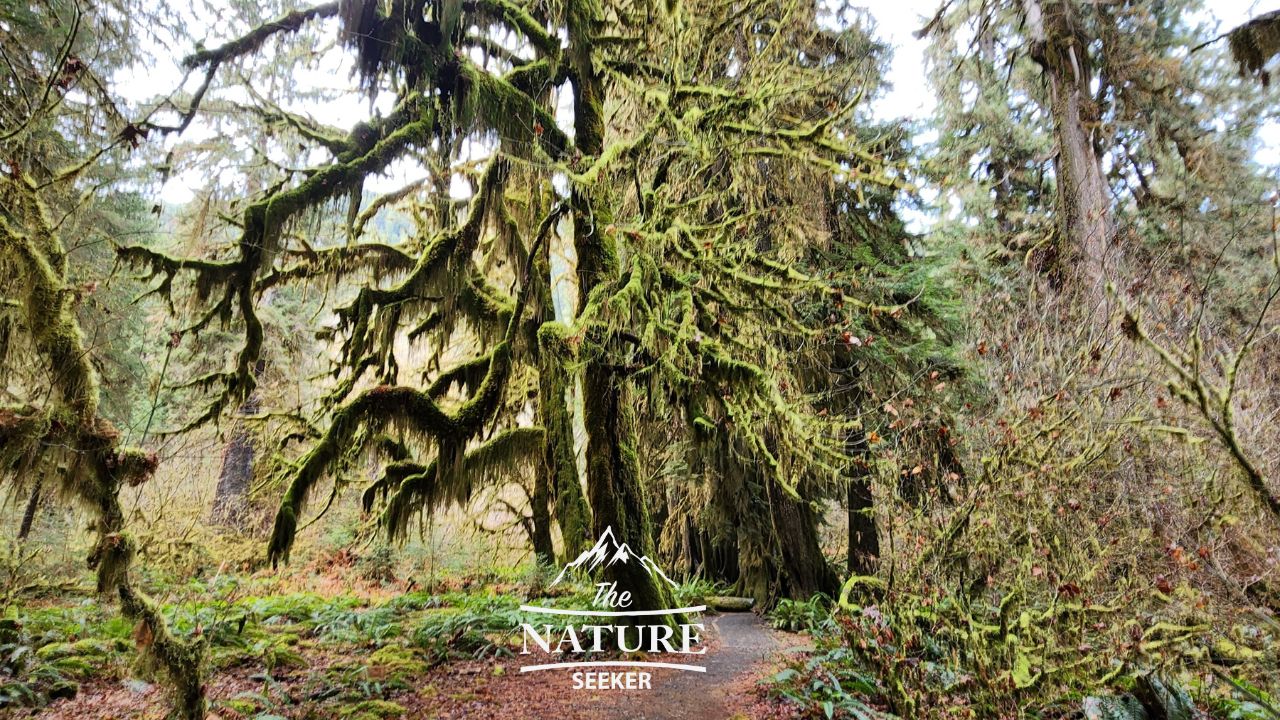 More questions about Hall of Mosses:
How long is the Hall of Mosses trail?
The Hall of Mosses trail is a little under 1 mile loop. You have to cross another short trail to reach it, making the overall hike over 1 mile.
What is the Spruce Nature Trail and Hall of Mosses?
The Spruce Nature Trail and Hall of Mosses are 2 trails connected together inside the Hoh Rain Forest area. Both are loops and easy to hike.
What to do after you explore Hall of Mosses (Things to see):
1) More of Hoh Rain Forest. I will be posting an article on that soon, but overall you have the other 2 trails I mentioned earlier, camp sites and more in this area to explore.
2) Some of the best Washington Coast areas nearby (La Push Beach is the closest).
3) Lake Crescent (north of that). I recommend the Sol Duc Falls trail and then the Devils Punchbowl in Lake Crescent trail after. The trails there are very similar to the stuff you see in Hall of Mosses.
4) More of Olympic National Park. It's one of my favorite national parks on the west coast.
5) Cape Flattery is also a good stop, although it's about 1 hour from Hall of Mosses. I would recommend staying in La Push beach or in Port Angeles for this.
All of these will add even more variety to your trip to Hall of Mosses and I hope this article helps you get the most out of your hike there!