7 Things to Know About The Sol Duc Falls Trail
I've hiked the Sol Duc Falls trail in Olympic National Park and while it's beautiful and worth seeing, there's at least 7 things you should know about it, because in truth this spot is really just a small sample of what else you can see in the area.
Quick info on the Sol Duc Falls trail:
Name: Sol Duc Falls.
Location: Olympic National Park, near the western side of Lake Crescent.
Hike distance: 2 miles in and out.
Difficulty: Easy.
Rating: 4 out of 5.
Recommended hike?

Yes!

Sol Duc Falls is one of the most iconic waterfalls in Olympic National Park and Washington in general, but it's also just a small sample of the area and there's many more things to see and do nearby.
The 7 things to know about Sol Duc Falls before you go:
The road to Sol Duc Falls closed between winter-late spring (check before you go).
There's an area before Sol Duc trailhead called Salmon Cascades that I recommend seeing beforehand.
There is another very short hike called Ancient Groves before you reach the trailhead worth seeing.
There is a hot springs resort past the ranger station (before the trailhead) worth visiting.
The official Sol Duc Falls trail is an in and out hike, not a loop (there are other connecting trails).
There are a lot of camping areas around the Sol Duc falls area.
Be sure to check out Lake Crescent too (scenic drive, hiking, lake views and much more).
What to expect from the Sol Duc Falls hike:
While the 7 things above to know will really help you get way more out of your hike to Sol Duc Falls than just the waterfall experience itself. But at the same time, I want you to know what to expect from the actual hike so I'll cover the details of that here:
1) Driving to Sol Duc Falls WA trailhead:
Before you even begin the hike to Sol Duc Falls, you will first need to reach it and that involves a long drive that starts at the 101. Regardless of which side you're trying to reach this place from (it's only left or right off the 101), you'll need to turn into the Sol Duc Hot springs road and travel for at least 20-30 minutes on it.
There's important things to expect on that drive:
1) If the road is closed (due to the season or other circumstances), you will see a gate blocking the entrance to the Sol Duc Hot springs road from the 101. You can see the status of that here.
2) I strongly recommend making 2 quick stops at the following locations:
Salmon Cascades which is a river off the Sol Duc road where you can see salmon swimming (it's a great sight).
The Ancient Groves trail (which is a short trail to beautiful mossy trees and groves).
Here's a photo from the Salmon Cascades: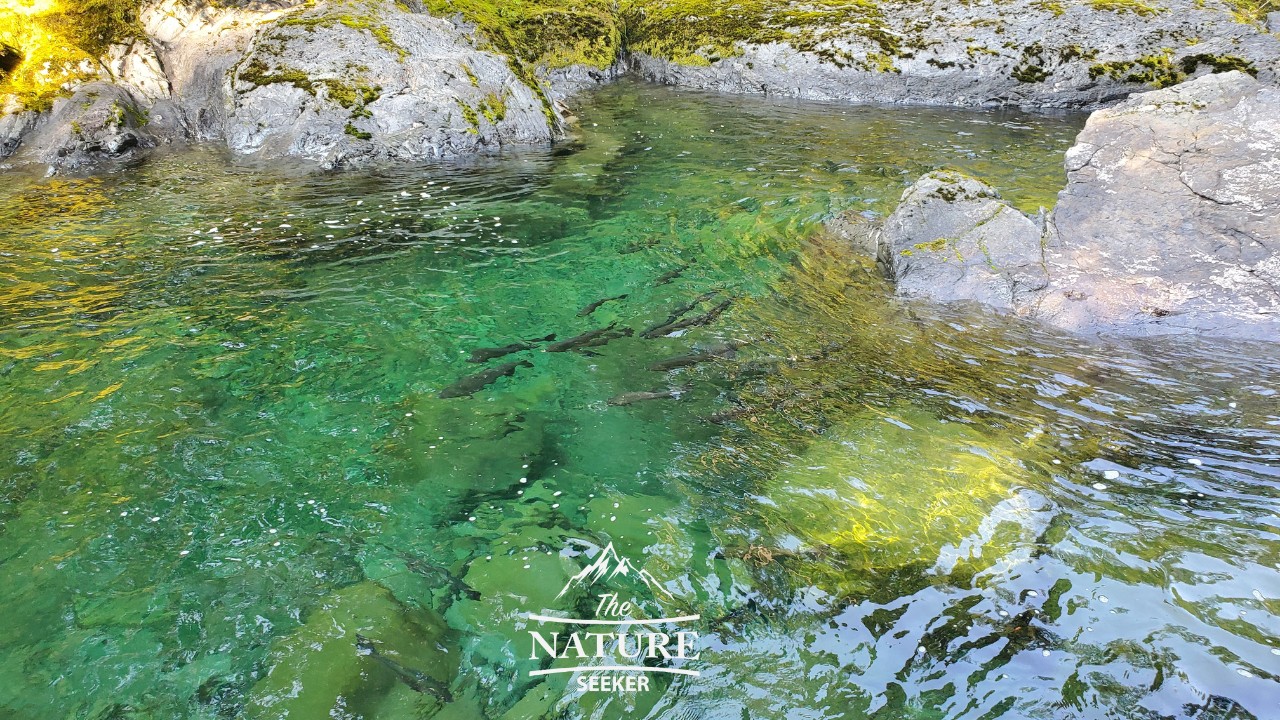 These 2 spots are easy to explore within 30 minutes each, but they just offer an even better experience of the area. There is another trail called North Fork, but that's a 10 mile hike in and out, something I'd skip unless you have time after.
3) You will cross a ranger station and that will put you into the area of Olympic National Park.
4) Once you cross the ranger station, you will see a resort for the Sol Duc hot springs. I recommend stopping that after your hike if you can.
In short, these are awesome before and after attractions I recommend you see to enhance your experience at Sol Duc Falls.
2) Starting on the trailhead to Sol Duc Falls: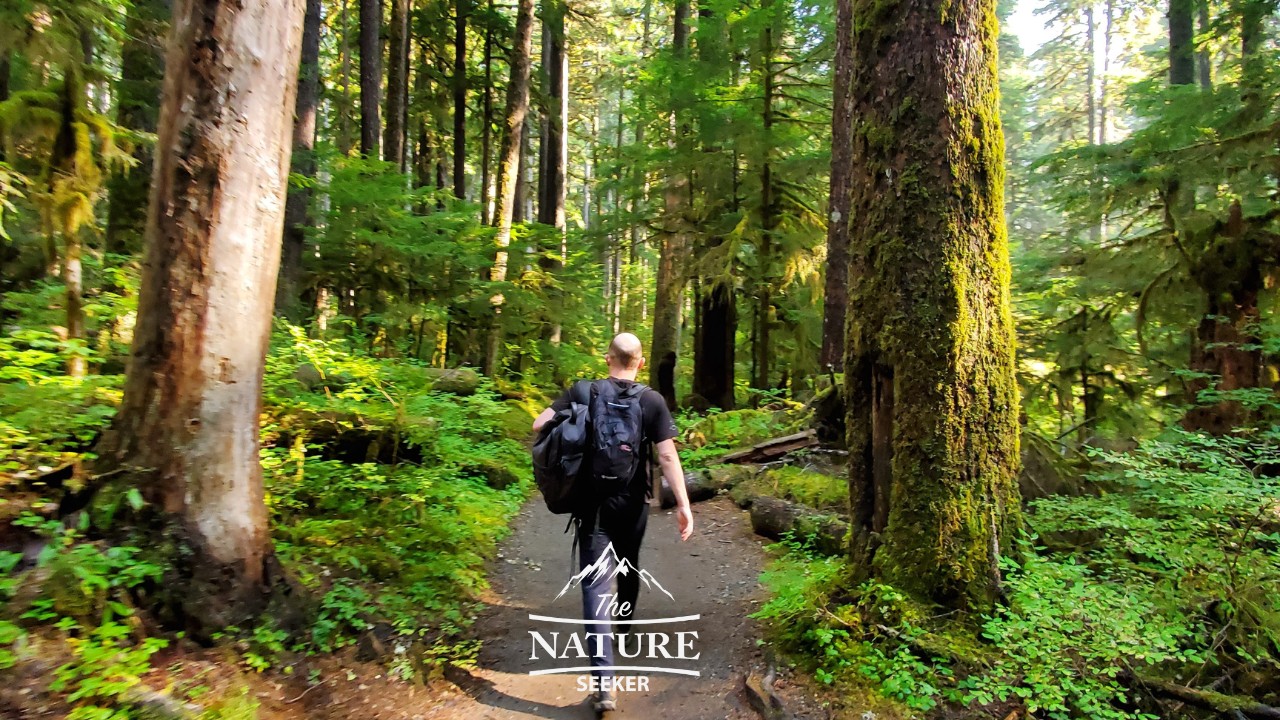 The Sol Duc Falls trailhead is easy to reach, you just follow the road to it's end. The parking lot is pretty big and you will see some campgrounds across the river. But the trailhead is at the end of the parking lot and easy to spot.
Once you begin the trail, it'll be a general zigzag and slightly elevated hike until you reach the waterfall. The hike to the waterfall is pretty amazing and an experience in itself in my opinion because of all the beautiful nature you see which really encapsulates the beauty of the Pacific Northwest and the thing about that area is that this is what it generally looks like year round.
I would also recommend waterproof socks and good hiking or trail running shoes (I wouldn't recommend wearing crocs on this hike) as the trail is usually muddy and wet.
3) Reaching Sol Duc waterfall (and not getting lost):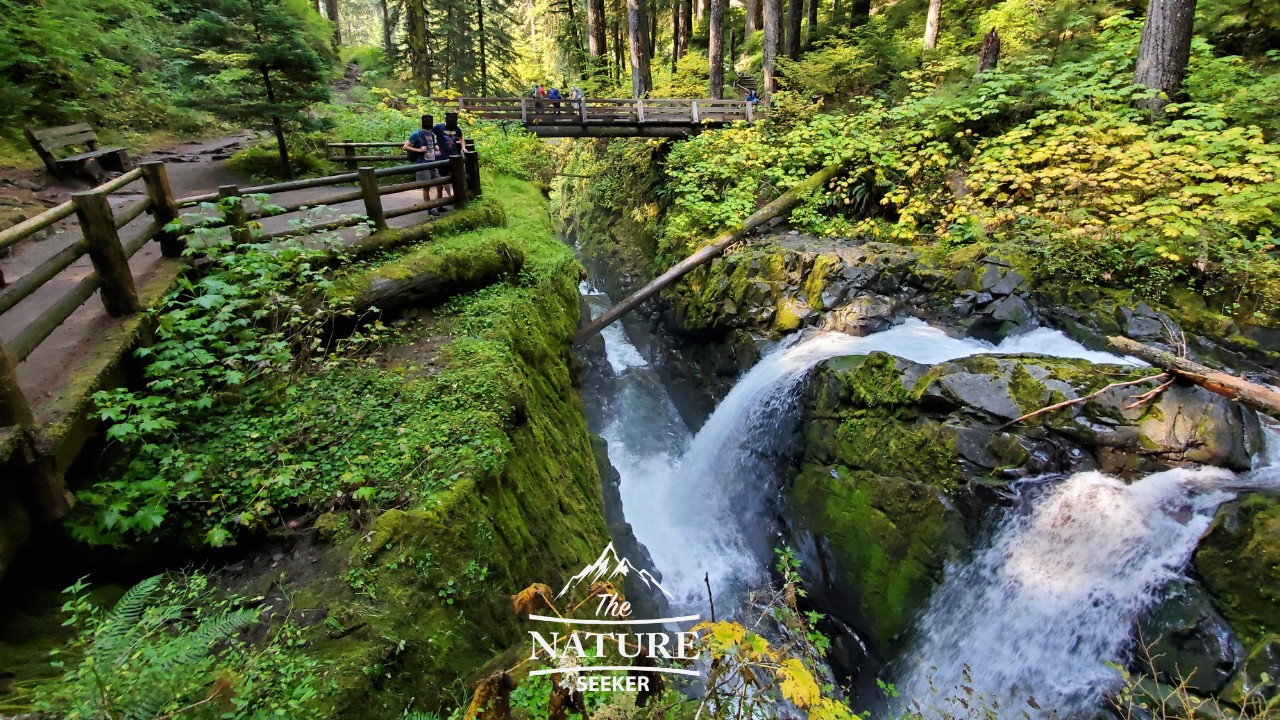 Once you reach Sol Duc waterfall, there are multiple areas to see it from. There is a bridge crossing available to get great photos of it, as well as a spot after the bridge where you can also get great photographs of it. The area could be packed with crowds depending on when you go there, but overall this is the main attraction.
There are 3 trails available after that (not including the one you came from) which may seem like it's a loop but this is where you need to be careful. In short, if you're satisfied with the hike, ignore those other 3 trails and just return back the same way, but if you want to know what those others lead to, here's a quick summary:
Pacific Northwest trail. This leads off eastward from Sol Duc Falls and then goes on for many miles. I would avoid it unless you are knowledgeable on backpacking and/or

how to not get lost in the woods

.
Deer Lake trail. It's right off the bridge that's above Sol Duc Falls. It leads you to Deer Lake and a campground there.
Lovers Lane Trail. This trail is what my friends and I took thinking it would take us in a loop back to the parking lot to Sol Duc Falls. it does take you through some nice views, and it (the trail) does follow the river back to the parking lot, but it doesn't connect with the parking lot. Instead it take you toward the Sol Duc Hot Springs resort which is way further from the trailhead and you may need to cross the river to get back to it. This would technically make you have a 6 mile "loop" hike.
Here's a photo from the Lover's Lane Trail: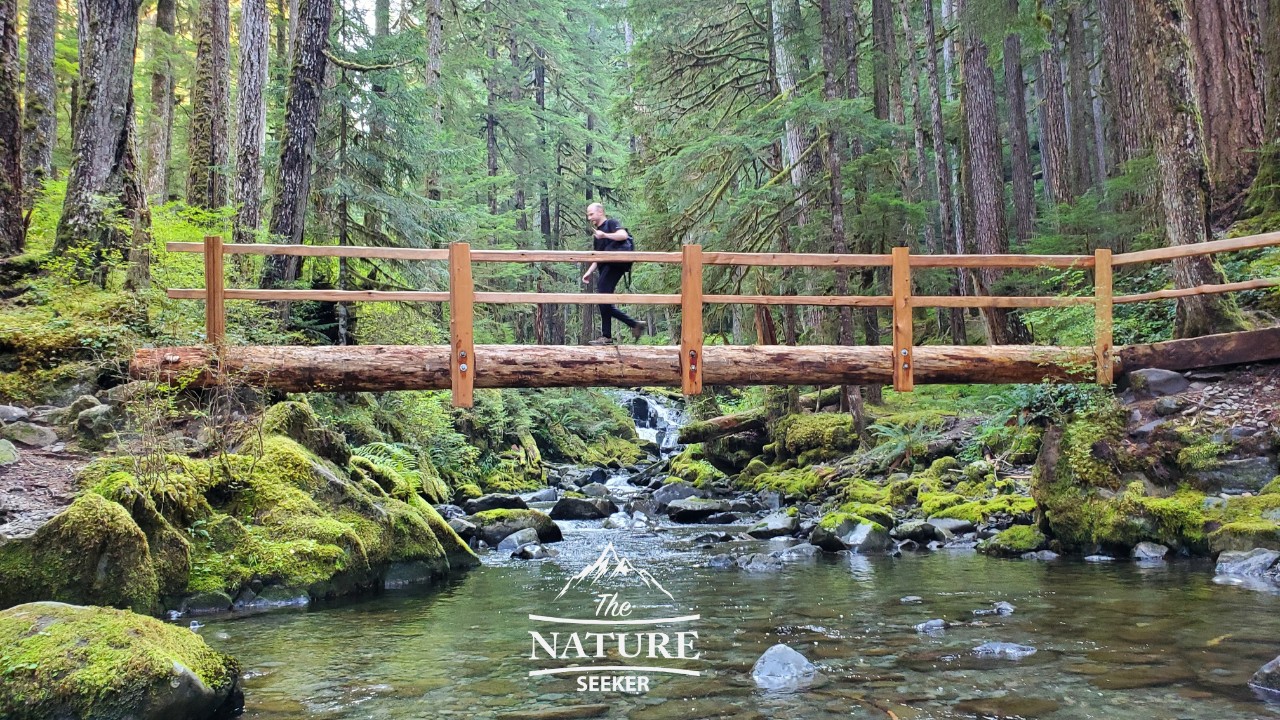 You can certainly explore any of these trails (they all have great stuff to offer) if you have time and experience, but just know what to expect from them. We didn't know any of this info when we went and that's why we ventured into the wrong trail.
4) What to do after the Sol Duc Falls hike:
My recommendation is to return back on the same trail, and check out the other spots I mentioned in the 7 things to know above (the Sol Duc hot springs, and/or the other trails off the road if you didn't see them on your way in).
If you do all those things and still have time, then I recommend a few other things:
Explore Lake Crescent. It's an amazing lake with a lot to offer! Aside from the scenic drive there (one of my favorite

scenic drives in North America

).
There are also nice trails like the Devil's Punchbowl in Lake Crescent and other things like the Marymere Falls trail (one of the best waterfall hikes in Washington in my opinion).
See part of the Washington Coast too if you're doing a road trip in this area.
I also recommend the Hoh Rain Forest and specifically the

Hall of Mosses trail

.
Just exploring these other spots alongside all the other things you saw in the Sol Duc area (including the waterfall) will make for an awesome day trip in this region.
Here is a Sol Duc Falls trail map you can use:
Other questions about Sol Duc Falls:
Is Sol Duc Falls worth it?
Yes, Sol Duc Falls is worth seeing not just because of the waterfall, but for the hike itself and the activities near it too.
How hard is Sol Duc falls hike?
The Sol Duc falls hike is generally easy for most people. You should wear hiking shoes if you go because it isn't dry there.
Is the road to Sol Duc falls open?
After late spring, the road to Sol Duc falls usually opens, but it closes around winter time. The NPS website for Olympic National Park tells you if it's open or not.
How long is the Sol Duc falls hike?
The Sol Duc Falls hike is only under 2 miles in and out.
Overall after visiting the area, I think if you just go to this spot to see the waterfall, it'll be a nice experience, but very limited because of all the potential near this area you can see and by doing the other recommended things from the list above, you'll really get the best experience in the Sol Duc area in my opinion but if you know this spot very well too and you have suggestions on other things to see and explore there, let me know!