I've had the pleasure to explore some of the most scenic drives in North America during the many road trips I've done and continue to do and in this article, I want to show you the ones I consider to be the best (22 so far).

Here are the 22 best drives in North America that make for amazing road trips: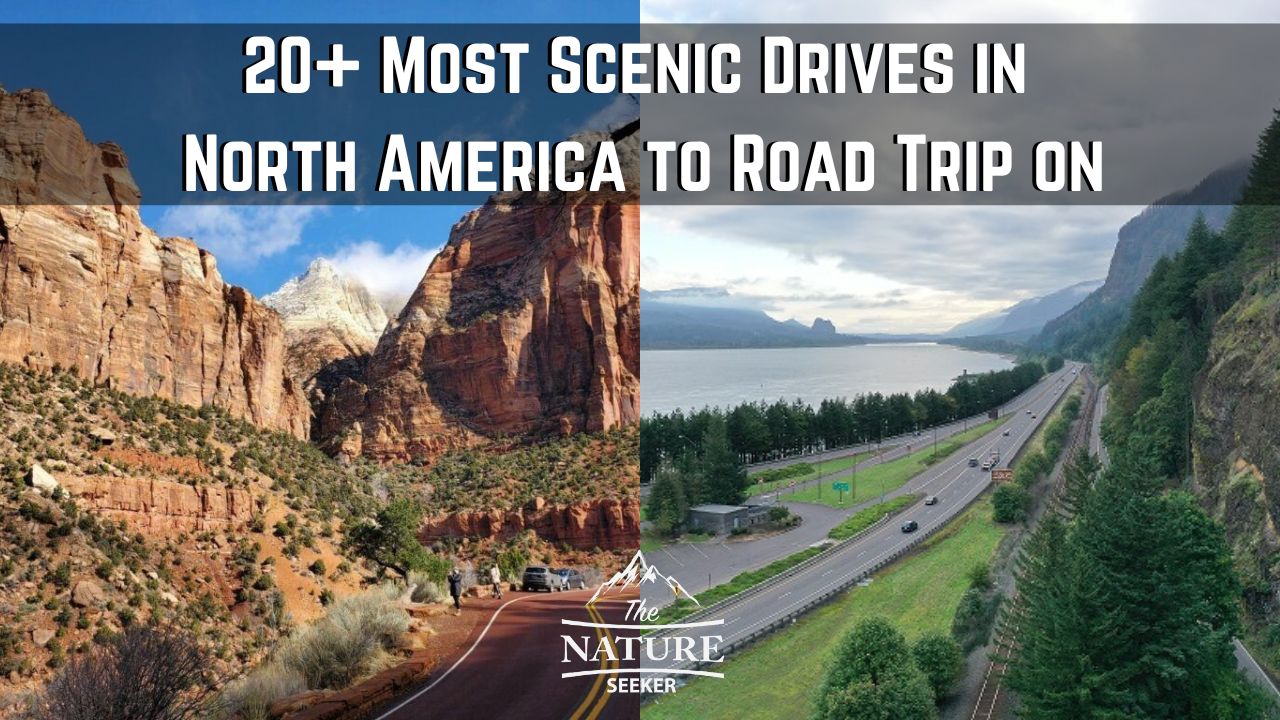 Zion National Park's road 9 scenic drive.
Blue Ridge Parkway.
California's Coastline (route 1).
California's Interstate 5.
California's Route 133, 84 and I-580.
Oregon Route 30.
Red Rock Canyon scenic drive.
The Oregon Coast (Road 101).
Cabot Trail drive.
Finger Lakes road 14 (New York).
Icefields Parkway (Canadian Rockies).
Arches National Park road.
Canyonlands National Park (Grand View Point Road and White Rim Road).
Lake Crescent scenic drive (Washington).
Vermont's 108 road through Stowe and Smugglers Notch.
Yosemite National Park (Valley Scenic Drive)
Utah's Road 12.
Sedona scenic drive (89A).
Monument Valley (3 scenic drives).
Vermilion Cliffs Scenic drive (Honey Moon Trail).
North Shore scenic drive (Minnesota).
Virgin River Gorge (Interstate 15 scenic drive in Arizona).
With each scenic drive on this list, I'll be giving you more details on each location as well as what to expect, with photos, videos and more, so you can decide for yourself which locations on this list are places you want to see.
This list of the best scenic drives in America is going to grow (but feel free to suggest yours below):
Now anyone who has traveled across North America knows that there's more than 22 (Way more!), so here is what you need to know before you read the following list of scenic drives I put up:
This is my personal list of drives. There is no order to which one is best or worst. They are all across North America so if you find yourself in a location where one of these places is listed, mark it down and go there, you will not regret it!

I have personally done them all and the photos you see are made by me.

If you have been to any of the places I'm going to list here or have personal recommendations for other places you think are worth looking at, I am all for it, just let me know the location below!
1) Zion National Park's 2 main scenic drives: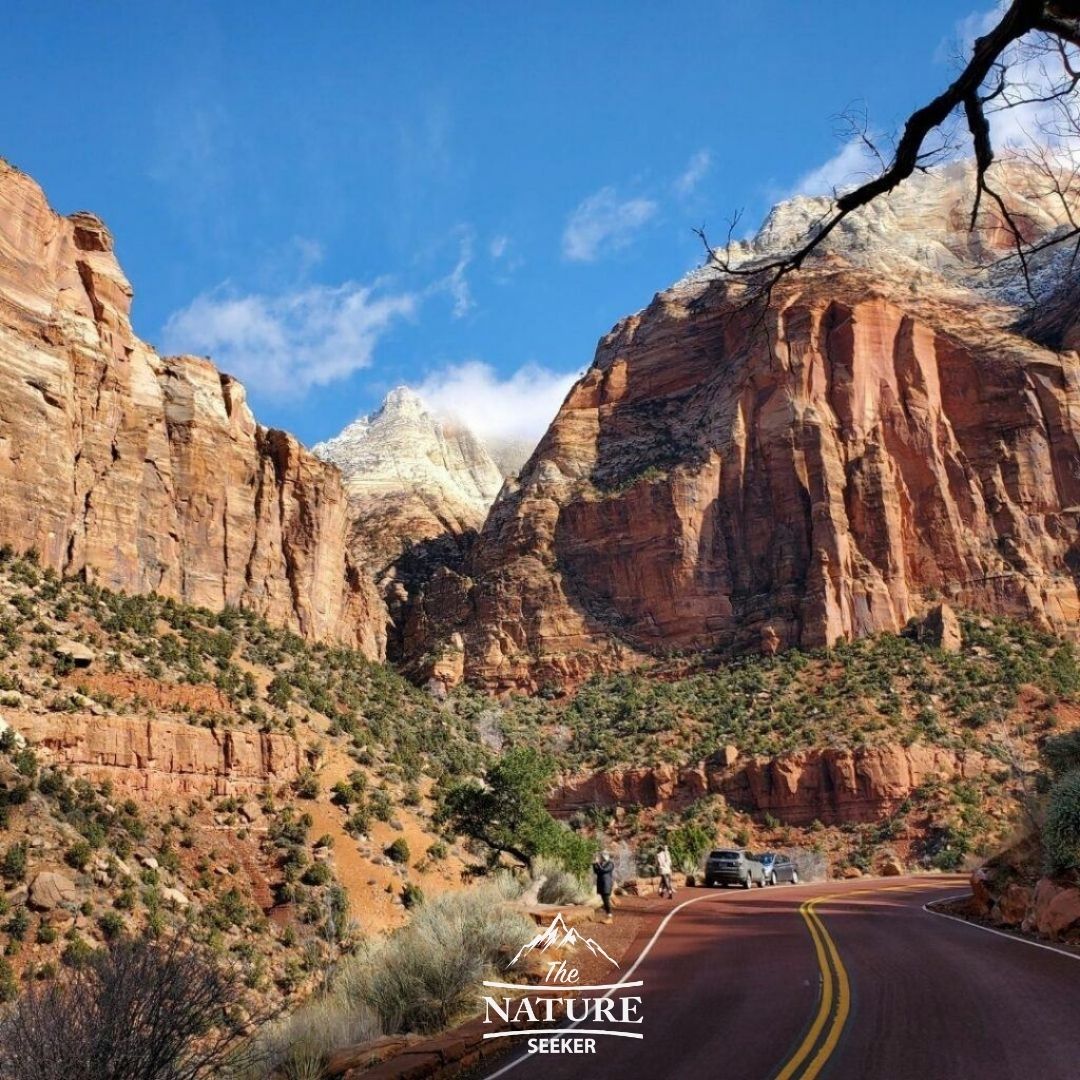 Length of the scenic drive: Over 20 miles.
Rating: 5 out of 5.
Description: When I went to Zion National Park for the first time in 2017, the first thing that blew me away were the 2 scenic drives there and they are:
I'm telling you folks, there are no words or pictures to describe this scenic drive's beauty and if you think the one I'm posting here is amazing, then it's going to be a 100x better when you see it for yourself. It's in Utah, and the closest major city to get there from is Las Vegas.

I can't tell you how many times I almost went off the road because I couldn't stop looking around at all the beauty there. Believe me, the drive through Zion National Park's 2 main roads I listed is a must and each road, while short is unforgettable and in my opinion this is one of the best scenic drives in North America by far.
2) Blue Ridge Parkway scenic drive: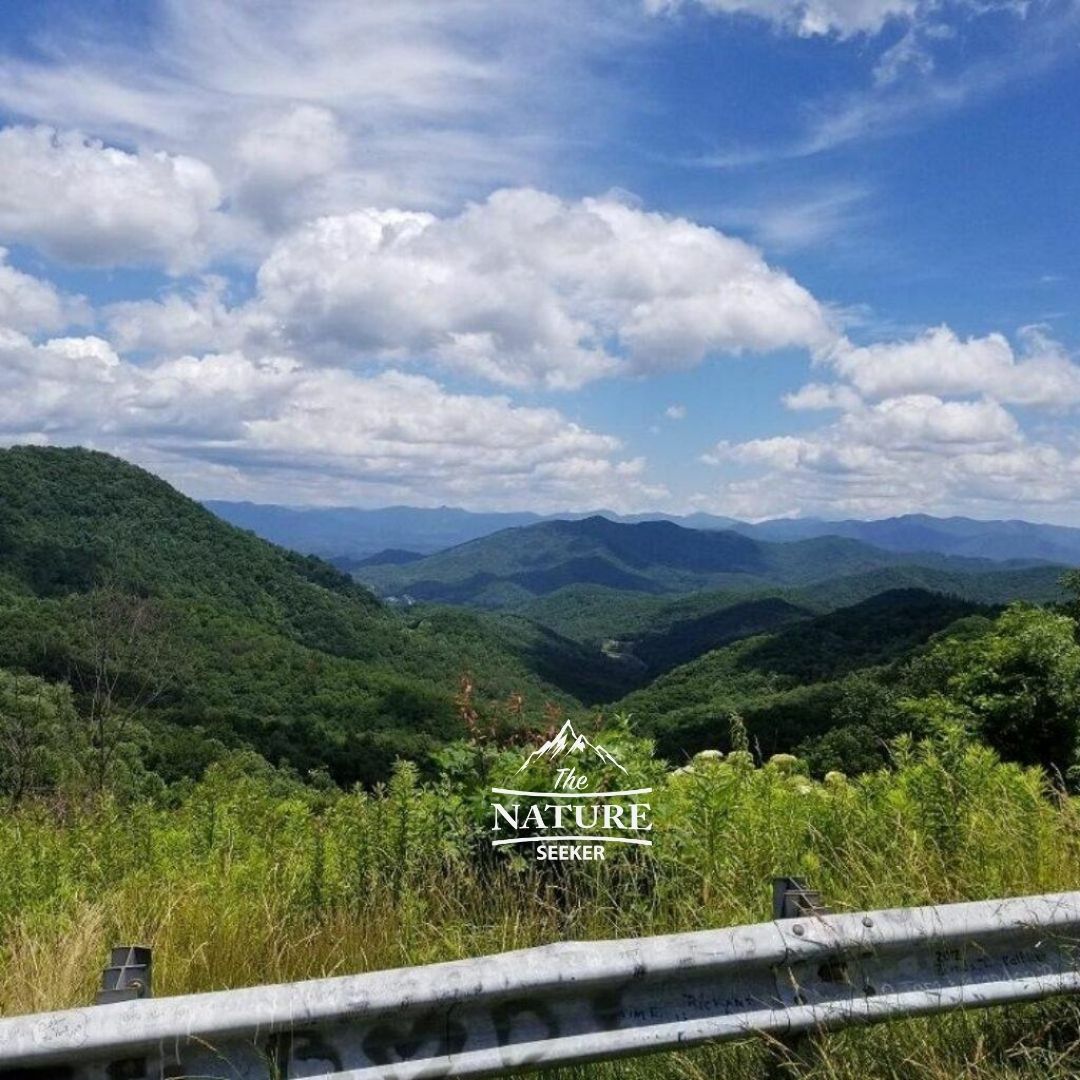 Length of scenic drive: 400+ miles.
Rating: 4.5 out of 5.
Description: While Zion was close to the western end of North America, Blue Ridge Parkway is on the opposite (east) end and there are 100's of miles to explore on this road. It is a road located within what are known as the Blue Ridge Mountains (They stretch from Virginia down to Georgia), which is also known as the southern part of the Appalachian Mountains.
It offers a number of beautiful areas to pass by, the most important being Blue Ridge Parkway, which as I've said before in earlier recommendations of it, basically takes you through the heart of all of the Blue Ridge Mountains and at the same time gives you access to overlooks, hikes and many tourist attractions to make a whole road trip out of your visit here.
I traveled through this area on a 6 day road trip through the Appalachian Mountains in 2018 and I loved it, although after seeing similar views for over an hour, we switched to check out another scenic drive in Daniel Boone National Forest, which didn't quite make this list, but it may in another article.
3) California Coast (Scenic drive route 1):

Length of scenic drive: 500+ miles.
Rating: 4.5 out of 5.
Description: California as a whole has a lot of scenic drives, but for this list I'm going to focus on the California Coast and specifically route 1 which starts in San Diego and goes on for over 500 miles before merging with road 101 (another famous drive mentioned later).
There are 4 particular parts of the Route 1 drive that I completed and recommend seeing:
I didn't get a chance to explore all of the California Coast, but I did drive through 100's of miles of it (altogether, it's about 800+ miles of coastal roads) and those spots are enough to satisfy anyone looking to do a fun road trip. These areas all have a bunch of parks, coastal views, amazing sunset and a lot to see. You can also find a ton of places to stay at and I have 1 article on the best beach camping spots in Northern California here if you're looking for that. The image I added here was taken about 10 miles north of Fort Bragg around sunset. There is no name for this overlook but it's easy to spot.
4) California Interstate 5 scenic drive:


Length of scenic drive: 200+ miles.
Rating: 4.5 out of 5.
Description: Like I mentioned above, California has many scenic drives and one of the other iconic ones that has to be mentioned is Interstate 5 there. In this case, we're talking about all of Interstate 5 that spans for 100's of miles and I had the pleasure of driving through much of it all the way from Los Angeles to Modesto.
When I first started on it, I didn't even know that such a beautiful scenic drive existed as my original plan was to check out Sequoia National Park and my GPS put me on this drive to get there. Unfortunately bad weather caused the park to be closed by the time I arrived. However, the scenic drive through Interstate 5 really made up for that unfortunate closure.
I've had the pleasure of driving across this area three times actually, and I have to say, during the month of March, this region of California has the greenest nature I have ever seen, so naturally, it will light up the beauty of Interstate 5 even more. A good place to see while you are traveling through here is Pyramid Lake California. So if you travel through this road, do it in March. I'm also going to highly suggest adding these 2 additional options to your list if you're in California:
5) 3 more California scenic drives: Route 152, Interstate 580 and Route 84: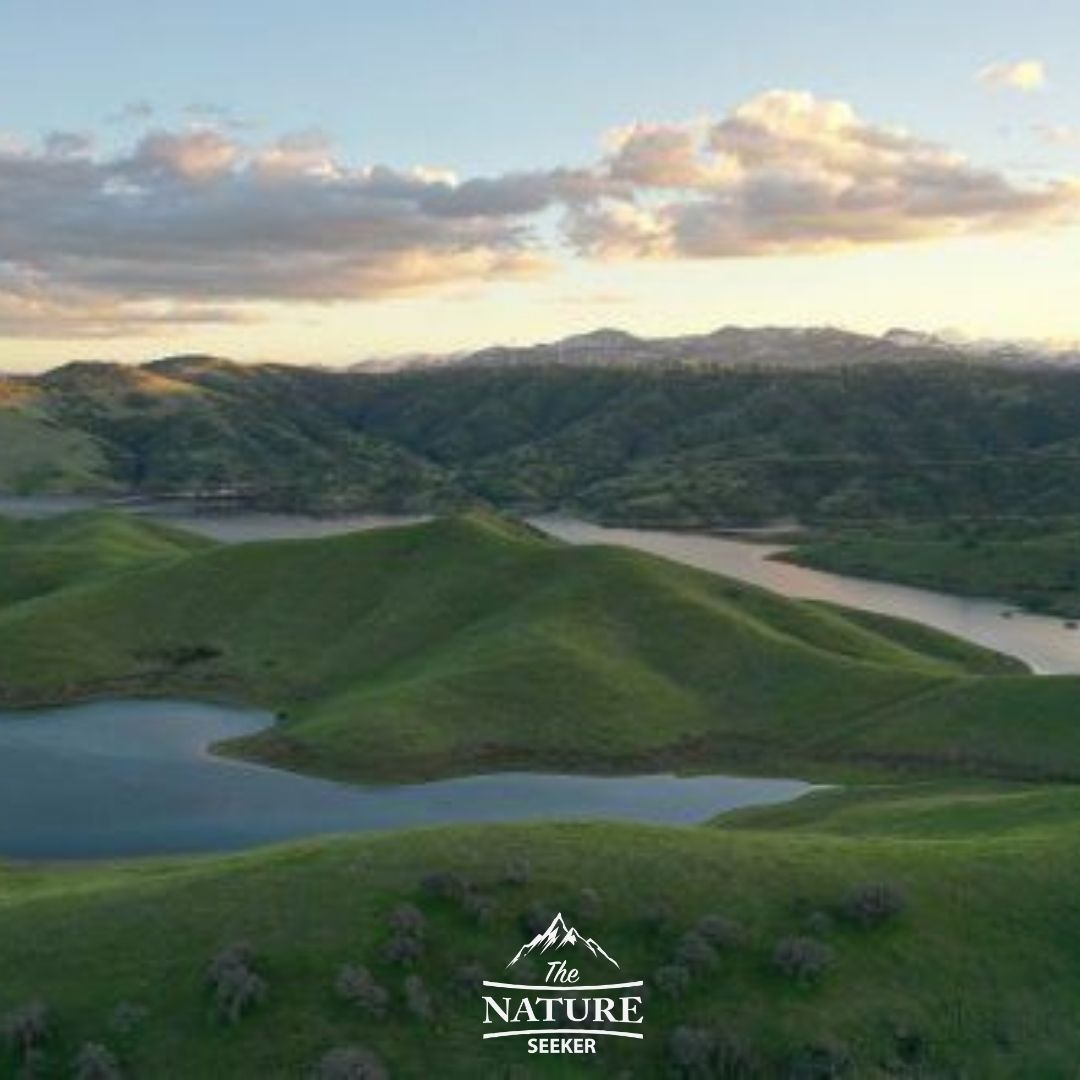 Length of scenic drive: 100+ miles.
Rating: 5 out of 5.
Description: Let me explain why I listed 3 locations for this choice:
This is a followup to my Interstate 5 recommendation. My original plan was to visit Modesto if you remember and while I did end up making it there, I was also staying at Modesto for 2 nights at a friends house from which I was planning to visit Big Sur (a popular California coast spot). The trip would take me 2-3 hours to reach and while headed to Big Sur, I had crossed these 3 locations, each of which was very scenic drive that is highly recommended.

Here is one of the places I saw:
It is a state park on route 152 that is amazing to look at. I really wish I'd stopped more often instead of focusing on reaching Big Sur, but being tight on time and needing to fit my driving schedule forced this to happen. Anyway, if you drive anywhere in California, leave several hours open to seeing amazing places like this (because they will pop up often). I only regret not spending more time in these amazing spots!
6) Columbia River Gorge scenic drive (Oregon):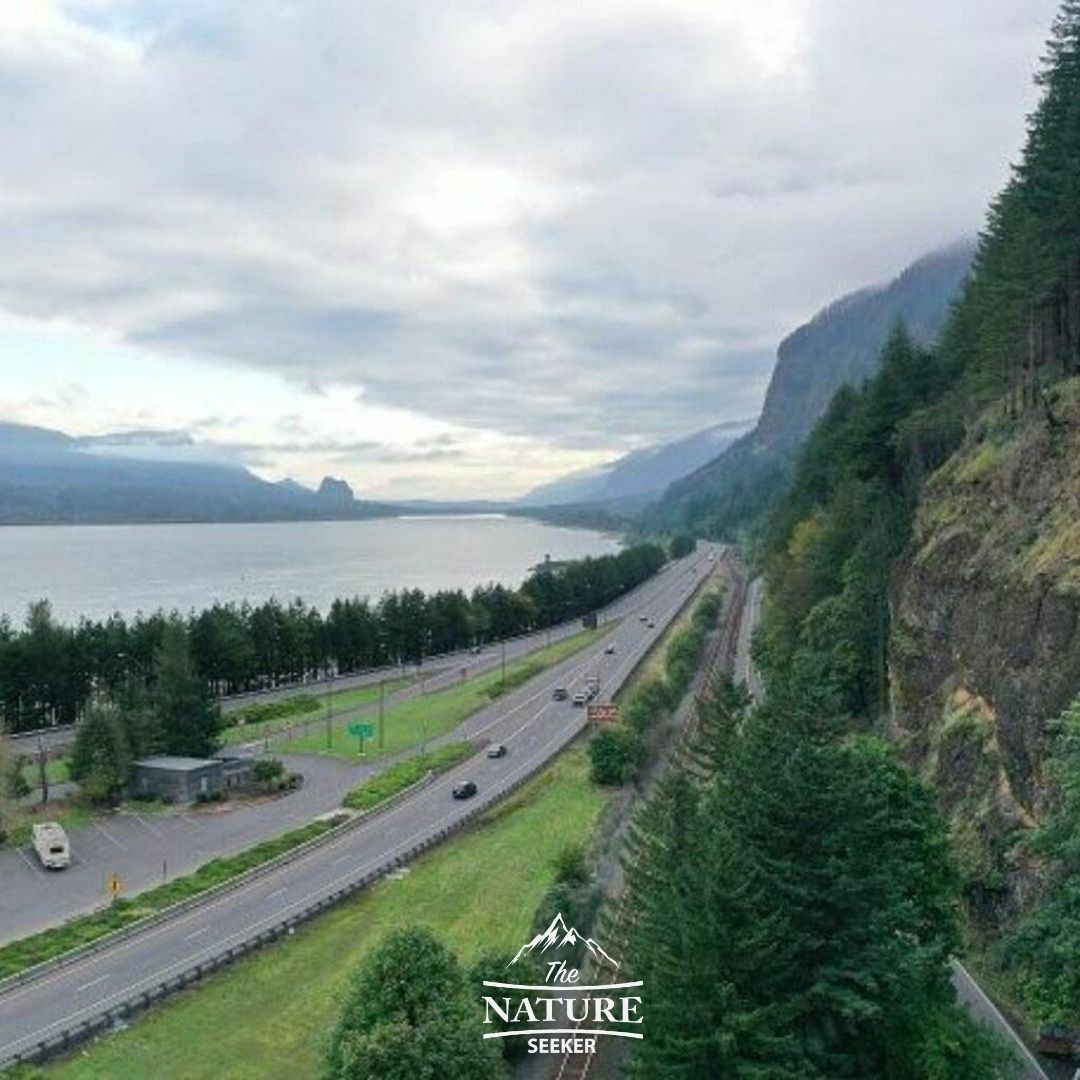 Length of scenic drive: 30+ miles.
Rating: 5 out of 5.
Description: East of Oregon (not far from Portland) is an area known as Columbia River Gorge, which is a beautiful area across a long lake that divides Oregon and Washington State. Now there are 3 roads which go through this area and all give you great views of Columbia River Gorge, but some might be better than others depending on how close you want to get to seeing specific spots in the area:

First you have 2 roads: Route 30 and Interstate 84 which are merged together here. This runs close to the gorge area and gives you great views if you're just driving through.

Then you have the Historic Columbia River Highway, which is parallel to these 2 roads but actually takes you into the mountains of Columbia River Gorge, giving you close up views and connections to some of the

best Oregon waterfall hikes

, most notably Multnomah Falls which is 500+ feet high. It's also one of my personal favorite Oregon scenic drives.

I've driven through all 3 of these roads and in my opinion you should check out all 3. One way to do it is to drive into Columbia River Gorge via the Historic Columbia River Highway and then exit out via Highway 84 to get different angles of the gorge.
7) Red Rock Canyon (Route 157 near

Las Vegas):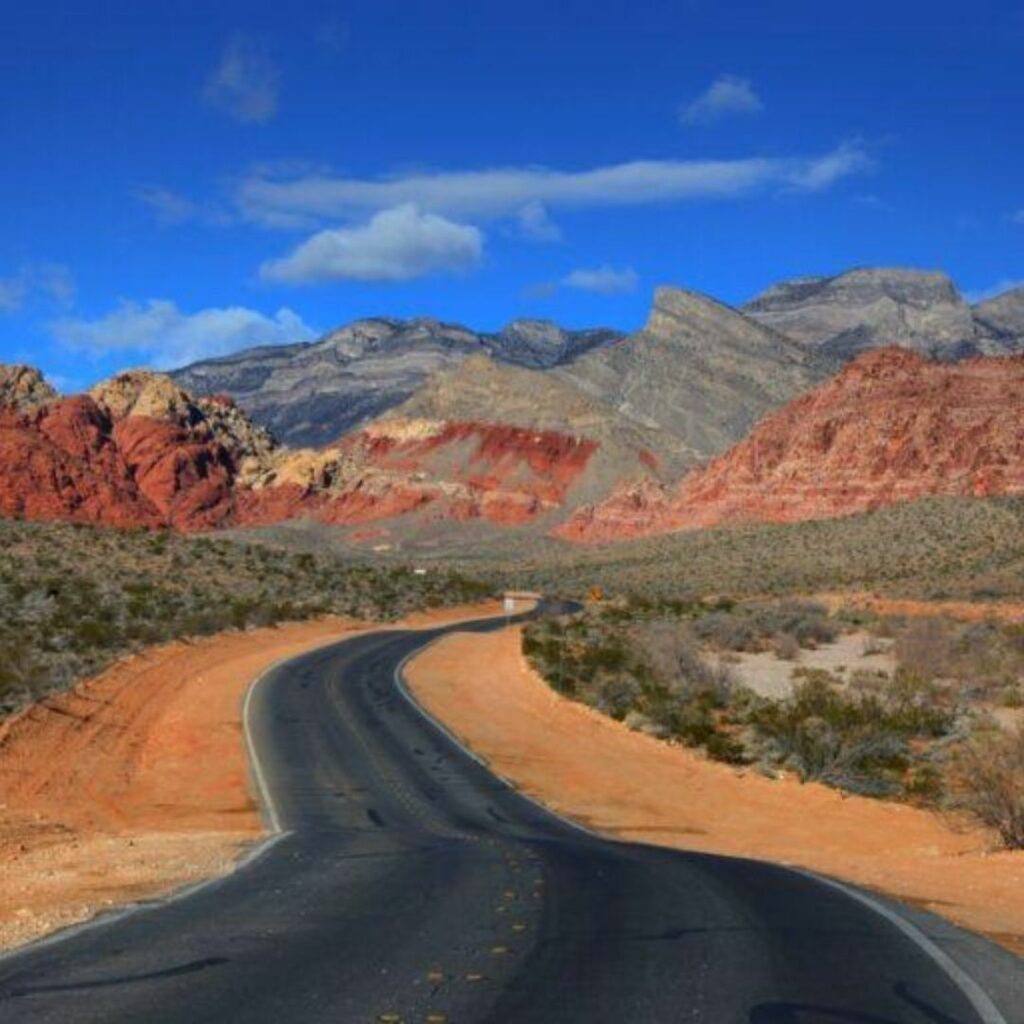 Length of scenic drive: 20+ miles.
Rating: 4.5 out of 5.
Description: Red Rock Canyon is the closest and most popular hiking spot near Las Vegas, but in addition to that, there's also a very beautiful scenic byway that goes around Red Rock Canyon. I've done that drive once, while heading to a hike not far from Red Rock Canyon called Mt. Charleston, and I was very pleasantly surprised at how beautiful it was, as well as how close to Vegas it was located.
I would do this scenic drive only if you're looking to do a day trip from Las Vegas. But the nature here is both a combination of arid lands that slowly get greener as you near Mt. Charleston. The drive can be done in under 3 hours if you leave from Vegas and only decide to drive through this area. Of course stopping and doing a hike or two while here is also recommended and there are a bunch of trails available for people to enjoy. So I would certainly recommend doing a combination of that if you get the chance!
8) Highway 101 Oregon Coast (One of best scenic drives in North Ameri

ca):

Length of scenic drive: 400+ miles.
Rating: 4.5 out of 5.
Description: No list of scenic drives in this continent can be complete with mentioning the Oregon Coast, which I happened to have driven through several times already. Be ready to stop and film if you're traveling through this area because you're going to have at least 400+ miles of views that you'll never forget.
Some may even say the Oregon Coast should be #1 scenic drive on this list, but remember, there is no specific order to it and I'm just sharing places I've seen in North America. Pretty much all of Oregon's Coast is scenic and road 101 will take you through it's most beautiful spots (including the one I used in this picture). However there are cases where some of those best spots might be hidden behind trees and unless you know ahead of time where to stop and sight see, you may miss it.
And so I have several recommendations of what you should see while driving on road 101:
9) The Cabot Trail (Nova Scotia's top sce

nic drive

):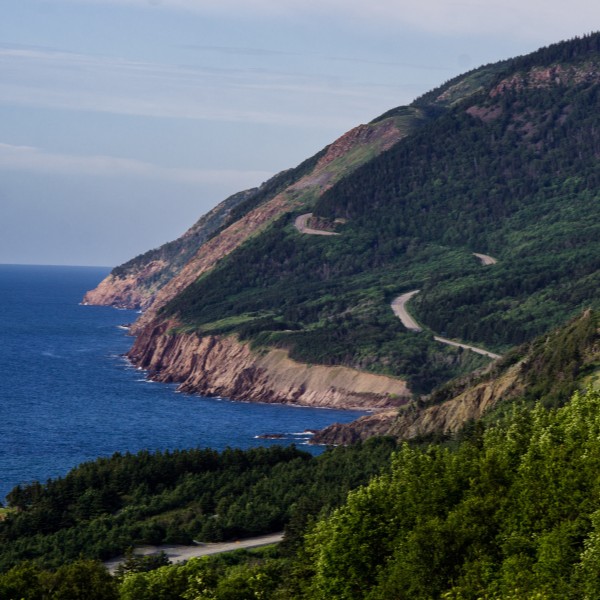 Length of scenic drive: 100+ miles.
Rating: 4 out of 5.
Description: The Cabot Trail in Nova Scotia is in North America, but it is specifically in Nova Scotia, Canada and it is considered to be one of the most beautiful drives in the northern part of that province (Bay of Fundy is also another one to consider, as it's in south Nova Scotia).
While my friends and I rushed through it during our Eastern Canada road trip, it still took us nearly a whole day to go the Cabot Trail and for most people who are rational and don't rush, typically driving through it over a period of a few days is preferable. There is certainly a lot to see on the Cabot Trail and for me personally, the western side of this scenic road was where I saw most of the best spots.
In fact, some of the Cabot Trail bears a little bit of resemblance to the California Coast, but I'd still say California is more beautiful. Yet the Cabot Trail is one of the best scenic drives I would recommend you do in North America. It's very popular and exciting to explore.
10) Finger Lakes scenic drive (Road 14, New York State):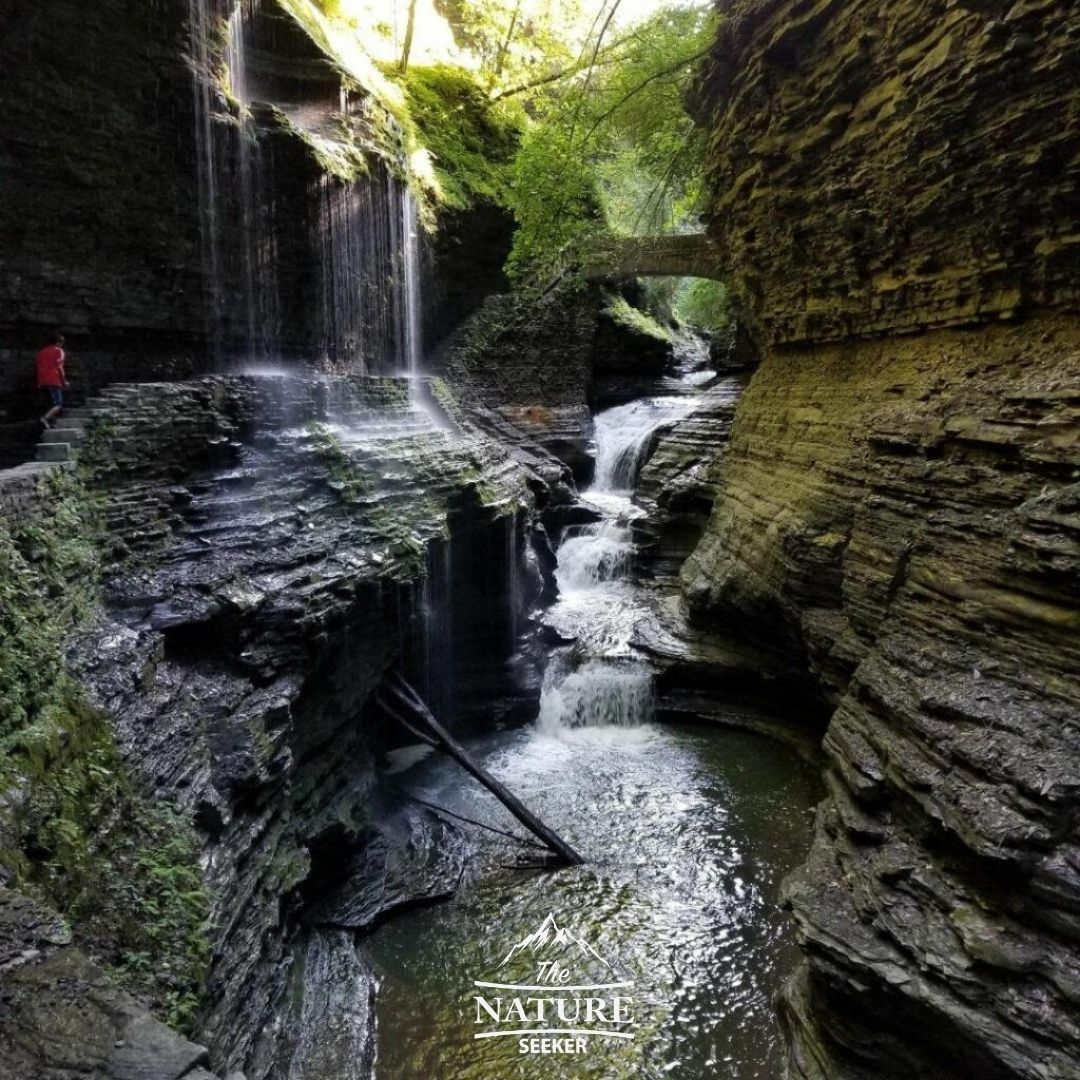 Length of scenic drive: 50+ miles.
Rating: 4.7 out of 5.
Description: There are many scenic drives in New York State, but the one I want to recommend to you on this list is in the Finger Lakes area, and there's more than one there. Now Finger Lakes has 5 lakes you can check out, each of which offers their own scenic road you can travel through, but the one I was visiting was on the western end which is Seneca Lake, and in that spot are a lot of viewing areas and long roads to check out.
Here's some of the top things you can see of driving on one or more of the scenic drives in Finger Lakes:
Basically the point is Finger Lakes itself has 100's of miles of exploration available, especially for scenic drives, and the regions near Finger Lakes also offer a ton of other awesome scenery as well, so I recommend you check them out too. If you choose to go through all 5 lakes, you can expect it to take a couple of days, but it's worth the road trip. We were able to enjoy one of the most popular spots there.
11) Icefields Parkway (the famous Canadian Rockies scenic drive):
Length of scenic drive: 100+ miles.
Rating: 5 out of 5.
Description: Icefields Parkway is a world famous scenic drive is in the Canadian Rockies which is located in Western Canada. It's also likely the most famous drive in Canada (even more than the Cabot Trail) and I have traveled through this area personally and can tell you that it's just incredible there.

I even have a list of the best places to see on the Icefields Parkway and here's some of the things to expect if you go:
With over 200 miles of views like these, you'll have days worth of driving and stopping and even then, you're unlikely to see all the beauty this area has. But with the few days I had to go through this region, I have to say, it is one of the top scenic drives I've ever done in North America and I think you may feel similarly about it if you get the chance to do it too. The Icefields Parkway is very famous and I would honestly recommend going here before fall to avoid the crazy traffic it gets during the other months. But it is truly a spectacular drive and region of North America that is unforgettable.
12) Arches National Park's park road: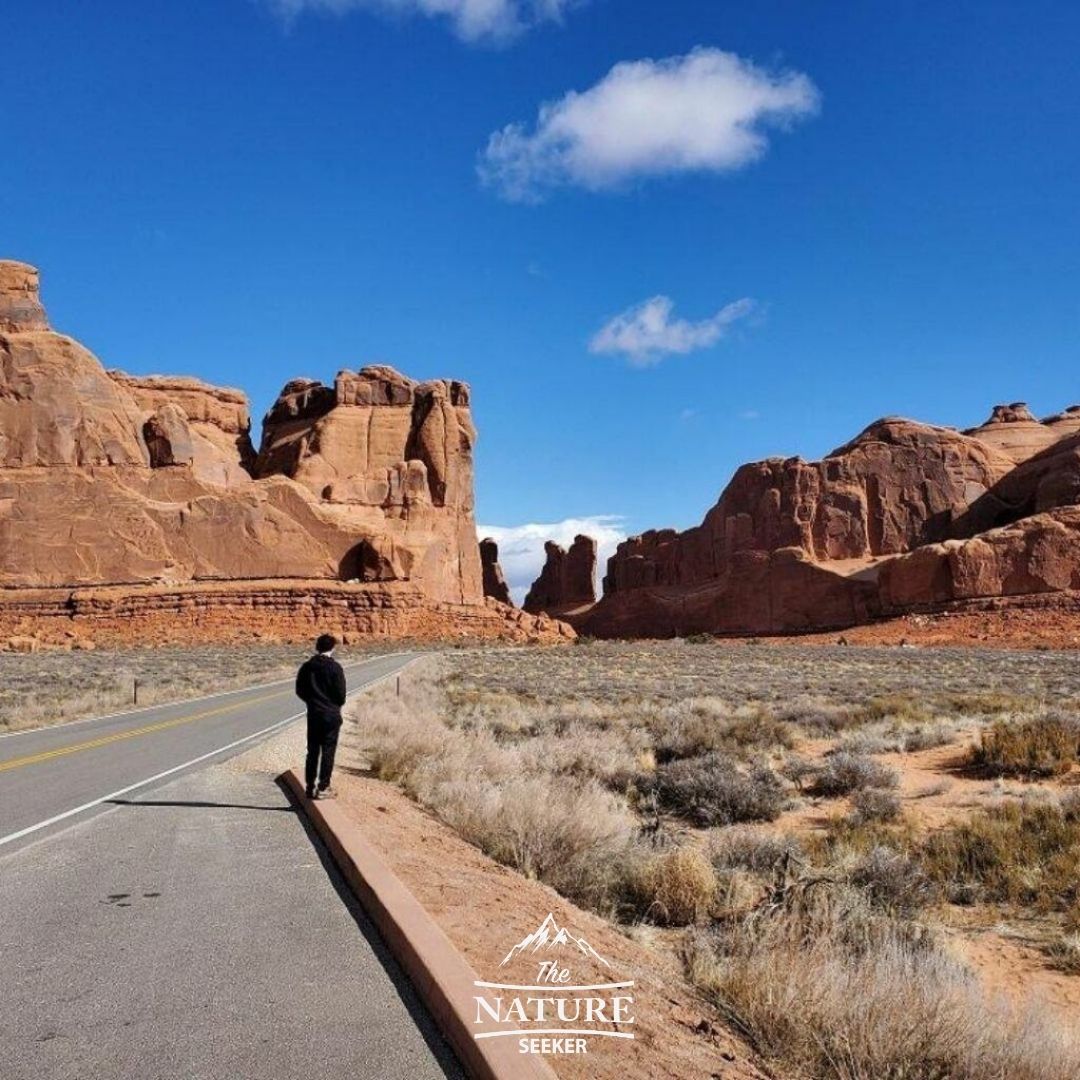 Length of scenic drive: 20+ miles.
Rating: 5 out of 5.
Description: I've been fortunate enough to visit all of the Mighty 5 National Parks in Utah and each one has it's own amazing scenic drives and in this case, Arches National Park is the one I recommend (you should do all 5 though).
Note: I have included a list of the best scenic drives in Utah you can explore, and the ones in the National Parks there are just the beginning.
Just as well, I am included a list of the best hikes in Utah to check out too, some of which are right by many of those scenic drives and national parks. Now as for Arches National Park, I have been there twice and though I explored more of the park my second time around, I was still blown away by the scenic drive there just as much my second time as when I saw it for the first time.
Not only did the park itself offer awesome adventures I was able to fit into a single day, but the scenic drive through the park was also a major treat and I've included a dashboard camera video I took from some of it below. This is the kind of scenic drive where you'll probably want to stop a lot and there will be many opportunities to do that. In fact, I'd recommend focusing on doing hikes at Arches National Park first and saving the scenic drive for last when you're exiting it, as there is only one road that leads in and out of it.
That's exactly what I did and it basically helped me enjoy the parks hikes and the drive itself without one activity interrupting the other. So if you enjoy desert drives, then Arches should be on your list! And the good news is that the next scenic drive on this list isn't far from Arches:
13) Canyonlands National Park's 2 scenic drives: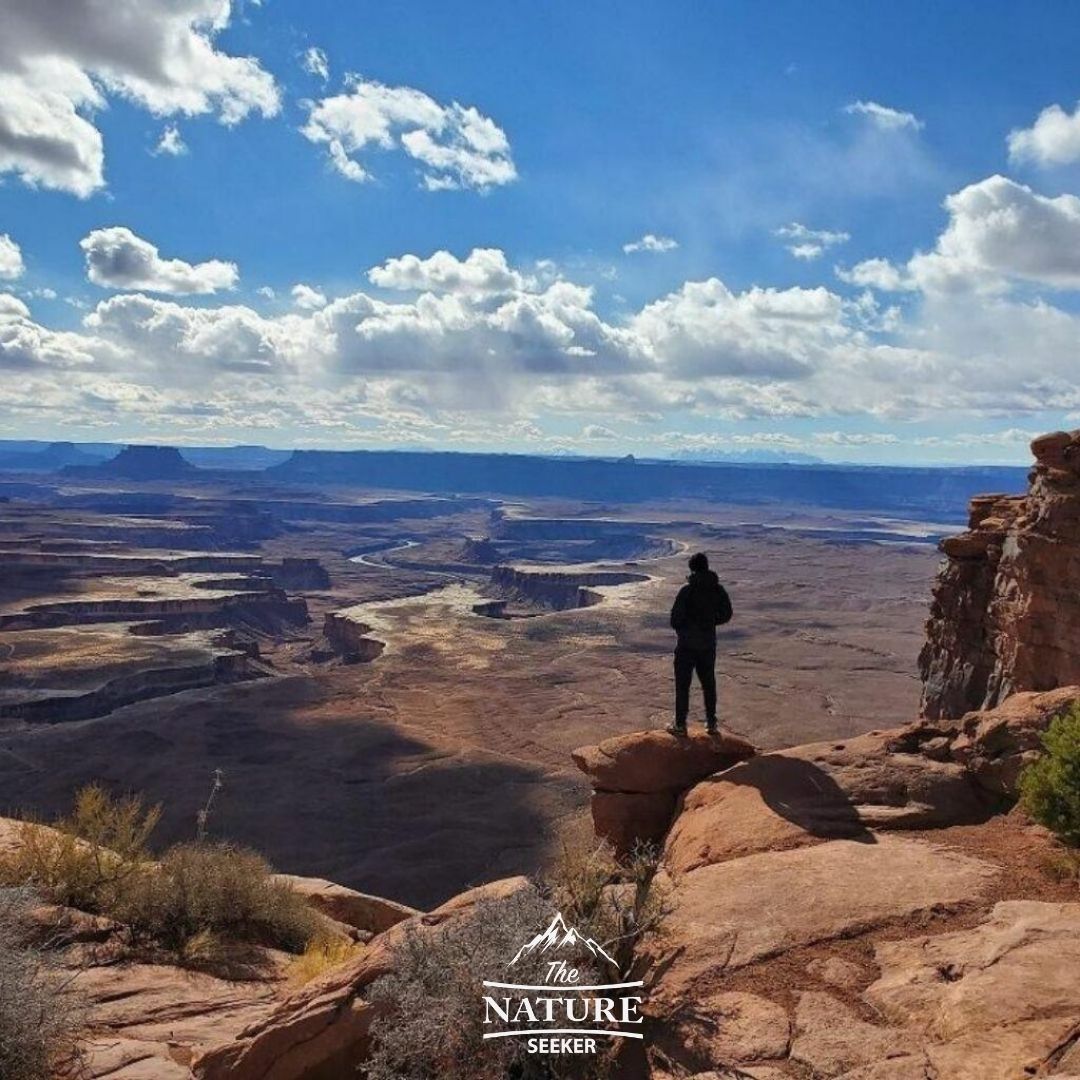 Length of scenic drive: 100+ miles (in Utah).
Rating: 5 out of 5.
Description: Canyonlands National Park is less than 1 hour away from Arches, so if you do a scenic drive there, I recommend doing it here, because the landscape is totally different which I found very surprising, yet it's one of the things that makes Utah state such an amazing area to explore.
There are 2 scenic drive in Canyonlands National Park I recommend:
One is Grand Point View Road.
The second is actually through a drive that goes down into the park (White Rim Trail).
Sadly, I didn't get a chance to record a video of my drive through this park and that's because unlike the other spots on this list, the scenic drive's best spots are always seen on the side of the road, not in front of it. So if I was going to film anything, I would have to do the second drive into the depths of the park (next time). So just like Arches, I recommend hiking through some of the areas there first and then doing the scenic drive at the end.
14) Lake Crescent scenic drive (Washington state):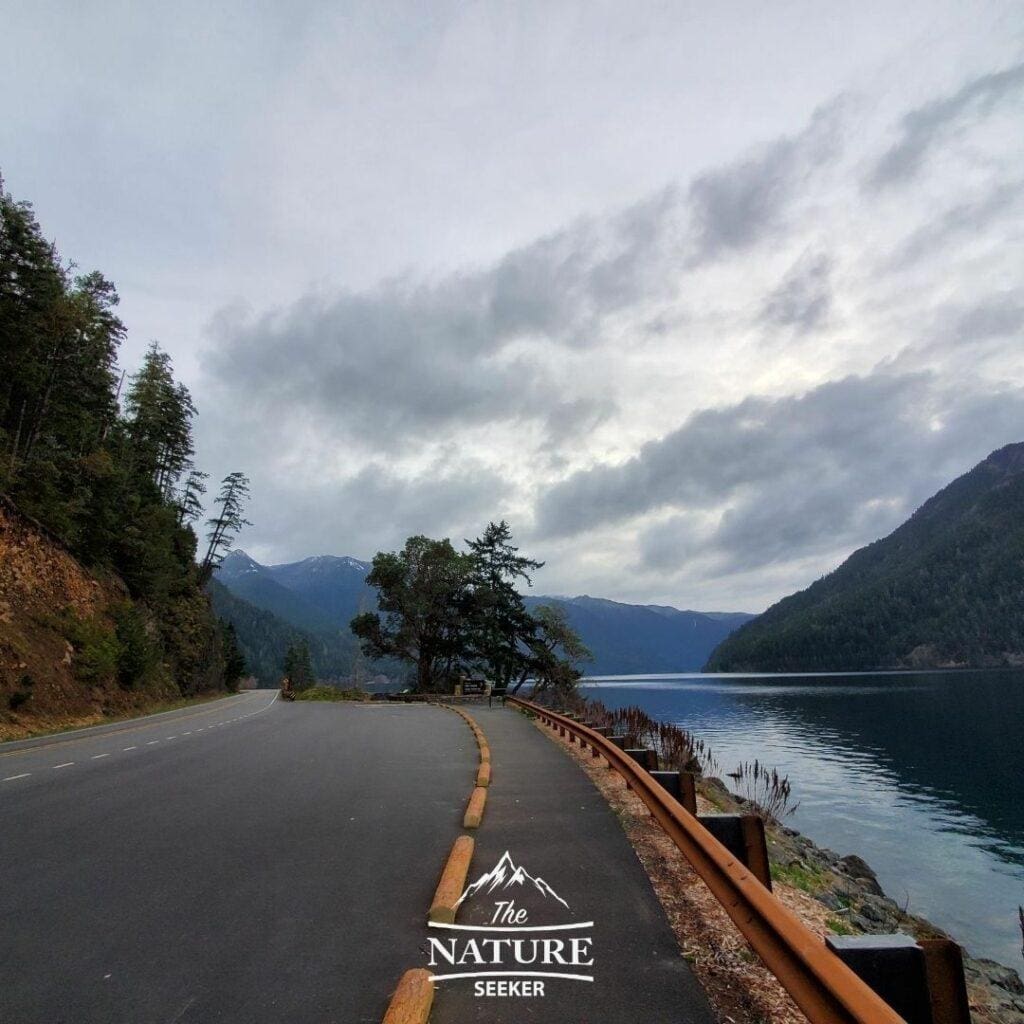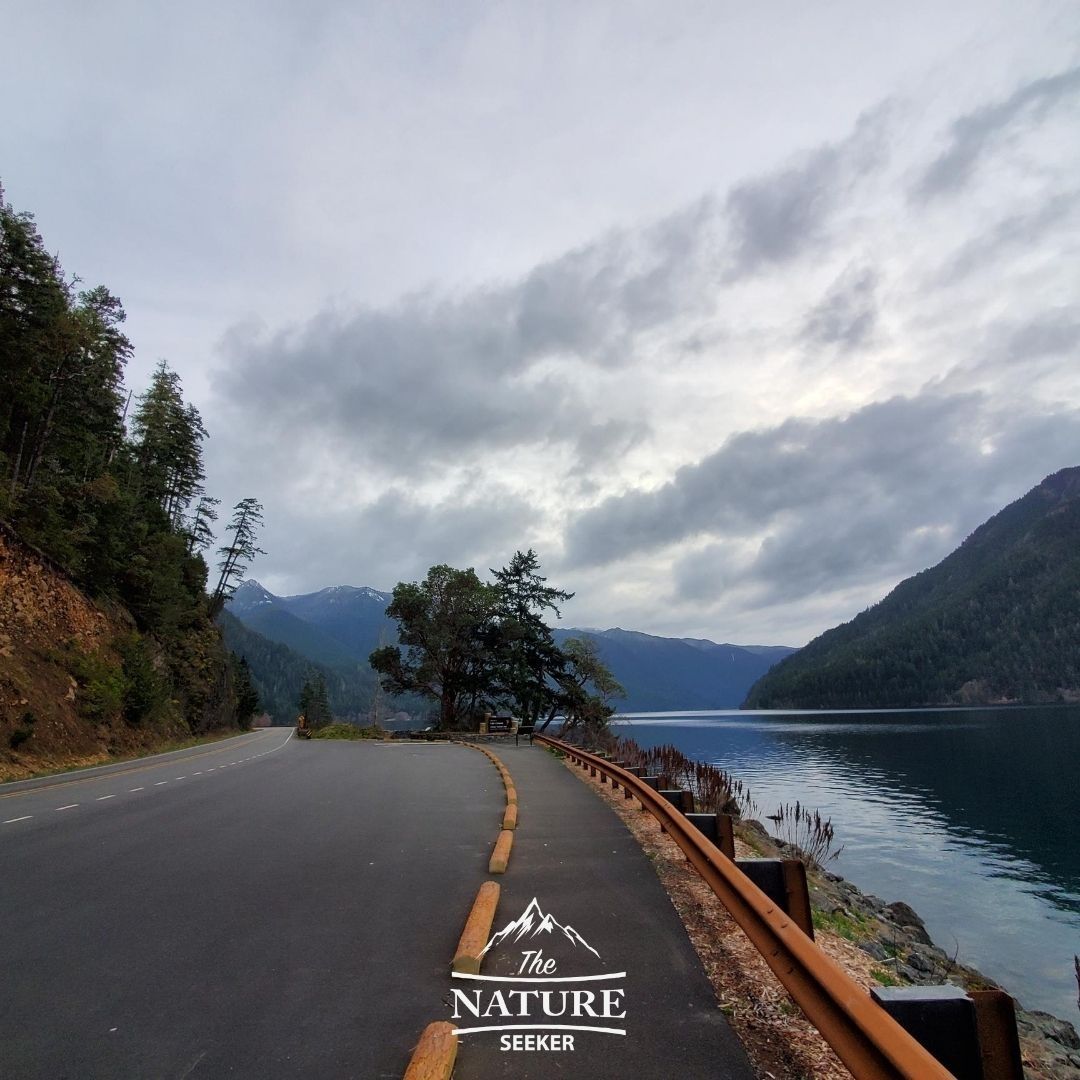 Length of scenic drive: 20+ miles.
Rating: 5 out of 5.
Description: Whenever I think back to my visit to the Washington coast, one of the most standout areas that stunned me had to be Lake Crescent that spans for many miles and the scenic drive there is one you may want to take multiple times. I certainly did because I couldn't believe how beautiful this drive was the first time I did it!
This lake and much of the Washington Coast really makes for a beautiful scenic drive and it just so happens to also be the same 101 road that spans across the Oregon Coast. But let's stick to this jewel which is Crescent Lake. It is just a stunning drive and overall scenic place to explore and it gives you some cool access points to explore Olympic National Park. I really loved what I saw while driving through this area and I will absolutely return to this park the next chance I get (which will be soon). Lake Crescent is one of the best scenic drives I've done in North America.
15) Smugglers Notch scenic drive (Road 108 in Vermont):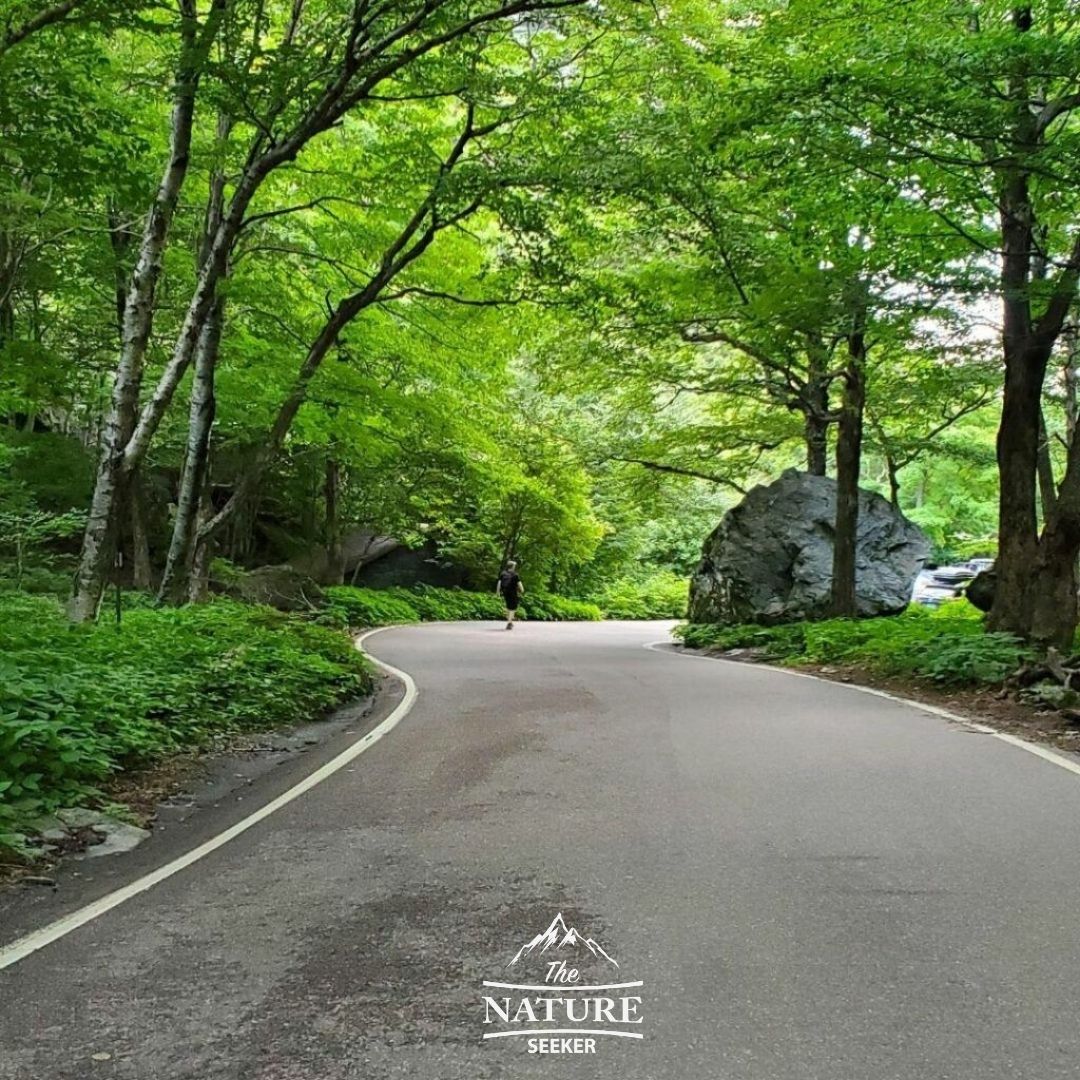 Length of scenic drive: 5 miles only (but worth it).
Rating: 5 out of 5 for me.
Description: Vermont is an extraordinarily beautiful state, and I think it's one of the best places to see New England fall foliage too. But keeping things specific, Vermont has a lot of beautiful drives and my favorite is road 108 in Smugglers Notch Vermont.
It is a short scenic drive, but it is one of the most beautiful short drives I've ever done. No matter what season I visit this area, I always make sure to drive through Smugglers Notch. It is beautifully designed, and there are many areas where you will probably want to stop just because it looks so inviting. And yes, there are hiking trails, and plenty of other attractions to explore.
16) Yosemite Valley scenic drive in California:
Length of scenic drive: 30+ miles.
Rating: 5 out of 5.
Description: Valley drive is considered the top drive in Yosemite National Park not just to drive through but it's basically the heart of the park where you see the giant mountains from the bottom and find access to the top hikes and views (and even swimming). I drove and explored a bit of this park a few years back and the Valley drive was without a doubt my favorite place to see there.
When you reach this area of the park, you will be driving through one of 2 main entrances and those have their sights, but nothing compared to what you'll see in Yosemite Valley. That picture you see for Yosemite is called Tunnel View and yes it that amazing. The Yosemite Valley drive is a must do in my opinion.
17) Utah road 12: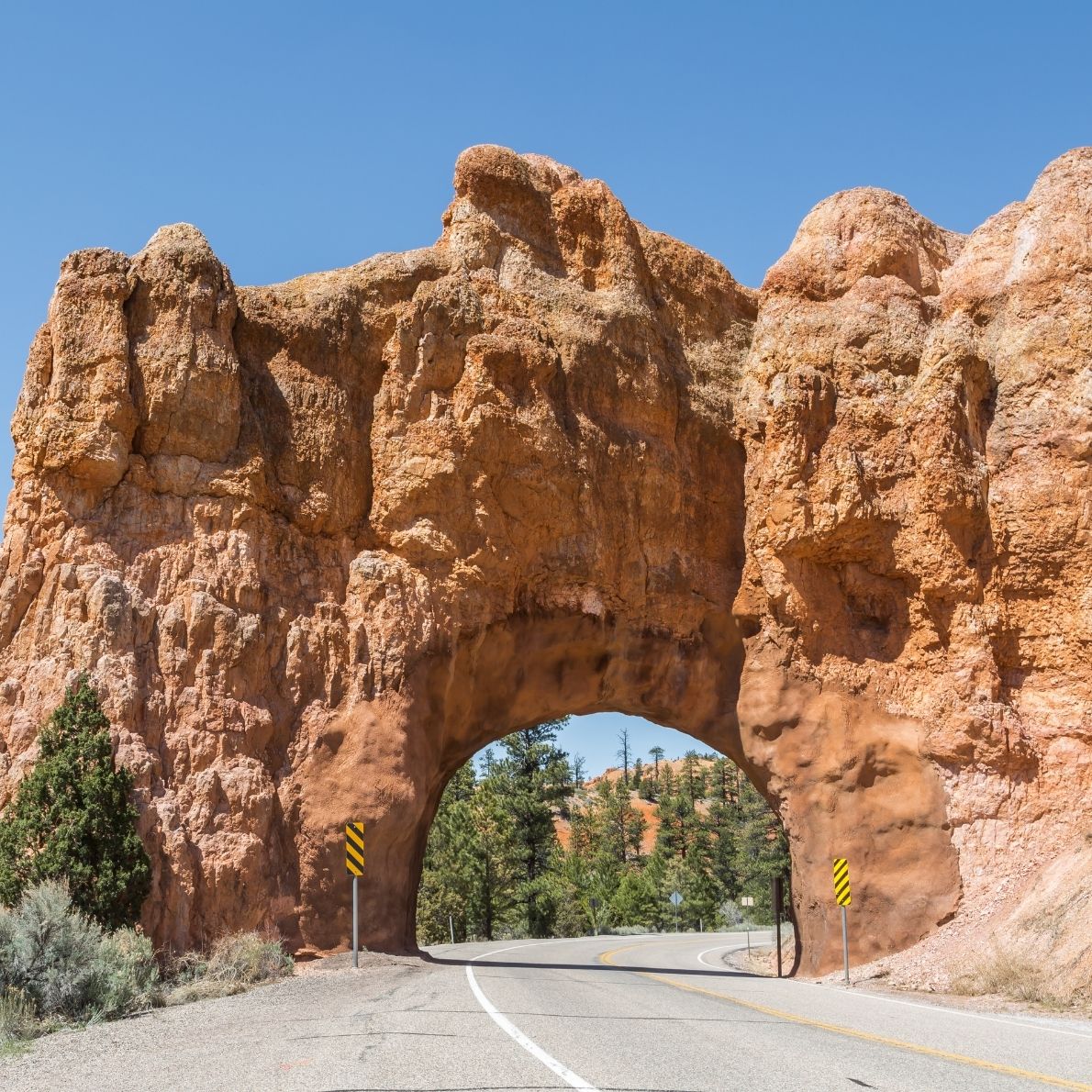 Length of scenic drive: 200+ miles.
Rating: 5 out of 5.
Description: It's the main drive that takes people not just through the 5 national parks there, but also is extremely scenic across most of it. You will also find amazing (none) national park spots like Grand Staircase Escalante and Red Canyon driving through here and overall, Utah's road 12 is one of many scenic drives in Utah I recommend checking out.
This is not a drive I'd recommend doing in a day either as it's extremely remote with very few areas to stay at in between. Your options (if you do this whole drive) are:
Staying near

Bryce Canyon National Park

.
The town of Escalante.
The town of Moab (near Arches and Canyonlands).
There is also the town of

Kanab

(not part of road 12 but it's close to Zion).
18) Sedona Arizona's road 89A: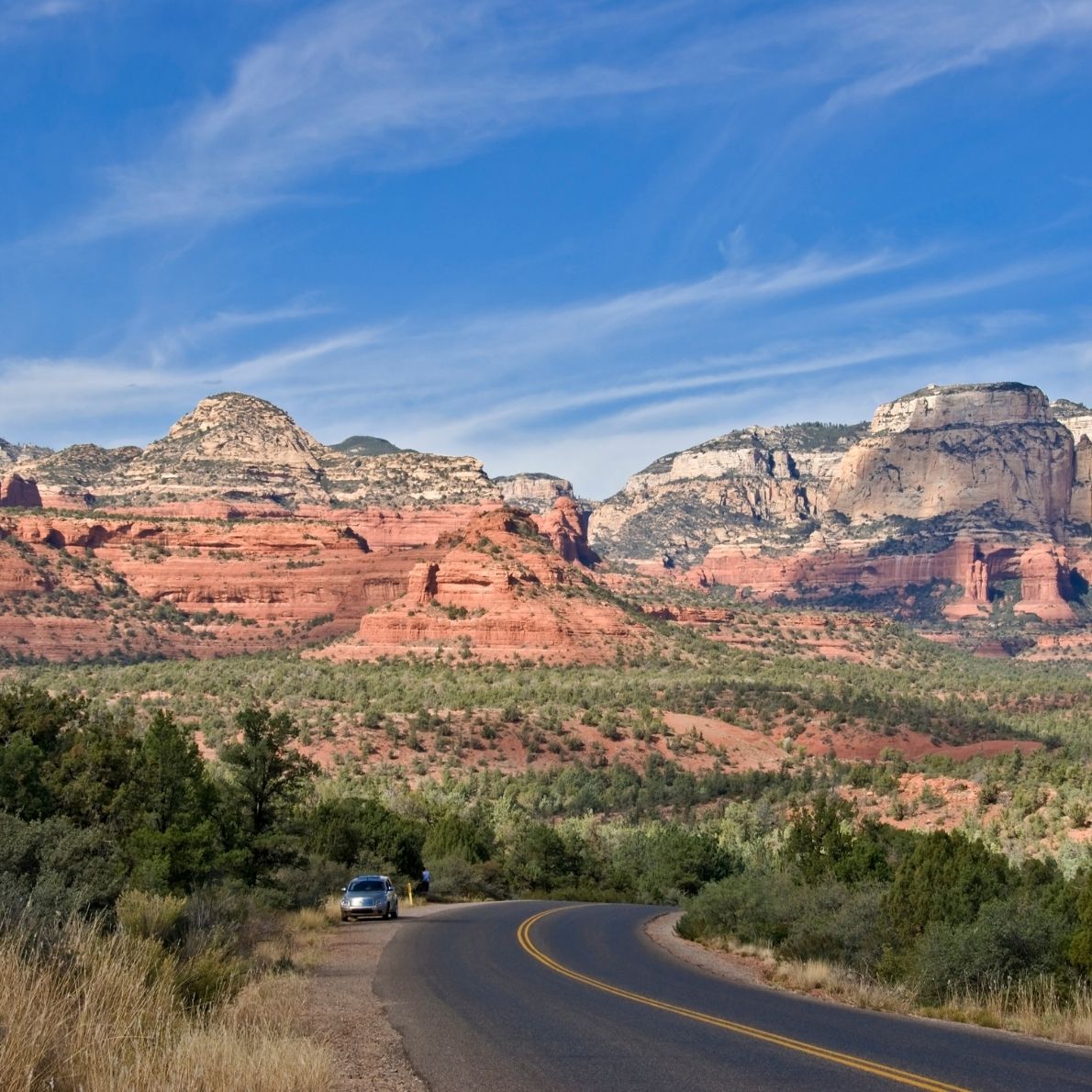 Length of scenic drive: 20+ miles (with access to many other roads/hikes).
Rating: 5 out of 5.
Description: Sedona has been a missing piece of my explorations but one I finally got to check out in 2022 (twice) and one of the first things that stood out to me was the scenic drive that I took to get there, which is 89A. I reached that road by driving from Flaggstaff and went south to get there. 89A is a short drive, but it takes you through some of the best places and hikes in Sedona (plus the town there). Here are some of the best hikes I've personally done while I was driving through road 89A:
19) Monument Valley Utah (3 scenic drives to see):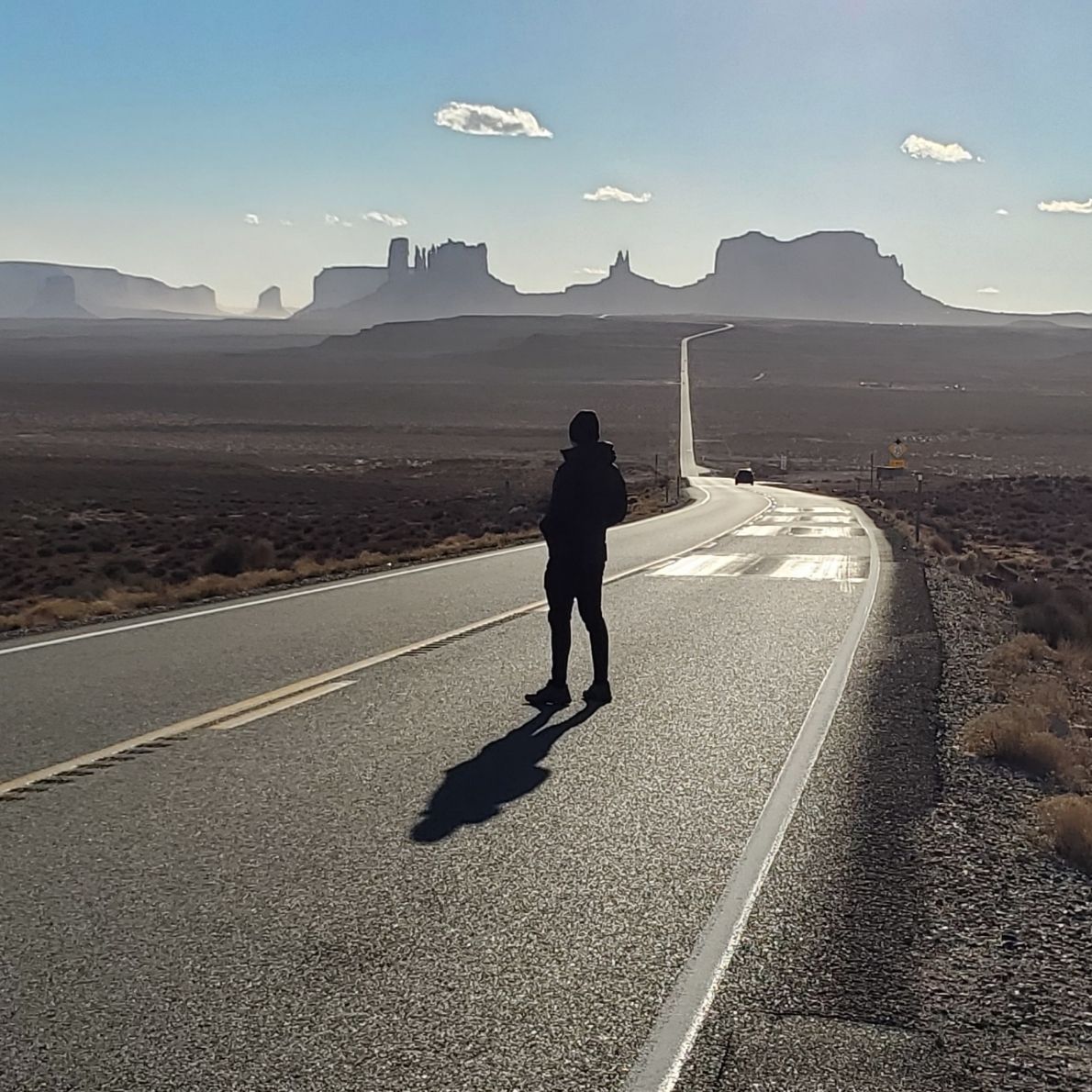 Length of scenic drive: 50+ miles.
Rating: 5 out of 5.
Description: On the same trip I took to see Sedona, I had also planned it out to see Monument Valley. However due to logistics and bad timing, I wasn't able to see everything I am about to suggest on this list, but Monument Valley has 3 main scenic drives to check out, 1 is inside the park itself (it's a private reservation) and the other 2 are actually outside Monument Valley and here is the list:
The 17 mile drive inside Monument Valley (requires reservation).
Road 163 outside of Monument Valley.
Valley of the Gods which is off road 163 and is also about 17 miles in length (no pass required).
They are all close to one another so I highly recommend doing all 3 scenic drives if you go here. I was able to explore road 163 and Valley of the God and it completely made up for me missing a trip to get into Monument Valley itself.
20) Vermilion Cliffs (Honey Moon Trail Arizona):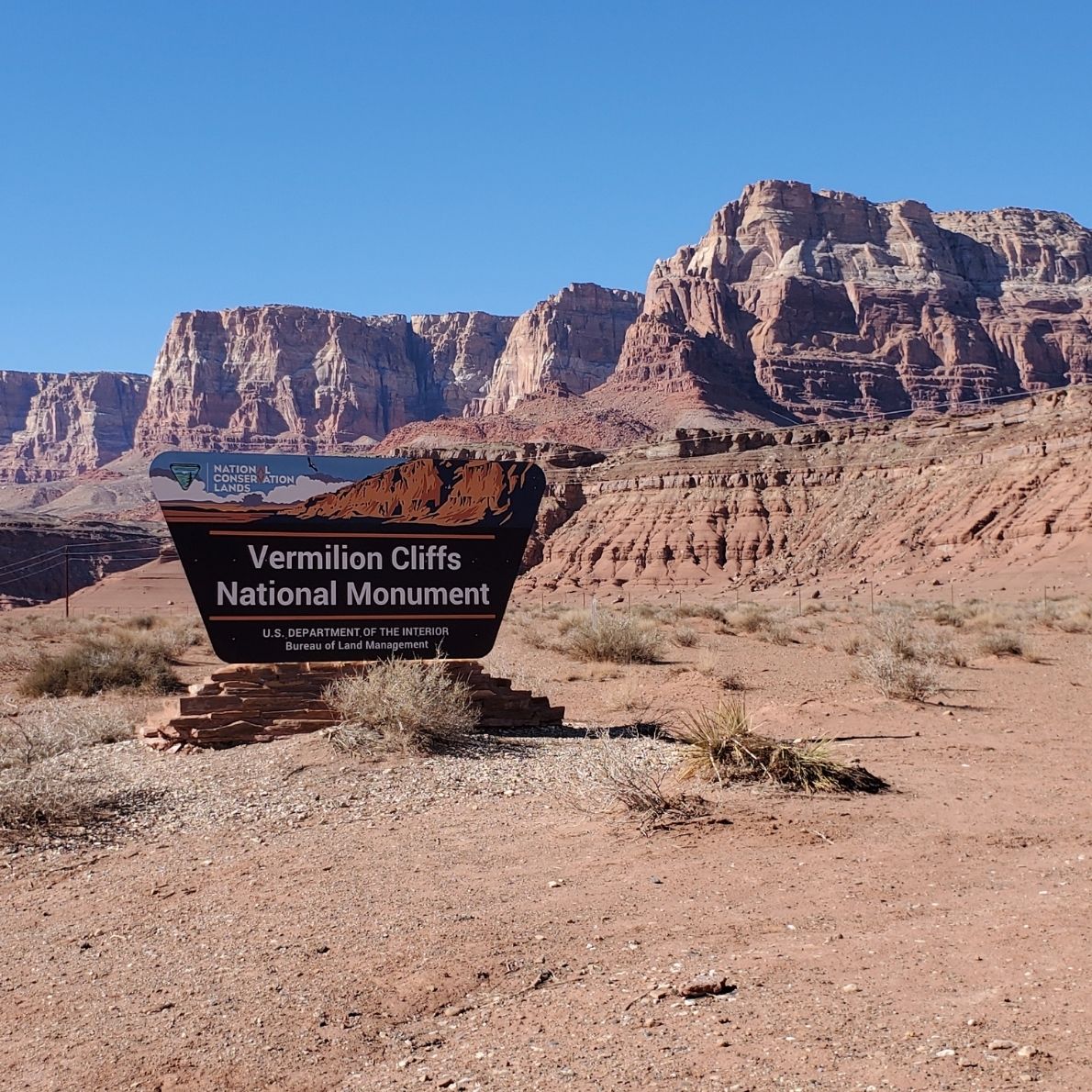 Length of scenic drive: 15 miles.
Rating: 5 out of 5.
Description: When I explored Vermilion Cliffs, my intent was to just check out a popular hike I had heard a lot of good things about which is the Cathedral Wash trail. That still remains a top hiking choice in my opinion! What I didn't plan on was seeing however was the stunning views and subsequently amazing scenic drive that was in the region which is the Honey Moon Trail.
Honey Moon trail is a short scenic drive through the eastern part of Vermilion Cliffs and it's a beauty. It does require a fee to enter the area, but it's worth it. There is also the scenic drive around the whole region (road 89, not to be mistaken with 89A which is south of that) worth checking out if you have the time and this will also have you crossing popular hikes like the Wave (one of the America's top hiking trails) and Wire Pass Trail (I hiked this one).
21) North Shore Minnesota (scenic drive along Lake Superior):
Length of scenic drive: 150+ miles.
Rating: 4 out of 5.
Description: North Shore is on the eastern Minnesota Coast (the only coastline there) and that takes you along Lake Superior. Along the way, you will see a lot of coastal cliffs, sea caves (lake caves technically) and have opportunities for plenty of adventures, including beautiful hikes, trails, kayaking adventures and a lot more (even the northern lights!).
I did a 3 day road trip through North Shore MN and loved it. Although the scenic drive may be a little dull at times, it's what it leads to many times that makes it worth going to. You will actually have hikes along the coast and plenty of hikes opposite of that (inland). Do a road trip here if you are in Minnesota (or traveling along the upper United States in general).
22) Virgin River Gorge (Interstate 15):
Length: 20 miles.
Rating: 5 out of 5.
Description: Every single time I visit Zion National Park, it's usually from Las Vegas (or vice versa) and to get to Zion, I have to drive mainly through Interstate 15, which itself is an incredible scenic drive whichever way you travel it, but what I specifically love to see on my way to Zion is Virgin River Gorge.
This beautiful section of Interstate 15 is not that long but it's absolutely amazing and every time I go through here, I am in awe of how beautiful it is. The only thing I have not yet done is stop in that region to do a hike or swimming (that's one of the other popular activities there. But anyway, this is definitely a must do scenic drive if you are heading from Las Vegas into Zion or areas in that region (or vice versa) and while you are on it, another recommended place to visit is Valley of Fire State Park (it also has a nice scenic drive).
Questions on other scenic drives in North America that frequently come up:
What is the most scenic drive in America?
There are countless scenic drives in America, but the most popular are Route 66, Blue Ridge Parkway, Icefields Parkway and the Pacific Coast Highway (101).
Can Google maps show scenic routes?
Yes, if you expand your map and type in scenic drive, you will get numerous options in your area including scenic overlooks, landmarks, drives and more.
How many scenic byways are there in the US?
Over 1,300 which includes popular scenic roads in states as well as local drives in each.
While these are very common questions, if there is one you have regarding these scenic drives, whether you're planning to do a road trip or just in general, you can just ask me about this below.
And that concludes the list of most scenic drives in North America (for now):
As I have said, I will be adding more top scenic drives as I go through them personally and again, if there any spots on this list you enjoyed and visited, let me know, but if you know of other places equally or even more beautiful, please let us all know!