The Glass Beach in California (specifically in Fort Bragg) is a very popular coastal spot to explore but after having been there several times, I discovered that much of what I heard about it vs what I actually saw wasn't the same (both in good and bad ways) and in this post I want to share 5 of the most important things to know before you visit this spot.
Quick info about the Glass Beach in California:
Name: Glass Beach California (also known as Glass Pebble and Glass Pedal Beach).
Location: Fort Bragg (3 hours north of San Francisco).
Things to do: Sea glass collecting, hiking, sunset views and more.
Family friendly place? Yes.
Rating: 3 out of 5 stars.
Recommended spot to visit? Yes. Although it's OK place, there's much more fun things near Glass Beach to explore and I'll show you what they are).
Here are the 5 things you need to know regarding Glass Beach in Fort Bragg:
1) There's actually more sand than sea glass there:
Most of the pictures you see of glass beach make it seem like it's nothing but that sea glass there, but in reality it isn't. It's mixed together with the beach sand there (but the truth is there is a lot of it). There are also a few seashells too.
2) You're actually

not allowed

to take the sea glass:
I've seen this from multiple sources and a sign when there. Although I have also seen many people ignore that.
3) Glass beach CA isn't as scenic as many photos make it look (here's an example):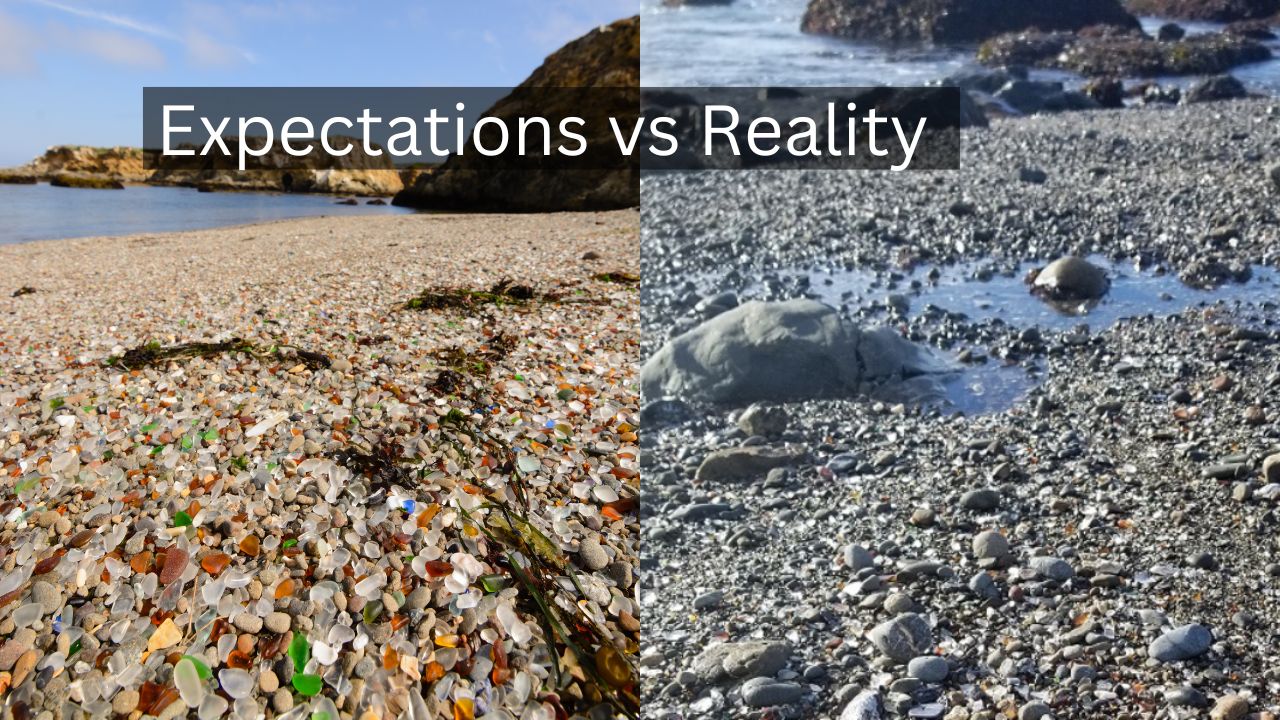 Again, the marketing of this spot makes it seem like a "gem" on the California coast but in reality, this place looks more like a barren beach with sharp cliffs but depending on the time of day, it can look nice there (around sunset for sure).
4) There are several other glass beaches across in the US besides the Glass Beach in Fort Bragg:
7 by my count and I'll detail the others you can find across the US (below).
5) There are way better activities near Glass Beach than on it in my opinion:
Besides the town, there are several other spots I would recommend exploring over Glass Beach and I'll share the ones I learned about below, which will give you way more to see around the area when you go.
Here are my experiences from visiting the Glass Beach in California (3 times):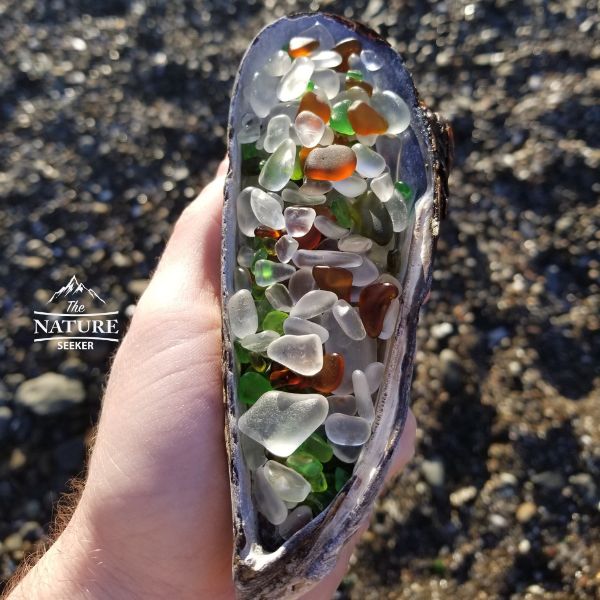 The first time was while traveling up California's northern coast. Glass Beach CA was one of the many destinations I had wanted to see while driving up the Pacific Coast Highway.

After checking it out, I found most of the information on it to be pretty vague, so I decided to just explore it blind and get my own info out on it.

Let's begin with where Glass Beach CA is located:
It's on the California coast, about 2 hours north of San Francisco off road 1. Glass Beach CA is very easy to find.
Before you get to the beach with the sea glass, you'll cross a nice town (Fort Bragg) and see signs for it there.

The signs will take you into a spacey parking lot. There is no entry fee to it and every time I've been there, it's never been full.

From the park, you'll walk across a very small trail before getting to the coast and it's there that you'll have to walk down a little bit to get to the actual beach.
O

nce you walk down to the Glass Pedal Beach, here's what you'll see: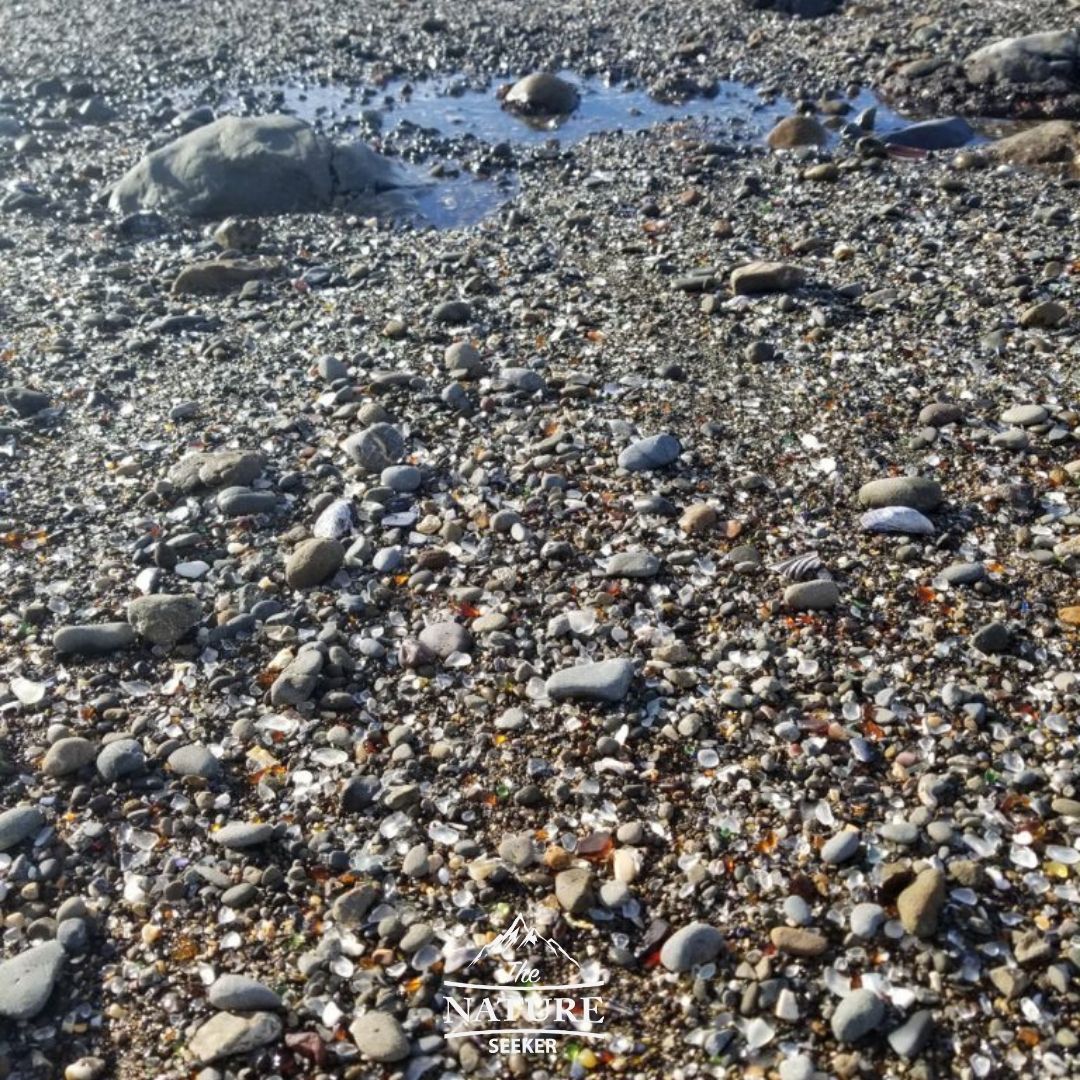 The sea glass is scattered everywhere and the closer to the water you get the more of it you'll see, but like I said before, it's mixed in with the sand and if you're looking to gather the sea glass, you'd have to pick it out individually (but remember, you aren't allowed to take it with you).
Like I said before, I actually expected the entire beach to have nothing but sea glass based on the images I saw prior, but now I know better (and so do you).
I won't lie though, the sea glass is quite beautiful and there are many different colors of it you'll find there.

Here are the colors of the sea glass you'll find:
White (most common).
Emerald green (second most common).
Yellow (pretty rare).
Dark orange (about as rare as the yellow glass).
Red (also as rare as the orange and yellow glass).
Blue (extremely rare).
These sea glass pieces are also in different sizes, but checking them out is actually a fun activity that I enjoyed doing as did the other tourists who were there, including families with kids.
How is the sea glass formed?
There is a sign right by the beach which explains it, but the story is that this sea glass is washed into this beach from a factory and the sea water erodes it.
8 places to see near Glass Beach California: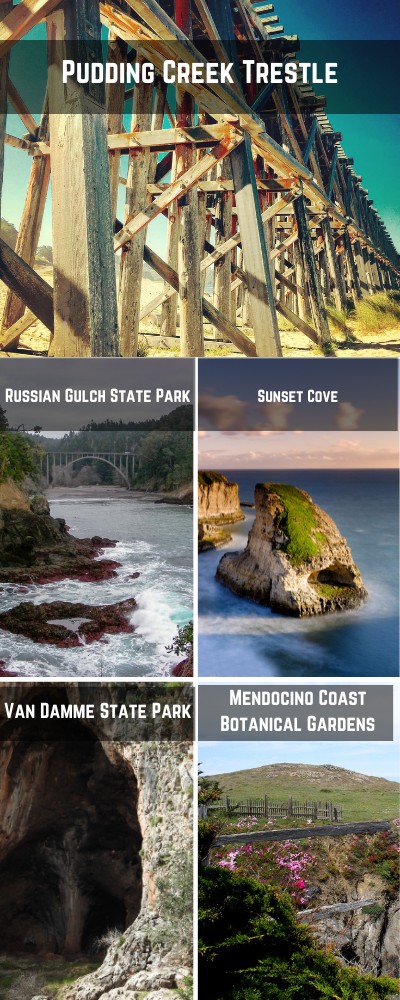 While the Glass Pebble Beach is a good spot to check out once, if you're planning a trip there just know that there's way more to see than just that spot. In fact, here's a bunch of nearby places to explore to make your trip to Fort Bragg even better:
1) Pudding Creek Trestle (famous bridge and boardwalk):
This is probably the best sight you'll find in Fort Bragg, especially around sunset. It's a boardwalk/trestle area. Right by it you will also find Pudding Beach.
2) Sunset Cove:
Great beach area for seeing the sunset. It's about a 10 minute walk north from the trestle spot.
3) Laguna Point:
Great boardwalk to a scenic overlook area (cliff area with great views of the Pacific ocean). Another awesome sunset spot.
4) Noyo Headlands Park:
It's a short 10 minute drive from Glass Beach and it is a small park with great a little bit of hiking.
5) Mendocino Coast Botanical Gardens:

It's right outside Fort Bragg (south) and is a highly rated botanical garden walk that is also right on the coast as well so you get amazing views of the ocean, botanical gardens and mixing that together with the sunset would likely make this spot the most scenic you'll find by Fort Bragg.
6) Russian Gulch State Park:
Russian Gulch State Park is the most scenic spot to check out south of Fort Bragg (20 minute drive from it). It's a really beautiful park with sea caves, beaches, hikes, camping and more to check out.
7) Van Damme State Park:
Further south of Russian Gulch State Park. It's a beautiful park with Redwood trees and you can also kayak around the coastal area (it has sea caves too).
8) Redwoods State and National Park:
Further north of Fort Bragg (about 1 hour) you will run into large areas with Redwoods and many beaches there to explore as well as awesome hiking trails like Fern Canyon. I would add this to your list to check out if you're headed into that area.
More glass beaches to explore besides the one in Fort Bragg California:
Is it dangerous to collect sea glass? Isn't it sharp?
Of the 3 times I've been to Glass Beach (Fort Bragg), I've never seen or picked up sea glass that was sharp. Most of them were very smooth.
I did pick out a few which weren't eroded completely, but their tips weren't sharp either, so you shouldn't have issues with that. If you want to be very safe, just wear some sort of protective gloves (even though I don't think you'll need it).
Do I recommend you visit G

lass Pebble Beach in California?
Yes and in addition to checking it out, don't forget about the many beautiful spots to explore right by it and obviously plan the road trip out in a way where you see these spots in order so you don't need to backtrack.
Glass Beach is a good family spot to explore, but for hiking and sightseeing, there are way better spots to check out and fortunately, most of them are nearby (Laguna Beach, Sunset Cove and Pudding Bridge).
Other questions about Fort Bragg Glass Beach:
Is there still sea glass at Fort Bragg?
Yes, everytime I visit Fort Bragg, there is always a lot of sea glass on the beach.
Is Glass Beach Fort Bragg worth it?
In my opinion it is. It's rare to see a place like Glass Beach so if you can check it out, do it.
Do people swim at Glass Beach?
No, there are too many sharp rocks. The good news is that there are other spots near Glass beach where you can go swimming.
And that concludes everything I wanted to share with you about the Glass Beach in Fort Bragg and if you have questions about this spot in California or in general, just ask below!