Russian Gulch State Park is one of the most incredible places I've ever visited in California and besides highly recommending you to do it too, I want to share 7 amazing adventures you can do when you go here, to really get the most out of this small, but extremely scenic place.
The 7 adventures to try at Russian Gulch State Park California:
Do the Headlands trail first.
Seeing all of the sea caves.
Kayaking.
Exploring the beach underneath the bridge.
Picnicking and camping.
Exploring the Devils Punchbowl.
Exploring the waterfall trail hike.
The first time I visited Russian Gulch, I explored most of these things, but because I was tight on time and had to continue north on the Pacific Coast Highway, I basically checked out the most major parts of this park with the short time I had.
But that was enough to make me appreciate how amazing it was and plan to see even more the next time I go here.
Truly, I consider Russian Gulch State Park to be one of the most beautiful places I've seen on the California coast and more specifically, the northern California coast area.
It bears a lot of resemblance to the type of nature you see on the Oregon Coast which I find to be more to my liking in terms of coastal preference (Oregon vs California's coasts).
1) Do the Headlands Trail at Russian Gulch: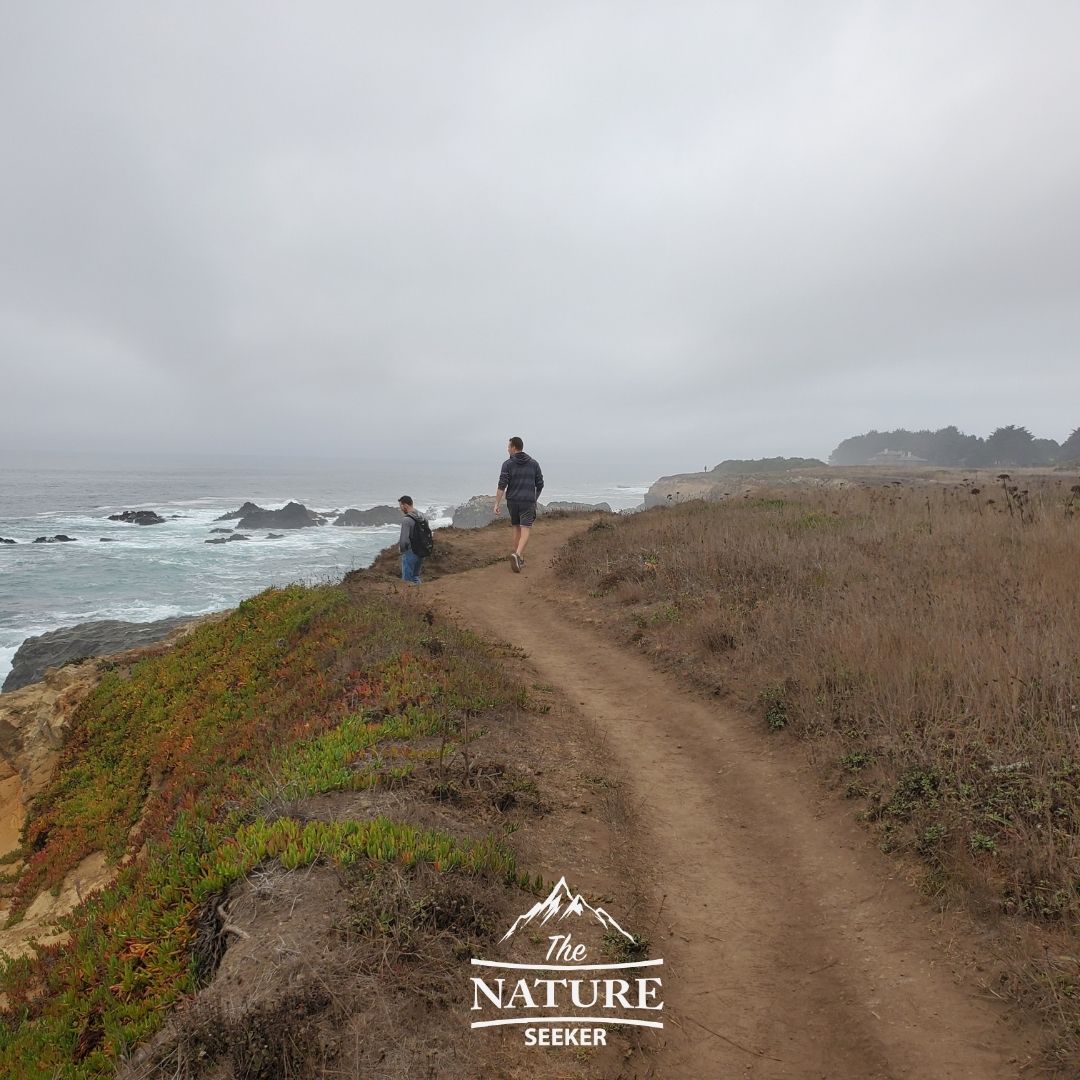 The very first thing my friends and I did when we entered Russian Gulch was explore the main trail that takes you across the western areas of the park (right by the Pacific Coast).
It is called the Headlands Trail.
To get there, you will enter the park, head down the road towards the famous bridge, and then park near a ranger/police station, from which the trail to go around the western part of the park will be available to enter into.
It was a short hike that only lasted less than a mile, but this short hike was very scenic, and there's areas you can go down to by the shore (it is dangerous) to see the waves crashing on the rocks.
You also get a GREAT view of most of the sea caves Russian Gulch has to offer through this trail, as well as some other awesome gems I'll talk about shortly.
But this particular trail is a great introduction to anyone who is visiting Russian Gulch State Park and for us, it was a very pleasant surprise.
2) Check out the many sea caves at Russian Gulch: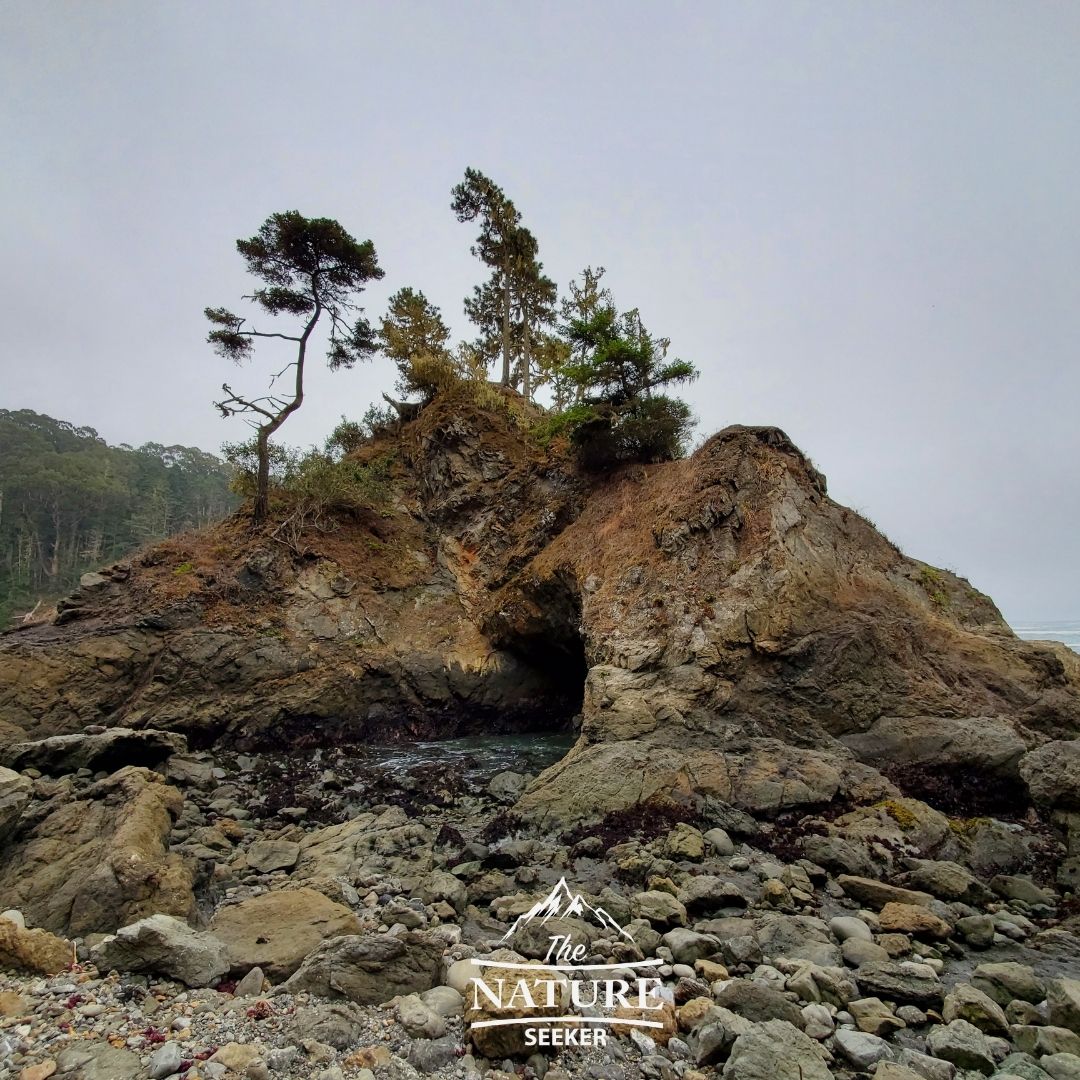 There must be at least 30 sea caves at this park that I saw.
Most of them can be seen as you walk across the main Headlands trail I talked about above, and in some cases, you can get close to some, but getting into them (at least from the western trail) is not something I recommend you do as water is constantly rushing into them and it's really dangerous to get close.
However, there are some sea caves that you'll find by the bridge area (surrounding the bay), such as the one you can see to the right that I'll talk about shortly.
Those caves are pretty safe to enter into during the low tide period and you'll be able to get some awesome memories from it.
That one you see to the right can even be accessed through a kayak (the next adventure on this list).
In our case, we went into the cave by foot (stepped in water to do it) and hiked a bite of it too!
That was a very enjoyable experience!
Note: If you are doing a coastal road trip through the Pacific Coast Highway and like sea caves, there's plenty of those further north as you continue. For instance, Oregon has 5 sea cave spots to explore (way more than in Russian Gulch) and further north, the Washington Coast also has many sea caves areas too.
3) Kayaking (sea cave explorations):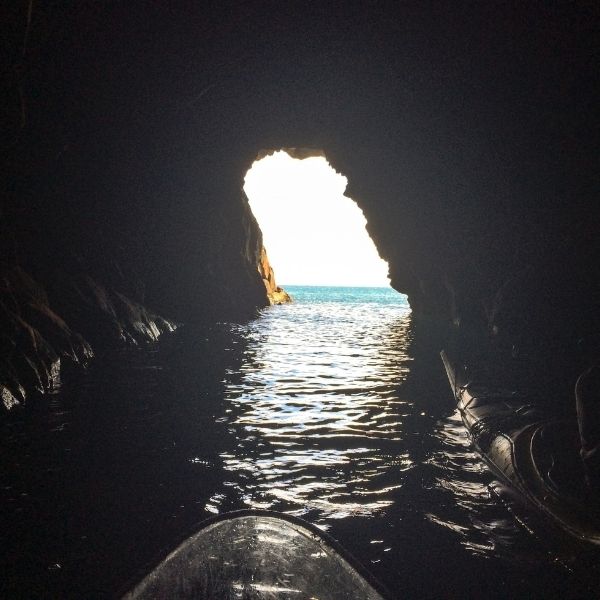 After seeing how stormy and huge the waves are from the western trail, the last thing that was on my mind was kayaking there (it's literally a death wish), but then I saw the bay that is by the bridge and it seemed to have pretty calm waters that appeared to be pretty good for kayaking.
Then I did a little research after my trip to Russian Gulch State Park and found out that you really can kayak in this area of the park! So if you enjoy sea cave explorations and are a pretty decent kayaker, the bay part of the park is where you can certainly do it in.
Note: In my case, the bay was pretty calm when I saw it, but exercise your own caution when you go.
Note: I like to inform people about other sea cave kayaking places they can explore, and so far, I have 2 places on the Pacific west coast you can do this at:
4) Exploring the iconic bridge and beach underneath it: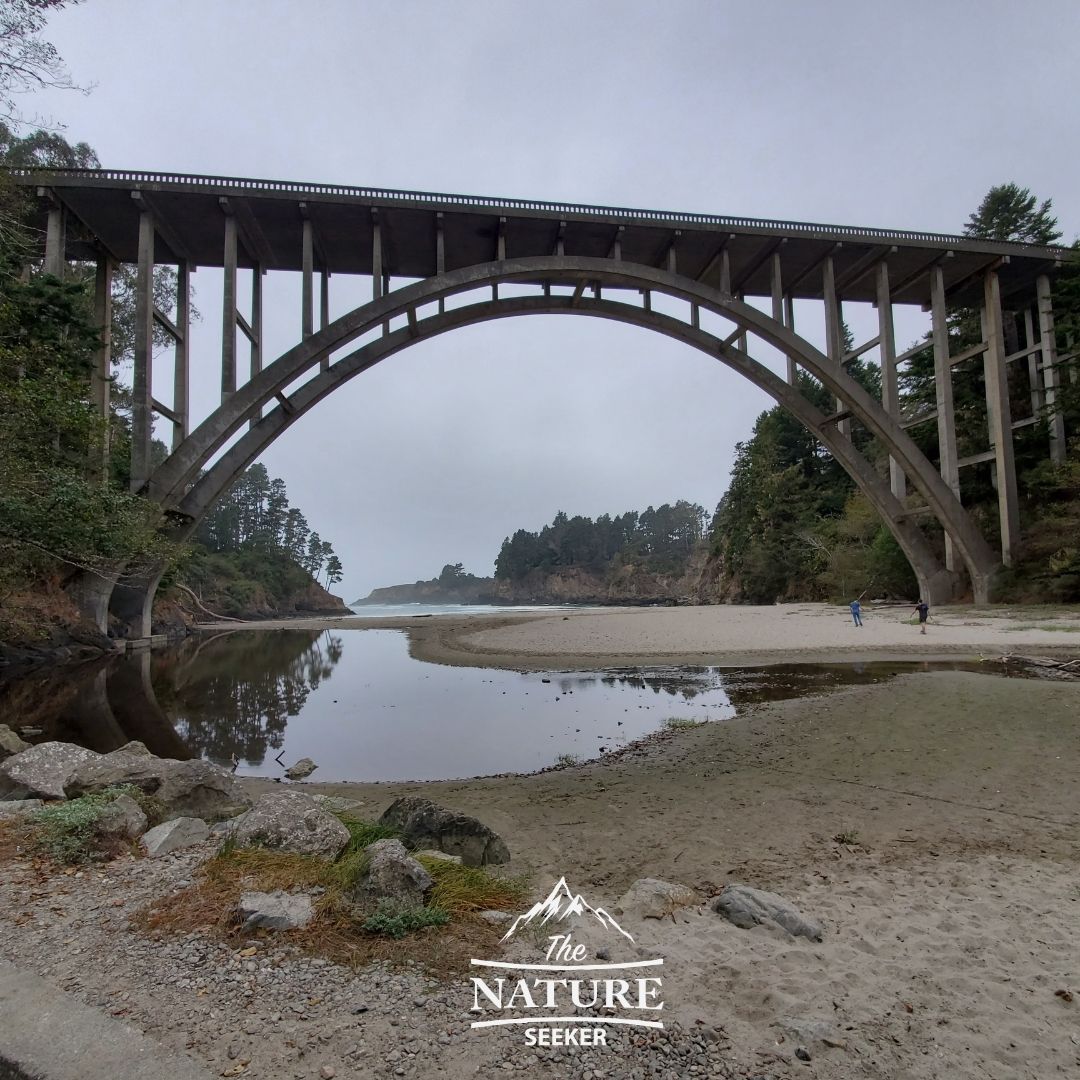 When you look at pictures of Russian Gulch, most of them display the iconic bridge.
The first time I passed over it (during my Pacific Northwest road trip years ago), I had no idea what was beneath it, let alone the park that was literally right there/
But like I say, every single time I pass through the Pacific Coast, I make sure to visit more spots and so when the most recent trip through this area came about, I made sure I wouldn't miss it!
Getting to this bridge and beach area is very simple as the main road through Russian Gulch takes you there (it goes down and down until you get to the parking area near the bridge).
From there you can walk on the beach itself, take some amazing photos and probably even swim if the water permits it.
And if you're going to go kayaking or sea cave exploring, this is the beach where you can do that from.
5) Picnicking and camping:
There are several picnic areas on the trails we explored in Russian Gulch State Park and there are also camping areas available. I'm not really much of a camping person, but I do have a link to camping information in Russian Gulch here you can check out if you're interested.
I can definitely tell you that if there's any place I'd love staying overnight in, it's this park. Also, you can find camping spots here and other places in Northern California.
6) Explore Devils Punchbowl: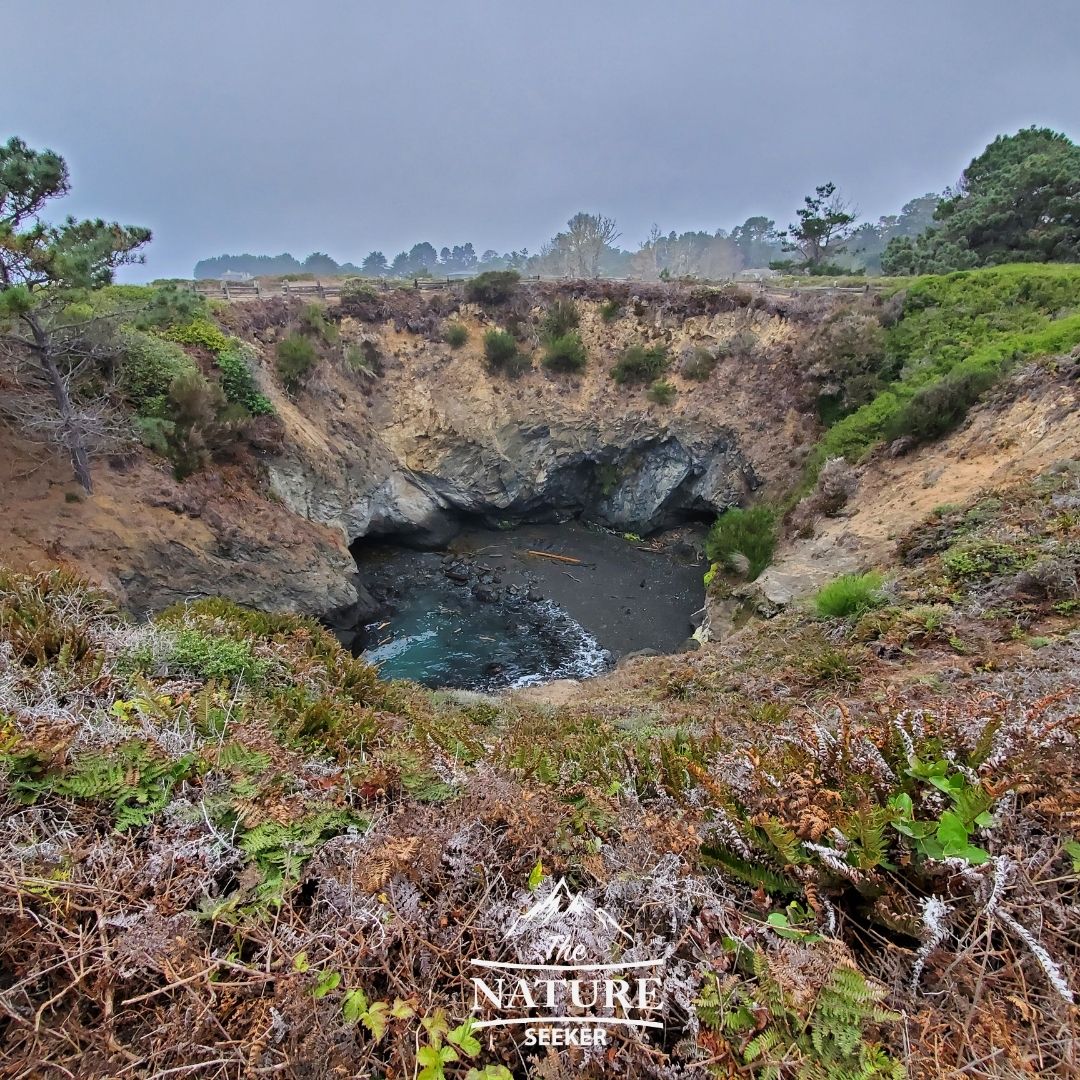 Until I found out that Russian Gulch State Park had it's own Devils Punchbowl, I thought Oregon's Devils Punchbowl was the only place where you could see this kind of sight which is basically what happens when a huge chunk of rocks collapses over a sink hole near the beach.
The only difference is that in Oregon, you can get into it, whereas with the one at Russian Gulch I don't think it's possible, even though I didn't see any signs forbidding it.
But in any case, you will find this magnificent sight as you walk on the Headlands Trail and it's less than a mile into the trail that you'll spot it.
There's wooden fences around it, but I wouldn't rely on their safety too much as some are broken or shifted due to various conditions.
I really wanted to hike down into this spot when I first saw it but honestly, it's not a good idea even if it's legal. The ground looked so slippery and it's about 50 feet down before you reach the beach, so I wouldn't advise it.
7) Explore the Fern Canyon trail loop hike (waterfall):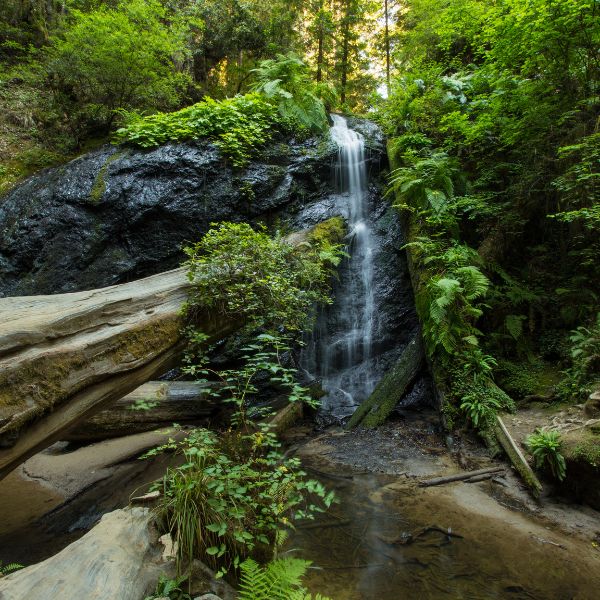 There is one hike I didn't get a chance to explore as it was over 6 miles long and it's called Fern Canyon, but it goes deep into Russian Gulch State Park and I believe also crosses Van Damme State Park.
It takes you deep into the woods (east of Russian Gulch) and has a beautiful waterfall at the end of it which you can see to the right here. From what I remember researching, this hike is beautiful but is pretty long at around 6 miles in and out total.
Now the Fern Canyon trail here is commonly mistaken for the more famous Fern Canyon trail further north in California within the Redwoods State and National Park area (by Gold Bluffs Beach).
Just note these are 2 entirely different trails but both worth exploring if you are planning to visit either spot.
One more thing worth noting is that there are also Redwoods in this region of the park and the ratings for the hike are very high among people I've seen mention it on places like Alltrails.
Gear to wear for Russian Gulch (for hikes and explorations):
Popular questions people usually ask about Russian Gulch State Park:
How much is it to camp at the Russian Gulch State Park?
It is up to $45 to camp depending on which season you go to Russian Gulch State Park.
Does Russian Gulch campground have showers?
Yes, showers are available at Russian Gulch State Park in addition to other amnesties.
Are dogs allowed in Russian Gulch State Park?
Yes dogs are allowed to be in Russian Gulch State Park, but with restrictions like being on a leash.
Places to explore near Russian Gulch State Park (after or before):
1) Here's a list of 7 hiking spots on the northern California Coast. Some of them are near Russian Gulch State Park.
2) The closest attraction by this park is Glass Beach at Fort Bragg and Van Damme State Park.
3) If you plan to travel far north on the coast, definitely stop by the Redwoods National Park area.
4) If you're entering into Oregon State, definitely see these 10 day hike spots you can explore on the Oregon Coast. Many of them look very similar or better to what you see at Russian Gulch State Park!
5) Do the scenic drive in Russia Gulch. It's short but it's amazing (here's a list of other scenic drives in Northern California).