California's northern coast has tons of amazing trails and hiking spots you can explore. I've personally driven through this region 3 times so far and I have to say that when it comes to adventures, this area offers countless opportunities for that.
In today's post, I want to share 7 of the best hiking trails I have discovered (and many of which I have personally been to) on the California coastline (so far). Each time I pass through this region of the Pacific Coast Highway, I always aim to get 2 or more new hikes under my belt, so this list will be growing.
So whether:
You're a road tripper like me whose exploring the Pacific Coast Highway.
Someone who is doing a tour through the Pacific Northwest.
A local in the region seeking to explore new places.
I can tell you that this list is going to really help you see some of the most beautiful areas northern California's coast has to offer! And if you have your own personal hikes and trails you aren't shy about revealing, please let me know about them below!
The 7 hiking trails you need to check out on the Northern California Coast:
Lost Coast Trail (25 miles).
Redwoods National Park Trails (10 miles).
Fern Canyon at Prairie Creek Redwoods State Park (1 mile).
Fern Canyon trail at Van Damme State Park (2-3 miles).
Russian Gulch State Park Waterfall Loop trail (3-4 miles).
China Cove Trail (4-5 miles).
Pfeiffer Beach Trail (1 mile).
In a moment, I'll be showing you where you'll be able to find these amazing hiking trails on the map but here's some quick things to note about the overall region:
What is the northern California Coast?
The northern California coast is the largest coastal section of California State. Depending on who you ask, it stretches all the way from the Oregon State border down to San Jose (there is no definitive answer to how far it goes).
How long is the northern California Coastline?
If you count that is starts from San Jose and goes all the way up to the Oregon state border, then it's about 500 miles long, with the other 300 miles being counted as middle and southern California.
So now let's get to these amazing hiking spots!
1) Lost Coast Trail:
Lost Coast Trail is a very popular, near marathon long trail (25 miles) you can hike (and camp on) that is located between the areas of Matthole and Black Sands Beach.
It is one of the most popular hiking trails you'll find on the northern California coastline and it has many tourists, campers and hikers a like who explore it yearly.
It is located south of the Redwoods National Park area, about 100 miles south of the Oregon State border and it's also one of the trails I seek to explore in a single day in the future.
And it bears some resemblance (at least in distance) to an area on the Washington Coast known as the Olympic Peninsula, which has a similarly long hike near the western side of Olympic National Park.
This is not a trail for out of shape people and should only be done for either overnight campers or hikers with seriously good physical capabilities.
In any case, this trail is a good one to have you on your list when you look for great trails in Northern California.
2) Redwoods National Park National and State Park Trails:
About 40 minutes south of the Oregon border is where you'll find this area and it has several trails you can explore in both the national and state park area.
When you combine all of the trails here, you have at least 10 miles of amazing, scenic and unforgettable hiking experiences, which will take you anywhere in this area that are:
Deep into the Redwoods forest.
Hikes to the Pacific Coast.
Special tourist attractions like the "tree walk" which will take you over bridges high up in the Redwoods forest.
Having run through a chunk of this region on 3 occasions, I have to tell you that this area is one of the most quiet, scenic and mesmerizing spots I have ever explored in northern California.
There is a peaceful sensation you get when you hike through here that is difficult to relay unless you do it yourself, so I highly recommend you try!
Note: A bit north of San Fransisco, you'll find another popular hiking trail called Muir Woods which also has Redwoods.
3) Fern Canyon at Prairie Creek Redwoods State Park: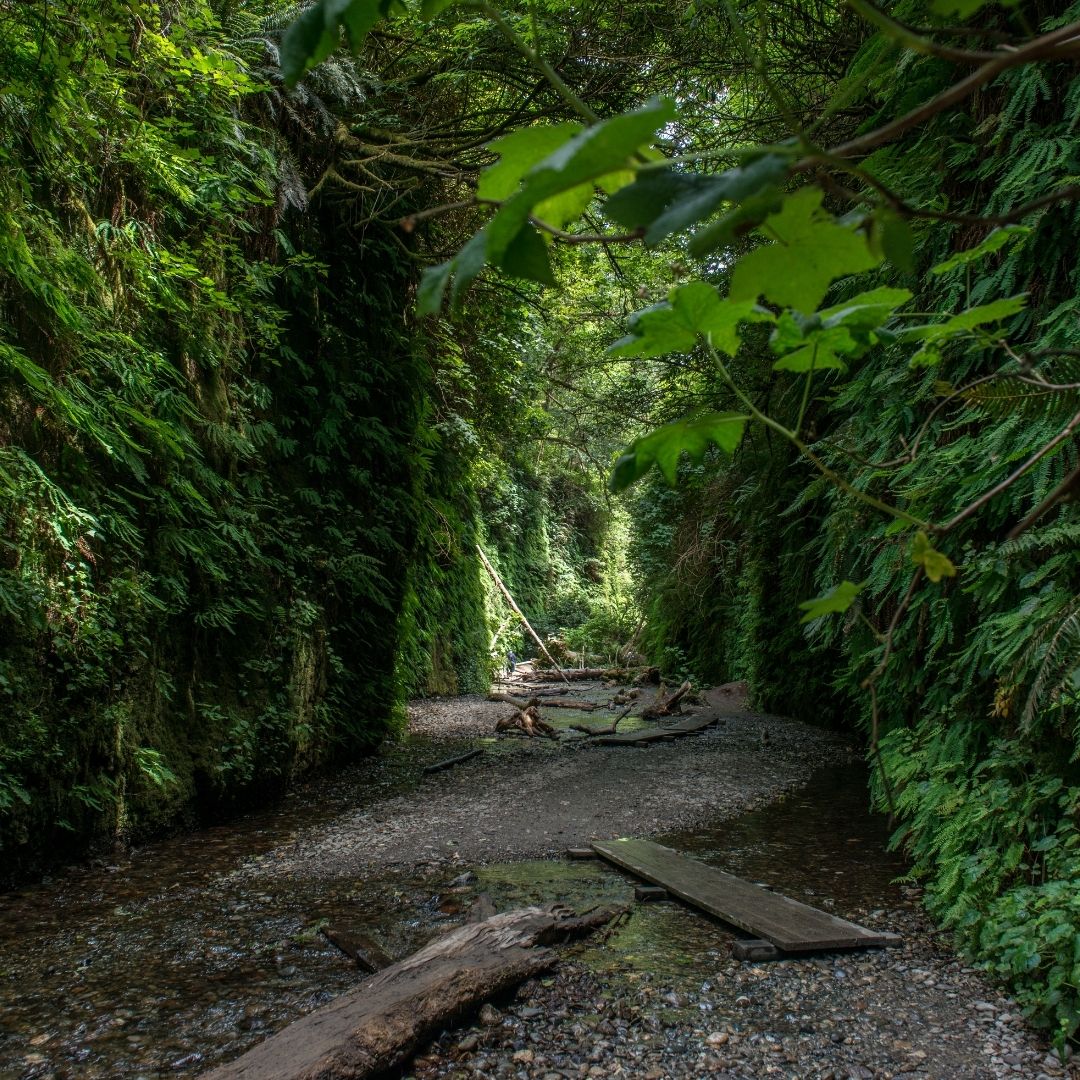 Fern Canyon is an area that you'll find right by the Redwoods National Park area, but in the state park region of it.
It's only a mile long to do this hike, but it's very easy and scenic to explore.
I personally checked out a portion of it and yes it is as scenic as you see in the photo here.
Also the great news is that the hike is very easy to find and actually do, so it's very beginner friendly across the board!
Just as well if you're into camping, there's a great campground by the beach next to this hike called Gold Bluffs Beach, which in my opinion is one of the best campgrounds on the California's coast.
I'm very glad I got to do this hike (in 2022) because I had missed it on literally 3 different occasions before when I was visiting the west coast, so coming here was truly worth it!
I highly recommend you explore Fern Canyon.
4) Fern Canyon at Van Damme State Park: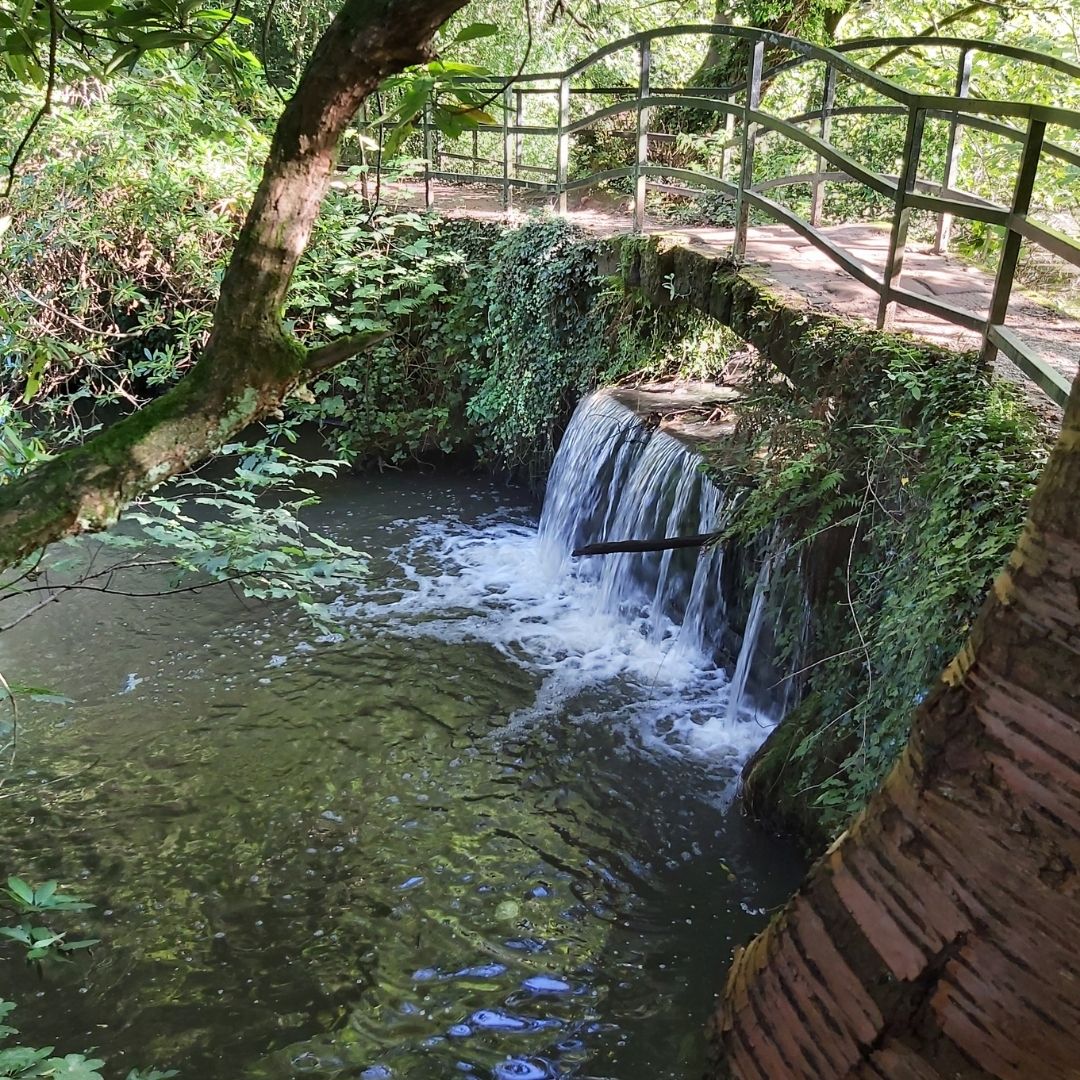 A little known fact about the Northern California Coast is that there are:
Several regions with Redwood forests (not just the one above).
And 2 regions with Fern Canyons (this and the one above).
This particular Fern Canyon is about 1-2 hours north of San Francisco, is 2-3 miles long and is located in the beautiful and easy to remember park which is Van Damme State Park.
Not only that, but you have amazing trails outside of this region to explore in the greater park area if you want, and on the coast, you can kayak and explore sea caves there.
As to whether or not this Fern Canyon is better than the one before it, I can't really tell you because I've only been to one, but this one is longer and the path area is a bit more easy to follow with bridges, more rivers and Redwoods nearby.
In any case, I would suggest (if it's manageable) to explore this Fern Canyon and the one north of it if you get the chance.
5) Russian Gulch State Park Waterfall Loop trail: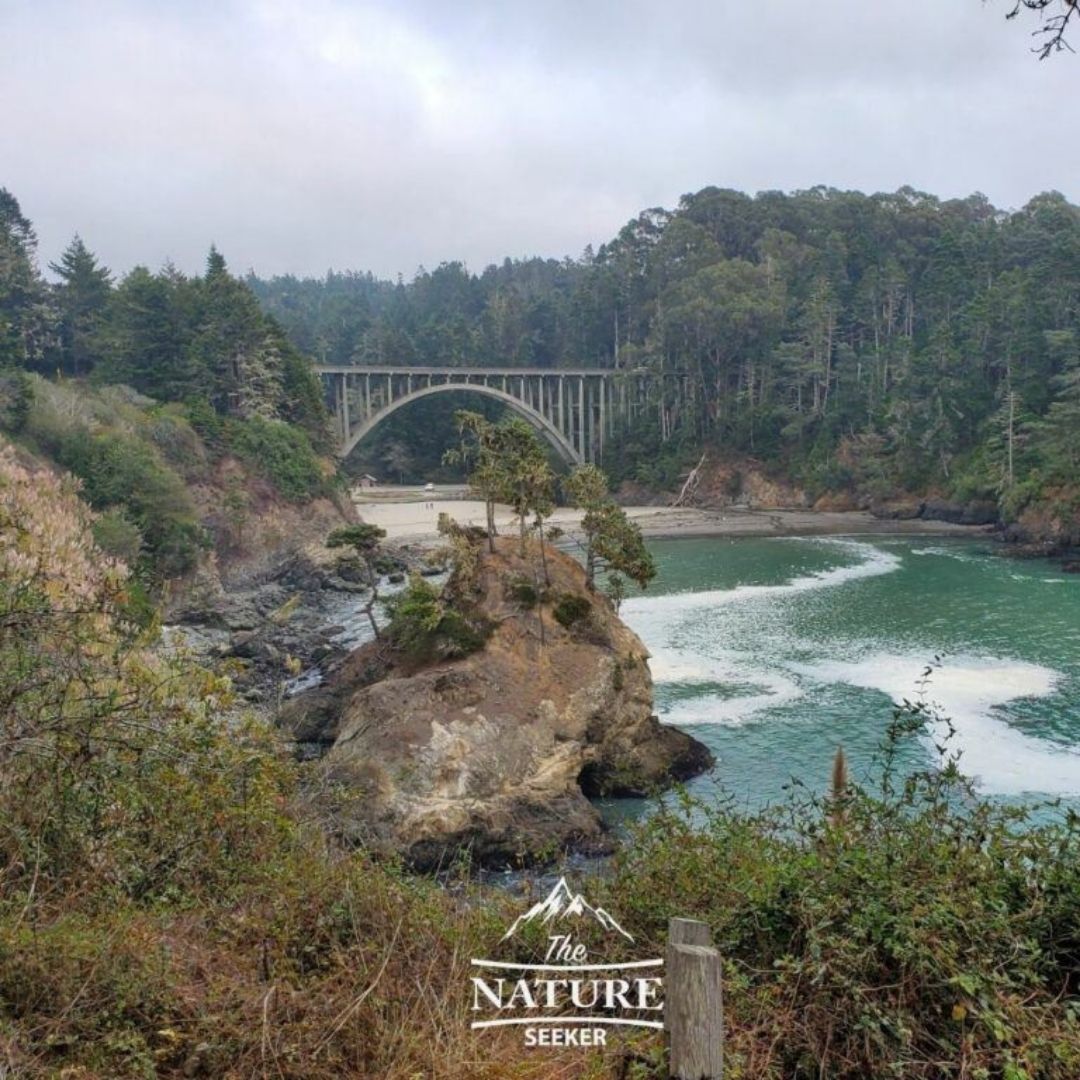 I am very happy to report that on my most recent road trip through this region, I finally got a chance to explore Russian Gulch State Park and I highly recommend it.
The most popular trail in this coastal part of Northern California is called the Waterfall loop trail (3 miles), but aside from it, there is another trail taking you to the Pacific coast area where you can see amazing beauty, sea caves, a Devils Punchbowl and more.
I did that and I really loved the experience, despite the bad weather we had when we came there. It is a very scenic area for camping, picnics and of course, hiking trails.
I also highly recommend taking the road (or hike) underneath the bridge you see in the photo to the right and then walking underneath it, to the beach and then to the coastal areas surrounding that beach during low tide.
It makes for a very cool, unofficial but beautiful hiking experience.
Note: You can also camp here. See these camping locations in northern California for more options too.
6) China Cove trail:
China Cove is an area nestled deep in one of the most beautiful areas of the California Coast which is Big Sur.
You can take a short drive to the trail head of China Cove which is only 1/4 of a mile or you can elect to take the longer route to it in which you'll park near the toll area, and walk for about 4-5 miles to China Cove.
With the longer router, you'll hike through more of the California Coast and see more sights vs driving to the last area (China Cove) by car.
This area is highly popular and you'll likely find many people here. If the parking area near China Cove is full, you can park a bit further and just do the longer hike and get the most out of your time that way.
In our way, the farthest parking lot away from China Cove was occupied fully, and the one near China Cove was pretty open, so the situation had us take the shortest hiking trail there.
As for the hike itself, it isn't difficult, but it is very scenic and family friendly.
7) Pfeiffer Beach Trail: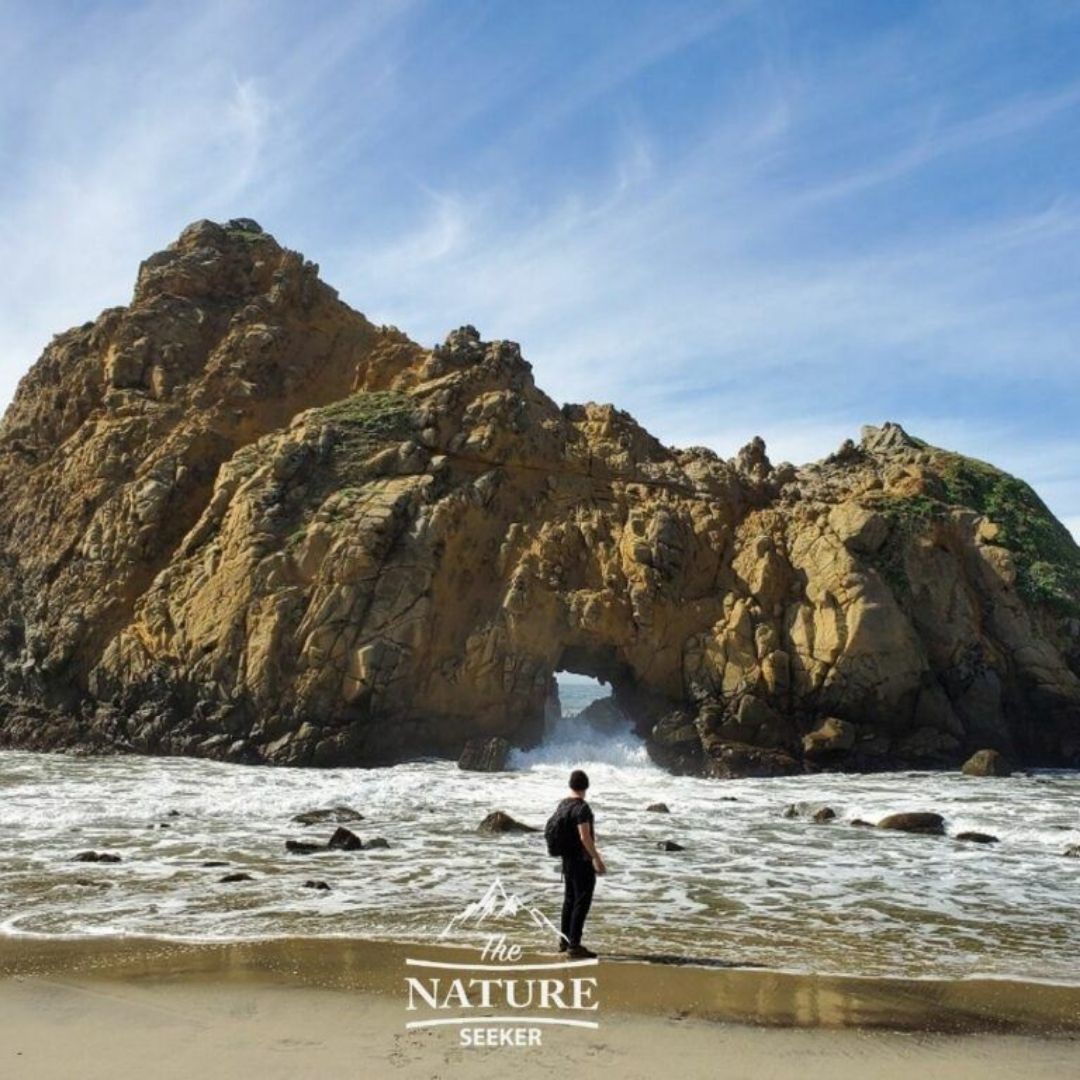 Pfeiffer Beach is also located near China Cove, in the Big Sur area of the California Coast.
Now while the hike to the beach and around it is short, the MAIN attraction of this beach is the beautiful natural bridges you see in the Pacific ocean and the sunset photo opportunities it brings.
There are many Instagram photos of this area being taken at sundown where people wait for the perfect moment to see that sun set underneath one of the natural bridges there to get it to look like a doorway to heaven.
Sadly, my first visit there didn't happen during that time, but it doesn't change it might change in a future visit here.
I also need to add that Big Sur itself has tons of hiking trails located all across it, including in the deeper Pfeiffer Beach State Park area you can explore.
I decided to include this one and China Cove because they were some of the few in Big Sur where you can actually get to the coast (and find nice hikes there).
Does gear matter for these hikes? In some cases, yes:
I would recommend keeping the following gear handy for some of the trails here. Most of them are easy-moderate but you may find other connecting trails you'll want to try that require better gear to get through them and here's what works best for that:
Hikes further north of California (The Oregon Coast):
1) One thing you'll find about the nature of northern California coast is how much more beautiful it looks as you head further north and if you get the chance, I highly recommend exploring the greater Oregon Coast.
2) For hiking experiences specifically, I recommend checking out this list of day hikes on the Oregon Coast too.
3) And just as well, northern California has many beautiful scenic drives you can explore as well!
As I said, I'll explore more hiking spots on the northern California coast and as I do, I will be sure to make this a huge list, so if you have suggestions for what to see, like I said before, do let me know!