I've taken many photos of Glass Beach California over the years and wanted to share with you some of the most beautiful ones in this post but on top of that also give you more context about this area because most people who go here and share it online leave out a lot of important stuff.
For example, many of the photos of Glass Beach California that people post online are heavily edited in my opinion and the ones I'm sharing with you here are not, so you'll be able to get a better idea of what this place actually looks like instead of the more "theatrical" way others show it off (in addition to other important things).
Let's start with a screenshot photo of the area (how to get there):
To get to Glass Beach California, you will have to visit the town of Fort Bragg (that's where it is). Getting to that town is very easy as it's located right on road 1, which is the most famous coastal highway in California. The town itself is pretty big and there's actually a lot of awesome things to do there, many of which are better than just exploring Glass Beach in my opinion.
Here is a map showing how to get to Glass Beach when you're in Fort Bragg: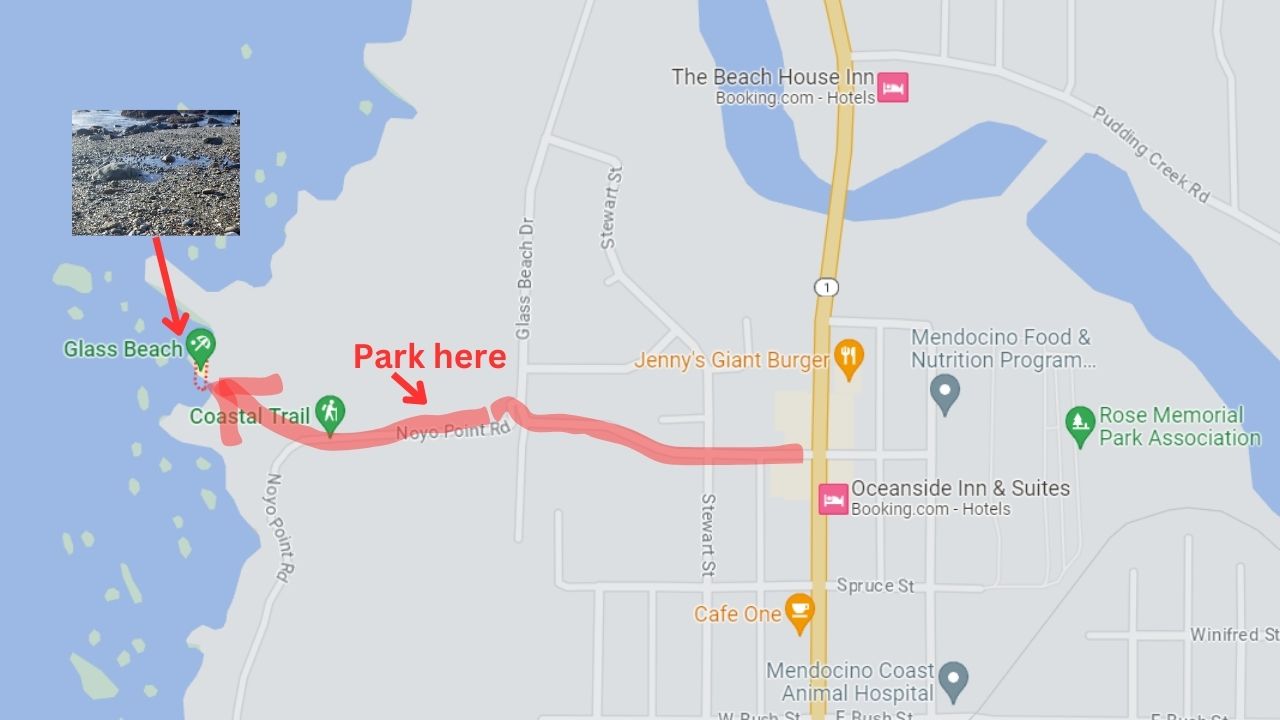 The Glass beach area itself is pretty small. You can't swim here but you will be able to explore it better during low tide as more of the sea glass will be exposed.
Here are some of my favorite photos of Glass Beach California:
Details:
The first time I came here, I found a giant seashell and decided to scavange as much of the large sea glass as I could find here. I say scavange because the sea glass here is in many different sizes and mixed together with other beach materials and finding the largest ones is difficult to do, so gathering as much as you see in the photo above took about 30 minutes to do!
Details:
These 2 photos were actually taken from a video where I picked up some sea glass mixed together. Here are some things to note about them:
Left photo: Here I'm picking up chunks of the stuff on the beach. You'll notice that the sea glass is mixed with the other things (rocks, shells, seaweed, etc…). Another thing to notice the propertion of small sea glass vs large (which is rare).
Right photo: In this one I dropped all of the things in my hand and decided to pick up a single green sea glass. You'll also notice how mixed together everything is on the beach there. As I said before, gathering this stuff is like having a scavanger hunt.
I do also want to point out that taking this sea glass with you is not allowed and addition to that, there are 2 more glass beaches located close to this one that I personally have never been to, but have heard they have even more of this stuff (but you're also not allowed to take it with you).
More Glass Pebble beach photos: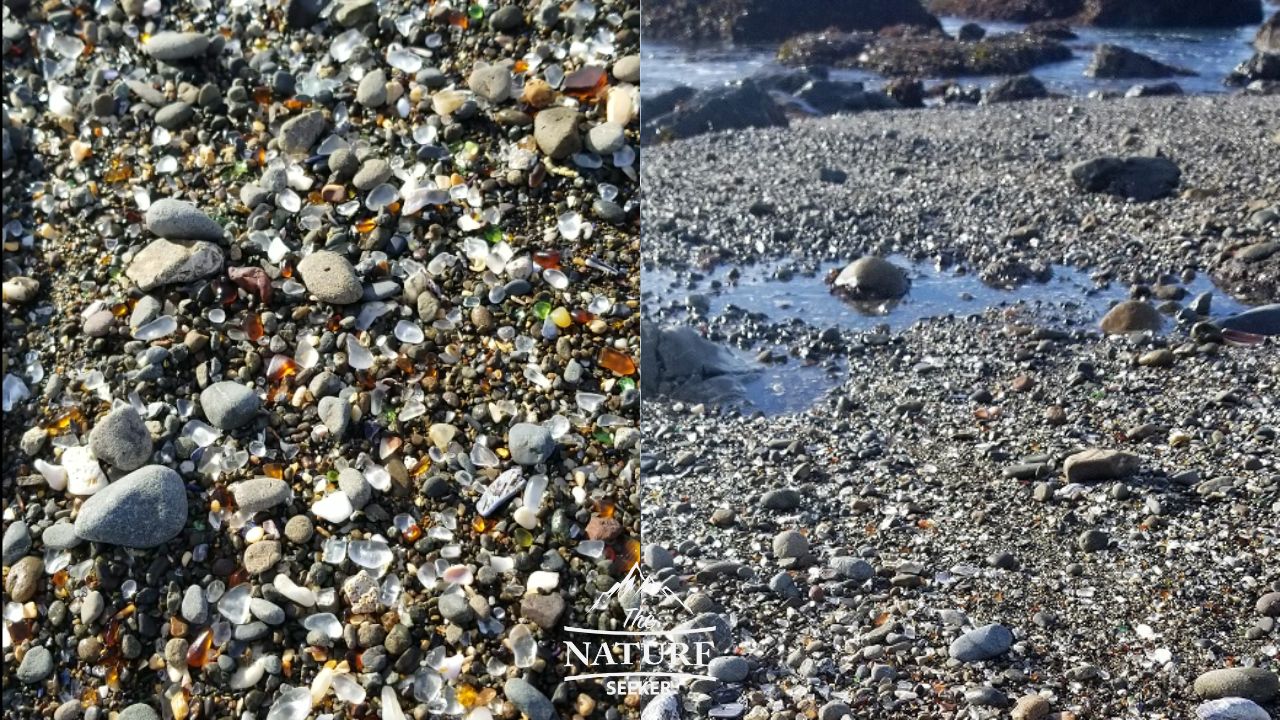 Details:
This photo shows more of the actual beach area than specific parts with sea glass. As I said before, the glass beach area is pretty small overall but considering that the sea glass is easy to find in that small area, you can be occupied for hours looking for it.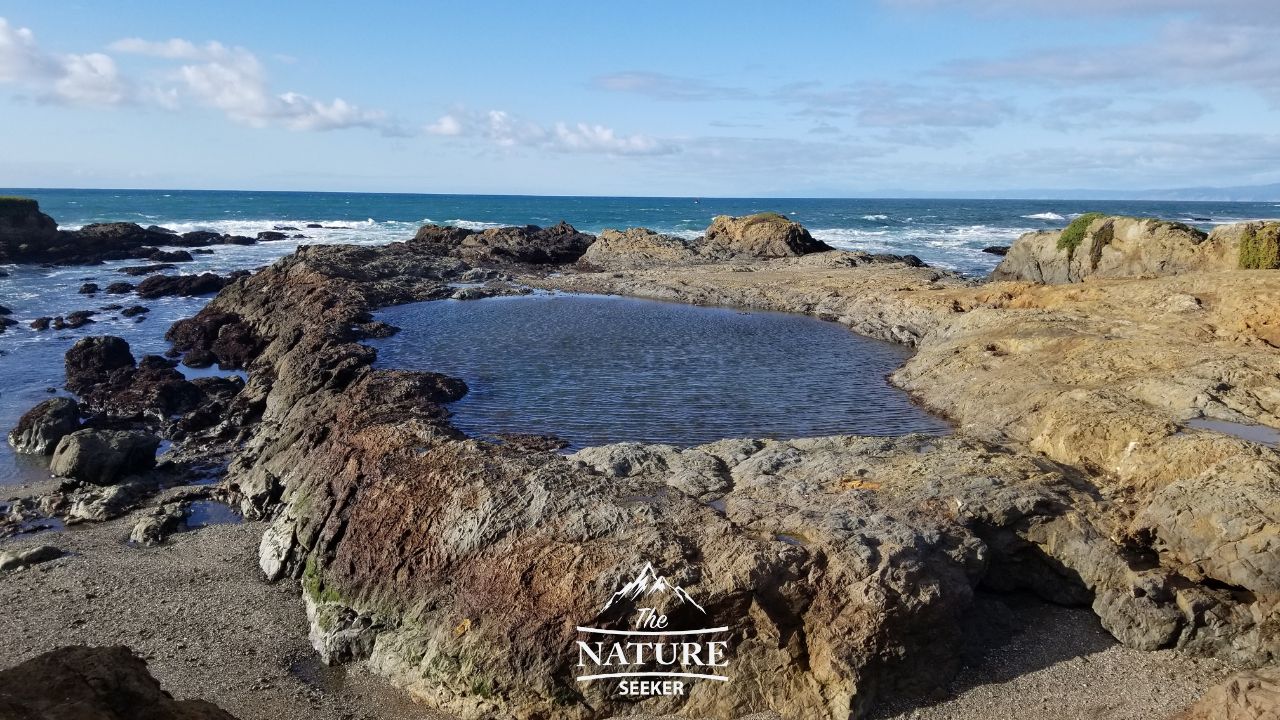 Details:
In this photo what you're looking at is a "pool" area located to the right of Glass Beach. You can hike up to it and everytime I've been to this area, this pool is always full (the water is very dirty though). This is because as the waves go through this area, there's always water filling this up. There are angles from this spot where you can get great views of the incoming tide as well as sunsets.
Details:
One thing I quickly discovered about Glass Beach is that there's far more photogenic places and spots to see nearby and the above photo is one of those examples. It's a place called Devonte Vista Point and it's 25 minutes north of Fort Bragg. It's also one of many amazing vista points you can stop at from road 1 (you can see more amazing spots like this in my Pacific Northwest Highway post).
Just as well you don't need to go far from Fort Bragg to see amazing areas either. Within the town itself there are many more things to see and do and I talk about all of that in my other Glass Beach California post). In fact, I'm going to recommend a few quick things right by that area you should do right after you're finished exploring the Glass Pebble Beach:
1) Hike through the Otis Johnson Wilderness Park. It's a great place to see Redwoods in California and change up the views from coastal to amazing Redwood wilderness and it's only 10 minutes away.
2) More sights north of this area: Right by the same Glass Beach parking, there is a road going directly north to a beautiful bridge, and then a trail covering parts of the famous MacKerricher State Park. There are many more beaches and places there to check out, and if you don't want to hike there, you can just continue driving on road 1 and you'll still pass them anyway.
3) Parks southward: I also strongly recommend the Russian Gulch State Park area south. It's easy to do a stop there if you're already in Fort Bragg and there's much more to do.
More real photos of Glass Beach California:
Details:
Here I am actually comparing 2 different Glass Beaches. One is in Fort Bragg that I've been covering throughout this post, but there is also another (yes there are others like this too) that's located on the northern Washington Coast. Specifically it is known as the Glass Beach in Port Townsend and what you may notice is that there's way less sea glass there than there is in Fort Bragg.
However, what I discovered by going there personally was that you can actually collect the sea glass there, and the beach area itself is also a bit nicer (less crowded too). I'm just providing extra information on this topic if you're really looking to collect this stuff, so now you will have more options (and there are more Glass Beaches in California too that I'll cover in the future as well).