In the past 2 years, I've done 2 big road trips across much of the Pacific Coast Highway and have covered well over 1,000 miles of it. From northern California, to all of Oregon and about 90% of the Washington Coast. I've explored many areas in this region.
And today I want to share 13 places (and growing) you should absolutely check out if you're planning a road trip there too and/or if you already have done one but want more ideas of what to see.
Here are the 13 places I recommend you see on the Pacific Coast Highway:
All of Big Sur.
Russian Gulch State Park.
Glass Beach.
Northern part of the California Coastline on route 1.
Redwood National and State Park.
Whaleshead Oregon (Route 101).
Natural Bridges in Samuel H. Boardman Park.
Secret Beach.
Thor's Well (Oregon).
Cannon Beach.
Hug Point.
Deadman's Cove in Washington State.
Cape Flattery (Washington coast).
This list begins from the south and heads north, so if you start from the north, just work your way backwards from this list. Now I will be adding more to this list as I explore more of the Pacific Coast Highway, but these 11 gems are a great start to see the beauty of the Pacific West Coast and I will be showing you photos of each spot so you can see this for yourself.
What is the Pacific Coast Highway?
It's a world famous drive that begins in San Diego and spans across the coastlines of California, Oregon and Washington.
There are 2 famous roads along the Pacific Coast Highway that allow you to get close to the coastline across each state and see the most amount of places possible:
Road 1 which begins in San Diego, California and goes all the way to the California/Oregon border.
And then after the border is crossed, the road changes to route 101 and goes through all of the Oregon Coast and then the entire Washington Coastline.
The Pacific Coast Highway is one of the most popular destinations for people looking for road trip ideas as it is very scenic, and there are plenty of places to explore along the 1,500+ miles of shorelines available.
The picture you see above is one of these spots, an area near southern Oregon called Natural Bridges. This and 12 other spots will be shown to you in this post and I highly encourage you to do a road trip through the Pacific Coast Highway.
What states are part of the Pacific Coast Highway?
California (Road 1), then Oregon and Washington (Coastlines and the 101 route on them).
How long does it take to do a road trip through the Pacific Coast Highway?
If you plan to do the entire Pacific Coast, you may want to give it at least 10 days.
I rushed through much of it and began in Northern California, so my trip took about 5-6 days to complete.
You can certainly do it in less time, but that takes time away from exploring many of the beautiful spots on this road, so the longer you give yourself, the better the experience will be.
When is the best time to do a road trip through the Pacific Coast Highway?
I prefer March and post September to explore these regions because of how few people you'll run into. The 2 times I've done this trip was in early March and late September.
In early March you get to see more green nature, and in September, it's starting to set into the fall colors in many places. I personally prefer March.
All of the Pacific Coast is popular and during the summer seasons, you may run into a lot of traffic, especially in the California area.
Here is how both of my road trips through the Pacific Coast highway came to be:
1) My first road trip was solo and it started in Las Vegas. I had long wanted to see the Pacific Coast Highway and managed to see about 500 miles of it on my drive through there. I saw a ton of areas in northern California and about half of the Oregon Coast. I skipped the Washington Coast because I was headed east to go back to NYC from Seattle.
2) My second road trip across the Pacific Coast Highway was far more comprehensive and I labeled it as my road trip across the western US states, where I actually began in Utah, exploring the Mighty 5 National Parks, and the went to the Pacific Coast Highway, explore much of northern California again, then ALL of Oregon's coast, and about 90% of the Washington coast.
The second trip was when I covered well over 1,000 miles across the Pacific Coast Highway alone, and that doesn't include the Utah trip, or the other stops I made deep into each state like exploring Columbia River Gorge in Oregon.
1) Big Sur (all of it):
Big Sur is in California (between San Jose and San Francisco), stretches for over 30 miles and basically takes you across what is considered the most beautiful coastal road in the state (if not the entire west coast depending on your taste).
Most notably, the places that are most popular within Big Sur are:
Mcway Falls. A literal waterfall on the beach.

Bixby Bridge.

China Cove.
Sea caves (plenty at Big Sur).
Camping spots.
The 17 mile route.
Pfeiffer beach (cave sunsets).
And more.
And of course, all the restaurants and other entertainment options available at Big Sur make it one of the best spots in the entire Pacific Coast Highway to explore, and that could take several days at least.
2) Russian Gulch: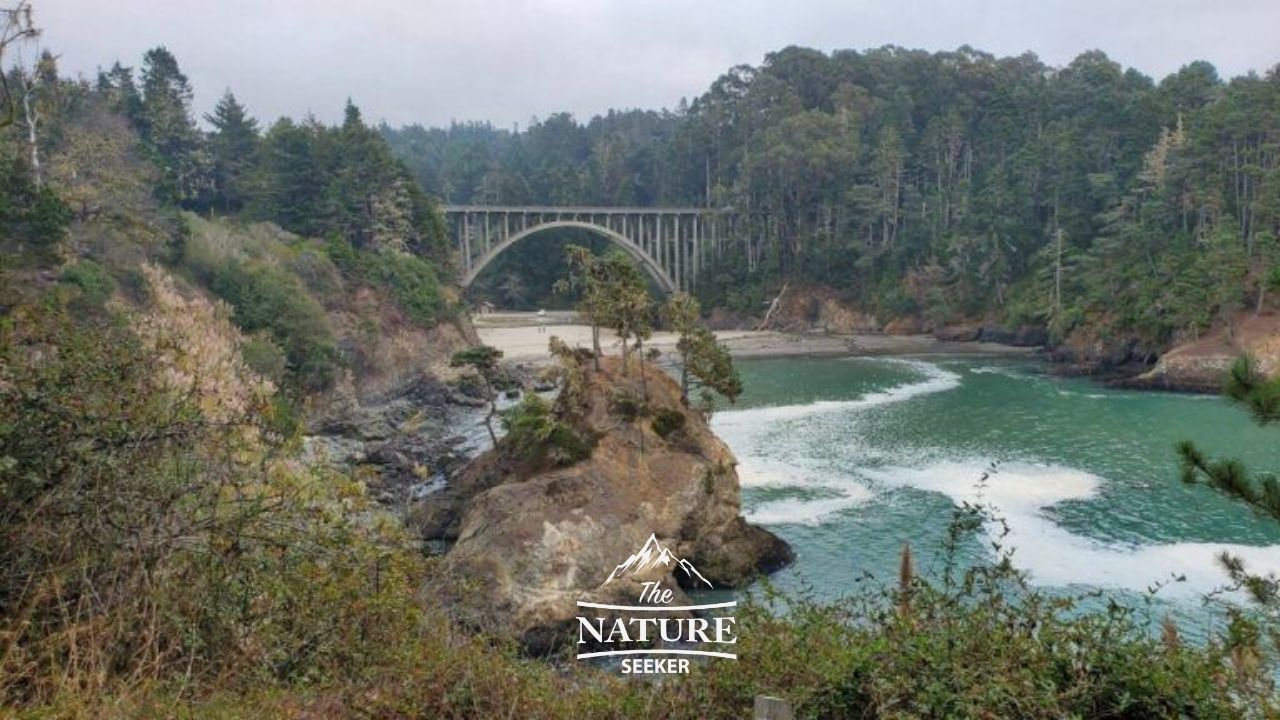 A must stop on the Pacific Coast Highway is Russian Gulch and in many ways, the environment there looks like a combination of stuff you see on the California, Oregon and Washington Coastlines.
It's hard to describe but when you visit all 3 of these states and notice how their terrain is different in some parts, you'll notice that there's much of that in connected together in this particular area.
Besides that, the beauty of this place is also something you have to see and even though it is a small park, you will find that there's a lot of things to do there, ranging from camping, to hiking, kayaking, sea cave hunting and much more.
Glass Beach, Fort Bragg: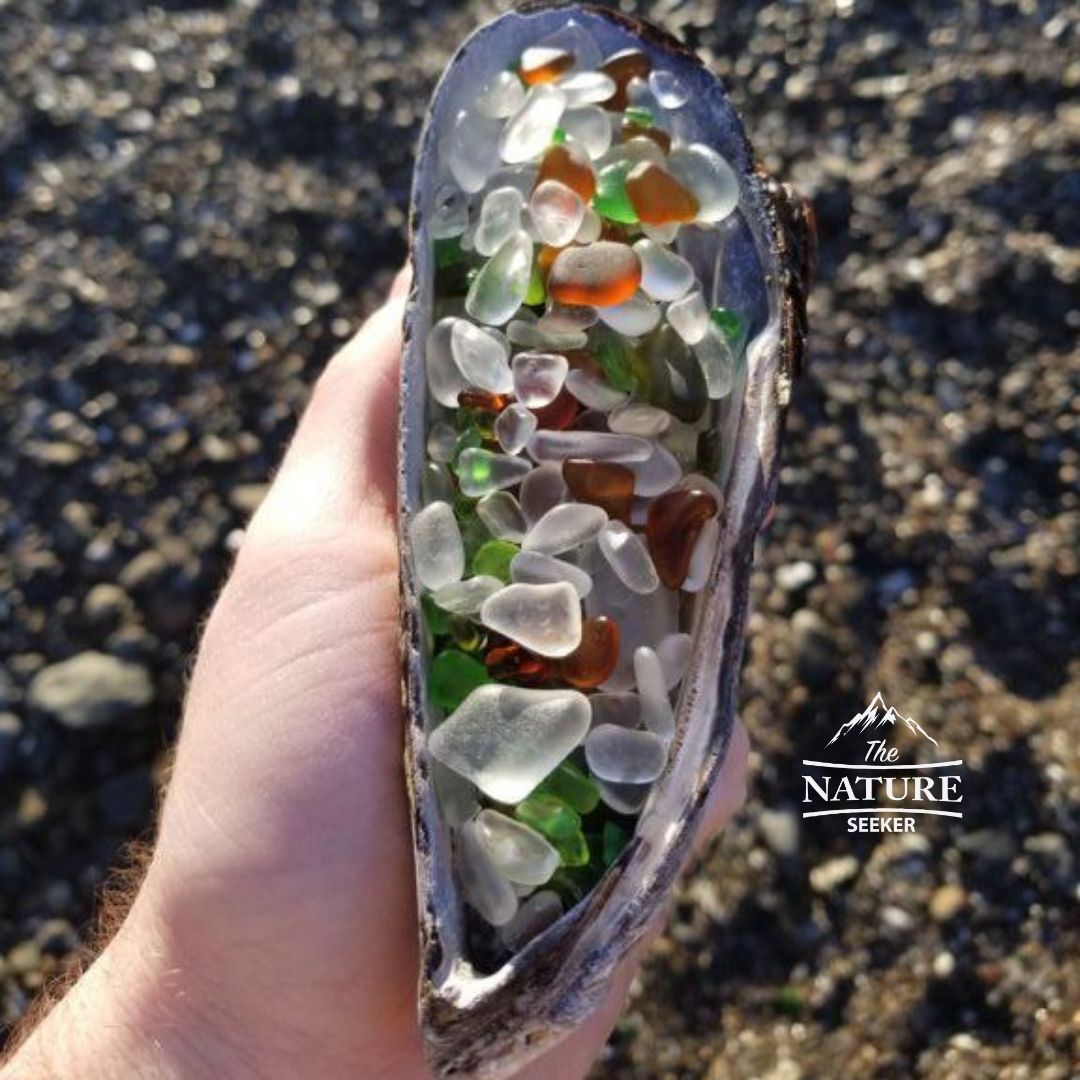 If you want to step onto a beach and collect "jewels", Glass Beach is where you want to go. And here's why:
It's located a few hours north of San Francisco.

Its accessible to the public.

Has great views.

But the crown "jewel" of this place is it's actual glass pieces that are scattered all along the beach that you can collect and take with you.
Now these aren't actual jewels, but instead are actual glass that have been turned into smooth "jewel" looking rocks by the sea.
They are mixed in with the rocks and the sand on that beach, so if you're looking to only collect the rocks, it may take you sometime, but they are all over the place so finding them is very simple.
Other than this, Fort Bragg has some nice areas nearby you can explore that I talk about in my article on 10 places to see on the California Coast.
3) The California coastline in g

eneral (the northern part):
While Big Sur is a must see when it comes to California, trust me, the Pacific Coast Highway itself is loaded with beautiful places you can stop at, camp out in and enjoy the views from.
Places like the one you see to the right are common:
This particular spot was about 1 hour north of Fort Bragg (where Glass Beach is) and it is beautiful to visit this place when the sun starts to set.
I don't think I need to explain why.
But what I'm trying to say, besides the actual destination on the Pacific Coast Highway, these unnamed spots are all over the road and when you see one that arouses your curiosity, stop and explore it, because it'll likely be worth it.
4) The Redwoods: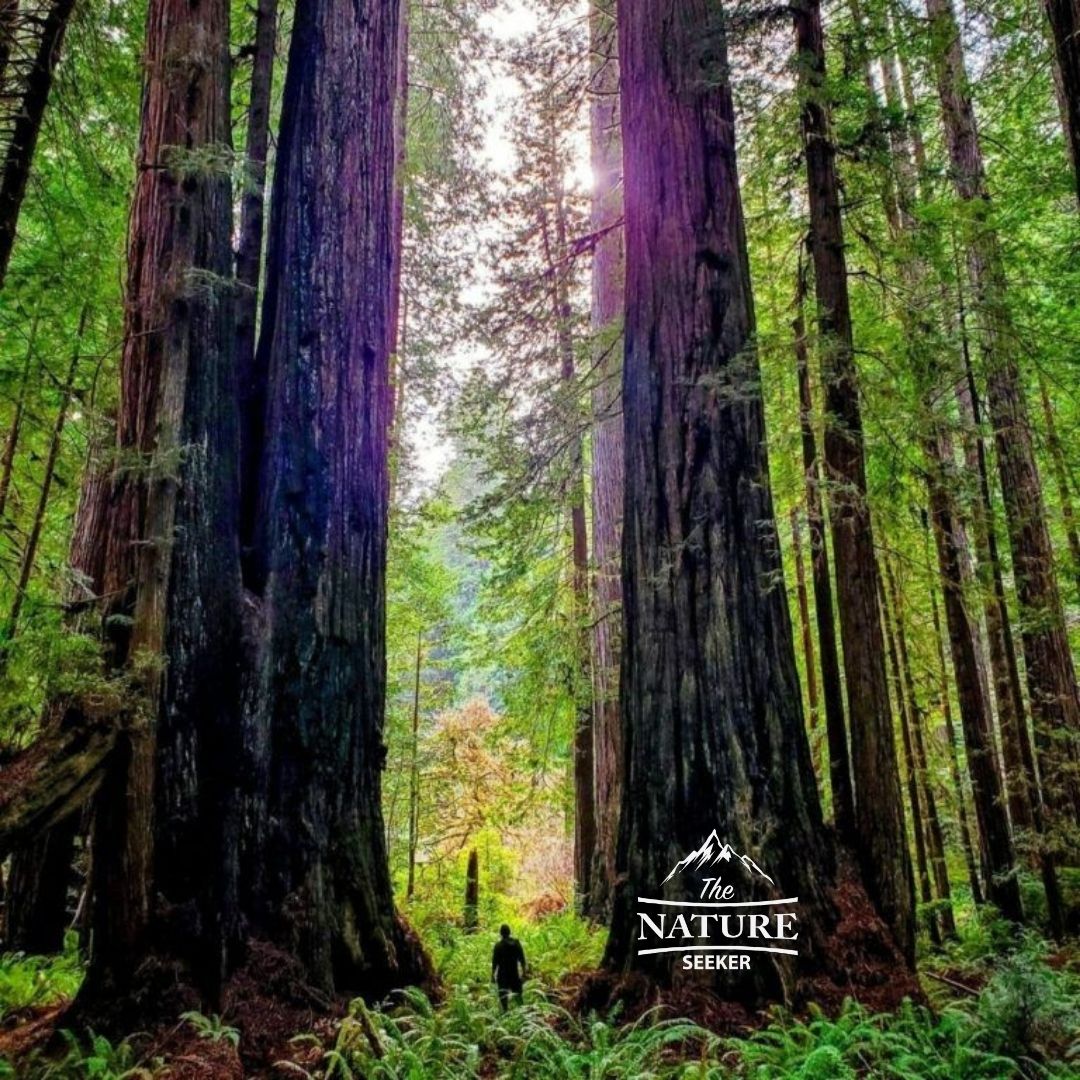 The Pacific Coast Highway doesn't just take you along the shore, it also has side roads you can enter and in this case, before you finish up California (if you're doing the South-North road like me), you'll run into the famous Redwoods forest, a place where the trees are literally several times larger than normal trees.
Now for those who wonder, there also exists another park in California with large trees, it is known as Sequoia National Park, and I did try to visit it on this trip, but it was too snowed in to access and I had to skip it unfortunately.
The trees in this forest are actually much bigger than the Red Woods, but do not think that the Red Woods are a joke, they are HUGE:
While you can view them from a distance by going though the 101, a much better option is to actually enter a parallel road that takes you into the heart of this forest (it stretches for about 10 miles or more). Here is info on the Redwoods. I really enjoyed it and there's a bunch of trails and places to stop you car at to enjoy the silence and all the beauty of this place.
Update: There's tons of great places to see the Redwoods in California, and I only learned this after taking my first trip on the Pacific Coast Highway. In later years, I would see more of these spots.
5) Whaleshead, Oregon: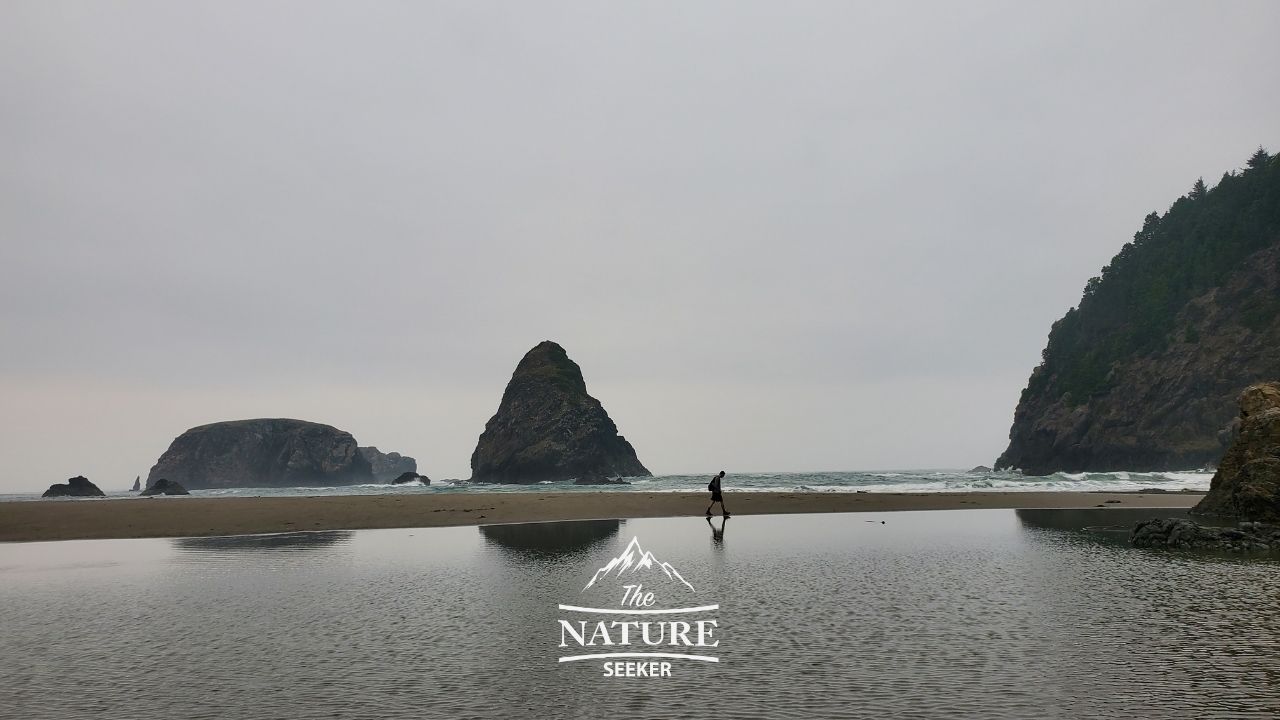 One of the most unforgettable spots on my trip across the Pacific Northwest was in a place called Samuel H. Boardman State Park (also known as the scenic corridor).
In this park, that is all along the 101 road are many destinations, and one of the 2 that truly mesmerized me was Whaleshead beach.

It is off the 101 road (and they recommend you have an all wheel drive vehicle to get there), and takes you to a parking where the beach is accessible.
On that beach are gigantic mountains and beautiful views of the Pacific Ocean.
6) Natural Bridges, Samuel H. Broadman Park: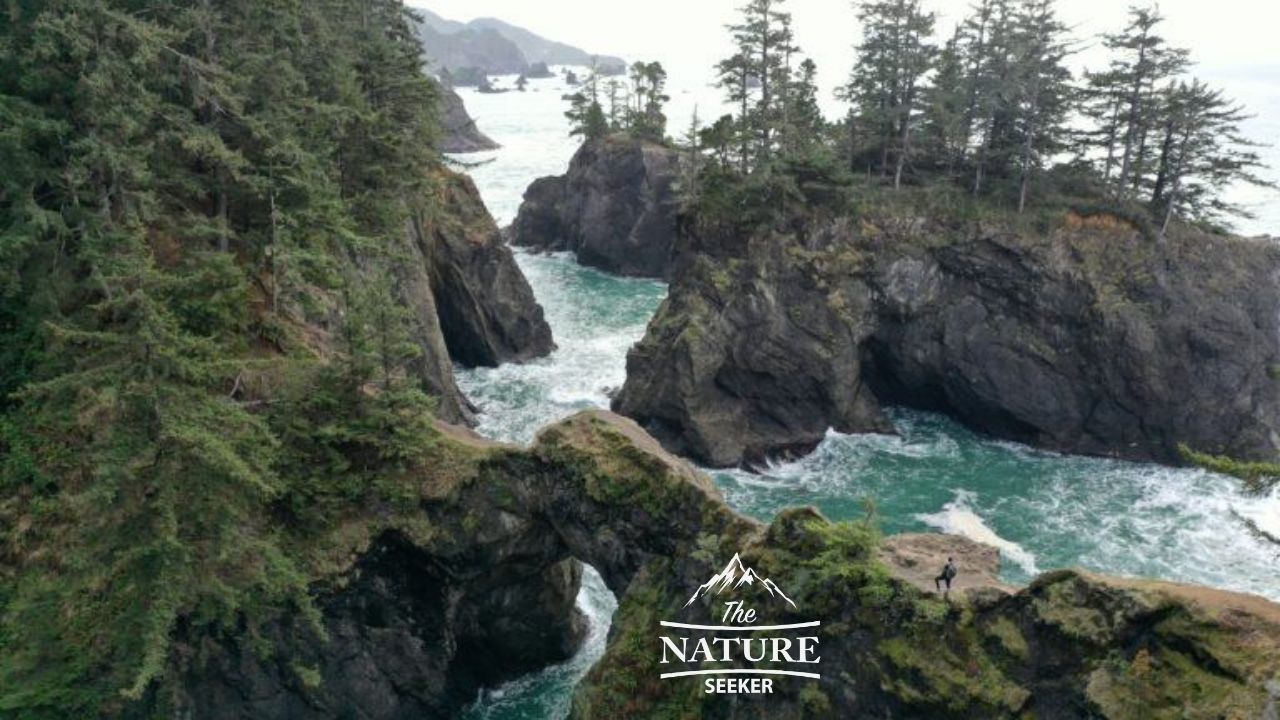 As astounded as I was by Whaleshead, it couldn't compare to the beauty of what I saw at Natural Bridges which followed shortly after Whaleshead Beach.
This was one of the most important destinations on my trip and I was truly floored by this place.
It was easily the #1 spot on my whole trip and this is a small sample of why (right):
That's actually me in the photo and the way this shot was taken was via a drone I had on me. I even took a shot of this place with the drone that is, as of this time, going viral.
This place is easy to see from a distance but hard to hike down to (where I am in the photo, but here are directions to find Natural Bridges in Oregon). Be careful, but know that it is extremely beautiful.
This place is also very recognized and iconic in the Instagram world and is considered to be one of the most amazing spots on the Oregon Coast for obvious reasons.
7) Thor's Well: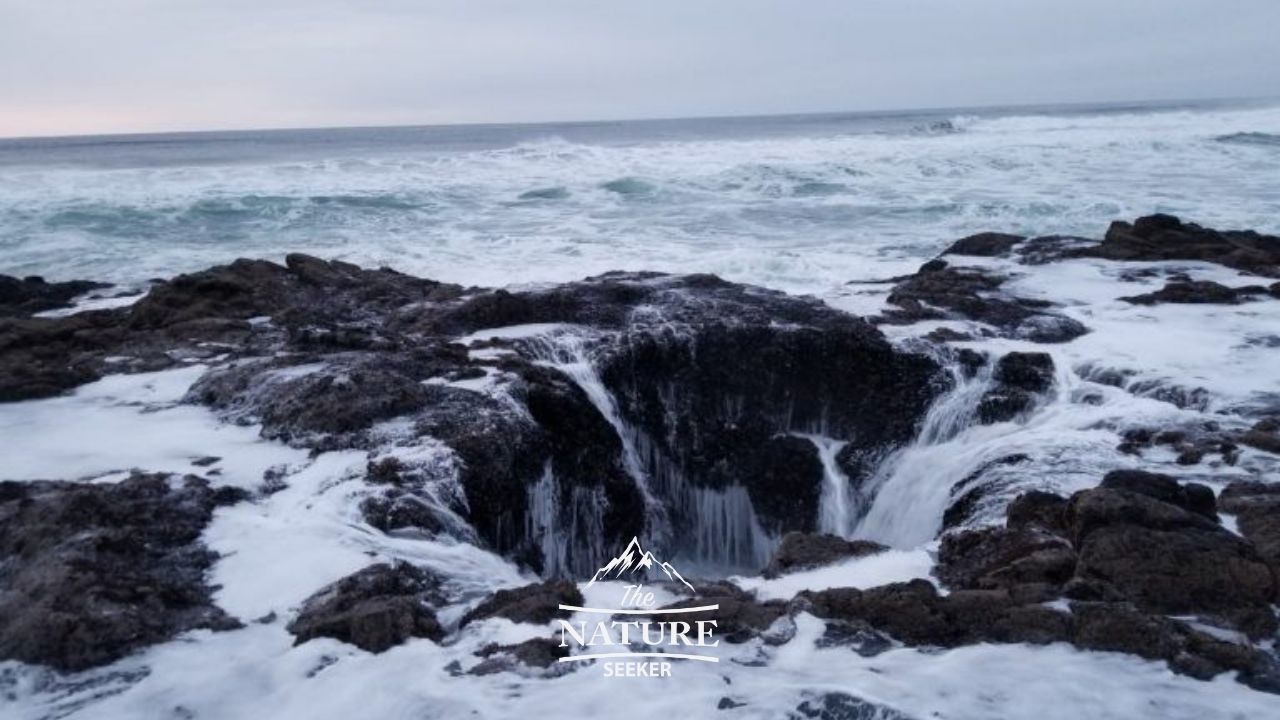 There is a beautiful naturally made hole on the rocks of a beach known as Thor's well.
If you stand close to it during low tide periods, you'll see water go into it from the bottom and make a large splash over and over again and it's really beautiful:
There's a parking lot near Thor's Well, with a short trail to the coast next to it, but Thor's Well is not on a beach, but rather on a very rocky surface, so wear some good shoes if you want to get close to this spot.
Obviously, I should warn you about being careful with how slippery it can be here as well as being careful not to actually fall into this hole. I found the ocean to be very stormy here when I went so I kept a safe distance with Thor's Well and enjoyed seeing it from about 10 feet away.
8) Cannon Beach: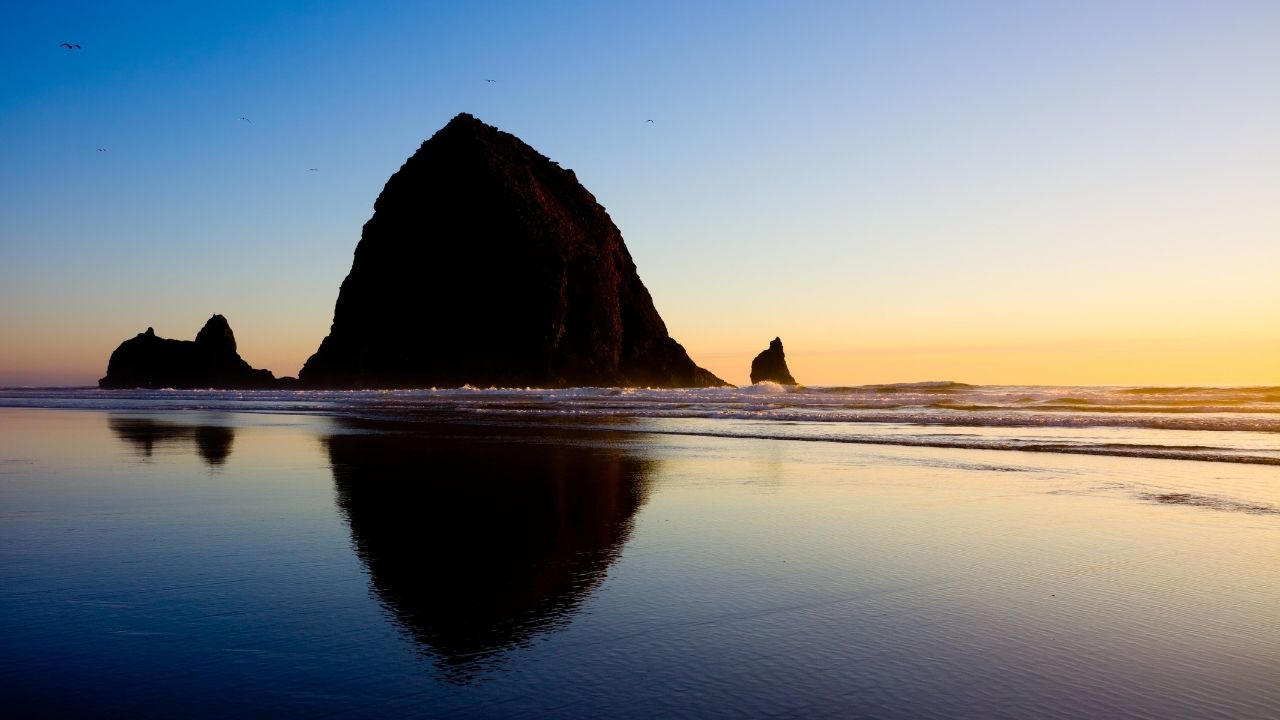 Cannon Beach was one of the destinations along the Pacific Coast Highway I wanted to stop in, but didn't have time to (I had to choose between this and #2 and I went with 2.
It is a beach with a giant mountain in it that you can go to (be careful), and it's beauty is also well known.
Update: On a second road trip I did through the Oregon Coast, I did stop at this place and did have a nice view of Cannon Beach.
One thing to note is that it is very popular there and on every end of the beach, there's "secret" spots also worth exploring.
9) Hug Point, Oregon: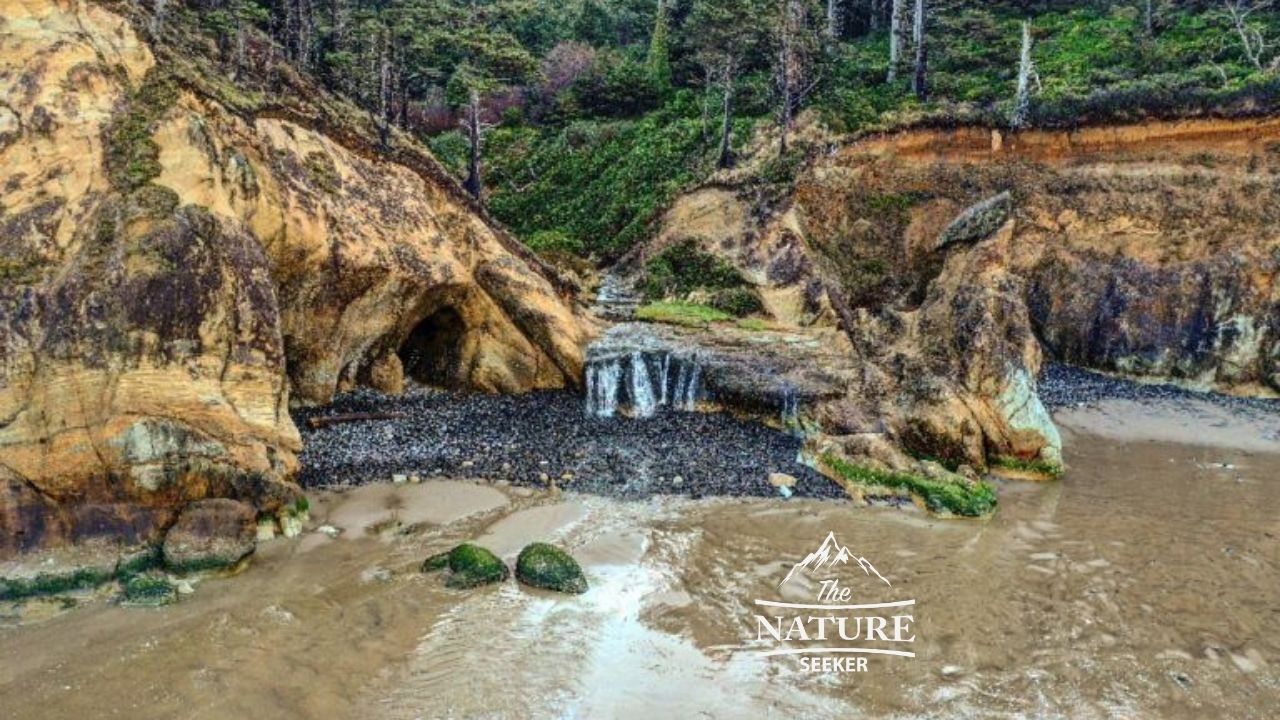 Another jewel along the 101 road on the Pacific Coast Highway. This is a beach with a waterfall on it (like Mcway falls in Big Sur). And by the way, you'll find numerous beaches with waterfalls on the Pacific Coast Highway.

Now you may have a hard time getting to this place during high tide, but you should be able to reach it from the beach at low tide periods. Otherwise, you'd need to hike to this place from behind the beach to reach it.
Note: These last few spots covered Oregon and this state itself deserves it's own top 10 list of places to see, especially on the coast, so I wrote an article on the top 10 coastal spots in Oregon.
10) Deadman's Cove, Washington Coast:
This was also a major destination I set on my list.
It was one of the spots I saw in Washington when I was browsing Instagram and bookmarking the places I'd wanted to see. Deadman's Cove was an easy stand out and when I found out it was right by the Oregon, Washington Coast, it was an easy decision to go here.
The area you see in the picture is actually inaccessible to the public when I went there, but there was an official trail from which you could get a good look at it:
Deadman's Cove is the location in that picture, but it is part of a park known as Cape Disappointment and that is also worth exploring.
11) Cape Flattery: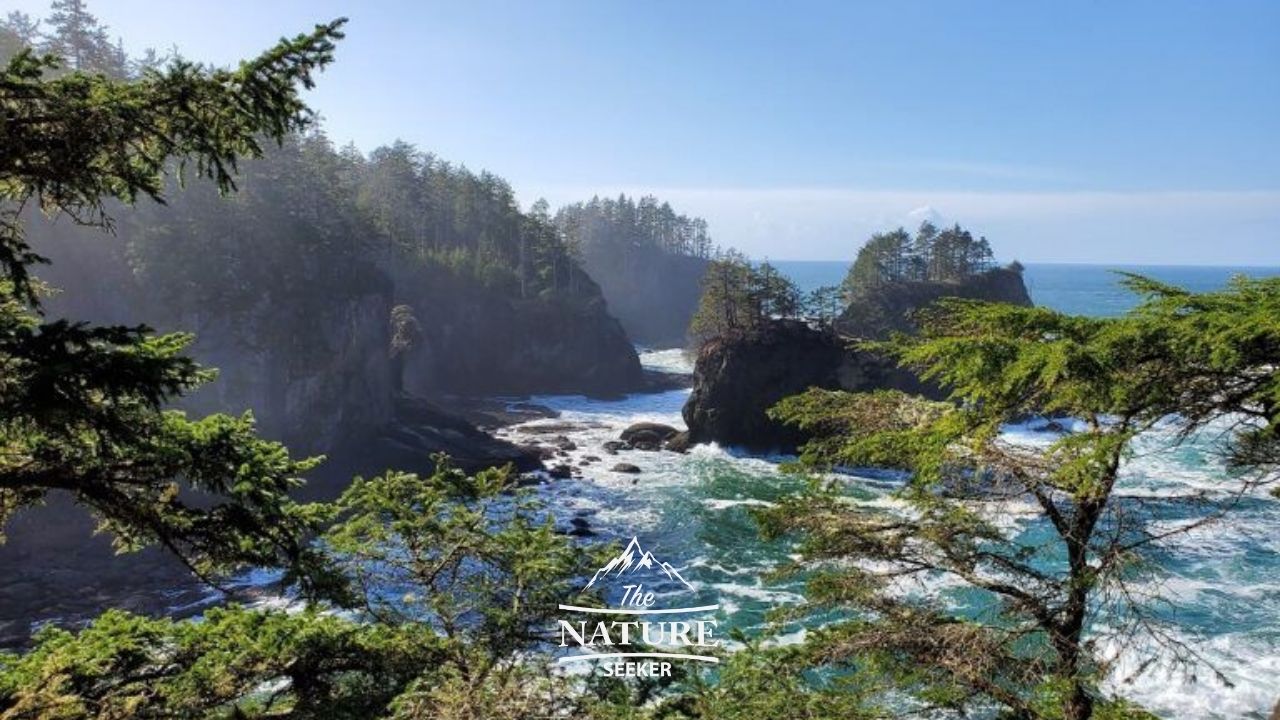 Cape Flattery is the last one this list and considering it's at the tip of Washington State (the north western end), it is a fitting way to end (or start) your Pacific Coast highway trip. For me it was the end, because I was then headed north to Vancouver Island.
This location is magnificent, and it holds a lot of potential adventures you can take if you know what to do (hidden beaches, kayaking options and just overall nice scenic views).
I've only visited Cape Flattery once, and after I figured out what I had missed there, I am already making plans to return whenever possible to cross these adventures off my list and share them with you.
And also, I have an entirely separate list of places to visit on the Washington Coast here that you can add to your Pacific Coast Highway road trip and you'll also find additional spots to check out in between Deadman's Cove and Cape Flattery which are also awesome!
Common questions about exploring the Pacific Coast Highway:
How long does it take to drive the entire Pacific Coast Highway?
On average it takes people 7-10 days to finish driving the Pacific Coast Highway. Since it is over 1,300 miles of coastal roads, the longer you take to do the drive the more you can see and do.
Where does the Pacific Coast Highway start and end?
The Pacific Coast highway starts near San Diego as road 1, continues up and around western Washington and ends near the eastern end of Olympic National Park (road 101).
Is the Pacific Coast highway easy to drive?
Most of the Pacific Coast Highway is easy to drive, but there are many zigzag turns and sometimes one lane drives that make it tough to drive on when the road is crowded.
What is the prettiest part of the Pacific Coast Highway?
There is no single part of the Pacific Coast Highway that is better than all the rest. The prettiest parts of the PCH are Big Sur, Russian Gulch, south and north Oregon Coast and northern Washington in my opinion.