It's not common to find a beach with waterfalls on their shore, but in this article I'll share the 18 I've found so far that do as well as their locations and I'll tell you right now, all of these places are gorgeous.
Here are the 18 beaches with waterfalls I've found so far (Used to be 9):
Hug Point Waterfall (Oregon).
Mcway Falls (California).
Miller Creek Falls on Secret Beach (Oregon).
Mystic Falls (Vancouver Island).
Sombrio Beach Hidden Waterfall (Vancouver Island).
Alamere Falls on Point Reyes (California).
Shannon Falls (North of Vancouver).
Third Beach Falls (Washington Coast).
North Shore Minnesota's beach waterfall.
Spray Falls (Michigan Coast).
Mooney Falls (Arizona).
Lower Calf Creek Falls (Utah).
Punchbowl Falls (Oregon).
Upper Falls (Ohio).
Ash Cave falls (Ohio).
Creation Falls (Kentucky).
Flat Lick Falls (Kentucky).
Hamilton Pool Preserve (Texas).
And of course, the more waterfalls on beaches that I find, the more I'll add.
1) Hug Point (a beautiful beach waterfall on the Oregon Coast):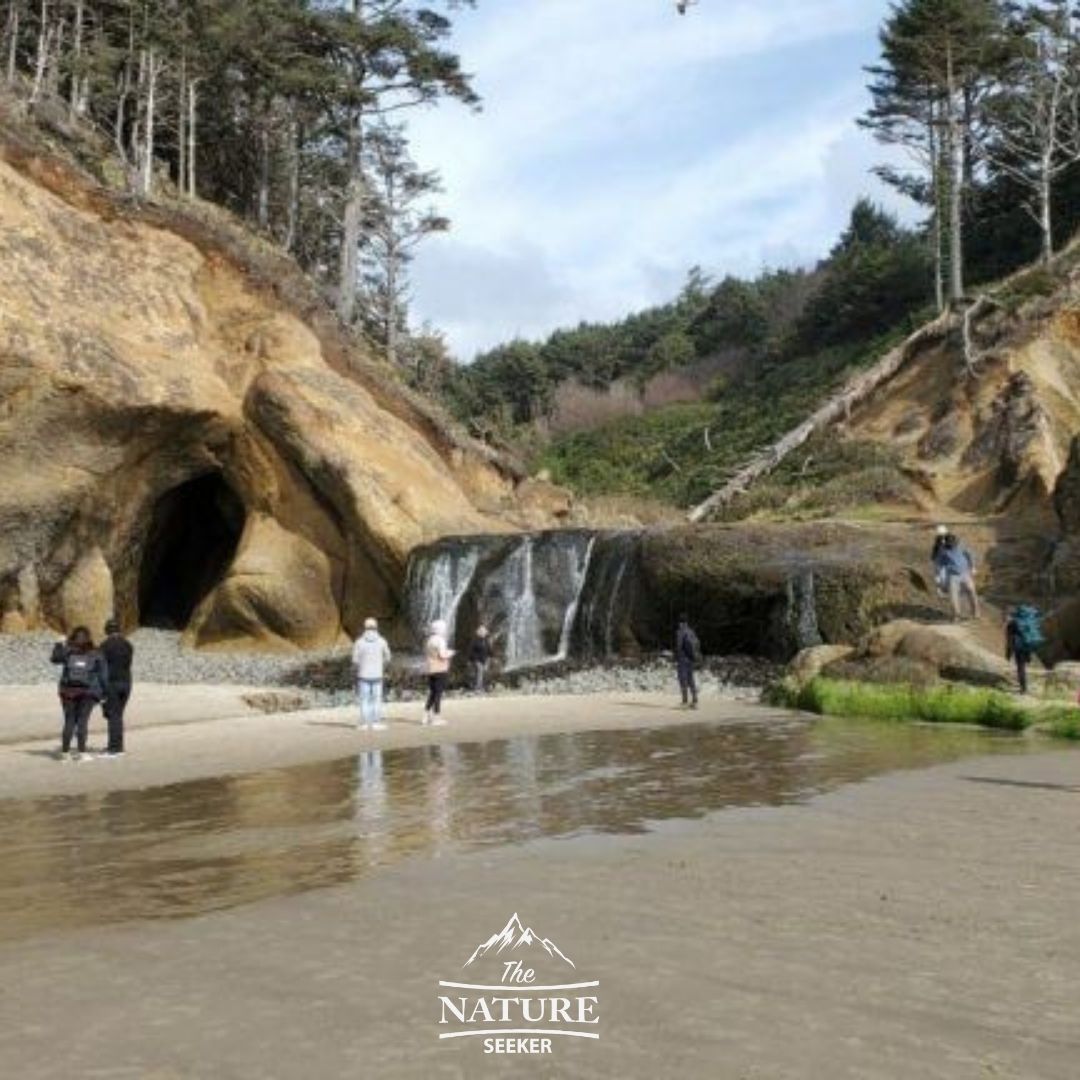 Location:
Located about 30 minutes from the famous Cannon Beach, Hug Point is one of the most famous places in all of Oregon Coast that has an awesome waterfall right on the beach. This spot in Oregon also has many sea caves (as you can see).
Details:
Hug Point is accessible whenever there is low tide and this is important. The height of this waterfall is only about 15 feet, but it's wide and very beautiful to hike up to.
I've visited Hug Point twice, once during high tide and I wasn't able to access the waterfall, but the second time during low tide when it was possible. Since high and low tides change seasonally, check when they happen to time your visit to Hug Point correctly. There are also sea caves present on the beach here too. And Hug Point makes for a great hikes on the Oregon Coast.
2) Mcway Falls (it's the most popular beach waterfall in California):
Location:
Mcway Falls is located in Pfeiffer State Park (Big Sur, California).
Details:
Mcway Falls is probably the most famous waterfall on the beach in all of California and possibly all of the west coast. In fact, if you Google anything related to beaches and waterfalls, odds are this is the most common picture you'll find in the search.
While it's not legally accessible (you can't go down to the beach because it's illegal, you can still enjoy a viewing area next to it or camp out right above (with a permit). The waterfall is 80 feet high and the scenery around it is spectacular as is the region of Big Sur where you'll find this place.
So if you do visit, make sure to check out the greater Big Sur region in addition to Mcway Falls as there's plenty to explore, like the 5 spots I recommend in the Big Sur article above. And just so you know, camping is available right above this waterfall (but it does also require a permit and reservation).
3) Miller Creek Falls on Secret Beach (Oregon):
Location:
Secret Beach (Southern Oregon Coast).
Details:
Miller Creek Falls isn't as famous as Hug Point but Secret Beach, where you'll find this waterfall is and this waterfall is about 25 feet high and flows right into the water. I didn't even notice this waterfall when I first saw it because I was so enamored with the beauty of Secret Beach itself that it kind of distracted me.
There is something very interesting about Secret Beach though and that is that throughout it, there are actually 4 waterfalls at any point in time, and Miller Creek Falls is the most known about. And if you do visit this place, I strongly recommend visiting Natural Bridges next door to this spot, as its also very beautiful and one of the scenic places you'll find on the Pacific Coast Highway. Besides that waterfall, make sure to explore the greater Secret Beach area as there is a lot to see, including Oregon's top sea caves, awesome hikes (be careful though) and the ability to check out more spots during low tide.
4) Mystic Falls (Vancouver Island):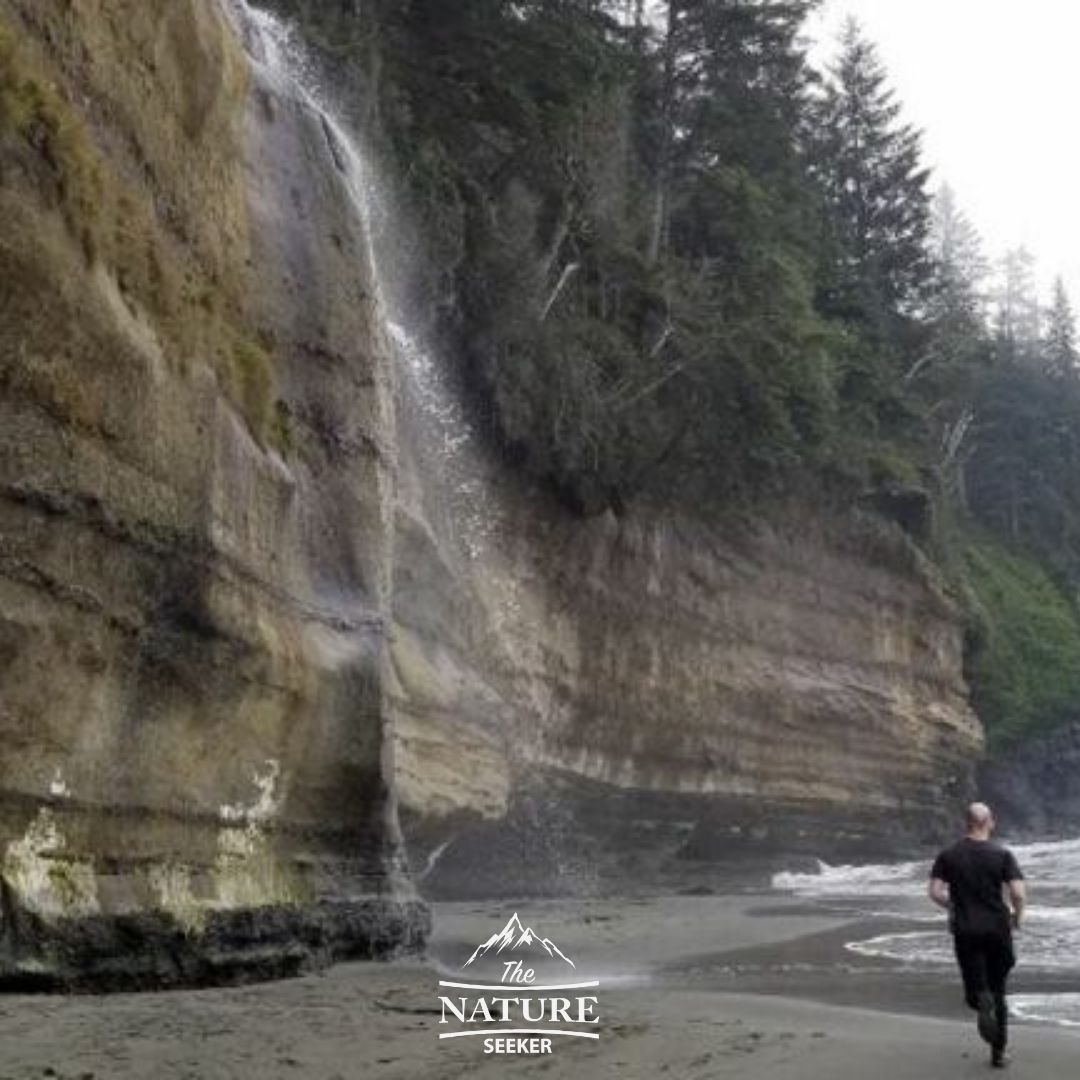 Location:
Vancouver Island (southern part).
Details:
Out of all the beaches on this list, Mystic Falls is the one which comes closest to the actual beach (only about 10 feet away) and depending on the tide, you can get right to it (obviously go during low tide). This waterfall is about 40 feet high and the landscape around it is also spectacular.
There are great scenic hikes around the area and camping is allowed close to the waterfall too by the way. Frankly, besides Mystic Beach's waterfall, there are also many other beautiful areas to explore on Vancouver Island. But certainly, if you go, add Mystic beach to your list because it is one of the top spots I've seen. And if possible, do explore the other regions of Vancouver Island, because there is a ton to see there as well! Moving on (more Vancouver Island beaches with waterfalls):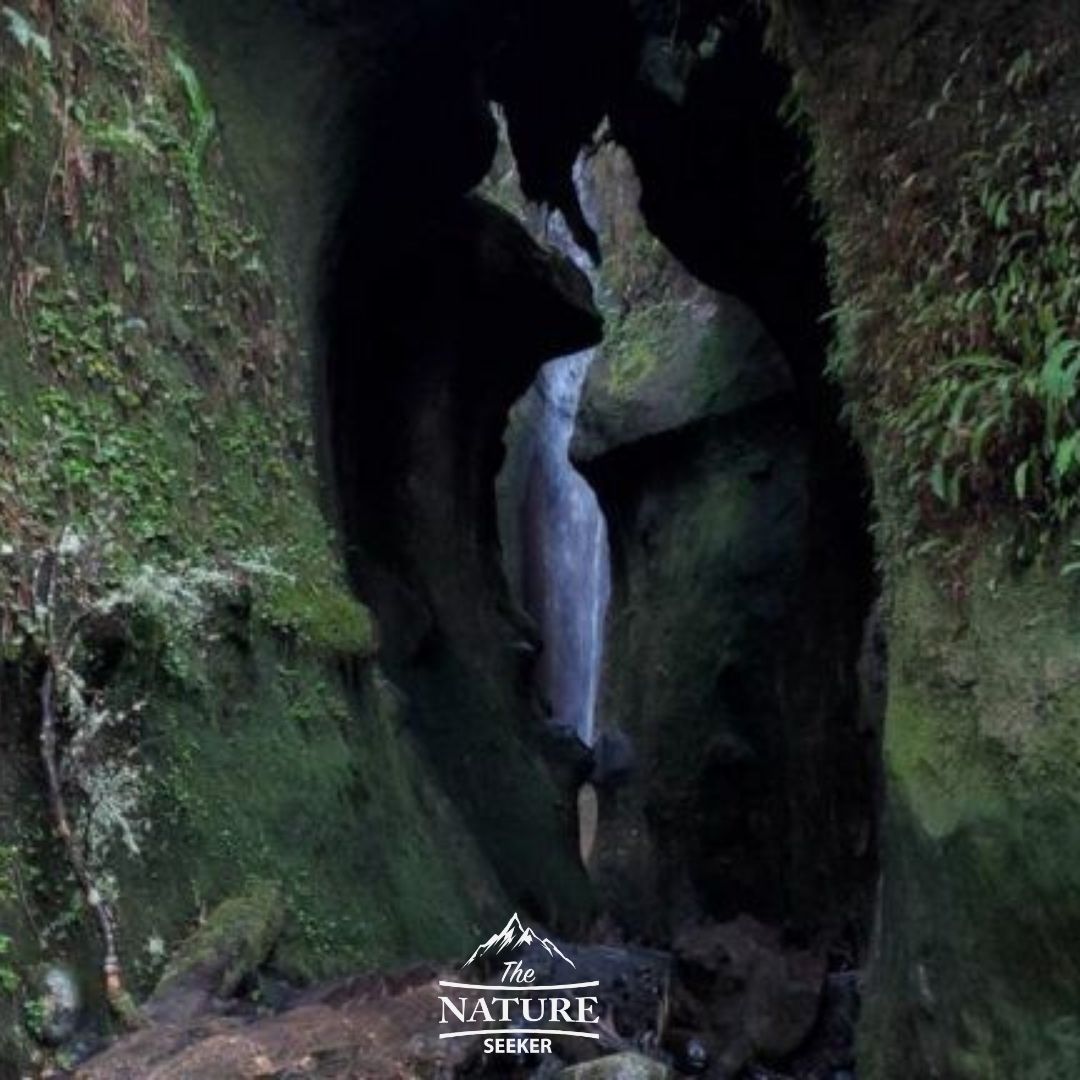 Location:
Vancouver Island as well (southern shore).
Details:
Sombrio Beach isn't far from Mystic Beach but the waterfall you'll find here (it's hidden so you have to know how to find it), is in my opinion one of the most beautiful I have ever seen. It's not directly close to the beach and is about 50 feet away from it, but it's located in a secret canyon and it's beauty is just something else.
The picture to the right might look great to some people, but let me say, being there is a whole other experience that is surreal and truly difficult to describe until you experience it yourself. And don't worry, while it is hidden and some say it's "secret", it really isn't and I have instructions on how to find Sombrio Beach's hidden waterfall here if you're planning to find it.
It's not difficult to find, but requires a bit of hiking on Sombrio beach to reach. That being said, you may also want to explore a place called Hole in The Wall Waterfall, which is on the northern end of Vancouver Island (it's not on a beach though).
6) Alamere Falls California: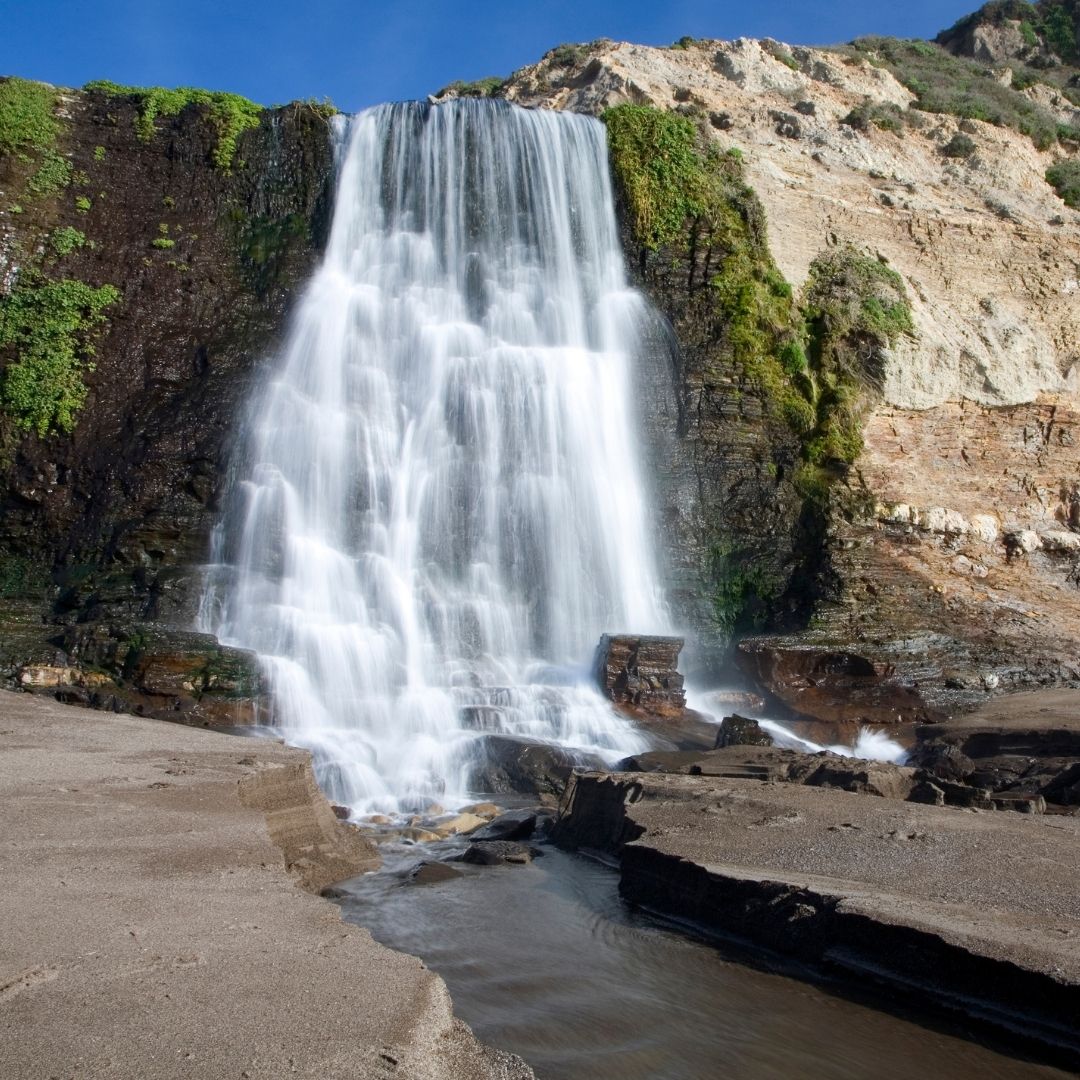 Location:
Point Reyes in California.
Details:
Alarmere Falls is one of the only beach waterfalls on this list that I have not yet visited. But because it is pretty well known (for the fact that it's so beautiful and on the beach), it's an easy add on to this list. Anyway, it is located on the California Coast (In Point Reyes obviously) and is about 40 feet high.
Finding it is easy and considering how large it is, it's hard to miss this waterfall. There isn't any major hike leading up to it from the parking lot, just a basic walk on the beach so most people should be able to get here easily. You can also hike to the top of Alamere Falls if you want where you'll get a nice panoramic shot of the coast (especially during sunset time). But to me, the base of the falls is where the best views are at. If you're in Point Reyes, do not miss this waterfall!
7) Shannon Falls: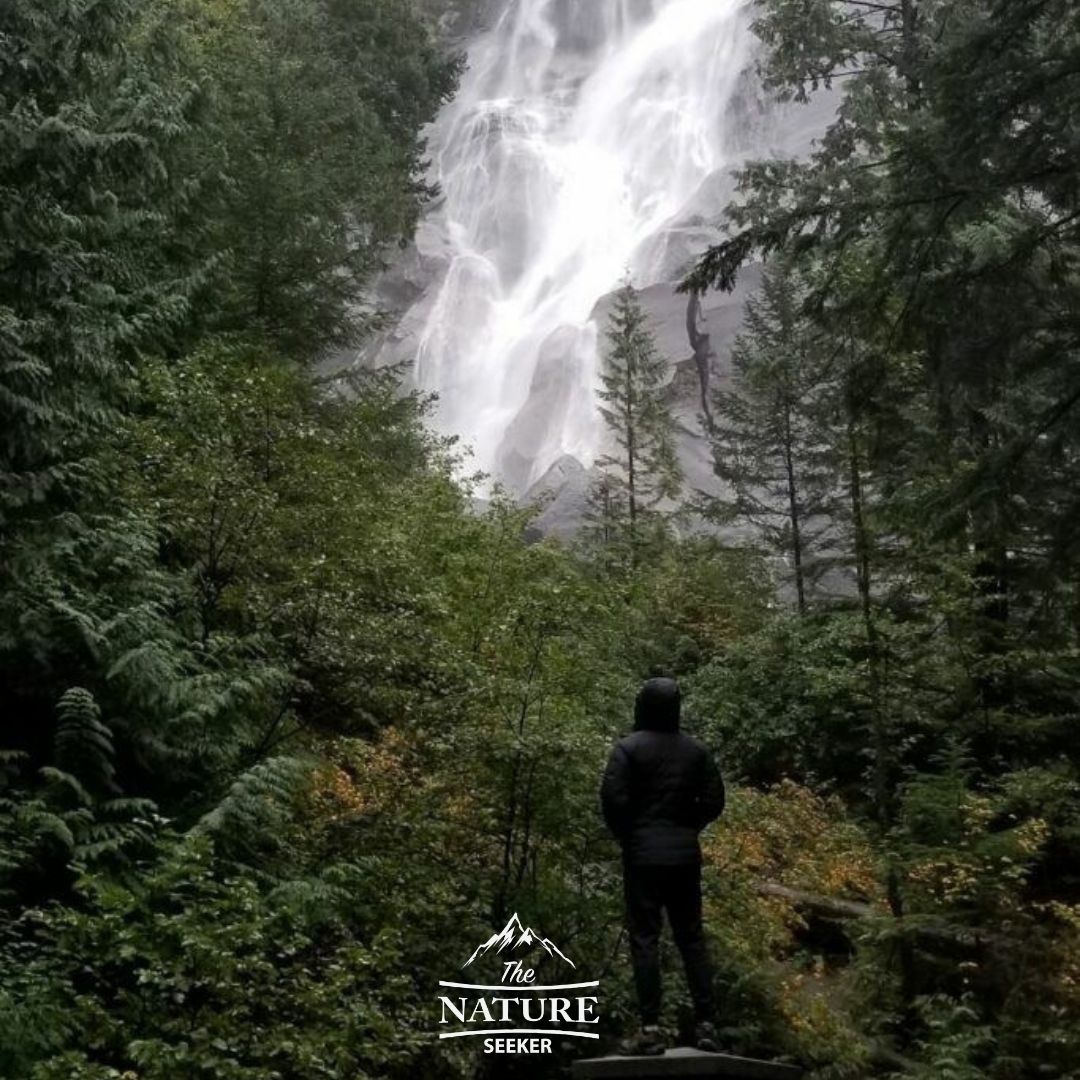 Location:
Western Vancouver coast (not the island).
Details:
Shannon Falls is the biggest waterfall on this list that I've found (and it's not hard to miss). It is located between Whistler Canada and Vancouver (not the island, but the city).
It's also about 200 feet away from the coastline next to it and while there is no official beach around the area, Shannon Falls is a marvel to explore if you're heading north of Vancouver and wish to see some beautiful spots. I just couldn't make this list and not include this waterfall.
It's about 1,000 feet high and so gargantuan that you will see it from far away and not believe it's actually there. The only thing that really covers it are the trees close to the road, but don't worry, there will be an opening in the trees to allow you to see it, with an exit following that opening so you can go into the parking lot and go to the trail that takes you close to the waterfalls.
But yes, prepare to have your jaws drop when you first see this waterfall. At least that was my first reaction when I passed it and it probably will be the same for you when you get there too. I realize with this waterfall, I'm sort of breaking the rules, but it's close enough to the beach to be part of this list and like I said before, I couldn't leave it out. It's gorgeous, gigantic and truly amazing. There's also an awesome park close to it called Whytecliff Park I'd recommend you see too.
8) Third Beach Falls: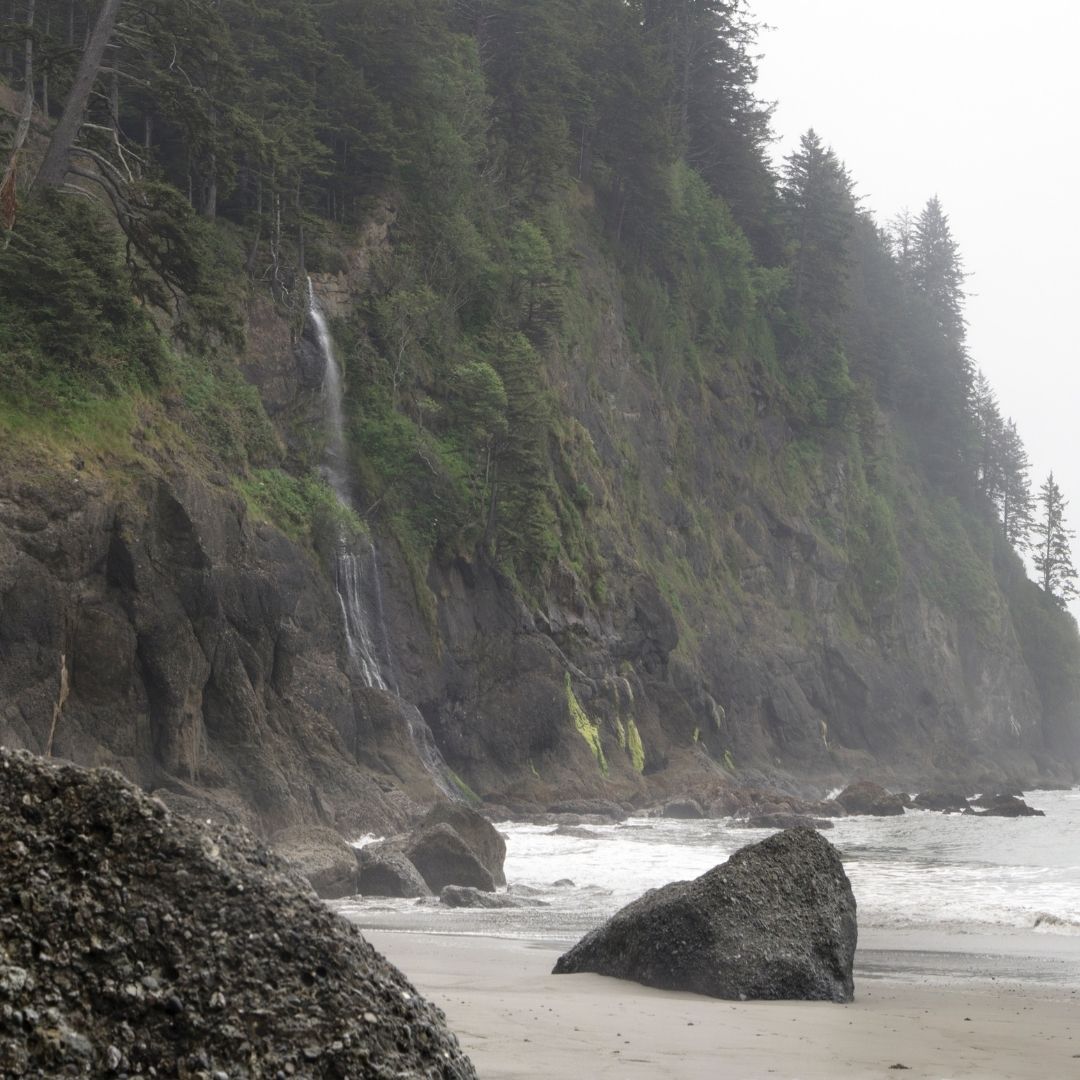 Location:
Third Beach on the Washington Coast.
Details:
When I explored the Washington Coast for a second time, I was rushing to see a famous place called Cape Flattery and in the process missed this beautiful spot that was literally close to Ruby Beach, one of the places I had visited. Third Beach has an over 100 foot waterfall that I will explore the next chance I get and the beach/location here is very beautiful (and will add pictures as well).
This beach and waterfall are part of the Olympic National Park peninsula. It also have one of the coolest waterfall hikes in Washington based on what I've researched.
In fact, the west coast area overall is something I recommend exploring. You may not find many beaches with waterfalls, but you'll definitely find jaw dropping spots and I share a ton of them on this website and the links throughout this article. As far as I know also know, there is a very popular, but tough hike right by Third Beach Falls people can explore (it involves a lot of climbing and also has cool, secret beaches to explore).
9) Minnesota's North Shore beach waterfall: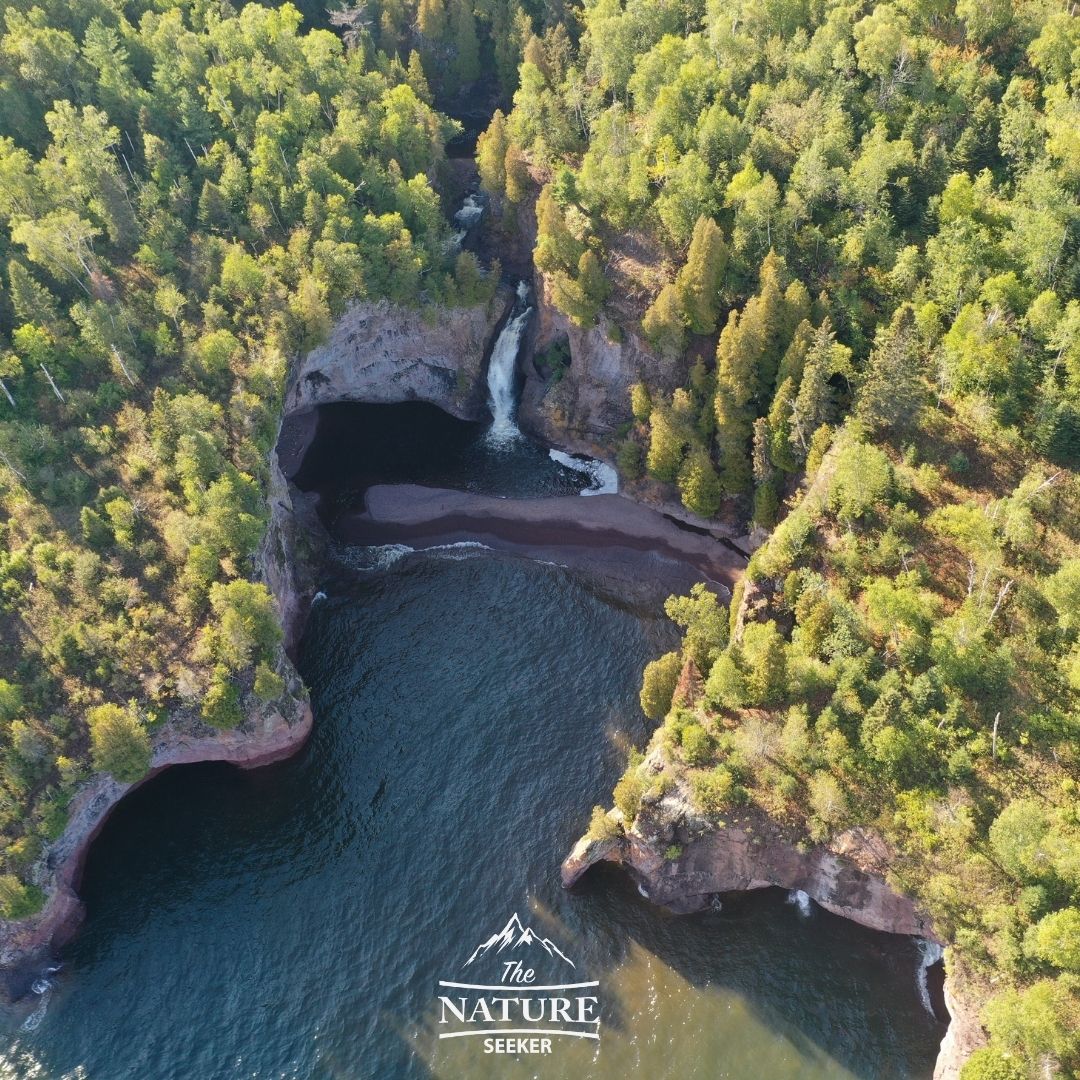 Location:
Minnesota Coast (known as the North Shore).
Details:
I remember finding one of these beaches with waterfalls near me while I was on the North Shore in Minnesota which borders the gigantic Lake Superior. This is not a waterfall you'll easily find or be able to reach unless you have special instructions and when I visited this coast, I did try to check it out, but couldn't find any area that was publicly accessible.
The only way I personally know this is reachable is by kayak and in the future, I'll be sure to see if there are more areas where this can publicly be accessed (the area around this waterfall is restricted unfortunately). For me, the day I was able to find this waterfall (on a GPS), I tried to find a kayak rental spot nearby, but sadly, no one was renting out that day due to the water being too stormy. But out of all the waterfalls on this list, if you can legally reach it (likely by kayak), you may have the best views out of any beach waterfall on this list, because there's sea caves, beaches and a lot of stuff to explore this small region.
10) Spray Falls (Michigan):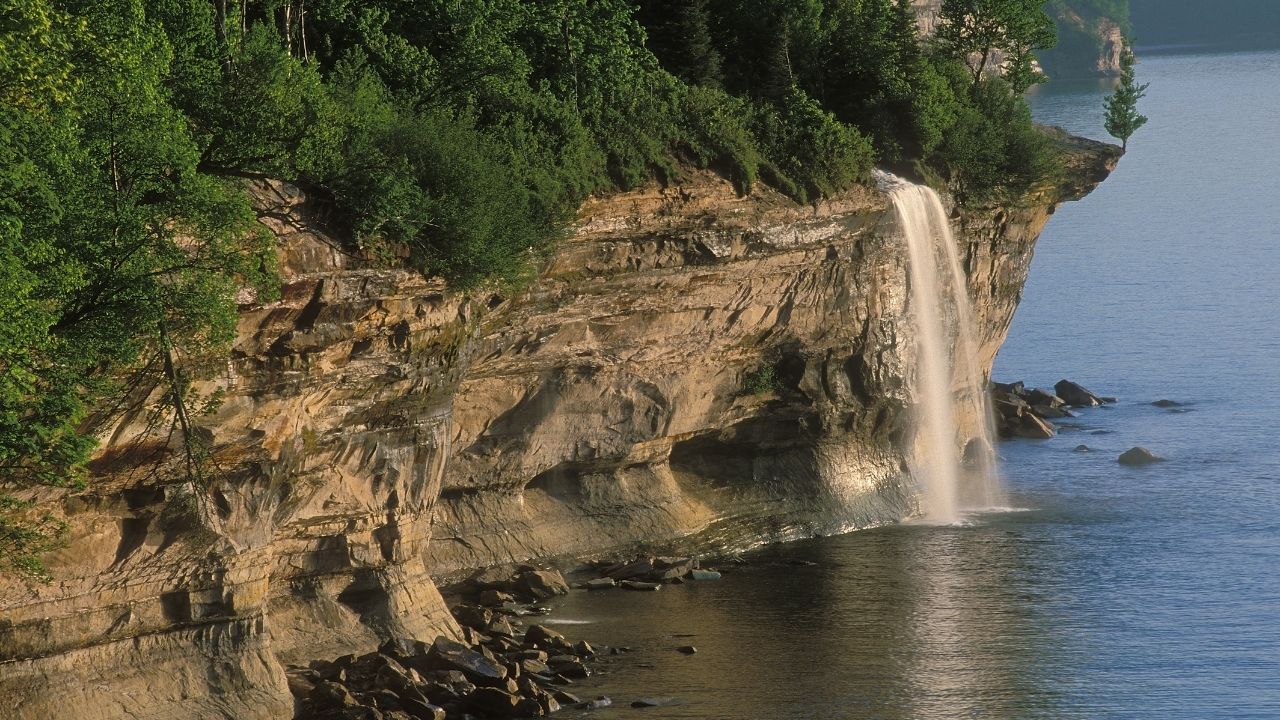 Location:
You'll find this amazing waterfall in the Upper Peninsula of Michigan, specifically Pictured Rocks National Lakeshore (national park).
Details:
To get to this area, you have to hike several miles to the coastline. I've included details on how to find this spot in the link above (expect a 2-3 mile hike) but you will have to start at a place called Chapel Falls trailhead. In this particular area, you will also find other cool waterfalls on the beach, but in my opinion, Spray Falls is the most amazing one to look at. Make sure you also do the longer version of this trail if you go here, because close by are other scenic views to check out.
11) Mooney Falls (the most beautiful beach waterfall I've seen so far):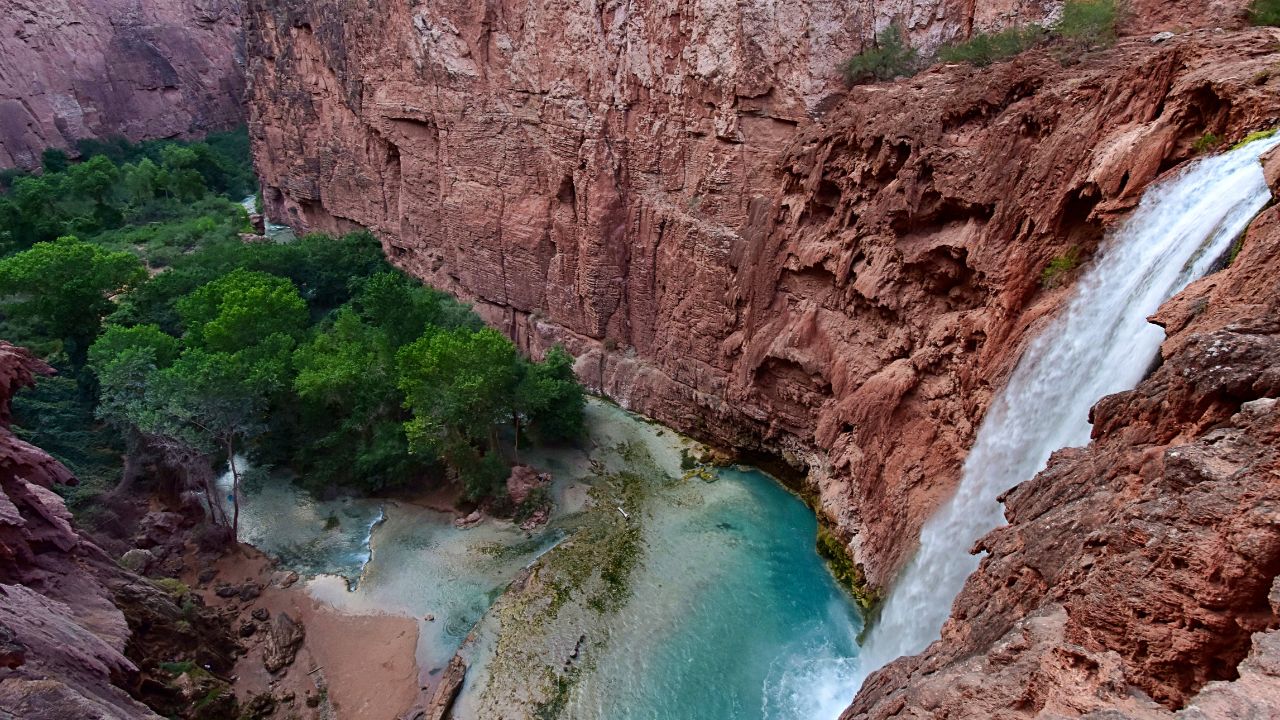 Location:
Havasupai Reservation in Arizona.
Details:
You wouldn't expect a beach waterfall to be located in Arizona but there happens to be quite a few Arizona waterfalls in the state, but the one in this case is called Mooney Falls, a 100+ foot waterfall in the Havasupai Reservation region which is located in the western part of the Grand Canyon.
Getting to this area is not simple as you have to first reserve a camp/hotel a year ahead of time (there might be a lottery to get in there now), and then you have to hike at least 10 miles to get to the reservation. But if you are able to do this, then there's a good chance that what you see in this area, including Mooney Falls might be on the most amazing sights ever.
12) Lower Calf Creek Falls: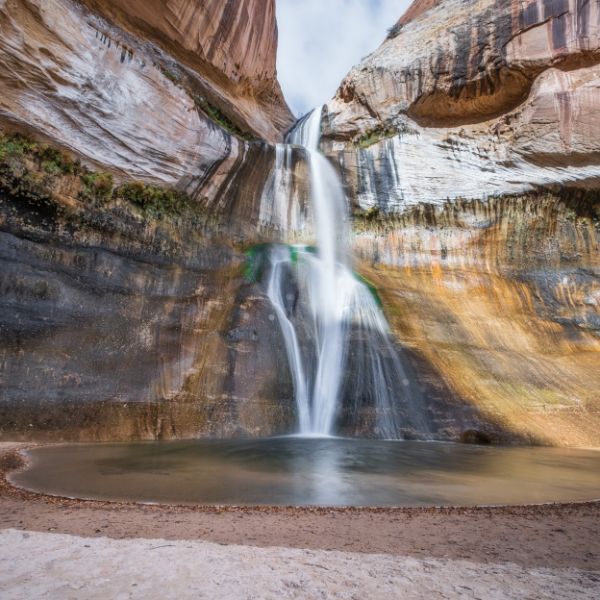 Location:
Utah (Grand Staircase Escalante area).
Details:
Here's another area you wouldn't think has waterfalls (Utah) but this one is actually over 150 feet high. It is called Lower Calf Creek Falls and there's a 3 mile hike required to get there. Right next to it is a beach and the overall area getting there is absolutely stunning. I also recommend this spot not just for the beach waterfall there but also because this is one of the best hikes in Utah in my opinion.
13) Punchbowl Falls: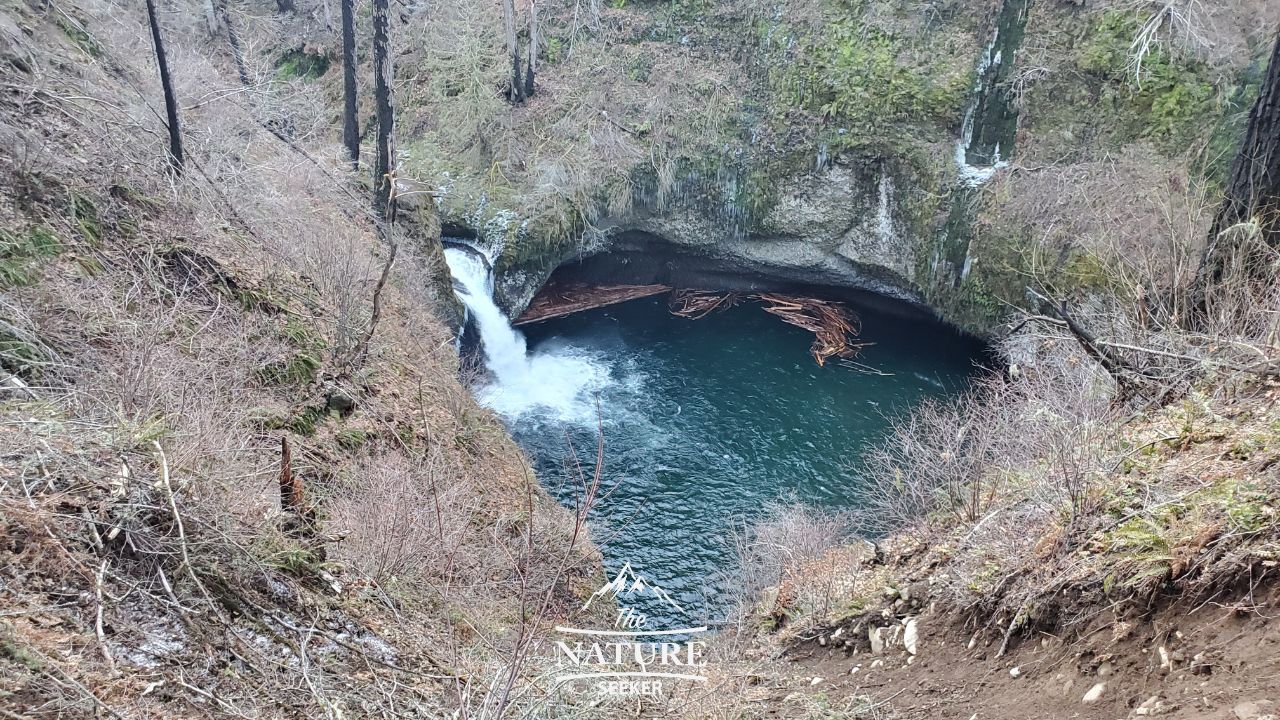 Location:
Oregon, specifically on the Eagle Creek Trail located in Columbia River Gorge.
Details:
Here's another unusual beach waterfall I decided to add to the list: Punchbowl Falls. It's located off a very popular trail in Oregon called Eagle Creek trail. While on that trail, there is a side hike which leads to a beach overlooking this waterfall from the bottom. Swimming there is not allowed, but this is a very beautiful beach waterfall to check out in the Oregon area.
14) Upper Falls:
Location:
Ohio, specifically in Hocking Hills State Park.
Details:
Ohio actually has numerous beach waterfalls and this one is in my opinion one of the most photogenic. It is located in the middle of the park (see details on my Hocking Hills State Park post) and is free to check out. Swimming here is also not allowed, but as you will notice (if you come here during the right times), the area is stunning and the water really is that blue there.
15) Ash Cave falls:
Location:
Also in Hocking Hills State Park, further south of Upper Falls.
Details:
I doubt you'd ever imagine that this type of place would ever have an amazing beach waterfall, yet Ash Cave really does and because it's also not far from the Upper Falls area, you can easily see both these places in a single day (among other spots in this park). This is basically a giant cave, with a waterfall and beach all around it. Swimming here is not possible because there isn't deep enough water, but the beauty of this area and the simple hike that takes you there is what makes this spot worth going to.
16) Creation Falls:
Location:
Red River Gorge Kentucky.
Details:
Creation Falls is a hike you can do in a very popular outdoor spot in Kentucky called Red River Gorge and while the beach waterfall here isn't as amazing as many of the other spots I've talked about so far, what I can tell you is that the hiking here, including to this spot is worth checking out.
17) Flat Lick Falls:
Location:
Also in Kentucky.
Details:
Flat Lick Falls is a popular beach waterfall spot in Daniel Boone National Forest, which is located in Kentucky and there is a short hike to get to it with a combination of a small beach and boulders that surround it. You may also have noticed that the color of the water is the same here as it is in Hocking Hills State Park as Red River Gorge and this is because all of these areas are part of the same region in the US where that type of color is seen throughout most of the year.
18) Hamilton Pool Preserve: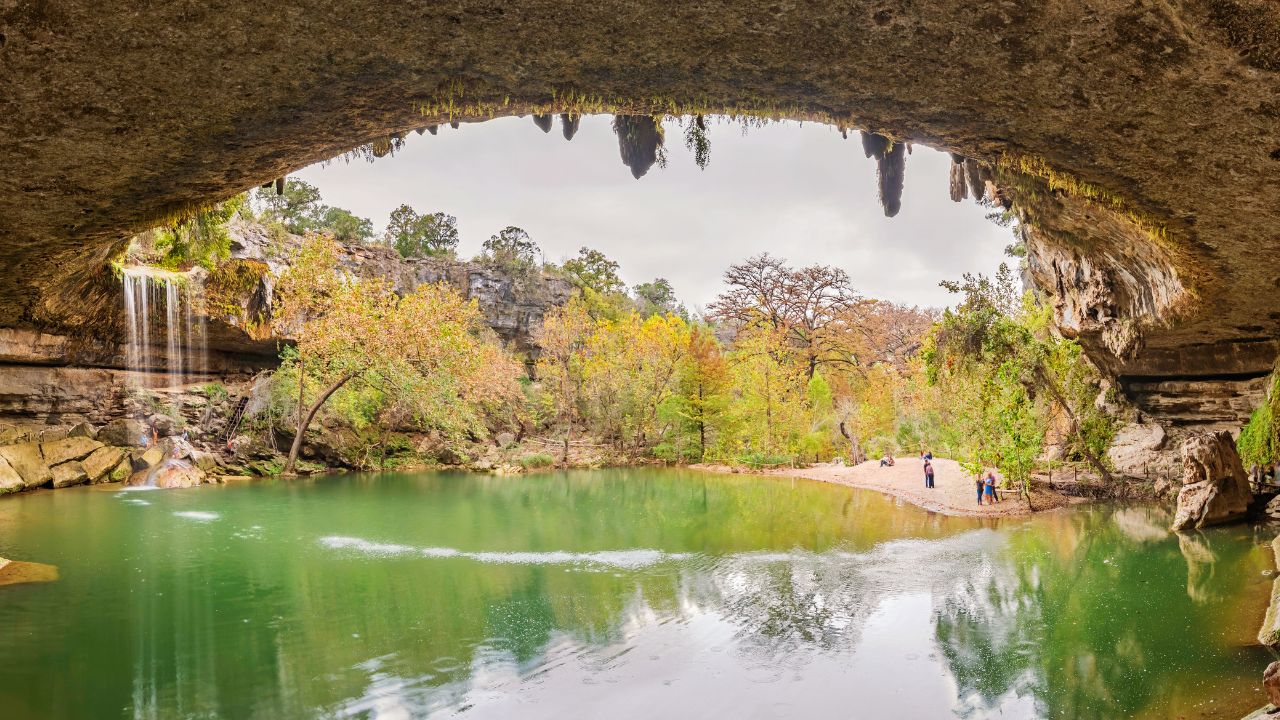 Location:
Texas (near Austin).
Details:
This is (potentially) a very awesome place with a beach waterfall to check out if you're visiting Austin. It's a cavern/cave type area you have to reserve a visit to. Once you get there, you have to do a short hike to reach the spot, but I want to quickly mention why I said potentially earlier regarding Hamilton Pool.
Currently a large section of how much you can actually see there is closed due to some dangers and if you do wish to go there just know this. If you just want to see the beach and swim in the area, you can still do this, but for exploring the area in the cave and behind the waterfall, that's closed off, so if that bothers you, then I'd only go here if you can confirm it's reopened.
More beach waterfalls to be added in the future (add your recommendations below):
When I started this list of beach waterfalls, the number was far lower than it is now and it will continue to go up. At the same time if you have additional recommendations of more spots like this to see, then I would highly appreciate it if you did below!