Every time I make a trip through the Pacific Coast Highway or the west coast in general, I always make sure to stop at Columbia River Gorge, even if it's only for one day and one of the reasons why is because there's so many nature gems to see, 10 of which I'll share with you on this list, all of which are on the Oregon side of the gorge.
But before we cover them, here's some basic facts about the Columbia River Gorge area:
What is Columbia River Gorge?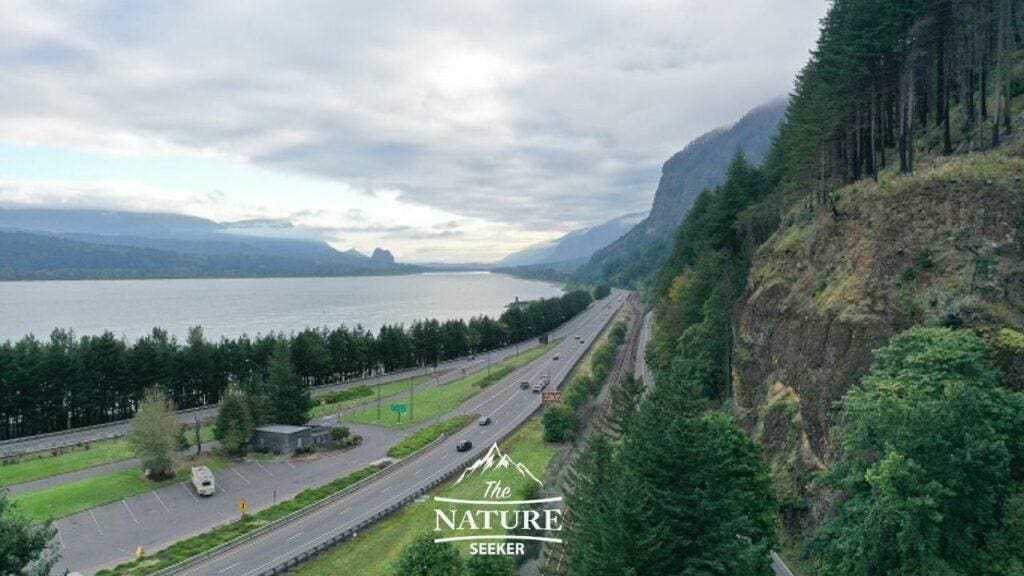 It is a long river that divides the states of Washington and Oregon and has canyons on both sides of the river. There are plenty of scenic roads, hikes, camping, explorations and adventures available in this region which is very close to Portland.
The following picture you see above was one I took during one of my visits through this spot and it shows how beautiful it can get. However, there are many more places to see in this region which are just as beautiful if not more so, and as you dive deeper into the Columbia River Gorge area, you'll see this.
My history with exploring Columbia River Gorge: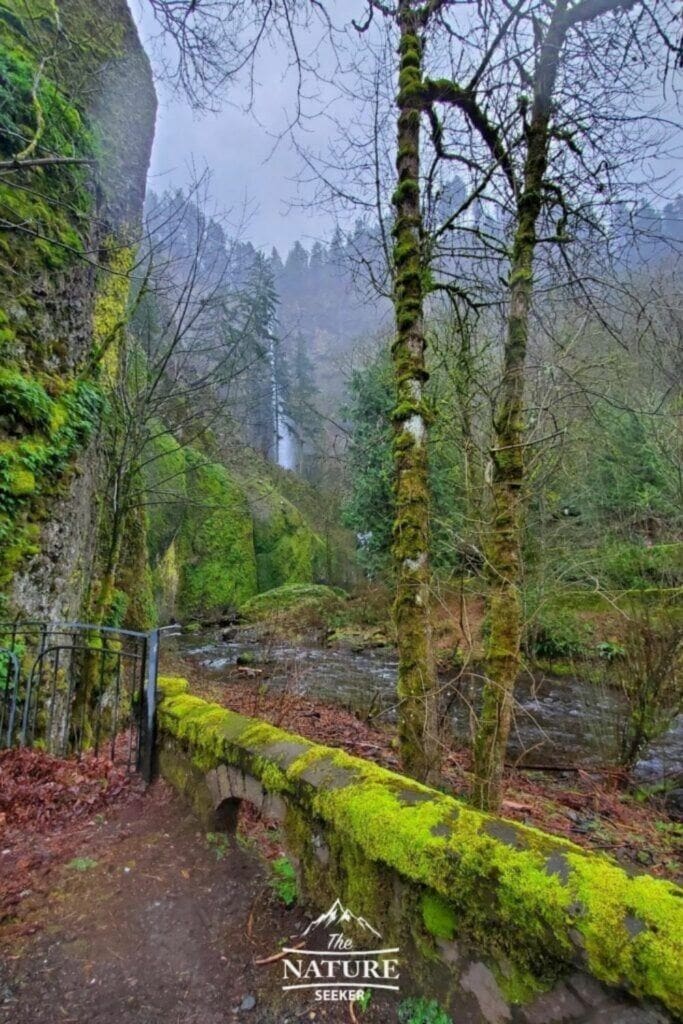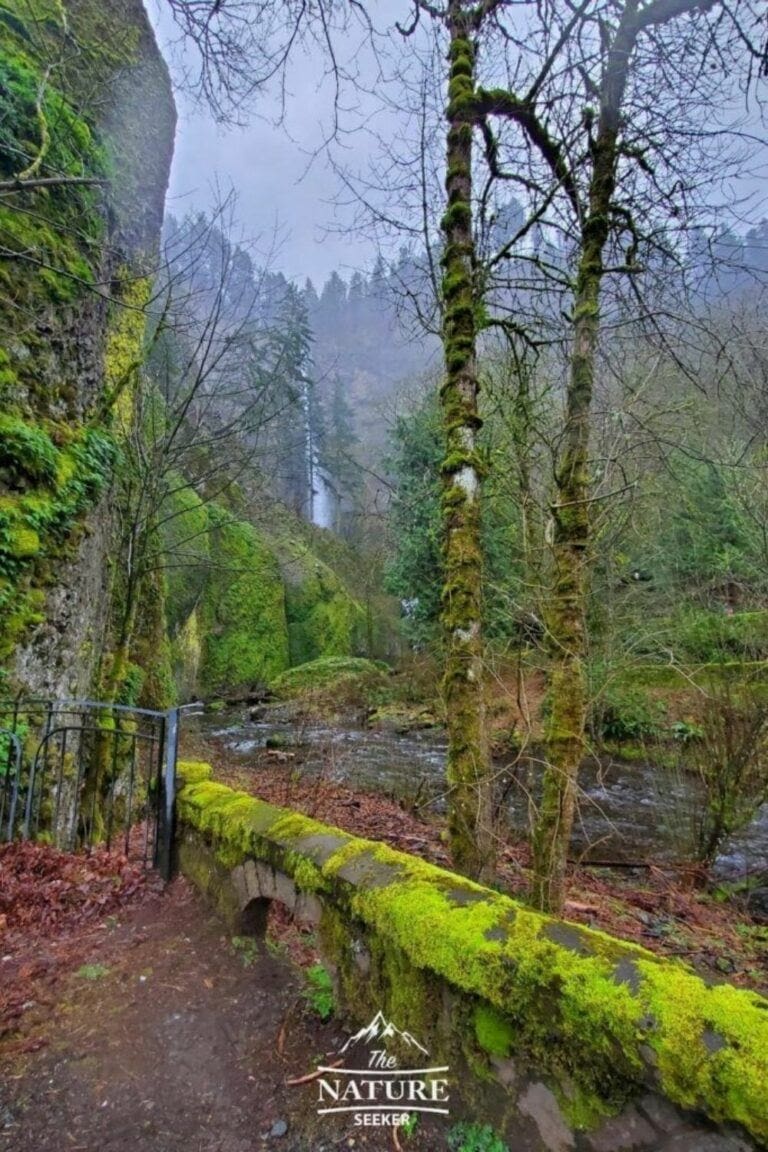 I've visited this area 3 times, and each time sadly had only 1 day to explore some of the spots on this list.
The first time I explored this region was by myself during a Pacific Northwest road trip through this area.
The second time was when I started another major road trip near this region and ended up doing a road trip through western Canada.
And the third time was in March of 2020 when I had visited this region with a friend I was dropping off near Portland before continuing my road trip across the western US by myself.
Each time I had crossed this region, I would try to revisit my favorite places and try to find new ones to make the list I have for you today and so far, all the spots I've checked out here were all on the Oregon side of it, which happens to have the most scenic areas (arguably). I still haven't checked out what this region looks like from Washington's end or what that state has to offer when it comes to Columbia River Gorge, but once I do, I'll write another article dedicating the spots to see in that state.
When is the best time to visit Columbia River Gorge?
I've visited this place on a February, March and September. My opinion is that the best time to see this area is in March, because what happens in this place is just magical, just as Spring is coming up. Let me explain and give you a brief preview of what I'm talking about:
The snows melt by mid February and the fresh new green nature starts sprouting all around.
By early March it is quite literally glowing green in all of Columbia River Gorge and that green makes this region unbelievable.
While it's still beautiful during other periods I've been there, I found this time to be the best time to see it. That emerald green has to be seen to be believed.
The good news is, I have an identical picture of one of the spots I've visited on this list, each time, so you can see the nature, how it looks and decide for yourself which picture is best:
For the February and September photos, I used a Samsung S8+ and for the last one I used a Samsung S10+. Obviously, the quality difference is easy to spot, but what I am eluding to is that green nature that personally vibes with me more:
Here are the 10 things I recommend you do at Columbia River Gorge: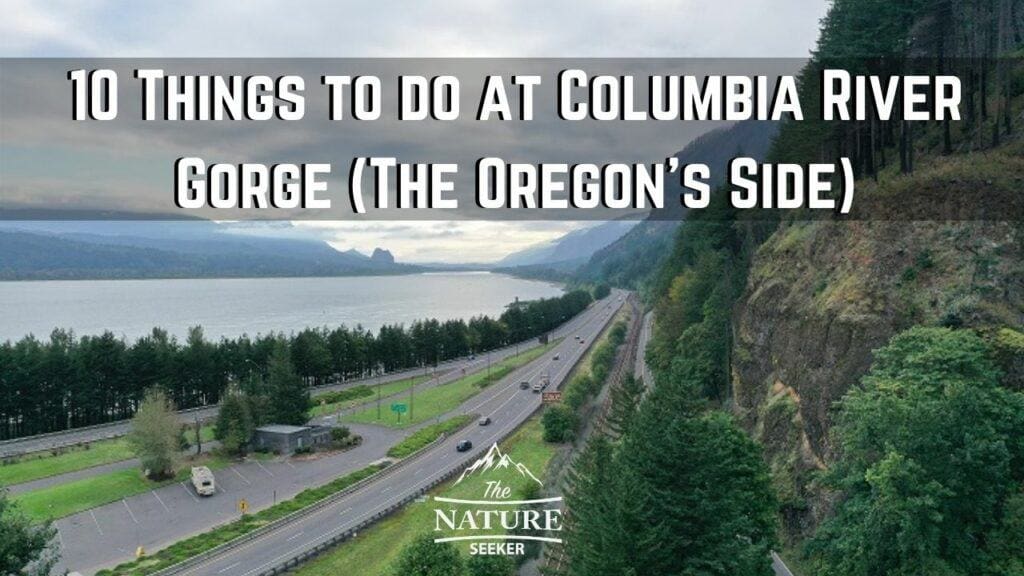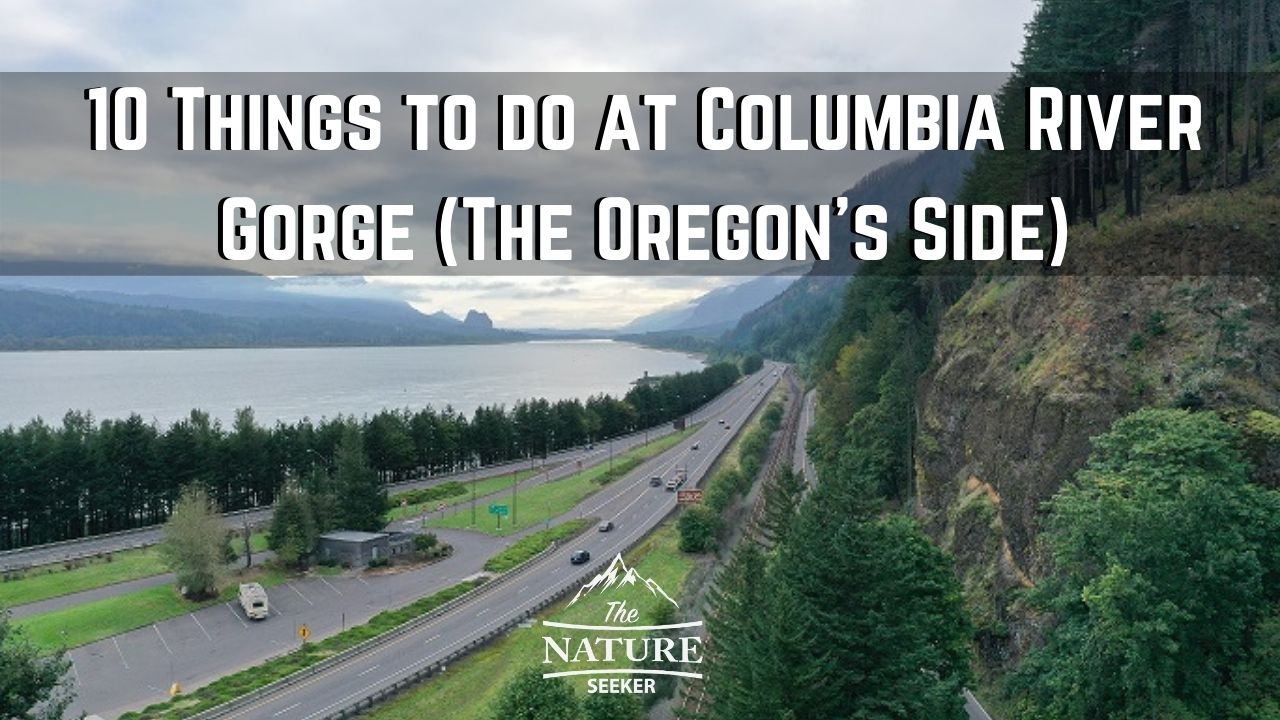 See Multonomah Falls.
Hike through Oneonta Gorge (currently closed).
Check out Horsetail falls.
See the Columbia River Gorge Vista House.
Do the Columbia River gorge scenic drive.
Hike to Dry creek falls.
Explore Wakheena falls.
Hike Fairy Falls.
See Ramona Falls.
Do the Eagle Creek hike (currently closed).
The beauty of Columbia River Gorge is that all 10 of these places are fairly close to one another, with the exception of Ramona Falls.
But all part of the same region so you can really explore many of the places on this list, even in a single day. Let's get started:
1) Check out Multnomah Falls: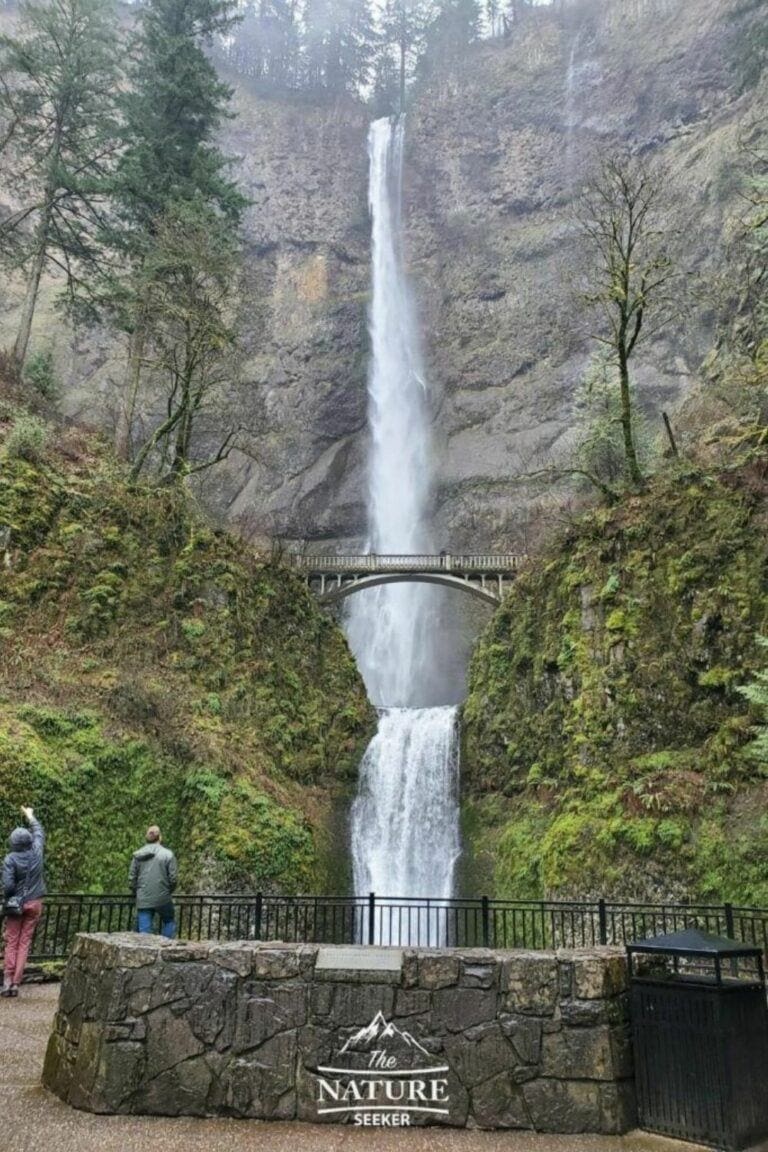 When people look up Columbia River Gorge, besides seeing the gorge itself, one of the other most common photos you'll find it is of Multnomah Falls, as it happens to be one of the most popular spots to visit here. In fact, it was the first place I'd visited when I drove through Columbia River Gorge.
It is a spectacular and giant waterfall, at over 600 feet high. Getting to it is very easy as there happens to be a parking about 100 feet away from the base of that waterfall. An optional trail is also available that takes people to the top of the waterfall and I believe it is about 2 miles long.
Additionally, there is also a gift shop and restaurant right near this area which (if you sit in the right spot) will give you a great view of the waterfall. I happened to do that the last time I came through this place and I really enjoyed the view (and the food too). If you have a chance to visit this restaurant, I recommend it (highly).
2) Do the hike at Oneonta Gorge (closed and open randomly):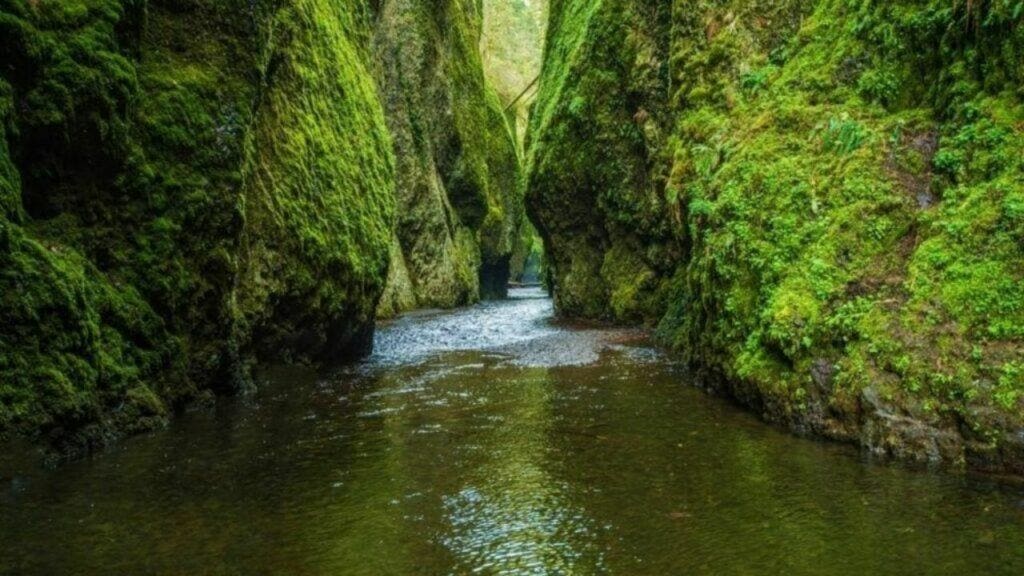 Despite being closed due to a fire that occurred about 5 years ago, I still have to include Oneonta Gorge on this list because it has opened a few times in recent years and also simply because of how beautiful it is based on the photos I've seen, one of which I purchased to show you here.
One of the reasons I have continued to return to this region is because of Oneonta Gorge and the desire to hike through here. It is a 1 mile gorge that is extremely beautiful and leads to a nice waterfall. For nearly 5 years now, I've been trying to hike into this area, only to see the same "closed" signs again and again.
It has become a very frustrating thing for me given what I've seen about how beautiful this place is and the fact that it may be one of the most beautiful places I have ever seen in my life. Yet, it continues to evade me and I continue to ask the services that run this area when it'll open up, only to get no apparent ETA on that.
I really think that if they let private companies handle this, this place would reopen in a month and if you're wondering why it's still closed, apparently, the trail has become dangerous with boulders and trees falling into the gorge due to the fire. Anyway, I'll keep it on this list and hope that one day it'll reopen. When (if) it does, I'll definitely hike through it. However, on a bright note, I recently explored a beautiful spot that reminded me of this place and it's actually a "secret gorge" in the North Shor MN area (that's Minnesota).
3) Drive by and check out Horsetail Falls: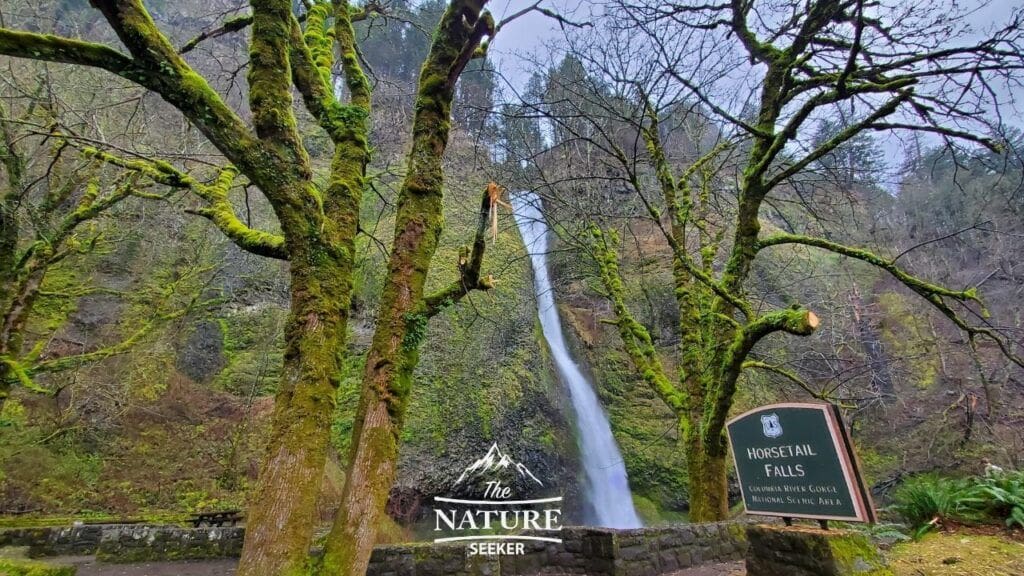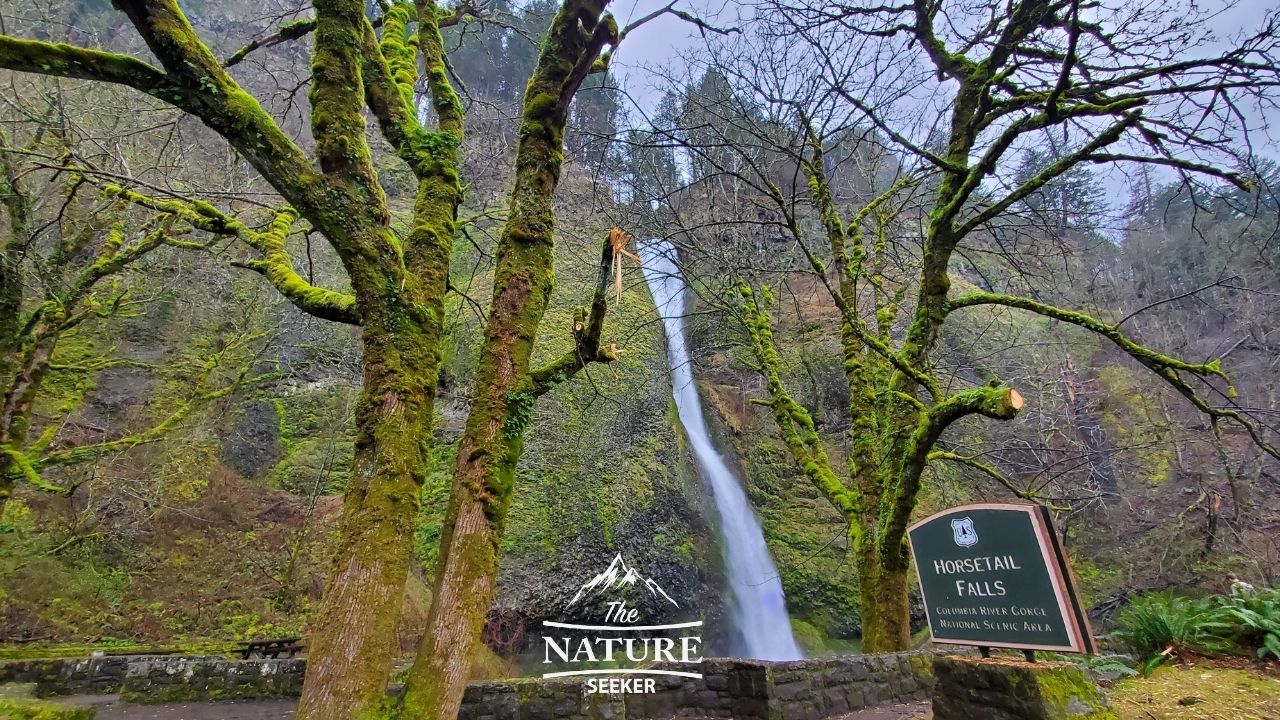 Horsetail falls is located about 200 feet away from Oneonta Gorge and is also right of the scenic road that goes through this region. It is a very beautiful waterfall, at over 80 feet high and with a nice viewing area right next to it worth checking out.
Parking is available right by this waterfall and you don't need to hike at all to get close to this falls. There are many photographers who go here and from time to time, you'll also see people doing wedding engagements here too. Lots of beautiful photos have been taken by Horsetail Falls.
4) Visit the famous Columbia River Gorge Vista House: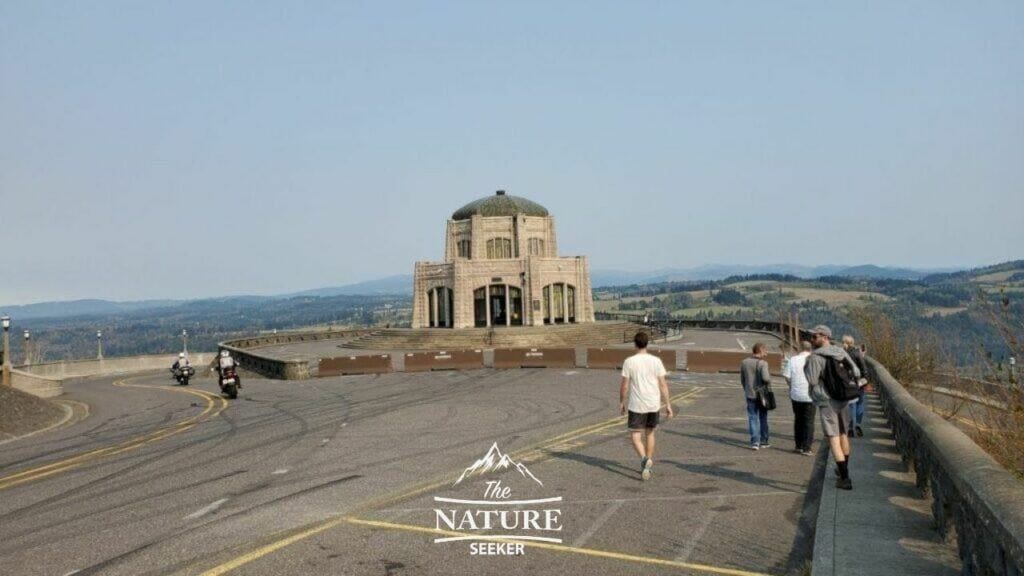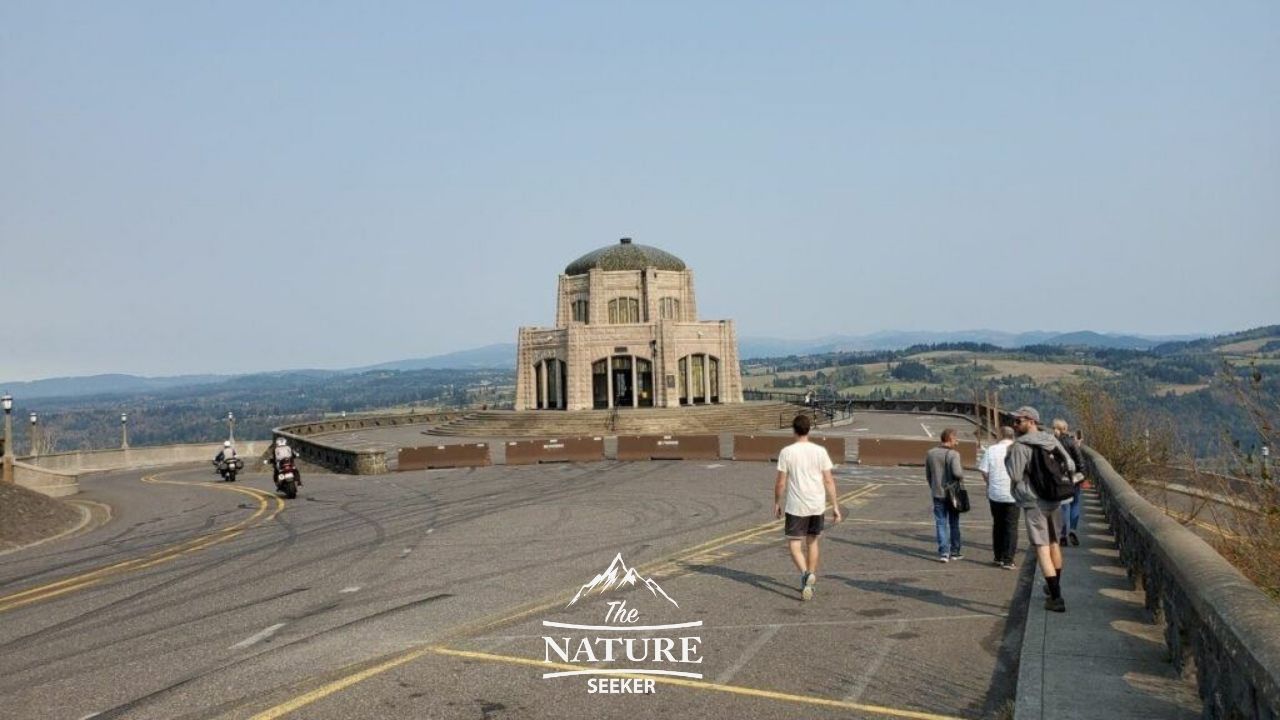 There is a very popular viewing area that gives you a great overlook of Columbia River Gorge and it is known as the Vista House. It is located on the scenic road that leads down into the many waterfalls and hikes that are part of the Columbia River Gorge and if you're into beautiful overlooks, this is an area I'd recommend you stop at.
The picture you see here is me walking at the top of it, but when you get to the actual Vista House, you can look out into the east and get a great view of the Gorge area for many miles ahead. This Vista House was closed when we went here, but it's since reopened.
5) Do the Historic Columbia River Highway scenic drive:
There are actually 2 scenic drives along the Oregon side of Columbia River Gorge:
One is right next to the gorge area which will take you right by the areas on this list such as Multonomah Falls, Oneonta Gorge and Horsetail Falls (and other spots). It is known as Historic Columbia River Highway (one of the best Oregon scenic drives I've ever done).
The second is I84, the interstate that is parallel to this scenic road, and gives you a further and bigger view of the gorge from a distance.
Both scenic drives are beautiful and worth taking. One thing you can try is enter this region through one road and exit through the other one. I have driven through both and loved both. Either way, this scenic drive is on my personal list of scenic drives to check out in North America and when you do this drive too, I think you'll agree.
6) Hike up to Dry Creek Falls:

Dry Creek Falls is also a beautiful waterfall to explore inside Columbia River Gorge. There is a beautiful trail leading to this waterfall that people can take, which reminds me of Niagara Falls that is on Vancouver Island (not the other one).
You basically walk through a gorge area, up to the waterfall itself. The hike is pretty short, but the scenery is very nice and the payoff to getting near this waterfalls is also spectacular as well. You'll find plenty of hikes like this around Columbia River Gorge.
7) Explore Wakheena Falls: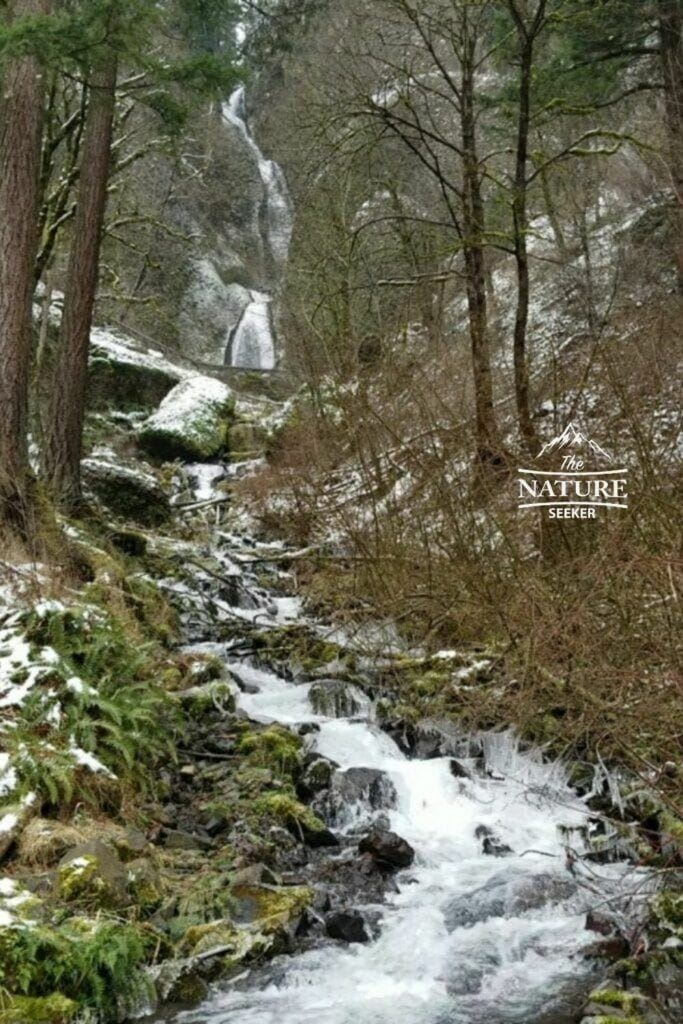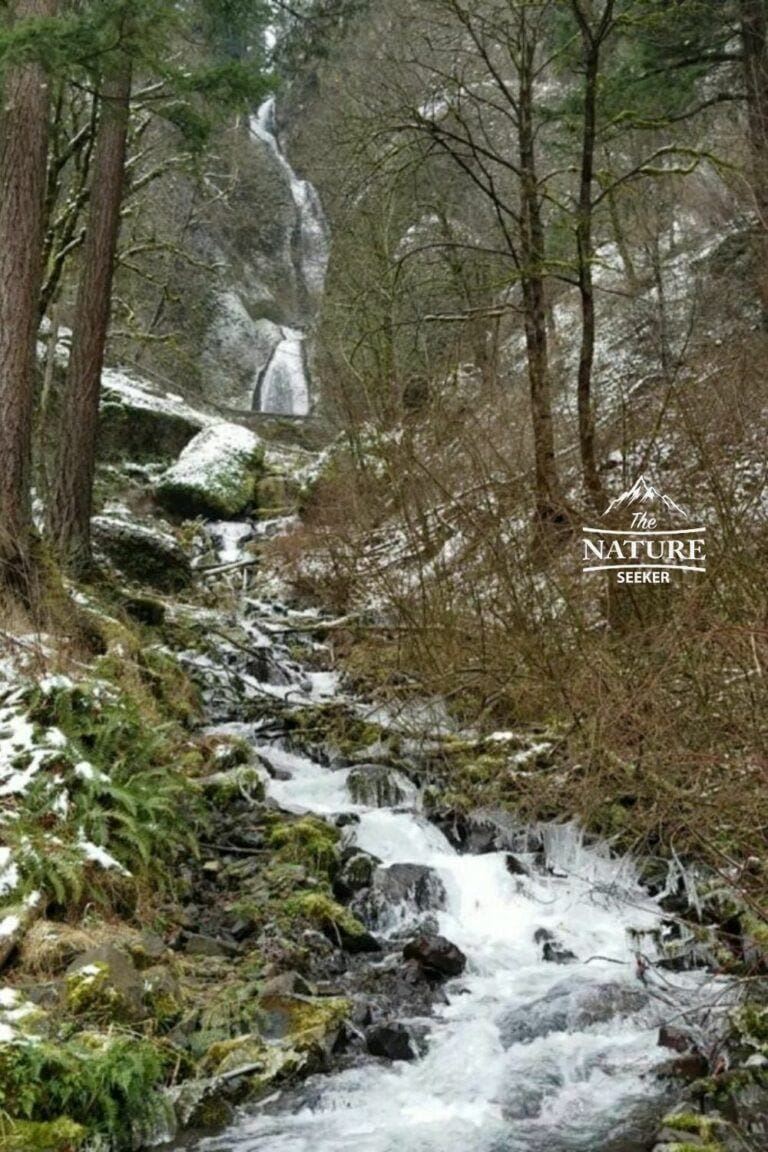 Wakheena Falls is a very step like waterfall that is very close to Multonomah Falls. It has a beautiful, zig zag trail going up to the top of it.
In the picture to the right you can see the waterfall itself at the highest part of that picture, which turns into a beautiful river as it works it's way downstream. People often explore much of Columbia River Gorge by starting here and walking towards Multonomah Falls after.
One of the trails works its way up to the waterfall.
The second trail works east to Multonomah Falls.
People can choose which one to take depending on the goal/hike they are doing. Some choose to start by working to the top of the falls, then working their way down and then across to Multonomah Falls. A parking area is available right by Wakheena Falls if people want to stop there and just enjoy the view of just want to do only one of the hikes. Additionally, connecting hikes are available too.
8) Fairy Falls: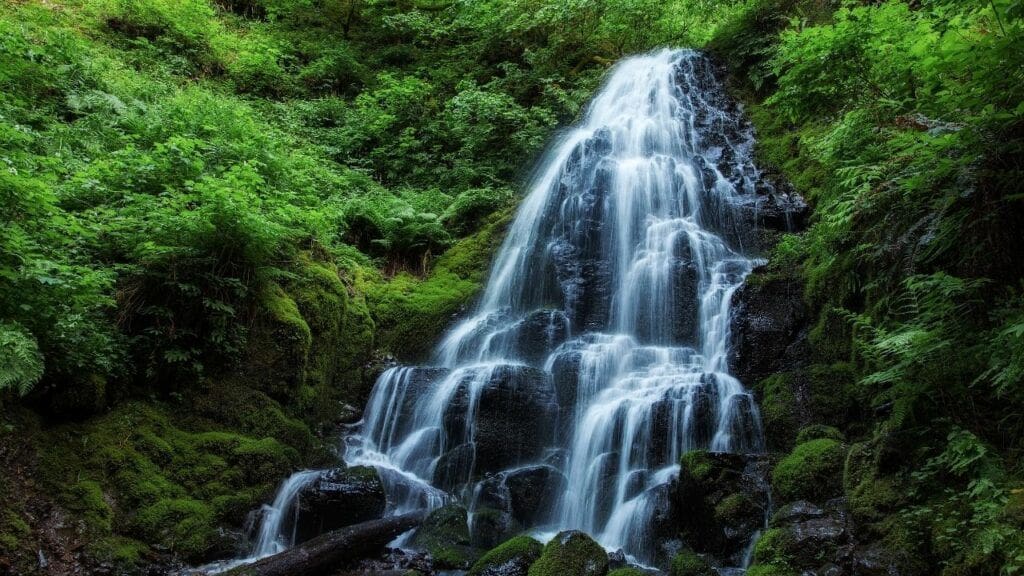 Fairy Falls is another waterfall that is worth seeing in Columbia River Gorge and has a similar looking trail like Dry Creek Falls has. There is an overlook of Columbia River Gorge on this trail, and the waterfall itself is very beautiful.
If this type of waterfall style (cascading falls) interests you, then I would highly recommend you check out Panther Creek Falls which is in Washington State, directly north of Columbia River Gorge. The waterfall there is about 5 times as large as this one, and much more beautiful.
9) Hike through Eagle Creek trail: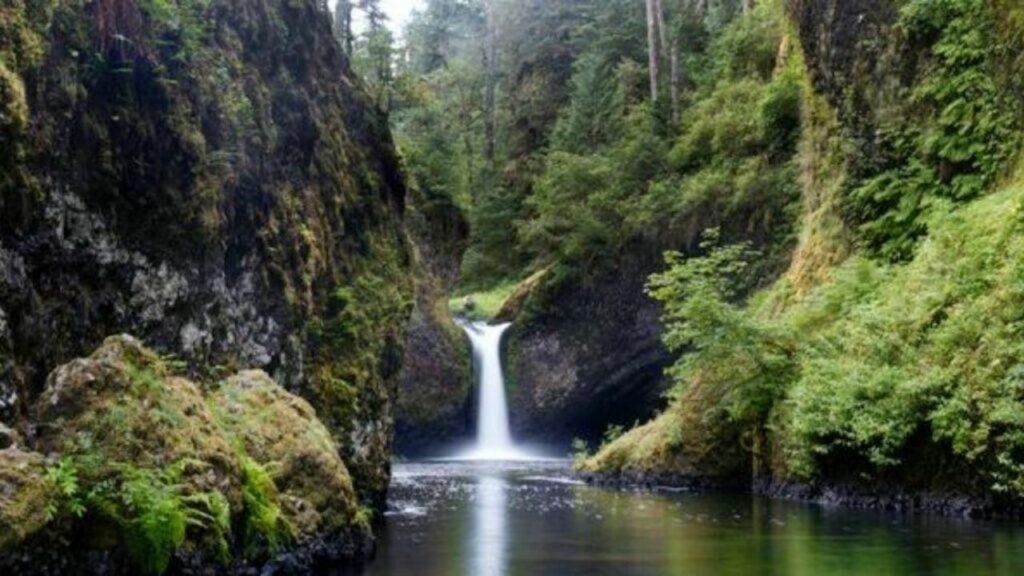 Sadly Eagle Creek, like Oneonta Gorge is also closed due to the same fire that shut the other place down. Both of these areas are close by which is why both were affected. But I'm keeping this place on the list because it is also extremely beautiful and I hope it opens one day so people can truly see that. There is a spectacular trail that takes you through multiple waterfalls as you hike upward and through a cave underneath one (it's called Tunnel Falls). You also can get close to the water.
Update: It is now open and I personally did much of the Eagle Creek Trail in Oregon and liked it a lot.
10) Ramona Falls:
Ramona Falls is actually located deep inside Columbia River Gorge, but to actually get there, you have to drive around the area to reach it. It's about an hour or longer drive from Columbia River gorge to see this place, but the waterfall is truly something else.
In terms of looks, it bears a lot of resemblance to Fairy Falls and even the Panther Creek Falls I recommended you check out as well. Obviously, if you're in Oregon and you have to choose, I'd say go with Ramona Falls over the other 2 choices for it's beauty, calm and the fact that it's pretty easy to hike there too.
Questions about exploring Columbia River Gorge? The most common ones:
Is Columbia River Gorge worth it?
Absolutely. Columbia River Gorge is one of the best areas to explore in the entire Oregon and Pacific Northwest area of the US in my opinion.
What is the Columbia River Gorge famous for?
There are many things Columbia River Gorge is famous for and that includes amazing cliffs, hikes, stunning waterfalls, camping areas and scenic drives.
How long should I spend at Columbia River Gorge?
You can spend one day at Columbia River Gorge and see tons of things, but 3-4 days is plenty.
Where does the Columbia River Gorge start and end?
Officially the length of Columbia River Gorge is close to 100 miles long and it starts near the town of Gresham and extends to a place called Miller Island.
More places to see outside of Columbia River Gorge:
So there's actually a lot of options for this, but let me share the ones I've actually done:
1) Further west is the coast and there are a bunch of best places to visit on the Oregon Coast that I highly recommend.
2) Further north, you will be entering Washington State and for starters, I've seen much of it's coast and here are at least 10+ best places to visit on the Washington Coast.
3) You can also check out Olympic National Park 3 hours north of Columbia River Gorge where you will find amazing hikes like the Sol Duc Falls trail and Hall of Mosses Trail (among many others).
4) Further south and deep into Oregon, you can explore spots like:
And whatever else I find, I will add. As for Columbia River Gorge, I will be returning there any chance I get because I absolutely have to see Eagle Creek and Oneonta Gorge (for starters). I hope this list of 10 spots to see at Columbia River Gorge was fun for you to read and if you have any suggestions of spots to see here, do let me know!