There's a lot to know before you hike the Eagle Creek Trail in Oregon and this full guide will show you what to expect and exactly how to get the most out of it depending on your skill level.
I did the Eagle Creek Trail earlier this year (to Tunnel Falls) and while it was very enjoyable, there were a few things I learned after doing it that I want to share with any first time visitors to it. In fact, there's a lot of important things to know before you come here which I will detail so you're fully prepared.
Here's some quick info about the Eagle Creek Trail in Oregon: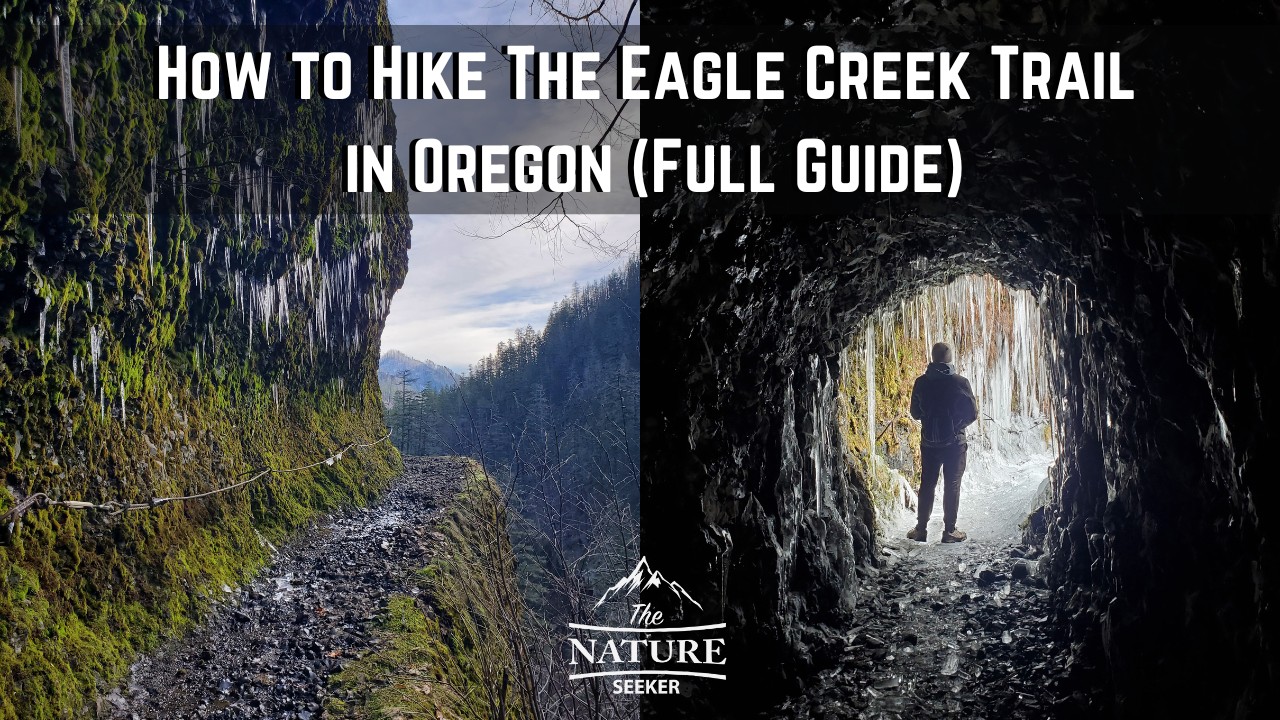 Name: Eagle Creek Trail.
Location: Oregon, Columbia River Gorge.
Hiking distance: Up to 25 miles in and out (3 options to hike it).
Difficulty: Moderate.
Rating: 4.5 out of 5.
Recommended hike? Yes but be cautious because there are some potential dangers when hiking here (explained below).
Overall this is a great hiking trail and it's potentially awesome to explore depending on how far you're ready to hike into it.
The good news is that you can see a lot of waterfalls before you even get close to the end of the trail so if you want to hike Eagle Creek for that, you will get that early on.
Some quick things to know before you hike the Eagle Creek trail:
You don't have to do the full hike (6-7 miles one way).
You can see up to 5 major waterfalls along the 6-7 mile trail.
I would not do this hike in the winter when you have icicles on the trail.
It's a very simple trail to navigate overall.
There are connecting trails after the 6-7 mile "finish" including one that takes you to Mt. Hood.
The last official waterfall on the Eagle Creek trail is Tunnel Falls (I recommend checking it out).
1) Starting out at the Eagle Creek Trailhead:
Driving to Eagle Creek Trailhead is simple and you will start out in the Columbia River Gorge area. There will be a $5 parking fee which you can get online or get a slip from the trailhead area to fill out.
The parking lot can get about 30 cars there, and I would recommend hiking this trail as early as you can and not on busy days like weekend or holiday times (weekdays are also better to come here especially during peak times).
2) Beginning the Eagle Creek hike: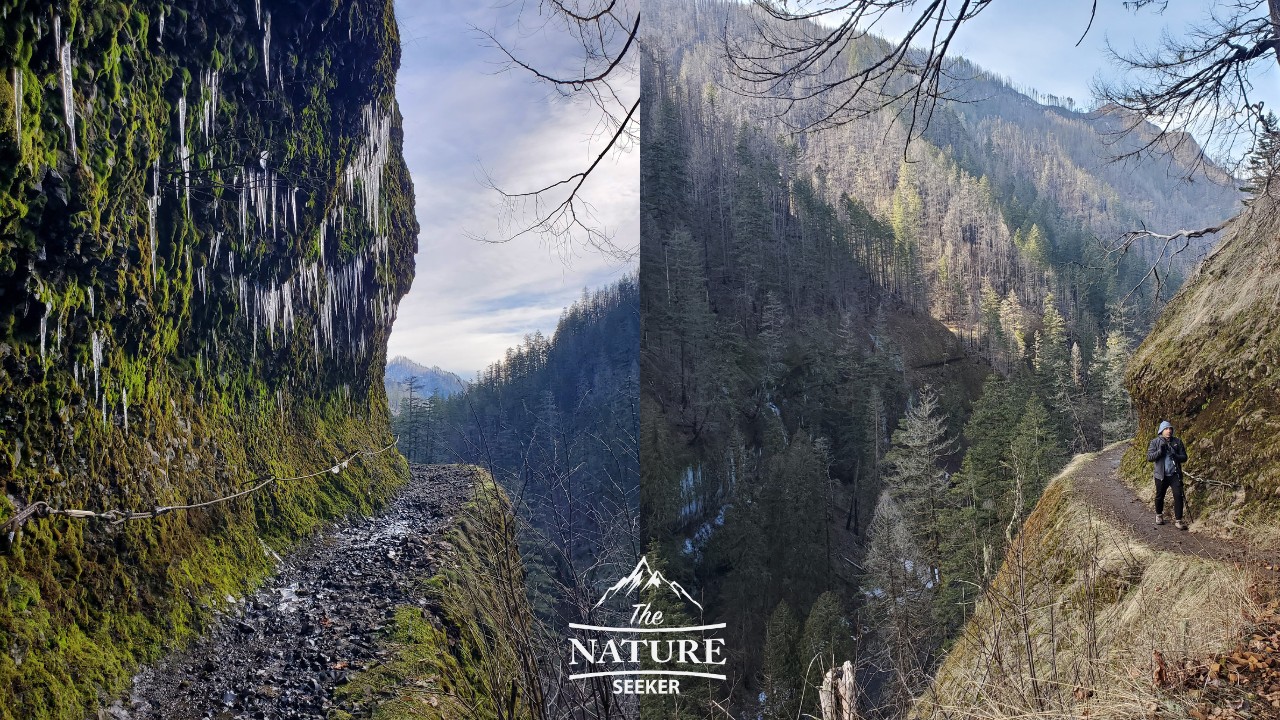 Most of the hike on this trail will involve heading on one trail with a few forks here and there to see the different waterfalls closer up, but in the beginning of this hike, you will be making your way up the trail and on some very high elevations.
There will be some areas with chains to hold onto and if you are afraid of heights, the good news is that these areas aren't that common on the trail, just in the beginning and latter part when you get to Tunnel Falls (if you even decide to go that far which would be 6-7 miles one way).
3) Reaching the first major waterfall on Eagle Creek (Metlako Falls):
You will see this waterfall to your right as you're walking on the trail (It'll be about 1.5 miles into the hike).
In fact, the good news about this one is that you'll get a great view of it because you'll still be in the higher altitudes of this trail. This is a beautiful waterfall and in our case, a lot of it was iced over because of the weather.
4) Reaching the next major waterfall (Punch Bowl Falls):
About 2 miles into the hike, you will see signs for Punch Bowl Falls. In fact, you will be able to see it from above but there will be a side trail you can take that takes you to it's base where you can get great pictures from (I don't think swimming is allowed there).
The good news is that you can easily check this waterfall out on the side trail, then go back to the main trail and continue (or go back). The same thing will be possible with every other major waterfall on this trail you see after.
5) Continuing to the next major waterfall on Eagle Creek (Loowit Falls):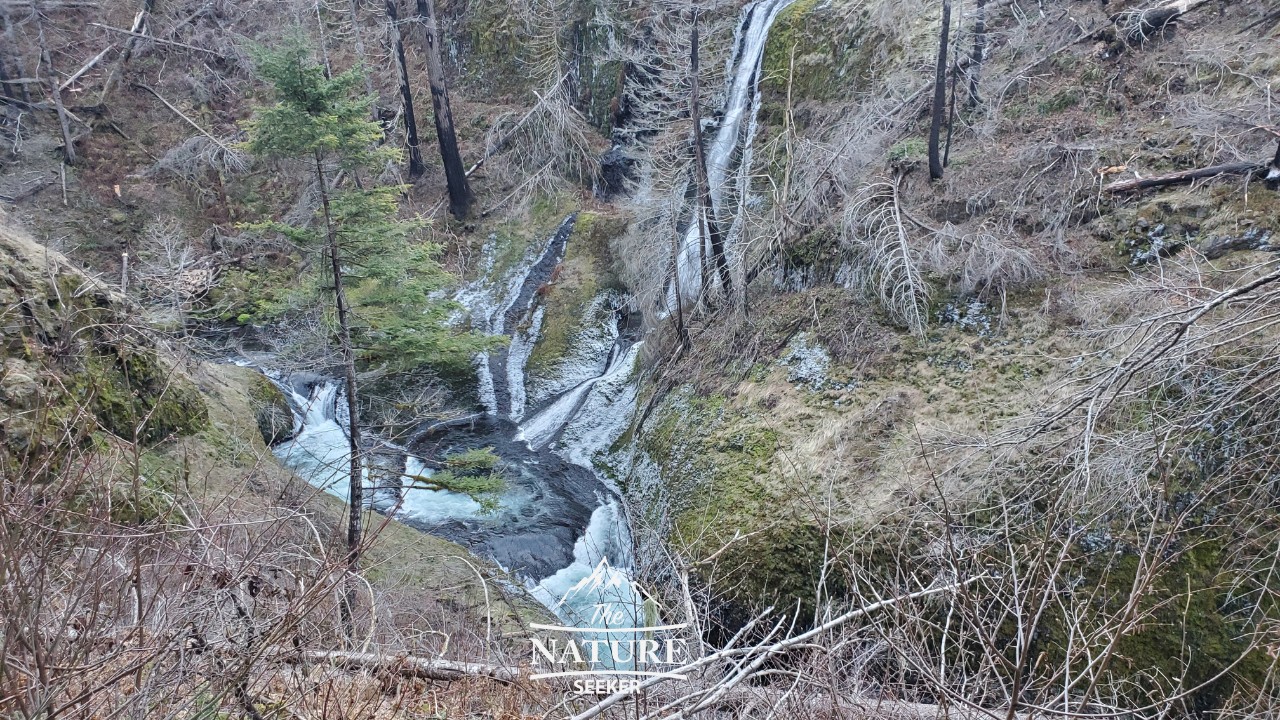 While there are a lot of waterfalls on this list (almost as many as on the Trail of Ten Falls in Silver Falls State Park), I'm only going to mention the biggest ones and that takes me to Loowit Falls.
You will easily see it from the trail and there are also some pools by it's base. I didn't see a sign to go down to the bottom of that particular waterfall like Punch Bowl Falls, but in any case you will get amazing views of it.
6) Next you'll cross a bridge and then see the next waterfall (Snoonichuk Falls):
Snoonichuk Falls is pretty close to Loowit Falls but in between you will cross a beautiful bridge with a gorge underneath it that looks a lot like Oneonta Gorge. Shortly after that you will see the next waterfall.
There will be an option to walk up to it's base as well as the top of it from 2 different points, but once you're done, like with Punchbowl Falls, you will easily be able to go back on the main trail and continue (or if you choose to go back).
7) There will be 2 more waterfalls after this area:
About another 2 miles after you see Snoonichuk Falls you will cross another 2 waterfalls and in all honesty, I didn't find them to be amazing but the 2nd waterfall you cross (called Wy'east Falls) will be the last one before you get to Tunnel Falls.
There will be a river crossing at one point in this region where you have to be careful and watch for slippery rocks. For us, we had to very carefully cross this area and the water was very deep (and iced over in some places).
8) Reaching Tunnel Falls (one of the most famous on the Eagle Creek Trail):
Our original goal was to get to Tunnel Falls and possibly beyond (as the Eagle Creek does continue further) and indeed this is a beautiful waterfall I highly recommend you try to reach (6-7 miles from the trailhead). There will be a short, flat walk to it and a tunnel you'll cross before exiting the other way.
You can then decide to continue on the same trail further (details further below) or turn back. We decided to turn back here because there was just too much ice, way too many icicles and other circumstances where we couldn't continue risking being on the trail.
Many people who go very far into Eagle Creek usually turn back here. Keep in mind that it will be another 6-7 miles to get back to the car.
9) You can also choose to continue along the Eagle Creek Trail (4-5 more miles one way):
There are 3 ways to continue doing the Eagle Creek trail if you choose this option:
Option 1 (best option for most hikers):
I personally think hiking to Tunnel Falls and back is plenty for exploring Eagle Creek Trail but if you want to continue, the trail will continue for several miles.
First you will see Twister Falls shortly after Tunnel Falls, then another called Seven Mile Falls but in my opinion, the first 3-4 major waterfalls you will have already seen (Punch Bowl and all the way to Tunnel Falls) are way better to view.
The Eagle Creek trail will officially end when you reach Wahtum Lake (point B on the map) where there is actually a campground and another road which you can take to start Eagle Creek Trailhead but from a point B position.
But if you decide to turn around anywhere on this trail, you will just have to backtrack to Eagle Creek Trailhead (you can get passes here) and depending on how far you get to it, it can be up to 24 miles.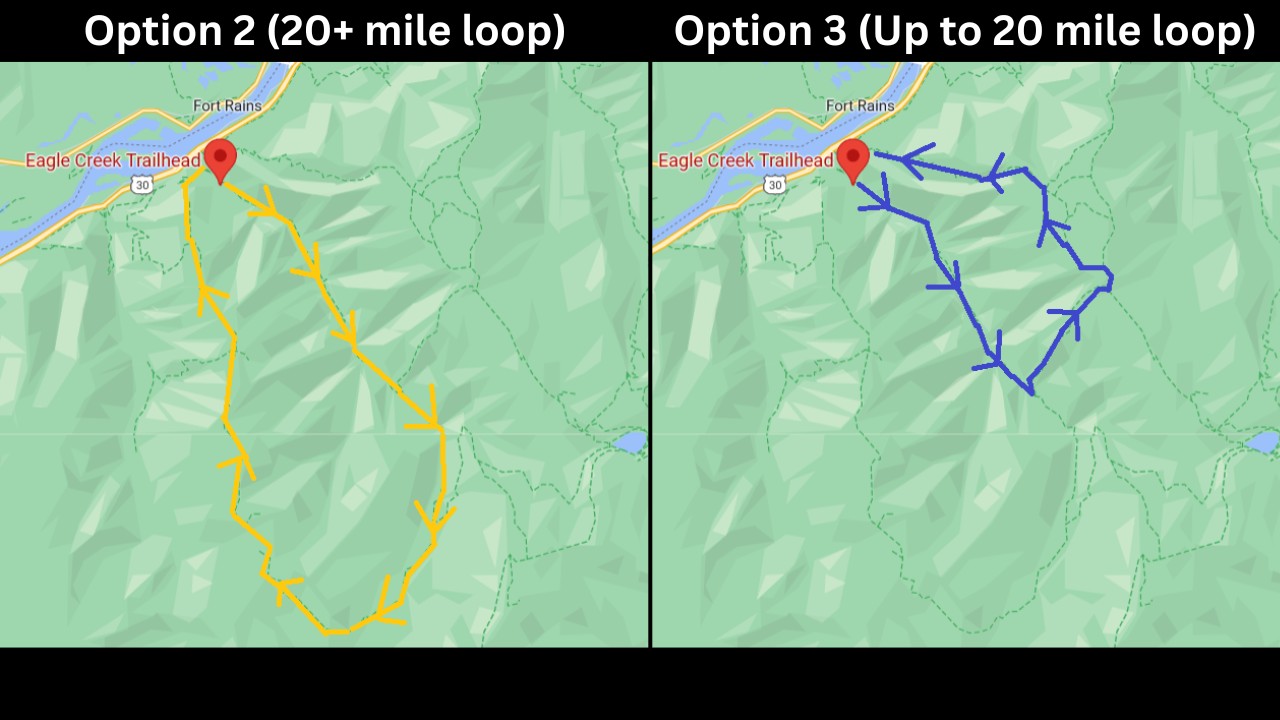 Option 2 (more advanced, but it's a loop):
Second option is to backtrack slightly after Tunnel Falls and take a connecting trail which loops to the Eagle Creek Trailhead (if you don't want to get lost in the woods, use something like Alltrails to help you with this or just take the main trail back so you're not confused).
You can technically go all the way to point B (Wahtum Lake), but then you're looking at a possible 30 mile loop hike and I would only do that if you're very advanced.
Option 3 (I would only do this if you know how to navigate trails):
Another option you can explore is continuing on another trail that loops back to the Columbia River Gorge and the Eagle Creek Trailhead (this will also be another 20+ mile hike and you will not see as many waterfalls).
Again, you can choose to go all the way to Wahtum Lake (point B) and if you do, you will backtrack slightly on the same Eagle Creek trail till you hit the turn to go on the loop. This is more advanced because you will cross more trail connections so I would advise being careful and advanced at trail navigation (or to have a reliable map) if you decide to do this.
More questions and answers about the Eagle Creek hike:
How long is the Eagle Creek hike?
The Eagle Creek hike can be up to 25 miles long (in and out) and depending on how far you go into the trail determines the same distance you will have to hike back to the trailhead.
How hard is Eagle Creek trail?
If you go to Eagle Creek during spring and summer, the trail will be a lot easier to go on. The further you go and the more cold it gets, the harder this trail will become as it is can be over 20 miles.
Do you need a permit to hike Eagle Creek Oregon?
No, but there is a recreation pass necessary which is $5 per car and for day trips.
4 potential dangers when hiking Eagle Creek to watch out for:
Icicles in many parts of the hike:
This is only a problem in winter. I hiked this trail on January 31st and there were a lot of them especially in the high altitude areas where the chains were present. I had no choice but to risk holding onto the chain and in some cases had these icicles fall on me. Some of them were huge (5-6 feet).
Ice on the trail:
Mostly a problem in the winter too. For me, not only did I have to deal with icicles, but in the same areas that had them, ice too. Although my buddy and I reached Tunnel Falls (with great difficulty), everyone we met on the trail didn't go that far because of the ice and icicle situation.
It's one of the reasons we turned back because to continue on the Eagle Creek Trail after was just way too dangerous (and it was getting dark).
Slippery mud areas:
Because Eagle Creek is in an area where rain is common, you will likely encounter mud. Wear good hiking shoes (Salomon Speedcross 5 for example) so you have reliable grip.
The Eagle Creek fire situation (falling rocks, falling trees):
Years ago there was a very damaging event known as the Eagle Creek Fire in this area. To this day as you walk on the trail, you will still see burned trees, raised ground and areas where you may encounter falling rocks and in rare cases falling trees. This is the most common danger to watch out for as you hike the Eagle Creek trail. We had some rocks fall along the trail (on top of the ice and icicle situation).
My advice when hiking here is just to take your time and be on the lookout for the areas above you, meaning as you walk through certain spots, listen for rock fall and if you think it's coming, cover your head and get closer to the mountain as it's less likely you'll get hit by a rock there. If it's a tree falling (very rare) try to move away from it if you can.
Conclusions on hiking the Eagle Creek trail:
Aside from choosing a bad time to do it, I did enjoy this hike because there weren't many people and it had some challenges I liked. I would like to revisit this place without the icicles and ice one day to explore the waterfalls more and potentially do the full Eagle Creek hike or the loop options.
I do think this hike is almost as good as the Trail of Ten Falls I mentioned above but in any case, this is one of the best Oregon waterfall hikes I have done and a great Columbia River Gorge trail to check out!