I've visited both Lake Tahoe (twice) as well as Crater Lake National Park and would like to give you my take on which place is worth visiting more (if you have to choose between them that is).
The truth is, both places are worth visiting as they each hold their own unique landscapes and things to do, and just as well, there's plenty of activities within and nearby each location (hikes, adventures, nature stuff to check out, ect…).
Quick info about Lake Tahoe and Crater Lake:
Crater Lake is located in Oregon.
Lake Tahoe is in both California and Nevada (it divides the states).
Both spots are very popular and visited most of the year by tons of people.
But if you could only choose one, would it be Crater Lake or Lake Tahoe?
In my opinion Lake Tahoe is superior in just about every way and I'll explain why in a bit within this article, but Crater Lake deserves it's own praise as it does hold a lot of it's own advantages over Lake Tahoe too. Let me share my unique perspectives on each spot:
My experiences with Crater Lake: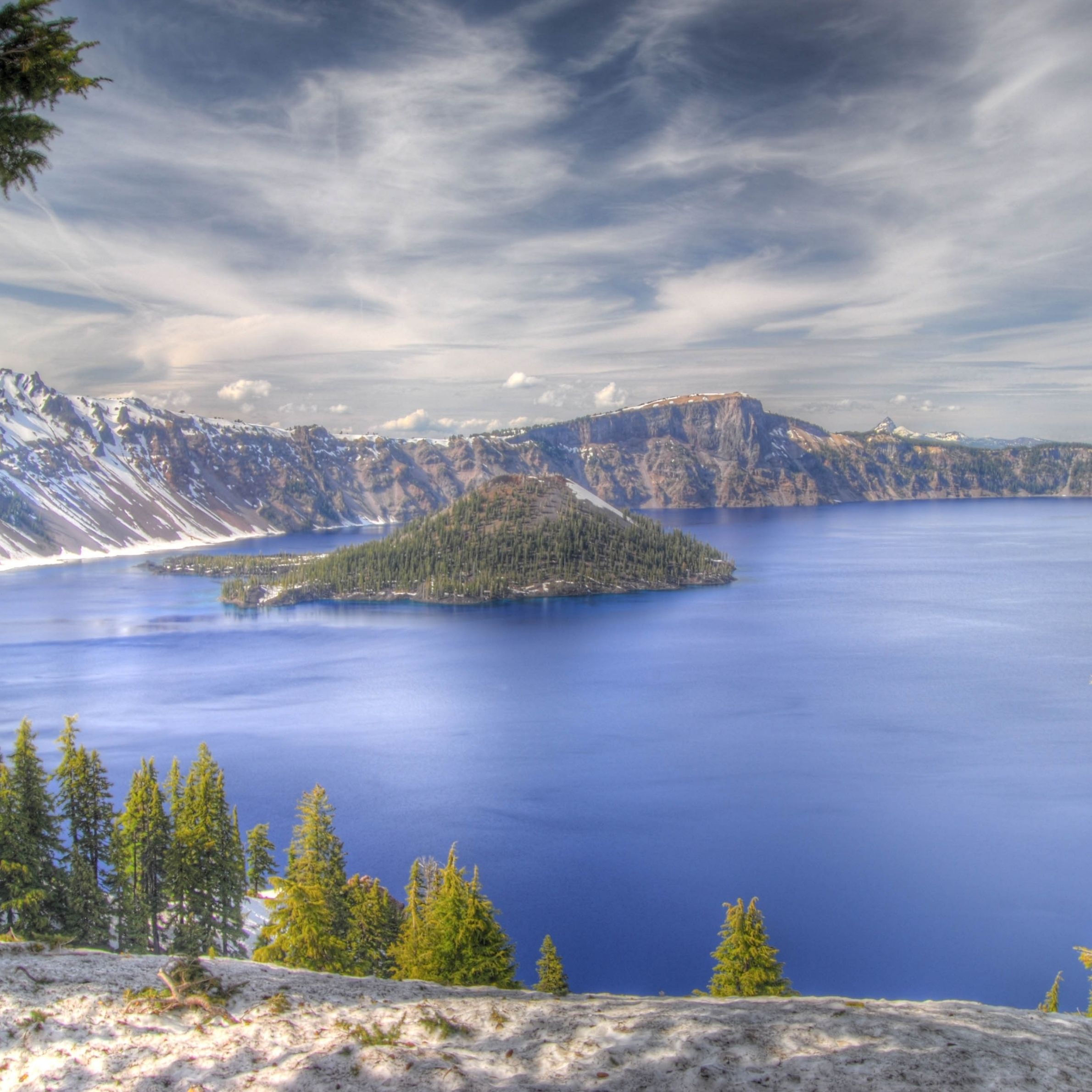 I've only been there once and to be honest, I don't have any immediate plans to come back anytime soon.
I'm not trying to make it sound like it's awful there or anything, but I did find it a bit boring (something that you may hear other people say about it). Other than being a national park (which you can cross off your list if you're exploring them across the states), there isn't much to do there.
Yes there are hikes, skiing opportunities, swimming and other stuff to see, for the MOST part, the "crown jewel" of Crater Lake is the overlook spots that give you that nice view of the actual crater area and that mountain island on it.
But that view gets boring quickly and after that, you will have to find other fun stuff to do. Although I wasn't there for too long, I got enough of a taste of Crater Lake to know that perhaps there's better places to see and out of all the national parks I have visited in the states, I would this one is at the bottom, but again, this doesn't mean it was awful.
It's just that when you compare this place to the other national parks out there and how beautiful they are, it's really tough to compete with them.
My experiences with visiting Lake Tahoe:
I've visited it three times and have basically done a full loop around the entire region. The first time was on the eastern end of it (Nevada), and the second time (in 2022) was on the western end (California).
The 2 times I visited it, it was during winter time (February) and while a lot of places are closed during that period, there's still a lot of stuff to see and do there:
Hiking.
Maybe swimming if you're crazy enough.
Skiing and tubing during winter time.
Sight seeing (there's a lot of beautiful overlooks).
Seeing the state parks around the lake (there are 4).
Kayaking.
Just enjoying the sunsets there.
Where both parks hold similarities:
1) In my opinion, the surrounding regions of each place are amazing to explore. Lake Tahoe is sort of in the middle of the Nevada desert and mountains while Crater Lake is more within the green regions of Oregon. There is also a beautiful region near Crater Lake that has awesome red sand, mountains, rivers and more to explore (lots of camping spots as well).
2) Both places are definitely worth visiting in my opinion. It's just that it might be better to see Crater Lake as something PART of a road trip, vs planning an entire trip to go just there.
5 reasons I think Lake Tahoe is better than Crater Lake National Park:
1) I found this area way more enjoyable and want to keep coming back to Lake Tahoe:
Each short period I spent in Lake Tahoe, I enjoyed it a lot and the second time I came here, it wasn't even via planning, it just came up as a spot to see and show off to my buddy whose never been there and when I figured it was a good idea to go here, I was excited because the first time I came here, I enjoyed it enough to want to come back, something I cannot say about Crater Lake National Park.
2) More available activities during the winter:
You can do a lot more in Lake Tahoe during winter time than at Crater Lake during the same season. A lot of hikes and activities are just closed off for the reason in Crater Lake (if not the entire park itself) and while Lake Tahoe does have a lot of it's own closings, there's still much more to do, like seeing the state parks which are actually open.
3) Views in Lake Tahoe are (arguably) better:
I honestly think the views in Lake Tahoe are better and there's many more angles to see this place from.
In Crater Lake you basically have 1 road, on the western end of the park that takes you to the overlook, but aside from that, anywhere else that you want to get a different view of the park, you'll have to hike to it.
4) Lake Tahoe just has more to explore:
A major advantage Lake Tahoe holds is that in my opinion there's just much more to see and do there. Besides the outdoor activities, there is just a lot more touristy stuff to do as well. You can grab a bit to eat on the many marinas there and just enjoy the views. There's also more hotels there so you can stay right by the water.
5) Better reception!
Another major thing is cell phone reception. Lake Tahoe has it's own spots where you won't get a signal, but most of the areas around the water are fine for cell phone reception. In Crater Lake, once you get to the overlook area, it's pretty much gone.
Other questions about the topic of Lake Tahoe vs Crater Lake:
Which is better Crater Lake or Lake Tahoe?
I believe Lake Tahoe is better than Crater lake because you can see and do more there all throughout the year and it has more activities to check out.
Which is bigger Crater Lake or Lake Tahoe?
In terms of size Lake Tahoe is much bigger than Crater Lake.
Is Crater Lake deeper than Tahoe?
Yes Crater Lake isn't just deeper than Lake Tahoe but also every other lake in the US.
I'd love to hear your opinion on this subject:
If you have visited one park, the other or both, I'd love to know if you agree or disagree with my opinion. At the same time, if there is any other comparison of parks you want me to do, you're welcome to comment below. So far, you can check out the following comparison articles:
Cuyahoga Valley National Park vs Hocking Hills State Park.
I hope this article helps you plan your trip to one spot or the other!