Cuyahoga Valley National Park vs Hocking Hills State Park
Ohio State houses 2 of the most popular parks in the US: Cuyahoga Valley National Park and Hocking Hills State Park and very often, people wonder which one is worth visiting more.
As someone who has had the pleasure of visiting both these parks, I'll tell you what I thought and which one is better. The first thing I want to say is that I recommend you visit both Cuyahoga Valley National Park and Hocking Hills State Park, because each one offers it's own unique benefits (and stunning nature spots). And in doing so, you'd get the best of both worlds.
But if you can only visit 1 of these, then the answer (in my honest opinion is):
Hocking Hills State Park and in this post, I'm going to explain why.
What both Cuyahoga Valley National Park and Hocking Hills State Park have in common: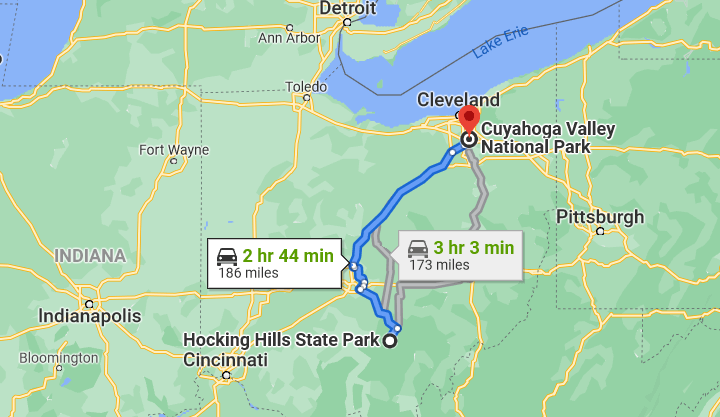 Both parks are in Ohio State.
Both parks have a ton of stuff to see and explore.
Both parks are very popular for tourism.
Both places have a ton of beautiful nature to explore.
They are also a few hours apart.
Both parks offer a lot of camping sites.
Both parks are also popular for RV's.
Both parks have beautiful waterfalls.
Here is a map listing of Cuyahoga Valley National Park and Hocking Hills State Park (for reference):
As you can see, both parks aren't that far from each other and this is important because the terrain in this region of the United States is very unique compared to other parts of the country.
You generally won't see huge mountains, but you will find gorges, caves and other cool spots in it, and these 2 parks have a lot of that stuff.
Details about Cuyahoga Valley National Park:
I have a post here on Cuyahoga Valley National Park where I detail what I saw when I went there, and to be fair, I was tight on time and didn't see as much as I would have liked to, but I saw enough to want to go back there.
Overall, this park offers awesome views, boulder hopping, hiking trails, biking adventures (including mountain biking), and overall scenic areas to just sit at an enjoy.
Personally, I believe the Ledges Trail is the best spot in the entire Cuyahoga Valley National Park. Out of everything there that I saw and heard of, this was easily the top pick for me.
Details about Hocking Hills State Park:
Like my Cuyahoga Valley National Park post, I also have a post on what to do in Hocking Hills State Park and in that post, I detailed 5 things I saw and did.
This park in my opinion offered some truly stunning scenery that is pretty much everywhere. There are many areas to access and most of the terrain is deep gorge areas that are really scenic, easy to hike through and there's a lot to film, and take pictures of.
4 reasons I believe Hocking Hills State Park is better than Cuyahoga Valley National Park:
1) There's more beautiful things to see and do:
I admit, I didn't see everything either park has to offer, but given my time in each place, I was able to do and see more in Hocking Hills State Park than the other spot and the places I did see there stunned me way more than anything I saw in Cuyahoga Valley National Park.
2) The only place in Cuyahoga that holds a candle to Hocking Hills is the Ledges trail:
Your idea of beautiful nature might differ from mine, but while I loved the Ledges Trail (and will likely hike it again), there is much more scenery like that in Hocking Hills State Park in my opinion.
You will see a lot of that stuff and in grander amounts there, namely through places like Old Man's Cave and Ash Cave.
3) I felt a bigger adventure vibe in Hocking Hills State Park:
Because the scenery was so stunning there and in larger amounts than Cuyahoga, I felt more in my natural environment and an adventurous vibe more often.
4) Hocking Hills can be explored more deeply than Cuyahoga:
Cuyahoga is very large and most places there can only be reached by train, kayak or by car, before disembarking and hiking there. In Hocking Hills State Park, if you're really into hiking, you can do the main blue trail that cuts through most of that area and get a really nice scenic hike in there through the main gorge of the park.
4 areas where Cuyahoga Valley National Park might be better than Hocking Hills State Park: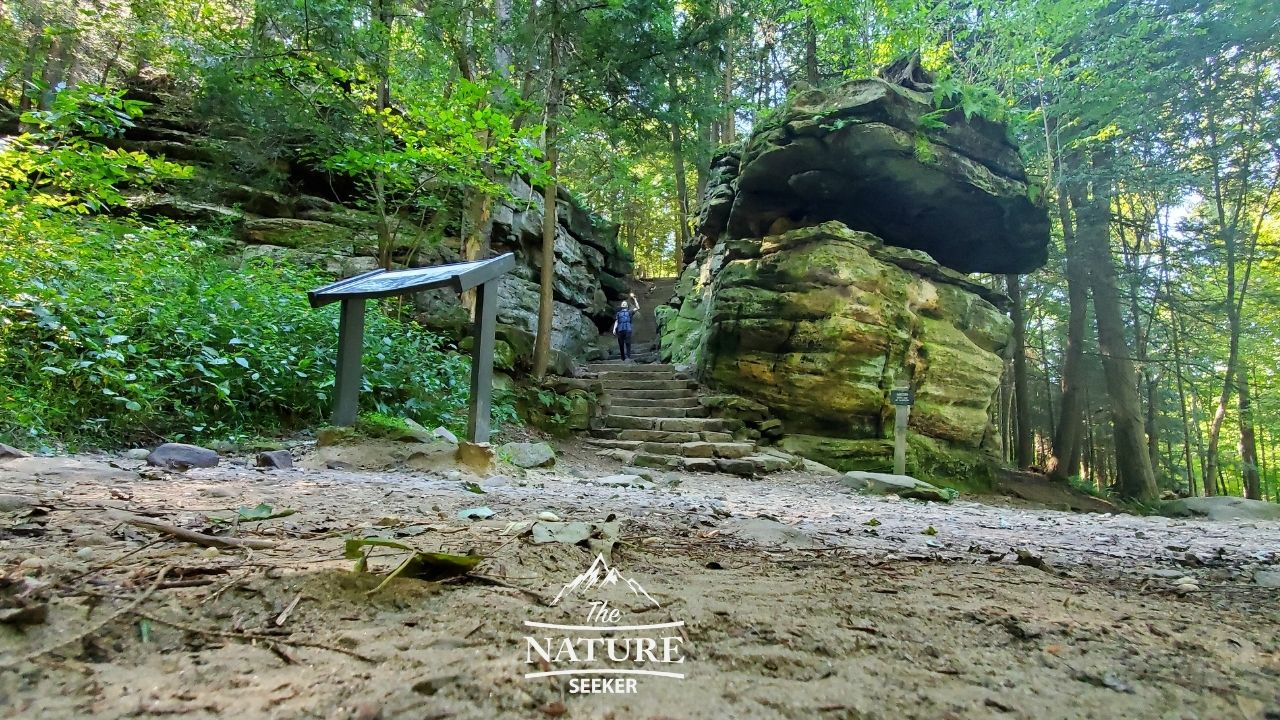 1) It might be better for the family:
This area has a lot of family activities you can do like the train ride through the park. That might be more appealing to you than hiking through the many places in Hocking Hills.
2) If you enjoy kayaking, you can do that there.
There is the Cuyahoga river that you can kayak on and that activity might be more to your liking.
3) There's a bit more diverse nature (and activities to do) in this park:
Hocking Hills is pretty much similar across the board (huge caves, gorges and stuff). You can find some of that in Cuyahoga, but it's more mixed there.
4) Again, the Ledges Trail is something else:
It's a short trail, but it's beauty really can match and compete with the stuff you see in Hocking Hills State Park. It's a fairly easy trail to hike through, but the scenery in that trail is remarkable.
Again, my advice is to visit both Cuyahoga and Hocking hills:
If you like fast paced trips like me, then you can make a 2-3 day trip out of it. You can visit one park one day, and the other the next.
I would recommend you read both my posts on each park and what I managed to get done there in one day so you can see what you can do as well. Also here's a Trip Advisor post on both parks to check out. From what I've seen, people prefer Hocking Hills more (agreeably so).
Of course, if you're not into rushing like I am and like to take your time, then I would just go with the flow, visit one of the parks, enjoy the trails, scenery and take it from there.
For me, if I had the choice of revisiting one of these parks (and it could only be one choice), again, I would choose Hocking Hills State Park (and I wouldn't think twice). That park really took my breath away in many parts.
Cuyahoga Valley National Park did surprise me, especially that Ledges Trail, but the shock factor (the good one) that Hocking Hills left with me was much bigger, and this was right after I had explored places like the Minnesota North Shore and Finger Lakes.
In my opinion, Hocking Hills may have turned out to be the best part of that whole road trip (and that was the one where I also explored Cuyahoga Valley National Park too).
I am very happy to hear your opinions and questions on this topic, but otherwise, I hope it helped you decide between which of these 2 parks to choose from to visit!