If you're planning a first time visit to Ash Cave, the great news is that it's pretty easy to reach, but because of that and it's popularity, you are likely going to find that this place is very crowded most of the time, and in this post I want to show you what to expect and how to possibly avoid those crowds so you can fully enjoy this area.
Quick info on Ash Cave: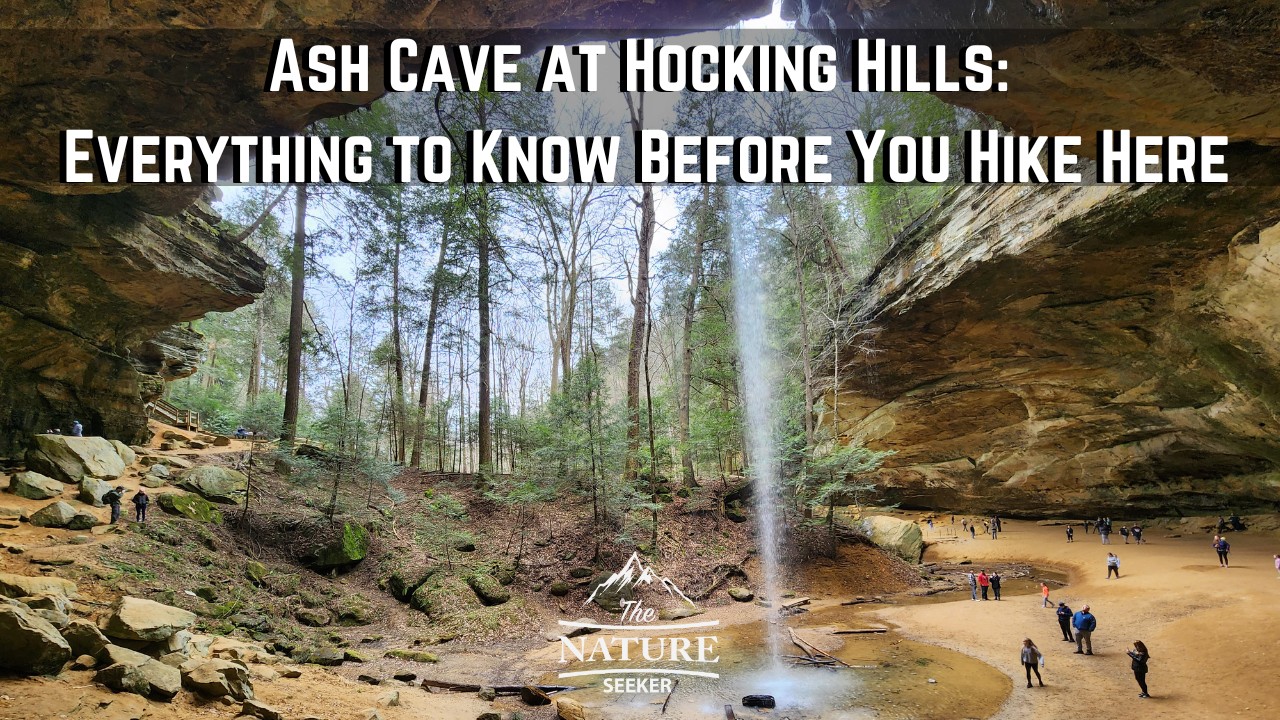 Name: Ash Cave.
Location: Hocking Hills State Park (Logan Ohio).
Distance: 2 hike options, both are a little over a mile in and out.
Difficulty: Easy.
Family friendly hike? Yes.
Rating: 5 out of 5.
Recommended hike? 100%. This is one of the most scenic hikes and areas I have personally been to (2x).
Where is Ash Cave at? Details on reaching it: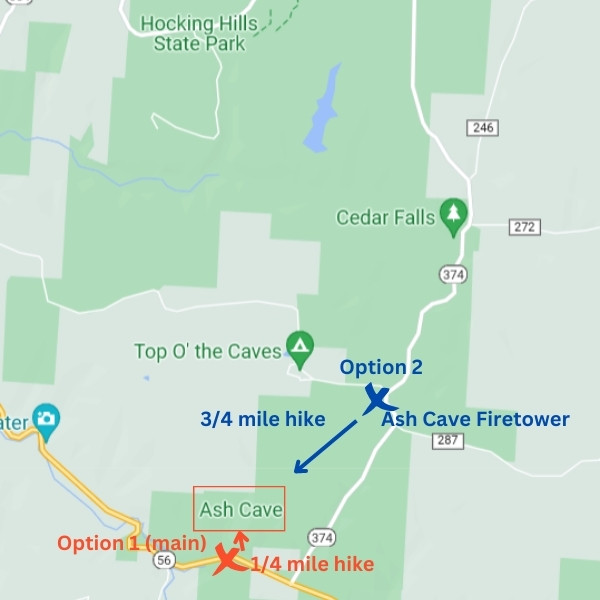 It's obviously located in Hocking Hills State Park, but specifically in the southern tip of the park. I have included a map above showing that. There are 2 ways (trails) to reach Ash Cave:
Option 1 (1/2 mile total):
The first trail is the Ash Cave main parking area. It has a lot of parking spaces, there are bathrooms, picnic tables and more. From it you will walk north on a simple trail for half a mile to reach Ash Cave. This is the most family friendly option to reach it. Once you're doing, you can take the same trail back.
There is also an option to walk underneath the cave, then walk up stairs and return to the parking lot that way.
Option 2 (1.5 miles total):
This is a slightly more difficult (but still easy) hike. There's a parking area north of Ash Cave which fits about 10 cars, but ironically it's far less popular so you're likely to find more space (and less people) in this area. I've always parked here. There are 2 additional benefits of this trail that make me like it more:
First, you will find the Ash Cave Fire Tower close to that parking lot (an additional gem).
Second, the hike is a little more interesting before you reach Ash Cave because you will walk through more wooded areas, a scenic spot with thick tree areas and overall it's just a bit more exciting.
Then when you reach Ash Cave, you'll just walk down the steps, explore the area, then go back up the same way.
Quick note on the Ash Cave Fire Tower:
The very top of it is closed, but you can still walk up the ladder to the near top area.
When is the best time to hike to Ash Cave?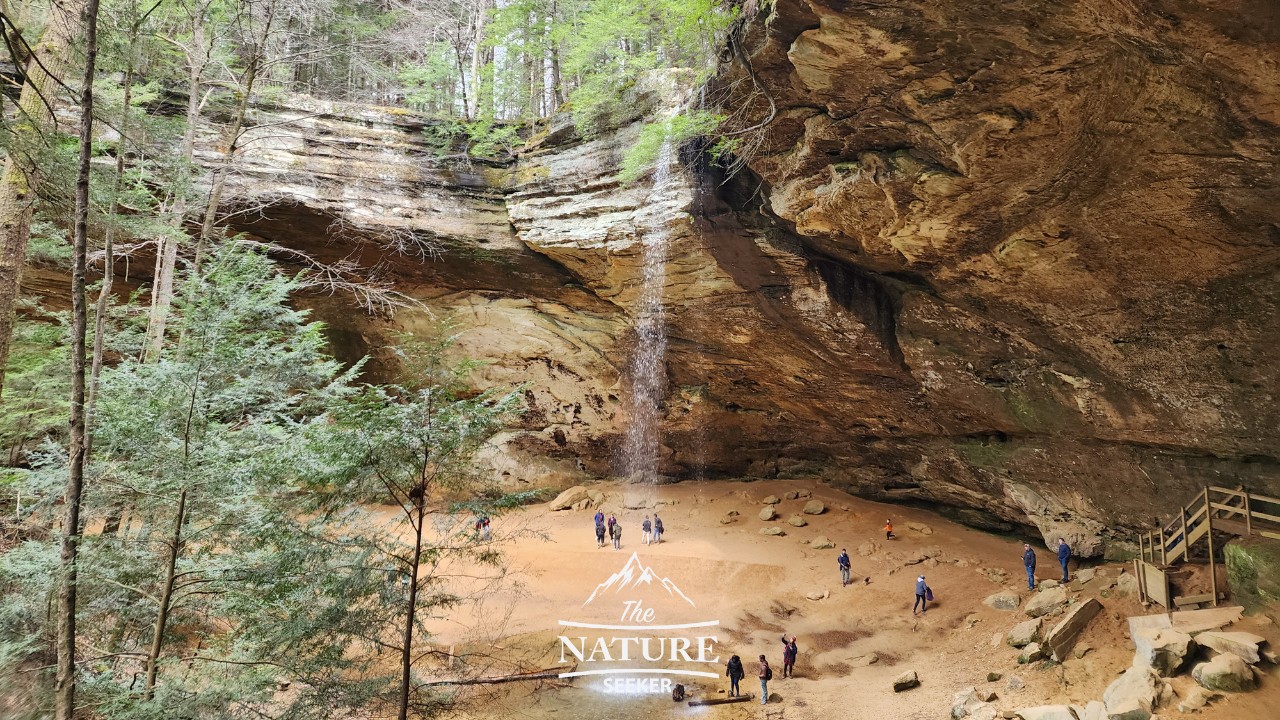 The area closes at 5 p.m and most of the time it will be crowded so if you're OK with that, then hike to it anytime before 5. However, if you are trying to avoid the large crowds that go to this place, then I recommend 2 things:
Go to Ash Cave as early as you can. It opens at 8 a.m everyday so if you get to the parking lot by then, you will likely have way less people on the trail with you.
Another thing is to go here around winter time. Colder seasons in Hocking Hills generally have less people coming here.
Details on the Ash Cave waterfall (best times to see it):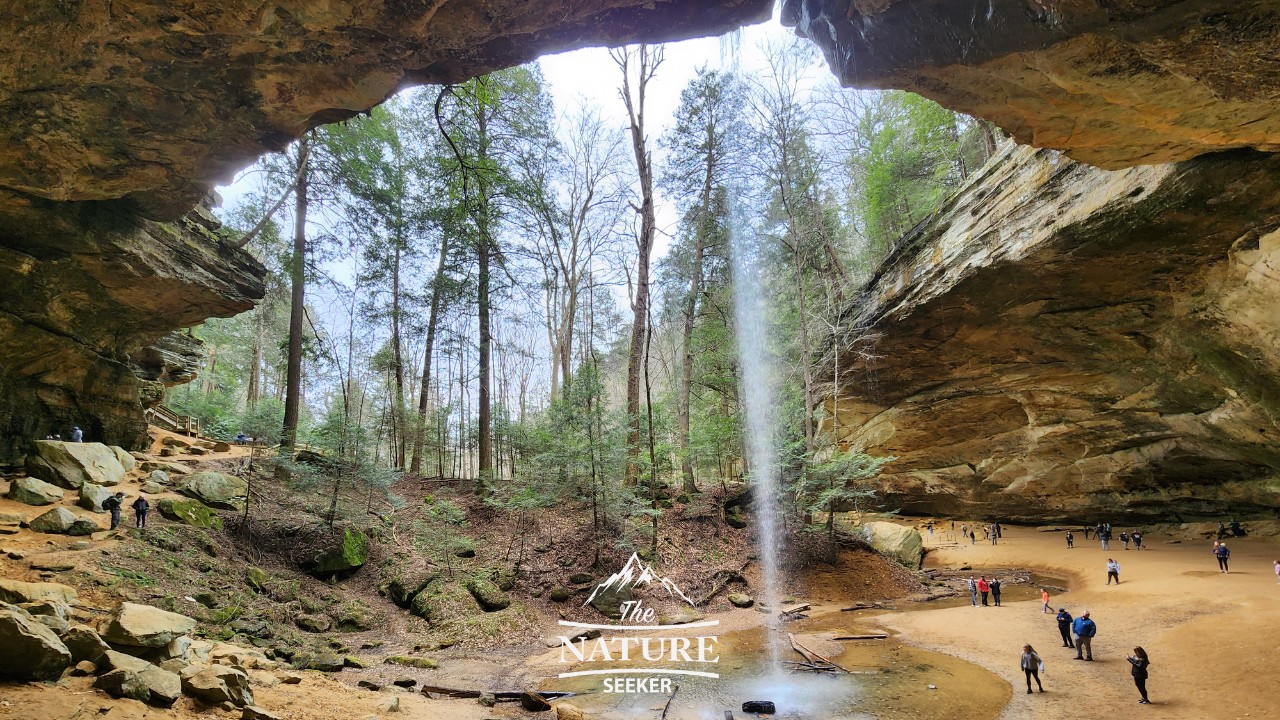 If you didn't already know, Ash Cave has a waterfall that usually runs year round, but generally speaking the hotter and dryer the season, the less water you will see. For the best time to see the waterfall in full flow, I would go at the end of winter (between March-April).
Every month after that it is a very small waterfall and sometimes it just drips during summer seasons. My first trip to Hocking Hills State Park, that's exactly how it looked, not just for the Ash Cave attraction, but any waterfall in Hocking Hills State Park.
The second time I went here was during April and the water flow was much better and it made the area more scenic.
The best things to do near Ash Cave:
Basically you should Explore more of Hocking Hills State Park:
The entire park is incredible so when you're done with Ash Cave, just drive further north and explore more of the park. I would recommend you read my entire Hocking Hills State Park article to know what else to see there because you can actually drive to multiple hikes in the whole park throughout the day or elect to hike one main trail to see most of these sights.
There are at least 7 other amazing hikes all within the park you can see literally in a day there.
Hiking gear needed for hiking this area?
For Ash Cave , you don't need anything special. You can literally just wear casual stuff to get there (maybe just 1 water bottle), but if you're going to explore more of Hocking Hills, it really would benefit you to wear some decent hiking shoes or a backpack if you intend to do the longer trails there.
I like wearing my Salomon Speedcross shoes to this area and also things like the Randy Sun waterproof socks because there are a lot of muddy spots in Hocking Hills that are annoying to step in.
Ash Cave cabins (2 closest options):
There is one called "All Seasons Lodge" which is 10 minutes from the main Ash Cave Parking lot.
There is also one called "Canopy Ridge Cabins" which is also about as close.
There are other options throughout the park, but these 2 are the closest to this specific area.
Other places that look like Ash Cave:
I've been fortunate to find some look alike places like this throughout the US and so far, here are 3 places:
There is a giant cave in a place called Honey Creek Loop trail in Big South Fork (It's in Tennessee, 3 hours south of Ash Cave). This area though is way tougher to reach. Just as well, the area in which Ash Cave is at, if you explore the region further south (meaning the mid west), there are tons of places like this including Daniel Boone National Forest, Red River Gorge and Big South Fork that have these spots.
Second is a similar cave spot in the Catskill Mountains (New York), in a place called Kaaterskill Falls. It also has an incredible waterfall and cave that looks like this. This area is way further from Ash Cave (about 7 hours).
One more option is Hamilton Pool Preserve which has the same cave look, also a waterfall and there's a swimming area right underneath it (you need a permit reservation to get there though). This area is near Austin Texas.
Other questions about Ash Cave:
How long does it take to hike Ash Cave?
There are 2 trails to hike to Ash Cave and both take about 30 minutes to get to it.
Is Ash Cave an easy hike?
Yes, the hike to Ash Cave is very easy to follow with very little elevation areas.
Does Ash Cave have bathrooms?
Yes, the main Ash Cave parking lot has bathrooms.
Overall this post explains just about everything about Ash Cave and what to expect when you go there. I hope it's been helpful and that you enjoy the trail and experience of this amazing area!