On my first big road trip of 2023, the first stop I made was at Hamilton Pool Preserve TX, a place that I had been wanting to check out for man years. Like you (probably) I saw all the beautiful photos of this place and that's what drove me to make the trip there.
However, after exploring it, I was a bit disappointed and if you're thinking of visiting this place too, this post will really help you understand everything you need to know before you go there and decide ahead of time if it's even worth it.
5 major things to know before you visit Hamilton Pool Nature Preserve: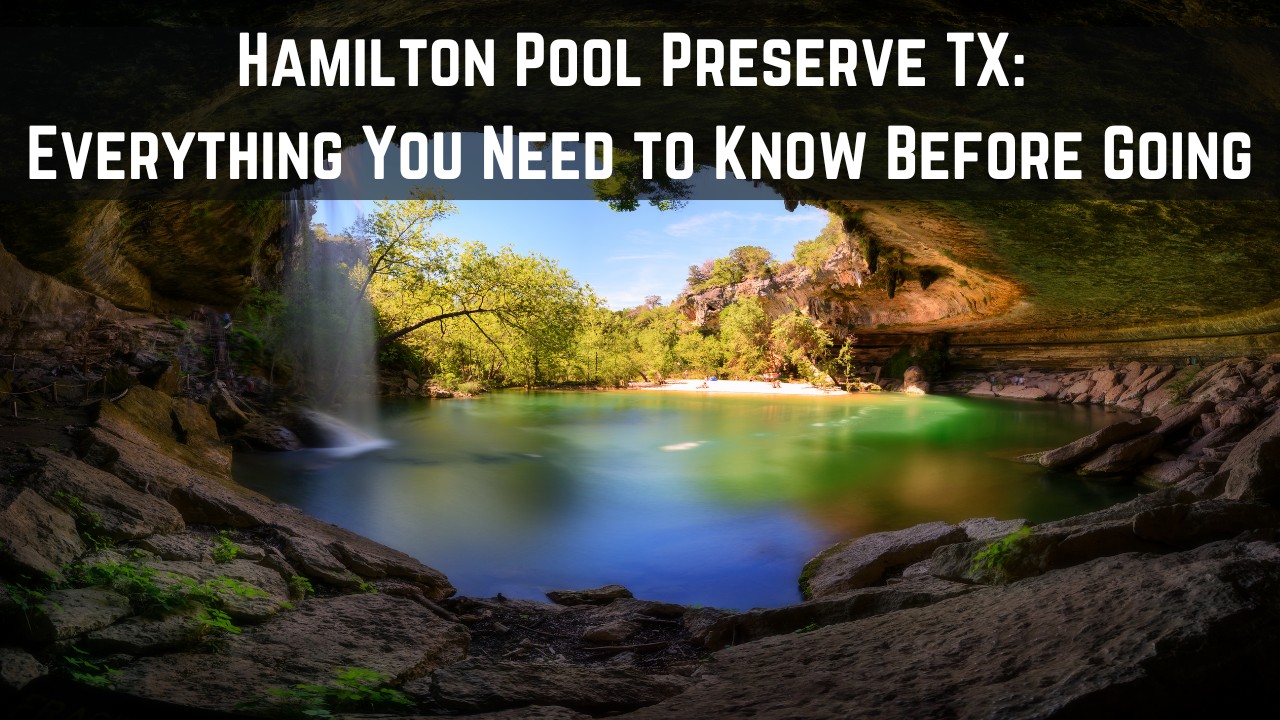 I'm going to list a summary of the 5 major things I learned about this area, but below will give way more context and details so there's no misunderstanding:
A reservation is required (do it a month in advance!).
Access to the best parts of Hamilton Pool (the cave) is limited/restricted (that's what ruined it for me).
The photos of Hamilton Pool you see vs what it looks like in real life are very different.
There is a short hike required to get to the pool.
There are many other areas near Hamilton Pool worth exploring before or after.
1) You can't visit Hamilton Pool Nature Preserve without a reservation (permit):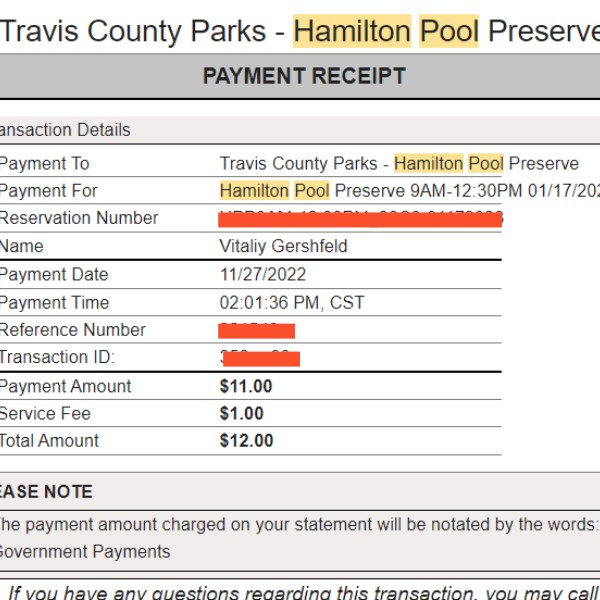 I went there in mid January and actually got my reservation in early December. I would recommend that you do the same (register a month or more out).
As the season gets warmer and people start trying to get there, you will find that it becomes tougher and tougher to get that reservation, so in my case I signed up a month ahead of time and that's for January.
Usually during the winter season you can probably see open slots for signing up a few weeks out, but if you're planning on visiting anytime in the Spring or Summer (peak times), then I would say sign up for a reservation several months out!
Note: You may have seen a waterfall in Hamilton Pool Preserve and it does pop up there, but depending on the season and water flow, it may be a few sprinkles as it was for me, to a stunning waterfall typically during rainy periods so timing your visit to Hamilton Pool should be based on whether or not you want to see it, plus the difficulty of signing up months ahead of time if you plan to visit during peak seasons. Here is a link to reserve a spot in Hamilton Pool Preserve.
Another thing to know is that when you do sign up to get a reservation, it's within a few hours time.
2) The cave areas of Hamilton Pool Preserve (best spots in my opinion) are closed off indefinitely: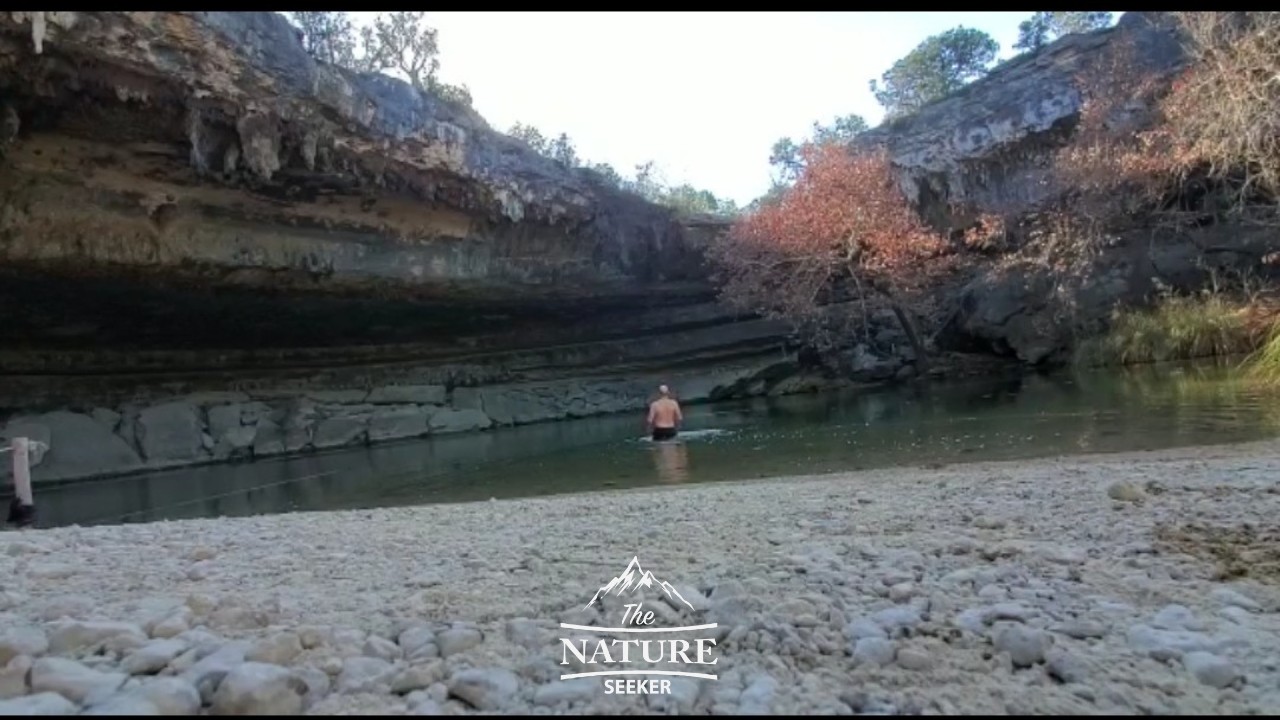 Hamilton Pool is itself a large pond area but there is also a large cave section behind that pool that used to be accessible to the public. When I went there, I discovered that it was closed off due to a danger of rock fall.
While I understand the risks and why they closed it, there are 2 problems which make revisiting Hamilton Pool in the future a deal breaker for me:
First, the best views in my opinion of Hamilton Pool are inside that cave area.
Second, I talked to one of the rangers there about the cave area reopening and they said there is no estimate on when that'll happen and to my memory, it's been closed for over a year now!
So if you're thinking of visiting Hamilton Pool Nature Preserve with the intent to get the same great photos you see online, keep in mind that for the foreseeable future that won't be possible.
3) The Hamilton Pool photos you see vs what you really see when you get there are very different:
That's how it was for me at least. When I first reached Hamilton Pool, I was a bit surprised to see a very different, dark cave area vs what I thought I'd see based on the photos online. Here's a few noticeable differences based on my experiences:
1) The Hamilton Pool waterfall was barely flowing:
I get it, I was there during a low water flow season.
2) The cave areas of Hamilton Pool is where the best views are in my opinion but remember, it's closed:
Some of the best photos I've seen of this place that originally attracted me to it were taken inside of it where you can see the large cave, the waterfall from a distance, and also a glow in the water. Most of that is now impossible to see as long as the cave area is blocked off.
3) The light green glow of the Hamilton Pool water you see in photos:
This is where you need to be at the pool during specific hours. In my case, I arrived at 10:30 a.m, but to get to see that beautiful view (I attached an image which shows an example of that), you need to be there around 12 pm to 2 pm. Then the sun shines over the pool and you can see it better (do know that there are fish in that water too).
4) Visiting during a certain season matters too:
A lot of the photos I see of this place are taken during warmer seasons and I arrived there during winter (I also swam in the pool regardless), but the point is the nature surrounding Hamilton Pool during winter seasons just isn't anything as close to the beauty you would see if you went during the spring or summer seasons.
4) You have to hike about 1/4 miles to reach Hamilton Pool:
Here's a quick preview of what to expect as you get into the area:
First, you'll drive past a ranger station to show your reservation.
Once it's confirmed, you'll park your car close to the station.
Then you'll see a trailhead sign to Hamilton Pool Preserve.
That hike is short but a bit rocky in places and takes about 1/4th miles to reach (easy hike to navigate so you won't

get lost in the woods

).
Regardless of what season you go to visit this area, I would recommend starting as early as you can (get there at 9 am) because there will be lots of people filling up the area.
I was fortunate to be there myself for an entire hour before groups starting coming there. You don't have to wear any sort of special gear to do the hike to Hamilton Pool (but it does help), but just keep in mind that there is a hiking trail you have to take to get to it.
You'll mostly be going down to reach it, but then afterwards, you will have to hike back up to get to the parking lot again.
5) Be sure to explore areas near Hamilton Pool Preserve: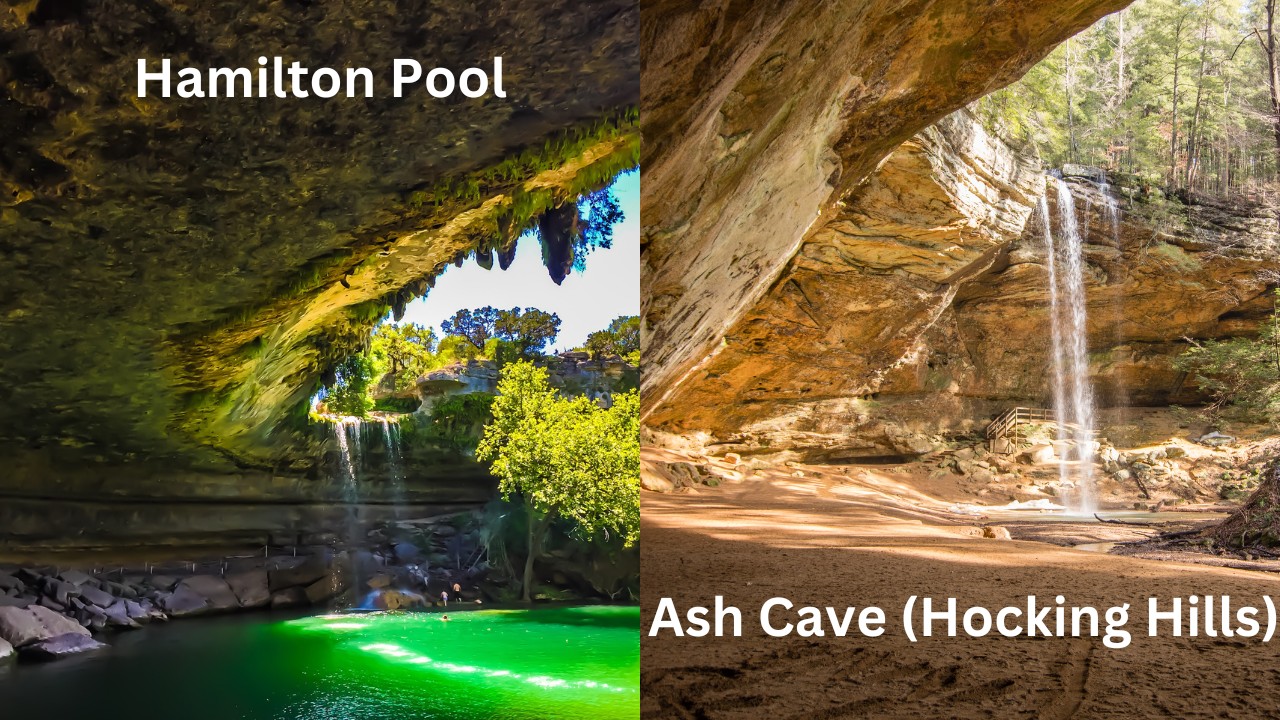 Lots of people go to this area exclusively to see Hamilton Pool Preserve and while you can spend a whole day there, I think you'd be missing out because there's so many other things to see close by! 
I personally discovered that there is an entire region worth of hikes and other adventures to check out there. Here are just some of the many places you can check out:
1) Westcave Outdoor Discovery Center:
It was closed when I tried to visit during January, but there are hikes and other cool caves to see there and it's only a 5 minute drive from Hamilton Pool too!
2) Pedernales Falls State Park:
This is actually about 20 minutes from Hamilton Pool and may be one of the best state parks in Texas to check out. There's swimming, probably less crowds and many scenic spots to see.
3) Cyprus Valley (tree house rentals):
I was shocked that you can actually see and rent tree houses here!
4) Reimer's Ranch region:
You can also explore the Reimer's Ranch area (as the ranger suggested) near Hamilton Pool. It's a large region with hikes, kayaking, swimming and more adventurous places to check out. You can even get a map from the ranger at Hamilton Pool to get more info.
5) Ash Cave at Hocking Hills (unrelated area, but better than Hamilton Pool):
One of the reasons I was so drawn to Hamilton Pool Preserve was because it reminded me of an amazing place called Hocking Hills State Park that I found in Ohio, where one of it's best attractions is a place called Ash Cave which in hindsight I would say is 100x more beautiful and amazing than Hamilton Pool. It is an even larger cave, with an even larger waterfall you can check out. I just had to mention it because of the similarities it has to the Hamilton Pool spot.
Other questions about Hamilton Pool:
How much does it cost to go to Hamilton Pool?
There is a $12 online reservation fee and an $8 additional fee to pay when you officially get to Hamilton Pool Preserve.
Is Hamilton Pool worth visiting?
I would recommend going to Hamilton Pool once, but more importantly be sure to see the parks, attractions and sights near it.
What should I wear to Hamilton Pool?
I would bring regular hiking clothes for the hike to Hamilton Pool and swimming gear for when you reach it like swimming trunks and towels.
Are there bathrooms in Hamilton Pool?
Yes there are portable bathrooms at the parking lot to Hamilton Pool Preserve.
Overall my first (and possibly) only visit to Hamilton Pool Preserve was OK but not as outstanding as I had hoped it'd be, although even if I knew about the cave closure and timing, I'd still go just to see the area and in truth, it is beautiful there, just a lot less beautiful than what I had hoped for because of the closures in place.