8 Things to do in Hocking Hills State Park For New Visitors
I would never have guessed that there are so many things to do in Hocking Hills State Park, but after having gone there twice (so far), it's always amazed me at how much of this area you can cover, even one day there.
And so this post is going to show you that, specifically 8 places to see for first time visitors within Hocking Hills State Park and which ones to prioritize depending on how long you plan to stay there. Ideally it's best to explore this area over 2-3 days, but even if you're only traveling for one day to Hocking Hills, this post is going to show you how to make the best of that experience.
Here are the 8 things to do in Hocking Hills State Park Ohio:
Start by exploring Conkle's Hollow.
Check out upper falls near Old Man's Cave.
Hike through Old Man's cave trail.
Hike the short but pretty Cedar Falls.
Explore Ash Cave.
See Chapel Cave and Twin Falls (same trail).
Check out Rock House Trail.
See Cantwell Cliffs.
The first 5 places on this list are within the main part of Hocking Hills State Park which you can either drive to to reach or take one main trail which is a blue trail to explore. The last 3 on this list are attractions close to Hocking Hills State Park and part of the region which are also incredible spots to check out.
Conkle's Hollow:
What is it? A short and very scenic trail through a gorge that has caves and beautiful rock formations.
Where to go to find it: Conkle's Hollow trailhead
Conkle's Hollow is one of the northern most hiking spots of Hocking Hills State Park that I highly recommend you explore first. There is a large parking area and 2 hikes available:
The first hike is a short 1 mile trail (in and out) that takes you inside a gorge with a waterfall at the end of it.
The second hike is over 2 miles and takes you to the top and around the gorge area.
For me, I took the shorter hike because for me, being inside a gorge presents better views and the walk there was pretty easy to do. In addition, it was a hot day when I came here, and it's much cooler to explore the gorge. There are many scenic views and places to take pictures at there including this one that is underneath one of the gorges.
Explore upper falls near Old Man's Cave:
What is it? An extremely scenic waterfall in Hocking Hills State Park.
Where to go to find it: Upper Falls is in the official Hocking Hills State Park entrance. Park your car in the very large parking lot and head to the northern most part of the blue trail. The waterfall is right there.
This is in my opinion the best looking waterfall in the entire park and at the same time one of my favorite beach waterfalls that I've ever seen. The water is light blue, and there are many photogenic spots to see it from.
Just as well, one of the best ways to explore Hocking Hills State Park is by starting at the Upper Falls area which is a blue trail. You will walk down to the falls, and then if you wish continue on the same blue trail further into the park and into the next section of it which is Old Man's Cave (the next attraction).
Old Man's Cave in Hocking Hills:
What is it? One of the most crowded and popular trails inside Hocking Hills State Park. You will walk through a narrow gorge, along a creek, see tunnels and see amazing sights.
Where to go to find it: Right by the Hocking Hills Visitor center. There is a blue trail that takes you into Old Man's Cave. You can also reach it from the Upper Falls trail (it's all part of the same

blue trail

).
There is a main trail that takes you through most of the park and that is the Old Man's Cave trail. The good news however is that if you don't want to do the full trail, you can do a shorter loop which is what I did there. You can start near the visitor center, and do the 1-2 mile loop hike down and into Old Man's Cave. The views there are breathtaking and honestly, just being there for the first time truly shocked me.
To me, this area of the park looked like Daniel Boone National Forest times a 100 in beauty (and I love Daniel Boone National Forest by the way). But this was the most packed part of the park (you may have to walk in a slow line down there). You'll see waterfalls, gorges, beautiful rock formations, and pretty much the best of what Hocking Hills State Park has to offer (well most of it that is) is in Old Man's Cave. The "cave" area itself is just a tunnel you walk through which wasn't a big deal to me (unless there's a different one I don't know about), but the scenic views down there will truly stun you (it did for me and I have high standards for that).
Do the Cedar Falls hike: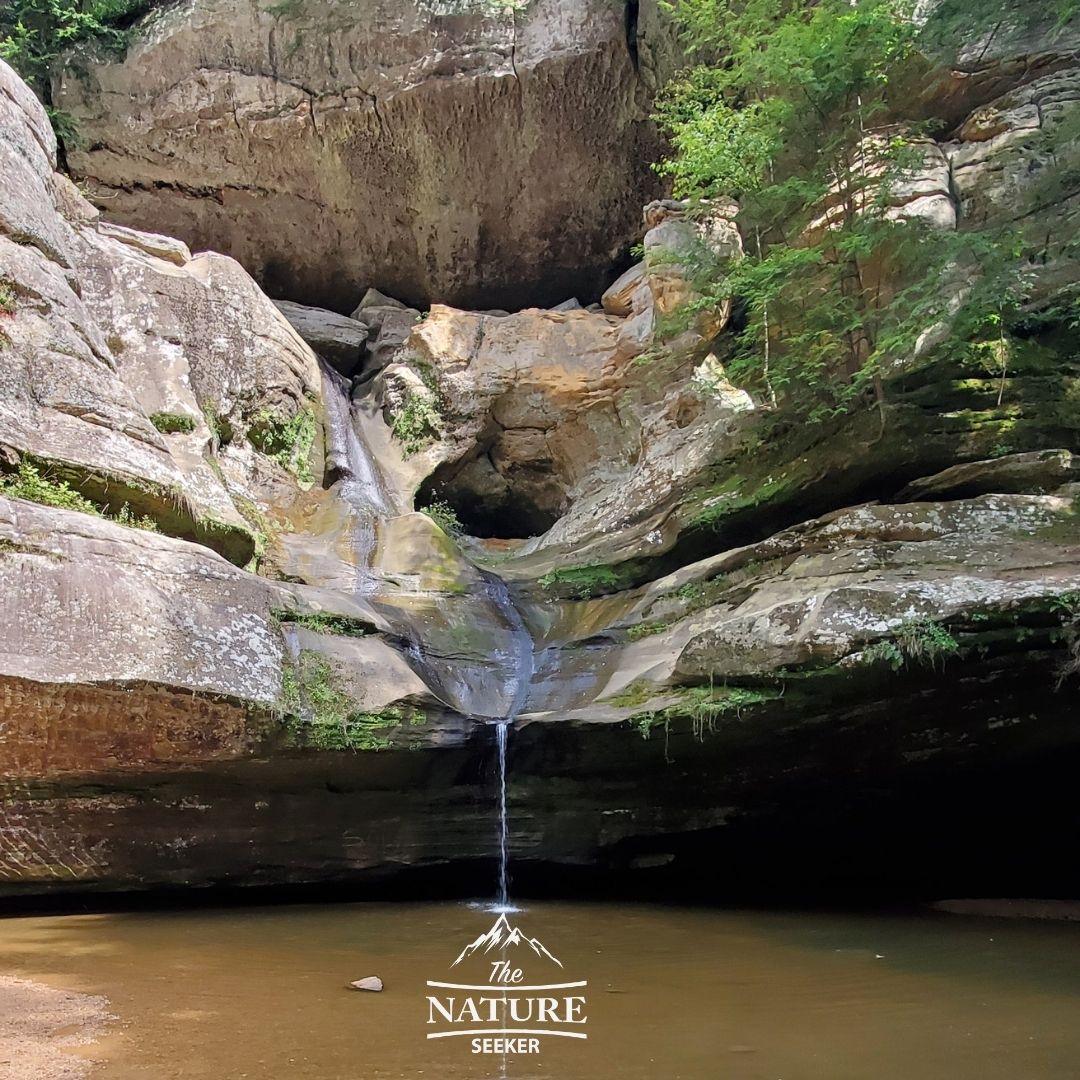 What is it? A hike down into a gorge with a waterfall that looks like Upper Falls.
Where to go to find it: Cedar Falls trailhead
Cedar Falls is a small, but beautiful waterfall you can explore, with more gorges at this park. When I was there, it was pretty dry, but that didn't take away from the overall beauty surrounding it. Walking back out to the parking lot also presents some beautiful areas you can stop and take pictures at. As far as the hike goes, if you're doing the parking lot option (shorter one), it's about a 20 minute walk altogether. I would recommend you take the time to stop and enjoy the sights because every spot in Hocking Hills State Park deserves it!
Ash Cave (One of the best Hocking Hills day hikes):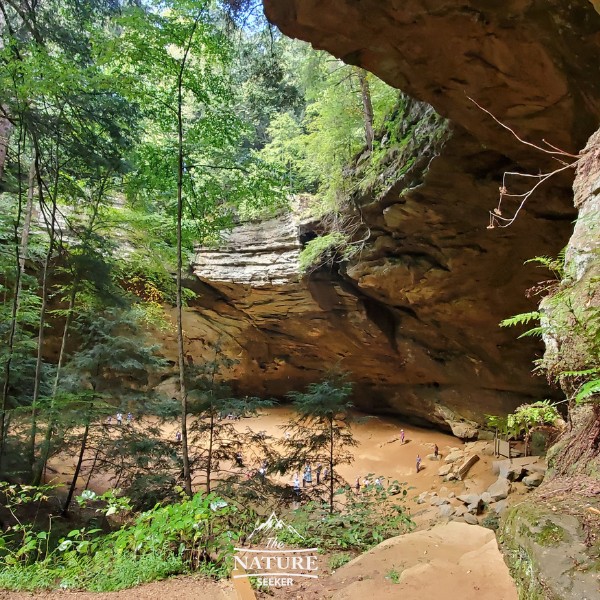 What is it? The biggest cave attraction in all of Hocking Hills State Park.
Where to go to find it: Ash Cave parking area.
If you Google the name of Hocking Hills State Park, there's a good chance that the first image you'll see is actually Ash Cave and it is a giant cave you have to hike down to which takes about 1.5 miles. The good news is that despite being the most beautiful area in the park (in my opinion), there aren't that many people there because there is a longer hike to get down to the cave.
But if you do get there (and I highly recommend you do), you will be floored by the beauty there. Ash Cave is huge and there is a giant "beach" area underneath it, with a small trickling waterfall there. Ash Cave really impressed me in ways that are hard to describe and I have to admit, I have never seen anything like it until I entered this spot. I enjoyed Old Man's Cave hike but Ash Cave was a lot better in my opinion. I did see the pictures before hand, but being there is a whole other experience.
Here's another cool feature of Ash Cave: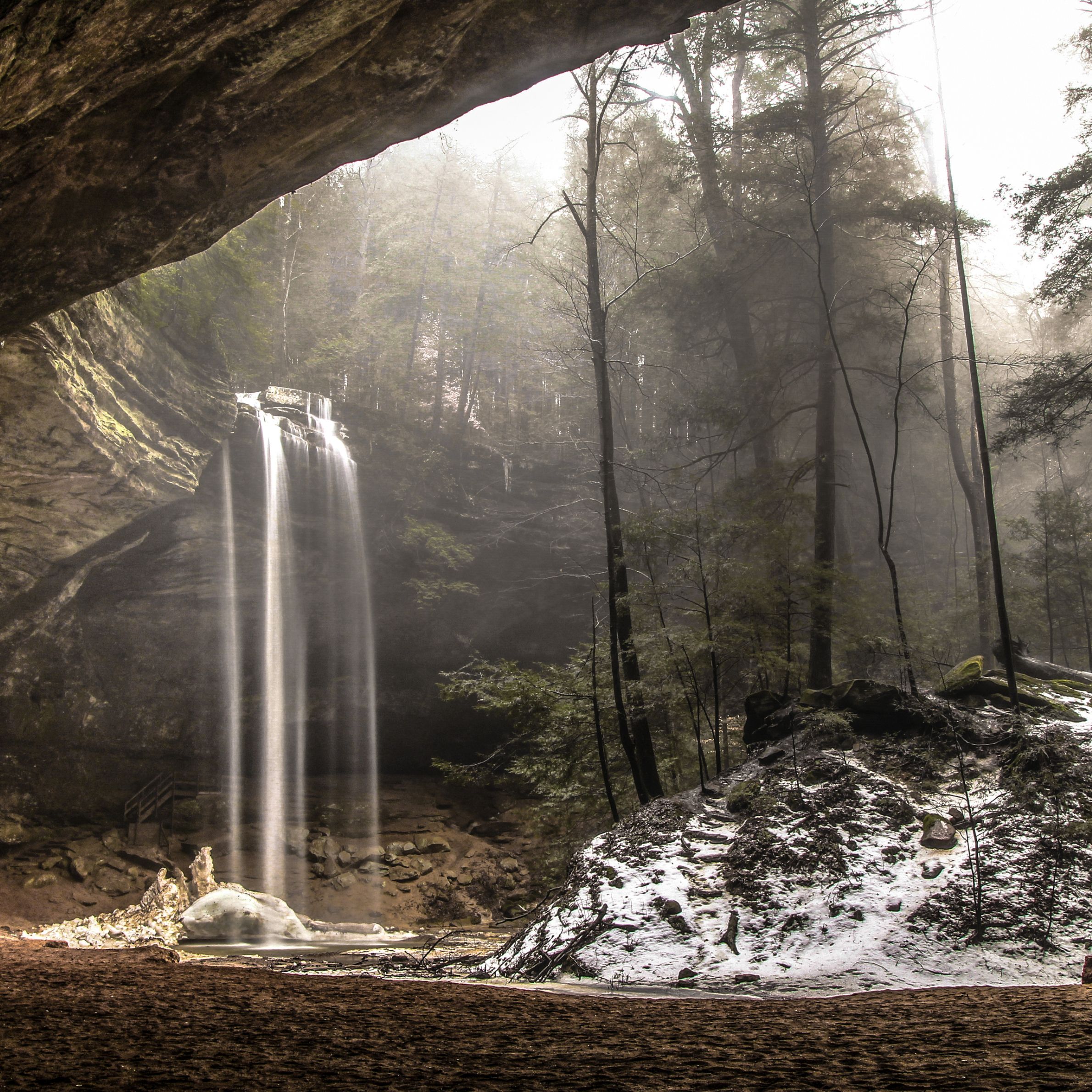 Another thing you may want to explore is the fire tower right by the start of the Ash Cave trail. It's about 100 feet high and a cool little feature of the trail you can explore. If you enjoy fire towers, every state has them, but so far, I have a list of Fire Tower hikes in New York you may find interesting (Over 15 Fire Tower hikes covered so far in that post). Ash Cave actually has a waterfall during certain times of the year you can check out (it's another one of the reasons why this place is my favorite in all of Hocking Hills).
In my case, when I went here (late summer), there was hardly any water there, but it was still a beautiful sight. If you like caves like this, you will find similar ones all across the mid western states including in a place called Big South Fork, on a hike called Honey Creek Loop Trail.
I would if you wish to see the waterfall peak times, it would be during winter to early spring seasons and it's likely you will also find Hocking Hills State Park to be less crowded during that time period. Another interesting thing I wanted to share is that there is a cave in Texas called Hamilton Pool Preserve which looks like this.
Chapel Cave and Twin Falls: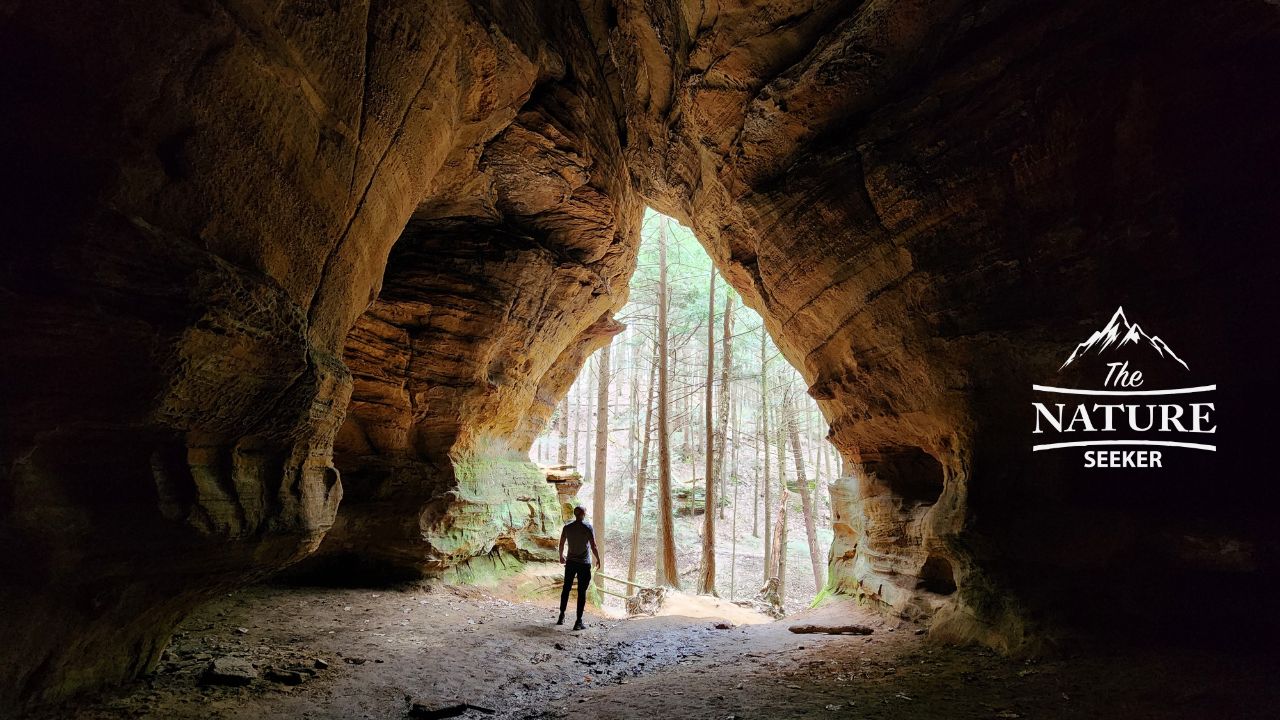 What is it? A short 1 mile hike to 2 attractions, a small scenic cave and a huge gorge with 2 waterfalls.
Where to go to find it: Chapel Cave trailhead.
On my second visit to Hocking Hills State Park, this was one of the additional places I explored and I loved it. It is a short hike to 2 destinations, the first of which is a large cave (not as big as Ash Cave) and the second which is a 5-10 minute hike to 2 waterfalls. I recommend exploring both places and you will following an orange trail marker. Although the truth is that this trail is very easy to follow.
Rock House trail:
What is it? A short hike to a long cave area near Hocking Hills State Park.
Where to go to find it: Rock House parking area.
This was a hike I missed on my first visit to Hocking Hills but made up for it recently. There is a parking lot you will stop at and then hike down to the Rock House area which is a large cave with many openings in it. Other than that, you will be on a loop trail throughout this section and the hike is generally easy to do.
Hike the Cantwell Cliffs: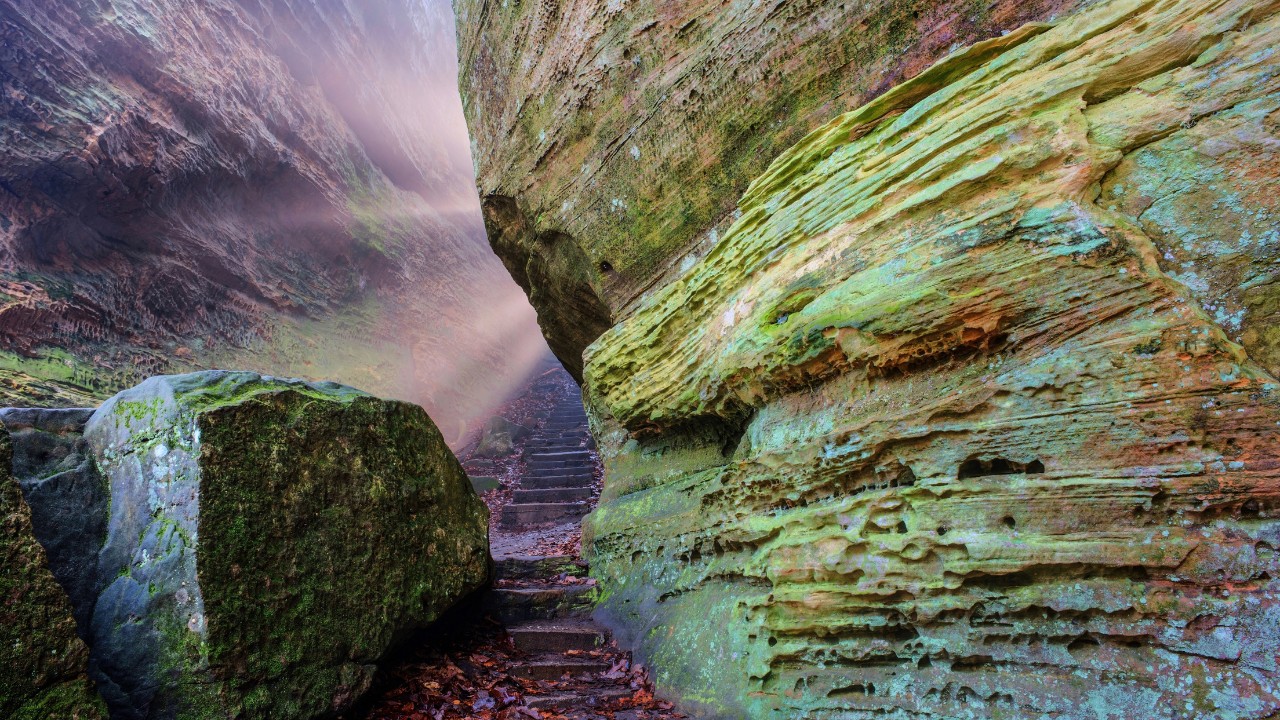 What is it? An incredibly beautiful gorge hike that also includes a waterfall and even caves.
Where to go to find it: Cantwell Cliffs area.
Cantwell Cliffs is not within the park itself, but it's part of the Hocking Hills region to my understanding and it's basically a short hike through the same kind of amazing scenery you would see within Hocking Hills State Park itself. It mixes together the types of cliffs you would see in Rock House with a waterfall hike that looks like Twin Falls and it also includes stairs to make it easier to hike there.
How to do a Hocking Hills day trip (the places I recommend seeing most):
Ash Cave should be the top hike to check out without question. Even if this is the only trail you do on your day trip, it'll be the best thing you can do in Hocking Hills.
Second, Old Man's Cave is the next best hike to see. If you can do this first, and Ash Cave second (or as your last hike so it's the last best one, that'll be better).
Third, there is one giant blue trail from the north part of the park which begins at Upper Falls (near Old Man's Cave) goes there, and actually goes through every hike on this list, except for Conkle's Hollow, meaning you can do 4 day hikes as one on this list.
See the other spots near Hocking Hills State Park after if you can (Chapel Cave, and Rock Garden).
A Hocking Hills State Park map (where to find each spot above):
I've organized this Hocking Hills map according to the numbered list above. You should be able to plan your trip better this way depending on where you are coming from to see this area.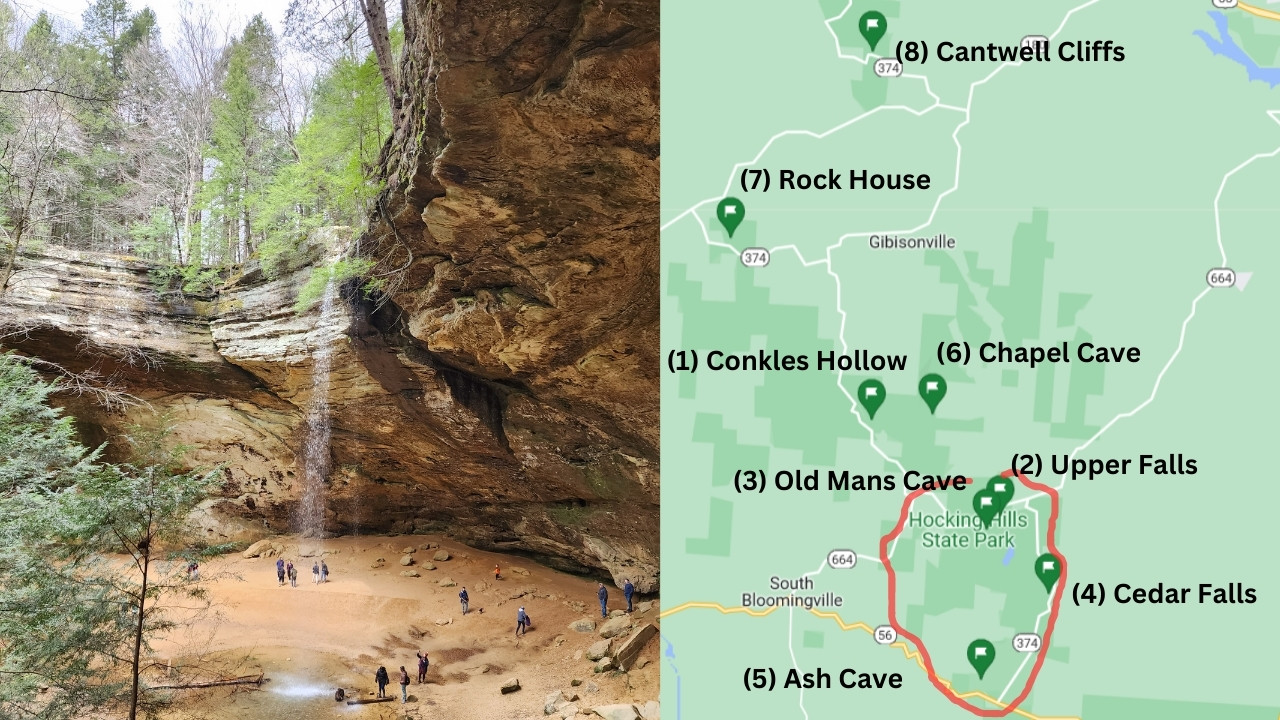 Details on Hocking Hills State Park camping spots:
If you plan to do an overnight trip to Hocking Hills State Park, I've included several options within it that get high ratings and details on reservations too.
There is the Hocking Hills KOA Campground (5 minute drive from the visitor center).
Then there is the closest option which is Hocking Hills Campground (very close to the visitor center).
Slightly west of the park is the Hocking Hills Walk in camp sites.
Closer to the south end of the park is Top O the Caves campground.
There is also an RV camground within the park too.
Details on lodging and cabins in Hocking Hills State Park (many options):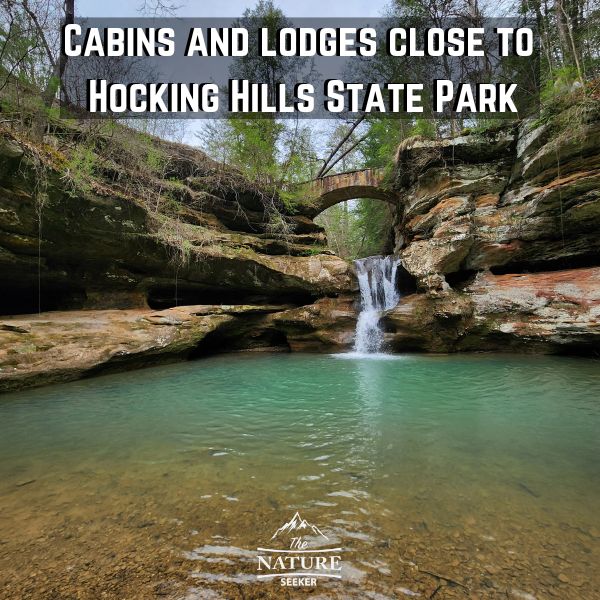 The most popular is Hocking Hills State Park Lodge (basically in the middle of the park).
Then there's a Hocking Hills Caboose which is a literal train car turned into a lodge.
More questions about Hocking Hills State Park: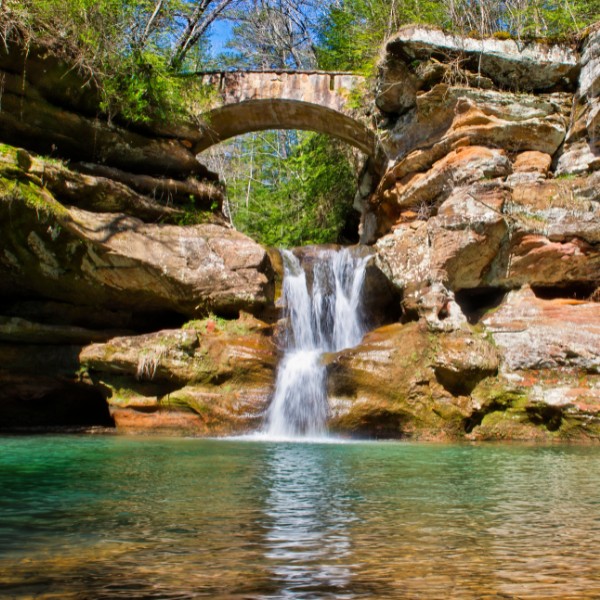 Why is Hocking Hills State Park closed?
Hocking Hills State Park was closed until March 2022, but has reopened. It was closed due to bad weather conditions like snow on the trails and occasionally closes when similar conditions arise.
How much is it to get into Hocking Hills State Park?
Hocking Hills State Park is actually free to enter.
Why is Hocking Hills so popular?
Hocking Hills State Park is just an amazing area to explore, from Ash Cave to Old Man's Cave, there are a ton of breathtaking areas in the park to check out.
What is the closest city to Hocking Hills State Park?
The closest official city to Hocking Hills State Park is Logan. The closest major city near the park is Columbus.
Can you drive through Hocking Hills?
Yes there are at least 5 different roads that take you around and through Hocking Hills State Park. Some of them include roads 374, 664 and Buckeye trail road.
What type of gear should you bring to Hocking Hills State Park?
For most of the hikes, any regular clothing will do, but if you do hikes like Ash Cave, I'd recommend decent hiking or trail running shoes.
More Hocking Hills State Park photos (and more reasons to visit this place):
The following Hocking Hills State Park photos were taken from my last visit there in April 2023 and in my opinion that is one of the best months to visit this park:
And here are some other photos from that same day trip I did to the park (I've also listed the names of the places in every Hocking Hills State Park photo which you can reference with the info above to find the same places):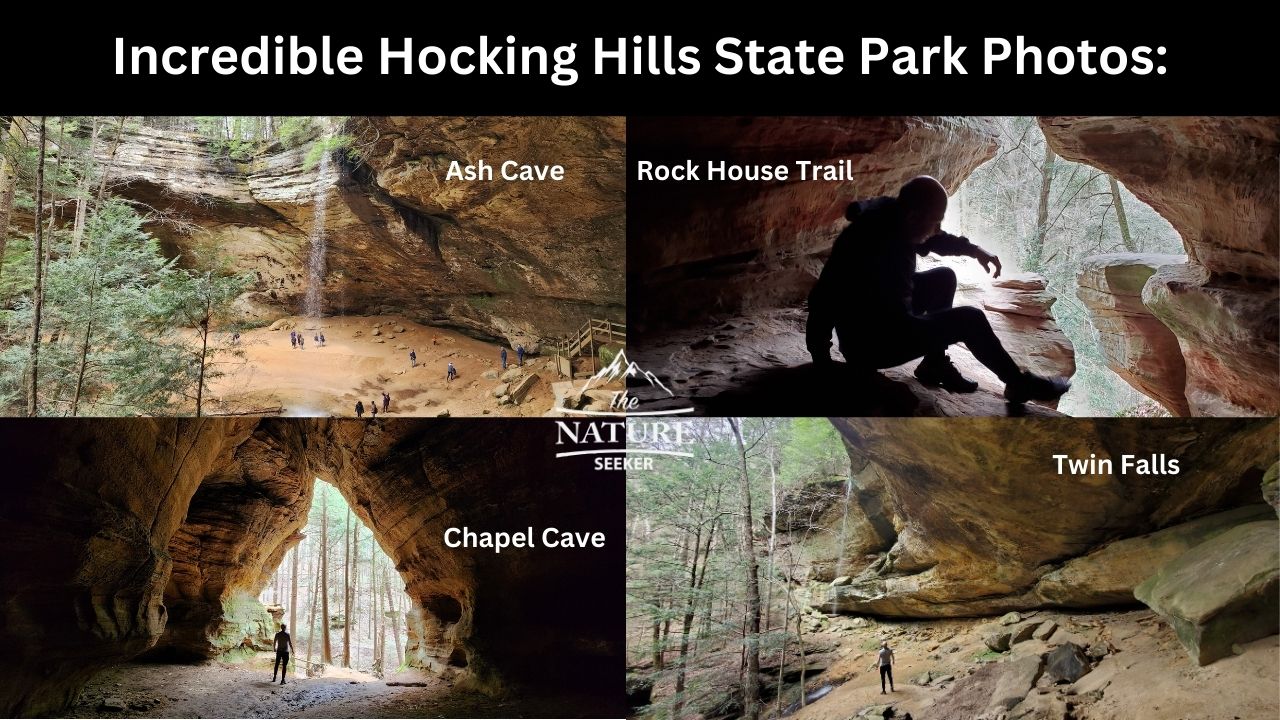 With all of this mentioned, thank you for checking out this post on the best things to do in Hocking Hills State Park! I hope that whether you're going there for a single day or longer that you take the time to explore the places I mentioned above and really enjoy this park the best way possible and if you have any questions about this park and what to do there, let me know below!