I've been blessed in life to visit many places that took my breath away, but Hocking Hills State Park might be one of the top spots that did that. After many years of planning a trip there, I finally got the chance to explore it, but only for 1 day and in this post, I want to share 5 things you can do there, even it's just for a short visit like mine was.
My short day trip to Hocking Hills State Park explained:
Visiting Hocking Hills State Park was a trip I've been trying to make for many years and in mid September 2021, that chance arrived, and of course I took it.
My visit to Hocking Hills State Park was actually the last stop on a 10 day road trip I took and despite seeing some truly stunning areas in those 10 days (Finger Lakes and the North Shore Coast to name a few spots), in many ways, the best was saved for last as this park was what I decided to check out as the last stop on my trip.
However, my trip here would be have to be a short one due to me already being tired from seeing everything else I did for 9 days straight before that, and also because I had some time constraints requiring I get home (NYC) the very same day I was visiting Hocking Hills State Park. And so, the goal when visiting this park was to see as much as I could in the short amount of time I had, and let me tell you, not only did I manage to do that, but I also feel like I got an amazing experience in the park as well.
The good news is that whether you're like me, who is usually in a rush to see as many places as possible, or have more time on their hands, the same 5 things I did, you can do too, either quickly, or take your time with! Either way, I'm certain you'll enjoy your experience in this park more than you can imagine, because this place definitely surprised me with it's beauty (and I don't say that often).
Here are the 5 things to do at Hocking Hills State Park: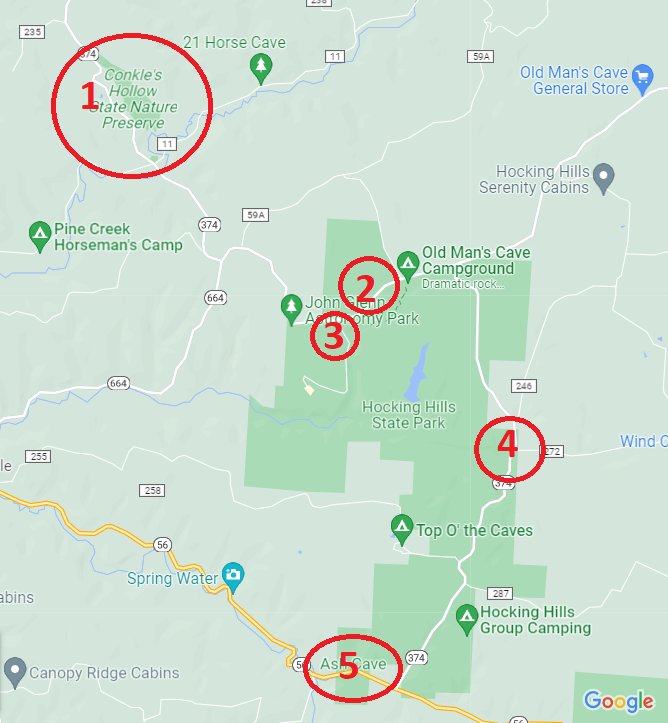 Start by exploring Conkle's Hollow.
Check out upper falls at Old Man's Cave.
Hike through Old Man's cave trail.
Hike the short but pretty Cedar Falls.
Finish up by exploring Ash Cave.
All of these spots are part of Hocking Hills State Park and are designed to be explored from the north end of the park to the southern most end.
I have also included a map of the entire Hocking Hills State Park map for your reference so you know where each place is (some of them you can input into your GPS, but just know the cell phone reception in this park is awful):
For me, since I didn't know about any of these spots before going there, I had to go there blind and then figure out what to visit first, so you have all the research done for you.
Now with these 5 spots I just listed, it took about 6 hours to explore all of these spots and while there was much more this park had to offer, these 5 spots are absolutely stunning and will give you a great exploration of this amazing park.
1) Conkle's Hollow:
Conkle's Hollow is one of the northern most hiking spots of Hocking Hills State Park that I highly recommend you explore first.
There is a large parking area and 2 hikes available:
1) The first hike is a short 1 mile trail (in and out) that takes you inside a gorge with a waterfall at the end of it.
2) The second hike is over 2 miles and takes you to the top and around the gorge area.
For me, I took the shorter hike because for me, being inside a gorge presents better views and the walk there was pretty easy to do.
In addition, it was a hot day when I came here, and it's much cooler to explore the gorge.
There are many scenic views and places to take pictures at there including this one that is underneath one of the gorges.
2) Explore upper falls near Old Man's Cave:
Old Man's Cave is pretty much the feature attraction in all of Hocking Hills State Park, but before you go in there, there is a beautiful waterfall you can explore nearby called Upper falls.
It is located by the Old Man's Cave parking lot at Hocking Hills State Park (see location 2 on the map I put above).
There is a nice stairway down to the beach to get a great view from it, and a nice trail that continues south to Old Man's Cave (right):
You can choose to follow that and do the long loop trail, or return to the parking lot and enter Old Man's Cave a bit further down which will make the overall trail shorter.
When I first came to this park, this was actually the last location I explored and this is because no one could tell me where exactly this spot was on the map.
After I found the name of it, a person told me it's location (right by the parking lot).
3) Hike to Old Man's Cave and back:
There is a main trail that takes you through most of the park and that is the Old Man's Cave trail. The good news however is that if you don't want to do the full trail, you can do a shorter loop which is what I did there.
You can start near the visitor center, and do the 1-2 mile loop hike down and into Old Man's Cave. The views there are breathtaking and honestly, just being there for the first time truly shocked me.
To me, this area of the park looked like Daniel Boone National Forest times a 100 in beauty (and I love Daniel Boone National Forest by the way). But this was the most packed part of the park (you may have to walk in a slow line down there).
You'll see waterfalls, gorges, beautiful rock formations, and pretty much the best of what Hocking Hills State Park has to offer (well most of it that is) is in Old Man's Cave.
The "cave" area itself is just a tunnel you walk through which wasn't a big deal to me (unless there's a different one I don't know about), but the scenic views down there will truly stun you (it did for me and I have high standards for that).
4) Do the Cedar Falls hike: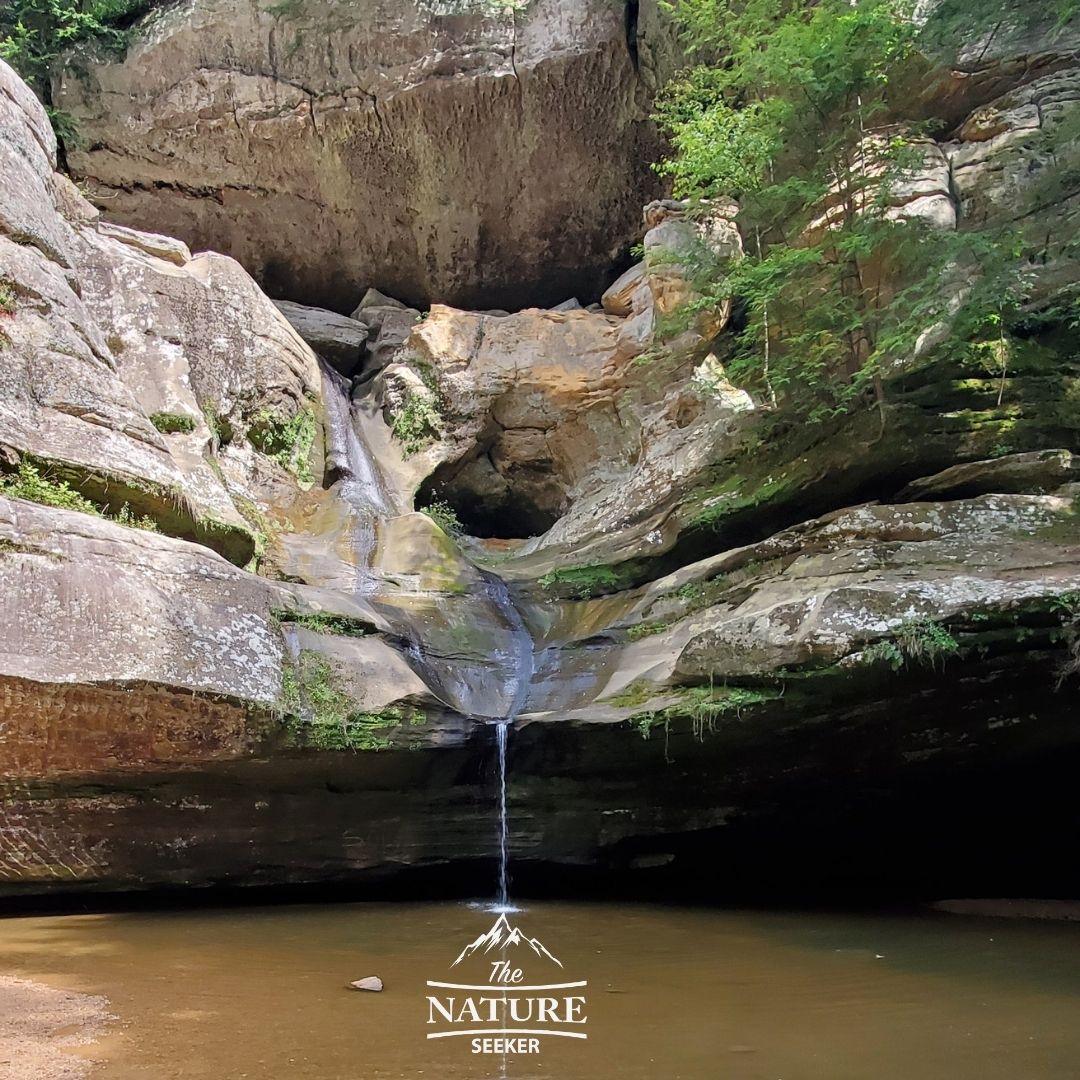 Cedar Falls is further down the Hocking Hills Park area and you can elect to drive there and take the short hike down to the falls, then back up to the parking lot.
Then there's also taking the connecting trail from Old Man's Cave trail there yourself (if you have more time in the park, I suggest the longer trail).
That would take you several miles to do though, so keep that in mind.
But Cedar Falls is a small, but beautiful waterfall you can explore, with more gorges at this park. When I was there, it was pretty dry, but that didn't take away from the overall beauty surrounding it.
Walking back out to the parking lot also presents some beautiful areas you can stop and take pictures at.
As far as the hike goes, if you're doing the parking lot option (shorter one), it's about a 20 minute walk altogether.
I would recommend you take the time to stop and enjoy the sights because every spot in Hocking Hills State Park deserves it!
5) Ash Cave (my favorite area of Hocking Hills State Park):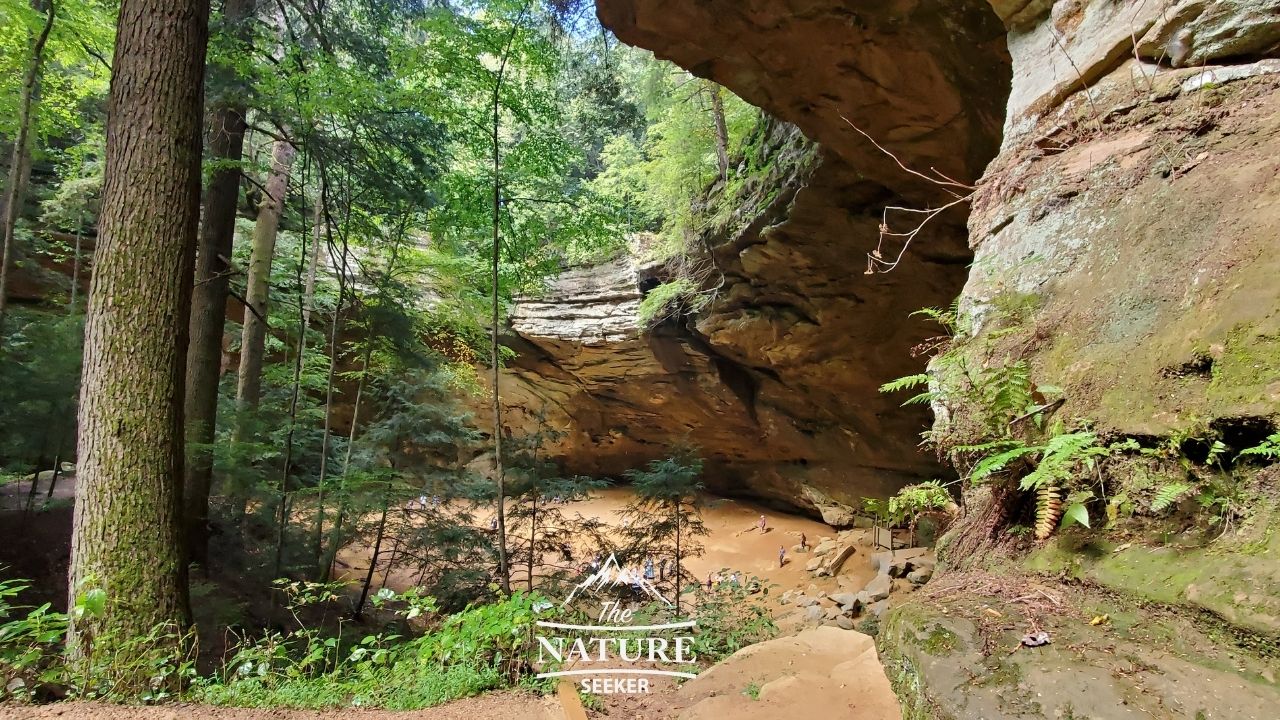 If you Google the name of this park, the first image you'll likely see is actually Ash Cave and it is a giant gorge/cave you have to hike down to which takes about 1.5 miles.
The good news is that despite being the most beautiful area in the park (in my opinion), there aren't that many people there because there is a longer hike to get down to the cave.
But if you do get there (and I highly recommend you do), you will be floored by the beauty there. Ash Cave is huge and there is a giant "beach" area underneath it, with a small trickling waterfall there.
Ash Cave really impressed me in ways that are hard to describe and I have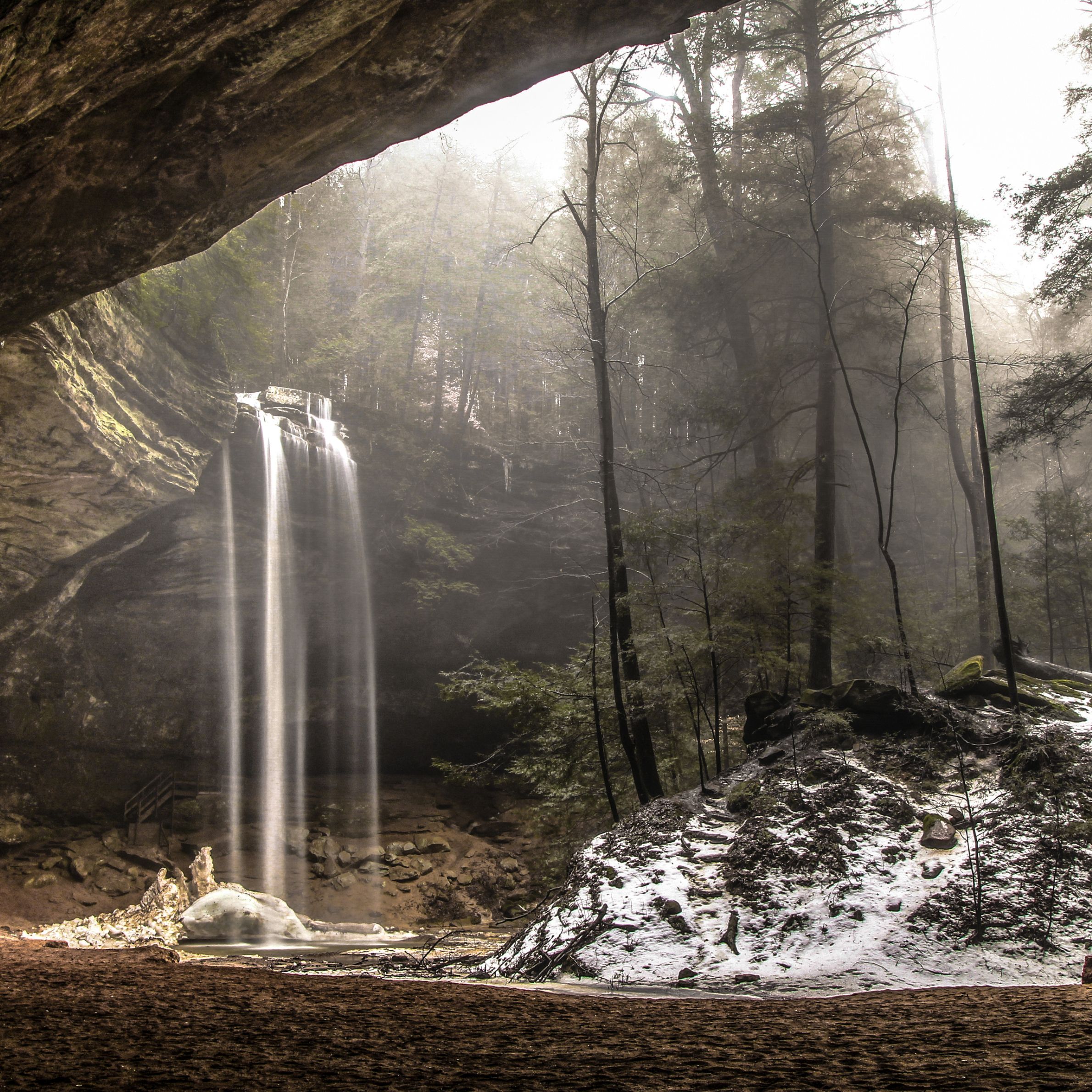 to admit, I have never seen anything like it until I entered this spot.
I did see the pictures before hand, but being there is a whole other experience.
Another thing you may want to explore is the fire tower right by the start of the trail that takes you to Ash Cave.
It's about 100 feet high and a cool little feature of the trail you can explore. If you enjoy fire towers, every state has them, but so far, I have a list of Fire Tower hikes in New York you may find interesting (16 so far).
Note: Ash Cave actually has a waterfall during certain times of the year you can check out (it's another one of the reasons why this place is my favorite in all of Hocking Hills).
In my case, when I went here (late summer), there was hardly any water there, but it was still a beautiful sight.
I would if you wish to see the waterfall peak times, it would be during winter to early spring seasons.
Frequently asked questions about Hocking Hills State Park:
Why is Hocking Hills State Park closed?
Hocking Hills State Park was closed until March 2022, but has reopened. It was closed due to bad weather conditions like snow on the trails and occasionally closes when similar conditions arise.
How much is it to get into Hocking Hills State Park?
Hocking Hills State Park is actually free to enter.
Why is Hocking Hills so popular?
Hocking Hills State Park is just an amazing area to explore, from Ash Cave to Old Man's Cave, there are a ton of breathtaking areas in the park to check out.
What is the closest city to Hocking Hills State Park?
The closest official city to Hocking Hills State Park is Logan. The closest major city near the park is Columbus.
Can you drive through Hocking Hills?
Yes there are at least 5 different roads that take you around and through Hocking Hills State Park. Some of them include roads 374, 664 and Buckeye trail road.
What type of gear should you bring to Hocking Hills State Park?
For most of the hikes, any regular clothing will do, but if you do hikes like Ash Cave, I'd recommend decent hiking or trail running shoes:
Finishing up your day trip to Hocking Hills State Park:
Ash Cave for me was the most beautiful part of this park (and a great way to finish my day trip there), followed closely by Old Man's Cave. At the very least, those 2 spots are a must to explore if you're visiting this amazing park for the first time.
I also have to warn you that the crowds at this park are huge and in my case, while I do my best to avoid weekend trips, this one couldn't be helped and I arrived on a Saturday there.
How this is considered a State Park and not National Park is beyond me as it's beauty is better than most of the national parks I've visited in my lifetime. However, do note that further north of this park is another beautiful place called Cuyahoga Valley National Park, which also offers amazing sights. In fact, here is a Cuyahoga Valley National Park vs Hocking Hills State Park comparison.
But in any case, Hocking Hills State Park is a wonder to explore and if you've never been to Ohio before, the landscape of this park is something that is very difficult to describe unless you actually go there. And when you do, I assure you, you'll be floored like I was by it's beauty.
I fully intend to revisit this park again and explore even more spots, but for my first time visit there, these 5 spots felt like I got the buffet tour of the park (and I was very satisfied by it).
If you have visited Hocking Hills State Park and you have other recommendations of places to see and things to do there, let me know!