There are tons of things to do in Cuyahoga Valley National Park but the purpose of this post is to help you isolate the top 5 activities if you are only intending to spend one day there.
I ventured into Cuyahoga Valley National Park by accident while exploring Ohio and in doing so, put myself in a position where I could only spend about half a day there. And so, tight on time, I decided to find as many things to do there as possible and to my surprise, there were many options and to be honest, I actually managed to accomplish quite a lot of them in a short time frame.
5 best things to do when spending one day in Cuyahoga National Park: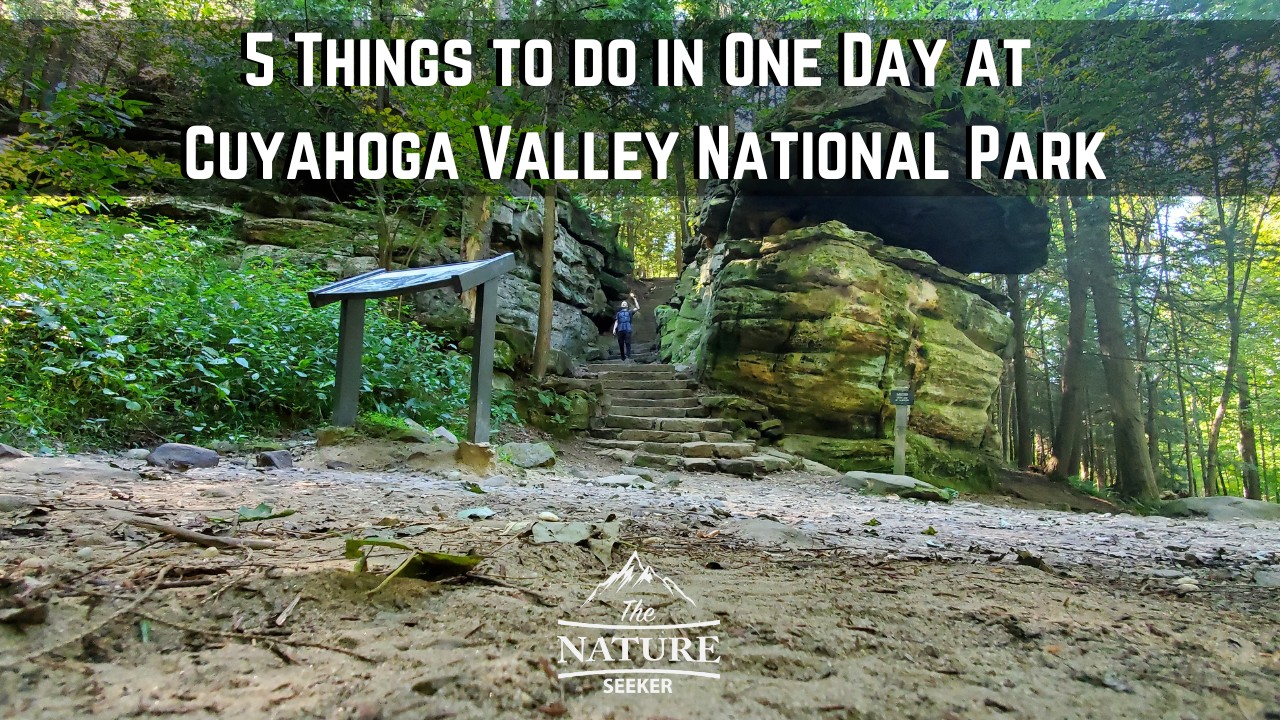 Start with Brandywine Falls.
Explore Kendell Lake.
Do the Ledges Trail.
Kayak across Cuyahoga river.
Take the Cuyahoga Valley scenic railroad tour.
How I accidentally ended up in Cuyahoga Valley National Park:
It was the second day of my road trip to Minnesota. The day before I started in NYC, went through Finger Lakes and stayed in Eerie, Pennsylvania.
My original plan on the second day was to visit Hocking Hills State Park which is also in Ohio, but I was tight on time because the same day I had to be in Traverse City by nighttime when my buddy would arrive to join for the remainder of the trip, and so I couldn't venture too far south and in this case Hocking Hills State Park was way too south to risk going to.
And so, I decided to look around at what parks were available for me to explore given the region I was in and to my surprise, Cuyahoga Valley National Park turned up on the GPS, and I literally had no clue that Ohio even had a national park to begin with. But this presented an opportunity, to visit it for a few hours, see what I could, and then continue north west to reach Traverse City.
And so I went. But without knowing the area, or what to see first, I just randomly selected the nearest spot that was east of the park. I figured I'd start there and then ask around for what else there was to do.
While making a stop at a gas station, I browsed images of this park and was amazed at how I'd never heard of it before, as the images were certainly stunning and I wanted to make sure I could actually see those places for myself to make that visit worthwhile. And once I got to the first stop, so began my tour:
And here's what to do in Cuyahoga Valley National Park (for one day trips):
We'll start with a simple waterfall hike there and follow that up with other activities that are mixed in terms of the attractions there.
1) Brandywine Falls: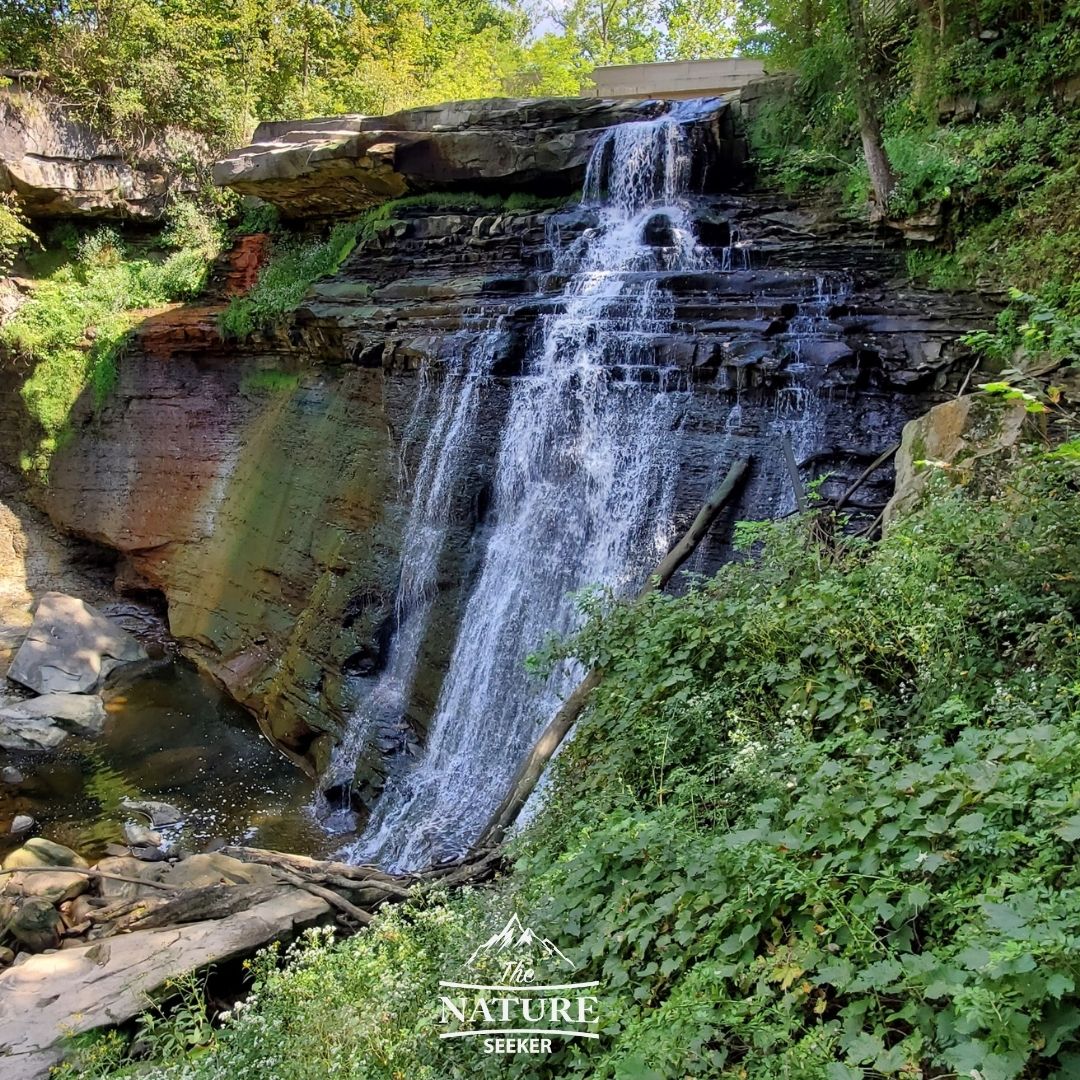 This was the first major stop on my visit to this park. The good news is that it's very popular (maybe that's the bad news), has a large parking lot and the trail to get to the actual waterfall is pretty short and easy to reach (it's called Brandywine Gorge Trail).
It only took me 5 minutes to get to the overlook of the waterfall, which was pretty awesome to check out. I didn't stay long and continued to look around at what else was possible to check out nearby.
The only thing (and this may be something you can do) is that there is a bike trail available across the park that you can take and it crosses over the top of this waterfall. Otherwise, if you enjoy simple trails (and crowds), then checking out Brandywine Falls is a pretty good way to start your visit to this park. There is a gorge area underneath it and I don't know if it's possible to reach, but that could be dangerous, so I wouldn't do it.
2) Kendell Lake:
My next stop would be to Kendell Lake, located further south in Cuyahoga Valley National Park. I had to browse many blogs, images and do a lot of quick research to learn about this place, and that most of the amazing pictures I saw of this park were located near it. After figuring this was the next place to do, I took my car and traveled there. Luckily, the road was easy to drive on, and the parking lot to this lake was also pretty wide.
This area of the park wasn't as filled with tourists, was very peaceful and was a great spot to go fishing, or just meditate. But in my case, I had no time to do any of that and needed to go to the next destination. Luckily as I found out, there were 2 hikes near Kendell Lake which just so happened to be exactly what I sought to discover in this park in the first place:
3) Hike the Cuyahoga Valley National Park Ledges Trail:
If you see pictures of amazing looking trails in this park, odds are it's the Ledges Trail you're looking at. In fact:
With regards to the best hikes in Cuyahoga Valley National Park, The Ledges trail is number 1:
In my case, I explored it after another connecting trail. I left my car parked at the Kendell Lake parking lot and proceeded to head to a different trail which intersected with the Ledges Trail (it's called Pine Grove Trail). Sadly, the Pine Grove Trail was pretty boring to explore and I spent about 30 minutes running the 2 mile loop.
But it does cross into the Ledges Trail and just so you know, you can actually park right by the Ledges Trail itself (I only later learned this). Anyway, the Ledges trail is a loop hike you can take which in my opinion will show off the best stuff this park has to offer, from beautiful boulder structures, to the hike itself being out of this world.
I made sure to take my time on this trail, as it does take you to a giant field, and "famous" overlook area which I didn't find all that interesting. Overall, for me the Ledges Trail was the most beautiful thing I saw in the entire park that day, and the boulder areas which are pretty much across the entire loop are what's worth looking at most.
Note: If you like hikes like this, then there is another park called Nelson Kennedy Ledges State Park nearby which has more stuff like this.
4) Kayak the Cuyahoga river: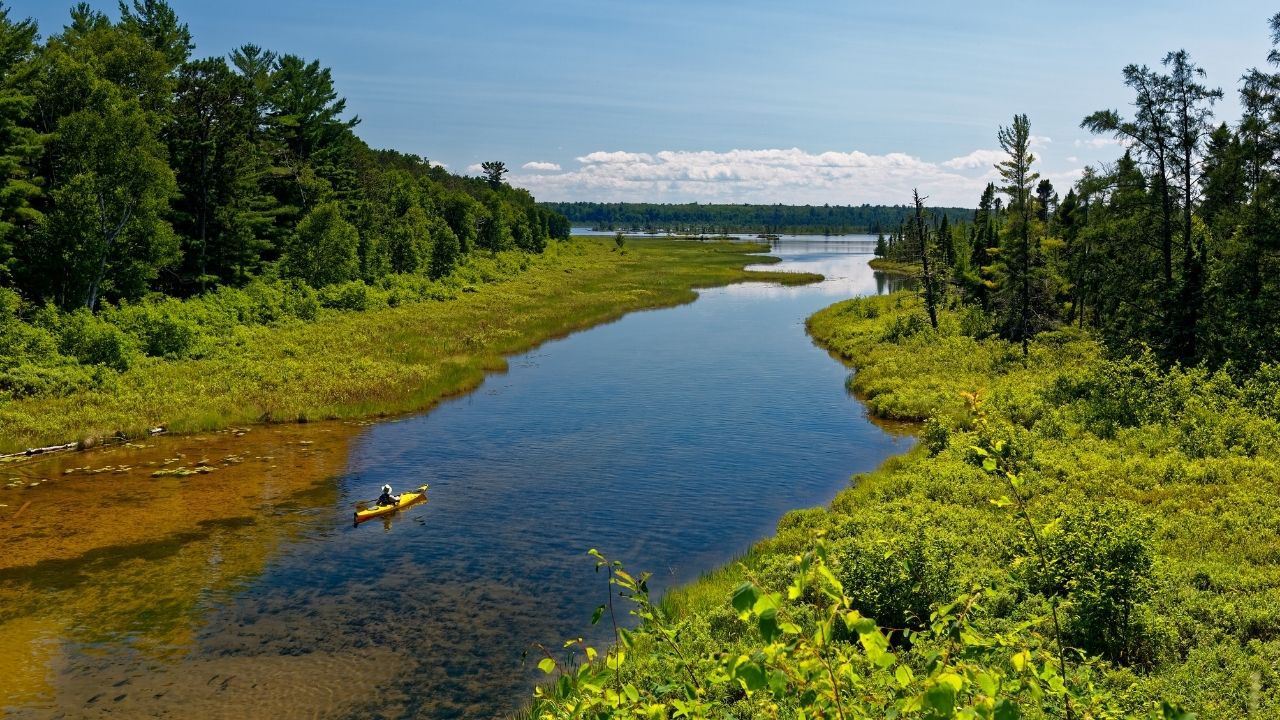 This and the next activity are what I didn't have time to do, but only later learned this was an available activity. In this case, there is a very long river you can kayak across which goes through the park and has you seeing great views. Even if I had the time, I wouldn't be able to do this alone as I would need a ride back to my car from wherever I started. But overall, if you're into kayaking and water sports, Cuyahoga Valley National Park has that opportunity for you to check out and there's a lot to see while you kayak here.
5) Do the Cuyahoga Valley scenic railroad attraction:
One of the main attractions you'll find in this national park is a train ride that takes you across the area and it's known as the Cuyahoga Valley scenic railroad (it also runs close to the Cuyahoga River). It's available for tourists and I recall hearing it many times as I hiked across the Ledges Trail.
This particular activity is awesome for families and people seeking to just sit back and enjoy this park's beauty instead of hiking there or not knowing what else to see. It will take you through very scenic areas from what I saw and is highly recommended.
Again, for me, this was not something I had time to do, but in the future will. I do know in hindsight that this is one of the best things to do in Cuyahoga Valley National Park and if you mix that together with hiking the Ledges trail, those 2 activities are probably the best way to explore this NP.
Other questions about Cuyahoga Valley National Park that I found out about:
Is Cuyahoga National Park worth visiting?
Yes Cuyahoga Valley National Park has a lot to do. Amazing hikes, a great train ride, awesome kayaking experiences and a great road trip to explore overall.
What is special about Cuyahoga Valley National Park?
There are many waterfalls, beautiful hikes like the Ledges Trail, and tons of mixed adventures you can check out in Cuyahoga Valley National Park that are amazing for anyone, including families.
How many days do you need in Cuyahoga Valley National Park?
One day is enough to see a lot of things in Cuyahoga Valley National Park, but 2-3 is the most I'd recommend spending here.
What is the best time to visit Cuyahoga Valley National Park?
I recommend visiting Cuyahoga Valley National Park either in the spring or fall. The temperatures are cooler and typically it is not a peak season.
How long does it take to drive through Cuyahoga National Park?
One hour (without stops) is enough to drive through most if not all of Cuyahoga National Park.
Can you do all 5 of these things in Cuyahoga Valley National Park in one day?
Absolutely. Considering you begin early and don't wait on any particular activity too long, as well as go with others so they can pick you up if you do the kayak or train ride, then you should be able to do that. Of course, Cuyahoga Valley National Park has much more to explore than just these 5 things, but by starting with this list, you will be checking out some of the most popular (and beautiful) parts of this park. Overall, I was very happy that I stumbled onto this place on my road trip, and in hindsight, it just gave me another opportunity to explore another gorgeous spot.
More related articles: If you're wondering if Hocking Hills State Park is better than Cuyahoga Valley National Park, I have a comparison up for you to check out.
8 things to do near Cuyahoga Valley National Park: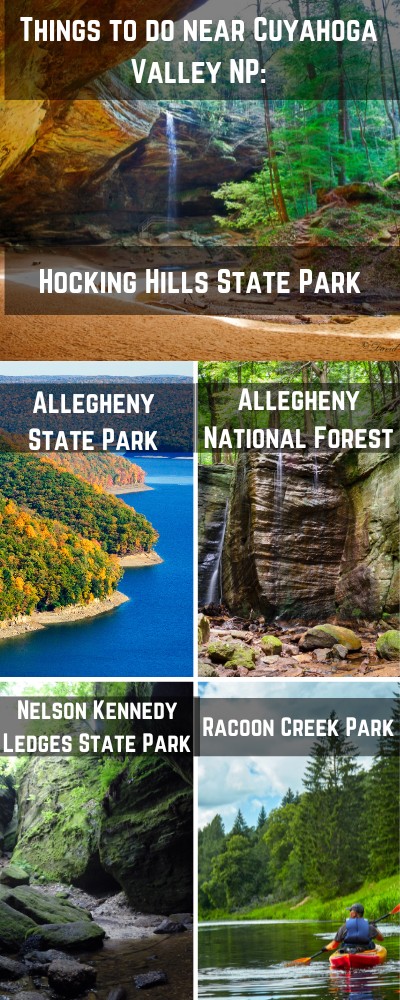 If you're done exploring this park or want to see other places before you come here, I have a few suggestions of other great spots a few hours away in each direction:
1) Hocking Hills State Park. Without a doubt, this park which I did later visit on my way back home was absolutely stunning, even better than Cuyahoga Valley in my personal opinion! The only thing is that this park is several hours south of the national park.
2) Allegheny National Forest. This is about 3 hours east of Cuyahoga Valley and is also an amazing region to see. They have larger mountains here than than in Ohio and there is also a good mix of the type of terrain you'd see in Cuyahoga too.
3) Allegheny State Park. This is the connecting park to the national forest above, but it's in NY state whereas the national forest is in Pennsylvania. It also has a lot of hiking trails and great views to explore and I think it's one of the best state parks in New York overall.
4) Nelson Kennedy Ledges State Park. This is a park about 30 minutes easy of Cuyahoga Valley and the name it carries "ledges" is not the same as the Ledges Trail.
But this park is highly popular and a great add on visit to include before or after you check out the national park. I went here and it's an incredible park. It's very small but I liked it a lot more than Cuyahoga Valley.
5) Racoon Creek State Park. This park is about 2 hours south east of Cuyahoga and is a scenic place to explore hiking trails, do kayak explorations and more. It's also pretty close to Pittsburgh.
6) There is also Daniel Boone National Forest further south (we're talking like 5 hours at least from the national park), but I would consider this region if you are actually coming from or heading in that direction.
7) If you're heading east from Cuyahoga, another option is the same Finger Lakes region I mentioned earlier. It's about 3 hours away from Cuyahoga National Park and I honestly think there are better sights, from the beautiful waterfalls in Finger Lakes, to the gorge trails and many other attractions. It's an amazing region with a great mix of wild terrain that looks both like Cuyahoga Valley and Hocking Hills in parts.
8) And finally another park not too far from Cuyahoga Valley I also recommend is Mohican State Park (especially if you are headed towards Columbus Ohio).
9) As a bonus there are also a bunch of other amazing national parks on both the east (like Acadia National Park) and west coast areas (like Death Valley National Park) and they are all worth seeing too in addition to every other park above.