Pictured Rocks National Lakeshore might be one of the most popular nature attractions in all of Michigan (and possibly the US). At the same, if you're going there for the first time, you may find a lot of difficulty in getting clear information on the best things to do there.
I've got that handled and will show you the top 7 things to do there in this post! I'll show you the top spots and where exactly to find them on the map so you don't have to figure it out on your own and lose time there.
Here's how my trip to Pictured Rocks National Lakeshore went down: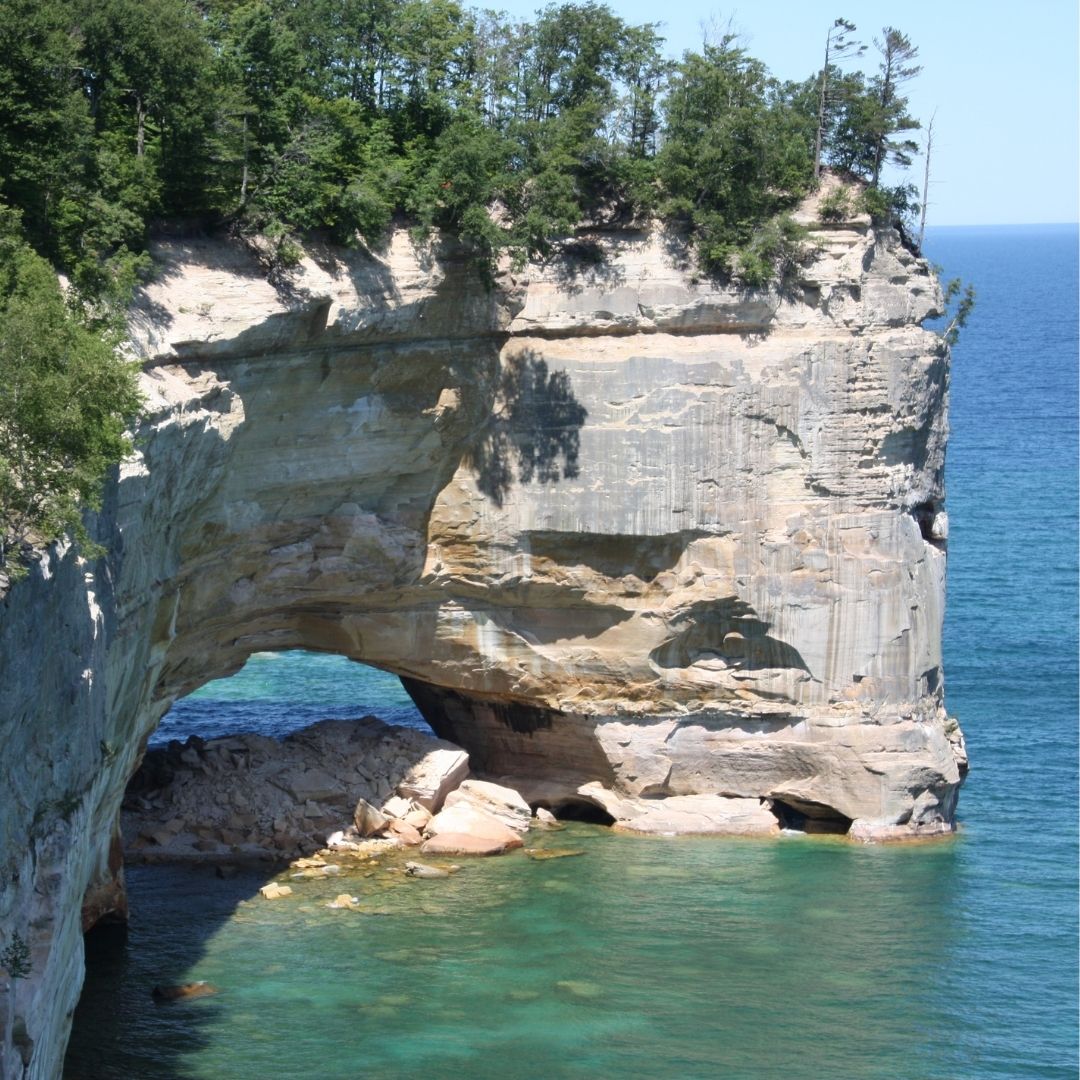 I was doing a 10 day road trip from New York to Minnesota and back, but in between these 2 destinations, there was a 2-3 day opportunity to explore Michigan State, including the Upper Peninsula region of it, and that's exactly where Pictured Rocks National Lakeshore lies.
I only had about half a day to explore this place and figured I'd just Google or look for blogs that talk about the best things to do there while my buddy and I were driving into it.
However, as I quickly learned, there isn't much good information on exactly what to see and do there and so much of my visit to Pictured Rocks National Lakeshore ended up being impromptu and having to figure everything out as we explored it.
At the same time, going into this place blind ended up fueling the reason I wrote this article because after visiting Pictured Rocks National Lakeshore, I did get many answers to the questions I had and in this post, you'll know exactly where all the best spots are as well as the best things to do ahead of time before you go here.
In short:
I explored and researched the best things to do in Pictured Rocks National Lakeshore so you don't have to. Let's begin:
Here are the 7 best things to do at Pictured Rocks National Seashore:
Start by visiting Sable Falls.
Check out Spray Falls.
Explore Chapel Rock.
Do the trail to and around Pictured Rocks itself.
Check out Miners Falls.
Check out Miners Castle Point (upper and lower overlook).
Kayak across Pictured Rocks National Seashore.
These are considered some of the most popular attractions and things to do there (I didn't have time for all of them, but knowing where they are, you will be able to see all of them in one day if you start early).
In our case, we began in the east side of the park and worked our way west. Our trip began there around 2 p.m (We actually started in Traverse City, Michigan).
5 important things to know before you visit Pictured Rocks National Lakeshore:
1) There are many camping spots across the park (reservations are required).
2) There is one main road across the park (H 58, aka Adams Trail). This is what you'll drive across the park area. It's actually a pretty boring road so don't expect any sort of amazing scenic drive here.
3) You can actually hike through the entire park. This is through what's known as the North County Trail and it actually happens to take you through the most beautiful parts of the park. It's mostly a coastal shore, but that's really where most of the best sights are in this park.
4) To kayak in Pictured Rocks National Lakeshore, you will need to reserve it first at one of the eastern or western ends of the park. There will be a boat that will take you to the main spot (Pictured Rocks), where you will be able to kayak by the most beautiful areas.
5) The popular Natural Bridge in this park actually had a major rock fall a few years back, so you can't kayak underneath it anymore, but you can go around it.
Here is a map of all 7 things to do in Pictured Rocks National Lakeshore:
This map will give you an idea of where to find what in this beautiful region. For us, we were going in blind, but you don't have to! And based on this map, plan your trip either from the west or east (depending on where you're coming from). Expect to drive about 80 miles altogether.
Now with this said, let's get into each activity:
1) Visit Sable Falls: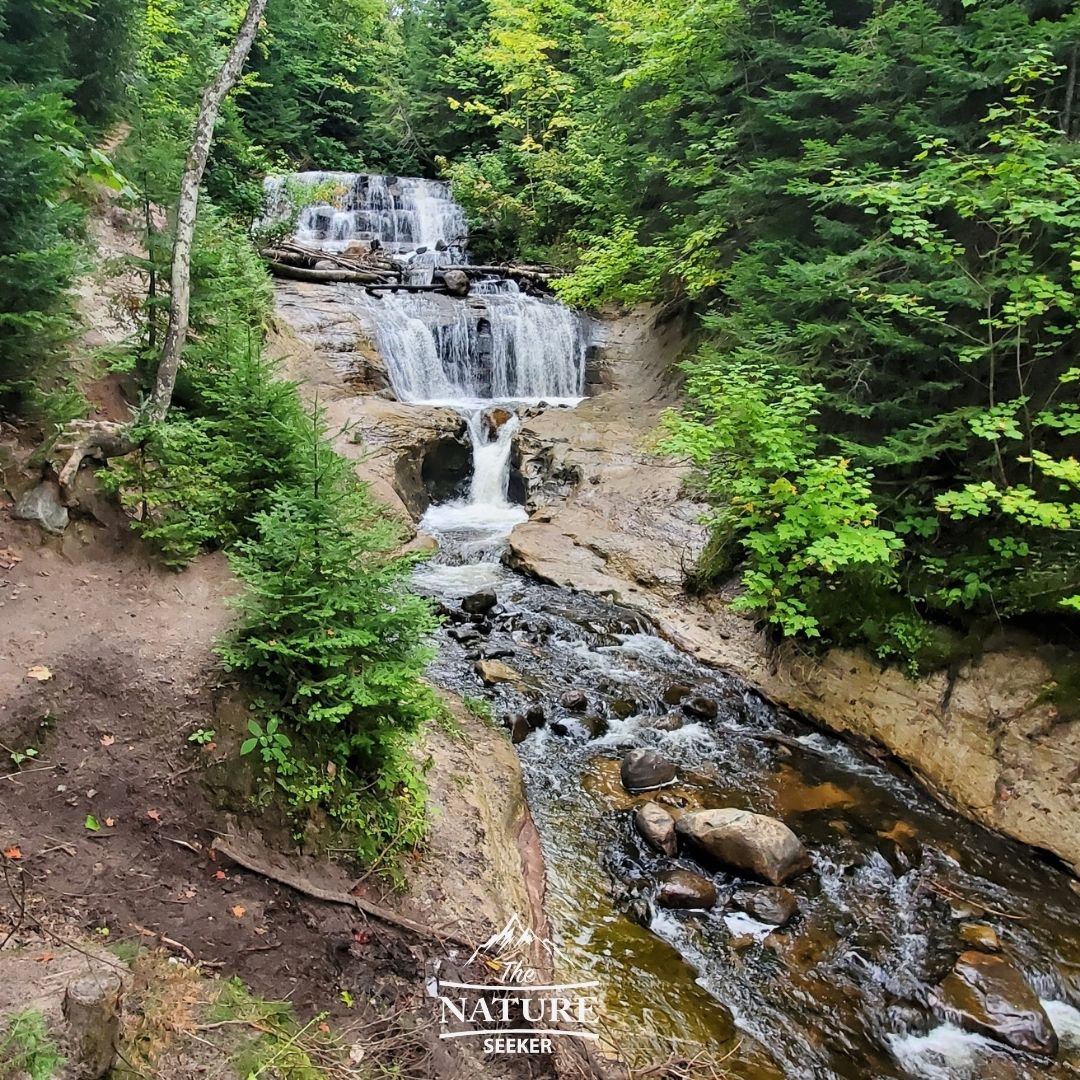 We began our trip through this park at Grand Marais (eastern entrance of the park) and the first stop was Sable Falls.
It's only about a 10 minute drive from that town and thanks to a local in Grand Marais who told us about it, we were able to find it easily.
It is a beautiful, but pretty small, cascading waterfall you can check out.It's also an area that is pretty crowded so keep that in mind.
The nature areas there are very beautiful and when we went was around the initial beginning of fall bloom.
To get down there, you will have to walk down about a 100 steps.
But besides the waterfall itself, I do recommend checking out the nearby trails and areas, as the colors and scenery there deserves it's own time spend on it.
For us, we didn't have that much time, and so decided to move forward with our trip through Pictured Rocks National Lakeshore.
2) Check out Spray Falls: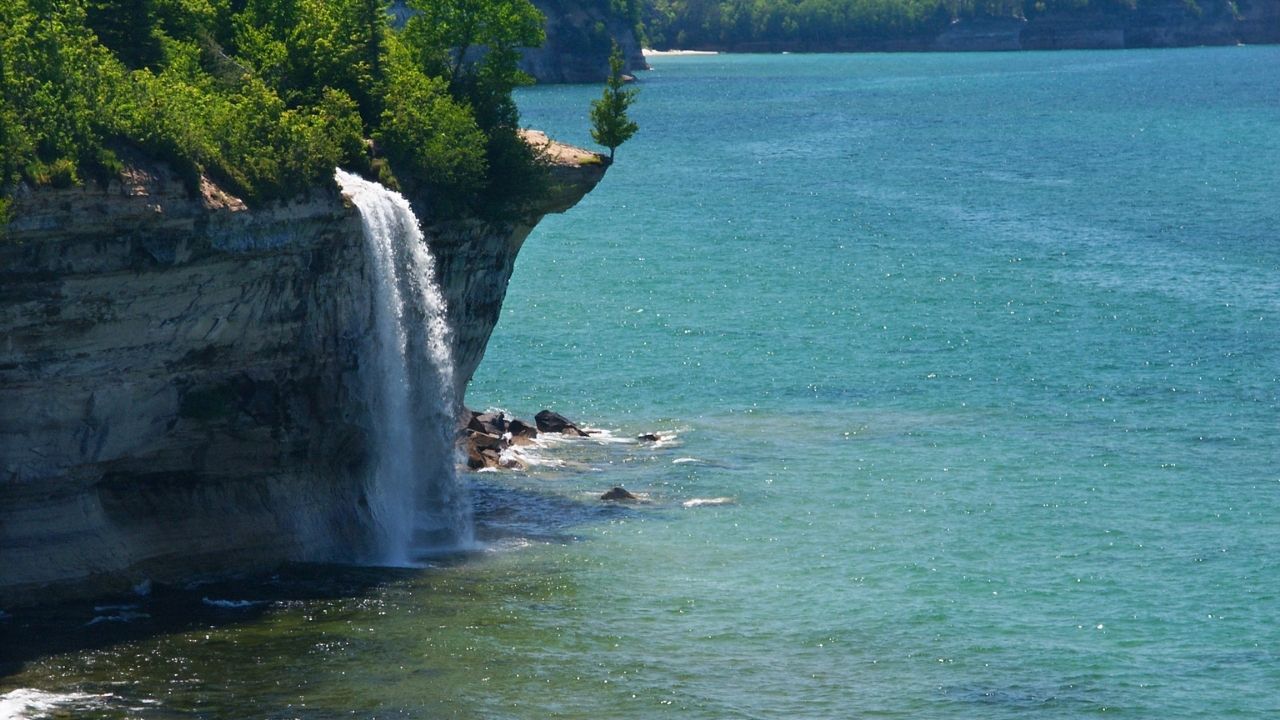 One of the things I really wanted to see in Pictured Rocks National Lakeshore was Spray Falls, but every picture I had seen of it (on Instagram) had never mentioned it's actual name. Only after I passed it did I realize what it was, where it was and now that you can learn from my mistake, you won't miss it.
It is a beautiful waterfall on a beach you can check out. To reach it, you'll have to take your GPS and plot the following coordinate: Chapel Falls trailhead.
You can get there by car, but once you do, you will have to hike to Chapel Beach first (which is by the coast), then turn right (east) and walk about another mile to reach Spray Falls.
Altogether, from the trailhead where you park the car, you will need to walk about 3 miles to reach Spray Falls (but it's well worth it).
3) Explore Chapel Rock:
The great news is that from the moment you park at Chapel Falls trailhead, most of the beautiful things you'll see in the entire park are around this region.
Chapel Rock is very close to Chapel Beach (a few hundred feet east of it).
It's an awesome sight that is similar to the kind of terrain you see in the Washington Olympic National Park area.
I'm so disappointed I didn't research this place further when I went here. Otherwise, I would have easily spent an entire day exploring this specific part of Pictured Rocks.
4) Do the Pictured Rocks trail itself (the main natural bridge attraction):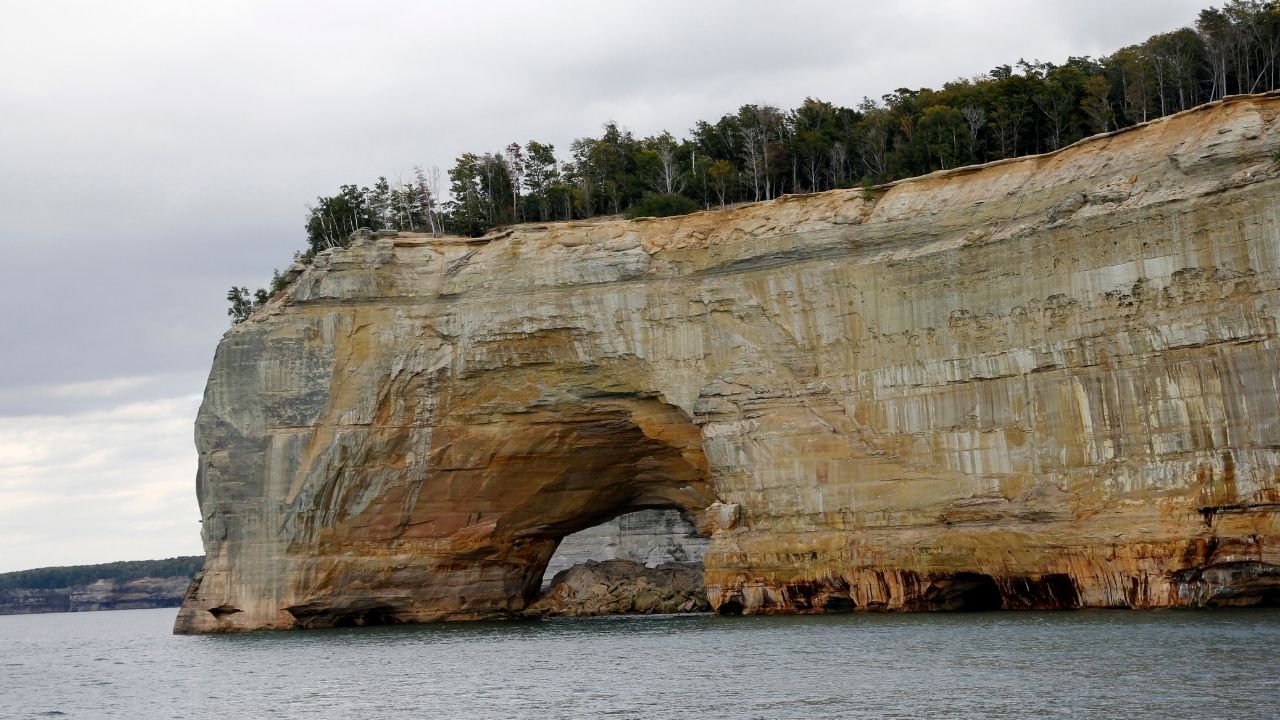 To get there, once again, you can start at Chapel Falls trailhead, walk to Chapel Beach, and after seeing Chapel Rock and Spray Falls, make your way west.
It's located right by an area called "Lovers Leap".
You can literally stand above the natural bridge itself and get some great photos and views!
This is yet another thing I sadly missed because the main loop trail would be around 10 miles long, something neither I nor my buddy were ready to do. But again, read from my experiences so you don't miss out on this!
After all, the main Pictured Rocks natural bridge is here.
Also, one more thing to note is that there is a viewing area nearby called Grand Portal Point. This is actually one of the best viewing areas in the park of the natural bridge and it's park of the Chapel Falls trail.
5) Check out Miners Falls: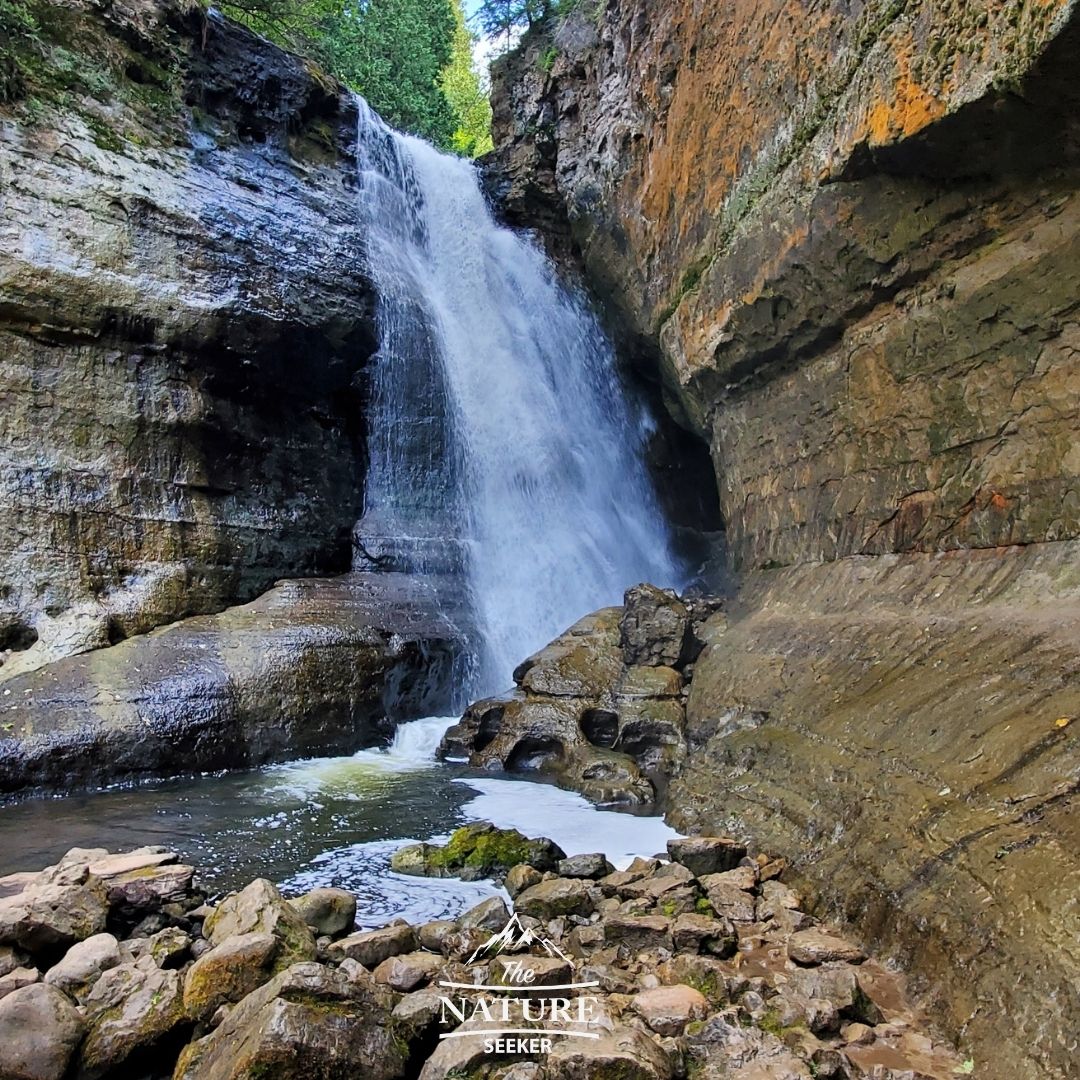 Miners Falls is west of Chapel Falls trailhead and you will have to get back into your car, get back onto H58 road to get there.
The good news is that the sign to it is hard to miss and once you're there, you'll be able to check out the falls.
There is a parking area available, after which a 1/2 mile trail will take you to this waterfall.
Some people choose to go to the very bottom of it from the overlook, which will give you an awesome view of it too (like you see to the right).
There is a "cave" area located to the right of it, but I wouldn't recommend going in there as it's very slippery when you get closer to the water.
The waterfall itself is huge and beautiful to check out and I do recommend taking your time if you do go down there to just enjoy the views, scenery and sounds of the environment.
For us, when we finished here, we went back to the parking lot and continued to the next spot:
6) Visit Miners Castle Point (check out the upper and lower overlook):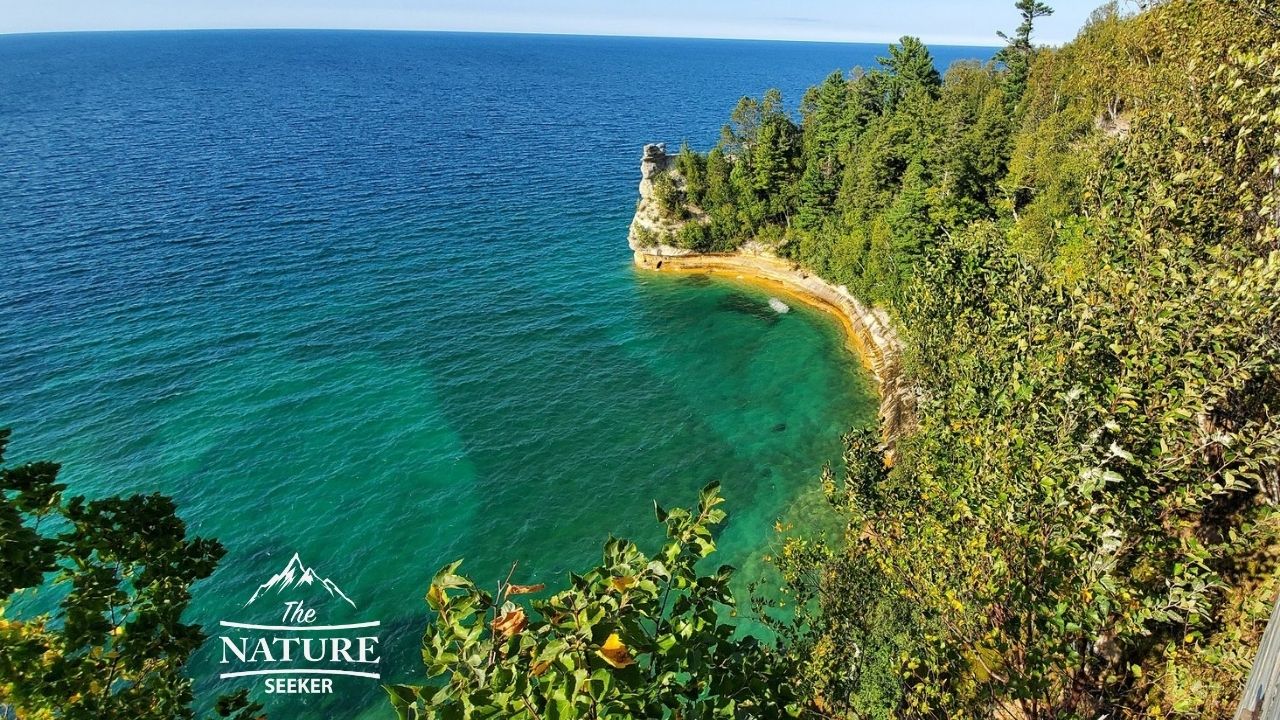 This is what I originally thought was going to be where I'd see Pictured Rocks and while I was disappointed in that it wasn't, the views from this area were astounding and well worth checking out.
It only recently occurred to me why this place is called Miners Castle Point. It's because if you stand at upper overlook and examine lower overlook, it looks like a castle (A big duh for me).
The parking area here is very close to Miners Falls and you can easily walk to either overlook and get some awesome views.
One of the things that astounded me about this area was how blue and green the water was.
The different colors of this area is one of the things that makes this park so amazing to view.
7) Kayak to the Pictured Rocks Natural Bridge:
This is one of the main attractions at the park and as I mentioned earlier, to do it, you will need to start at Grand Marais (east of the park) or in the west (one rental area is called Pontoon Kayak rentals).
You will then able to go out with others to the natural bridge area and kayak there.
By the time we saw this opportunity, we just had no time left to do it ourselves. But we will the next time we go.
Be sure to check the weather beforehand though, because as we learned in the Minnesota North Shore area, depending on the water conditions, kayaks may be (or not be) rented out.
Best hiking gear suggestions for Pictured Rocks National Lakeshore:
Have questions about Pictured Rocks National Lakeshore? Common ones:
Is Pictured Rocks worth visiting?
Yes Pictured Rocks is incredible and whether you go there yourself or with friends and family, there are a lot of scenic areas, hikes and adventures there to enjoy.
Where is the best view of Pictured Rocks?
The best views in Pictured Rocks depend on what you're looking for. If it's the famous natural bridge there, then you'll want to go to Lover's Leap Overlook. Other awesome views are in Miners Castle and Spray Falls.
What is Pictured Rocks National Lakeshore known for?
The main reason Pictured Rocks National Lakeshore is well known is because of the beautiful natural bridges there, the coastal land, the kayaking you can do on the coast and much more.
Can you swim at Pictured Rocks National Lakeshore?
There are beaches in Pictured Rocks National Lakeshore where swimming is allowed such as Miners Beach.
Can you cliff jump at Pictured Rocks?
No you can't cliff jump from or anywhere near Pictured Rocks. It's very dangerous in general and the area itself is really only accessible for kayakers.
3 more things to know before you visit Pictured Rocks National Lakeshore: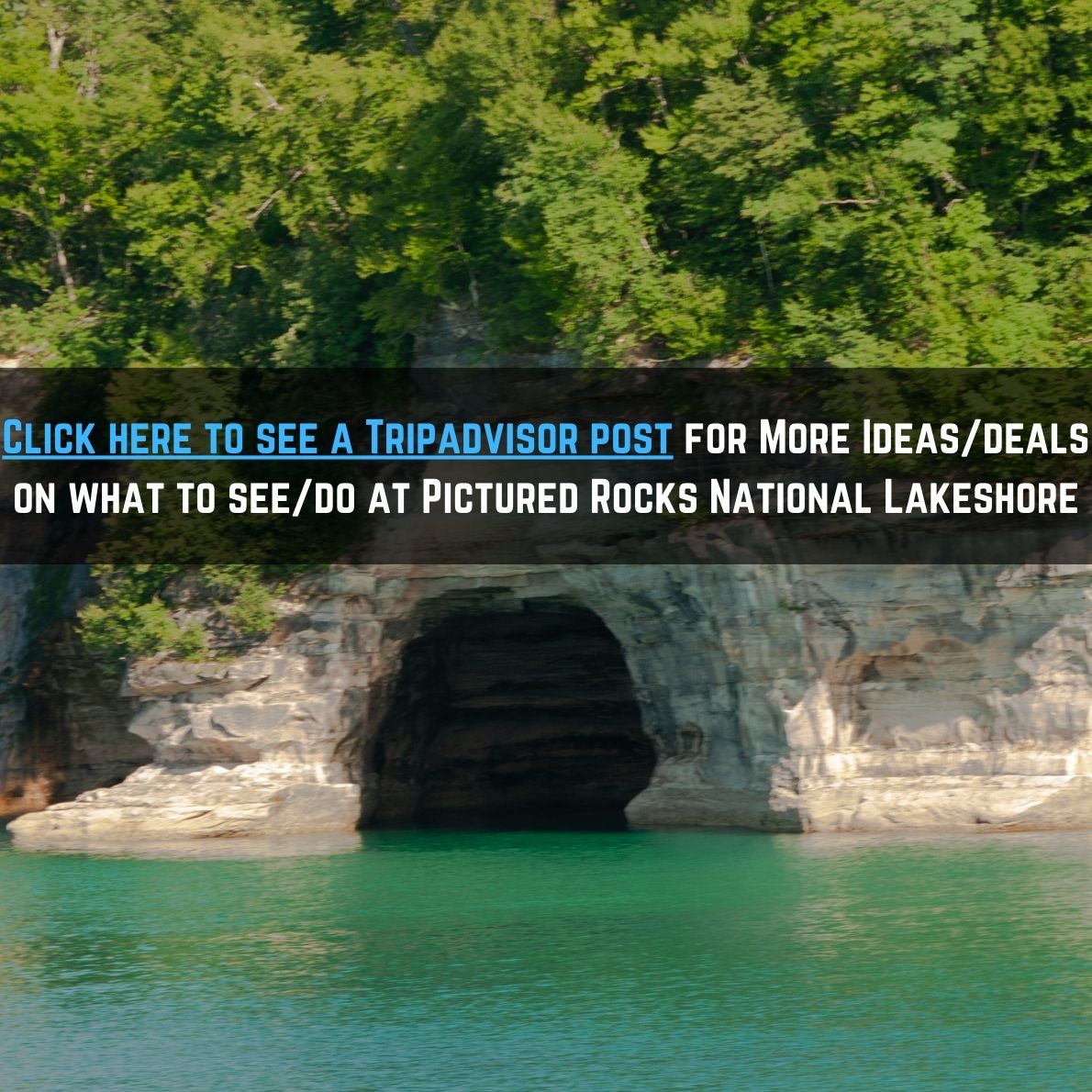 1) Again, plan ahead and with this article, you now know where each spot is. Make sure to get a map of the areas before you go, and then pin them on your GPS so you can also explore them. The order of the places I've listed in this article are from east to west of the park.
Keep in mind, the top spots (numbers 2-4 in my opinion) require a lot of hiking, so if you really want to see those spots, which in my opinion are the main attractions of the park, get to the trailhead early and make sure you're in pretty good shape to do the full loop.
2) Additionally, besides this region, the Upper Peninsula of Michigan holds many more beautiful (and less crowded) spots I highly recommend checking out. I've included a link there to a list of the places I've visited (and recommend checking out).
3) I also highly suggest you visit a place called Apostle Islands which is west of Pictured Rocks National Lakeshore. It's very similar in terrain, but it's exclusively a group of islands with sea caves you can kayak into and it's not as a crowded.