Closest Airport to The Grand Canyon: The 5 Main Options
There's up to 5 choices for the closest airport to the Grand Canyon and it all depends on whether you wish to see the South Rim or North Rim which are 2 of the most main spots in the park, but because they are very far apart from each other, there's a big difference for which option you can choose to fly into. This can get a little confusing for people wanting to see this area so let me explain which choices are better for you and why the furthest options are actually the best!
Here's a list of the 5 closest airports to the Grand Canyon:
Flaggstaff Pulliam Airport (2 hour drive from the South rim).
Page Municipal Airport (2-3 hour drive to the North rim).
Sedona Airport (2-3 hour drive to the South Rim).
Phoenix Airport (3-4 hour drive to the South Rim).
Las Vegas Airport (4-5 hour drive to the South Rim or North Rim, same distance).
It's important for you to know whether you're wanting to visit the South or North Rim (you can do both but it's a several hour drive in between) and if you don't know anything about that, the short summary is this:
The South Rim is the most visited place in the whole park (this is where I recommend you go for your first time).
The North Rim is the 2nd most popular but closed during winter-spring.
There are other access points throughout the park, but it's better to do that when you're more experienced with hiking and camping.
1) Flaggstaff Pulliam Airport, FLG (It's the closest airport to the Grand Canyon South Rim):
You can find many flights from major cities to Flaggstaff but because it's not a major airport, most of the flights there often have a stop before they land here (meaning you may have to experience extra flight hours). In any case, if you are planning to visit the South Rim, this is your closest option as it's only a 2 hour drive after you land to get to the South Rim.
On the flipside however the whole extra stop from major cities is a little annoying in my opinion which you will almost always see with any national parks in the states (see airports closest to Acadia and airports closest to Zion National Park as an example).
2) Page Municipal Airport, PGA (this is the closest airport to the Grand Canyon North Rim):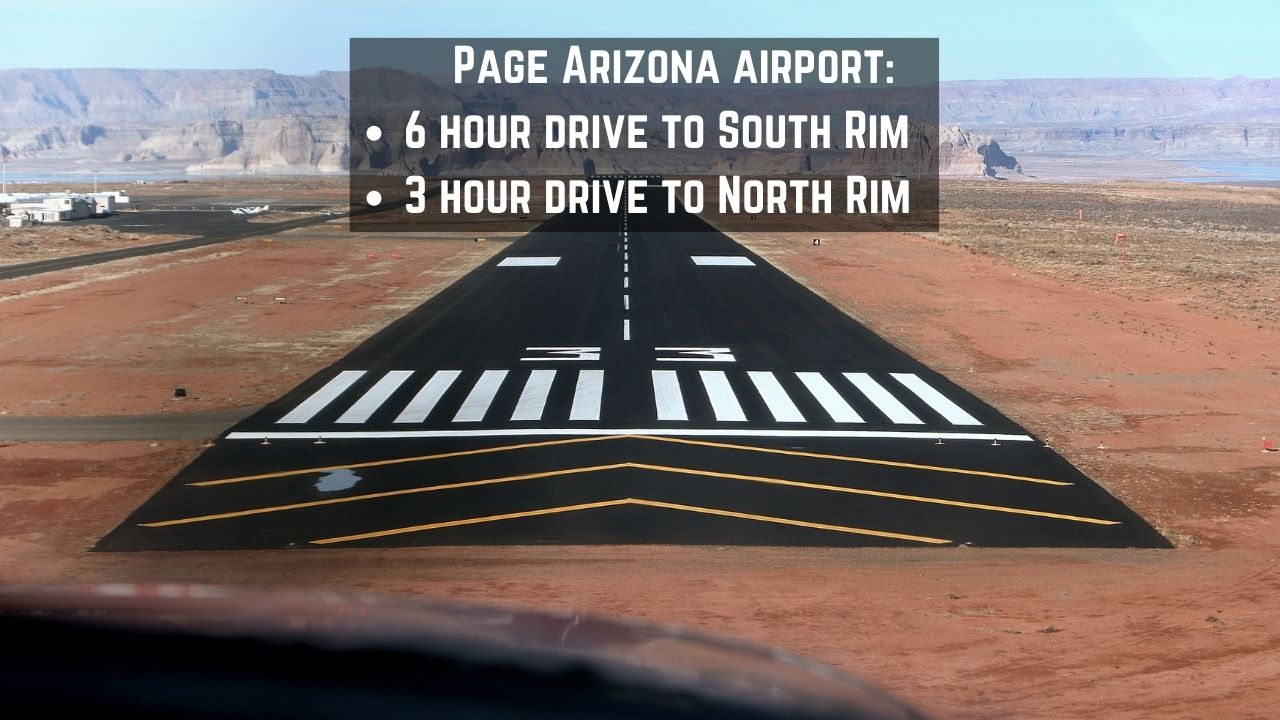 Page Arizona is a pretty large town but the airport there is also local, so the same issue about flying in there from a major city and having to stop at least once may be a factor. However once you do land there and rent a car, the drive to the North rim is only about 3 hours.
Plus Page Arizona is an incredibly awesome place to stop for a few days for hiking and sight seeing spots that I think are even better than the Grand Canyon itself (I'm serious). And even more, there's national parks north of Page that are awesome to check out, the most notable being Arches National Park and Canyonlands (see a comparison between Canyonlands vs the Grand Canyon).
3) Sedona Airport: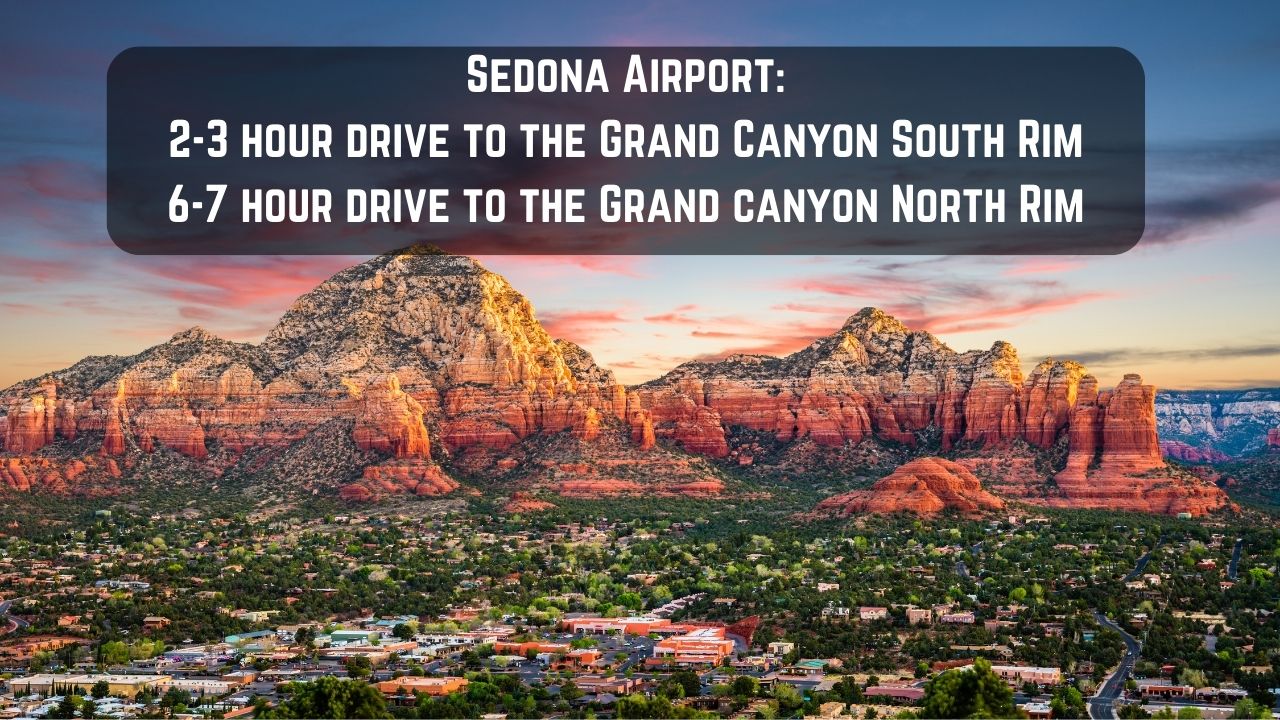 While this is the 3rd closest airport to the South Rim, the biggest issue is that it doesn't have any commercial flights to my knowledge, so you need to first fly into a major airport, then take a small plane to get here, and then drive about 2-3 hours to reach the South Rim and a lot longer (6+ hours) to reach the North Rim.
So you may be wondering if it's this much of a "problem" to get to the Grand Canyon from this airport, why then would I put it on the list? The answer is because it's Sedona and I think when comparing them (Sedona vs the Grand Canyon), Sedona is better for many reasons including:
It's an absolutely stunning place and I think that the nature here is as good as what you will find near Page Arizona and it's certainly better than anything I've seen in the Grand Canyon too. I'd even suggest skipping it and staying in Sedona for a few days because the town is way more active there than the South or North Rim and there's way more things to do:
4) Phoenix Airport:
This is one of the two major airports closest to the Grand Canyon and I honestly recommend you go here instead of the 3 above, simply because of how easy it is to land here from any major airport. Yes you will have to rent a car and drive about 4 hours north just to see the South Rim (6-7 hours to see the North Rim though), but you just have way more flexibility all around except landing close to the Grand Canyon.
As a plus, on the way you can visit Sedona (it's before the South Rim from Phoenix) and stay there an extra day before heading to the South Rim. If you have a few days for a road trip (2-3), then Phoenix is your best option because you'll be able to see the Grand Canyon and several other places in between.
5) Las Vegas airport:
While this is the furthest airport from the Grand Canyon, it's actually the "best" because of a few reasons:
It takes about 5 hours to drive from here to either the North or South Rim. With the other choices, you are closer to one area, but very far from the other. At least when you drive from Las Vegas, you will have 2 equally distant options.
The next benefit is that it's Vegas, so you have a lot of flights here, things to do including awesome hikes near Las Vegas itself. 
One more benefit is that from Vegas, you can actually see more places on the way and even do a loop road trip.
If you leave early, you can actually do a lot in the Grand Canyon and make this a great day trip from Las Vegas.
For example: You can fly into Vegas, then go north east to Zion National Park, turn to Kanab Utah, then visit Page, then work your way down to the North, then South Rim, then Sedona and then end in Phoenix (or drive back to Vegas for a loop road trip).
I can't tell you how many people fly into Vegas and their only interest is to see the Grand Canyon, so they waste a whole day driving there, seeing the South Rim, then wasting another day going back thinking they had an amazing trip when in fact they didn't even see 10% of the potentially amazing stuff they could have as there are so many more beautiful places to stop between it and Vegas and those specific spots I gave you are the perfect add on stops to make if you plan to land in Vegas.
Info about the Grand Canyon airport within the park:
Yes there is also an official Grand Canyon airport, but it is only there for flying tours, not actually landing in to my knowledge. This is just an important thing to know in case you see signs for it. You only have those 5 options above (but there's a lot of variety in all of them).
Other questions about the closest airports to the Grand Canyon:
What airport do you fly into for the Grand Canyon?
I recommend either flying into the Phoenix or Las Vegas airport to get to the Grand Canyon.
Is it better to fly into Las Vegas or Phoenix to go to the Grand Canyon?
I prefer flying into Phoenix because its about a 4 hour drive to the Grand Canyon while Las Vegas is about a 5 hour drive.
What city is closest to Grand Canyon airport?
Flaggstaff is the closest city to the Grand Canyon airport with Sedona being the second closest.
Which airport is closer to Grand Canyon Phoenix or Las Vegas?
Phoenix is closer to the South Rim while Las Vegas is closer to the North Rim of the Grand Canyon.
How is the drive from Las Vegas to Grand Canyon?
There is a lot of beautiful scenic drive between Las Vegas and the Grand Canyon. You'll see deserts, forests and many mountain ranges on the way.
To finish up on this topic of the closest airports to the Grand Canyon:
The reality is that the closest airports to the Grand Canyon are honestly not the most convenient ones to land in and I would honestly recommend you go with either landing in Phoenix or Las Vegas, then taking a longer trip to see the South or North Rim, but not neglecting the amazing spots you can see on the way.
Trust me when I say that I've spoken to many people who have seen the other recommended spots I mentioned (I included links with guides on what to do there so you can see what I mean) and were happy that they took my advice, because after they saw the Grand Canyon, most of them preferred the other options instead of it.
With what I'm recommending you do for a road trip instead of an isolated trip, you will land a few hours from the Grand Canyon yes, but by adding those other spots to it, that trip will be so much better and I would love to hear if that's the case below or if you need specific advice on how to do it.