There's many amazing day trips from Las Vegas that you can take and in this post I'll be showing at least 9 of them in addition to the distance it takes to reach from the city and specific itinerary ideas on what to do in every single spot!
I usually visit Las Vegas for 1 week every year and each time I do, I try to do a new day trip near Las Vegas. What I've learned is that while most people think that this city is just in the middle of the desert, there's actually quite a lot of amazing places in every direction outside of it, and reaching them doesn't take a lot of time to do.
Most of the day trips from Las Vegas on the following list are within 1-2 hours drive from the city, so leaving early to visit them would be ideal, but for the locations which are 3 or more hours away, I would recommend leaving literally around 3 or 4 am in the morning (it's annoying but worth it because you'll then arrive to the location very early and be able to do more there.
Here are the 9 best day trips from Las Vegas I recommend taking:
Red Rock Canyon (30 minute drive)
Lake Mead (30-45 minute drive)
Mojave Desert National Preserve (1 hour drive)
Valley of Fire State Park (1 hour drive)
Joshua Tree National Park (2-3 hour drive)
Zion National Park (3 hour drive).
Death Valley National Park (3 hour drive)
Sedona (4-5 hour drive)
The Grand Canyon (5 hour drive)
Here's a map of every location above to visit on a day trip from Las Vegas: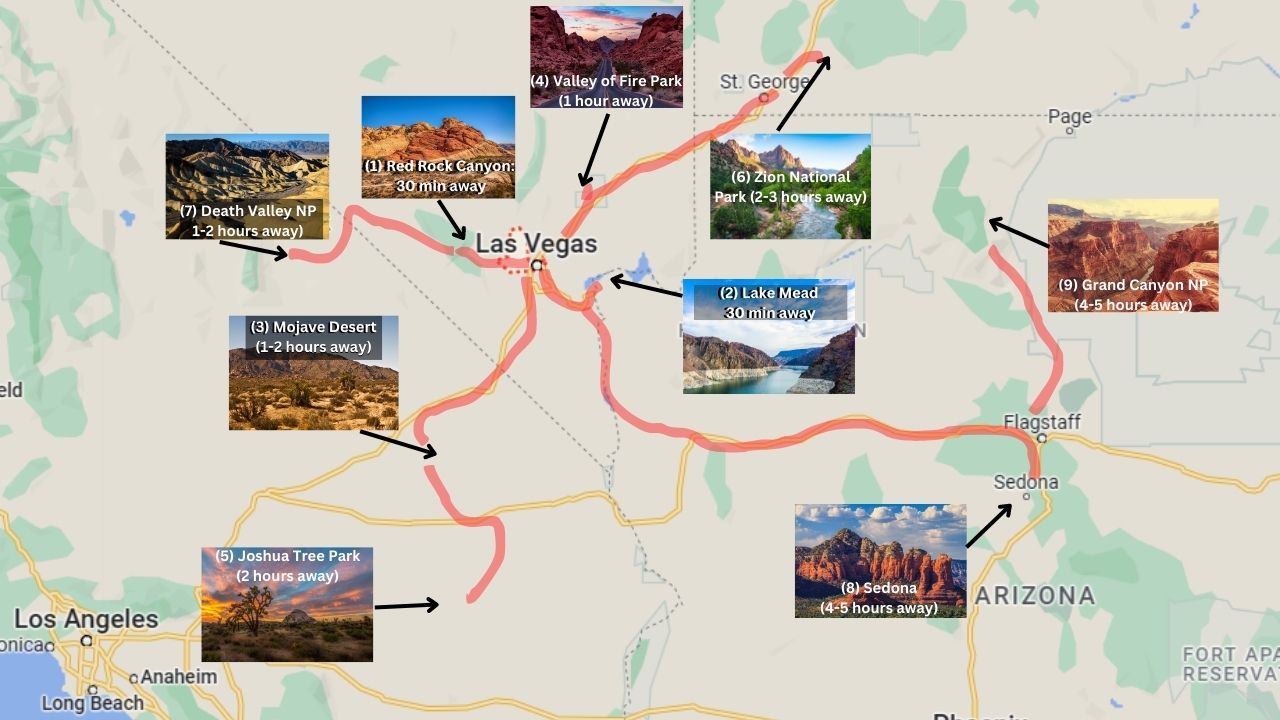 1) Red Rock Canyon: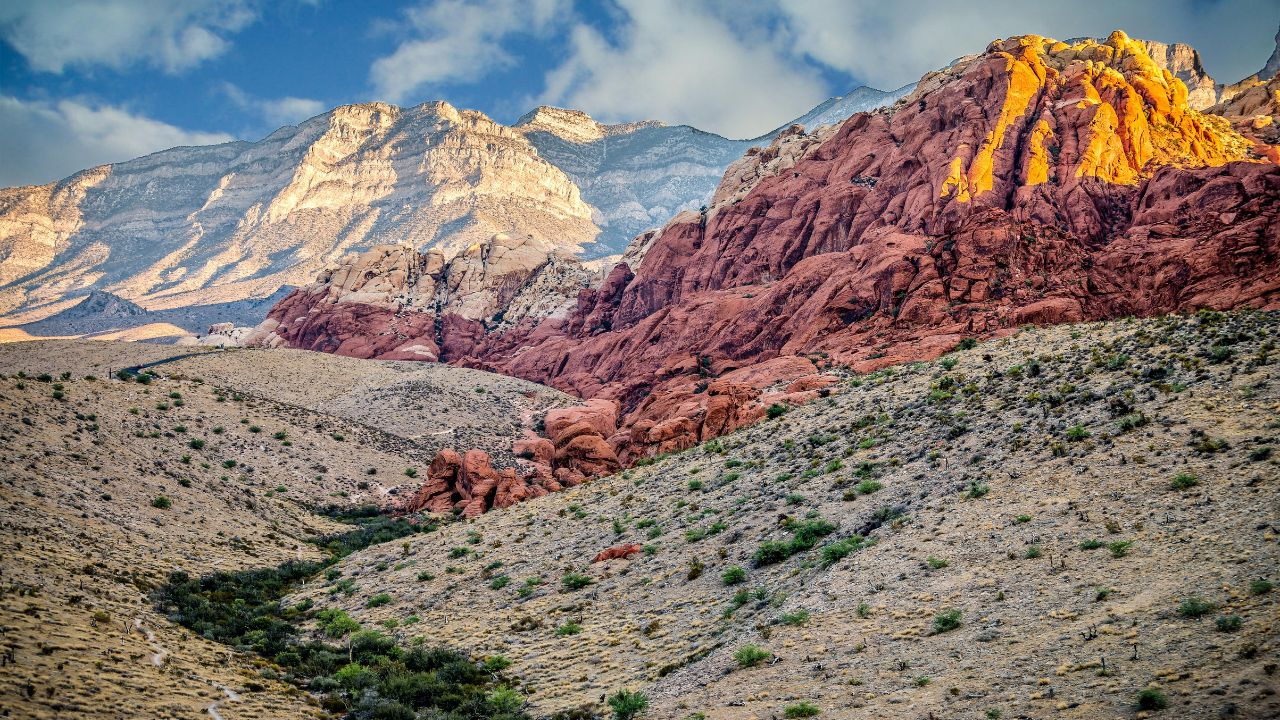 Details:
Out of all the possible spots that you can do a day trip from Las Vegas, Red Rock Canyon is both the closest and one of the most popular choices. Regarding why it's so popular, the answer is that it's gorgeous here, there are many hikes to try and scenic drives to explore. Overall, there's just a lot of things to do here not just in one day, but for multiple days too. One thing to know before you go is that you need to get an online reservation to come here ahead of time (get it here).
Recommendations:
Do the Red Rock scenic loop (by car or bike).
Hike to Ice Box Canyon (there's a waterfall there).
Hike to Calico Hills (great views of Vegas).
This itinerary is great for a day trip around Las Vegas, as the hikes in this case are pretty beginner friendly and it mixes together a nice scenic drive to start and then finish the day trip.
2) Lake Mead:
Details:
Lake Mead is probably just as close to Las Vegas as Red Rock Canyon is (30 minute drive), but the types of activities you can do here are totally different. Most people only associate this area as "that place" with the Hoover Dam, but there's actually far more available to check out here than just that spot.
For example, most people don't know that there is actually a place called Lake Mead National Recreation area and it does require you pay to enter it (you can also get a national park pass to get in) but once inside, you can do a lot of things in the area including sight seeing Lake Mead from different beaches, boating there, hikes (there's actually several slot canyons) and much more. I would say out of all the places you can visit on this list, Lake Mead offers the most variety of things to do that are great for tourism, sightseeing, boating and hiking.
Recommendations:
Drive through the Lake Shore Road (scenic drive).
Visit the Hoover Dam.
Hike Owl Canyon Trail.
Kayak or boat around Lake Mead.
If it's open, I also highly recommend an awesome hike called Gold Strike Hot Springs close to the Hoover Dam.
3) Mojave Desert National Preserve: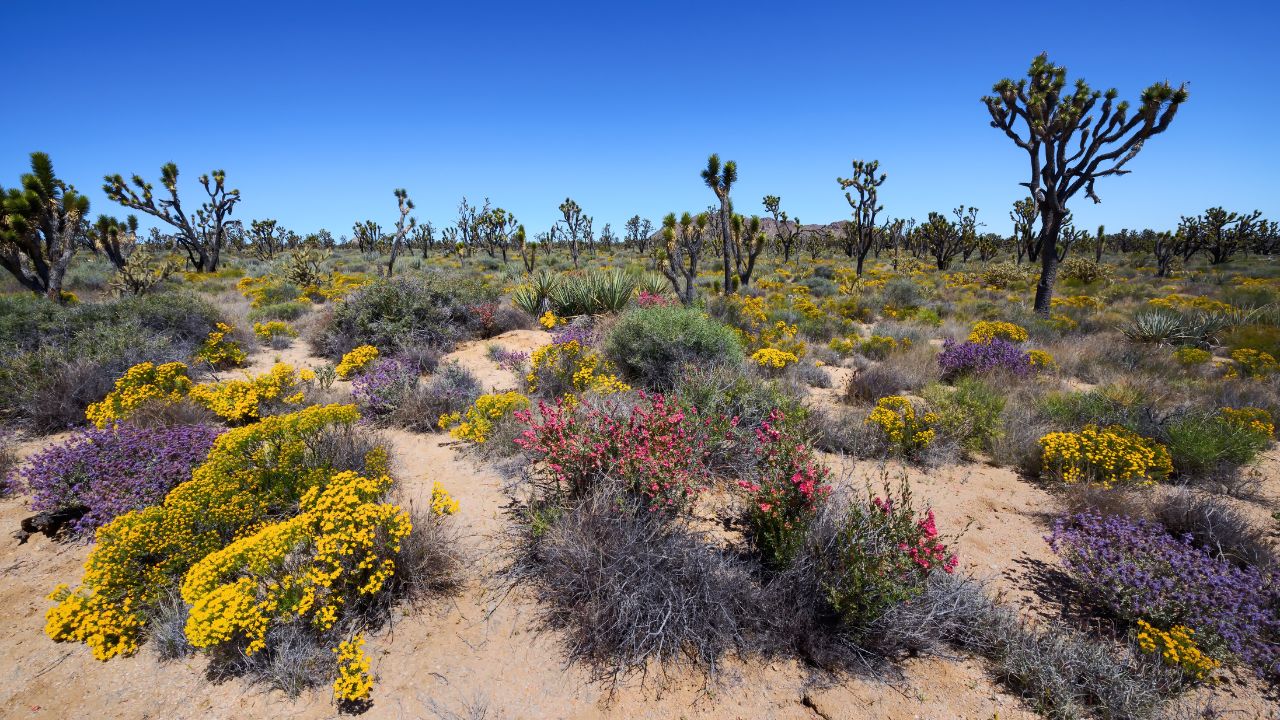 Details:
The Mojave Desert is a bit further to get to than the choices I've given you so far (1 hour from Las Vegas), but it is also less crowded than the other 2 areas and doesn't require any permit to visit it. What you have with the Mojave Desert is a combination of sand dunes, flat terrain and mountainous spots to explore and there many ways to do that: Hiking, biking, ATVs or just driving through the main roads there.
Recommendations:
Do the scenic drives there (Cima Road and then the Kelso Cima Road).
Hike to one (or more) of the 5 mines there (they are in the central part of the Mojave Desert and you can find them on Google maps).
Check out the dunes (they are called Kelso Sand Dunes).
4) Valley of Fire State Park:
Details:
Valley of Fire State Park is another "perfect" day trip near Las Vegas worth taking. Although it takes 1 hour to reach, I highly recommend it because it's a beautiful place with many dark red rocks, a lot of wildlife and beautiful hikes (camping is also possible here). The park has an easy way of exploring it through 2 main roads there and the most popular hikes are right by them. I've been to this park before and it's one of the best places on this list to do a lot of things at in one day.
Recommendations:
Drive through the whole Valley of Fire Highway and Mouse's Tank Road (the 2 main scenic drives).
Hike to the Red Wave (an awesome Wave hike alternative).
Check out Elephant Rock (right by the eastern entrance).
Stop by any area off the road that has cars/people as there are amazing attractions all throughout the area there.
5) Joshua Tree National Park: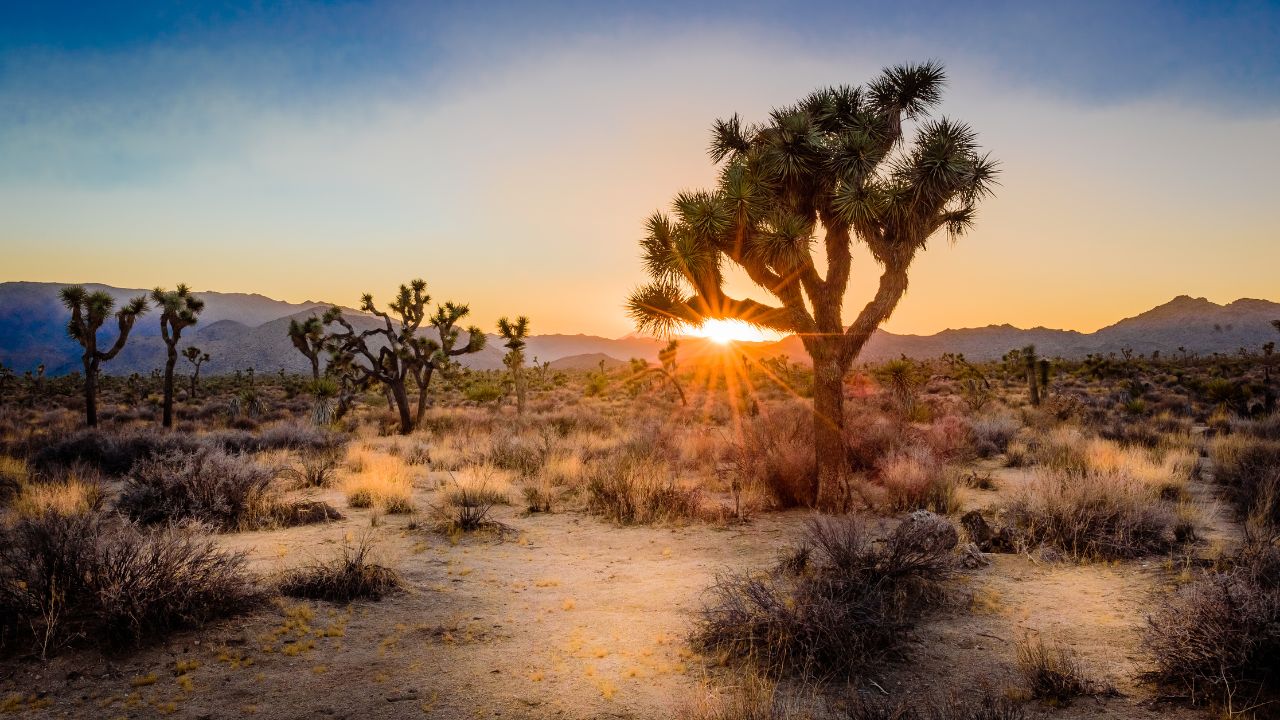 Details:
I actually did a drive from Las Vegas to Joshua Tree before. It took about 2 hours and that drive even took me through the Mojave Desert so I was able to see 2 great spots in one day! But aside from that Joshua Tree in my opinion is a more scenic place than the Mojave Desert because of the views and the fact that there is much more you can do there.
The area is basically littered with cactus trees that are known as Joshua Trees for starters. On top of that this park also has it's own amazing scenic drive, and finally the hikes you can do here are what really make this place a must visit. There are many caves, bouldering options and incredible rock climbing areas to explore throughout the park and when you're done, there is almost always an amazing sunset to view there as well!
Recommendations:
Do the 2 scenic drives here (Park Boulevard is ideal, and if you have time also do Pinto Basin Road).
Stop by one of the many hikes throughout this scenic drive and check them out.
If you have time, see if you can find the secret Chasm of Doom hike (which I did and give instructions on finding in that link).
6) Zion National Park: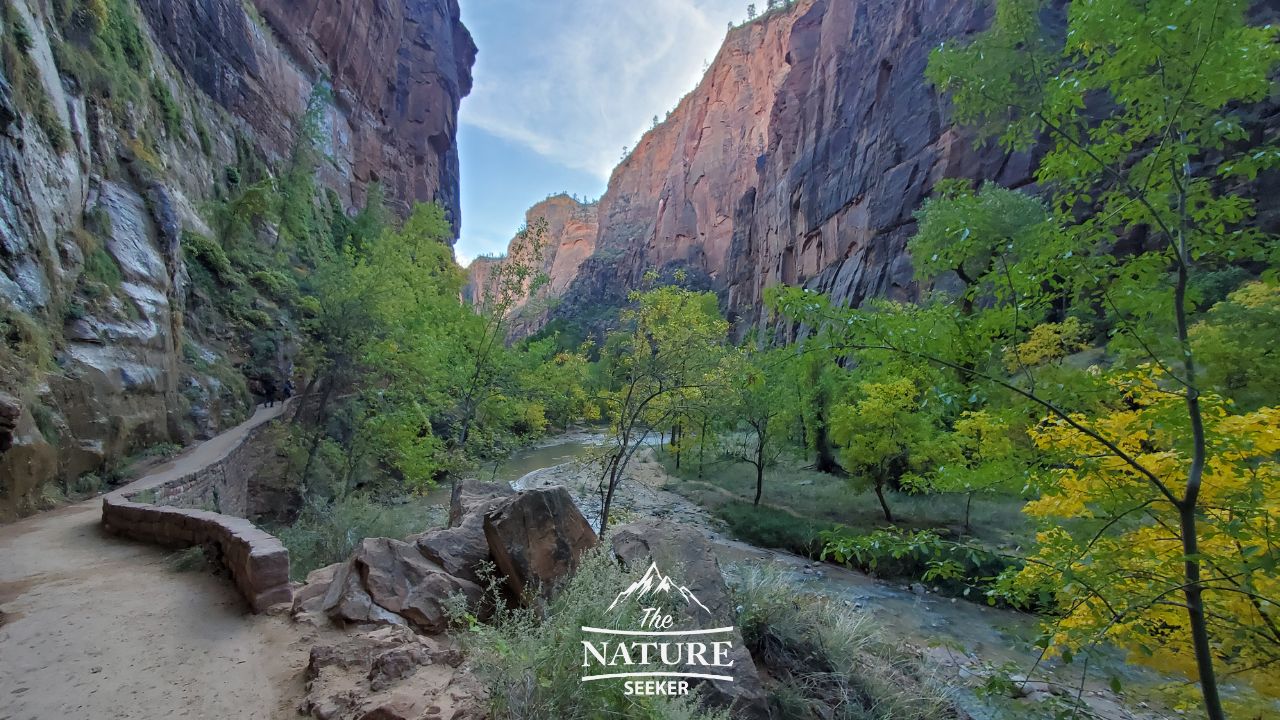 Details:
Zion National Park was the first day trip from Las Vegas I took when I started exploring what was outside the city and while there are so many closer places (on this list) that are also worth checking out, if you can honestly find the time to do a single day trip to this park, I would prioritize it above all other spots. Though it takes about 2-3 hours to reach it from Las Vegas, it's worth it and among the many why reasons, the most notable is that this park is just stunning and hard to describe until you're there. The hikes, scenic drives, overlooks and many activities you can do there, even in one short day make it a trip you will never forget.
Recommendations:
7) Death Valley National Park: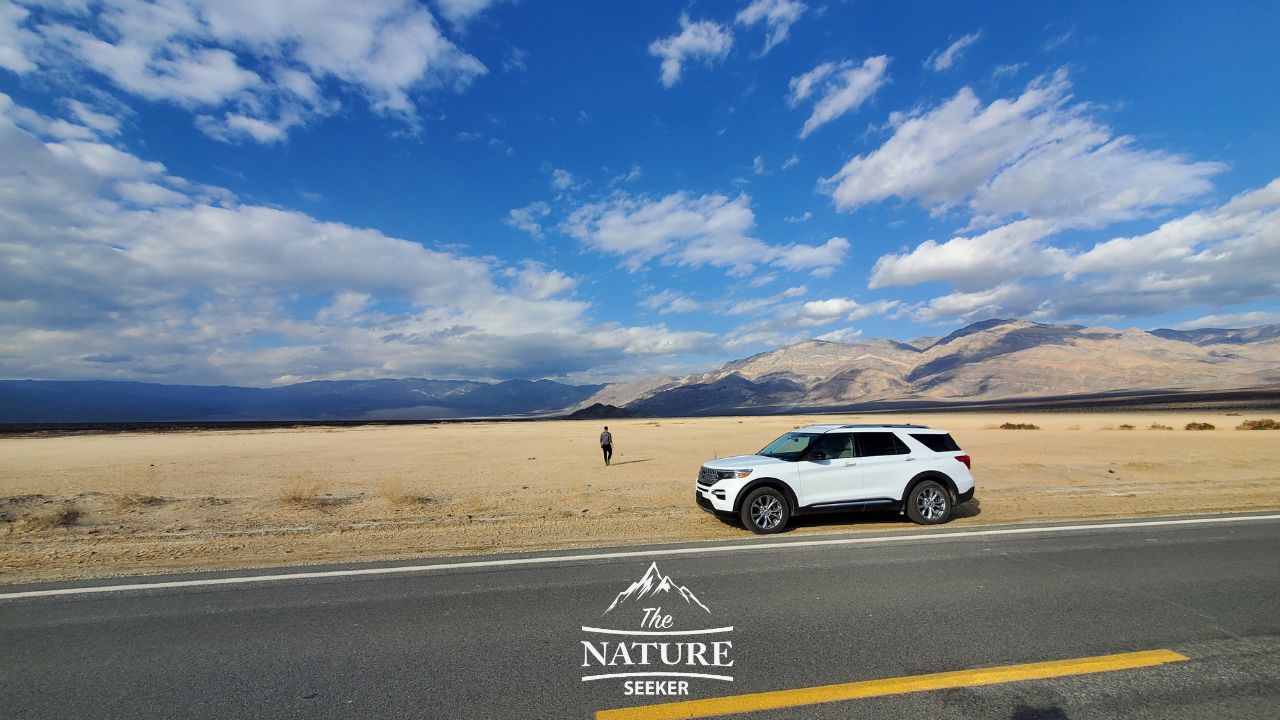 Details:
Like many of the other spots on this list, I've also taken a day trip from Las Vegas to Death Valley National Park before and while the drive is around 2 hours, the park itself has unique sights and things to do that the other spots above do not.
For the most park, Death Valley National Park is a gigantic open desert that you can drive through and pull over at many scenic stops, some of which have short hikes to amazing overlooks (Zabriskie Point is one of the best). In addition to that, a part of your drive through this park will take you closer to some mountain ranges in the area and they also contain amazing hikes and slot canyons to see.
Recommendations:
Do the main scenic drive which is 190 (takes about 1 hour to do without stops).
Hike the Mosiac Canyon trail.
Hike to the Zabriskie Point.
If you have the right 4×4 vehicle, visit the Racetrack Playa area (moving rocks).
8) Sedona: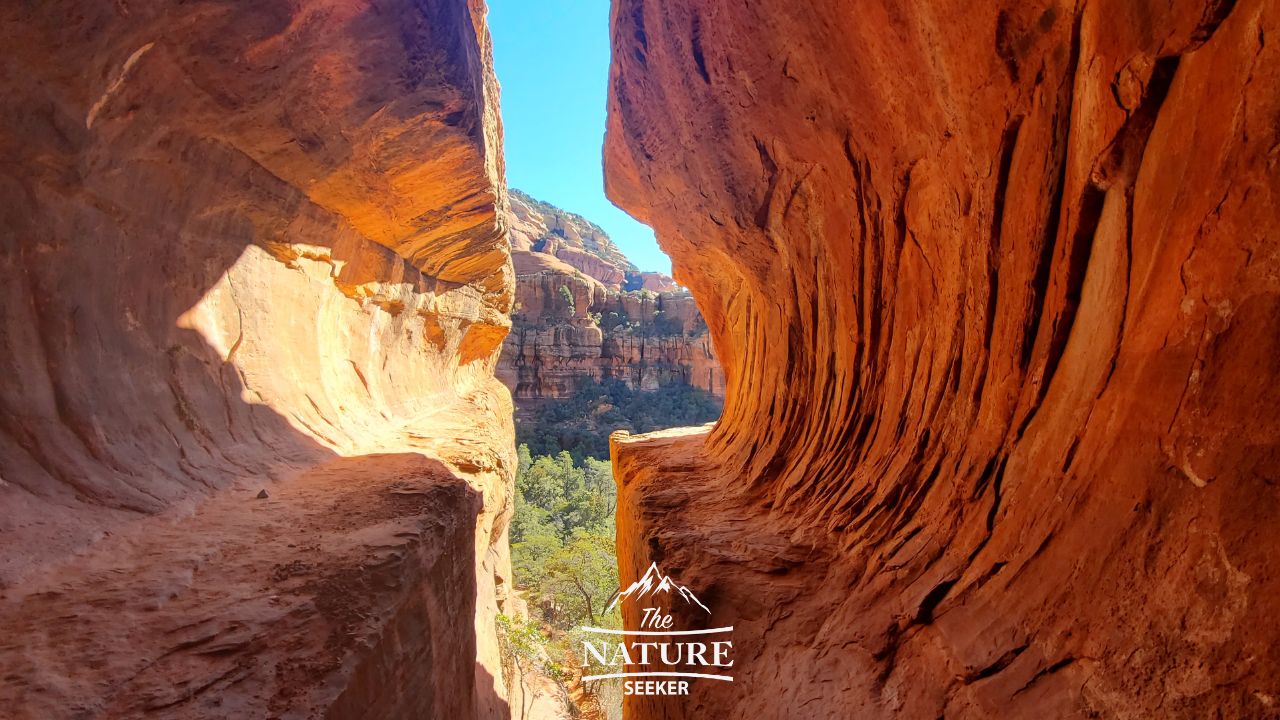 Details:
Sedona and the next spot on this list (The Grand Canyon) are very far from Las Vegas (both of these spots take about 4-5 hours to reach), but I wouldn't include them on this list if it wasn't warranted. With regards to Sedona, it's a spot which has it's own unique terrain that includes red/white rock mountains, incredible hikes and even many rivers and waterfalls to explore. On top of that, there is the actual town of Sedona that is amazing to check out in addition to the outdoors stuff there.
Speaking as someone who has also done a day trip from Las Vegas here, it's possible to do at least 2-3 different hikes and explore the town in one day there and then drive back. But at the same time, if you can spend at least one night here, then there's a ton more to do here the next day to make this an amazing multi day trip too.
Recommendations (for a day trip):
Do the Cathedral Rock hike.
If there's time check out Fay Canyon.
Just drive through the city of Sedona and enjoy the views (it's absolutely amazing).
I'm also going to recommend you check out my list of the best hikes in Sedona because while a day trip there will limit you to how much you can see, if you ever do revisit (and I have a strong feeling you'll want to), you will have a future itinerary ready to go for it.
9) The Grand Canyon:
Details:
As I mentioned above with regards to Sedona, the Grand Canyon is also just as far from Vegas and while I honestly like Sedona more (see my Grand Canyon vs Sedona post as to why), the Grand Canyon is famous for good reasons including the fact that it's beautiful, a one of a kind spot in Arizona that you won't see anywhere else (although there are parks like Canyonlands National Park which look like it), there are numerous overlooks with stunning views, and in addition to that a few major hikes which take you to amazing spots (details coming up on which hikes I recommend doing.
Here's the thing you need to know before you go here: While it takes 4-5 hours to reach, you're going to want to visit the South Rim area of the Grand Canyon if it's your first time because that is where the most popular spots and hikes are. There is also a North Rim, but that's either closed for almost half the year or better for people who are doing more remote hikes into the Canyon. There are also tours that go from Las Vegas to the Grand Canyon but I'm going to recommend you rent a car to get to this park.
Recommendations:
Check out the main overlooks of the South Rim (it's better to visit for tourists than the North Rim).
Do a short part of the South Khabib Trail (until you reach Ooh Ahh Point). It's about a 3 mile moderate hike.
Stay for a sunset here as it's absolutely incredible as well.
More questions about doing day trips around Las Vegas:
What is 4 hours away from Vegas?
There are several beautiful parks within 4 hours of Las Vegas and they include Zion National Park, Death Valley National Park, Sedona, Joshua Tree National Park and the Mojave Desert.
Where can I drive out of Vegas?
Within a 1 hour drive outside of Vegas you can visit incredible places like Red Rock Canyon, Mt. Charleston, Virgin River Gorge and Lake Mead.
Is a day trip from Vegas to Grand Canyon worth it?
Yes but there are also better places to visit on a day trip from Vegas than the Grand Canyon and they include Sedona, Zion National Park and St. George Utah and all of them require a shorter drive to reach.
To finish up I want to say that I hope that this article gave you a bunch of ideas for which day trips around Las Vegas are worth doing and if you are still stuck on which one to try, let me know below and I'll help you figure out which option is best for you to try depending on how much free time you have to explore them!