The Angels Landing hike is dangerous if you don't know what to expect, but it can also be one of the most incredible trails you ever do in your life. But is it worth it? Well after trying it personally, I'm going to say that it depends.
Quick info on the Angels Landing hike:
Name: Angels Landing.
Location: Inside Zion National Park.
Distance: 4 miles in and out.
Difficulty: Hard (potentially dangerous).
Permit needed? Yes.
Rating: 5 out of 5 (for the right people).
Alternative trails to do that are just as good? Yes! There's safer options I'll discuss further below.
Recommended hike? If you are not scared of heights and like exciting trails, then this might be one worth trying.
5 things to know before you do the Angels Landing hike in Zion National Park:
1) You need a permit to hike Angels Landing:
You can get Angels Landing permits here. This wasn't the case years ago, but as this hike became more and more popular (crowded too), this caused more dangers to arise on the trail, so before you go here, get a permit.
2) 90% of the hike is simple, the last 10% is where you have the hardest, most dangerous part (the chains area):
You're going to hike at a pretty steady incline for about 1.5 miles. There will also be an annoying switchback area after that. Once you are done with this, you will come across a sign indicating you are about to enter the "chains area" of Angels Landing which is the last 0.5 part of the hike where the views get incredible, but the hike also gets dangerous.
This is where you need to be careful as there are many sections of that hike where the trail gets very narrow and the drops are literally 1,000 feet or more. There is also a bit of scrambling to reach the last overlook area of Angels Landing and then you have to consider that you have to hike back down the same way too.
3) Between March-November, you can only access Angels Landing via shuttle:
This is also the case for many other sections of Zion National Park.
4) There are awesome alternative hikes in Zion that are just as good as Angels Landing:
The top choice would be Observation Point, but it requires you use an alternate trail to reach it (the original trail was actually close to Angels Landing but it's closed).
5) The most dangerous part of the Angels Landing hike does have some protection (chains):
One the last 10% of this hike, where it gets most dangerous, there are several sections with chains available to help you stay safer on the trail. They definitely help, but you are still going to be walking on uneven surfaces and that (for me at least) may cause dizziness. So while the chains absolutely help and you should use them, know that it's not going to make the hike much easier.
Is Angels Landing dangerous for you to do? How to tell: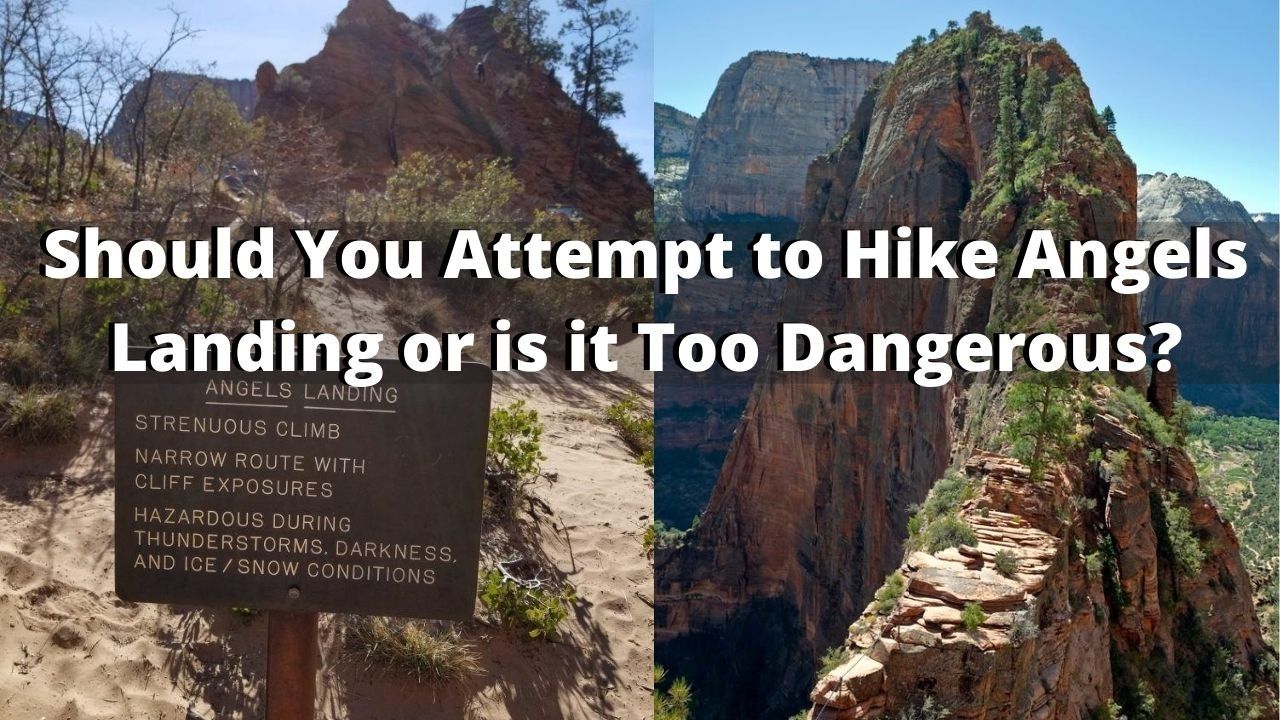 If you are very scared of heights.

If you easily get dizzy in high areas.

If you're not a good hiker.

If you're wearing good hiking shoes.

If you are not in good shape.

If it's snowing (it's even more difficult and dangerous then).
Here's what happened to me when I tried to hike Angels Landing:
I had no problems reaching the last 10% of the hike. In fact, I enjoyed the hike up until then, but once we started on the chains area, this is when the problems started happening for me. I love hiking and I love challenging trails, but 2 major issues I had when I tried this trail was that I was scared of heights and felt dizziness in that area.
Those were 2 major deal breakers for me and the same could be said about the friend that went with me that day. We just didn't feel comfortable going further. There were a lot of other people on the trail that same day who weren't even using the chains, but it all depends on each person's comfort level.
For us, on that day we didn't want to continue on the trail and turned back, but one day I am confident I'll come back and redo this hike fully.
When is the best time to hike Angels Landing?
I would say start before 8 a.m because there will be less people (despite the permit system) and you will also have better weather (on most days). Regarding seasons, I prefer going before March when there is no shuttle system, because I can just park at the trailhead when I want to and not have to wait on anyone.
I personally do not recommend going to Angels Landing when it's snowing or if it's so cold that there's likely to be ice on the trail.
About Angels Landing deaths. Yes they have occurred on this hike:

To my knowledge, there have been less than 20 all throughout the history of this trail, and you will see a sign right before the last 10% part of the hike that says this. While they are very unfortunate things, they are actually very rare.
Which hiking shoes to wear for your hike on Angel's Landing (my recommendations):
Overall, unless there's snow, rain or ice (which in my opinion make this hike a no go), most of the hiking shoes you would wear here are fine.
Personally, I like either wearing the Salomon Speedcross 5 or the Ozark Trail Shoes. Both have been very reliable for me in most of the hikes I've done, including in Zion National Park.
The Angels Landing hike explained (step by step):
1) Starting on the Angels Landing trailhead: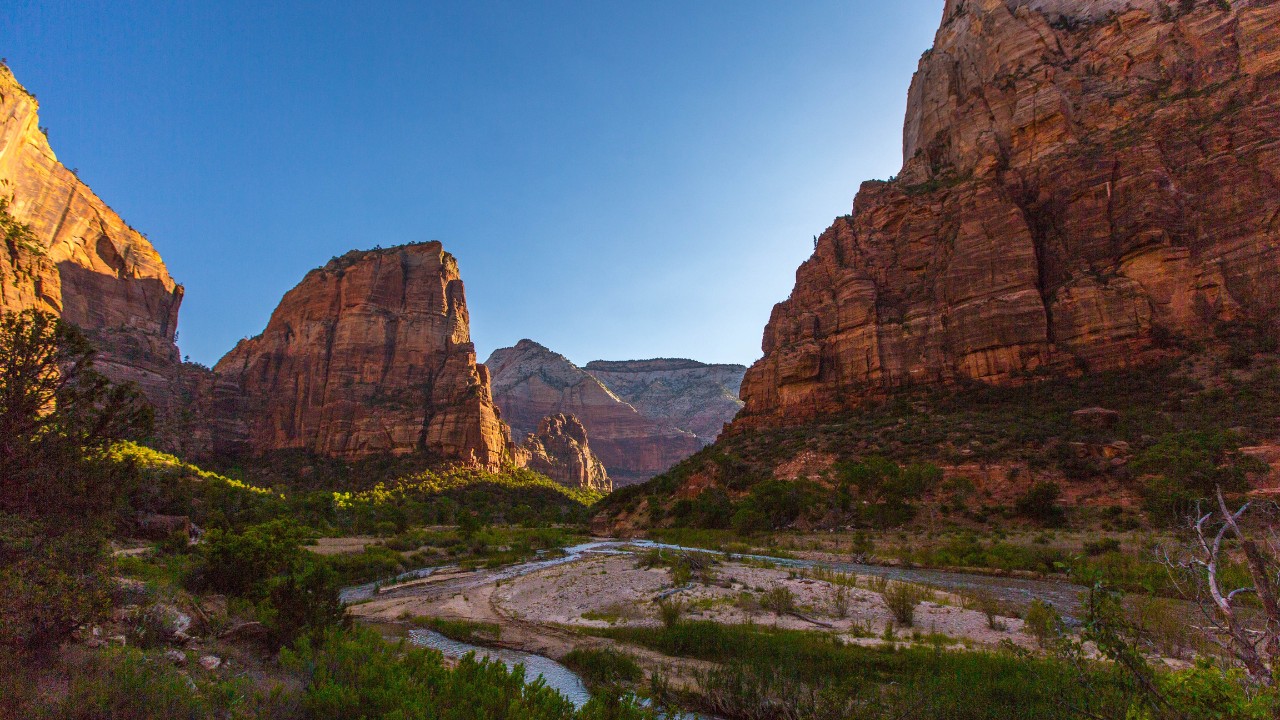 The Angels Landing trailhead is easy to reach. You will just drive down the Zion Canyon scenic drive until you see the signs for it. There is a very large parking area there to stop and even a cool picnic area known as the Grotto. There is no GPS signal on the road to Angels Landing, or on the hike itself (usually) so just in case, plot the coordinates before you enter this area.
2) Parking and starting on the trail:
Once you park on the trailhead, you will cross the road (west), then cross a small bridge. It also happens to be that this is the same river that flows from The Narrows in Zion National Park by the way: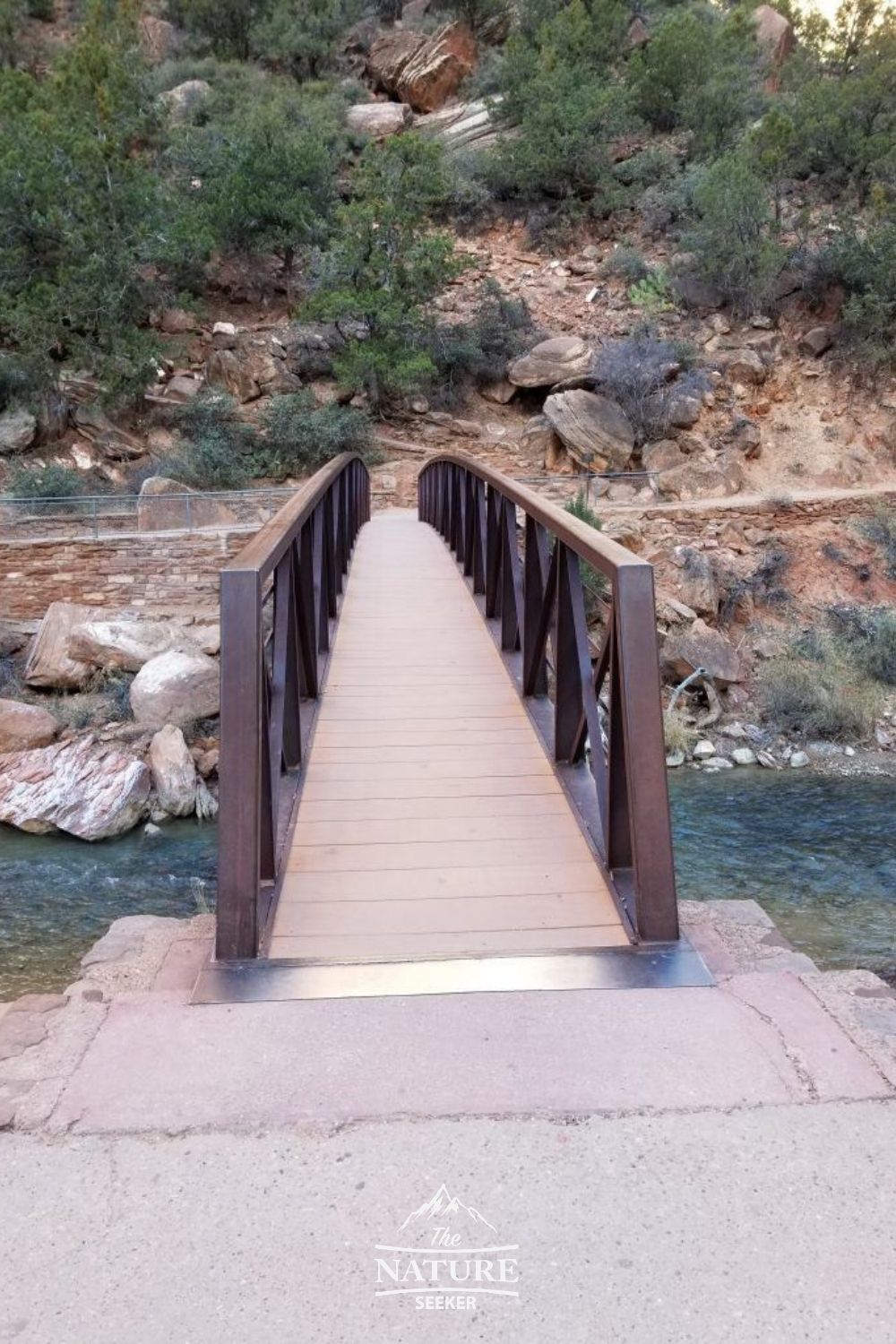 3) You'll turn right after the bridge and this will take you on the Angels Landing trail:

This part of the trail is about 1 mile and has a steady incline pretty much all throughout. It can get quite strenuous, so take your time, don't try to spring or jog uphill. At the same time, it's also very scenic and I would take your time to enjoy the hike, because there's a lot to see like this area:

It just so happens to be that the Angels Landing overlook (final part of the hike) is basically this view, but from a higher angle.
4) Entering the canyon part of the hike:
Once you pass the beautiful overlook area that I showed above, you'll enter a short part of the hike that is flat and inside a canyon. I personally loved this part of the hike because it's very cool in there as it's between 2 mountains and there is usually very cold air that flows through this spot:

You may also spot some wildlife in this region too.
6) Reaching the switchback stairs (zigzag section of the Angels Landing hike):
As you get closer and closer to the last part of the hike (where it gets a bit shady), you'll have to walk up these zigzag stairs (similar to Bryce Canyon National Park and the kinds of hikes there) and from there, will get to the final part of the hike (with the chains).
7) Starting on the final 10% of the hike (hardest part with the chains):


This is where you will have to really hike, scramble and hold onto chains whenever they are present (not in all sections of this part of the hike). And obviously, you'll also want to be extremely careful as you try to reach the top.
8) Getting to the overlook and returning back:
Once you reach the final part of the Angels Landing hike, you will come across one of the most iconic spots in the entire part and US and that is the Angels Landing overlook. This area is pretty large and can fit a lot of people but you should still be careful as there are no guard rails here.
Once you are done, you will "just" have to return back the same way. I personally think going down is always more dangerous on hikes like this than going up so there's a good chance that while hike will be physically easier because of the decline in elevation, it'll be more dangerous because you will actually be looking down, so please be very careful!
Common questions people ask about Angel's Landing:
How difficult is Angels Landing?
The Angels Landing hike is only about 4-5 miles, but pretty steep and strenuous for most people, especially the last half mile to the top.
How many deaths have been in Angels Landing?
About 20 people have unfortunately died hiking Angels Landing to date.
Is Angels Landing a scary hike?
Most of the Angels Landing hike is amazing and scenic. The last half mile of it is where it gets scary, but also amazing.
Can a beginner hike Angels Landing?
Beginners will likely be able to do most of the Angels Landing hike. The last part of it to reach the summit might be too much for beginners due to the steepness and heights.
4 alternative trails to see alongside (or instead of) the Angels Landing hike:
1) If you can't do Angels Landing, then do Observation Point. It'll be a lot easier, and the overlook there is way higher than on Angels Landing! In fact, I have a whole comparison between Observation Point vs Angels landing here.
2) Hike the Subway. It's a long walk but it's beautiful, but the only problem is that you need to win a lottery to go here.
3) I also recommend taking the time to hike the Narrows (it's a mostly safe and fun hike). It's very close to Angels Landing and requires no permit to go on. The only thing you really need to be aware of is the cold water and the long hike there (over 10 miles in and out).
4) Canyon Overlook Trail. This is a different section of Zion which is very easy to hike instead of Angels Landing. It is a less than 1 mile hike that takes you to a beautiful overlook like this: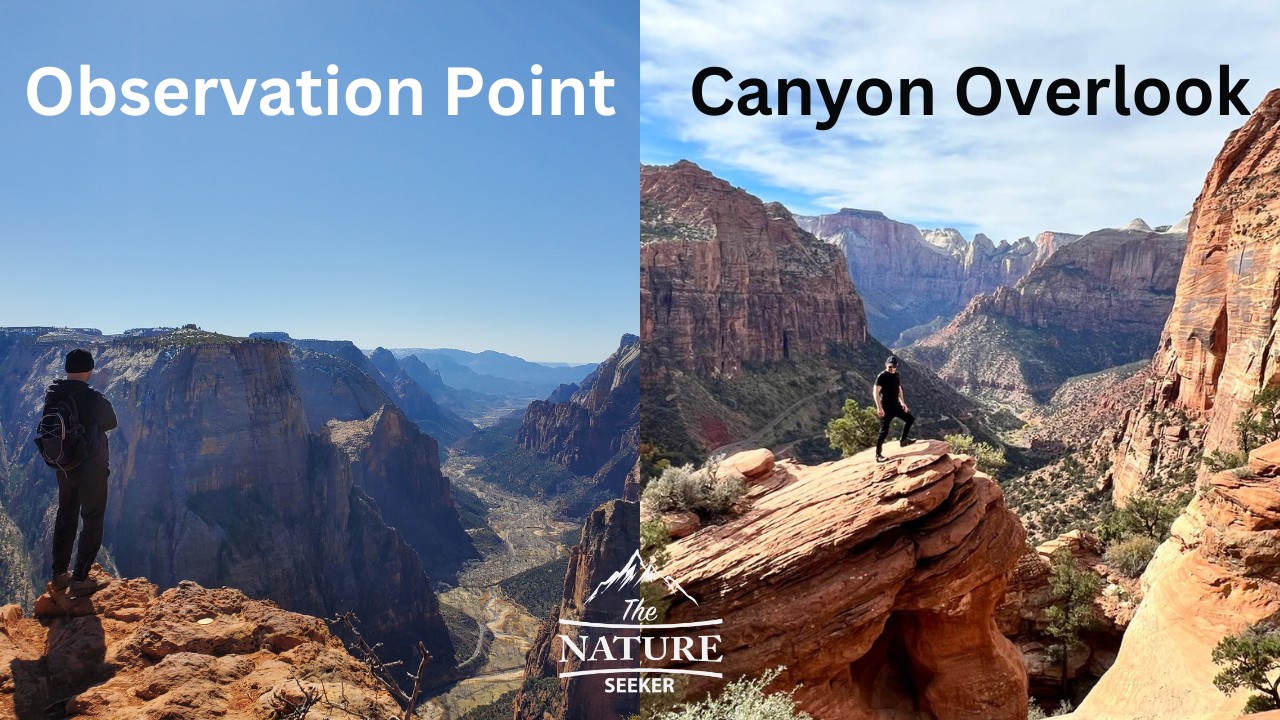 Other parks and hikes to explore outside Angels Landing:
1) Outside the Zion park, I'd recommend visiting the Mighty 5 National Parks of Utah. You have 5 options in total, including Zion National Park itself here.
2) If you're headed to Vegas after Zion and also looking to do some hikes, see these 10 best day hikes near Las Vegas (one of which is in Zion), but the other 4 are way closer.
3) Visit Kanab Utah, which is about 1 hour from Angels Landing. It has many none national park hikes that are just as awesome (and less crowded).
4) And if you plan to explore more of the state, here are the best hikes in Utah to see (including ones in Zion too).