I've done the Canyon Overlook trail in Zion National Park several times, and despite it being one of the shortest and easiest hikes in the park, it's also one the most scenic and worthwhile places to see there.
But there are things to know about it before you go here, such as timing (sunrise, sunset, etc…), what to expect as you hike the trail and so forth and that will be explained in this post.
Quick info on the Zion Canyon Overlook trail:
Name: Canyon Overlook trail.
Location: Zion National Park.
Distance: Under 1 mile in and out.
Difficulty: Easy.
Rating: 5 out of 5.
Recommended hike? Yes! Canyon Overlook is an easy, short and extremely scenic trail you have to do if you're visiting Zion National Park and it's also very family friendly for just about everyone.
5 main things to know about the Canyon Overlook trail:
1) The hike is literally under 1 mile total:
There is very little elevation gain overall and honestly, most people should have no problems hiking it.
2) There are 2 main parking areas near the trail (with a bathroom), but they are normally full:
In this situation most cars park off the road between these 2 parking areas, but if you want to try and get a spot, you either need to be lucky and get there when someone is leaving, or you can elect to come here very early in the morning or during cold seasons. Either way even if you park off the road, it's not that bad.
3) There are numerous sections of the Canyon Overlook trail which incredible photogenic views:
Most people stop at the main sign at the top of the Canyon Overlook, but I would suggest going further right as you will see less crowds and even more beautiful angles of the same canyon.
4) There is a popular slot canyon nearby known as Pine Creek Gorge:
This is a slot canyon hike you can do only if you know how to rappel as it requires rope and experience to do, but you will also see into this slot canyon as you hike up to Canyon Overlook.
The entrance to that slot canyon is right by the main parking lot to the trailhead to Canyon Overlook, but you will need to hike down to reach it (do not do this trail unless you have a rappel tour or are experienced at it).
5) You can see Canyon Overlook from the bottom by hiking to the other end of Pine Creek Gorge:
The same Pine Creek Gorge slot canyon opens up into a beautiful view of (from the bottom) of Canyon Overlook. If you can't do the slot canyon hike, you can actually hike to that area from a different point which is stopping on the serpentine route area known as Zion scenic viewpoint 2, hiking down to the river, then upriver (known as Hepworth Wash) to the exit of the slot canyon, and from there you will see up the gorge (no rappel required, but the hike is moderate).
Timing: Is it better to go to Canyon Overlook during sunrise or sunset?
There are advantages to each, but there is also a middle time which is anytime throughout the day. Here are the main advantages and disadvantages of each:
1) Advantages of hiking to Canyon Overlook at sunrise: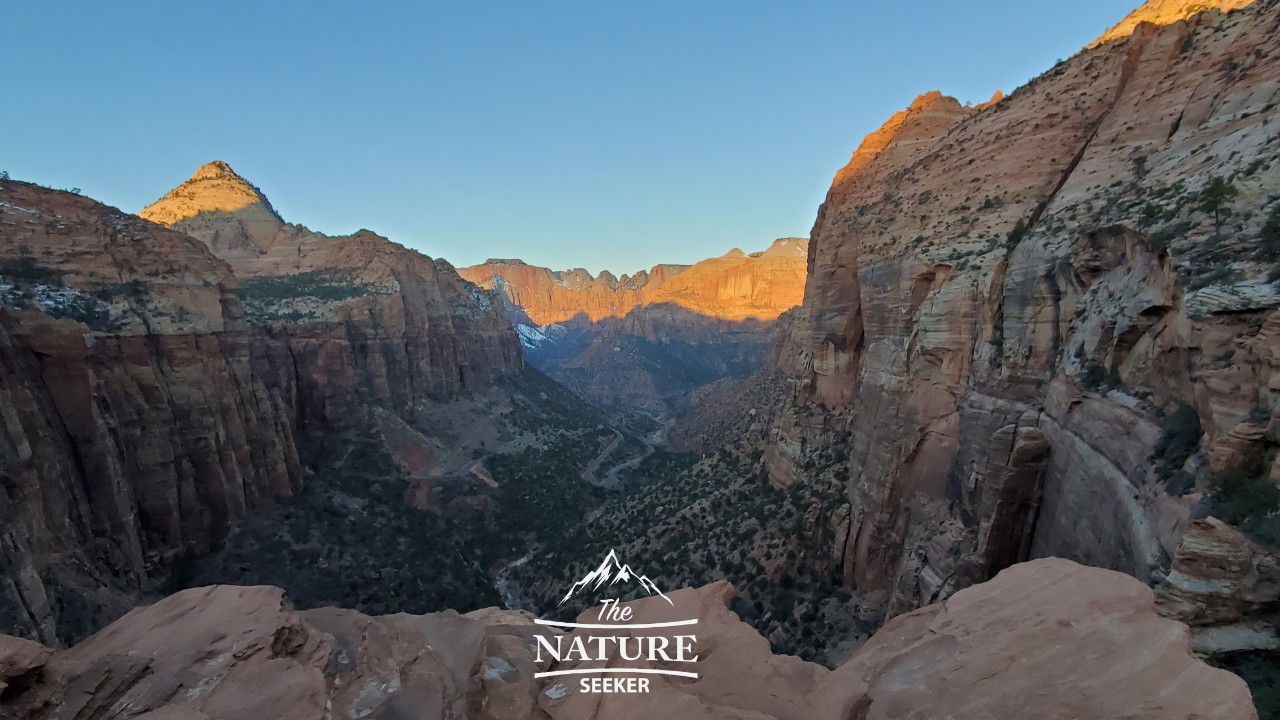 Very little crowds.
Easy to find parking.
It's very cold then (if you go during the warm seasons, it's very hot up there).
Disadvantages:
The views of the canyon aren't as amazing in my opinion (I went there during sunrise). If you have patience, you can wait for the sun to fully rise and the experience of it lighting up the canyon is what's worth it, but if you just want to catch the sunrise there, I would recommend other spots in Zion National Park worth checking out, like Observation Point (or Angels Landing).
2) Advantages of hiking to Canyon Overlook anytime between sunrise and sunset: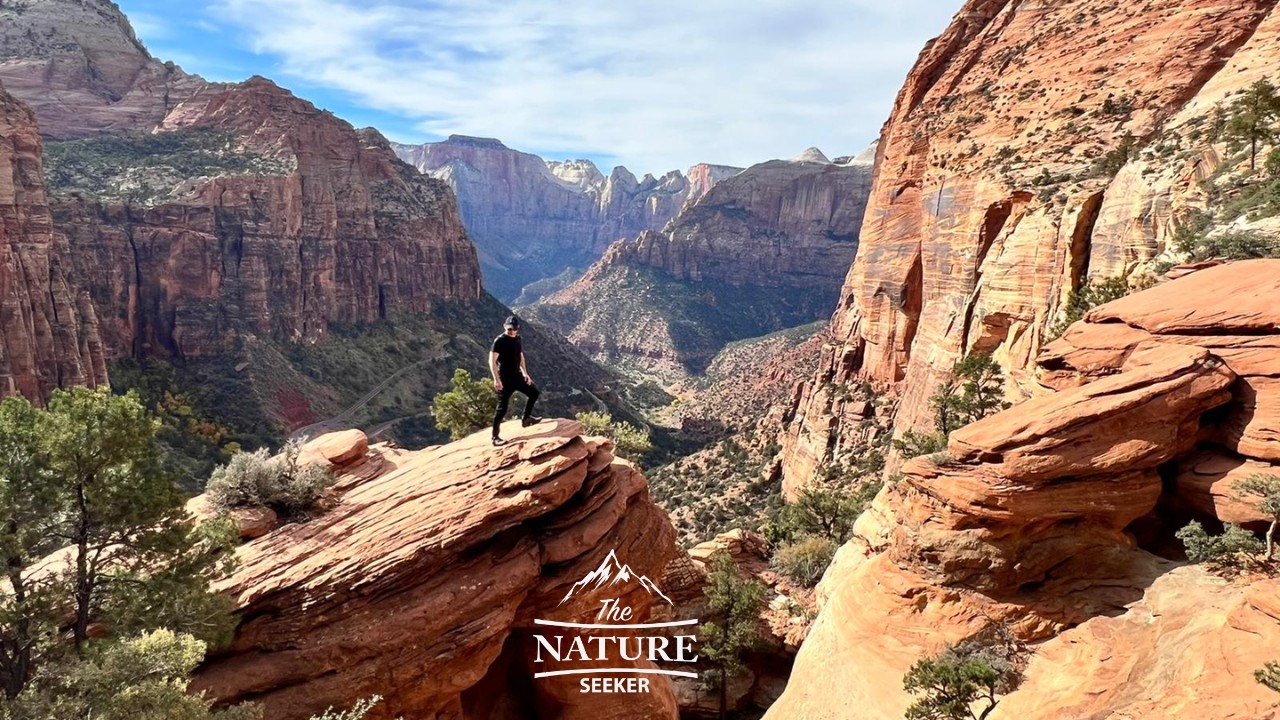 The views during this period are amazing and way better than around sunrise in my opinion.
The weather is usually way better (nothing cold).
Disadvantages:
It's way hard to find parking (generally the most crowded period).
3) Advantages of hiking to the Zion Canyon Overlook trail during sunset: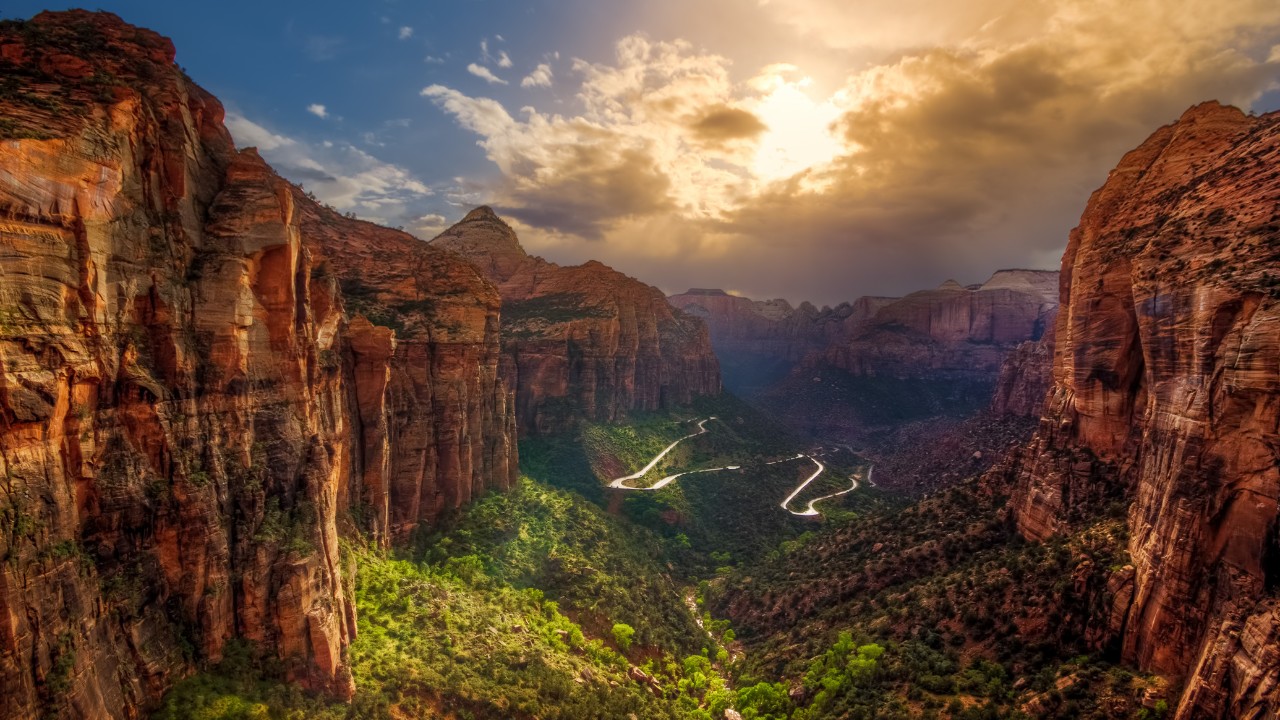 You'll see the best views of the Canyon Overlook in my opinion.
The sunset will really add to the beauty.
Disadvantages:
It'll still be pretty crowded around this time as there are many others wanting to see the sunset there too.
Canyon Overlook sunrise vs sunset (which do you think is better?):
What to expect while hiking the Canyon Overlook trail:
1) First you'll need to find parking (that usually isn't easy):
The 2 parking lots are right by the famous Zion Mount Carmel Tunnel.
2) Starting the short hike up to Canyon Overlook:
The trail begins right by the ranger booth near the tunnel. There are about 100 steps to start the hike, then it'll turn right and take you underneath a small canyon. The views there are incredible, and while you won't see Canyon Overlook yet, you will see the Pine Slot Canyon from atop as well as the Zion Tunnel.
3) Once you pass this area, you'll hike a little bit more up and reach the Canyon Overlook area:
As you go higher and higher, the canyon will appear more and more until you see it fully. There is a sign post indicating you have arrived, but it's pretty obvious you're there. Again, I would suggest going a little bit more right from this area as there are plenty of more hiking/scrambling areas to check out, all with awesome views of the canyon, and best of all, there are usually way less people there (most are usually around the sign area).
4) Finish the hike by going back the same way:
There's really not much else to it, other than it being a very scenic and easy hike overall.
Questions about the Canyon Overlook trail:
Is the Canyon Overlook Trail worth it?
Yes, it is an easy hike and the Canyon Overlook trail provides you access to one of the top views in all of Zion National Park.
Is Canyon Overlook trail open?
Yes, and in fact, the Canyon Overlook trail is open all the time.
How long does it take to hike Canyon Overlook Trail?
The Canyon Overlook trail takes about 30 minutes to hike in total but that doesn't include staying at the top of it to see the views.
Do you need a shuttle for Canyon Overlook trail?
No, shuttles in Zion National Park do not go to the actual Canyon Overlook trail. It is only reachable by car.
Can you drive to the Canyon Overlook Trail in Zion?
You can't drive right up to the Canyon Overlook area, but you can park very close to the start of the trail, then hike a little to reach it.
4 more great hikes in Zion with incredible overlooks (besides Canyon Overlook):
First is

Angels Landing

, if you are OK with a tough and dangerous hike to get there.
Then there is Observation Point, an equally awesome overlook (but tougher hike than Canyon Overlook).
There is also Checkerboard Mesa which is on the eastern end of Zion National Park and that is right off the road (easiest option).
There are other awesome hikes inside Zion National Park, but they are not overlooks (from the top), but actually from the bottom/base area of the park. They include

the Narrows hike

and the

Subway hike

.
But other than this (and other great hikes inside Zion), I absolutely recommend you take the time (it's not that long) to see Canyon Overlook as well as more Zion National Park photos of the other hikes and places there. It isn't just one of the best spots in Zion, but it's also one of the most scenic and best hikes in Utah that I've personally tried.